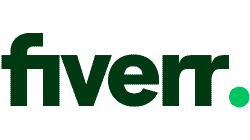 Fiverr 10% off
Copy and paste this code at Fiverr
Is Fiverr Legit?
Sure, Fiverr hosts some of the best deals for freelance work in most industries, from copywriting to logo design, some for as little as $5! But with mixed reviews and no freelancer screening process, it's understandable if you have some doubts.
Because we know how hard it can be to find professional freelancers, and how frustrating it is to hire someone who can't fulfill their promises, we put Fiverr to the test. We analyzed its features, ease of use, customer support, and more.
In fact, we've looked at Fiverr closer than any other company. We used Fiverr as part of our quest to find the best logo design service. We tested Fiverr at three different price points – low, medium, and high – to understand truly if higher price meant higher quality. You can read about our test in our review of Fiverr's logo design service.
Before you put your time and money on the line, read our in-depth review to know once and for all – is Fiverr a safe choice for your projects?