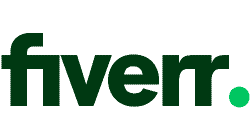 Save up to 20 % on your Fiverr Logo Design plan!
Limited-time offer - Don't miss it!
656 users used this coupon!
Get Your Logos (and Everything Else) with 99designs! If You Can Afford It…
Simply put, 99designs does design. Now, you can get just about anything designed, from signage to marketing emails, but in this review, we're going to focus on the logos. There are no non-design-related services like printing; you get design, and that's it.
It's available in a variety of languages including English, Spanish, French, Portuguese, several other European languages, and Japanese. You can theoretically use any language in your logo that you can input into a text field, if the designers on the other end have the right fonts installed.
Where it gets really interesting is when the time comes to pay for everything. By "interesting," I mean "comparatively expensive." 99designs' packages and plans are generous, and the higher-priced options come with lots of personal attention, but you've got to have enough cash under your mattress.
A lot of other logo design services will give you more or less the same service, but for cheaper. And of course, you could always just hire a designer on Fiverr for as little as $5.
So, why would you pick 99designs? Is the experience worth the extra money? Are the logos just that good? Well, I decided to invest some cash and run a logo design contest as part of my quest to find the best new logo for Website Planet. Read all about my experience below.
99designs at a Glance
Service type:
Designers for hire, design contests
Free to try:
No
Starting price:

$

299.00

 per logo
File formats:
JPG, PNG, EPS, PDF, AI
Free revisions:
No