Website Planet
Website Planet is the web's premier hub for individuals and businesses seeking to create, promote, or expand their online presence. We provide authoritative reviews, in-depth comparisons, accessible guides, and powerful tools to help you achieve your digital ambitions.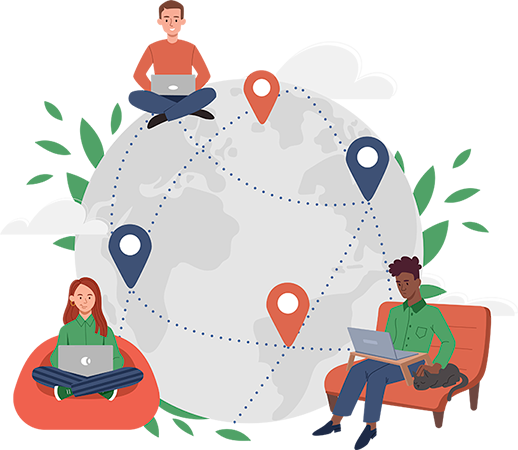 Our Story
Website Planet was launched in 2013 by two passionate web developers. These early pioneers were disappointed by the lack of accessible, research-backed information online about which digital products and services can truly help individuals and businesses create a professional website.
Since then, a lot has changed on the web and a lot has changed at Website Planet. As the demands of our audience have grown, so has our team. We now have experts in web hosting, web design, digital marketing, SEO, payment processing, business strategy, and more.
What started out as a side-project to discover the best (and worst) web development tools has become the definitive destination for businesses of every size and industry to find what they need to build, market, and maintain a profitable online presence.
Where We're Based
As natives of the digital domain, we see no reason to limit ourselves to recruiting talent from only one part of the world.
That's why we're proud to say Website Planet is driven by dozens of dedicated professionals living and working across 6 continents. This not only promotes constant learning within our team, but also allows us to offer a more inclusive, globally-relevant perspective to our diverse readers around the world.

Our Mission
Our goal is ambitious but simple: 
Seek out every digital solution and service designed to help businesses thrive online.

Subject them to thorough testing by our experts using a continuously updated set of criteria.

Tell you everything you need to know to decide which ones to invest in.
We regularly reassess all the products we review to make sure you're always getting the most up-to-date information. This means keeping on top of the latest developments in pricing, features, and customer service, so you know exactly what to expect for your money.
We're equally committed to keeping up to date with the latest product trends. If there's a new kind of digital tool or service that can help give businesses a competitive edge online, we want to know about it. Our vision for Website Planet is to serve as a comprehensive resource hub, which is why we seek out and review all of the most innovative products and services as they enter the digital marketplace.
In addition to the insights we provide, we also make available a suite of free web development tools directly on our website. From domain and favicon generators to SSL certificate verifiers and website responsiveness checkers, Website Planet is packed with the tools you need to establish and improve your online presence.
If Website Planet equips you with all the resources you need to succeed online, then mission accomplished!
Our Values
Above all, we believe that a professional online presence should be attainable for everyone – not only the most tech-savvy and those with deep pockets. We understand that this can only be achieved through free access to user-centric, honest reviews and comparisons of the countless services competing for your attention (and credit card information).
That's why we always strive to make our writing as helpful and understandable as possible, translating it in up to 29 languages. It's also why we're completely transparent about the evaluation process behind every review we publish.
Our most valuable asset is our reputation as a reliable information source, reminding us to put integrity at the core of everything we do. We never accept payment to review a product or service, nor do we recommend any service we wouldn't use personally.
To keep our content free for readers, we cover our expenses through affiliate commissions. If you make a purchase after clicking a link on our site, we may receive a commission on that purchase. This arrangement allows us to maintain our independence although on listicle pages, our rankings may take into account reader feedback and our commercial agreements with providers.
In the end, our number one priority is helping you find exactly what you need to prosper online. Whether you're starting a new business, launching your first website, branding and marketing an existing site, or establishing your payment processing, Website Planet is here to help.
The Research Lab
The Website Planet works with data privacy agencies and computer emergency response teams (CERTs) to identify cyber threats and help protect businesses' and organizations' user data. We established our pro bono cybersecurity analysis team in 2019 with world-renowned analysts Noah Rotem and Ran Locar leading the charge. Since then, we've discovered and reported on serious security threats around the world. With this work, we've secured the data of over 100 million people already.

15+
Countries involved

200+ Million
People exposed

5+ Billion
Records exposed
It's Not Just About Us – It's About You Too!
We're grateful to all the leaders, entrepreneurs, and digital gurus who agreed to give us an interview and share their experience on how to create and grow a successful online business. Thank you for contributing your invaluable insights to our community!