Multiple URL Opener
Open Multiple Links at Once and Improve Productivity
Open Multiple Links Simultaneously
Works With All Major Browsers
100% Free Web Tool
Opening too many links at the same time can overwhelm your computer and cause your browser to freeze for a few seconds.
Frequently Asked Questions
What is the Multiple URL Opener Tool?
The Multiple URL Opener is a free tool (no hidden costs) that allows you to open multiple URLs simultaneously. You can either manually input the URLs or copy and paste them into the text box and with one click of the mouse all the URL's will open in separate tabs. If you use Google Chrome you will have to go into the settings and allow for popups from [website].
What browsers are supported?
Multiple URL Opener works with any browser that supporst JavaScript. This includes the major browsers such as Internet Explorer, Firefox, Chrome, Opera, and Midori.
How To Use Multiple URL Opener?
It's never been easier to open multiple URLs at the same time. Simply type or copy/paste the URLs you wish to open (separated by a comma, line break, or even just a space) and click on the "OPEN ALL LINKS " button. The pages will instantly start opening in your browser. If your browser is configured to block popups, you will need to go into settings and allow for popups from https://www.websiteplanet.com
How Many URLs Can I Open At Once?
There is no limit to the number of URLs that the Multiple URL Opener can handle. The tricky part is knowing your own computer and how many pages it can open at the same time without freezing or slowing down. Our advice is to start out with 10-15 URLs at a time, and then you can try increasing it from there.
The URLs do not open
If the URLs do not open, it means the pop-ups are blocked in your browser. Below are the instructions on how to disable pop-up blockers.
Chrome
— Click on the icon that appears in address bar

— Select "Always allow pop-ups from https://www.websiteplanet.com/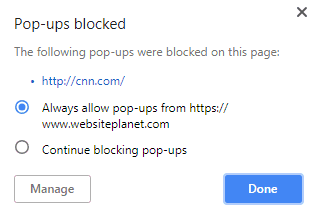 Firefox
— Open Settings— Open Content Tab— Under Pop Ups Click Exceptions— Enter https://www.websiteplanet.com/ and select Allow— Save and Restart Firefox
Edge
— Open Settings— Go to Advanced Settings— Switch Block Pop Ups Off— After using URL Opener Roll back  these settings
62047
62047
Like this tool? Rate it!
Voted by

1630

users
)
You need to use this tool to rate it
(