A Powerful and Affordable Platform, but There Is a Learning Curve
"One app to replace them all" is ClickUp's slogan, but since the guy who coined the original version of this phrase didn't do so well, I was skeptical at first. However, after thoroughly testing the platform, I am happy to say that ClickUp offers one of the most impressive feature sets out there for helping streamline all your projects in one place.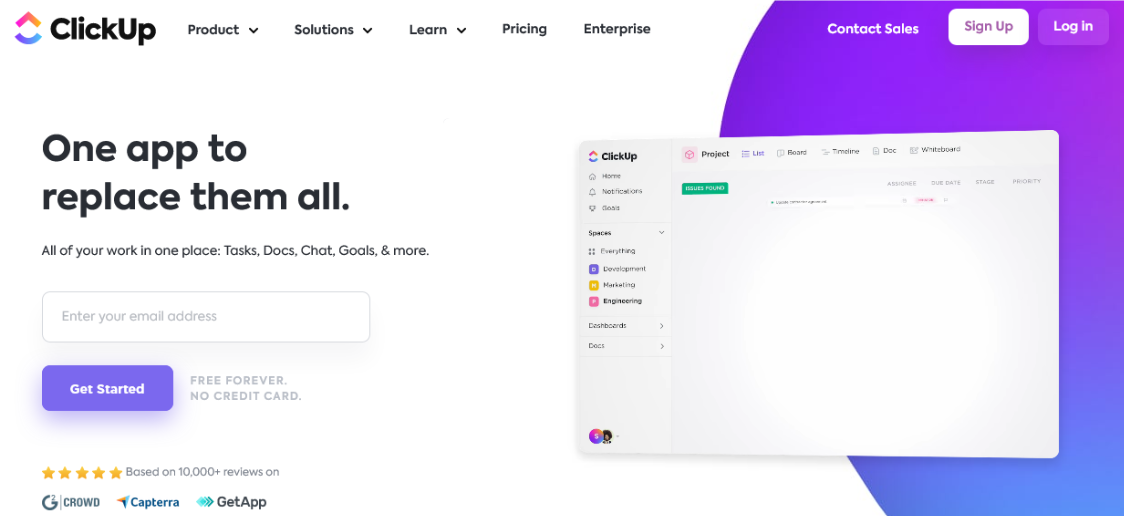 ClickUp allows you to do all the standard project management stuff like assigning tasks, setting deadlines, and logging time. But it also provides advanced (and incredibly useful) tools like shared dashboards, workload management, and robust real-time collaboration options, helping it to stand out from the competition.
You'd expect ClickUp's flexibility and features to be costly, but this software has one of the most comprehensive free plans out there – and its paid plans are affordable, too. The platform is available in English and French, while the Spanish and Brazilian Portuguese versions are currently in Beta mode.
While there's no doubt ClickUp is one of the most well-rounded project management solutions on the market, it's not perfect. ClickUp isn't hard to use, but the sheer number of features and customization options results in a cluttered interface that's not always intuitive. In the end, ClickUp's steeper-than-average learning curve may discourage beginners.
So, is ClickUp worthy of your projects? Let's find out.