Best Website Builders for 2020
The Most Comprehensive Website Builder Comparison Ever Performed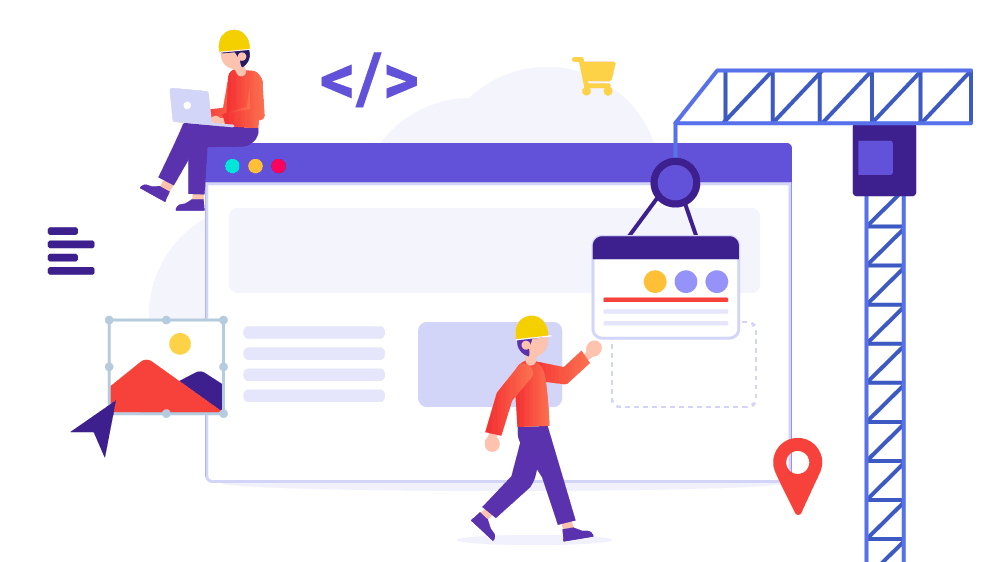 To really test a website builder, you have to build a real website. And that's exactly what I did. Now, I'm here to share my experiences with you. Find out which website builder is the best for you.
In my 15+ years working as a web designer, I've had the opportunity to build a lot of different types of sites. I know what makes a good site – and a bad one. For this comparison project, I decided to test all the major website builders out there to bring you a detailed breakdown of their features. I built a real website with each of the platforms to give you a better understanding of what you can achieve with each.
This list is not a popularity contest, and the builders are not ranked according to how many users they have or how much they pay to be promoted (that kind of list you can find literally anywhere). It was important to me to use my own experience as a web designer and developer to help you make an informed decision about the best website builder for your needs.
Jump straight down to see the websites I built (don't miss the cat photos!) and read about my experiences, or keep scrolling to find out which website builders are really the best ones out there.
Project: I Tested 11 Site Builders – Here's What Happened to My Site (and Brain)
What I did: What I just said. I created a website using a lot of different site builders, all at once… more or less.
Why I did it:
To provide you with up-to-date information about the best site builders out there, and to help you choose the right one for your business.

To see if the human brain can handle that sort of thing.

So you don't have to.
That first reason is the most important one. We want you to know the key differences between these site builders. What you'll find here is not an in-depth review of each one (I'm not sure anyone has the time to catalog that much information), but a summary of the basic information you'll need to narrow down your options.
Once you've trimmed my list of 11 down to three or four, you can go and read the in-depth reviews of the site builders that catch your eye. See? We're all about saving you time and money. That's really what's at stake, after all: If you pick the wrong site builder to start, you could spend hours upon hours (not to mention money upon money) learning how to use it, only to find out later that another one does what you need better and faster.
The stakes are even higher for people who've never built a website before. Building websites is one of those skills you learn by making lots of mistakes. You don't want to be making those mistakes again and again as you try different site builders, when you're supposed to be making money off your site.
Which Are the Top Website Builders Available in 2020?
One problem when choosing a site builder is that many of the best-known builders are pretty good, or at least pretty good at one thing. To separate the best from the rest, we looked at three main criteria:
Ease of use: How easy is it to learn to use the site builder? How easy is it to build a website quickly?

Flexibility: How many different kinds of sites can you build?

Pricing: Everyone wants more value for their money.
These criteria formed the backbone of a simple process I used to narrow dozens of options down to a more manageable list.
To get a sense of ease of use, I had to start by taking a quick look at the actual "builder" part of each service. I'd ask questions like: Is everything where you'd expect it to be? Can you move things around the page quickly and easily? How much does it feel like you're fighting the software to get what you want?
To assess flexibility, I took a look at the overall feature set:
Does the platform include blog functionality?

A way to add custom forms?

A way to customize basic parts of your website's theme?

Can you add a membership system?
All of these factors determine the kind of site you can build. Just remember that increased flexibility often means increased complexity in building your site.
As for pricing, this is where I had to start making some deeper comparisons between site builders. One might be more expensive than another, with fewer features. That seems bad, but those features might be better and easier to use. Or they might not. The value of a product is all about getting the most things you actually need for the least amount of money.
By asking all these questions, I trimmed my list of a lot of site builders down to 11. Here is a quick list. Read on for all the details and a look at the site I created with each one.
Choices 8-11 are e-commerce specialists, while the others are more general site builders. But I didn't just look at some key features of each service and call it a day. No, that would be the easy way. I had to test all these site builders to get a proper idea of how they work, and what they can be used for.
If You Want to Test a Website Builder, You Have to Build a Real Website
Well… real-ish, anyway. For this project, I created a company called "Cleocatra's Pawfect Pictures." It's about as real as any TV show with the word "Housewives" in the title.* 
* Except for Desperate Housewives, which was totally real.
I wrote out some content, grabbed some pictures of my cat (who really is named Cleocatra), and put together a basic page template. It was designed to get people to sign up for my entirely fictional newsletter full of cat pictures, which, now that I think of it, might actually be a good business idea.
My editor did tell me that I could choose a different website topic, but I decided to go with something tried and true. Maybe next time I'll design a belated fan page for The Nanny. 
Below is the page template, in wireframe form.* My goal for each site builder was to create a decent-looking (if not very colorful) copy of this layout in as little time as possible. I did not try to copy the exact layout, just this basic structure: 
The header image 

Text that describes the service 

The benefits of the service 

The call to action

The disclaimer to keep myself from ever getting sued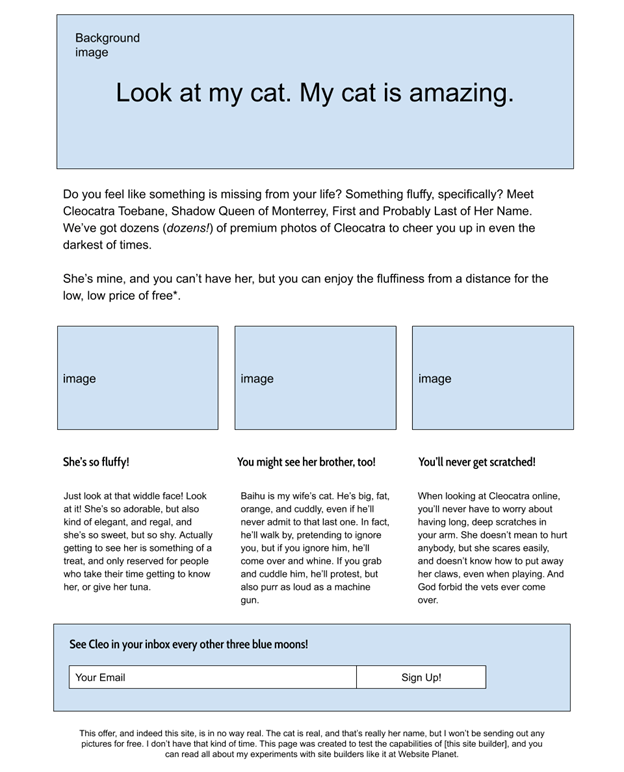 * Wireframes are what designers use to determine the basic layout of a page or user interface. They are not used for getting into details like colors, fonts, imagery, and generally making the site look pretty.
The process was about the same for most of the site builders: Sign up/log in, answer a couple of questions about the site I wanted to build, hunt for a theme or template that looked about right, and start building. It usually took me at least a few minutes to get used to the user interface and find the options I needed, and then I got to work.
My web page was designed to be just that – a page. Not a whole big site, just a one-pager, what some people might call a "landing page." The strategy for the design is simple: make you look at kitty pictures, then encourage you to sign up for more kitty pics (but not really).
I expected most of these site builders to be easy to use, and in general they were. But that's partly because I already knew exactly what I was looking for, and I've had some practice with web design. For people who don't do this for a living, the learning curve will be a bit more gradual. Still, you'll find the process pretty simple. That speaks well of the people who made these products.
Many of the site builders were rather similar, varying only in the details. Some were more intuitive to use than others, some were more flexible, and some just had more features (e.g., a couple of them don't have a built-in newsletter sign-up function).
Here are links to all the pages I built on site builders that have a proper free plan. The rest I can only share as screenshots because, well… no free plan. I ain't made of money.
What Did I Look For in the Best Website Builders?
Beyond just building a page with each of these site builders, it was my job to look at the services and identify "the best one(s)." To dig deeper into our three main categories of Ease of Use, Flexibility, and Pricing, I looked at these specific criteria:
Cost-to-value: How many useful features do you get for the money you pay?
Functionality: How does the site builder app perform – any annoying glitches? And how complex of a site does it allow you to build? Can you add a blog, a forum, or even an image-based slideshow?
Templates: How many are there? How good are they?
Add-ons and apps: Does the site builder allow you to integrate third-party tools and apps to extend its functionality?
Customization: How much control do you have over how your site looks and works? How many details can you change easily?
While I have my opinions about which ones are the best, you should be looking for the best site builder for you. Your specific needs might not be the same as mine or Cleocatra's. To help you make your own decision at the end of all this, I'll give you as much information as possible that might help.
For starters, here's a table listing some of the basic features of each website builder.
And Here's How All the Site Builders Performed
And here it is, the culmination of all those hours I spent testing site builders. This is what I broke my brain for.* You're welcome. I don't do it for the fame, or the applause, but I wouldn't say no to a parade in my honor.
* To be fair, my brain already had some mileage on it, and I haven't been great about doing scheduled maintenance.
Wix
First off, Wix was fast, both in performance and in the time required to design my page. It's reasonably intuitive to use, and has loads of option for… everything. With over 500 starting themes and lots of free and premium add-ons and apps, Wix was almost overkill for my purposes. I had this page up and running in short order: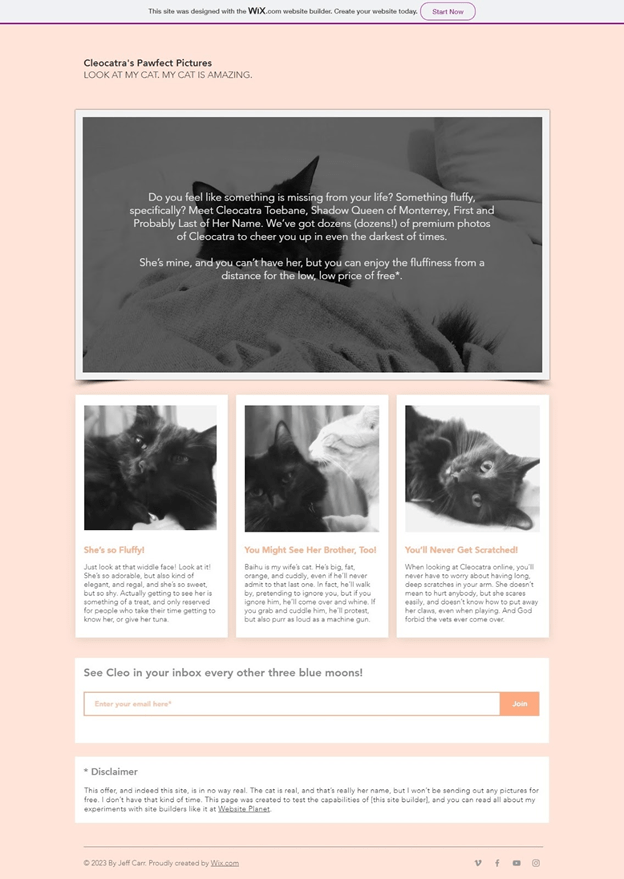 If you want to learn more, read our full Wix review.
SITE123
SITE123 does not have templates in the usual sense. Instead, you get collections of components. There's some nice flexibility with this system, but it can be hard to keep your colors and typography consistent. All in all, I found it a bit clunky to use, with fewer customization options than I'd like. I'm less than happy with what I built. And no, I couldn't make the small images not circular.

Read more on our SITE123 expert review.
WordPress.com
WordPress is, in my personal opinion, more of a traditional content management system (CMS) than a site builder. It was designed above all to handle large volumes of content. Even so, WordPress' content editor has a lot of layout functionality. I was able to build this site quickly and easily, based on one of its free themes: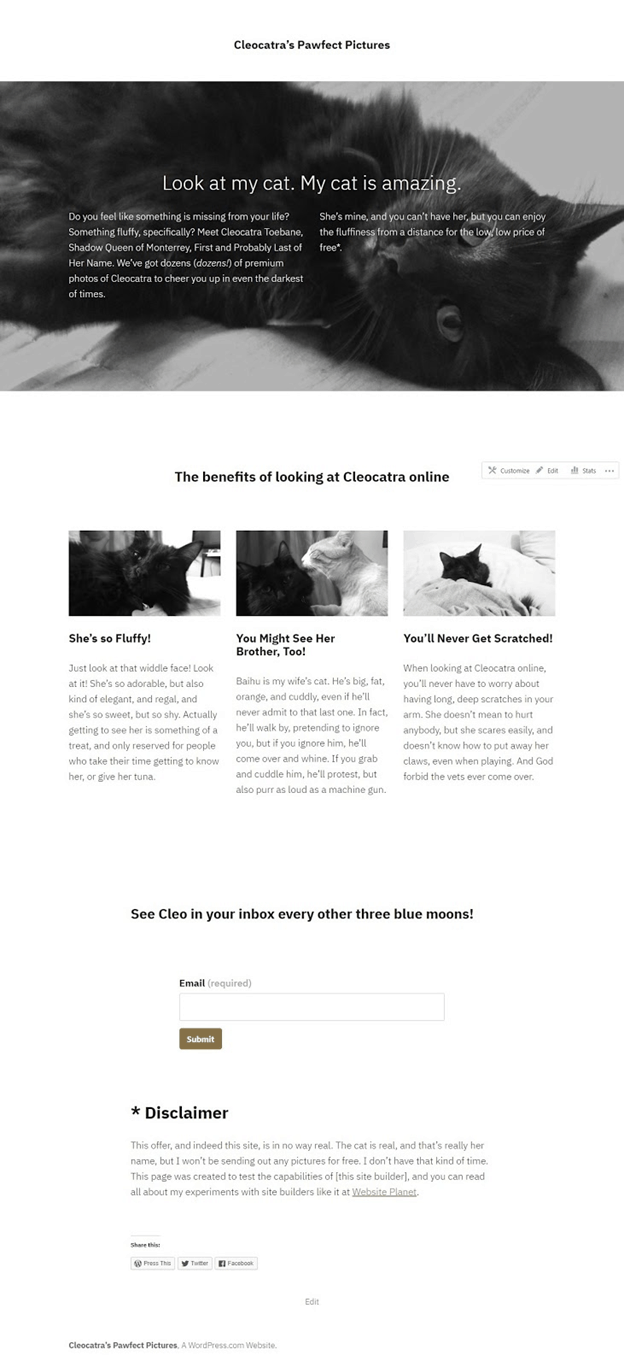 Learn more in our in-depth WordPress.com review.
Squarespace
Suarespace has excellent, smooth, snappy themes, though admittedly it doesn't have many of them. The page builder might take a bit of time to learn, but overall I'm quite happy with how my site came out. Squarespace has been in the business a long time, and you can build almost anything you might need. A simple page like this was no problem:
Want to learn more? Read our Squarespace expert review.
Jimdo
Jimdo is interesting because it actually has two site builders. The simple, smooth, fast "Dolphin" builder allows you to build pages from predetermined layout components, like SITE123. However, the components all automatically use the color palettes and fonts you choose for your whole site, so it's easier to maintain a consistent look.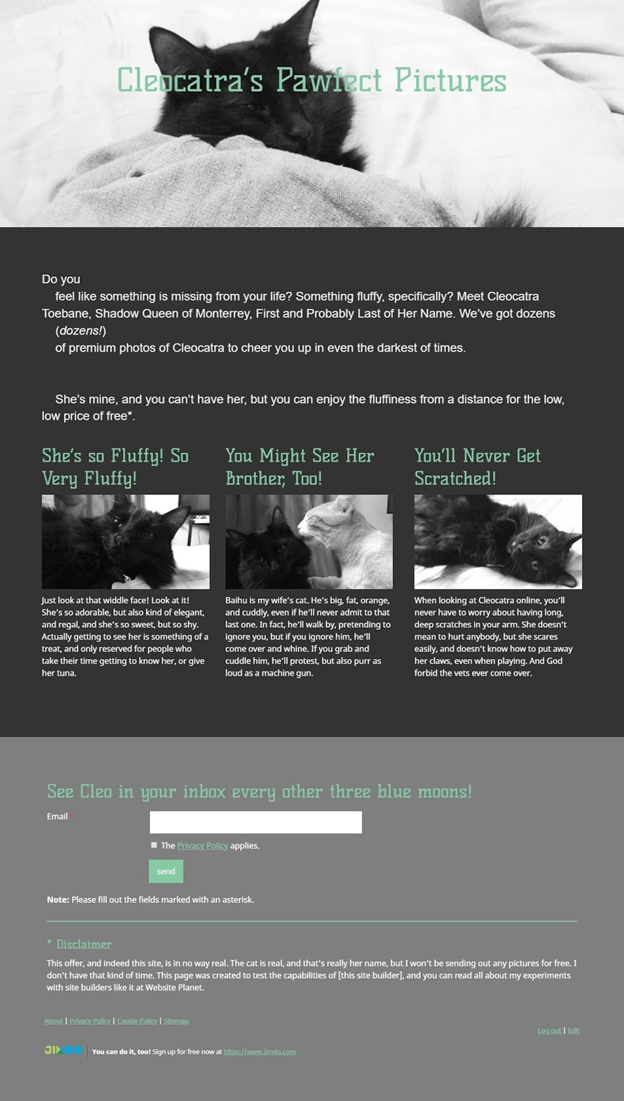 The text near the top of my page got a bit messed up, and I don't know why. Here's how it was supposed to look:

The "Coder" version of Jimdo is more advanced, and uses a classic template system. It has 40+ templates, plus variations on each one. It also allows you to generate forms, integrate with Mailchimp, and edit some of the actual code, if you have the know-how and inclination. Here's what I built with Coder: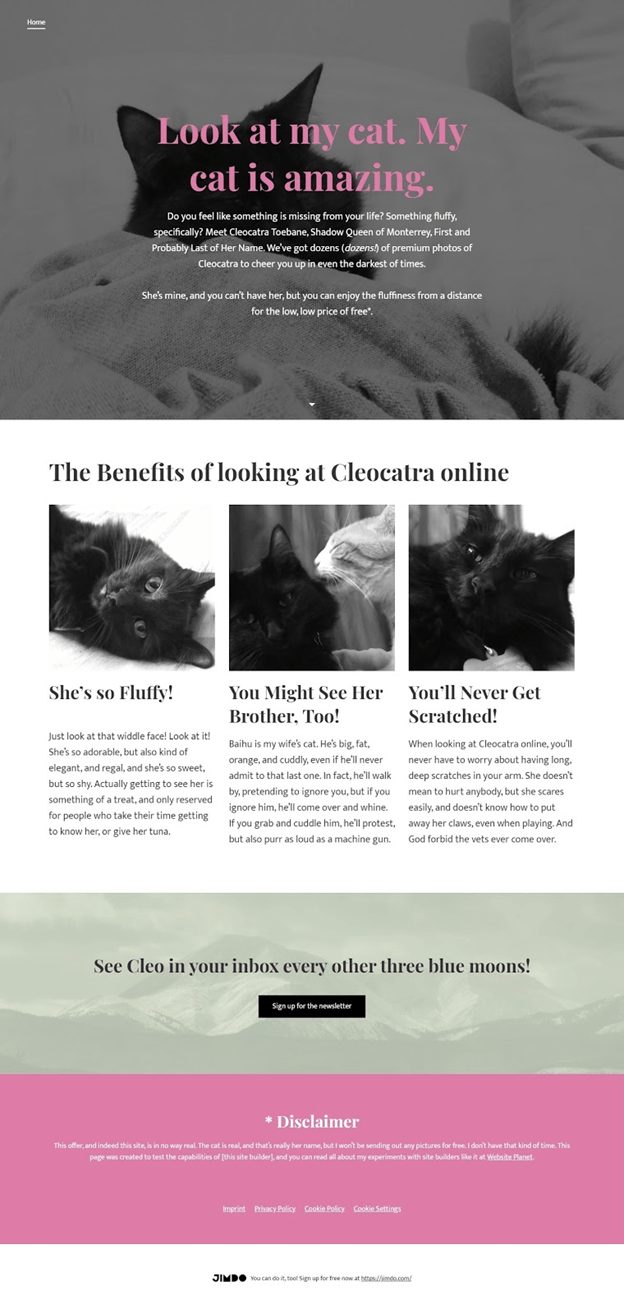 To learn more, read our in-depth Jimdo review.
Weebly
Weebly is flexible, simple, and chock full of features. I was able to build the layout I wanted pretty easily and quickly. The drag and drop is strong with this one, and it offers quite a few useful add-ons and apps for both paid and free plans. I'm pleased with how this page turned out, although I perhaps should have taken the trouble to add some color: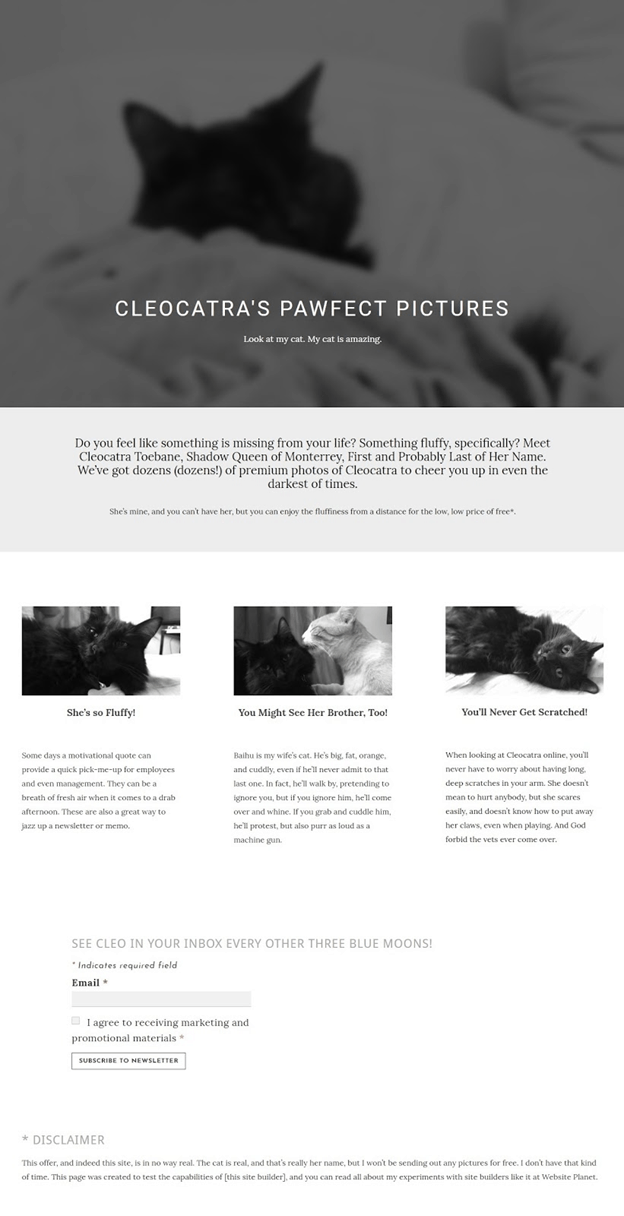 Read our expert Weebly review to find out if it's right for you.
SimpleSite
I found that the free version of SimpleSite didn't do Cleocatra justice. (Did I mention that she's amazing?) I couldn't make the kind of page I wanted to, because SimpleSite just isn't designed for complex layout. The signup form I came up with is a modified contact form, which could technically work, but isn't great:

Learn more in our full SimpleSite review.
Shopify (E-commerce)
Shopify is… interesting. The site builder feature is not the main focus of the service, since Shopify is about creating a storefront first and foremost. However, unlike the other e-commerce specialists listed here, Shopify does have proper site builder functionality. Unfortunately, there is no drag and drop; everything is handled via a sidebar – content input, layout, colors, everything. That said, I was able to build exactly what I wanted to build.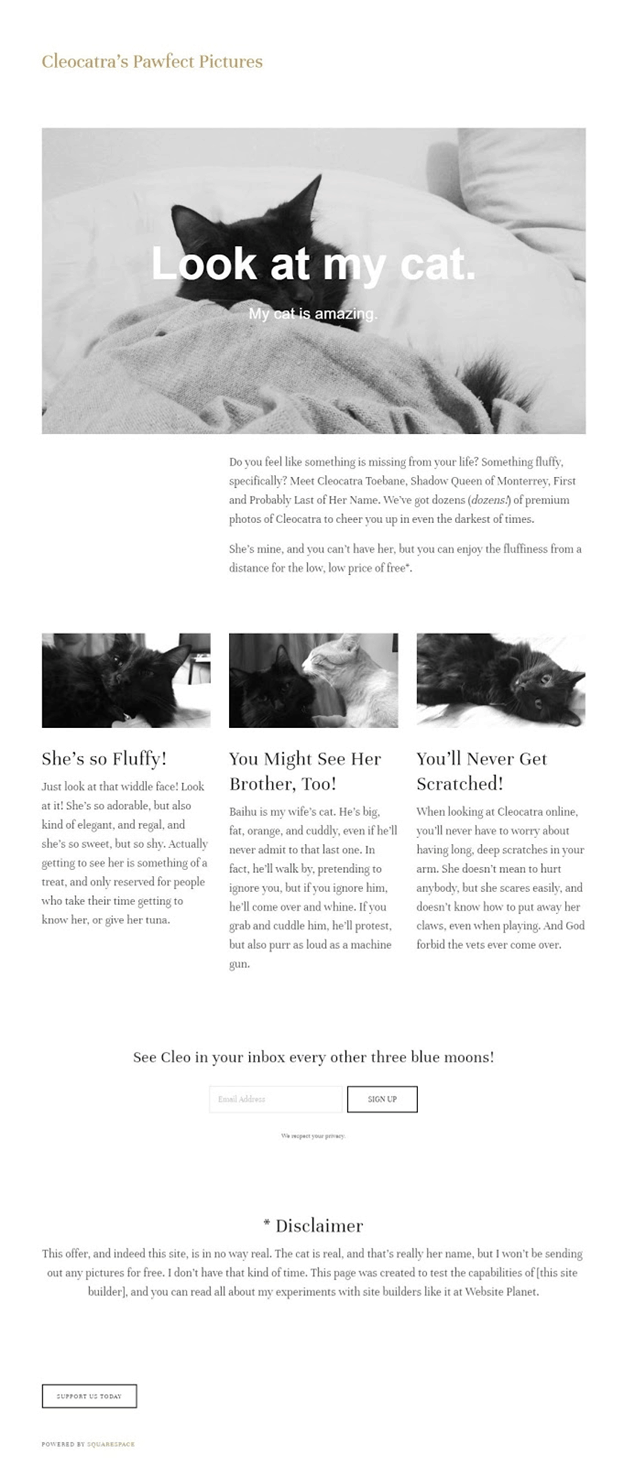 Read our in-depth Shopify review for more information.
BigCommerce (E-commerce)
BigCommerce is e-commerce software, through and through. Like Volusion, it's designed for you to build a shop, and that's it. There are no drag-and-drop design features by default. If you want to completely change the design, you have to install a new theme. Of course, you can do small things like switching out images or deciding if you want sliding images on the home page, stuff like that. But your options are very limited.
There is a separate page builder available as an app, but I did not test it. I only tested the base software of each site builder for this project. Based on my tests, I can say that BigCommerce is fairly easy to use, and suitable for building high-volume and high-traffic online stores. So if that's what you need, give it a look.
This is the page I managed to build with the default functionality: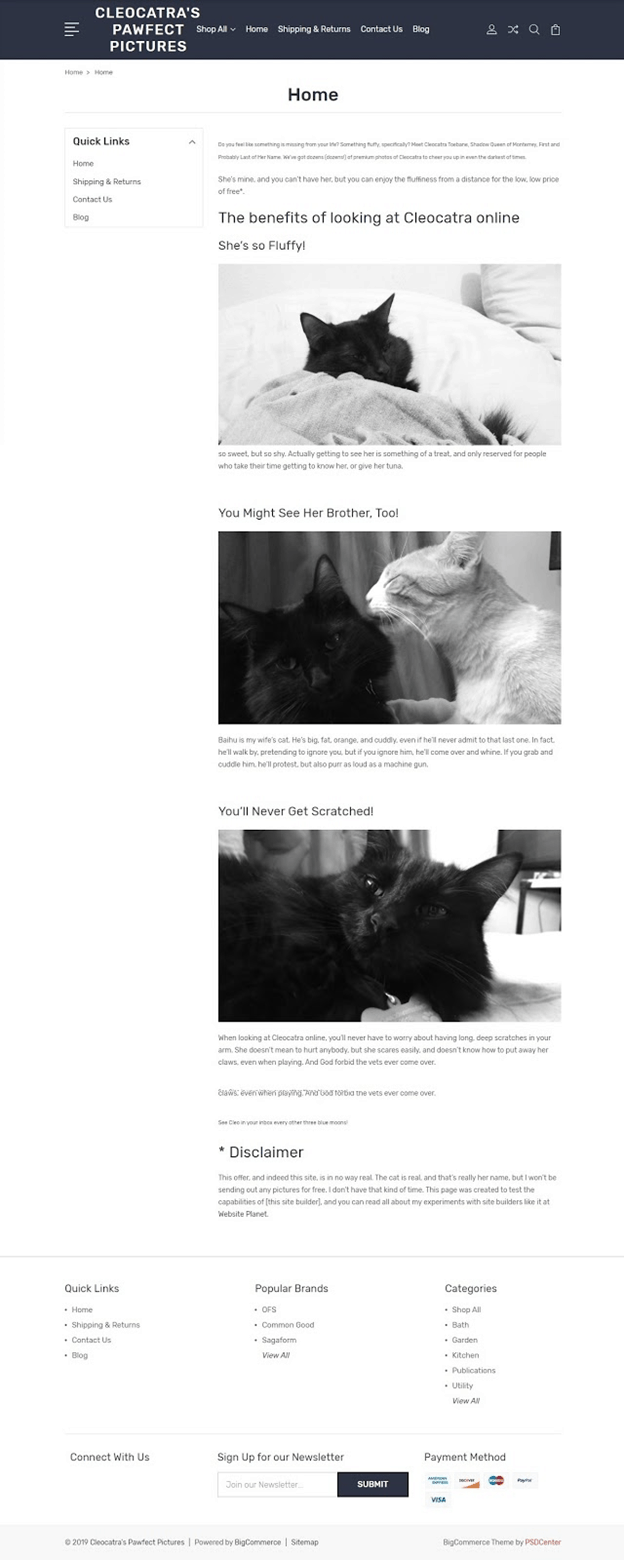 Read our BigCommerce expert review to find out if it's right for you.
WooCommerce (E-commerce)
WooCommerce is a different animal from all the others on this list. It certainly can help you build a site, and quickly, but like BigCommerce and Volusion, WooCommerce is all about the store. And here's the thing: it's actually a WordPress plugin.
That means WooCommerce can be used on WordPress.com if you pay for a Business plan, or on a self-hosted WordPress site (as in, hosted on your own server) for free. Yeah, the actual plugin is just totally, actually free. 
I set up a test site to try it out, and discovered that you really can't design your own page. Layouts and other design elements are determined by your settings and choice of themes. That said, WooCommerce is simple and easy to set up, as WordPress plugins go. So if you need an online store at the low price of free, WooCommerce isn't bad at all.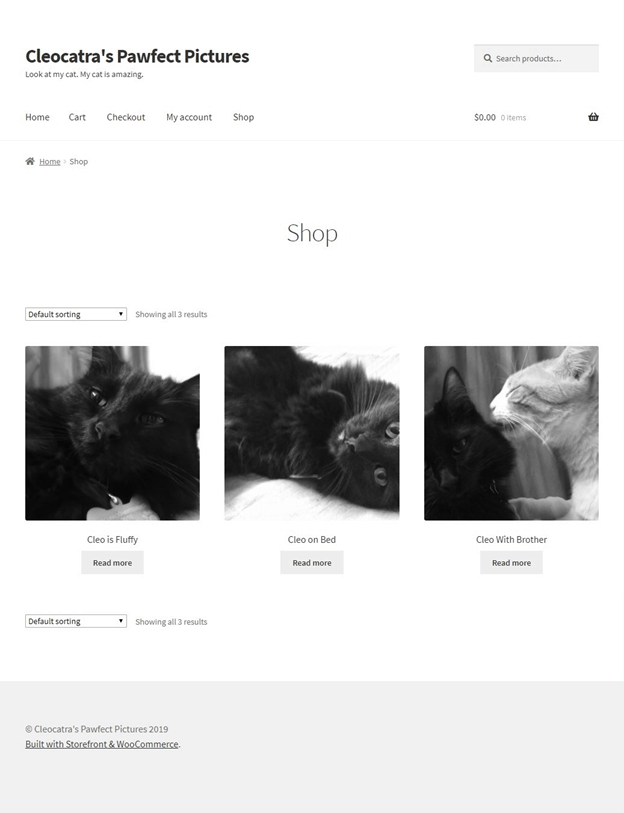 Learn more in our in-depth WooCommerce review.
Volusion (E-commerce)
If you're going to use Volusion, you better want to build a store, because that's what Volusion does… stores. Sorry, Cleocatra ain't for sale. Volusion advertises drag-and-drop capabilities, but I never found them. You can customize the fonts, colors, and the slideshow at the top of your home page, but that's about it. Now, you can edit the HTML and CSS of your theme if you wish, but that sort of defeats the purpose of a site builder. Here's what I got: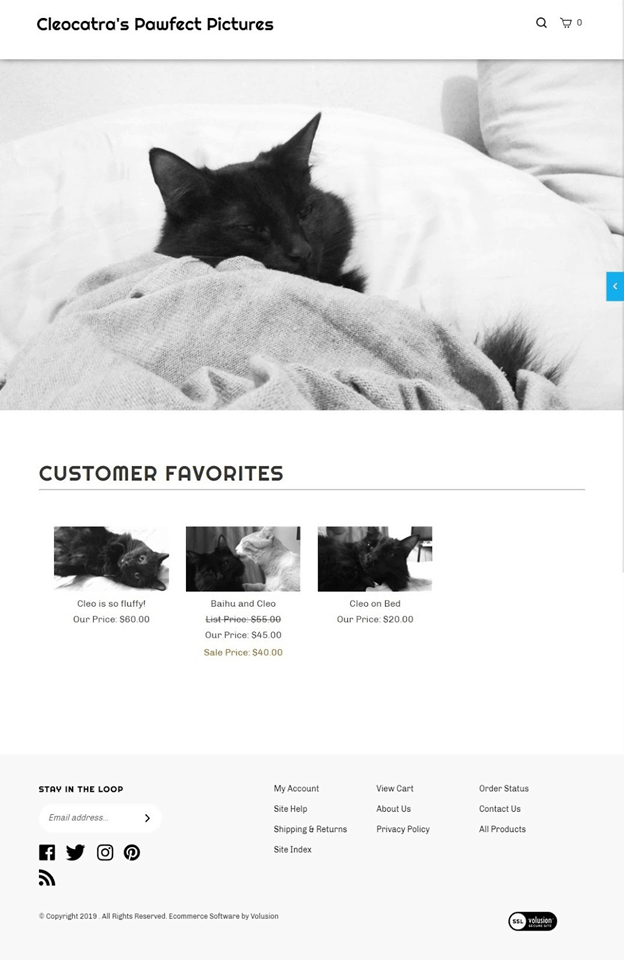 To learn more, read our Volusion expert review.
And the winner is… Wix!
Confession: I'm an old-school designer. If you ask me what my favorite way to build a website is, I'm going to say, "with raw HTML and CSS, in a glorified text editor like Visual Studio Code." What can I say? I never do things the easy way. Ask my wife.
I also have a lot of history with WordPress, and love it. I liked Weebly. And I almost wish I had things to sell because in spite of its limitations, I liked Shopify, too. 
But Wix has a whole lot to offer that made it really shine in this side-by-side-by-side test. With its sheer flexibility, wide selection of apps and add-ons, and just… all the stuff you can do, Wix takes the prize for overall functionality for the price. And it does all that while still being pretty easy to use. You can build exactly the design you want (well, unless you want to use some really obscure font), and that is usually what matters most.
Now again, what's best for me isn't necessarily best for you. But if you're looking to build a simple personal or business site on the cheap with precisely the design you want, and with as few hassles as possible, Wix is most likely the way to go.
Quick Summary of Features
I've thrown a ton of information at you here, so here is a summary of the features of each site builder.
Free plans:
| | | | | | |
| --- | --- | --- | --- | --- | --- |
| | Template access | Add-ons Access | Bandwidth | Storage | Pages |
| Wix | All | Limited | 500MB | 500MB | N/A |
| SITE123 | N/A | ✗ | 1GB | 500MB | N/A |
| WordPress.com | Limited | ✗ | Unlimited | 3GB | N/A |
| Jimdo | All | N/A | 2 GB | 500 MB | 5 |
| Weebly | All | Limited | Unlimited | 500MB | N/A |
| SimpleSite | All | N/A | Unknown | Limited | 15 |
| WooCommerce | Limited | Limited | N/A | N/A | N/A |
First-tier paid plans:
| | | | | | |
| --- | --- | --- | --- | --- | --- |
| | Domain | Template Access | Add-on Access | Bandwidth | Storage |
| Wix | Your Own | All | ✔ | 1GB | 500MB |
| SITE123 | 1st Year Free | N/A | All | 5GB | 10GB |
| WordPress.com | 1st Year Free | Limited | ✗ | Unlimited | 6GB |
| Squarespace | 1st Year Free | All | N/A | Unlimited | Unlimited |
| Jimdo | 1st Year free | All | N/A | 10GB | 5GB |
| Weebly | Free | All | ✔ | Unlimited | 500MB |
| SimpleSite | Free | All | N/A | Unlimited | Unlimited |
| Shopify | Not Free | All | All | Unlimited | Unlimited |
| BigCommerce | Not Free | All | All | Unlimited | Unlimited |
| Volusion | ✗ | Only the free ones | Yes, but not free | Unlimited | 100 Products |
What I've Learned from This Experiment
After trying out all of these site builders to build my test page, I have to say that we're in a bit of a golden age of website builders. Once upon a time, if you wanted to build a design the drag-and-drop way, you had to use Dreamweaver or Frontpage, and the code they generated was horrible. None of the site builders listed here will ever win awards for HTML and CSS optimization, but they don't need to in order to give you what you need.
They've found a way to deliver pretty good websites for a variety of purposes, sites that you can build quickly without writing your own code. I would say that at this moment, the people doing it best are the people at Wix, but you might find that one of the other services fits your purpose even better.
And what, exactly, did this project do to my brain? Well, it took some time, coffee, and video games, but I'm alright now. I just have a powerful urge to go code a website the hard way for a while. But that's a "me" thing.