Fiverr's a great place for a side-hustle or even to earn a full-time income
. It is even better than Upwork, Freelancer.com, or many of the other freelance aggregator websites as
there are
no subscription fees and it is free to post your gigs
. You can build multiple gigs to show off exactly what you have to offer and make them attractive to potential clients. There is also no bidding on projects – the client comes straight to you. The most important aspect of being a freelancer on Fiverr is building your gig. Buyers have plenty of choice on
Fiverr
, because there are tens of thousands of service providers. So,
how do you make sure your gig gets the most clicks
?
Read First: 
The best way to build your first Fiverr gig?
Buy a Fiverr gig for $5
. Aside from it being inexpensive, you can buy something you might need – someone to proofread your gig content or even a Fiverr gig image.
Aside from looking more professional and catching the eye of potential clients, you will understand the entire process
– how someone looks at the thumbnail images in search results, how to write your "About this Gig," and how the overall ordering process works.
This guarantees your Fiverr gig will be the best it can be because you made your gig the most attractive and the buying process simple. 
It's pretty disheartening when you create a gig and there's virtually no response. But the truth is, you CAN make money on Fiverr—
you just have to prime your gig for success
. If you're starting from scratch, there are ways to make your gig stand out above the rest, and if you're new to Fiverr, make sure you
watch our step-by-step tutorial on how to create a Fiverr gig and make money online
. Even if you've already got a Fiverr account, and have set up your first gig, there's always room for improvement, right? You can use the tips we'll share to make it better, and more successful. Here's how you start getting attention and making money.
Step 1: Find Your Ideal Fiverr Subcategory and Services
When you
join Fiverr as a seller
, the first thing they tell you to do is create your own gig. But before you pick the first category that pops into your head, take some time to work out your ideal niche and the services you're going to offer. To do that, you're going to
look at Fiverr the way a buyer would
. You can do that easily by clicking the
Buying
link in the navigation menu. After that, use the menu buttons at the top to find the main category that matches the services you want to offer. Hover over any link, and you'll see a submenu with subcategories. Explore these in detail so you can pick the perfect one for your gig.

When you click on a subcategory, pay attention to the menu on the left of the page. This has further refinements, and gives you an idea what buyers will look for when choosing your services.
Examples
:
In the Whiteboard and Animated Explainers subcategory, you can segment by type of animation (whiteboard, 2D, kinetic) and by output format (MP4, AVI, MOV)
In the Email Marketing subcategory, you can segment by email platform and by what's included (responsive design, campaign development, graphics)
In the Chatbots subcategory, you can segment by chatbot platform (Facebook Messenger, WhatsApp, Telegram) and by purpose (customer service, shopping, entertainment)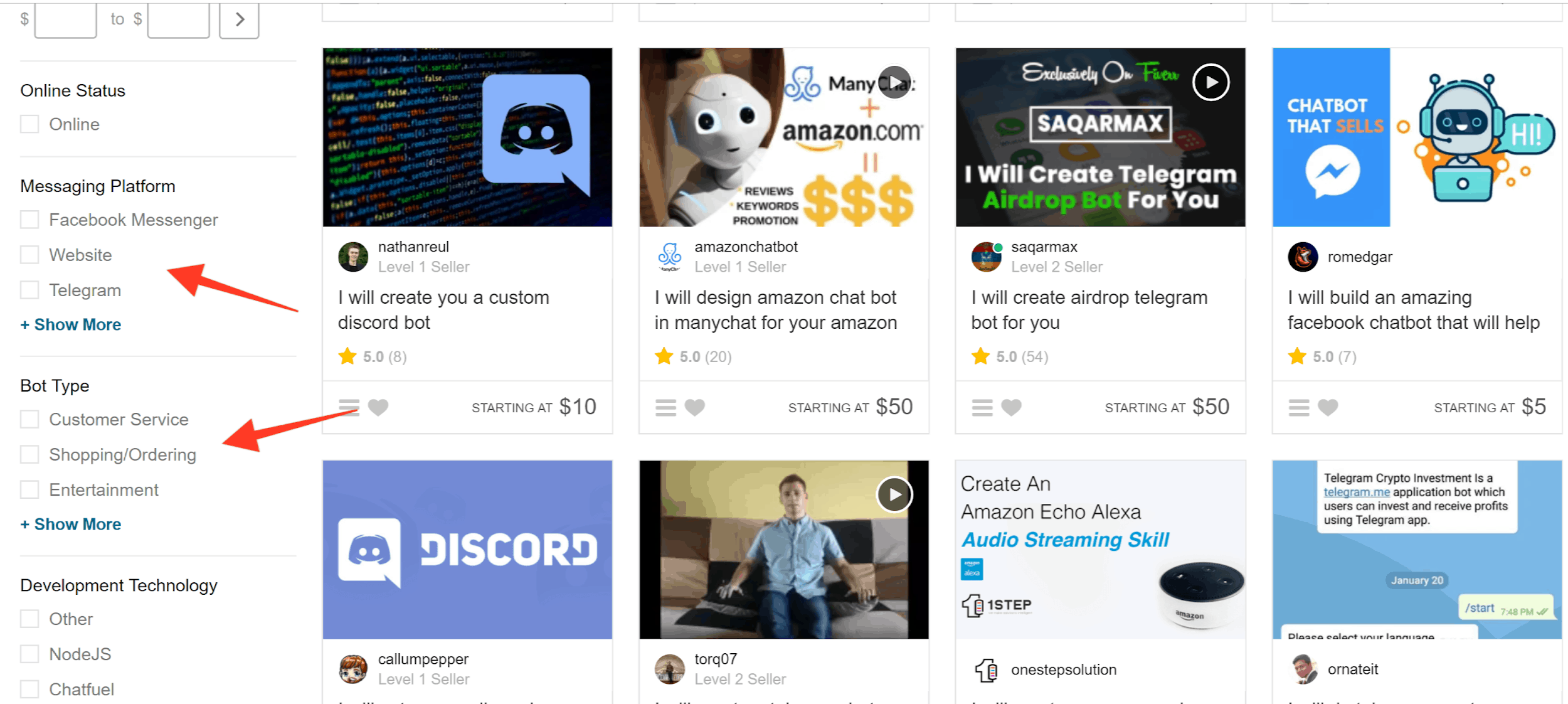 Use these to
create a shortlist of what you'll offer to buyers
when you create your own gig.
Step 2: Check Out the Competition
Once you've refined what you plan to offer, the next step is to
see who you're up against
. When you're in a subcategory, the default view shows recommended service providers. But many buyers will be more interested in who's got a good track record—these are your competitors. To find them, change the default view from
Recommended
to
Bestselling
. This will tell you which gigs are already popular, and give you a sense of what kind of service you have to offer in order to make yours equally popular.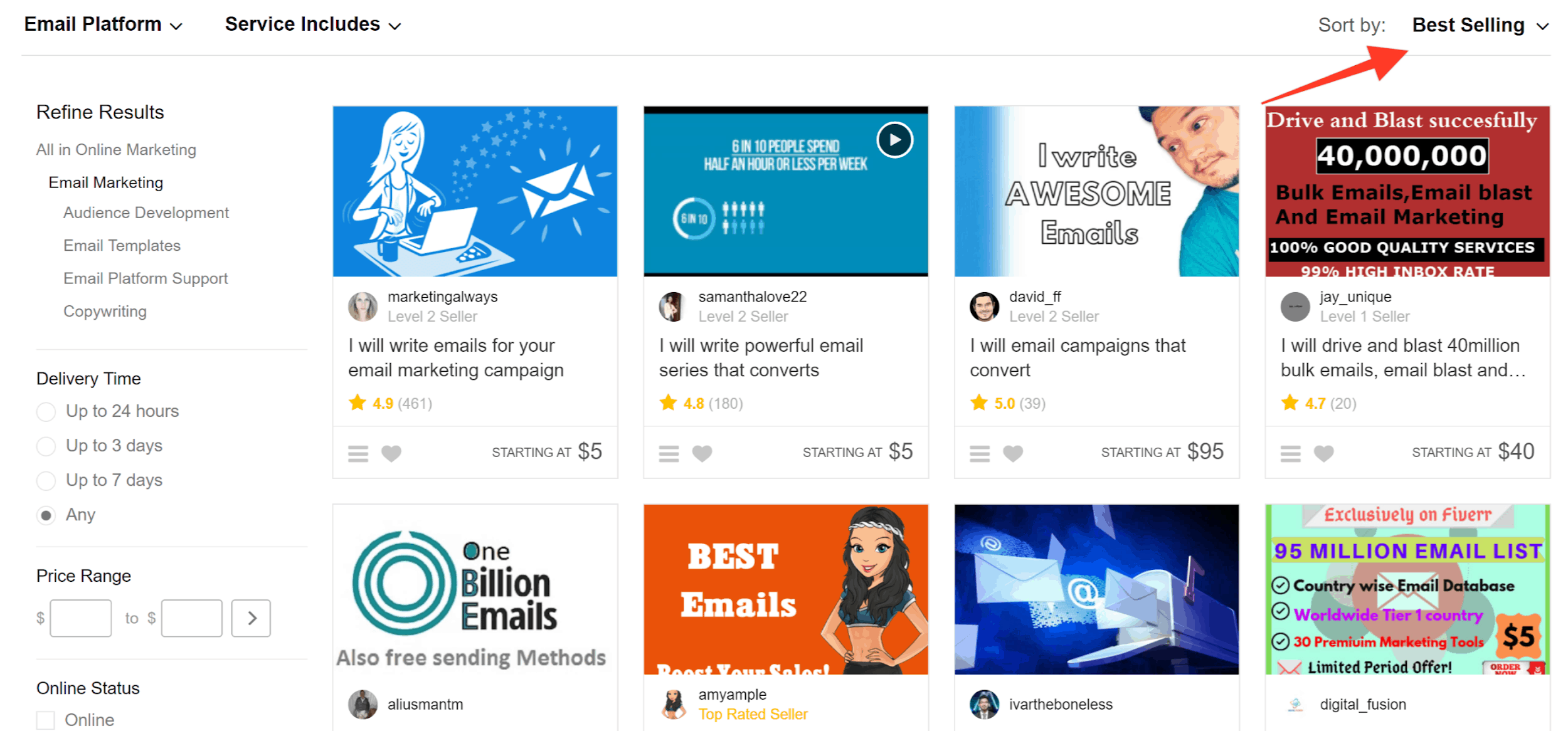 Pay attention to the sellers with hundreds or thousands of reviews, and a star rating of 4.7 or higher. That's who you want to beat. As you browse their profiles, look for:
How they describe their service
Whether they're offering something you can also offer
If there are any extras you can offer that they don't offer
Scroll down to the end of their gig description, and check out the keywords they use to describe their gig. Make a note of these for when you create your own gig. Do this for multiple sellers till you feel you've got a handle on what buyers in your niche really want. Then it's time to switch back to the
Selling
interface and start setting up your Fiverr gig.
Step 3: Create an Appealing Title
With thousands of providers to scroll through, buyers will use the gig title as a handy way to decide which gigs are worth their time. So it's important to
highlight your unique selling point
and say what's in it for them in the 80 characters you have to title your Fiverr gig.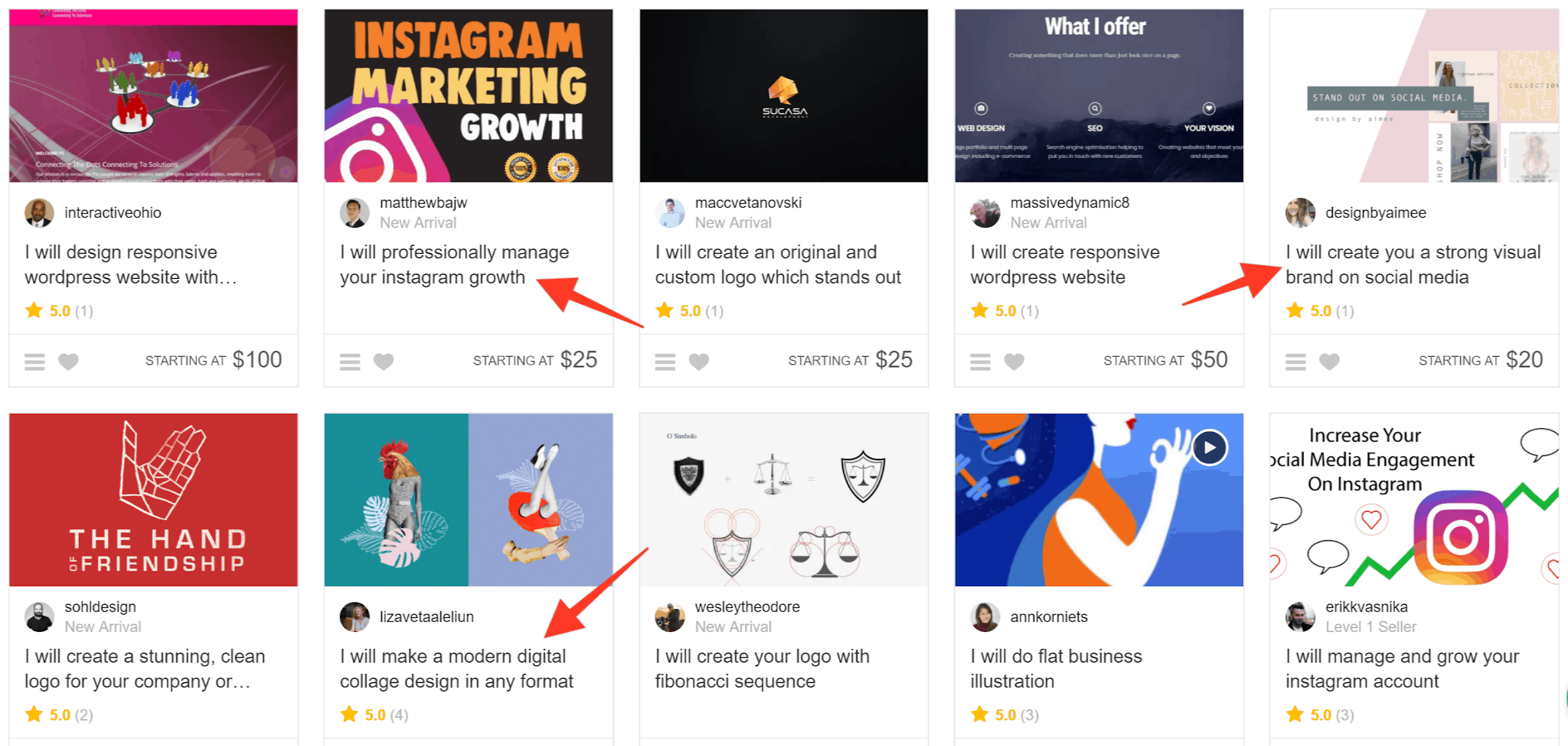 Three ways to make your title stand out:
Use adjectives to describe your service. Most sellers say their services are professional, but if you add some emotion, then your title stands out. In the example below, one video seller offers a "breathtaking" video.
Include an additional related service. For example, with video, you can add that you do post-production.
Add your delivery time. If you're going to deliver your product or service within 24 hours, it's worth mentioning in the title.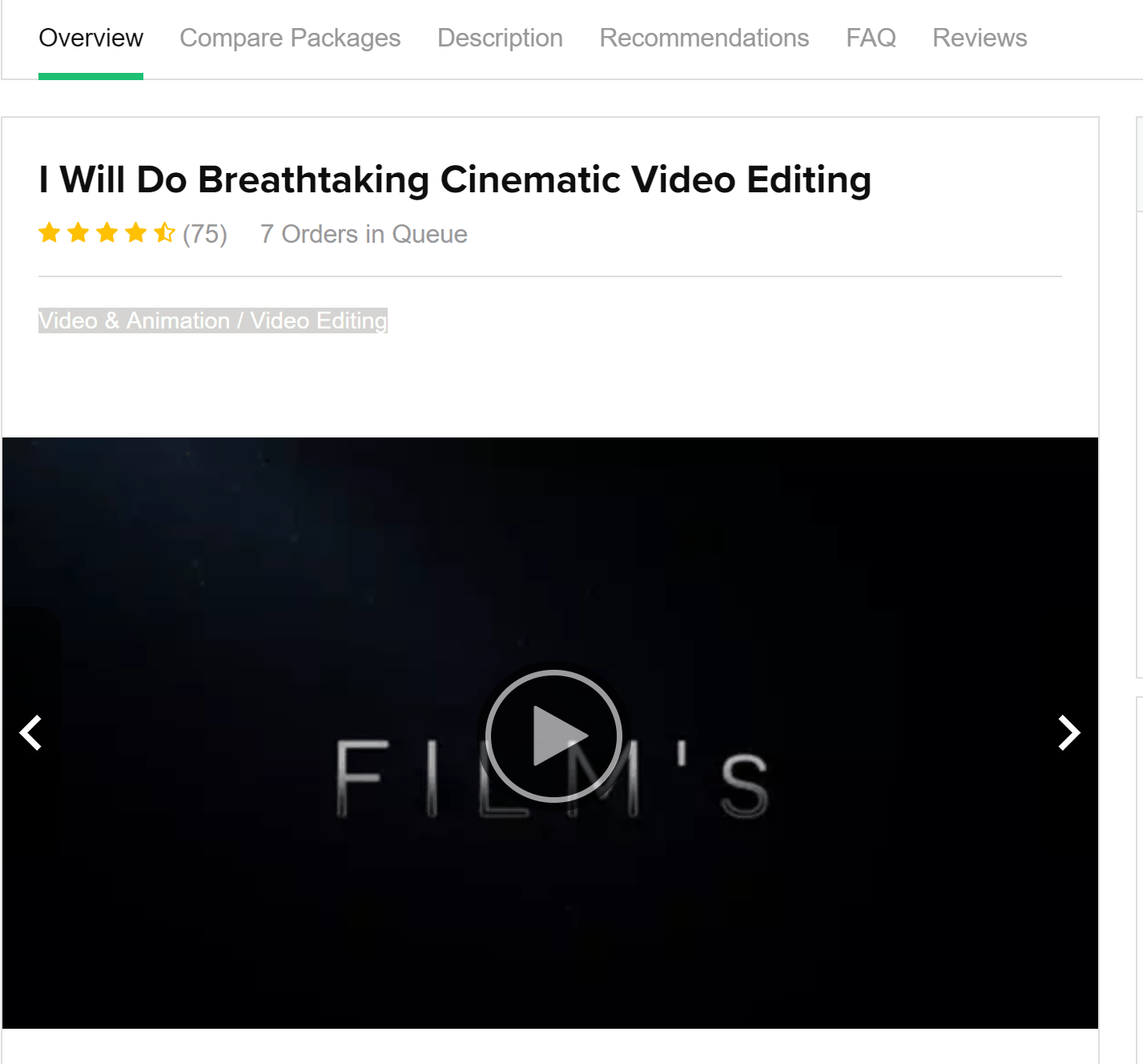 Pro tip: Fiverr recommends that you create your initial gig title using the keywords that you want people to find you with. That will give you a keyword-rich URL which is good for SEO and onsite search. Once you've saved your gig, go back and change the title using the tips above.
Step 4: Choose Your Subcategory and Tags
Pick your gig category. Fiverr will recommend subcategories based on your choice, but use the research you did earlier to choose the subcategory where you can compete effectively with other sellers. While you're there, select your gig metadata. These are other filtering options for your gig, as described in our first step. Finally, add the tags you identified from your earlier research. You can choose up to five. Remember, subcategories, metadata, and tags will show up as filtering options for buyers, so choose wisely.
Step 5: Create and Price Your Fiverr Gig Packages
As Adam Warner points out in
How to Post a Gig to Fiverr
, using three packages in your Fiverr gig can boost earnings by as much as 64%. So it's definitely worth doing. After you title your gig to show what's offered, you have 100 characters to
create a catchy description for each gig package
. Choose your gig options. These vary depending on the subcategory you're in:
Graphic design gives you options for the number of concepts included, resolution, 3D mockups, and more
Content marketing provides options for additional optimized titles, marketing action plans, content sharing, and more
Business plan writing provides options for leads, cold calling, cold emailing, and more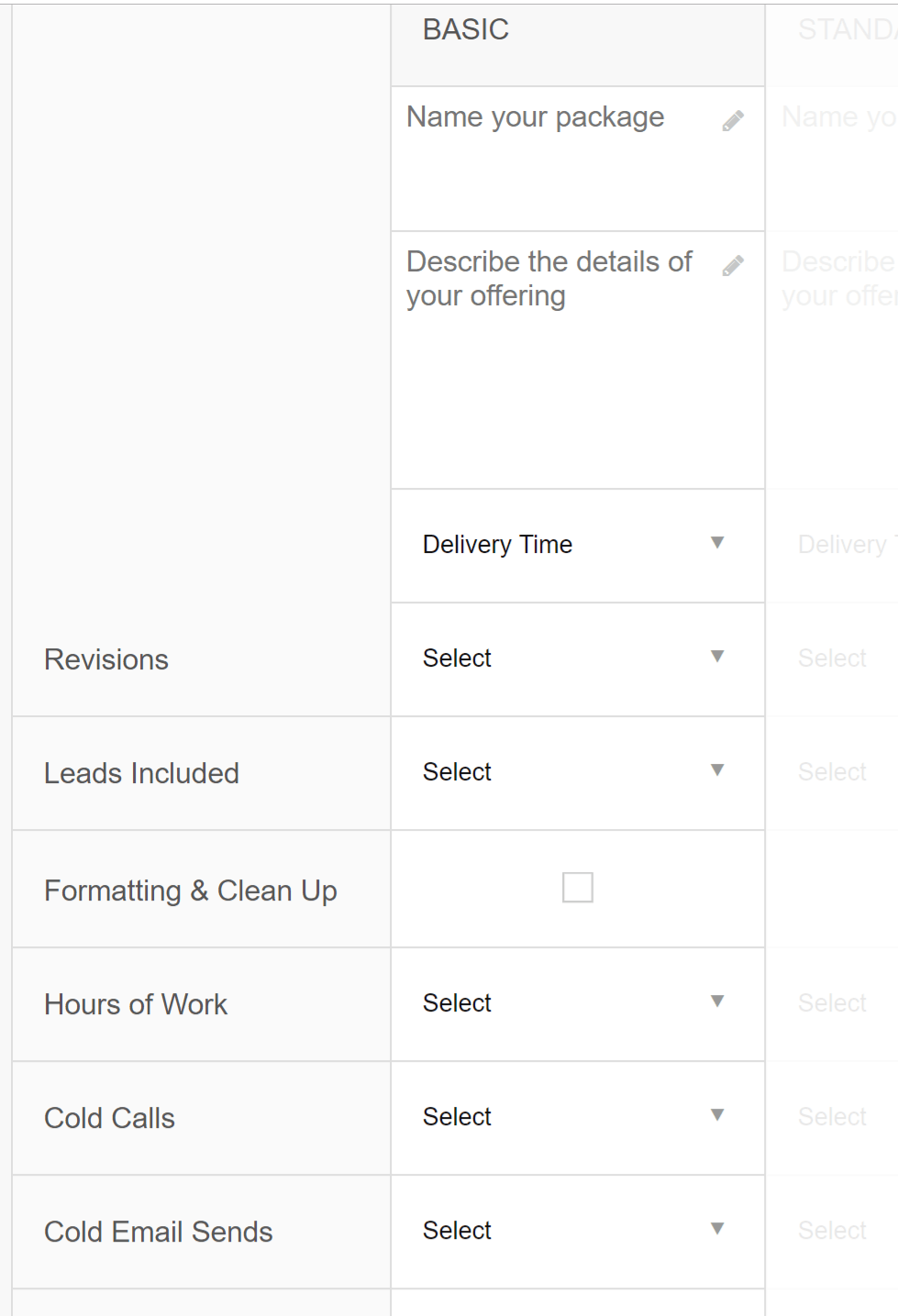 Set your price for each package anywhere between $5 and $995.
Pro tip: Consider pricing your services low at the start to attract more buyers. Fiverr has a level system based on the number of orders you do and the reviews you get. The higher you progress, the more visible and successful your gigs will be. Once you've moved up a level, and have multiple five-star ratings and reviews, you can raise your prices.
Then add your gig extras. These are items you can charge more for, like:
Revisions
Extra fast delivery
More time spent on the gig
Again, possible gig extras vary depending on the subcategory for your gig. You can also create your own.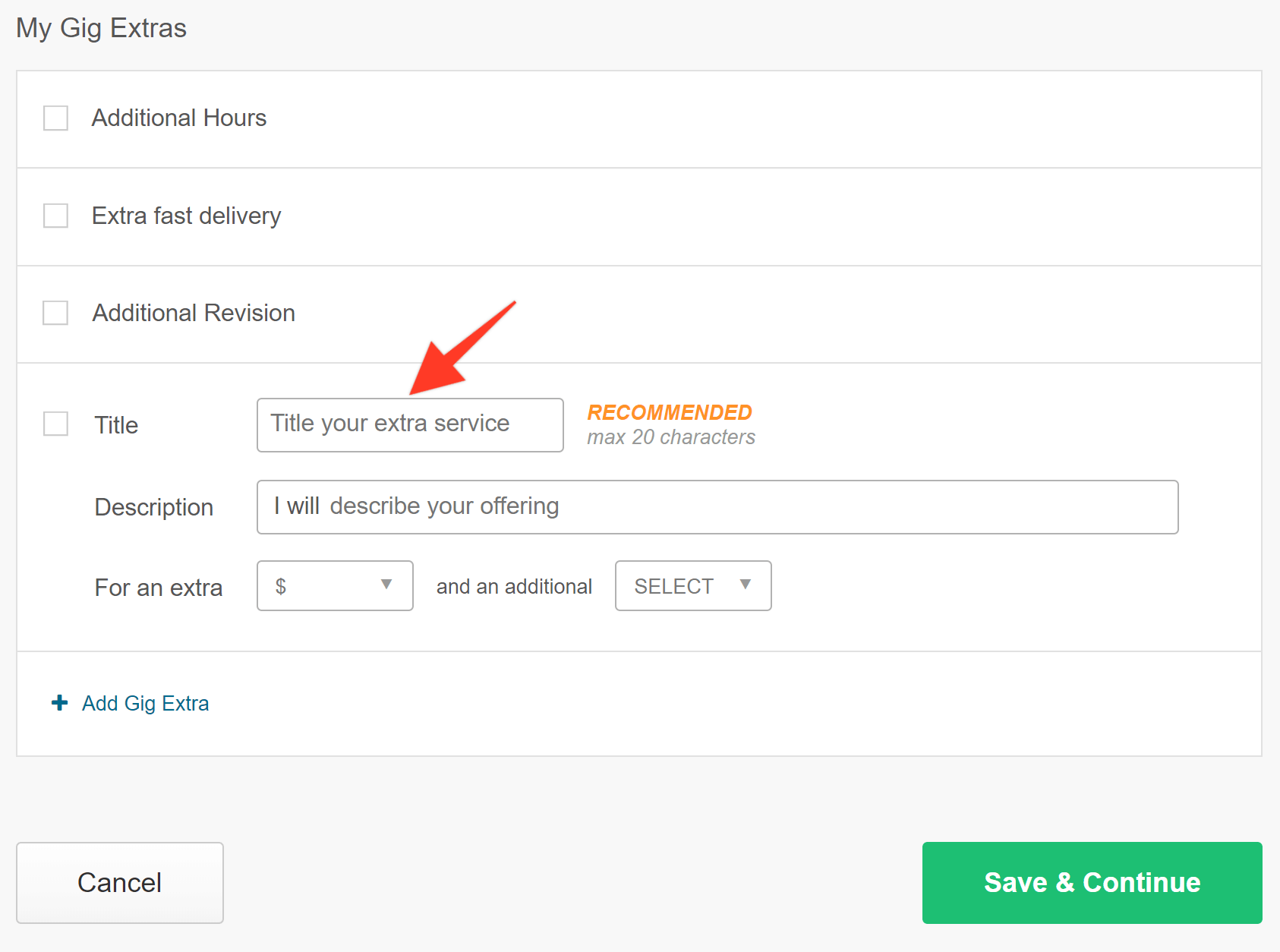 Pro tip: If you want to attract a higher price for your gig from the start, consider becoming a Fiverr Pro. After the platform checks your credentials, you'll be part of a smaller pool of sellers, making it more likely your gig will be successful
Step 6: Win Buyers with Your Gig Description
The next step in creating a successful Fiverr gig is to write a gig description that makes people want to buy. You've got a lot of space to play with, so here's what you do:
Highlight the benefits for buyers, including how your services will help them achieve success or win business
Say why you're the right person for them to work with. Five-star sellers with thousands of happy customers usually lead with this information, because it helps to reassure potential buyers that they are choosing the right gig
State clearly what's included in the service you offer
Include links to social proof—if you've got an external portfolio that makes your services look good, this is the place to put it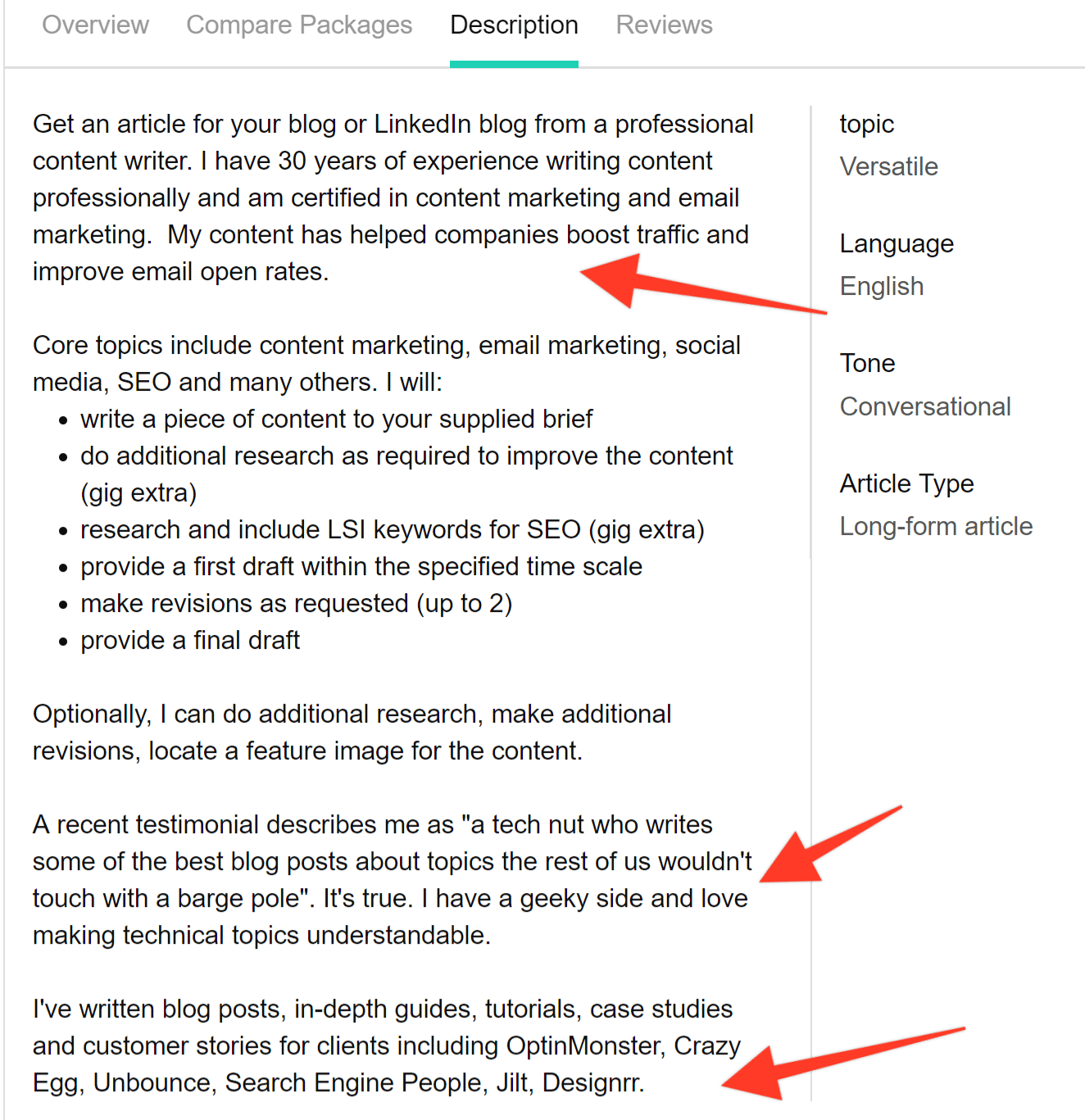 Finish up your description by
adding some FAQs about your service
. If you're not sure what to put here, go back to those bestsellers you looked at earlier, and check out the questions their buyers ask. Then reframe those and add your own answers to create an FAQ section for your gig. One the next page, tell buyers what you'll need to deliver the gig. For example, if you're creating a logo, you'll want to know something about their brand. And if you're writing content, they'll need to give you information about their audience.
Step 7: Boost Fiverr Gig Success with Visuals
One of the best ways to have a successful Fiverr gig is to make sure more people see it. Fiverr says creating a gig video can increase visibility by up to 200%. Gig videos are only 75 seconds long, so make every second count. Tips for improving your gig video include:
Use natural background lighting
Look directly at the camera
Showcase your personality to help buyers feel comfortable
Pro tip: You should also add images showcasing your work to your gig gallery. This is a good way to get attention as a new seller, which can help your Fiverr gig stand out and prime it for success
Step 8: Market Your Gig for Increased Visibility
If you want a successful Fiverr gig, it's not enough to create a great listing. You also need to let people know it's there, so you can get the ratings and reviews that make the difference between success and failure. Here are some tips to help with this:
Share your gig on social media. Whether you utilize Facebook, Twitter, LinkedIn, Instagram, or any other network, informing people about your Fiverr gig can significantly enhance its potential for success. We recommend establishing a drip marketing campaign using a tool such as MissingLettr to amplify the visibility of your gig even further.
Download the Fiverr mobile app. This makes it even easier to share your gig on social media, and you can share via mobile messaging networks like WhatsApp, too. Just go to the "Promote Your Gigs" section of the app to access this feature.
Use Quora to drive traffic to your gig. This is something Fiverr recommends. Options for using Quora include blogging and answering questions related to your gig. You can also include your gig link where appropriate in your Quora profile.
Use social ads to promote your gig. Facebook is a great place to do this, as it's got an audience of more than two billion. You can reach people interested in your services by spending as little as $10 or $20. You can also consider advertising to businesses on LinkedIn, as many might be looking for affordable business services.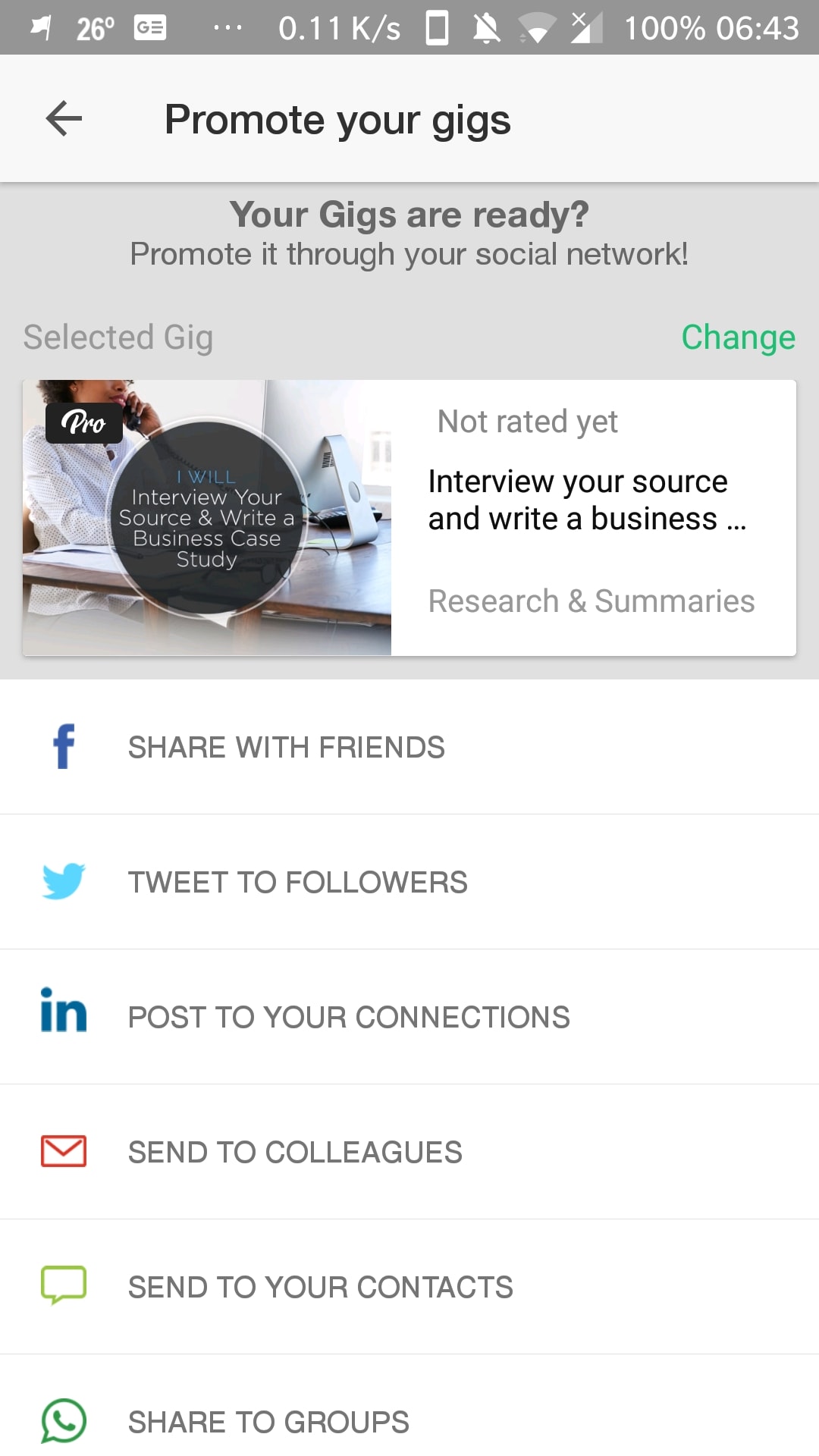 How to Prime Your Gig For Fiverr Success
As you can see, creating a successful Fiverr gig isn't just about the gig itself. Instead,
it's about what you do before and after you create the gig
. Doing competitive research in advance helps you create a gig that's designed to appeal to your target buyers. And promoting your gig to your own networks and beyond extends its reach so you can attract more business. And don't forget that if you need a little more guidance, we've created a handy video about all of this and more, where you can
learn how to create a Fiverr gig and make money online
. Now, it's over to you to
create your own successful Fiverr gig
.