10 Best Online Form Builders with Databases [2023 UPDATE]
The biggest online form builder comparison ever conducted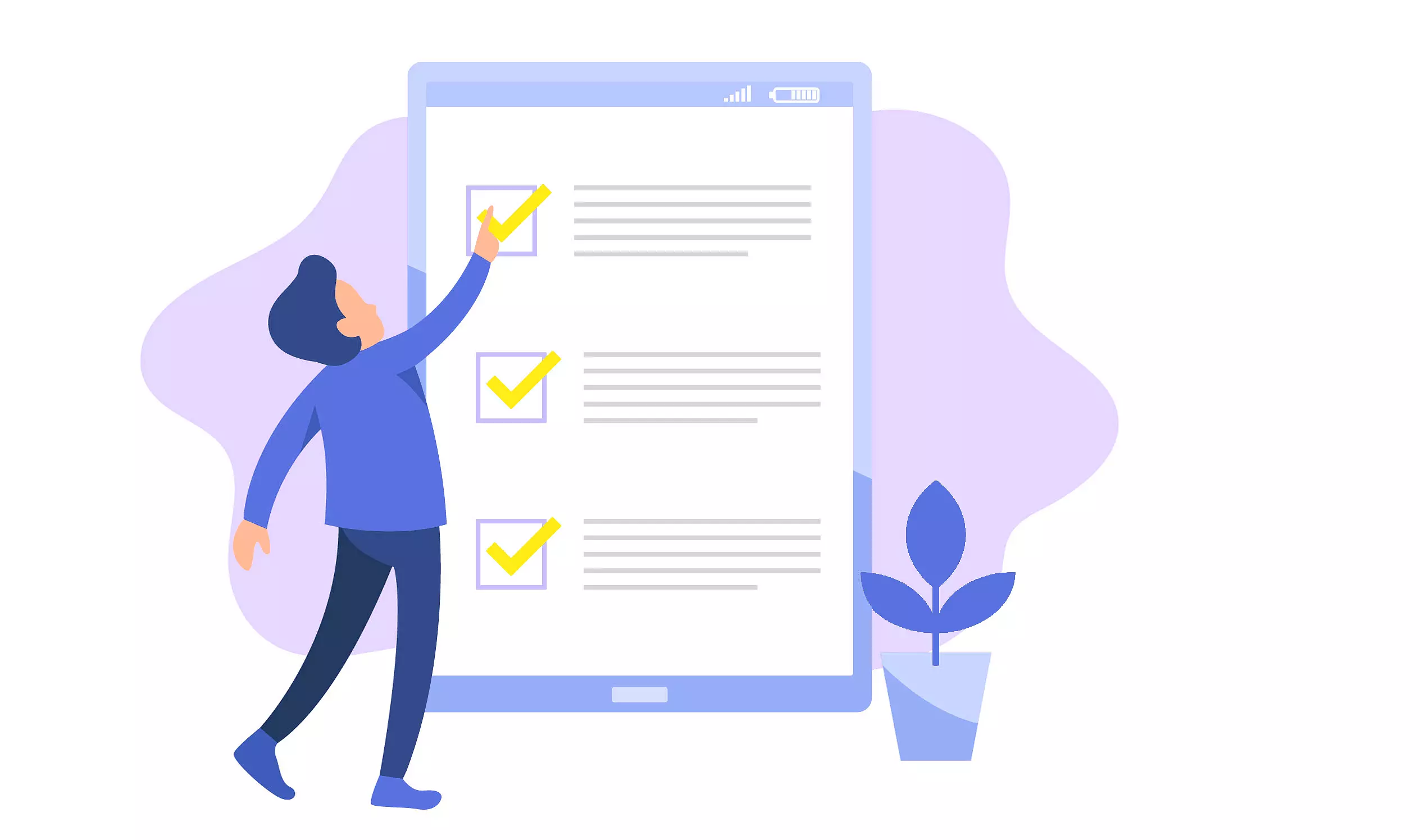 We tested all the major form builders out there, using them to build real forms to collect real data. Read on to find out which one is the best for your needs.
Can These Online Form Builders Really Do What They Claim? 
There are dozens of online form builders out there, and each one claims to be "the best." The trouble is, they can't all be the best, and they can't all be right for you. 
We use forms a lot here at Website Planet, and we're dedicated to helping you choose the best products for your needs, so it made sense to do some hands-on research into online form builders. 
We've looked at form builders for different purposes (regular forms vs. surveys), form builders for WordPress, and form builders for various budgets – because we know that what you need varies depending on how you're using forms for your business, personal, or education website.
We've compared the top form builders by trying them out over a period of several weeks to evaluate them in detail. We'll explain exactly how we did it below (jump down now to read all the details), but it's fair to say that the results surprised even us. We expected more from the pricier form builders – and one form builder in particular really surprised us.
The Complete Comparison of the Best Online Form Builders – How We Did It
Type "online form builder" into Google and you're greeted with a crazy number of results.
With sponsored ads competing for your attention – and your cash – picking the right form builder for you can seem as difficult as picking the winning lottery numbers
. There's no one-size-fits-all with form builders, either. And that's precisely why I was tasked with this comparison project.
I didn't realize just how many form builders there were until I began this project to discover the best online form builders available. Seriously, there are
so
many, and after a couple months of conducting in-depth tests, I could probably build you a form in my sleep! 
My task was to sign up to use online form builders and put them through some pretty rigorous testing. I have a lot of experience using WordPress and website builders to create websites, so I'm familiar with online forms,
but for this project, I had to put aside my years of experience and approach every form builder as if I were a complete beginner.
Form builder companies use a lot of jargon when they're trying to sell their product, and if you're a beginner, it's easy to be swayed by impressive-sounding features (that you probably don't need).
If you commit to a form builder subscription only to find that a feature you really need isn't available (or requires an expensive upgrade), it can be a problem, especially since not all form builders offer a money-back guarantee or refund option.
When choosing your form builder, you need to think about your long-term needs – opting for the cheapest might not be the best idea!
My goal in this form builder comparison is to help you make the right choice – and help you avoid getting stuck with the wrong form builder for the next year. But how did I decide what makes a form builder great? Well, there were three main criteria that I looked for in every form builder:
Ease of use

– I tested the builders to see which ones are

really

beginner-friendly.

Features

– I checked which builders include all the essential features, plus more advanced features such as conditional logic and third-party integrations.

Value for money

– here I wasn't necessarily looking for the cheapest form builder, but for the ones that provide the best value.
You now know how this epic list came to be, but you're probably itching to find out who comes out on top. Keep reading to find out! 
Which Are the Top Online Form Builders Available in 2020?
This project involved reviewing a
lot
of form builders. Some of them were a real joy to use, while others had me screaming at my laptop in frustration. After all those tests were completed, I needed to focus on the best so you wouldn't have to trawl through all the reviews.
It wasn't an easy process to narrow the list down to just ten. It's something I've agonized over, because
I wanted this list to showcase the best form builders for different needs.
A small business is going to need different features than a larger healthcare operation, after all. 
Likewise,
I wanted this list to be inclusive of all kinds of budgets,
whether you're looking for the absolute cheapest option or you're willing to spend more to get the features you need.
If You Want to Test an Online Form Builder, You Have to Build a Real Form
I probably went a bit overboard with this, to be honest, because I actually built more than one form with every form builder I tested. Why, you ask, would I put myself through that?
Well, because I wanted to see how the form builders could handle different types of forms –
basic, complex, ones with payment processing, ones that needed high-end encryption, and so on.
When I initially began, I had set my expectations quite high, particularly for the more costly form builders. However, as the project progressed, I adjusted my expectations accordingly. I learned that a hefty price tag does not always guarantee the best quality. Surprisingly, it was some of the lower-priced form builders that truly impressed me.
What Do We Look For in the Best Online Form Builders?
Here's where it gets a bit technical. How, exactly, did I test all these form builders and compare them to each other? I was given some pretty clear guidelines at the start of the project, but I also added my own, because, well, I like to give you the very best information possible! 
For every form builder I reviewed (remember, there are a lot!), I evaluated them based on:
How easy it is to use (For example, could my 75-year-old mother build a form with this builder?)

Its value for money

Its functionality (Do the features advertised actually work like they should?)

The number and type of form templates

Its customization options 

The support options available 

What help is available in its knowledge base, if there is one

The features it offers – and whether you have to pay extra to use them

The limits/restrictions on number of forms/form submissions

Whether it works with third-party apps 
| | | | | | |
| --- | --- | --- | --- | --- | --- |
| | Ease of Use (Out of 5) | Payment Processing | Third-party Integrations | Limited/ Unlimited Forms | Secure Forms/ HIPAA Compliance |
| JotForm | 4.8 | ✔ |  ✔ | Limited | $ |
| Cognito Forms | 4.8 |  ✔ |  ✔ | Unlimited | $ |
| Zoho Forms | 4.7 |  ✔ |  ✔ | Unlimited (except free plan) | ✘ |
| Ninja Forms | 4.6 | $ | $ | Unlimited | ✘ |
| Formstack | 4.8 | $ | $ | Limited | $ |
| SurveyMonkey | 4.1 | $ | ✘ | Unlimited | ✘ |
| HubSpot | 4.8 | ✘ | $ | Unlimited | ✘ |
| Wufoo | 4.3 | $ | $ | Limited | ✘ |
| Formidable Forms | 4.6 | $ | $ | Unlimited | ✘ |
| Google Forms | 4.8 | ✘ |  ✔ | Unlimited | ✘ |
$ = paid plans only
Drumroll, Please! The Results Are In!
In this section, you'll (finally) get to discover which form builders I rate most highly – but please bear in mind that these are just summaries. If you want all the details, please check out the full reviews. So, here goes:
JotForm
was my favorite out of all the form builders I reviewed.  Although it limits the number of forms you can create, it was a really easy form builder to use, and it's beginner friendly, too. You're able to accept payments on the free plan, and it supports over 80 apps/integrations.
The fact that you can fully customize your forms with the form designer is also a big plus.
Cognito Forms
came very close to JotForm, but didn't quite beat it. The form-building experience was smooth and trouble-free. What made it stand out was not just the simplicity, but the fact that you can create unlimited forms
and
accept payments (up to 500 per month) on the free plan.
It integrates with third-party apps – and, if you need HIPAA compliance, you can get it on the Enterprise plan.
Zoho Forms
was also right up there, thanks to its intuitive, user-friendly interface and generous free plan that allows you to use most features and accept up to 10 payments via PayPal or Stripe.
There are app integrations galore and unlimited forms on all paid plans.
I knocked it to third place because its templates are a bit more basic, both in terms of form types and designs, and it doesn't offer HIPAA compliance. 
Ninja Forms
is one of the best form builder plugins for WordPress, and what I loved about it is that you can select the add-on features (such as style customization, payment processing, email marketing integrations, etc.) that you want, a la carte, or subscribe to a plan that bundles several add-ons into a yearly payment.
It's easy to use and comes with some great form templates, too.
Formstack
doesn't have a free plan, but it is a really capable form builder with a 14-day free trial.
Its best features include its 300+ templates, a theme builder, and its advanced data and analytics
,
which makes it ideal if you're looking for more in-depth data analysis when you use forms for lead generation and market research.
Using
SurveyMonkey
was an interesting experience, as it's not your average form builder! It's the best for creating surveys, though, and it has a ton of features designed to help you collect, collate, and analyze data.
If you're doing market research or need to collect information for a research project, then SurveyMonkey is pretty easy to use
– and it allows you to create "banks" of questions that you can easily reuse.
What I like about
HubSpot
is that if you're already using its free CRM (customer relationship management) platform, you can get started with building forms right away. Even if you're not, signing up is quick and easy. I connected it with my website, and
what stood out for me was the ability to create and activate forms on my WordPress website from my HubSpot dashboard
– without having to log into WordPress.
Wufoo
is a deceptively good form builder. It looks like something that's been resurrected from Windows 95 (yes, I am
that
old and started my computer life with Windows 95 and dial-up internet!), but putting that aside,
it's a really capable builder that offers a huge library of 400+ form templates.
It supports integrations and is easy to use if you're a beginner, too – but still has enough advanced features to make it a great choice no matter your level of experience.
Formidable Forms
is a WordPress form builder that stands out because it's not aimed at beginners and yet is actually pretty easy to use.
It offers advanced features like smart conditional logic, calculated fields, and multi-page forms with progress bars (depending on your plan).
You can stick with the free version of the plugin if your needs are more basic, but subscribing will open up the advanced capabilities of this plugin.
Last, but by no means least,
Google Forms
makes a surprising appearance on this list of the best online form builders. I wasn't expecting it to be so good, considering it is 100% free.
It is a bit limited and it doesn't have a lot of templates,
but it's super easy to use.
Phew! That was a lot of information to digest, so to make it easier, here's a summary table.
Form Builders Compared – the Features You Get for Free
| | | | | | |
| --- | --- | --- | --- | --- | --- |
| Form Builder | # of Forms | Templates | # Form Submissions | Support Options | Integrations |
| JotForm | 5 | All | 100 | Contact form 24/7 | ✔ |
| Cognito Forms | Unlimited | All | 500/month | Email form, chat (business hours) | ✔ |
| Zoho Forms | 3 | All | 500/month | Email, help center articles | ✔ |
| Ninja Forms | Unlimited | Selected | Unlimited | Contact form | ✘ |
| Formstack | N/A | N/A | N/A | N/A | N/A |
| Survey Monkey | Unlimited | 40 | 100 per survey | Email | ✘ |
| HubSpot | Unlimited | All | Unlimited | Help center articles | ✘ |
| Wufoo | 5 | All | 100 | Email | ✘ |
| Formidable Forms | Unlimited | 2 | Unlimited | Ticket | ✘ |
| Google Forms | Unlimited | All | Unlimited | Help center articles | ✔ |
Form Builders Compared – The Features on the Lowest-Priced Plan
| | | | | | | |
| --- | --- | --- | --- | --- | --- | --- |
| Form Builder | Payments | Save & Continue | Users | Signatures | File Upload | Support |
| JotForm | ✔ | ✘ | 1 | ✔ | ✔ | Contact form 24/7 |
| Cognito Forms | ✔ | ✔ | 2 (more for added fee) | ✔ | ✔ | Email form, chat (business hours) |
| Zoho Forms | ✔ | ✔ | 1 | ✔ | ✔ | Email, help center articles |
| Ninja Forms | ✔ | ✘ | 1 | ✘ | ✔ | Priority |
| Formstack | ✔ | ✔ | 1 | ✔ | ✔ | Ticket, email |
| Survey Monkey | ✘ | ✔ | 1 | ✘ | ✘ | Email 24/7 |
| HubSpot | ✘ | ✘ | 1 | ✘ | ✘ | Ticket, email |
| Wufoo | ✘ | ✘ | 1 | ✔ | ✔ | Email |
| Formidable Forms | ✘ | ✔ | 1 | ✘ | ✔ | Ticket |
| Google Forms | N/A | N/A | N/A | N/A | N/A | N/A |
It was hard to pick a clear winner in this epic battle of the form builders,
but after creating complicated spreadsheets and pulling out my hair (I'm kidding, about the spreadsheets at least!), I could only conclude that
JotForm
had that slight edge over its rivals. It was close, though. 
It was the outrageous number of well-designed templates that gave JotForm the edge, coupled with the fact that it seems to have something for everyone – whether you're a beginner or are looking for more complex secure forms that are HIPAA compliant.
Final Words
There you have it – out of all of the form builders I've tested, these ten are the ones that really stand out. Of course, there are others I've reviewed that came close to getting a spot in the top ten – such as
Paperform
and
CaptainForm.
If the form builder you've got your eye on isn't on this list, why not type it into the search box at the top of the page – chances are, I've reviewed it! Remember that this is just an overview of the best bits of the best form builders.
To get the complete picture, you'll need to read the full reviews to make sure there's not a downside that could mean a particular form builder isn't right for you.
There's no such thing as a perfect form builder, after all – or if there is, I haven't found it yet!
When should I upgrade from a free online form builder to a paid one?
It really depends on what you're using the form builder for. If you just need the basics, such as a contact form and a newsletter signup form for your website, then most free plans give you what you need. But watch out for the limits that some builders put on the number of submissions you can receive. If, however, you want more complex features like conditional logic, rules, payment processing, and lots of integrations with third-party apps, then you're more likely to need to upgrade. Cognito Forms is the only form builder that allows you to receive a (relatively) large number of payments on its free plan – with the others, you'll need to pay for the privilege of processing payments!
What kinds of online forms are available?
There are a variety of online forms you can create, including lead generation forms, newsletter signup forms, contact forms, questionnaires, surveys, job application forms, event registration forms, order forms, and Net Promoter Score forms (to gauge whether your customers would recommend you to others).
Can I easily integrate online forms onto my website?
Absolutely. Most online form builders offer embedding as well as several other ways of sharing your forms (such as links, social media posts, email, and even QR codes). Embedding forms onto websites is often as simple as installing a plugin, add-on, or app on your website (depending on your website builder/platform). For example, online form builders like JotForm and Wufoo have easy integrations with Wix, so you can add forms to your Wix website as easily as you would any other widget or content block.
Can I integrate an online form with my email marketing software?
Yes, you can! You can set up online form builders to work seamlessly with email marketing software, usually by enabling an integration within the form builder. For example, form builders such as JotForm, WPForms, and Formstack all have the ability to integrate with popular email marketing platform Constant Contact. The other way of integrating your forms with email marketing software is to use Zapier, which many form builders support. By creating a "Zap" between your online form and your favorite email marketing platform (e.g., Benchmark), you can have new contacts created whenever a form is submitted, for example.
What kinds of online form templates are available?
The kinds of templates you can find in online form builders vary greatly – both in number and type of templates – between form builders. Template types that you might find include lead generation, surveys, contact forms, application forms, quote request forms, payment/order forms, course evaluation forms – and many, many more. Some form builders are more specific in the type of templates they offer. SurveyMonkey, for example, focuses exclusively on survey templates.