Popular freelance marketplaces like Fiverr feature some exceptional talent,
but things don't always go as planned – that's life
. Work might be delivered late, or you might receive something that's not up to the quality you've come to expect. When something like this happens, it's always good to know you can rely on the platform to give you a refund.
Fortunately, filing a dispute and getting a refund on Fiverr is quick and painless. The whole process didn't take me more than a few hours.
If you decide to leave Fiverr after a not-so-ideal interaction with a freelancer, it's straightforward to do that, too. We've tested dozens of freelancer marketplaces and found that Fiverr consistently outperforms the competition both in terms of quality and price. But if you want to make sure you always receive the best service possible, I highly recommend you
take some time to explore the top profiles of Fiverr Pro
.
Fiverr Pro sellers go through a much more rigorous verification process.
Effectively, this minimizes the likelihood of hiring someone who might let you down.
Quick Guide: How Do I Get My Money Back from Fiverr?
Knowing how to get a refund on Fiverr can come in handy when a freelancer doesn't deliver what you'd expected. Long story short,
you can cancel ongoing orders through the Orders page or the Resolution Center.
Things are a bit more complicated for completed orders you've already approved – in that case, you'll have to contact customer support. Follow these simple steps to get your money back:
Step 1:
Log in. Enter your account details on
Fiverr's website
 – you can use either your unique username or the email connected to your account.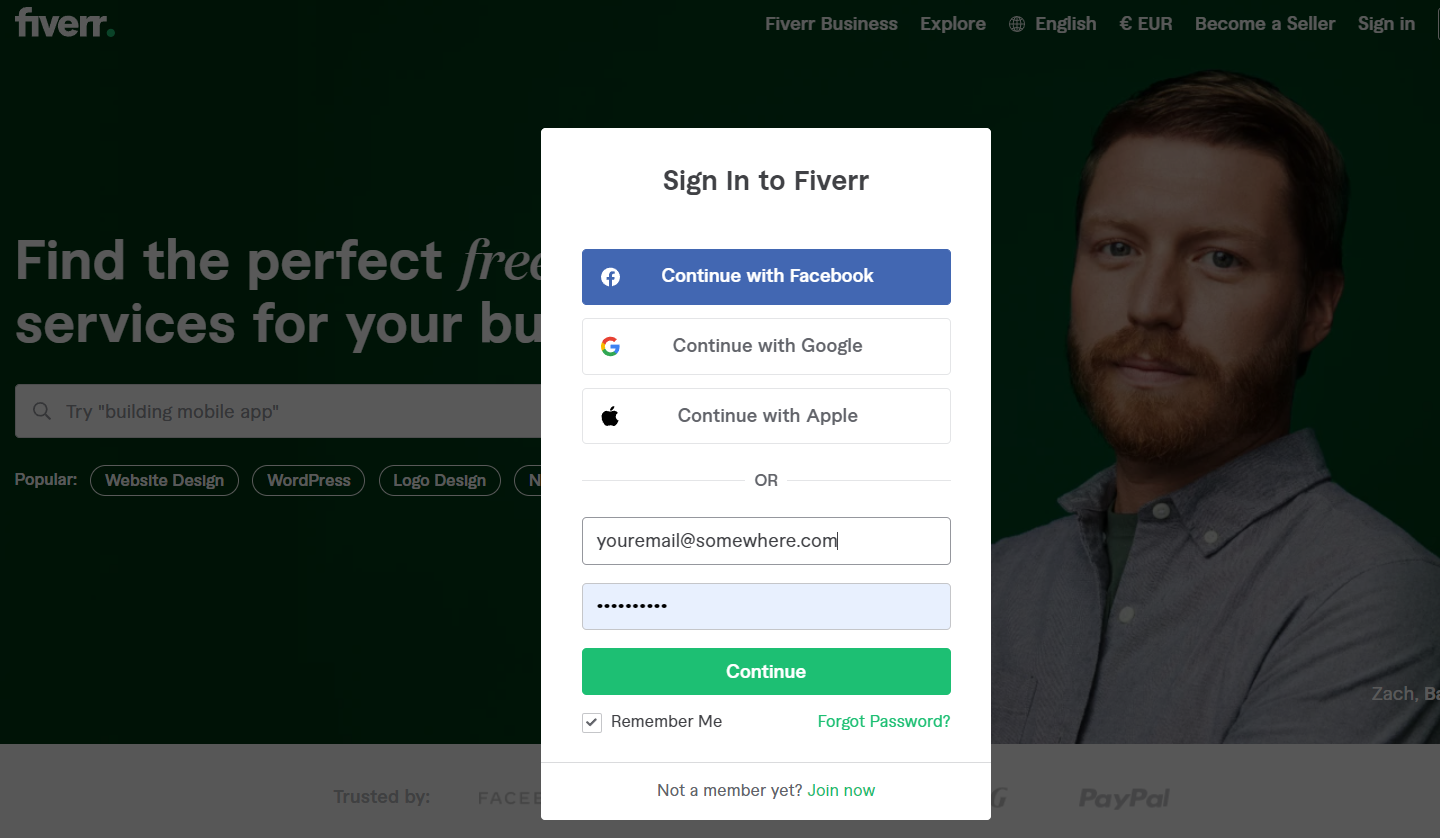 Step 2:
Click on "Orders" in the navigation bar on the top-right side of the page. Choose the order you want to get a refund for.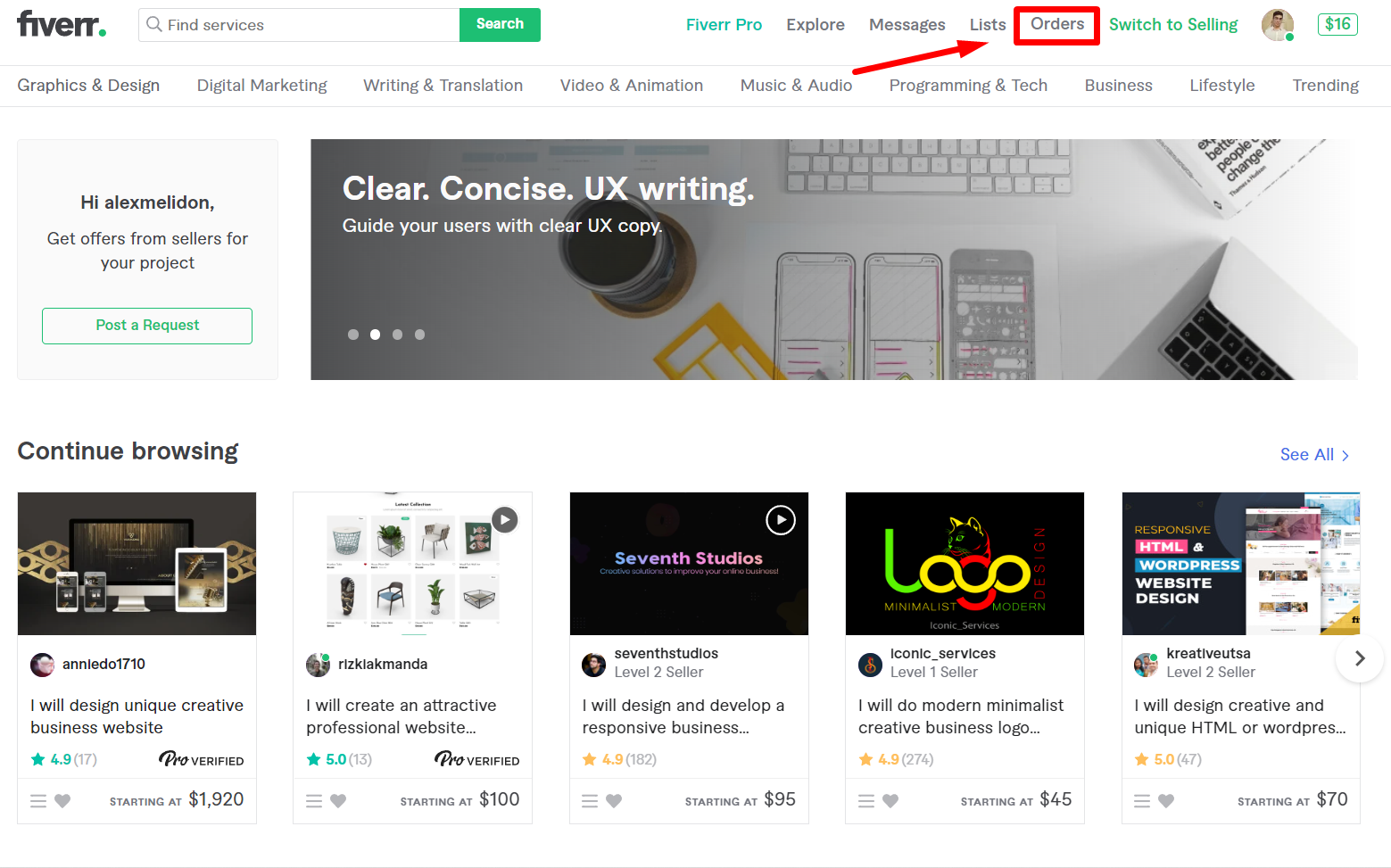 Step 3:
Click "Visit the Resolution Center" in the bottom-right corner and select "Ask the seller to cancel this order".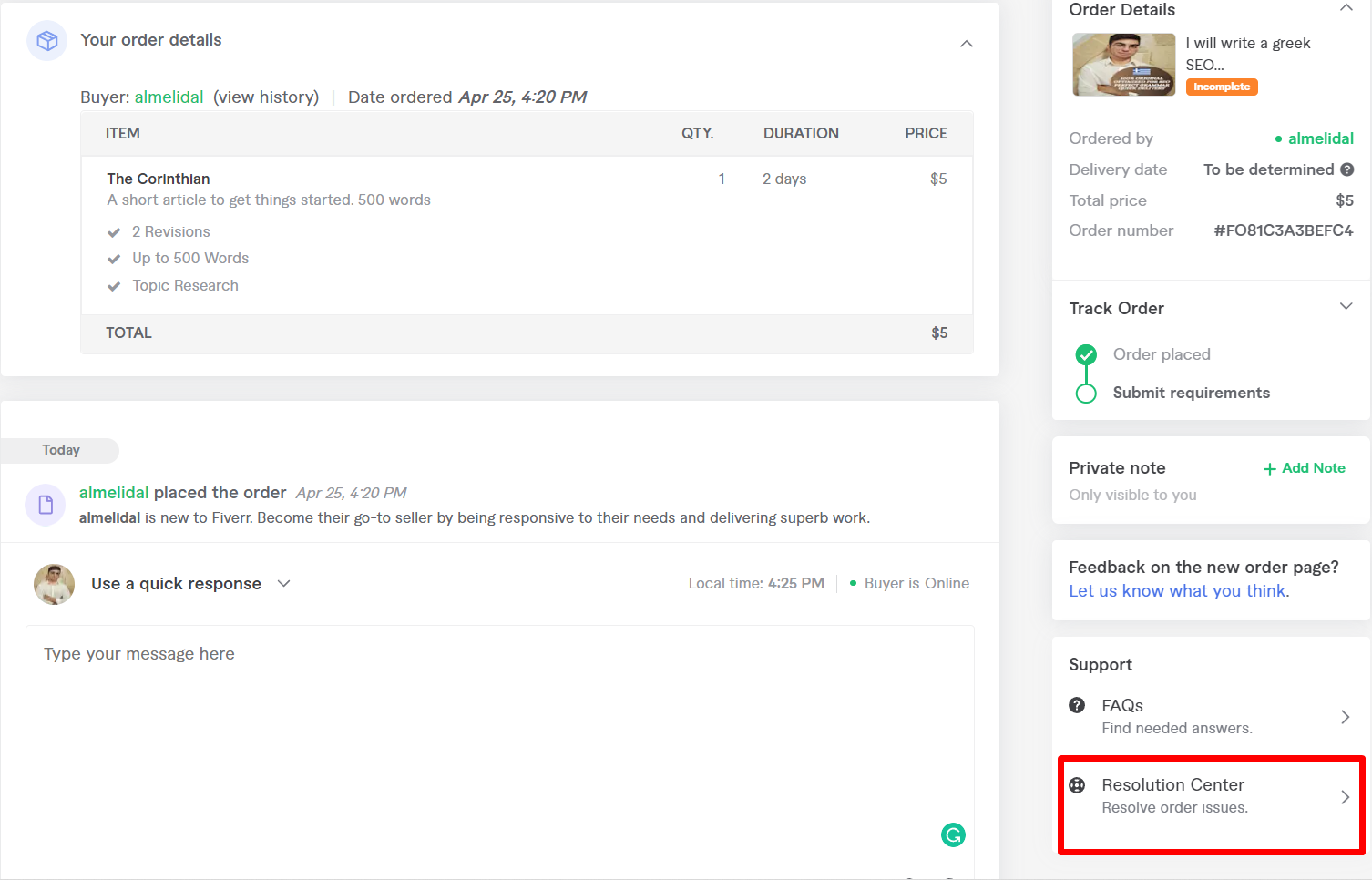 Step 4:
Pick a reason for canceling from the dropdown menu. Click continue. And that's it! Provided the seller accepts your request, your money should be credited back to your balance within a few hours. If you're not planning to
order from Fiverr
again and want your money returned to its source (e.g. to PayPal or your bank account),
you can ask for a direct Fiverr refund through Fiverr's support pages after you've successfully canceled the order
. If you also want to close your account, you can easily do so through your account settings.
My Experience: Here's How I Got a Full Refund from Fiverr + Canceled My Account
I recently placed an order for a small writing gig on Fiverr. The freelancer didn't deliver the project on time, so I canceled the order and requested a refund.
The seller accepted my request, and the amount was returned to my account as a Fiverr credit
– which I then used to hire another professional. I managed to complete the whole refund process in less than five hours. Fiverr has a helpful Resolution Center that you can use to handle potential issues with your orders. It all works without the direct involvement of customer support, as Fiverr wants to make sure buyers and sellers have a chance to sort things out themselves before jumping in. As a buyer, you can ask the seller to provide a progress update if the project's overdue. You can also leave comments and ask for revisions after the work's been submitted.
If the other party doesn't respond within 48 hours, Fiverr will automatically cancel the order and return your funds.
Now, if a seller is stubborn and declines your request for a refund, you can also file a dispute.
This doesn't happen often, as it involves third-party judicial arbitration and mediation services. It's also highly detrimental to sellers' profiles, which means most cases never reach that point. More than a few mishaps on the platform might make you want to close your account. You can deactivate your account by clicking your profile picture, selecting "Settings", and choosing "Deactivate Account".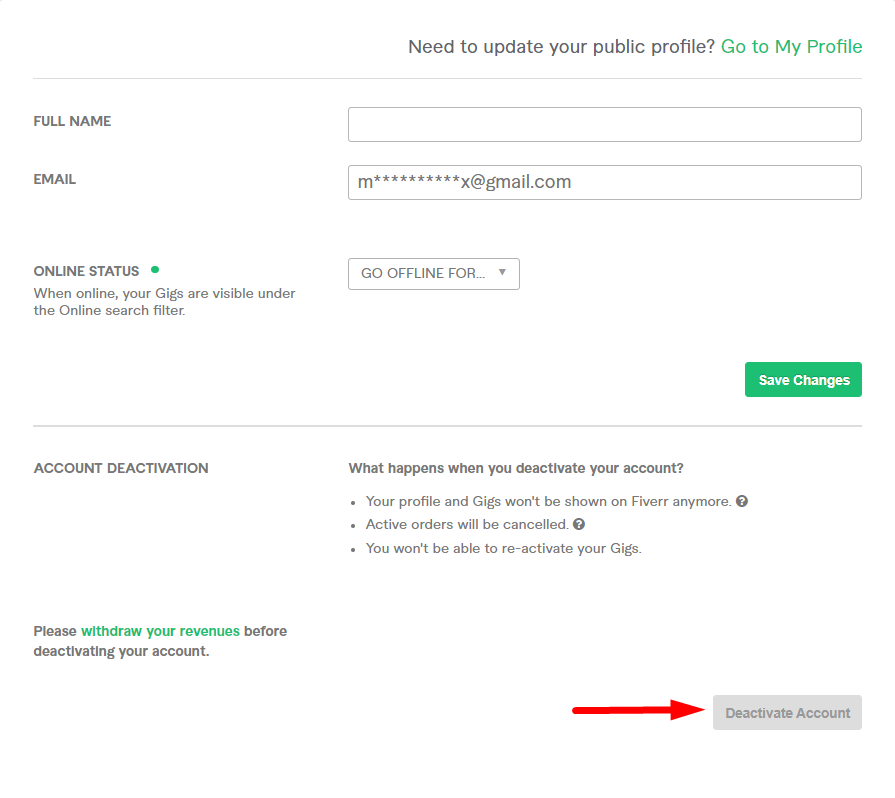 Deactivation hides any published gigs and immediately cancels all active orders.
Feedback, comments, messages, and other public information remain. If you want to delete your account without leaving any trace behind, you'll have to contact customer support after deactivating your account. Note that this process is permanent and cannot be reversed.
Not Happy With Fiverr? Try Fiverr Pro Instead
Overall, my experience with Fiverr has been good – I love how I can choose from a huge talent pool to get any job done quickly, efficiently, and at a great price.
But Fiverr isn't perfect, and sometimes you do get what you pay for.
I'm not saying that $5 gigs are
necessarily
bad, but chances are, you won't always get the best out of a freelancer by paying a ridiculously low price.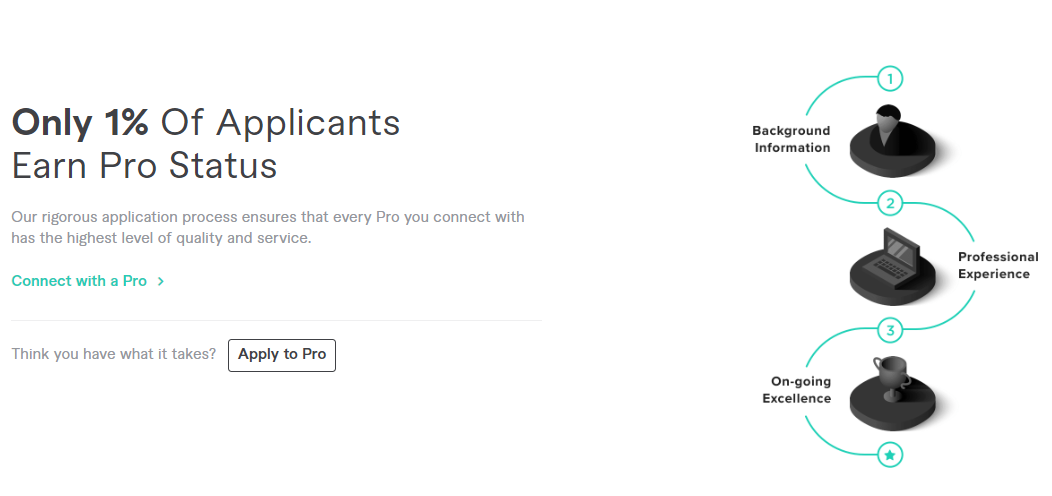 In my experience, better-paid gigs lead to better results –
some of the best work I've received on the platform has come from Fiverr Pro.
Why does Fiverr Pro stand out?
It only includes vetted and verified professionals: Pro sellers on Fiverr represent the top 1% of applicants, underscoring their excellence in their respective fields. To list a Pro gig, sellers must navigate a thorough vetting process and submit a comprehensive application.
The quality of work is at a whole different level: Cheap Fiverr gigs can sometimes be hit or miss, but Fiverr Pro gigs never disappoint. If excellence is what you're after, Fiverr Pro's the service for you.
Faster turnarounds and fewer revisions: Since we're talking about experienced professionals, sellers on Fiverr Pro often have a better grasp of the industry and know what your business needs. The result is quality work that's submitted a lot faster.
You can buy in bulk and create custom orders: Do you need to create several websites? With Fiverr Pro's bulk and custom orders, you can hire a vetted professional to work on several of your projects at once – custom orders can be priced up to $50,000!
Better support: Fiverr's customer support team prioritizes Fiverr Pro-related issues over everything else.
If your budget allows it, Fiverr Pro should always be your number one choice for hiring freelancers online.
Getting a Refund From Fiverr Couldn't Be Easier
Getting your money back on Fiverr takes only a few clicks.
The money I paid for my order was promptly refunded when my hired freelancer failed to deliver the project on time.
Canceling your account is just as easy – but it's permanent, so I wouldn't recommend it unless you're 100% sure you won't ever use the platform again. Fiverr is a great platform. However, if you're looking for consistent, high-quality work that you won't ever have to refund, check out
Fiverr Pro's vetted gigs
.
FAQ
Can You Get Your Money Back From Fiverr?
Yes! You can quickly get your money back from Fiverr by visiting the Resolution Center. The whole process doesn't take long at all, and once the seller approves your request, the money should be returned to you almost immediately.
Can a Buyer Cancel an Order on Fiverr?
Yes, you can cancel an order at any time. On Fiverr, all orders need to be approved by buyers before sellers get paid. If you're not satisfied with the work you receive, you can cancel your order through the Resolution Center – and 99% of the time, sellers will accept your request without question.
What Is Fiverr's Refund Policy?
After successfully canceling an order, Fiverr will refund the entire cost of your purchase to your Fiverr balance. You can then use that balance to hire someone else to get the job done. If you want the money to be reimbursed to your credit card or PayPal account instead, you can also ask for a direct refund.
Is Fiverr Free for Buyers?
Yes, Fiverr is free to use for buyers – there are no sign-up or subscription fees. However, keep in mind that you'll be charged a flat 5.5% service fee for every gig you purchase. For purchases under $50, an additional $2 small order fee will also be applied. You can compare that with the charges of other top competitors by checking out our list of the 7 top freelance websites.