Best Social Media Management Tools for Business in 2023
Find out which social media marketing tools provide the features you need to succeed!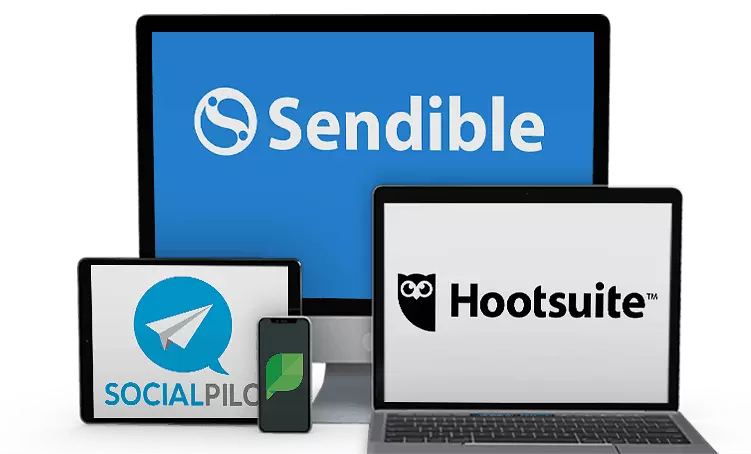 We've tested the top social media marketing tools available and provide you with our top recommendations for 2023. Each tool offers something unique, so be sure to read them all and find the one that is the best fit for you.
All the social media tools on this list are great, but in order to stay on top of your marketing game, you need to have a strong social media strategy in place. As an SMB you might not have the time or skills to build one yourself, but for the price of a business lunch, you can
hire a social media expert on Fiverr
 that will take your business to the next level.
Is your current social media tool really working for you? Maybe you're wondering whether there's another tool that's easier to use, or offers more features or value. Or perhaps you need to schedule content for a platform that's not integrated with your current tool.
With the right tool, you'll save time and manage social media efficiently so that your social content strategy really works. But how do you know which one's right?
It's even more difficult to choose if you've never used a social media tool before. The right one for you may be different, depending on whether you're just starting out as a blogger, or already running a full-service marketing agency.
Before you invest your time – or money – in any social media management tool, you want to know you're picking the best one so you can get immediate value from your content strategy.
After countless hours of research, and talking to businesses of all shapes and sizes, we know the features that matter the most. We've tried and tested these tools on our own site for an entire month, and not just "for the review."
Don't have the time or the patience to manage all your social media assets?
Fiverr
boasts loads of professional freelance social media managers, many with premium access to the best social media tools available.
Check out what Fiverr has available for you!
What We Look For in the Best Social Media Tools
Supported social networks: We looked for the tools that support the most important social networks (like Twitter, Facebook, LinkedIn, and Instagram), as well as others.
Ease of use: You want to get started with your social media management tool in little time, and without a huge learning curve.
Social engagement: Ideally, the tools should allow you to monitor and respond to content directly from the platform.
Publishing and scheduling: It should be simple to share content and plan ahead with social content publication.
Analytics and reporting: You should be able to easily understand how your content is performing and – where necessary – share those metrics with others.
Team features: If you're working with a team, you need to be able to effectively collaborate and communicate so that tasks are completed efficiently.
Price: We looked for tools that offer a free plan or a free trial so you can easily test them out for yourself.
Which Are the Best Social Media Tools?
If you're looking for a good all-around contender, then
Hootsuite
 is still a useful tool.
Buffer
is easy to use, and is helpful when just getting started in social media. Meanwhile, bigger businesses may find
eClincher, Sprout Social
, and
SocialPilot
 more useful. Check out our comparison table below to help you make up your mind.
| | | |
| --- | --- | --- |
| Type of Business | Top Pick | Reasons |
| Any | Hootsuite | The grand-daddy of social media tools still has a lot to offer, including an all-in-one social media dashboard |
| SMBs | eClincher | Social inbox saves time and makes reputation management easy |
| Bloggers | Sendible | Supports more blogging platforms than any other tool |
| Beginners | Buffer | Very easy to use; works with the main platforms in the free version |
| eCommerce websites | SocialPilot | Good integration of Google My Business |
| Agencies | Sprout Social | Great team features, including Facebook Messenger integration |