Nexcess is an amazingly feature-rich web hosting provider specially optimized for a select few CMSes, including Magento and WordPress. In business since 2000, they operate five data centers across the United States, the United Kingdom, and Australia.
Features and Ease of Use
Nexcess promises superior loading speeds and server performance, particularly for Magento or WordPress websites. They boast that they're up to 13x faster than standard web hosting services – which, according to my tests, is a fairly accurate claim. They accomplish this by utilizing SSDs and RAID for their cloud storage, along with Apache 2.4, MySQL 5.7, and PHP 7.0/7.1. This power-packed trio offers much lower memory consumption, better load balancing, improved security, and greater performance gains.
One unique feature Nexcess offers is their auto-scaling platform for Nexcess Cloud. This means that even if your website experiences a surge in traffic or e-commerce transactions, the server's resources will be automatically scaled up to handle up to double the increased load – thereby ensuring optimal speeds for your visitors even during crunch times.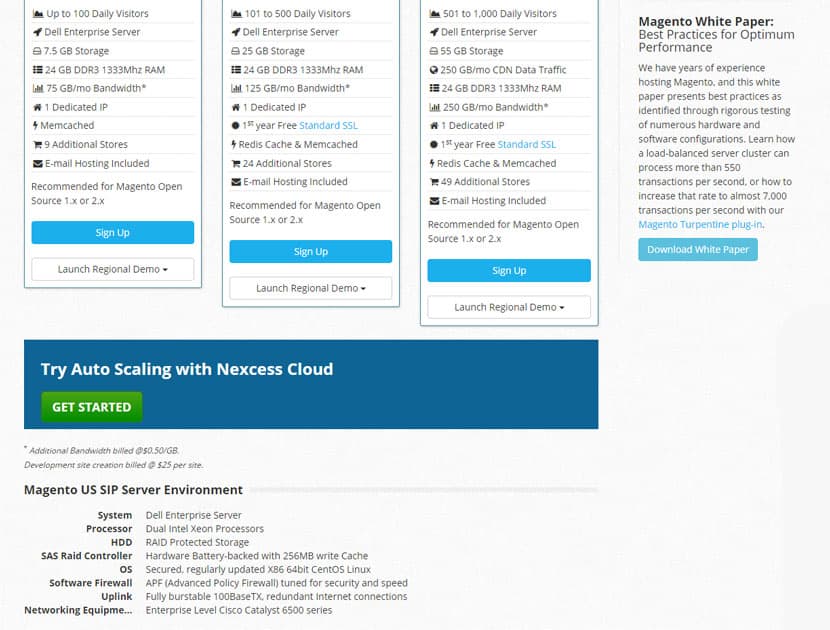 Given that Nexcess Cloud is their best feature, I'll focus on this range of plans. The XS Shared Nexcess Cloud package affords users:
25 concurrent users – and up to 50 with auto-scaling
50GB disk space
1TB bandwidth
Upgrading to the M Shared Nexcess Cloud plan bumps this number up to 75 concurrent users (100 with auto-scaling), 125GB disk space, and 3TB bandwidth.
If your website demands the highest levels of performance, you can also opt for their Dedicated Nexcess Cloud packages. These start from the L plan, which provides:
100 concurrent users (125 with auto-scaling)
400GB disk space
5TB bandwidth
20 vCPU
20GB RAM
The highest level provides for 150 concurrent users (175 with auto-scaling), has 800GB disk space, a whopping 10TB bandwidth, 32 vCPU, and 32GB RAM.
Of course, you receive free SSL certification with all of these plans, and you always have the option of upgrading to an Extended Validation (EV) SSL Certificate for the highest level of encryption.
When you're setting up your account, you can select from a few available CMSes, which will be installed for you automatically. These include Magento, WordPress, WooCommerce, ExpressionEngine, CraftCMS, and OroCRM.
All Nexcess users have access to the Nexcess Client Portal, which allows you to control everything about your hosting account via a single login. You can change your resource allocations, pay your bills, track your visitor analytics, and much more with this rich user interface.
Nexcess also provides free website migrations, and you can be assured that your website will experience little to no downtime during the transition. They even take care of backups automatically, creating them off-site every day and storing them for up to 30 days.
Pricing and Support
If you're comparing Nexcess to other cloud hosting services, Nexcess definitely isn't the most affordable. The trade-off is that many other cheaper cloud hosting services don't include the 24/7 tech support, auto-scaling, daily backups, website acceleration, and caching that Nexcess features.
Their auto-scaling feature allows you to have double the number of visitors on your website for up to 12 hours without any additional charges. After that, you can either pay by the hour or upgrade your service to the next tier up. This is a huge advantage compared to the pay-as-you-go model that many other cloud hosting providers adopt: you won't be punished if your website does well. In fact, you won't even have to pay, if that spike in performance is temporary.
Upgrades and downgrades are a breeze with the Nexcess Client Portal: you can even jump from shared to dedicated hosting platforms instantly. There's no free trial or free plan available, but that's understandable considering the level of service they offer.
Nexcess takes a proactive approach to customer support. Rather than leaving you to contact them when issues occur, they believe in constantly monitoring your websites and servers and eliminating problems before they occur.
However, in the rare event that issues do come up, their support representatives are available 24/7/365 via phone, email, support tickets, and live chat. Do note that you'll only be able to reach tech support after logging into your client portal – the live chat on their main website is primarily for pre-sales questions.
How much does Nexcess cost?
Nexcess offers plans from $7 to $22. The price depends on which type of hosting plan you choose. You can see the updated pricing table (updated weekly) below.

Which Nexcess plan should I get?
My recommendation is to start with a cheaper plan. You can always upgrade later on. Nexcess can help you with the migration to a more expensive plan. The increase in visitors many times takes longer than expected and you shouldn't pay a lot of money until the need arises. Of course, your needs may vary, and you can consult with a hosting expert from Nexcess
here
.
How good is Nexcess's customer support?
Nexcess is not ranked as one of our top web hosts. But that can also be a result of Nexcess being a small, under the radar, hosting provider. There are advantages to a small hosting company – as a customer, you are more important to them. You can also check out our comparison of the
most popular web hosting services here
.