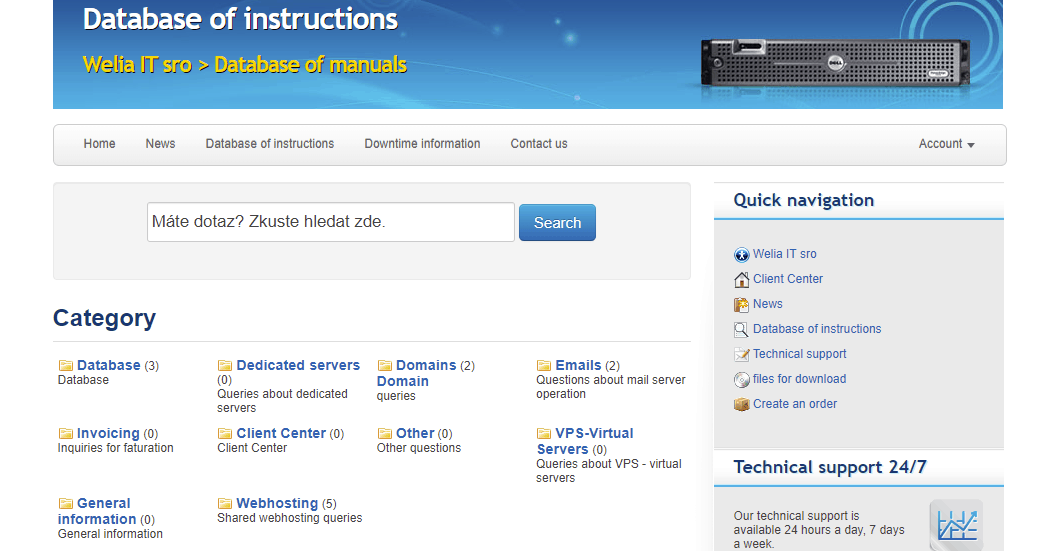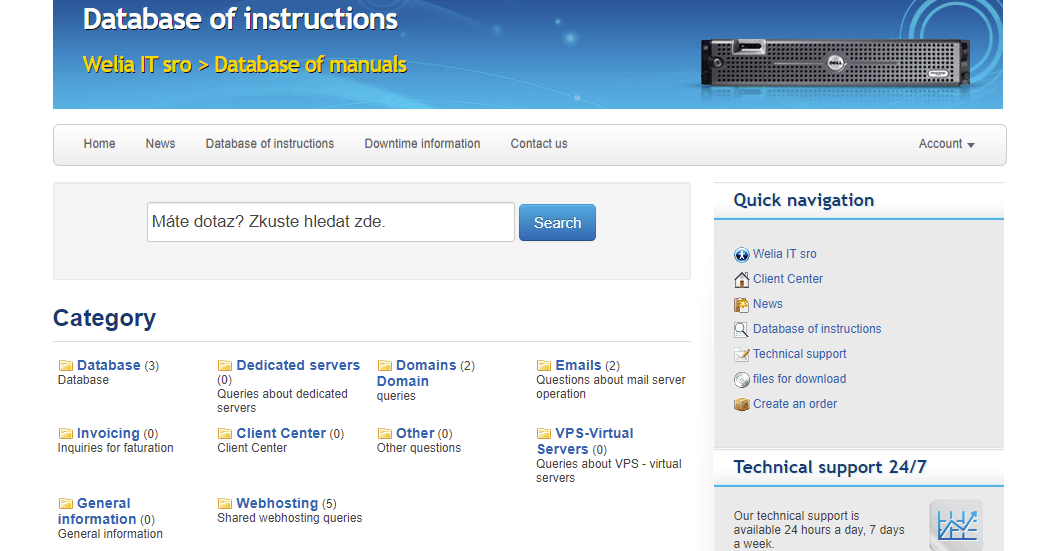 Before its registered date in 2008, Welia has been in business under the name: dotnethosting.cz (founded in 2005). Its services include web hosting, Virtual Private Servers (VPS), and dedicated servers. Its webpage is available in Czech only.
Features and Ease of Use
Welia offers three shared hosting plans: START, POWER, and PROFI. These are more suited to small business and personal blog websites. They offer the following features:
99.9% uptime
Unlimited data transfer
1GB, 7GB, or 12 GB total storage space
Many web hosting companies offer storage space without limits on how you use it. It covers emails, files, and databases. Here, Welia divides the storage space.
Although the total space on the START plan is 1GB, only 400MB of that is allowed for website files and 500MB goes to emails. POWER plan gives 3000MB and PROFI provides 4000MB for website files. The leftover is for databases.
Welia provides service on Windows operating system only. If you're looking to host on a Linux platform, you'll have to look elsewhere; there are thousands of providers that concentrate on Linux.
For programming tools, it supports ASP.NET only. If you're looking to host your PHP or Python programmed website or application, you'll have to look elsewhere. Also, it doesn't provide MySQL databases; only MSSQL.
There is a web application installer, but given that it doesn't support PHP, you can't use it for PHP based applications like WordPress and Magento. The software that it supports is DotNetNuke, BlogEngine.NET, mojoPortal, nopCommerce, and YetAnotherForum.NET
The company doesn't provide automatic backups. It mentions that there's a possibility of scheduled backups, but the terms of service expressly states that there are no automatic backups. It's better you take yours manually to be safe.
Pricing and Support
There's no free plan but the vendor does provide a seven-day free trial. You can test the service for one week and if you don't like it, you can cancel without paying a dime. However, that trial time isn't enough to really know how well it performs.
For Windows web hosting, the prices on offer for the three plans are low cost. Its subscription periods are one month, three months, six months, and twelve months, and payment is available via bank transfer.
I was very unimpressed with its refund policy. While it's not every web hosting company that provides refunds and that's understandable, when it decides not to refund for services that won't be used, that's even worse. Welia doesn't have a money-back guarantee. And, if you prepay for another period and you decide to cancel before that period starts, you won't get your money back.
Support options are limited to ticketing system and knowledge base. Although it works 24/7, it would have been nice to have a live chat or phone number as well. I opened a ticket, but I never got a response.