Maybe your current hosting plan doesn't give you enough storage or bandwidth, or maybe its performance is lacking
. Or perhaps you've simply decided to look for a hosting plan that offers better value for money. All the providers on this list offer free website migrations so you can make the switch hassle-free. In addition,
each of these hosts offers either a trial period, a discounted first month, or a money-back guarantee
so that you can try it out risk-free. In any case, read on to find out which of these web hosts will suit your particular project.
Short on Time? These Are the Best Web Hosts With Free Site Migration in 2023:
Nexcess – Managed plans with free site migrations and cloud-based servers that will handle surges in traffic
InterServer – Unlimited features like bandwidth, storage, and number of websites make InterServer ideal for multiple small websites
What We Look For in the Best Web Hosts With Free Site Migrations
The web hosts in this article make migrating your site as easy and as hassle-free as possible
. Once you sign up for a plan, in most cases you can simply initiate the migration process by submitting a request through your account dashboard. Here are some additional features I've considered when choosing hosts for this list:
Performance and reliability. What's the point in moving to a new provider if performance and reliability are inferior to your current one? All of the web hosts in this article have been extensively tested by our team and are among the best-performing services on the market.
Adequate storage space. If you've been adding content to your website for a while, you might find that you're nearing your storage limit. The hosts in this article offer enough storage for hundreds or thousands of images which is more than enough for even very large websites.
Price. Perhaps you've realized that your current hosting plan does not offer the right balance between features and price. All of the hosts here offer the most competitive prices for their respective services and features.
Money-back guarantees. Migrating your website to a new host can be a daunting experience, especially if you have no prior knowledge of your new chosen host. Most hosts on this list offer either a discounted first month, a money-back guarantee, or a trial period so you can try the service risk-free.

Hostinger makes migrating your site as easy as possible.
You can request to have your existing site migrated to Hostinger in about three clicks
from within your account dashboard. You don't have to do anything else. Switching to Hostinger from either a free host or a different budget provider makes sense. Its track record of reliability and good WordPress performance is largely due to the implemented LiteSpeed web server and related optimizations.
Hostinger's plans are also the most affordable
– but to get the best price, you'll have to commit to a longer-term plan, like the 2- or 3-year options. Fortunately, Hostinger also offers a 30-day money-back guarantee.
A free domain name is included with some hosting plans from Hostinger
Features
WordPress optimization. Aside from the LiteSpeed web server software, Hostinger also offers the LiteSpeed Cache plugin for WordPress and an optimized hardware environment for the best possible WordPress performance in this price range.
Weekly or daily backups. Hostinger offers either weekly or daily backups, depending on which plan you purchase. This ensures all of your data remains safe from corruption or malware attacks.
30-day money-back guarantee. This will allow you to try things out risk-free. You're welcome to cancel and get your money back within 30 days.
hPanel. Hostinger's proprietary control panel allows for easy management of your hosting space and your website's back-end environment. Many people find hPanel easier to use than cPanel.
Read our expert Hostinger review for more details
.
WordPress optimization?

✔

Storage
30GB – 200GB
Bandwidth
100GB – unlimited
Starting Price

$

1.99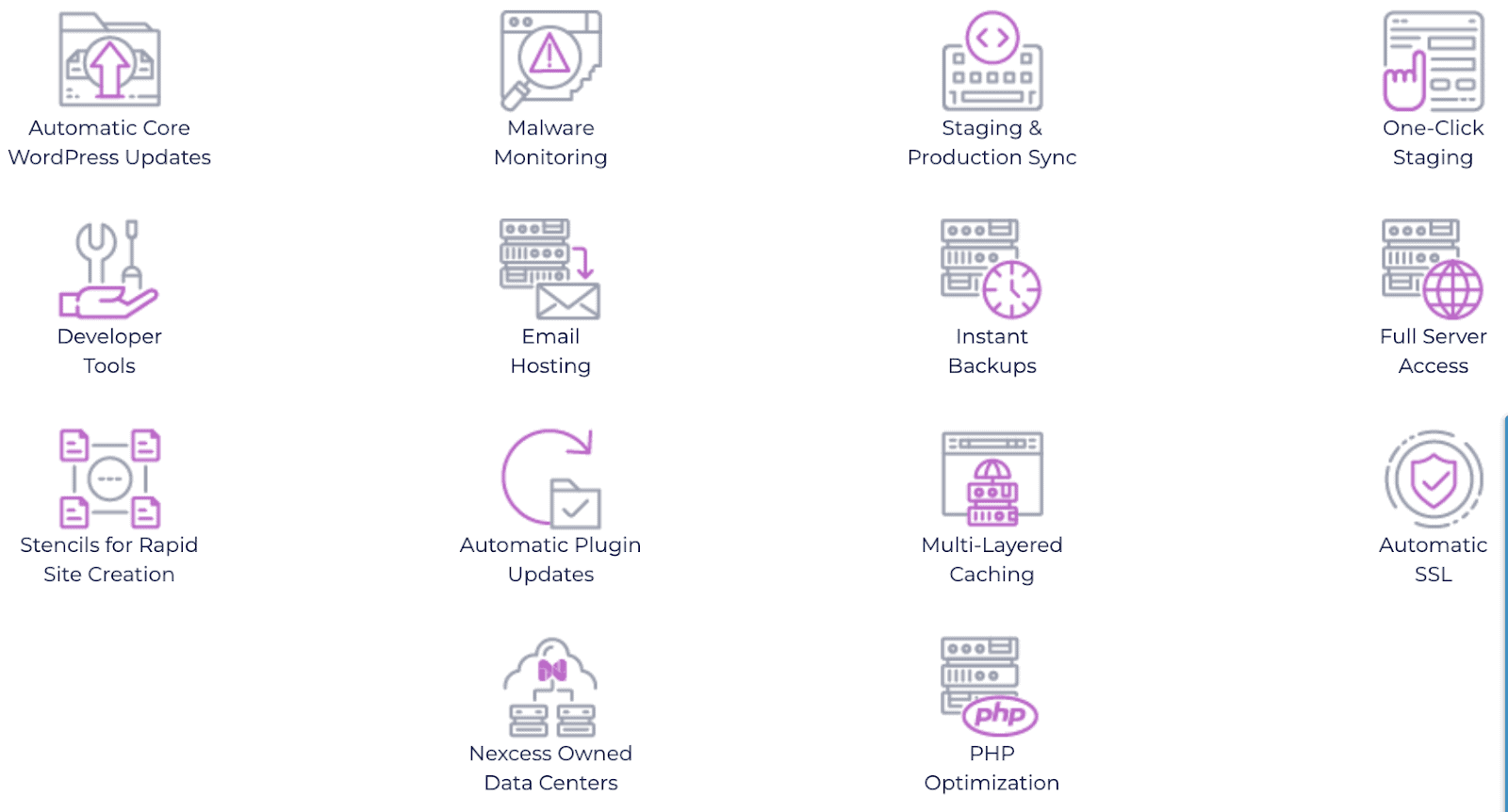 When it comes to cloud hosting, Nexcess's plans strike
an optimal balance between price and higher performance.
Nexcess' cloud hosting infrastructure can scale server resources to accommodate short surges in your website's traffic flow (unlike shared hosting).
All of Nexcess's plans come with free website migration at no additional charge
. Once you've signed up for a plan with resources that accomodate your existing site, you can simply submit a request within your account portal to have the site migrated. Website migration is just the beginning of Nexcess's service offering, however. As all of its plans are managed, you get extra automation – such as the
pre-configured Edge CDN and the Plugin Performance Monitor
– and a higher standard of guaranteed customer support. This translates into slightly higher but still competitive prices.
Features
Single-click site staging. A staging area allows you to test changes on a copy of your website before making them available on your live site. This prevents you from accidentally breaking your live site.
Nexcess content delivery network (CDN). Nexcess's Edge CDN caches your site's static content on 22 server locations throughout Europe, North America, and the Asia-Pacific region, making your images and code load faster for site visitors who are further away from your chosen data center.
iThemes Security Pro. iThemes Security Pro is a premium security plugin for WordPress that monitors 24/7 for any suspicious activity and prevents malicious online attacks.
14-day free trial. Nexcess offers you the opportunity to try things out risk-free for 14 days to see if the service is right for you.
Read our expert Nexcess review for more details
.
WordPress optimization?
✔
Storage
15GB – 800GB
Bandwidth
2TB – 10TB
Starting price

$

15.83

InterServer's site migration process is similar to Hostinger's.
Once you purchase a hosting plan,
you can simply submit a transfer request form
from within your account dashboard.
InterServer's Standard shared hosting plan offers unlimited features
like storage, bandwidth, email accounts, and the number of allowed websites, which makes it a great budget option if you have multiple small sites. Though its shared hosting plan is (justifiably, given the generous resource allocations) a bit pricier than the entry-level offerings from other budget hosts,
you don't have to commit to a long-term plan of 1-3 years to get InterServer's best price.
Features
DirectAdmin control panel. Both cPanel and DirectAdmin offer an interactive user interface (UI) and configuration functionality, but cPanel is easier to use for beginners. DirectAdmin is a better choice since it uses fewer resources like RAM than cPanel which won't use up as many of your hardware resources.
Migration of other CMSs. InterServer also supports the migration of sites using other content management systems, including PrestaShop, Drupal, Joomla, and Magento.
Inter-Insurance. InterServer's proprietary security policy protects your site by preventing any security issues before they arise, and investigating them in the unlikely event that they do.
Unlimited MySQL databases. You'll need one database for each of the WordPress sites you set up, so unlimited databases will allow you to set up as many websites as you want.
Read our expert InterServer review for more details
.
WordPress optimization?

✔

Storage
Unlimited
Bandwidth
Unlimited
Starting price

$

2.50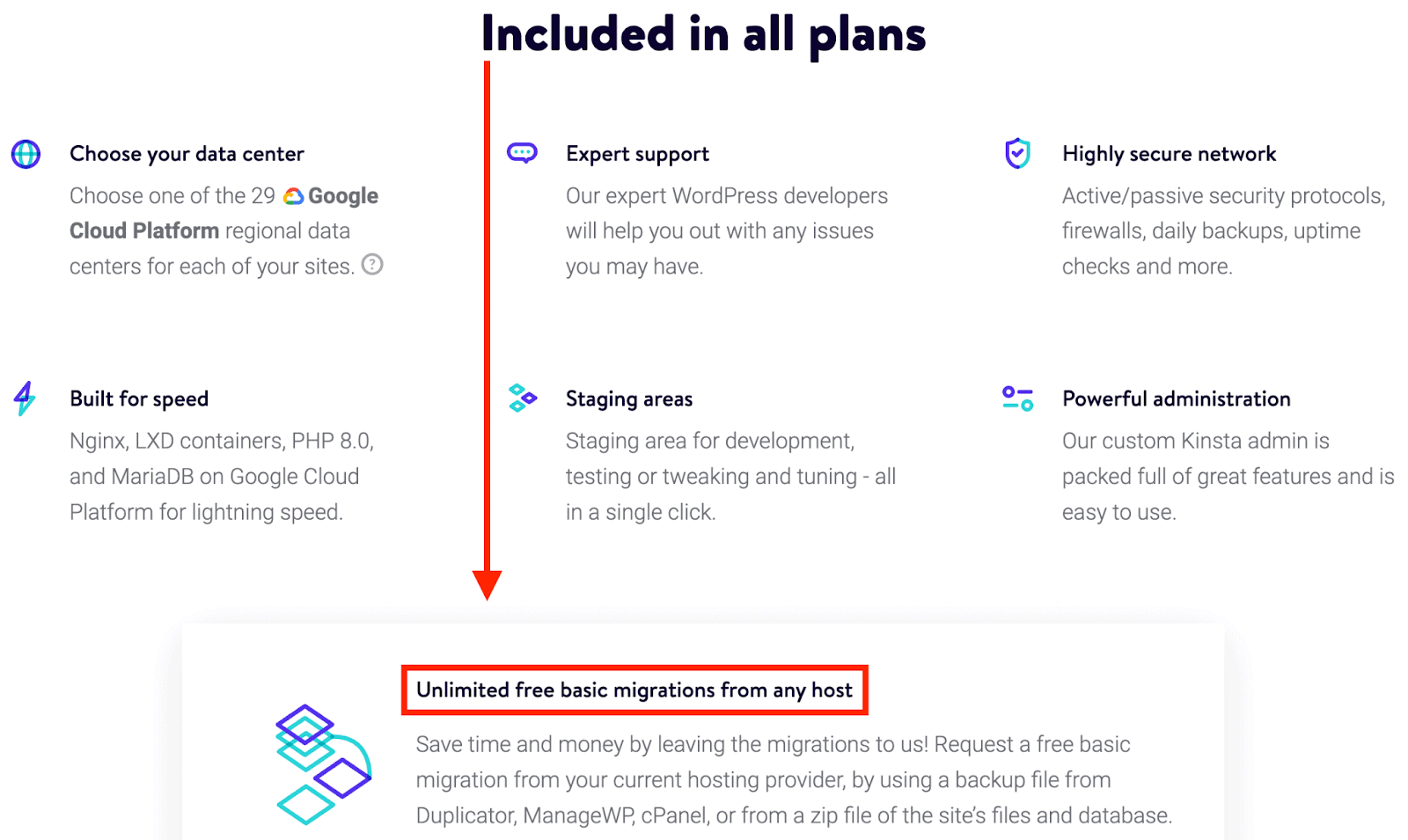 Kinsta offers unlimited site migrations
. Kinsta offers hosting for WordPress-based sites only – but it is one of the best in the business. Also, Kinsta's service is fully-managed.
Server software is configured and optimized for top WordPress performance
, and Kinsta's support team is made up of expert WordPress and Linux developers and engineers who can help you optimize your website as well. Kinsta's prices are higher than other providers, but this is partially due to the service being managed – furthermore,
Kinsta offers top-tier performance to back up its marketing claims.
Features
Google Cloud. Google's hosting platform can be intimidating, even for experienced web developers. Kinsta uses its own server stack on Google Cloud's infrastructure, and offers an easy-to-use control panel and knowledgeable support.
NGINX. NGINX is open-source web server software that can be configured to provide a performance advantage over the traditional Apache web server.
Extensive professional support. The WordPress experts on the Kinsta support team will help with any aspect of your site's optimization.
29 global server locations. Hosting your content at a data center that is as near as possible to your target audience helps keep your site loading speeds down and the user experience high.
Read our expert Kinsta review for more details
.
WordPress optimization?

✔

Storage
10GB – 250GB
Bandwidth
25,000 – 3,000,000 monthly visits
Starting price

$

35.00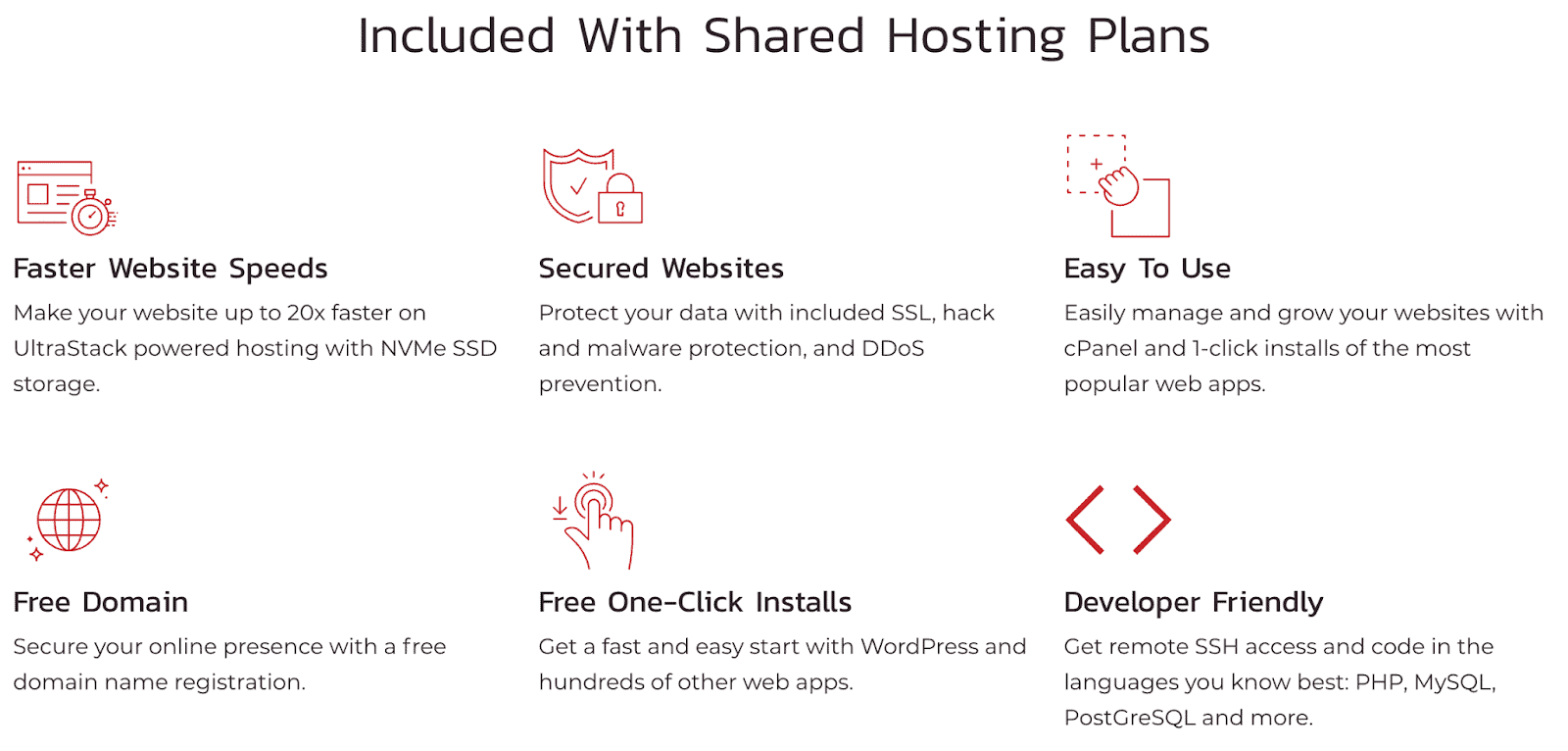 While its prices are a bit higher than other budget hosting providers,
InMotion Hosting's entry-level Core plan offers 100GB of storage
which is more than three times that of Hostinger's entry-level plan, and this can be used to store two websites instead of just one. Additionally, InMotion Hosting's plans include automatic backups. You'll always have a backup if you need to restore your website to a previous version.
Lastly, once you've purchased a hosting plan from InMotion Hosting, you can request free website migrations
through your account portal. Somebody from the support team will then manage the site transfer on your behalf.
InMotion Hosting Web Hosting
Features
NVMe SSD storage. All WordPress plans are equipped with next-generation NVMe storage, which performs even better than standard SSD storage.
BoldGrid. This is a premium website builder that adds drag-and-drop functionality to WordPress sites, allowing you to create a decent-looking website more quickly than you would be able to if you were writing code.
Unlimited bandwidth. As your website grows in popularity, so will the flow of visitors. InMotion Hosting's plans give you an unlimited capacity to deliver text, images, and media to your expanding audience.
90-day money-back guarantee. This is one of the most generous money-back guarantees in the industry.
Read our expert InMotion Hosting review for more details
.
WordPress optimization?

✔

Storage
100GB – unlimited
Bandwidth
Unlimited
Starting price

$

3.29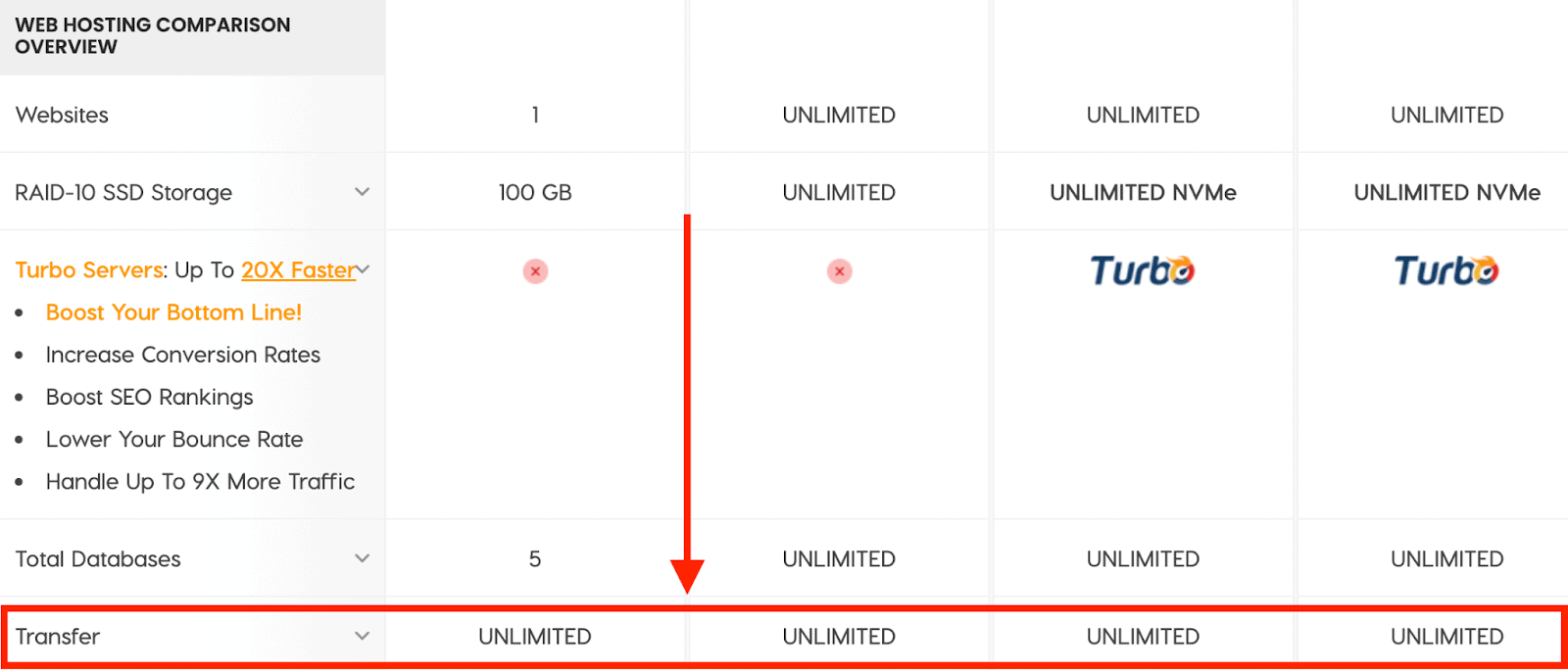 A2 Hosting's A2 Optimized WordPress plugin
is
specifically designed to improve the performance of your WordPress site.
It does this by compressing, caching, and securing your website's contents. It will work on any shared hosting platform, but there are several features that work exclusively on sites hosted with A2 Hosting.
A2 Hosting offers 100GB of storage with its entry-level plan,
which is more than enough for tens of thousands of image files.
A2 Hosting employs the LiteSpeed web server to further improve the performance of your site
, but this feature is only available with A2 Hosting's two most expensive shared hosting plans, so you'll want to keep that in mind if you want to upgrade by moving your site from a provider using a traditional Apache web server setup.
Features
Unlimited websites. While A2 Hosting's entry-level Startup plan offers the ability to host one website, all of its other hosting plans offer unlimited capacity for multiple websites.
Site staging. This allows you to clone a copy of your website to test changes or plugins before making them available on your live site.
Anycast DNS. Your website's DNS records are duplicated across A2 Hosting's data center locations, helping your website load more quickly by increasing the redundancy of address information.
Memory visibility. Something unique to A2 Hosting's shared hosting is the ability to see how much memory is allocated to each plan. Although not mission-critical, it can help give you a general idea of the capabilities and limitations of your hosting plan.
Read our expert A2 Hosting review for more details
.
WordPress optimization?

✔

Storage
100GB – unlimited
Bandwidth
Unlimited
Starting price

$

2.99
Free Site Migration Is a Standard Feature With Reputable Hosting Providers
It wasn't much of a challenge to find web hosts that offer free site migration – this is offered primarily as an incentive to get you to switch from another hosting provider. So, my recommendations below focus mainly on other useful features. If you're looking to switch web hosts because you're currently paying too much,
Hostinger is my top recommendation
. It offers one of the best price-performance ratios out there for shared hosting, with WordPress optimization as a bonus. If you're looking for a major performance upgrade on a growing WordPress site,
consider Nexcess
. A step up from regular shared web hosting, Nexcess is a managed, Google Cloud-based host with excellent performance. For unlimited bandwidth, storage, email accounts, and websites,
go with InterServer
. This is shared hosting, so it won't offer the kind of performance you'll get from Nexcess or Kinsta, but it's a decent choice if you want to operate multiple basic blog and brochure sites at a terrific price.
Here's an overview of all the hosts on this list for ease of comparison:
Standout feature (aside from free migrations)
Storage
Bandwidth
Starting price
Hostinger
Great performance at low prices
30GB – 300GB
100GB – unlimited

$

1.99

Nexcess
Great-value managed cloud hosting
15GB – 800GB
2TB – 10TB

$

15.83

InterServer
Unlimited storage, data transfer, and number of sites
Unlimited
Unlimited

$

2.50

Kinsta
Top-performing managed hosting for mission-critical projects
10GB – 250GB
25,000 – 2,000,000 monthly visitors

$

35.00

InMotion Hosting
Premium BoldGrid site builder for WordPress
100GB – unlimited
Unlimited

$

3.29

A2 Hosting
A2 Optimized WordPress plugin with exclusive features
100GB – unlimited
Unlimited

$

2.99
FAQ
What is a website migration service?
Website migration involves a new web host transferring your existing website from your old host on your behalf. All of the hosts on this list offer free site migrations (as do most web hosting companies who are interested in new business). If you decide to start over from scratch instead, be sure to check out our step-by-step guide to building a brand-new website.
How much does it cost to migrate a website?
All of the web hosts on this list offer free website migration services. However, some hosts make the process smoother than others.
How long does a site migration take?
Site migrations from one host to another have no set-in-stone timeframes for completion because it often depends on how complex your website is. The actual migration should only take a couple of hours (if that), with the majority of the time spent ensuring your site actually works as intended on the new platform. Adjustments may have to be made to your site for it to function as intended on the new host.
Can I transfer my website from one host to another?
Yes, absolutely, and the hosting providers on our list above will do so for free. In most cases, all you need to do is submit a transfer request from within your hosting account dashboard after you've purchased a plan at a new host. In addition to the hosts I've listed above, you may want to compare prices and features on this list of the top 10 best web hosts in 2023.