WordPress hosts often claim you need to buy an expensive hosting plan to get the best performance out of your website – but is that just marketing hype to make you pay more? I've researched and tested dozens of cheap WordPress hosting services to find the ones that offer the most value for your money
and
deliver on performance, too. You don't need an expensive hosting plan to build a WordPress website (though some of those premium features are
very
 nice), but
you don't want to be stuck with a slow, unreliable provider either.
 Even a simple, low-traffic website needs a decent amount of storage space and bandwidth, as well as a solid uptime guarantee.
My top recommendation for budget-friendly WordPress hosting has to be Hostinger
. Not only is it one of the least expensive providers, it's also one of the best-performing for WordPress, thanks to a level of optimization usually only seen with more expensive hosts. Read on to learn all about Hostinger and the other alternatives that make up my list.
Short on Time? These Are the Best Low-Cost WordPress Hosting Services in 2023
Hostinger – super-cheap WordPress plans with excellent performance, unlimited bandwidth, and built-in optimizations for WordPress
A2 Hosting – great security features and a unique optimization plugin for WordPress
FastComet – affordable WordPress hosting with one-click installations and built-in caching
What We Look For in the Best Cheap WordPress Hosting Providers
To find the WordPress hosting providers that give you the most value, I've focused on the following features during my research:
Managed services. While you don't necessarily need a managed WordPress hosting plan, it can make your life easier. I looked for hosts that offer managed features like automatic updates without charging a small fortune.
Generous plans. I've only considered web hosts that give you plenty of storage space and bandwidth in addition to other valuable features like pre-configured caching for WordPress, backups, SSL certificates, and free domain names.
Reliable uptime. I looked for hosts with a solid uptime guarantee (of at least 99.9%) that's backed by an SLA and compensation for excessive downtime. Promises are not enough, though, so the Website Planet team also tested these hosts' uptime for three months to make sure they really are as reliable as they claim to be.
Free security features. Cleaning up your website after it's been hacked can cost you in both time and money. I looked for hosts that won't charge you extra to keep your website safe.
Scalability. If (or when) you outgrow your plan, scaling up to a more powerful plan shouldn't be difficult. I looked for providers with hosting options like VPS, cloud, and dedicated servers so you won't have to face the cost and inconvenience of migrating to another host.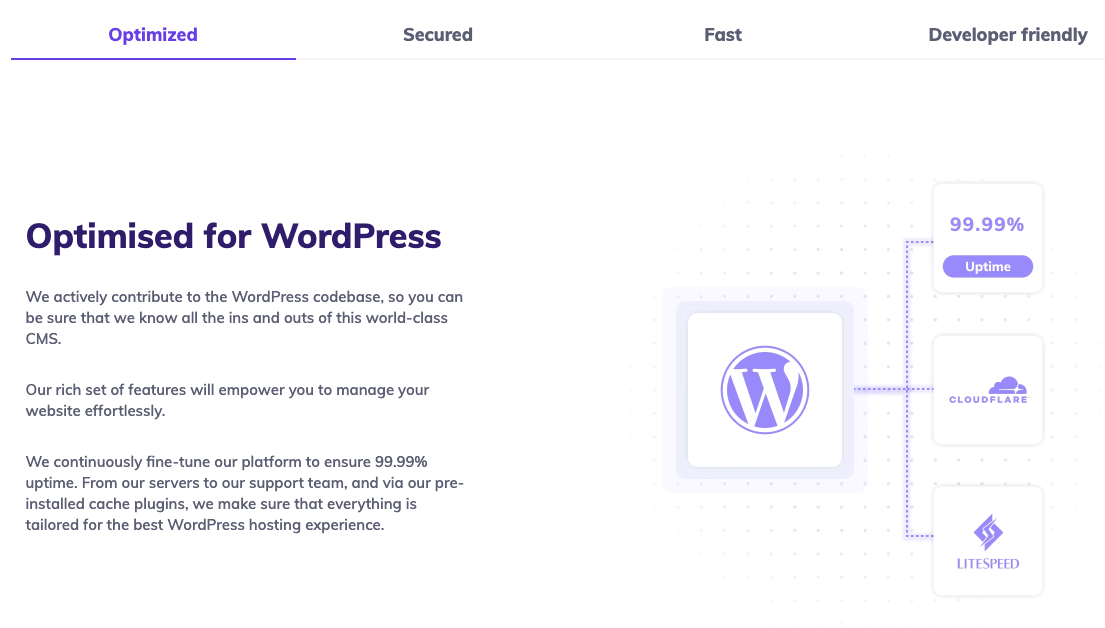 Hostinger is by far the most affordable managed WordPress hosting provider on my list.
 Especially on long-term plans, you can get an outstanding deal without compromising on resources, performance, or reliability. For example, the
WordPress Starter plan
 comes with 20GB of storage space, unlimited bandwidth, a free domain name for one year, and up to 100 email accounts. WordPress is not preinstalled, but you can easily set it up yourself using Softaculous.
All Hostinger plans come with SSD storage and run on LiteSpeed web servers for improved loading speeds.
 Plus, your WordPress installation is preconfigured for performance, so you don't have to spend hours tweaking the settings yourself. You can also run WordPress on Hostinger's regular shared hosting plans, but you won't get the benefit of optimized servers. Alternatively, if you need more power, you can opt for one of Hostinger's cloud VPS plans. These are just slightly more expensive, and they come with dedicated resources, so you don't have to share your CPU and RAM with others. The only real disadvantage with Hostinger is that its renewal fees are quite steep.
That said, Hostinger's prices are still considerably lower than the industry average, even after renewal.
Hostinger WordPress Hosting
A free domain name is included with some hosting plans from Hostinger
In fact, Hostinger isn't just our favorite host for WordPress. We recommend it every time because
it's the fastest shared hosting service we've tested, and it's the cheapest, too
.
Features:
Automated WordPress updates. If there's a new patch for WordPress or any of its plugins, Hostinger applies it for you. This frees up time for you to focus on your website, and it prevents your account from becoming vulnerable to hackers.
Automated backups. Hostinger includes weekly automated website backups on most shared hosting plans and daily backups on the Business plan. These are kept for up to a month, and they give you peace of mind knowing that you can restore a previous version of your site if something goes wrong.
Preinstalled caching. It's easy to improve your website's performance when all the tools you need are already installed. With Hostinger, you can access and control the LiteSpeed cache plugin for WordPress straight from your dashboard.
Data centers around the world. You can bring your website closer to your audience by choosing the right data center location. This way, your site will load faster for most visitors. Hostinger gives you seven options: the US, the UK, Brazil, the Netherlands, Lithuania, Singapore, and Indonesia.
Storage Space
10GB to 140GB
Bandwidth
Unmetered
Uptime Guarantee
99.9%
Free SSL
Yes
Pricing

$

1.99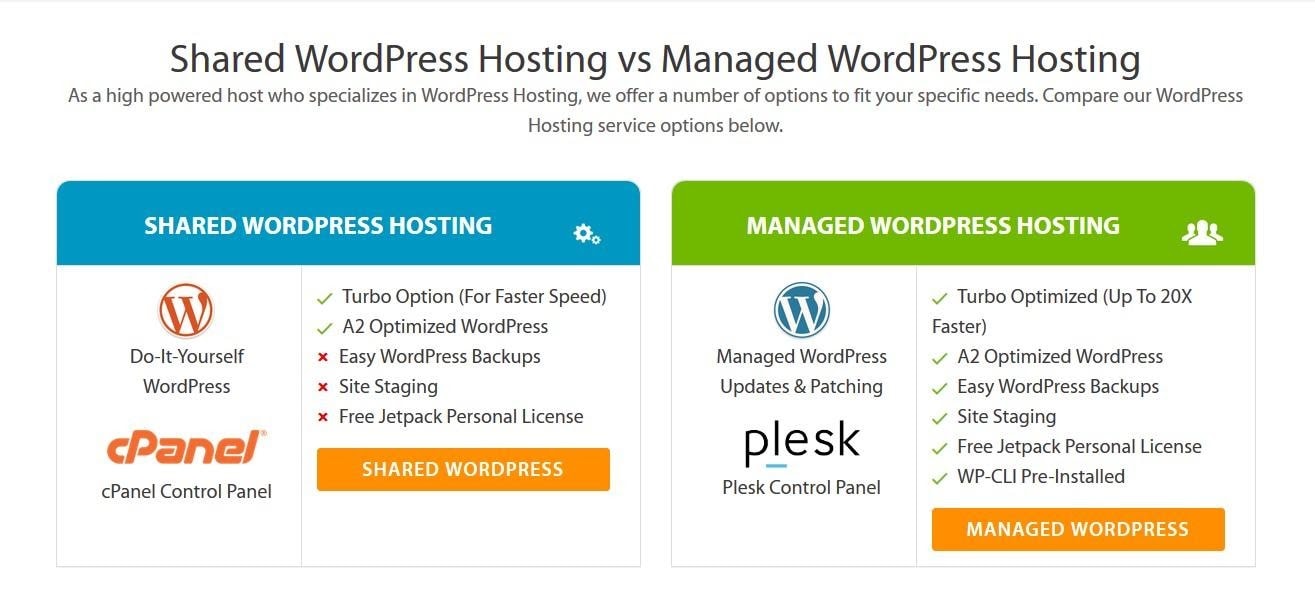 A2 Hosting offers secure hosting at an affordable price, and its shared hosting plans are the cheapest they offer.

On the entry-level Startup plan, you can host one website, and you get 100GB of storage, unmetered bandwidth, and an unlimited number of email addresses.
It's the extra free features that really make A2 Hosting stand out, though. All of A2 Hosting's shared plans come with a one-click installer for WordPress, as well as the A2 Optimizer plugin.
To make sure that your WordPress website is performing at its best, just install and run the Optimizer, which configures everything for you.
But if you want a more powerful server and more features, you can pay more for one of the managed WordPress plans. All of these plans are hosted on A2 Hosting's proprietary Turbo Servers, which will manage heavier traffic loads and more complex sites with ease.
Our in-depth review has all the details
.
Features:
Anytime money-back guarantee. Even after the first month of hosting, you can still get a prorated refund for the remainder of your term. This makes all A2 Hosting plans virtually risk-free.
Free Jetpack Personal license. Jetpack is a plugin designed specifically for WordPress security, performance, and marketing. The Personal version comes with daily website backups, static file and image caching, spam protection, basic website statistics, SEO tools, and more.
Turbo servers. All managed WordPress plans run on A2 Hosting's best infrastructure. Referred to as Turbo, these servers host fewer accounts and are equipped with NGINX technology for improved performance. You also get several built-in cache plugins for WordPress for even faster loading times.
Free security tools. A2 Hosting's Perpetual Security solution comes with reinforced DDoS protection, a dual firewall, a malware scanner, and free SSL certificates. Everything is preconfigured for WordPress and neatly integrated into your dashboard.
Storage Space
100GB to unlimited
Bandwidth
Unmetered
Uptime Guarantee
99.9%
Free SSL
Yes
Pricing

$

11.99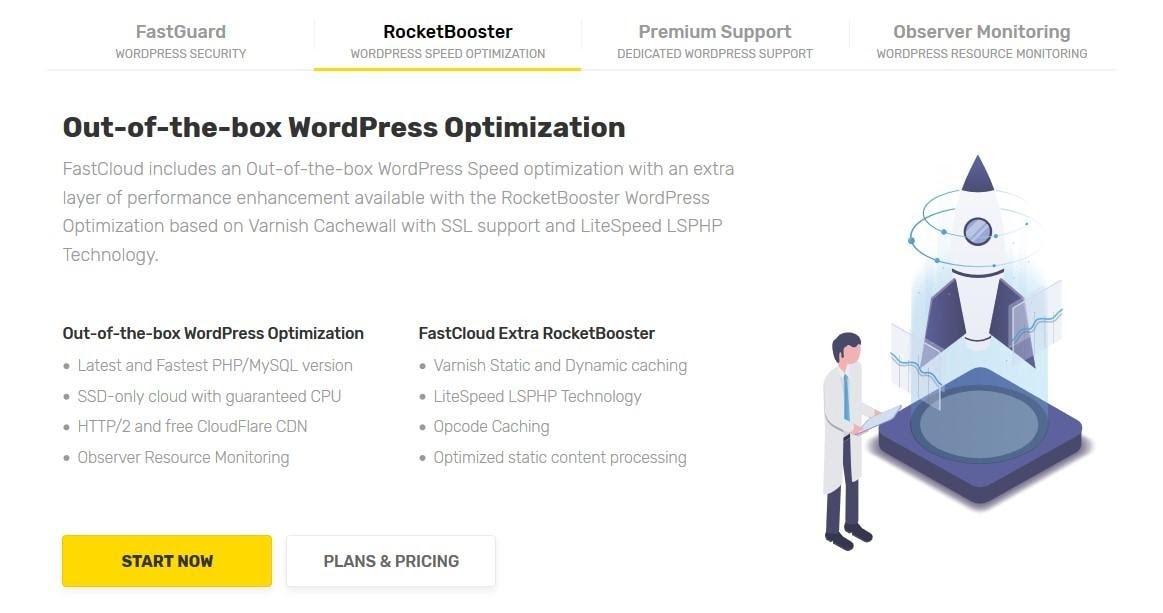 FastComet is a low-cost web host with a great set of features for WordPress and an impressive fleet of data centers around the world (including four in Asia and Australia).
All FastComet shared hosting plans
 come with SSD storage, daily backups, free SSL certificates, enhanced security for WordPress, and managed migrations. The entry-level plan, FastCloud, includes 15GB of storage, up to 30GB of bandwidth, and a single website transfer. For just a few dollars more, the premium FastCloud Extra plan gives you access to FastComet's RocketBooster platform, three times more CPU and RAM, three different types of caching, and more.
The FastCloud Extra plan could be worth the investment if you're running an e-commerce website.
When we tested FastComet's entry-level plan it delivered some really great results
, though, so unless you
need
the extra power, I recommend starting with the FastCloud plan. I was a little disappointed that, despite their names, the shared hosting plans aren't actually built on a cloud infrastructure –
but you do get guaranteed resources and all servers run on CloudLinux, an operating system that sort of mimics true cloud hosting.
Features:
FastGuard WordPress security. WordPress is known to be vulnerable to hacking and malware, so the FastGuard WordPress security suite is immensely valuable. It includes a regularly-updated Web Application Firewall (WAF), DDoS protection, and malware protection and repair.
Website Starter Kit. FastComet provides a fast way to get your website started with this set of freebies. The Website Starter Kit includes a drag-and-drop website builder plugin for WordPress, complete with 350+ page templates and elements.
Priority WordPress support. Not only is FastComet's support team available 24/7 to help solve technical problems, but there's also dozens of tutorials and step-by-step guides for learning more about WordPress and fixing common issues.
Rocketbooster WordPress optimization. Although only available on FastCloud Extra, the RocketBooster WordPress optimization feature uses different caching tools and LiteSpeed technology to deliver exceptionally fast page loading times.
Storage Space
15GB to 35GB
Bandwidth
Unmetered
Uptime Guarantee
99.9%
Free SSL
Yes
Pricing

$

2.74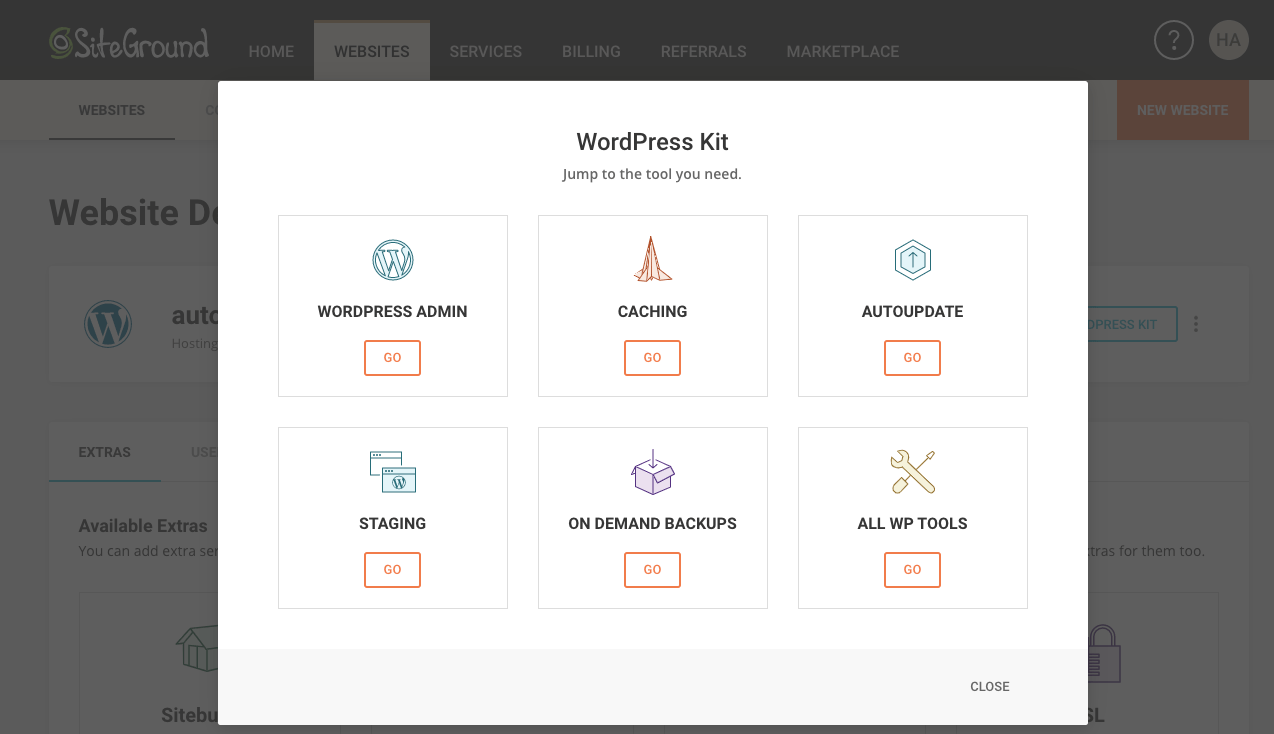 SiteGround is one of the most affordable managed WordPress services created with developers in mind, but this doesn't mean it's not good for beginners too.
 Its three plans come with WordPress pre-installed and are designed to serve anything from one WordPress website to an entire web development agency with dozens of clients. With the entry-level StartUp plan, you get one website, 10GB of storage, unmetered traffic, and unlimited email. All plans run on NGINX web servers and are specifically optimized for WordPress, but the best optimization features are on the higher priced plans. SiteGround also includes its own WP Migrator plugin for transferring a website from another host. It's not quite the same as having the host migrate the website for you, but I've used it myself with a 100% success rate.
That said, SiteGround's GrowBig plan packs the most value, especially if a speedy website is a priority.
 The SuperCacher, in particular, is a great cache plugin for WordPress that combines NGINX and Memcached technology for a faster WordPress website.
SiteGround WordPress Hosting
A free domain name is included with some hosting plans from SiteGround
However,
our recent tests with SiteGround revealed
that it's not quite as great as it used to be. Both page loading speeds and support response times have slowed – but despite these two issues, SiteGround does have a lot to offer.
Features:
WordPress Site Starter. This tool will guide you through every step to create a beautiful, functional WordPress website with SiteGround. Several templates are included, and you don't need any coding skills to add functionalities like a contact form or portfolio to your site.
WordPress staging environment. It takes only a couple of clicks to clone your website and safely test new changes before pushing them live. The staging tool is included in the GrowBig and GoGeek plans.
WordPress security patching. SiteGround doesn't wait for security patches to be released by developers when vulnerabilities are discovered – instead, it develops and applies its own patches, so you don't have to worry about WordPress' security issues.
Specialized tech support. While most web hosts offer support only for issues related strictly to their platform, SiteGround also provides 24/7 specialized assistance for WordPress. I can't fault SiteGround for its technical support knowledge – but I did have to wait a while for a response.
Storage Space
10GB to 40GB
Bandwidth
Unmetered
Uptime Guarantee
99.9%
Free SSL
Yes
Pricing

$

1.99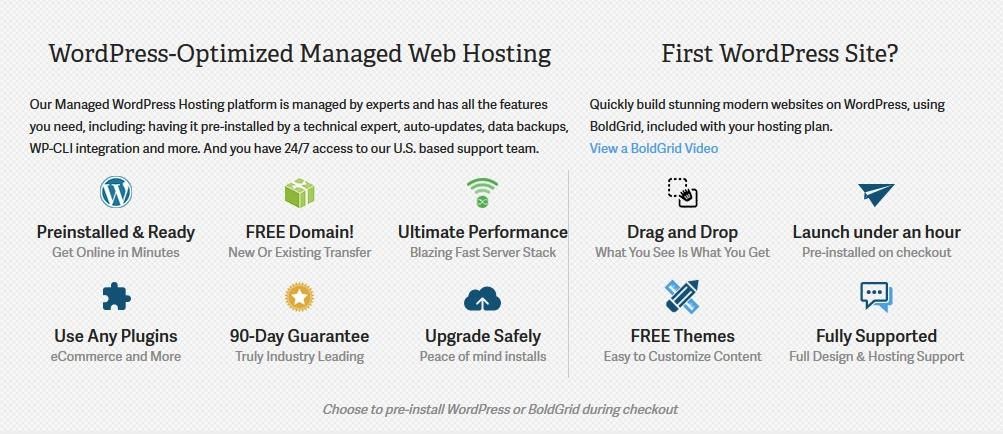 With plenty of WordPress optimizations, NGINX web servers, and SSD storage on all plans,
InMotion Hosting is a great low-cost hosting choice.
It has data centers located on the East and West Coasts of the United States, but its performance is (mostly) good globally.
On its four managed WordPress plans, WordPress comes preinstalled and preconfigured for optimal performance.
 Starting with the second-tier WP-2000S, you also get a free Jetpack Personal license, which adds automated daily backups, WordPress caching, and site analytics to your plan. If you opt for the WP-4000S plan, you get Jetpack Professional, which is even better.
InMotion Hosting WordPress Hosting
Customer support is okay, although it can be difficult to reach at times.
That said, I got plenty of informative emails once I signed up, so it was easy for me to figure out what I should do to get started.
Our expert review has all the details
.
Features:
BoldGrid site builder plugin. BoldGrid is a premium plugin with a drag-and-drop interface that's easy to use. You get the experience of a website builder with the flexibility of WordPress. Dozens of free themes are included, and all websites are automatically optimized for mobile platforms.
Free private SSL. Unlike public SSL certificates from Let's Encrypt, a private SSL is issued for your domain only, rather than for an entire server. If other websites on the same server are compromised, this doesn't affect your SSL status.
Total Upkeep backups. Included with all WordPress plans, the Total Upkeep plugin from BoldGrid enables you to make automatic backups and easily restore your website to a previous version.
WordPress staging. With a staging website you can safely make changes to your website without affecting the live version (or interrupting your visitors' browsing experience). A staging tool is included on all WordPress plans.
Storage Space
50GB to 200GB
Bandwidth
Unmetered
Uptime Guarantee
99.9%
Free SSL
Yes
Pricing

$

4.99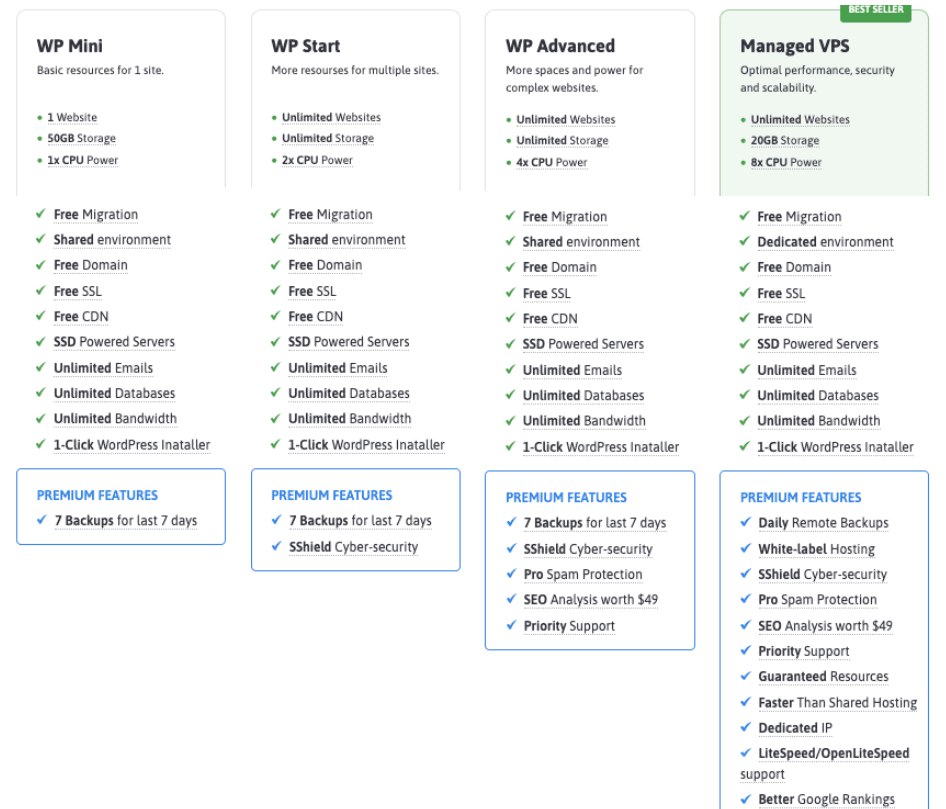 Scala Hosting has three shared hosting plans for WordPress, all with generous resources and some decent bonus features like SEO tools. The entry-level plan, Mini, comes with 50GB of storage and enables you to create a single website, while all other plans offer unlimited storage and websites.
All plans include a free domain name, free SSL certificates, daily backups stored for seven days, and the usual 1-click installer for WordPress.
While the entry-level plan is more than capable of hosting a small-to-medium website, the higher tier plans do have some extra features that can be worth the additional cost, such as security features, spam protection, and priority support.
Scala Hosting WordPress Hosting
A free domain name is included with some hosting plans from Scala Hosting
When we tested Scala Hosting, its page-loading speeds were particularly impressive
.  It has two data centers, one in Dallas, USA, and another in Sofia, Bulgaria. You can choose the best data center for your website based on where your target audience is located, but since Scala Hosting also includes a free CDN, your visitors can expect great page loading speeds no matter where they're located.
Features:
SShield protection. This includes around-the-clock monitoring and an excellent success rate of 99.998% for blocking attacks. Since WordPress isn't great for security, this is a great feature to have!
Expert WordPress support. The technical support team is especially trained to handle WordPress-related issues, including plugin conflicts and more. Scala's support agents all have a minimum of three years' WordPress hosting experience. 
Automated updates. Although managed hosting is technically only available on the Start plan and above, all WordPress hosting plans include automated updates of the core WordPress software.
Managed cloud VPS plans for WordPress. If you outgrow your shared hosting plan, you can easily upgrade to a VPS plan. Cloud VPS is also a good choice if you're running an e-commerce store – and Scala's VPS plans can be cheaper than many shared hosting WordPress packages from other providers.
Storage Space
20GB to Unlimited
Bandwidth
Unmetered
Uptime Guarantee
99.9%
Free SSL
Yes
Pricing

$

20.00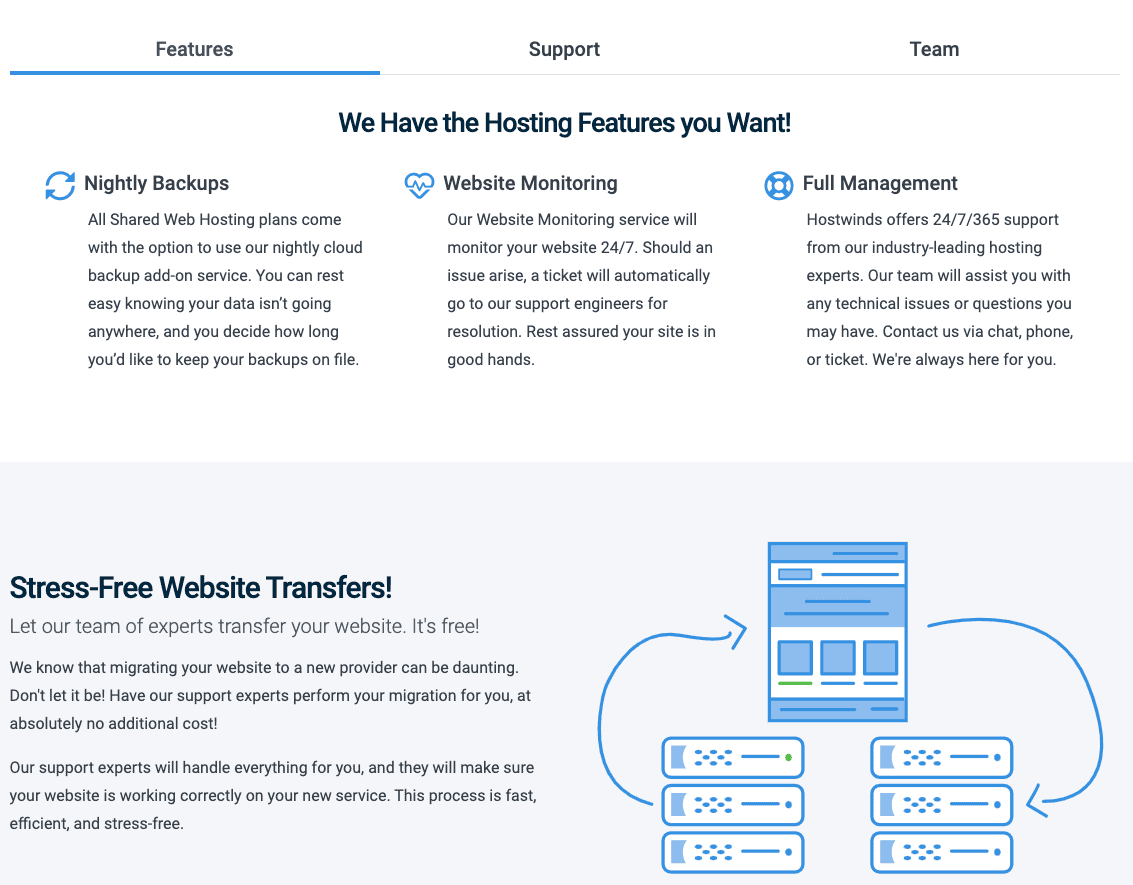 If you don't mind installing and updating WordPress yourself, Hostwinds' Basic shared hosting plan is a decent and highly affordable option.
The plan comes with one website, as well as unlimited storage space, bandwidth, and email. For its price, it packs a lot of value.
A free domain name is included with some hosting plans from Hostwinds
Plenty of freebies are also included, too.
 You get free website transfers, an SSL certificate from Let's Encrypt, and a free domain name for one year.
When we tested Hostwinds it delivered some inconsistent results
, but that was on the most basic hosting plan. Hostwinds also has Business hosting plans that are optimized for WordPress – and you can get the Business Basic plan for just a couple of dollars more than the Shared Basic hosting plan. There are fewer memory and CPU limits placed on Business hosting plans, so performance should be more consistent.
Features:
Softaculous auto installer. You can access Softaculous from your dashboard to install WordPress and more than 400 popular scripts with just a couple of clicks. You can also use Softaculous to schedule auto-updates for your WordPress software.
Free Cloudflare CDN. You can easily integrate Cloudflare with your Hostwinds account to ensure that no matter where in the world your visitors are located, they're getting fast page loading speeds.
Windspeed performance optimization. Hostwinds' infrastructure is not optimized for any specific application by default. If you don't want to tweak WordPress performance settings yourself, you can add the Windspeed add-on to your cart and let the tech team do it for you.
Windshield security audit. For a modest one-time fee, the tech team tests your website for security weaknesses, sets up a firewall, and carries out several server-hardening procedures to keep your website safe.
Storage Space
Unlimited
Bandwidth
Unmetered
Uptime Guarantee
99.9999%
Free SSL
Yes
Pricing

$

6.47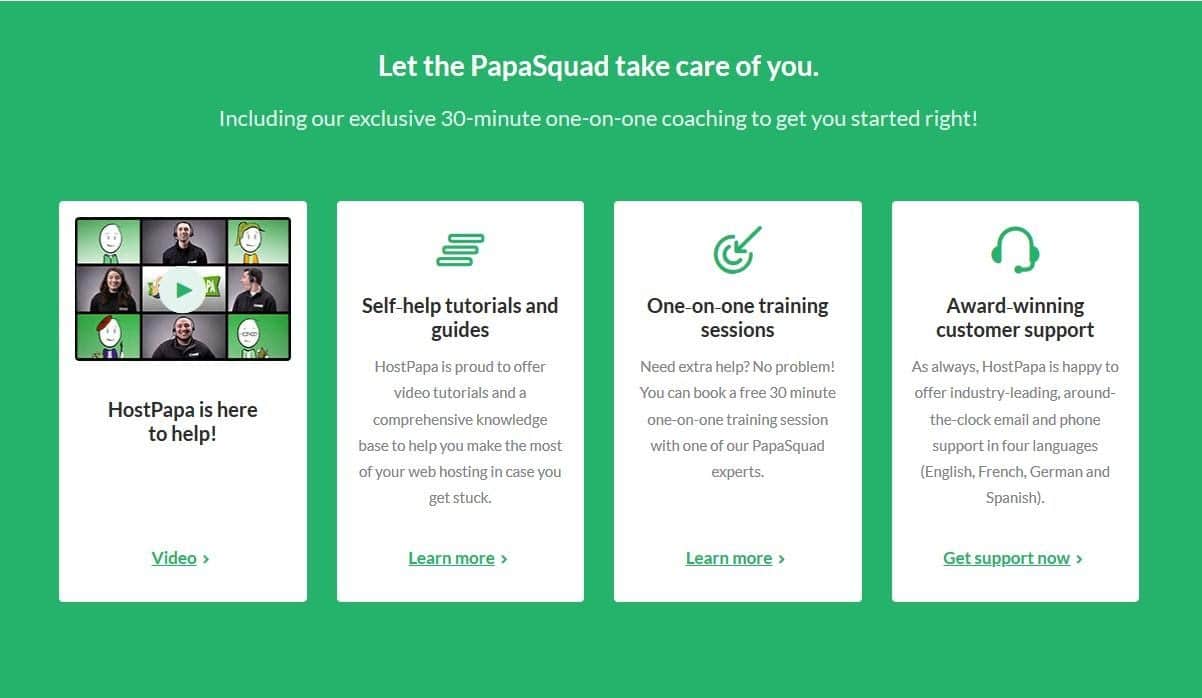 If you're building your first WordPress website, HostPapa is a great place to start. Its prices are fairly cheap compared to other services, even after renewal, while the platform itself is primarily geared toward beginners.
From the clean dashboard to the huge range of help articles and tutorials, you'll have plenty of help getting started.
HostPapa is also generous with resources.
With the entry-level WP Starter plan,
you can host two websites, and you get 100GB of storage space, unmetered bandwidth, and up to 100 email accounts.
HostPapa WordPress Hosting
A free domain name is included with some hosting plans from HostPapa
Jetpack Free is preinstalled, but this version of the plugin doesn't include automated daily backups. HostPapa will take care of WordPress updates for you, but you'll have to handle backups yourself. The one major downside with HostPapa is that its performance isn't as good as other hosts on my list. It's not the worst host for performance, but
when we tested HostPapa over three months, the results weren't great
.
Features:
WordPress pre-installed. You can get started quickly since WordPress is pre-installed on WordPress hosting plans. Once your account is set up, you can log straight into your WordPress dashboard and start working on your website.
Built-in WordPress caching. Your dashboard neatly integrates two cache plugins, WP Super Cache and Varnish. You can set up both easily, and they can significantly improve your page loading times.
One-on-one training with an expert. No idea how to build a website? No problem. You get a 30-minute training session with a HostPapa expert who can teach you how to navigate the dashboard, use WordPress, and secure your website. After the session, you can still get in touch with the PapaSquad for 24/7 support.
Jetpack Premium. HostPapa's WP Business Pro plan packs the most value thanks to the included Jetpack Premium license. Jetpack Premium comes with additional security and SEO tools, automated social media sharing, Google Analytics, unlimited video caching, and more.
Storage Space
100GB to unlimited
Bandwidth
Unmetered
Uptime Guarantee
99.9%
Free SSL
Yes
Pricing

$

2.95
Which Cheap WordPress Hosting Provider Is Right for You?
When it comes to WordPress hosting, cheap doesn't have to mean low-quality. That said, each service on my list excels in different ways – there's no one-size fits all in web hosting. The right host for you depends on your priorities.
For a WordPress hosting solution that takes care of updates, backups, and security for you, Hostinger is my go-to choice.
 Not only is it the cheapest option, but it came out on top in our performance tests, too.
A2 Hosting is a good choice if you're looking for a risk-free option.
You get premium features like the A2 Optimizer for WordPress, and you can ask for a prorated refund at any time.
FastComet offers WordPress hosting with excellent security features
, and thanks to its global fleet of data centers, it could be a good choice if your target audience is in Asia or Oceania.
Standout Feature
Optimization Plugins Included
Starting Price
Hostinger
Very low prices for long-term plans, outstanding performance
Litespeed

$

1.99

A2 Hosting
Complete security suite
A2 Optimizer

$

2.99

FastComet
Four data center locations in Asia and Oceania, in addition to the US and Europe
On FastCloud extra plan only

$

2.74

SiteGround
Developer-friendly tools for a relatively low cost
SuperCacher

$

1.99

InMotion Hosting
Excellent performance for the US region
Nginx Helper

$

3.29

Scala Hosting
SShield security and spam protection
On the WP VPS plan only

$

2.95

Hostwinds
Cheap, unmanaged WordPress hosting
No

$

6.47

HostPapa
Great tools and one-on-one training for WordPress beginners
WP SuperCache

$

2.95
FAQ
What is the cheapest web hosting service?
Hostinger is the cheapest WordPress hosting provider on my list, and it's also the host that gives you the most value for your money. It offers features and performance that are comparable to what you'd get with other, more expensive services for half the cost.
Which web hosting provider is the best for WordPress hosting?
If keeping costs low is your priority, Hostinger offers the best-performing managed WordPress hosting plans on a budget. Alternatively, if you're willing to pay a bit extra for an impressive security suite and more generous resources, I recommend A2 Hosting's managed WordPress plans.
What's the difference between managed WordPress hosting and unmanaged WordPress hosting?
The main difference between managed WordPress hosting and unmanaged WordPress hosting is that with managed hosting, your host takes care of essential maintenance like automatic updates for WordPress and themes and plugins, security monitoring and patching, and automatic backups. Sometimes WordPress is pre-installed for you, too. SiteGround's managed WordPress plans

 fall into this category.

With unmanaged hosting, you have to take care of maintenance yourself. However, recently the 1-click installers you use to install WordPress have started to include a feature called WordPress Manager. With this, you can actually configure automatic updates and backups yourself. We tested A2 Hosting using this kind of hosting and got some great results.
Can I build a WordPress website without paying for web hosting?
Technically, the answer to this question is yes. There are actually two versions of WordPress. There's WordPress.com, which works more like a website builder packaged together with hosting. This version comes with a "forever-free" plan under a subdomain. 
Then, there's self-hosted WordPress, which requires you to source a web hosting service. While there are free hosts out there, I do not recommend them. At best, you'll be incredibly limited in what you can achieve, and at worst, you'll be exposing your site to malware.
For the most flexibility, self-hosted WordPress is always my recommendation. You can install any themes and plugins you like, and you can get hosting at
really
low prices – for example, Hostinger has some incredible hosting deals available. You can also check out
our list of the best web hosting services
for some inspiration.