So you've decided to use WordPress to build your website.
And why not?
After all, tens of millions of websites have gone the same route. Since its humble beginnings in 2003, the phenomenal content management system has secured an enviable market share of around 50%.
The secret to its success?
Its user-friendly interface combined with endless handy plug-ins and snazzy themes undoubtedly play a pivotal role. And it also doesn't hurt that the open-source CMS is completely free.
But with so many competing web hosts offering dirt cheap plans, how can you determine which is the best option for you?
Our review of the best budget WordPress hosting providers of 2018 will do exactly that.
GoDaddy
What They Offer
GoDaddy offers four separate WordPress hosting plans, with each upgrade entailing extra storage, a higher visitor cap, and added features such as an SEO visibility wizard and a free SSL certificate.
All these options are managed, which means GoDaddy takes care of the technical stuff such as updating core files and installing software updates. Those who'd rather pay less could opt for their unmanaged shared hosting plans that still include basic WordPress functionality.
What I Like
GoDaddy makes e-commerce a breeze with their online store tools and email marketing app. Each plan also provides a decent amount of resources for the price, and there's a one-click migration tool that makes it convenient to shift over from your previous provider.
What I Don't Like
An SSL certificate is only included on the two most expensive plans, and even then it's valid for just one year. On top of that, you only get one premium SSL certificate even if you're hosting up to five WordPress websites on your account.
Who Is the Service Best For?
GoDaddy is a good all-rounded option that makes it easy to set up an online store.
SiteGround
What They Offer
SiteGround sells three managed WordPress plans — StartUp, GrowBig, and GoGeek — which are capable of handling 10,000, 25,000, and 100,000 visits per month, respectively.
What I Like
The StartUp plan is a bargain for website owners with basic needs, while responsive 24-hour support and excellent page load times around their North American and European servers add to the appeal.
A long list of perks such as super cache tools, free backup restoration, and a pre-installed copy of Git make upgrading worthwhile.
Developers will be pleased to know that SiteGround also gives you WP-CLI for faster access and even more control over your WordPress installations.
What I Don't Like
There are no free domains across the board and the StartUp plan doesn't include a free WordPress transfer service. The GoGeek plan, which is required to enjoy the full range of benefits, is a little on the pricey side (particularly upon renewal).
Who Is the Service Best For?
SiteGround is ideal for those looking for a cheap and reliable WordPress plan with solid WordPress-specific technical support. Fast load times are another plus, at least in Europe and North America.
SiteGround is also one of the few providers with the WordPress.org seal of approval, so they're a solid choice for those looking for trustworthy providers.
InMotion Hosting
What They Offer
InMotion Hosting sells six different managed WordPress plans (three shared and three VPS), which means customers have more control over their expenditure and inclusions. Each comes with a generous 90-day money back guarantee.
What I Like
Budget-conscious consumers rave about the numerous features they generously pack into their most affordable plans. Expect to receive a free SSL certificate, a free domain, SSD storage, and advanced server caching and security tools across all their plans.
The company is also known for their exceptional 24/7 customer support, providing a Skype, telephone, and ticketing system through which they respond in minutes rather than hours.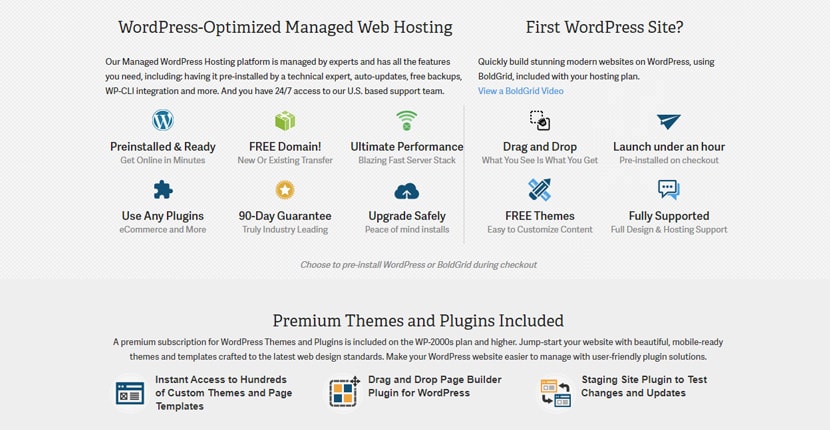 What I Don't Like
Website loading times aren't the best, especially to far-flung destinations such as Australia. On average, they're also a bit pricier than most, though this is excusable given their inclusions.
Who Is the Service Best For?
InMotion Hosting's managed WordPress plans are great for users who value in-house support and advanced WordPress features over performance. Their large selection of plans is great for businesses who expect their traffic to grow.
A2 Hosting
What They Offer
A2 Hosting offers four and three plans respectively across their shared and managed WordPress hosting services. The company allows clients to pay on a monthly basis rather than shoehorning them into the standard one-year commitment, though of course the flexibility of their month-to-month plans will cost you more.
What I Like
A2 Hosting offers a range of inclusions on their cheapest plans that other companies typically don't, such as unlimited storage space (shared plans only) and bandwidth as well as free SSL certificates and website transfer services.
Their coveted turbo servers, which are included in high-end plans, purport to improve webpage load times by up to 20 times.
On top of that, they have an anytime money back guarantee that's pretty much unheard of in the web hosting industry.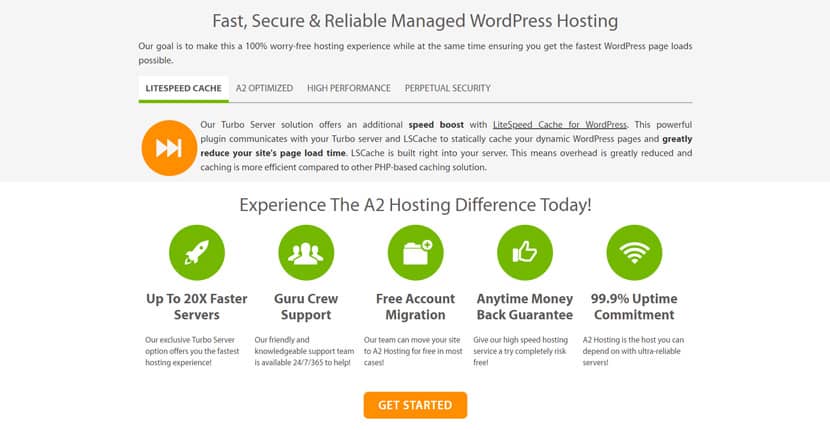 What I Don't Like
Their managed WordPress plans are considerably more expensive than other providers, albeit with a higher level of performance.
Who Is the Service Best For?
A2 Hosting offers a nice balance between affordability and performance. The Turbo server option is ideal for those who require lightning-quick webpage load times.
They're also great for those who need far more time to try out a service before fully committing, given their anytime money back guarantee.
iPage
What They Offer
iPage sells just two WordPress plans, each with unlimited storage, bandwidth, and a free one-year domain registration. Upgrading to the upper tier entitles the user to advanced WordPress support and security features.
What I Like
Both plans provide the user with surprisingly good connection speeds and customer service, especially considering the low price point.
What I Don't Like
Webpage load times tend to drop sharply under stress, which is far from ideal for websites that expect to receive considerable spikes in traffic.
Their level of WordPress expertise is also not great compared to the other providers on this list.
Who Is the Service Best For?
Users who value a fast, user-friendly and cheap service with added functionality and flexibility would benefit most from signing up with iPage.
DreamHost
What They Offer
DreamHost offers two budget managed WordPress plans with unlimited bandwidth, a free SSL certificate, and SSD storage. The higher tier plan throws unlimited websites and email hosting into the mix.
If you're prepared to pay a little more, opt for one of their DreamPress plans, a premium service which uses cloud hosting technology for optimal performance and scalability.
Either way, you'll have the option of paying by the month and will enjoy a 97-day money back guarantee (30 days if you're on a DreamPress plan).
What I Like
DreamHost is quick, especially in the U.S. where their servers are based. They're notably more stable than most providers during peak periods as well.
Privacy is also a big drawcard, as DreamHost includes free domain privacy on all their plans. Furthermore, they've even gone so far as to take the Department of Justice to court over a disputed client information request.
What I Don't Like
The most basic plan only allows for one website, which makes the service relatively expensive for users who require two or more.
Who Is the Service Best For?
Businesses who require a strong commitment to privacy would do well to sign up with DreamHost. The option to easily upgrade to a cloud hosting service is appealing as well.
How to Choose the Best Budget WordPress Hosting Provider
Try to look past the obvious characteristics such as bandwidth and storage space when shopping for a cheap WordPress host. Dig a little deeper to determine true value by taking into account advanced WordPress functions and bonuses such as a good CDN and free SSL certificates.
With a little research, you'll find one of the above providers to be the ideal option for you. Best of all, these budget WordPress plans will leave you with plenty of extra money to invest elsewhere in your business.
---
Sources:
History « WordPress Codex: https://codex.wordpress.org/History
CMS Usage Distribution in the Top 1 Million Sites: https://trends.builtwith.com/cms/
A Win for Privacy Is a Win for the Web: https://www.dreamhost.com/blog/a-win-for-the-web/