So, you're ready for a Windows VPS! This powerful hosting solution can provide you with ample resources and robust capabilities, including easy remote access and a familiar Windows GUI.
What's the catch? For starters, some hosts offer the newer server OS, Windows Server 2019, while others supply only older versions. Some companies are so retro they provide the 2003 version.
In addition to that, every company defines "managed" hosting a bit differently. And then, of course, are the licenses. Windows hosting requires licenses for everything from control panels to databases.
Don't take unnecessary risks. Read on to find out what the best Windows VPS companies offer, and which one is right for you.
In a hurry? These are our top Windows VPS hosting picks for January 2022
Kamatera – Global data centers in three continents allow you to enjoy the full power of cloud hosting, with 100% modular servers and the newest Windows Server OS versions
Hostinger – Super popular hosting service that provides four good Windows VPS configurations to choose from
InterServer – An all-American company that services U.S. customers and visitors with a variety of powerful VPS configurations
What We Look For in the Best Windows VPS Vendors
During my tests, I tried running an application developed for 2016 on a 2008 VPS. The results were catastrophic. I also gave unmanaged hosting a shot and found out it was quite similar to a Tamagotchi. Same heartbreak, too, every time it… goes to the farm.
Compared to the many shared hosting plans available on the market, my expectations from Windows VPS hosting are much higher. When choosing one of the hosts on this list, you can be sure you'll get:
Performance – Just as with any other kind of hosting, I always look for blazing-fast speeds and uncompromising uptime. I want your websites to load immediately and to always be available.
Windows Licenses – Windows VPS is a curious thing, as it requires specific Microsoft licenses. Some web hosts sell only the server, leaving you to take care of the rest. Not these hosts.
Scalability – Windows VPS is an advanced hosting solution that can meet the needs of a rapidly growing website, but what happens when you get even more visitors? Your VPS has to be able to scale up accordingly.
Managed VPS – You're here because you want to host a website, not because you want to get a Ph.D. equivalent in configuring virtual servers. That's what managed services are for. These guys are pros, and they're here for you.
Cheap VPS Hosting – You may have made the big time, but you're still on a budget. I can't think of much use for a phenomenal service that costs as much as a second mortgage. These hosts are affordable.
Alright, so those are the ground rules. Ready for our top 6 picks? Let's begin.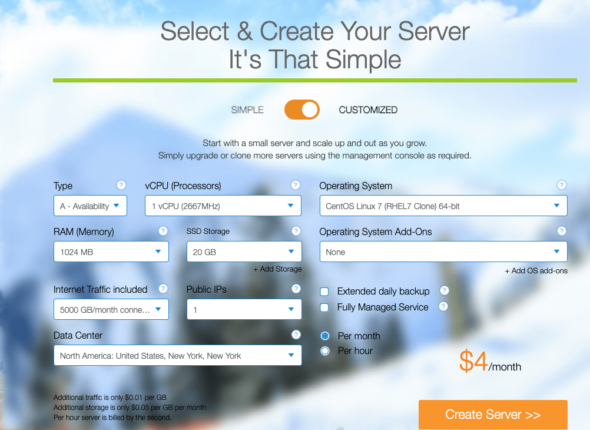 Compared with the other hosts on this list, Kamatera offers the most flexible hosting locations:
data centers are available in the US, Canada, Germany, the Netherlands, the UK, Israel, and Hong Kong.
Impressed? You should be. Kamatera truly understands the meaning of a global cloud, and its advanced infrastructure allows you to launch a server in a matter of minutes. The company also provides the widest choice of Windows Server OS versions, from the classic 2008 to the spanking new 2019.
The only "catch" is that the price of a fully managed service is relatively high. Then again, there's a 30-day free trial, so Kamatera's team of professionals have enough time to show you exactly how great it is when someone takes complete care of your server.
Modular virtual servers – No one-size-fits-all plan here. Choose exactly how many virtual cores, RAM, and SSD storage you want to start with. You'll always be able to scale up or down.
All OS versions available – If it's on the market, Kamatera can install it for you. There are no limitations on OS versions and no differences between their licensing price.
Several management levels – You can go the unmanaged route, add a management panel (Plesk for Windows), or explain your needs to the Kamatera team and let them take care of it all.
99.95% uptime guarantee – Each of the company's data centers is equipped with various redundancy measures, and you're promised nearly perfect uptime.
Find out more about Kamatera in our expert review.
Windows Server Versions Available
Windows Server 2008, 2012, 2016, and 2019
Free SSL

✘

Money-Back Guarantee
No, but there is a 30-day free trial
Starting Price

$

4.00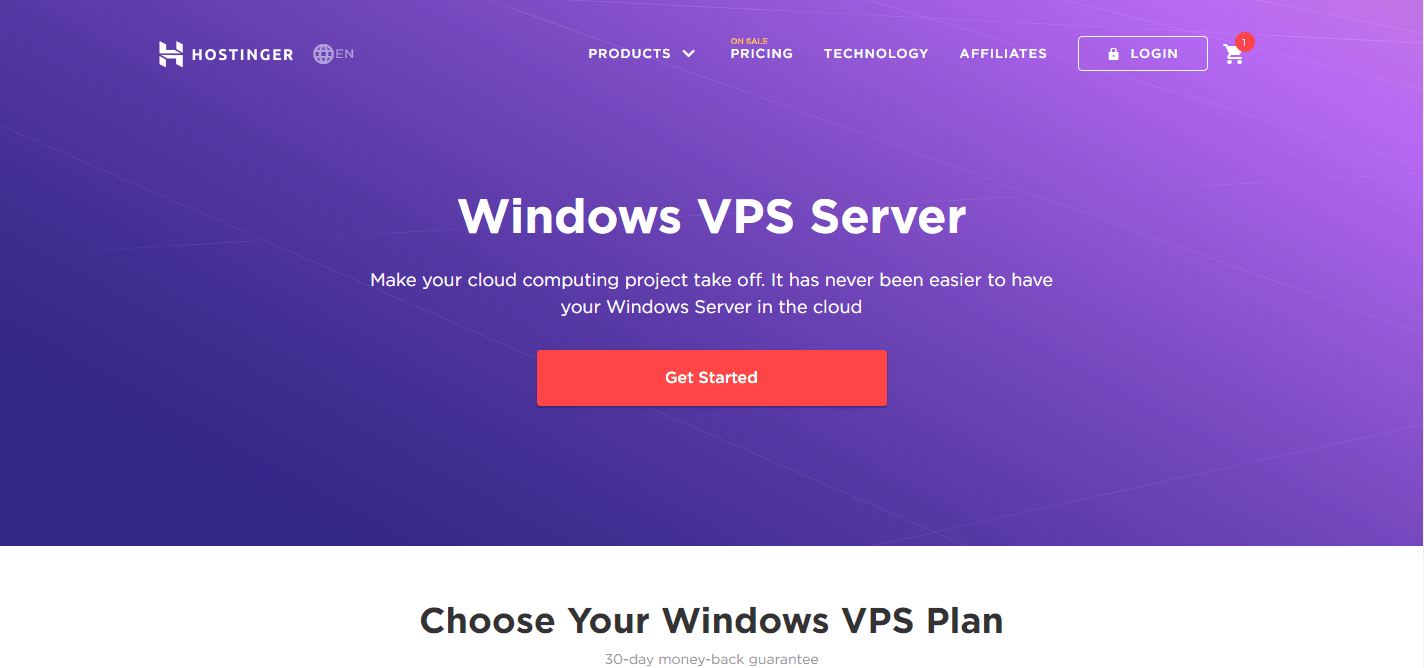 Hosting giant Hostinger continues to be one of the most innovative companies around, with its claim to fame being ridiculously cheap shared hosting packages.
What about VPS? The discounts aren't as crazy here, but you'll still find some excellent configurations to choose from. Hostinger provides four Windows VPS plans, offering users of the shared plans a chance to seamlessly upgrade up.
Keep in mind that while the VPS is unmanaged per se, you'll still have access to Hostinger's 24/7/365 support. I was personally blown away by the dedication of the support agents, and you can rest assured you'll be in good hands.
Powered by the latest Intel Xeon processors and 128GB of RAM per server – With 50GB of disk space and 4TB of bandwidth on the most basic configuration, even a medium-sized e-commerce store will be happy.
Scale with Ease – Any time that you feel like you need more resources, you can change your plan accordingly.
Dedicated IP – Saves you the risk of being blacklisted because of another site that's sharing your IP. Allows for direct access, even without setting up a DNS, and may improve SEO.
Windows Server 2012 – Not the latest Windows OS for servers, as that would be 2016, but still a great option for running .NET and MSSQL based web applications.
Want to read more about Hostinger? Check out our in-depth review.
Windows Server Versions Available
Windows Server 2012 R2
Free SSL

✔

Money-back Guarantee
30 days
Starting Price

$

3.95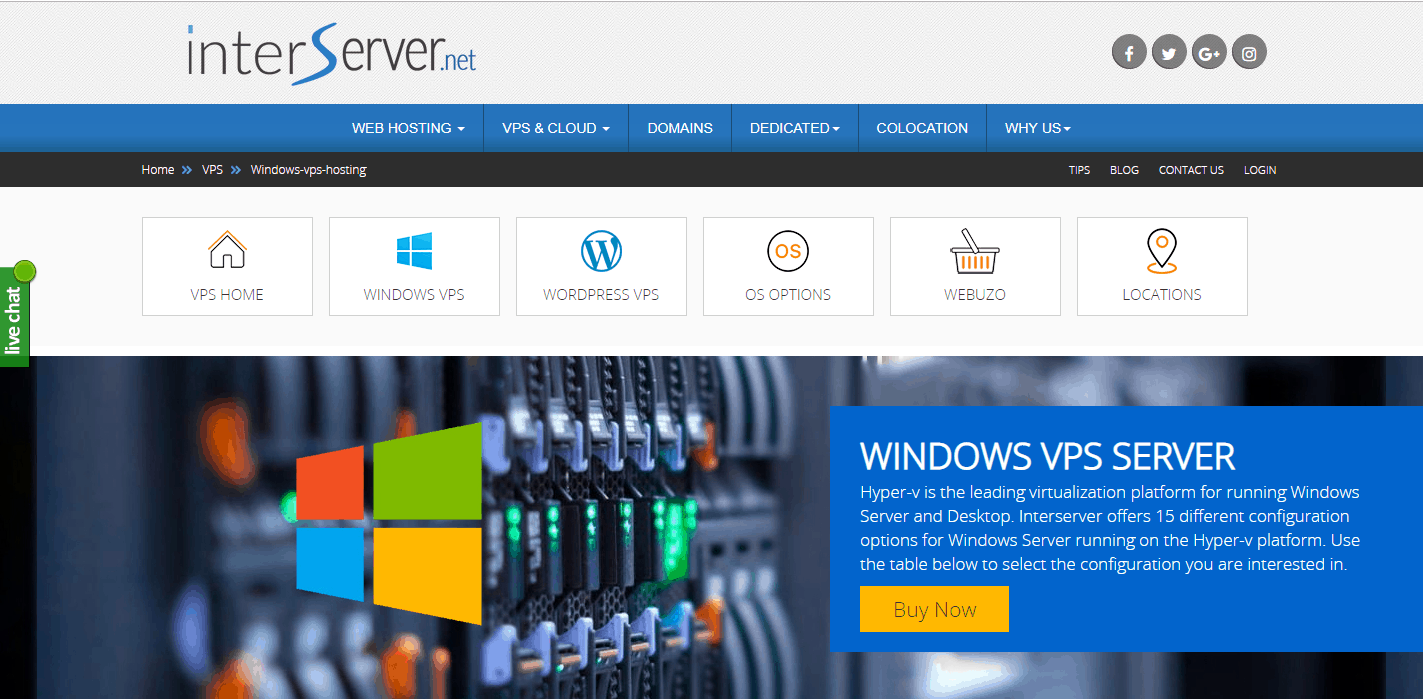 American powerhouse InterServer offers a variety of hosting services, operating off its three state-of-the-art data centers. With two in New Jersey and one in Los Angeles, any U.S. based business is promised lightning-fast performance from coast to coast.
The company gives special attention to the often neglected Windows hosting, providing no less than 16 different Windows VPS configurations. This selection makes it possible to host virtually anything, from a successful blog to a multi-site network.
Managed VPS – InterServer's staff are available around the clock, to troubleshoot any OS issue you might encounter. Additionally, the team will update your server and firewall themselves.
99.9% Uptime Guarantee – InterServer commits to a binding 99.9% uptime guarantee, right in the service level agreement. If at any given month the guarantee isn't met (highly unlikely), up to 50% of the monthly fee will be returned in credits.
Choose between Windows 10, Server 2012, or Server 2016 – No matter what Windows project you're running, you'll have the appropriate OS version.
24/7 Support – Responsive, professional, in-house support representatives that are always on call.
Read our expert review to learn more about InterServer.
Windows Server Versions Available
Windows Server 2008, 2012, 2016, and 2019
Free SSL

✔

Money-Back Guarantee
30 days
Starting Price

$

6.00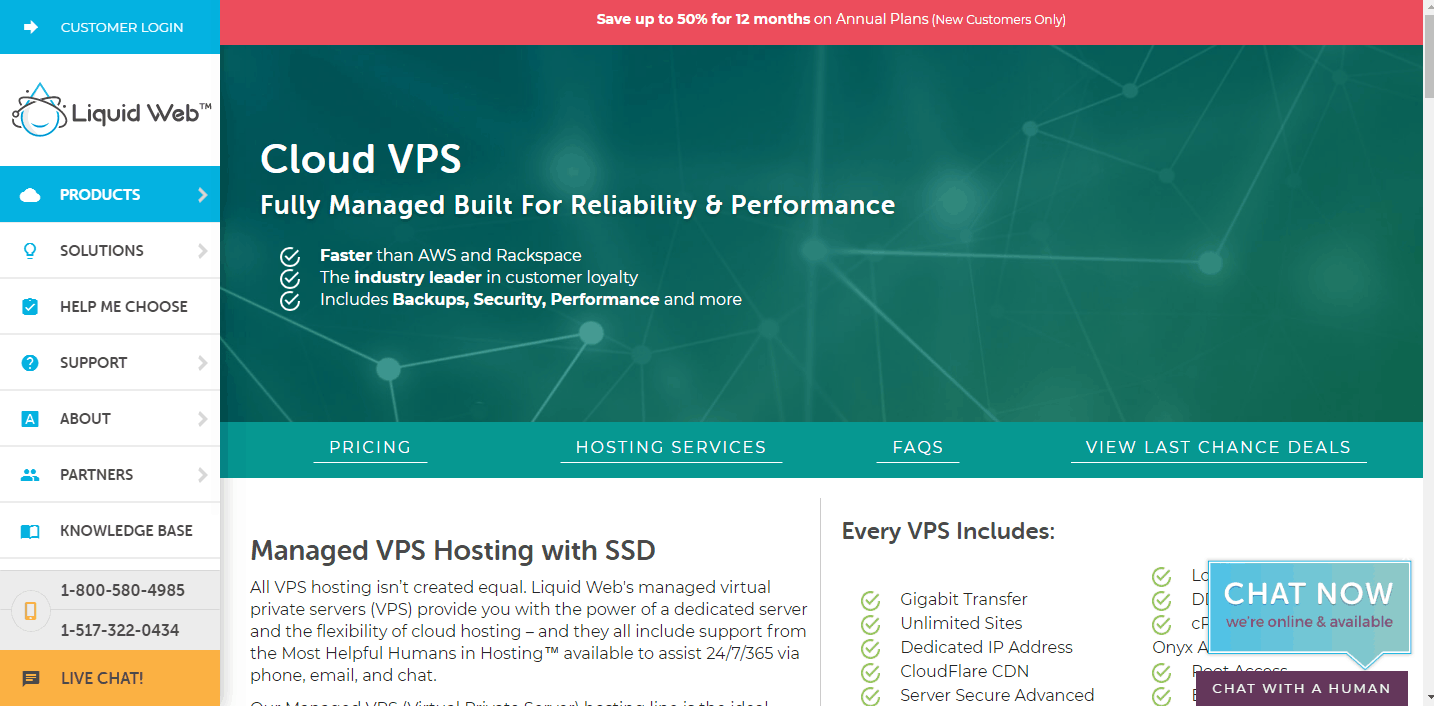 Liquid Web is one of the most respected and professional companies in the business – serving a smaller client base, but keeping it mighty happy. Liquid Web offers completely managed VPS services, and they come with a bunch of great perks.
Independent benchmarks place the company's fast VPS hosting as one of the best options available today, outperforming many big names in terms of page loading times and server responses.
Windows VPS is available only from the second plan up, and only when purchasing monthly hosting. I'm not sure exactly as to why that is, and it does get a bit pricier, but this a premium service like few others.
CloudFlare CDN – No longer will physical server locations impact your international visitor's loading times. CloudFlare CDN is included free of charge, and your website will be promptly delivered to visitors anywhere – from Japan to Argentina.
ServerSecure and DDoS Protection – The security suite is included with all VPS plans, and will keep your data secure and safe from any unwanted access. Additionally, the company provides a shield from DDoS attacks.
Backups – Local backups let you operate with peace of mind. No matter what disaster befalls you, there will be a copy of your website waiting.
Windows Server 2012 and 2016 – Choose the OS version you want, according to your needs and your website's dependencies.
To see if Liquid Web is the right solution for you, read our expert review.
Windows Server Versions Available
Windows Server 2012, 2016, and 2019
Free SSL

✘

Money-Back Guarantee
No, but you can get a pro-rated refund
Starting Price

$

15.00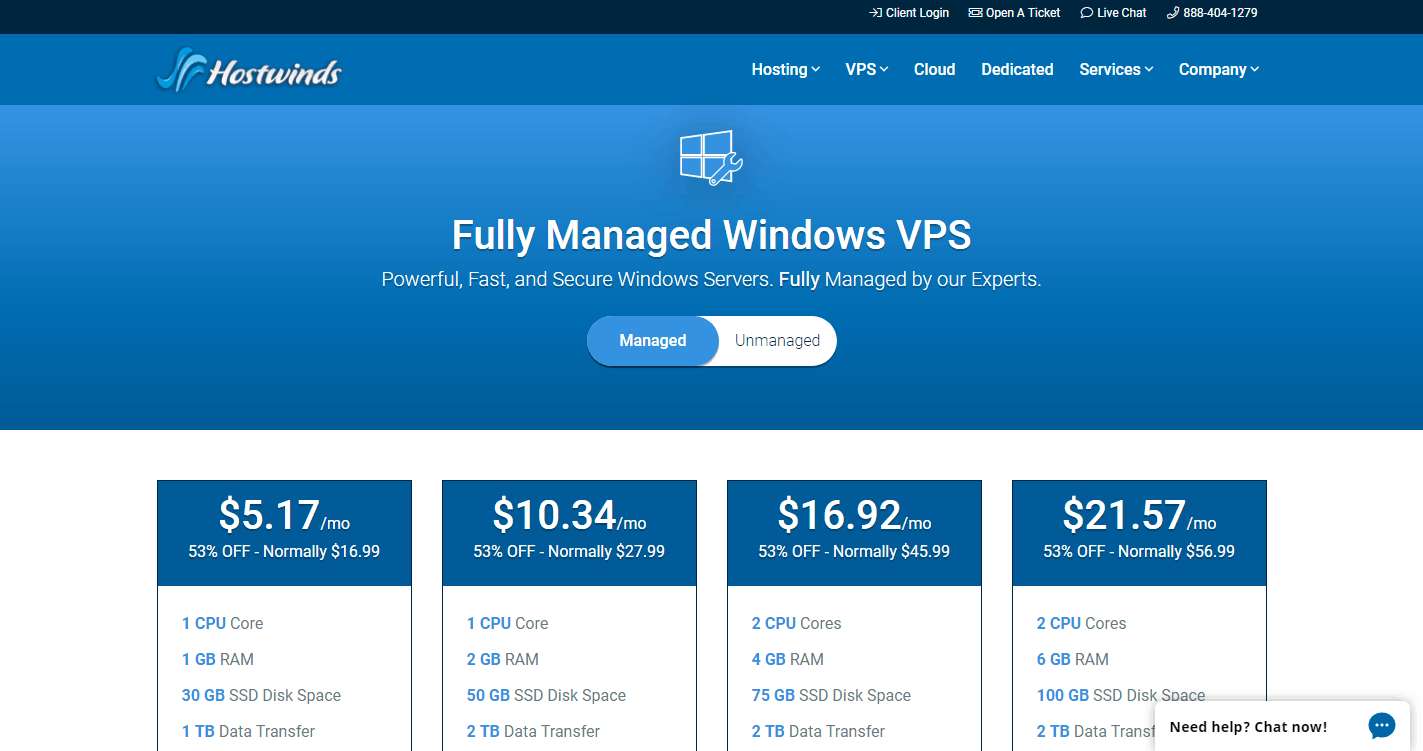 Hostwinds made a name for itself as a fair and transparent company, detailing every possible feature in the hosting plans. The VPS plans are no different – you'll have absolute control over what server configuration you receive, and what services it contains.
This method allows Hostwinds to provide what may be the cheapest VPS plans in the market. The Windows VPS plans are no different, and at first their prices confused me – they were so low I thought they were for shared hosting.
It's important to take into account that costs can balloon quite quickly, as introductory prices usually double after the first payment period. Additionally, Windows Server OS licenses and Plesk licenses (both are a must) will be added to your cart during checkout.
Highest level of customization available – Choose your configuration, and easily upgrade (or even downgrade) in the future. Add any OS version, application, panel, or other extra you desire. You can even supply your own OS installation!
Snapshots – Nightly backups that allow you to immediately restore your site to any previous point in time where a snapshot was taken.
Free Website Transfer – Let Hostwinds' pros take care of moving your website for you. Enjoy your new VPS setup after everything has been taken care of.
Enterprise Firewall – Bolster your security with an advanced firewall that provides a reliable defense against the numerous malicious attackers that lurk online.
Curious to learn more about Hostwinds? Don't miss our detailed review.
Windows Server Versions Available
Windows Server 2008, 2012, and 2016
Free SSL

✔

Money-Back Guarantee
30 days
Starting Price

$

8.24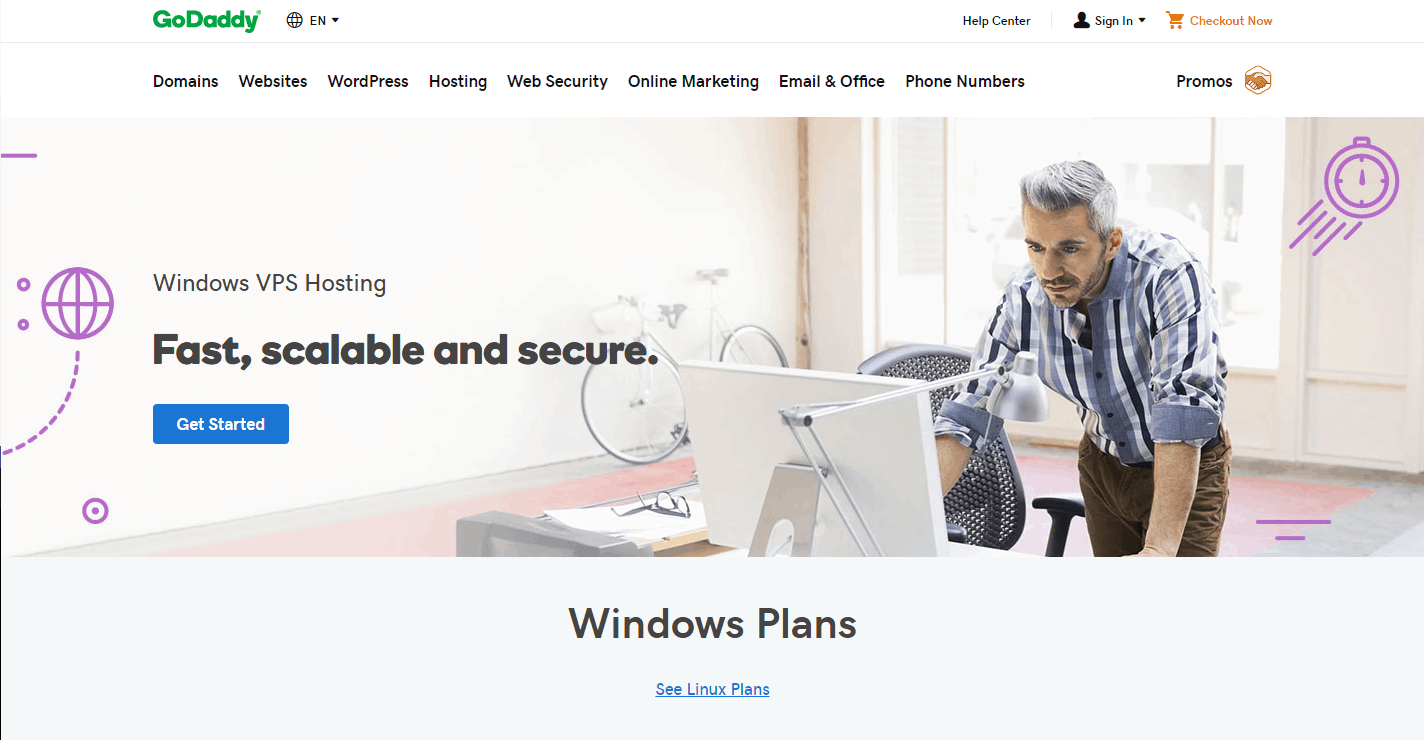 Established domain name provider GoDaddy has been around for ages, making headlines in the early 2000s with its racy ads. It has gotten quite the reputation due to its many upsells and only-sometimes-available support, but its VPS offerings are quite decent.
Using the same tried-and-true beginner-friendly interface, GoDaddy allows anybody to quickly provision a Windows VPS. You'll have four different plans to choose from, ranging from 2GB to 8GB of RAM, giving small to medium websites a lot of room to grow.
The pricing structure can get a bit confusing, as the "unmanaged" option does not actually include Windows OS licenses or Plesk control panel licenses. I recommend paying close attention during checkout.
Three Management Levels – Self-managed, managed, and fully managed. Only managed and fully managed include proprietary licenses. Self-managed is for server professionals only.
Choice of OS – Windows Server 2008 or 2012. Newer Windows Server 2016 is not available.
Migrations – Free migrations are included in the fully managed level.
Variety of Extra Features Available – While other hosts provide them free of charge and indefinitely, features like SSL certificates and automatic backups need to be purchased separately with GoDaddy.
Find out more about GoDaddy in our expert review.
Windows Server Versions Available
Windows Server 2016
Free SSL

✔

Money-Back Guarantee
30 days
Starting Price

$

4.99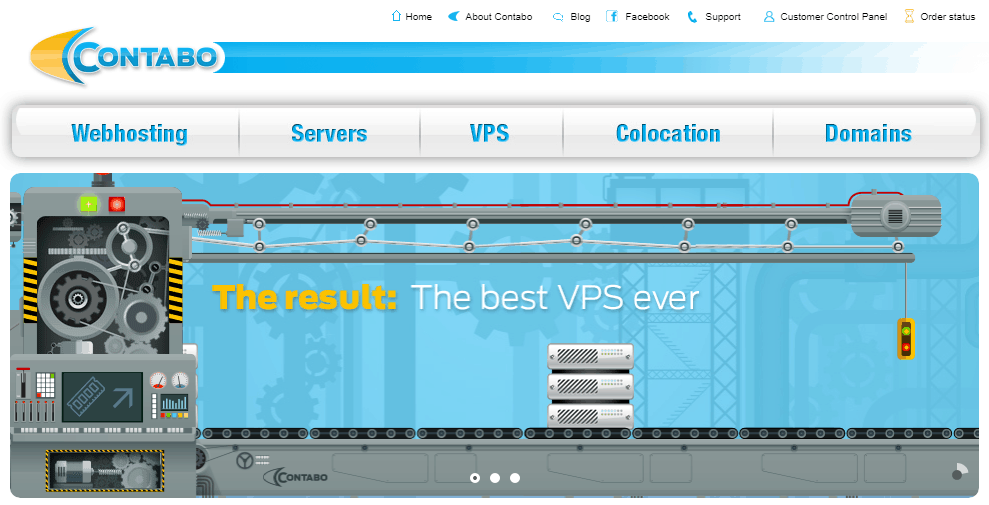 Contabo's website might not be the latest word in design, but what the company lacks in visuals it more than makes up for in performance. With two state-of-the-art data centers, both located in Germany, Contabo provides one of the most reliable hosting services in all of Europe.
All seven VPS plans are available with both Linux and Windows as their operating system and can be customized to your specifications. Windows Server 2012 is supported on all plans, and the four 100% SSD plans also support newer versions, 2016 and 2019.
Factor in the bargain prices, convenient payment periods, and the great features available, and Contabo becomes a no-brainer for targeting European audiences. Just remember that all plans are unmanaged, so it's up to you to set up the servers and keep them up-to-date.
Choose between an SSD boost or 100% SSD – SSD boosted servers are slightly slower, but also cheaper and come with much more storage. With the pricier 100% SSD plans you'll get faster and more efficient machines, but less space.
Advanced server management – Contabo's customer control panel allows you to easily set up root access, reboot your VPS, and even reinstall Windows if need be.
Server snapshots – Available only with the 100% SSD plans. Before attempting a system update, snap away to save the current state of your VPS. If anything goes wrong and you want to rewind, just restore the snapshot.
DDoS protection – All plans automatically include Contabo's DDoS protection system, which promises to block 99% of DDoS attacks.
Extra backup space and monitoring services – Available at an extra cost, these options can help you sleep a little better at night. Contabo's staff will update you if your VPS ever becomes unavailable, and you'll be able to store backups on a completely separate server.
Our expert tested all these features – see the results in our in-depth Contabo review.
Windows Server Versions Available
Windows Server 2012R2, 2016, and 2019
Free SSL

✔

Money-Back Guarantee
14 days
Starting Price

$

4.44
The Underdogs Snatch the Win
Compared to its Linux counterpart, Windows VPS is more expensive, less popular, and generally harder to set up. The reason to choose Windows VPS hosting is almost always a dependency on Microsoft technologies, such as .NET, ASP.NET, and MSSQL.
In a surprising turn of events, many hosting companies don't line up to provide service for Microsoft's operating system. Lots of the best VPS providers choose to focus entirely on Linux, leaving the market up for grabs.
Big brands like Hostinger and GoDaddy give it their best, but in the end it's smaller, lesser-known names that take home the trophy. Providing an excellent mix of premium managed services, and leaving lots of room for customization, they keep the prices low and deliver the goods.
If you're looking to host your web application or website, whether it's a blog, a business site, or an e-commerce store, I recommend Kamatera or Hostwinds. Although Hostwinds is cheaper for some plans, Kamatera's 30-day free trial and powerful features make it the best choice for all types of website.
If you're still not sure which solution is the right one for you, this quick comparison table should be helpful.
Standout Feature
Windows OS Options
Management Level
Kamatera
30-day free trial and full customization of your server
2008

2012

2016

2019

Fully managed

Unmanaged

Hostinger
Generous VPS hosting plans with room to expand your website
2012
Unmanaged
InterServer
Secure, powerful servers with 24/7 expert support

2012

2016

Managed
Liquid Web
One of the fastest VPS hosts in the industry, with backups included
2012

2016

2019

Fully Managed

Unmanaged

Hostwinds
Free website transfer and nightly backups
2008

2012

2016

Fully Managed

Unmanaged

GoDaddy
Beginner-friendly, with free website migrations includ, too.
2008

2012

Fully Managed

Managed

Unmanaged

Contabo
Bespoke server control panel, making it easy to manage your VPS.
2012

2016

2019

Unmanaged
FAQ
Which is the best Windows VPS host?
There's no one-host-fits-all for Windows VPS, so although you may be tired of hearing it, the best host for you is the one that meets all of your hosting needs. That said, Kamatera is a great choice because it has a lot of data centers and it offers the most recent OS versions. If your budget is tight, Hostinger is one of the most affordable options. It performed well in our tests, too.
Can I get free Windows VPS hosting?
The short answer to this question is no. You might find that there are hosts claiming to offer free VPS hosting, but we undertook a project to test these so-called free VPS hosting providers and it turns out that either the services they're advertising aren't free at all, or they simply don't exist. You can, however, get a free 30-day trial with Kamatera. Our coupon page also has some great discounts to make Windows VPS hosting more affordable. If you need Windows hosting but aren't sure VPS is right for you, our guide to the best Windows hosting providers has more suggestions.
What's the difference between Windows VPS and Linux VPS?
The only real difference between Windows VPS and other types of VPS is the operating system that the servers use. That, and the price. Windows VPS tends to be a bit more expensive than other VPS plans (because it's Windows and each server has to have a license for the OS). InterServer's Windows VPS plans are more affordable than some others, however. Unless you absolutely need Windows VPS (for example if your business is dependent on Microsoft technologies like ASP.NET or MSSQL), choose Linux VPS. We've tested a lot of hosting providers and our guide to the best web hosting services has our top recommendations.