So, you're ready for a Windows VPS! This powerful hosting solution can provide you with ample resources and robust capabilities, including easy remote access and a familiar Windows GUI.
What's the catch? For starters,
some hosts offer the newer server OS, Windows Server 2019, while others supply only older versions.
Some companies are so retro they provide the 2003 version. In addition to that, every company defines "managed" hosting a bit differently. And then, of course, are the licenses. Windows hosting requires licenses for everything from control panels to databases. Don't take unnecessary risks. Read on to find out what the best Windows VPS companies offer, and which one is right for you.
In a hurry? These are our top Windows VPS hosting picks for February 2023
Kamatera – Global data centers in three continents allow you to enjoy the full power of cloud hosting, with 100% modular servers and the newest Windows Server OS versions
Scala Hosting

– Generous resources at competitive prices

1&1 IONOS

– Free dedicated personal adviser helps with hosting basics
What We Look For in the Best Windows VPS Vendors
During my tests, I tried running an application developed for 2016 on a 2008 VPS. The results were catastrophic. I also gave unmanaged hosting a shot and found out it was quite similar to a Tamagotchi. Same heartbreak, too, every time it… goes to the farm. Compared to the many shared hosting plans available on the market,
my expectations from Windows VPS hosting are much higher.
When choosing one of the hosts on this list, you can be sure you'll get:
Performance – Just as with any other kind of hosting, I always look for blazing-fast speeds and uncompromising uptime. I want your websites to load immediately and to always be available.
Windows Licenses – Windows VPS is a curious thing, as it requires specific Microsoft licenses. Some web hosts sell only the server, leaving you to take care of the rest. Not these hosts.
Scalability – Windows VPS is an advanced hosting solution that can meet the needs of a rapidly growing website, but what happens when you get even more visitors? Your VPS has to be able to scale up accordingly.
Managed VPS – You're here because you want to host a website, not because you want to get a Ph.D. equivalent in configuring virtual servers. That's what managed services are for. These guys are pros, and they're here for you.
Cheap VPS Hosting – You may have made the big time, but you're still on a budget. I can't think of much use for a phenomenal service that costs as much as a second mortgage. These hosts are affordable.
Alright, so those are the ground rules. Ready for our top 5 picks? Let's begin.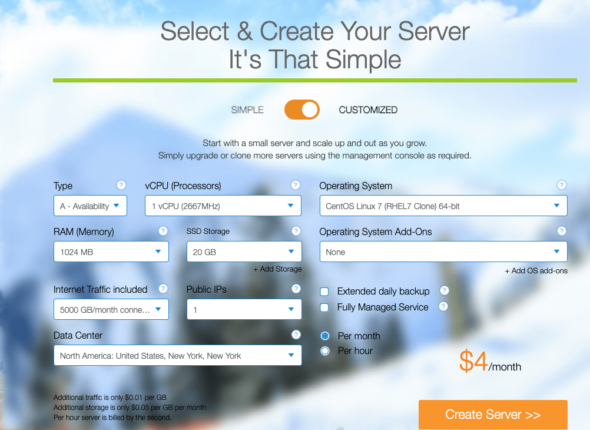 Compared with the other hosts on this list, Kamatera offers the most flexible hosting locations:
data centers are available in the US, Canada, Germany, the Netherlands, the UK, Israel, and Hong Kong.
Impressed? You should be. Kamatera truly understands the meaning of a global cloud, and its advanced infrastructure allows you to launch a server in a matter of minutes.
The company also provides the widest choice of Windows Server OS versions, from the classic 2012 to the spanking new 2022.
The only "catch" is that the price of a fully managed service is relatively high. Then again, there's a
30-day free trial
, so Kamatera's team of professionals have enough time to show you exactly how great it is when someone takes complete care of your server.
Features
Modular virtual servers – No one-size-fits-all plan here. Choose exactly how many virtual cores, RAM, and SSD storage you want to start with. You'll always be able to scale up or down.
All OS versions available – If it's on the market, Kamatera can install it for you. There are no limitations on OS versions and no differences between their licensing price.
Several management levels – You can go the unmanaged route, add a management panel (Plesk for Windows), or explain your needs to the Kamatera team and let them take care of it all.
99.95% uptime guarantee – Each of the company's data centers is equipped with various redundancy measures, and you're promised nearly perfect uptime.
Find out more about Kamatera in our expert review
.
Windows Server Versions Available
Windows Server 2012, 2016, 2019 and 2022
Free SSL

✘

Money-Back Guarantee
No, but there is a 30-day free trial
Starting Price

$

4.00

Scala Hosting allows you to custom-build a Windows-based cloud VPS
, though it isn't
quite
as flexible as Kamatera. Servers start with 4vCPU and 8GB RAM – VPSs with lower resource limits aren't available. Still, Scala Hosting offers nice features that Kamatera lacks –
every cloud VPS package includes three free snapshot backups and a 30-day money-back guarantee
.
Windows is only supported on Scala Hosting's self-managed plans. You can have Windows Server 2019 preinstalled on your server if you wish. It's not the latest version, but as you'll have full root access, you'll have free reign to manually install whatever works for you.
While Scala Hosting's resource-heavy servers are cheaper than similar setups with Kamatera, it offers equally good performance
. As long as you don't mind choosing from preset plans, Scala Hosting is certainly worth considering.
A free domain name is included with some hosting plans from Scala Hosting
Features
Easy server management

– Scala Hosting allows you to manage your cloud VPS easily from the client area. You can upgrade and downgrade resources, monitor performance, stop or start your server, and more. 

Highly redundant

– Your server data will be replicated across three different servers. If one server experiences a slowdown or a critical failure, traffic will be routed automatically to another with no downtime.

Plenty of extra options

– For additional fees, you can choose to purchase a cPanel licence, preinstall LiteSpeed web servers, or add the useful Softaculous app installer.

Premium support available

– While these servers are primarily unmanaged, you can request help from Scala Hosting's managed support team. You'll be charged for every 15 minutes of work in response.
Take a look at our Scala Hosting review for more information.
Windows Server Version Available

Windows Server 2019

Free SSL

✘

Money-Back Guarantee

30 days

Starting Price

$

39.95

1&1 IONOS offers some unique benefits that make it well worth considering. While the cheapest server is Linux-only,
every other 1&1 IONOS server supports Windows OS as an option
– there's quite a selection ranging from entry-level VPSs to memory-optimized powerhouses. What's most interesting about 1&1 IONOS is the caliber of support included with your plan.
Every customer is assigned a dedicated support agent, who will usually be your single point of contact
. As all your queries will be going to the same agent, they can become familiar with your server and overall goals, leading to more effective, targeted support. Your dedicated support agent can even help with some tasks that would cost a huge premium elsewhere. Support can offer server monitoring, help with performance optimization, and assistance with tightening security, all for free. Despite this added value, IONOS isn't cheap, and choosing Windows adds a large monthly fee to the cost of your server.
Features
Optional advanced support – 1&1 IONOS may also help with server configuration, installation of third-party software, and more. However, these tasks will cost extra – you'll need to contact support and explain what you require to get a quote.
1&1 IONOS free mobile app – With the 1&1 IONOS app, you can manage your hosting, invoices, and even contact support, wherever you may be.
Fast server setup – 1&1 IONOS aims to make new servers available within 55 seconds.
Root access – All 1&1 IONOS servers come with full root access. You can use Windows Remote Desktop Protocol to connect to your server and control it programmatically, which is supported by 1&1 IONOS' several API.
Windows Server versions available

Windows Server 2019 and 2022

Free SSL?

✔

Money-back guarantee?

30 days

Starting price

$

2.00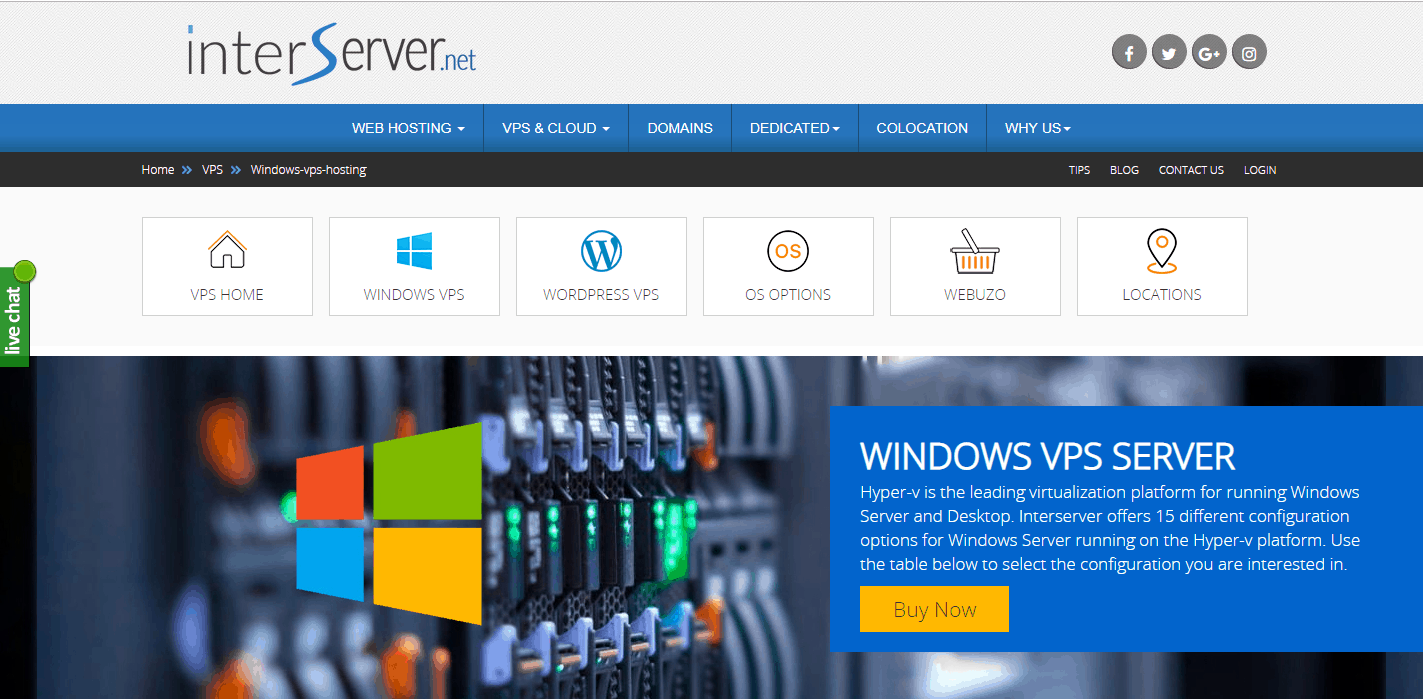 American powerhouse InterServer offers a variety of hosting services, operating off its five state-of-the-art data centers. With four in New Jersey and one in Los Angeles,
any US-based website is promised great performance
from coast to coast.
The company gives special attention to the often neglected Windows hosting, providing no less than
16 different Windows VPS configurations
. This selection makes it possible to host virtually anything, from a successful blog to a multi-site network.
InterServer is also one of the cheapest Windows VPS hosts on the list
, offering plenty of vCPU cores and RAM at lower prices than most. If you're targeting an American audience and you're looking to save some cash, InterServer is a safe bet. However, keep in mind that performance will be slower outside the US.
Features
No-commitment monthly billing

– With InterServer, you won't have to commit for multiple years to get the best deal. There's no sneaky renewal fees to watch out for either – you just pay the same reasonable price every month.

99.9% Uptime Guarantee – InterServer commits to a binding 99.9% uptime guarantee, right in the service level agreement. If at any given month the guarantee isn't met (highly unlikely), up to 50% of the monthly fee will be returned in credits.
Choose between Windows 10, Server 2016, or Server 2019

– It isn't an extensive list, but these are just the versions that can be preinstalled for you. You're free to manually install whatever version of Windows you prefer.

Free Windows OS repair

– If you choose one of the Windows OSs supported by InterServer in the list above, InterServer will help fix any major issues at no extra charge. They're also happy to perform reinstallations at any time.
Read our expert review to learn more about InterServer
.
Windows Server Versions Available
Windows Server 2016, and 2019
Free SSL

✔

Money-Back Guarantee
30 days
Starting Price

$

6.00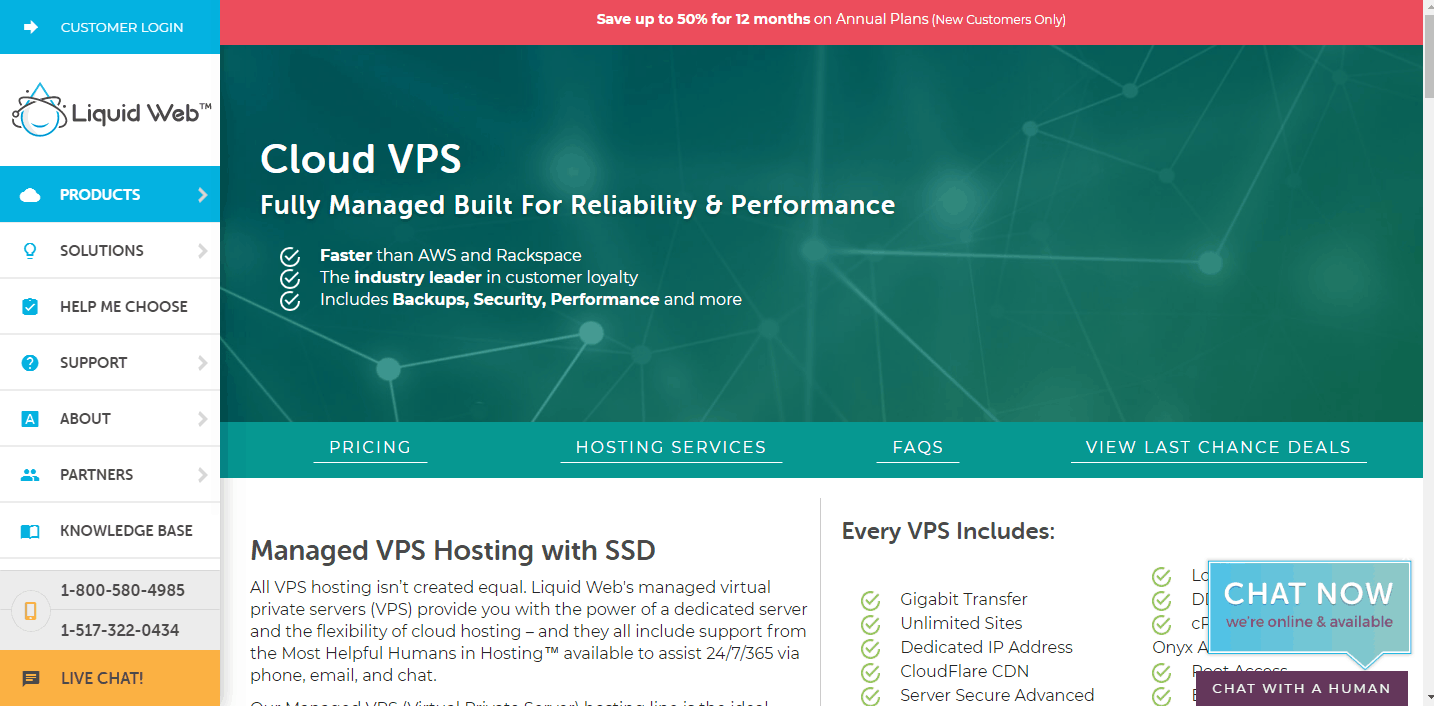 Liquid Web is one of the most respected and professional companies in the business – serving a smaller client base, but keeping it mighty happy. Liquid Web offers
completely managed VPS services, and they come with a bunch of great perks
.
Independent benchmarks place the company's fast VPS hosting as one of the best options available today
, outperforming many big names in terms of page loading times and server responses.
Liquid Web offers three tiers of Windows VPS plans with 4, 8, and 16GB of RAM, respectively. You can pay monthly, annually, and biennially, and savings are significant – up to 50% – with longer terms. There isn't a lot of variety, which is why it occupies a lower position on this list, but this is a premium service like few others.
Features
CloudFlare CDN – No longer will physical server locations impact your international visitor's loading times. CloudFlare CDN is included free of charge, and your website will be promptly delivered to visitors anywhere – from Japan to Argentina.
ServerSecure and DDoS Protection – The security suite is included with all VPS plans, and will keep your data secure and safe from any unwanted access. Additionally, the company provides a shield from DDoS attacks.
Backups – Local backups let you operate with peace of mind. No matter what disaster befalls you, there will be a copy of your website waiting.
Windows Server 2016 and 2019 – Choose the OS version you want, according to your needs and your website's dependencies.
Read our expert Liquid Web review for more information.
Windows Server Versions Available
Windows Server 2012, 2016, and 2019
Free SSL

✘

Money-Back Guarantee
No, but you can get a pro-rated refund
Starting Price

$

15.00
Which Is the Best Windows VPS Host for Me?
Despite being less popular and more expensive than a Linux alternative, there's still plenty of good options available if you'd like to run Windows. All of the hosts above are great picks – but the best option for you is dependent on your particular needs. 
If you're struggling to decide, here are my top recommendations. 
For the best global performance, I'd go with Kamatera. With 13 data centers around the world, you'll be able to serve your chosen audience with fast page loading speed wherever they may be. It also features the widest range of Windows Server versions available for preinstallation.
If you'd like to run a VPS with plenty of CPU and RAM, Scala Hosting gives you the best deal
. It offers some of the lowest prices on resource-heavy Windows VPSs, and it impressed us with its overall performance.
New to Windows VPS? I'd recommend 1&1 IONOS. The dedicated personal consultant can give you all the support you need getting set up. A wide range of server options also means you'll have plenty of room to scale.
Standout Feature
Windows OS Options
Management Level
Starting Price
Kamatera

30-day free trial and full customization of your server

2012, 2016, 2019, 2022

Unmanaged, optional management available

$

4.00

Scala Hosting

Generous resources at low prices

2019

Unmanaged

$

39.95

1&1 IONOS

Dedicated support agent that helps with server basics

2019, 2022

Unmanaged

$

2.00

InterServer

Inexpensive & great performance in the US

2016, 2019, Windows 10

Unmanaged

$

6.00

Liquid Web

One of the best performing VPS hosts in the industry

2016, 2019

Managed

$

15.00
FAQ
Which is the best Windows VPS host?
The best Windows VPS host for you depends on your needs. Looking for highly customizable virtual servers with great performance worldwide? I'd try Kamatera. If you'd prefer a cheaper option that's easier to work with, have a closer look at InterServer.
Can I get free Windows VPS hosting?
The short answer to this question is no. You might find that there are hosts claiming to offer free VPS hosting, but these services usually turn out to be not free at all, or a simple scam. You can, however, get a free 30-day trial with Kamatera.
What's the difference between Windows VPS and Linux VPS?
The only real difference between Windows VPS and other types of VPS is the operating system that the servers use. That, and the price. Windows VPS tends to be a bit more expensive than other VPS plans due to licensing fees.
If you'd prefer a cheaper Linux VPS, many of the hosts on
our list of the best web hosting services for 2023
offer more affordable options.
Is Windows VPS hosting better than shared hosting?
A virtual private server (VPS) offers better, more reliable performance, as you won't need to share resources with other customers. However, this demands a higher price. If you're a beginner, or serving a small niche audience, a cheaper Windows shared hosting plan may work just fine. 
If you need some help getting started, I'd highly recommend checking out
our complete guide to building a website in 2023
.