Namecheap is a good registrar, but that doesn't automatically make it a good host. In particular, Namecheap doesn't offer a completely free SSL certificate unless you sign up for certain WordPress plans, which is outrageous. On top of that, the free SSL certificates on the WordPress plans only work on domains registered with Namecheap.
But the reality is that many hosts that claim to be worthwhile Namecheap alternatives have the same faults. For instance, both GoDaddy and Network Solutions have similar "unusual" approaches to SSL certificates, so you'll have to constantly check the fine print to see if you're eligible.
This means you'll often have to pay more to have an encrypted connection for your website, or resort to using a subdomain if you already have a domain registered elsewhere. There's really no other alternative since encrypted connections have become the standard – not to mention that if you capture visitor information through forms or shopping carts, your site won't be secure.
I tested the biggest Namecheap alternatives and, after a rigorous selection process, I found that these are the ones you can count on to deliver a superior hosting experience. Many of them also have domain registration to boot.
What We Look For in the Best Namecheap Alternatives
Where Namecheap falls short, the alternatives on my list pick up the slack – and some even exceed Namecheap's best selling points. I also based my selections on these features:
Guaranteed website security. Why would you charge for SSL certificates when there are free and reliable options like Let's Encrypt? Unlike Namecheap, where you'll get a free SSL certificate for your first year only, you'll have a free SSL certificate for the lifetime of your hosting with the services on my list.
Value for your money. Namecheap's prices look great at a glance, but its renewal rates are often twice as much as your introductory fee. Don't even get me started on "optional" add-ons, which is why the platforms I've chosen offer much better value for your money.
User-friendly platforms. One of Namecheap's biggest strengths is its ease of use. But rest assured, none of the hosts on my list require any developer knowledge to set up a simple WordPress site. Some are even more user-friendly than Namecheap.
Worldwide coverage. If you want the fastest loading speeds for your visitors, you should choose a server location that's as close to your audience as possible. Most of the web hosts on my list have more data center locations than Namecheap.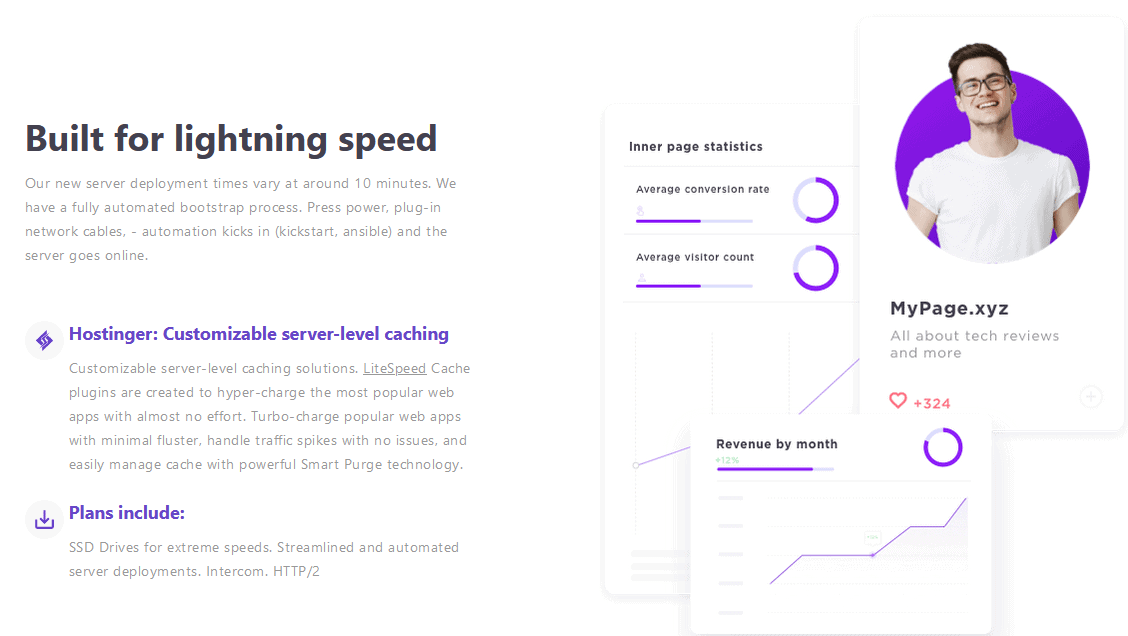 Aside from addressing all of Namecheap's faults, Hostinger is also one of the best hosting services for small to medium websites. Even on the entry level plan, you get a free SSL certificate, premium website performance, and managed WordPress. And let's not forget about those incredibly low prices that make Hostinger a great deal.
Namecheap claims to be the fastest WordPress hosting service around, yet Hostinger's speeds are even better – we know because we tested them both. No CDNs were used, so think of the speeds you can achieve when you activate one. Infrastructure plays a major role in this equation, but I'd argue that Hostinger's use of the LiteSpeed Web Server is the key component.
Let's talk plans: Hostinger's cheapest plan starts at $1.99 per month and offers much more in terms of resources and freebies than Namecheap's starter plan. With Hostinger, you'll get 30 GB SSD storage, 100GB bandwidth, 1 email account, 2 databases, Git access, and weekly backups.
Features
Premium caching. Unlike Namecheap's basic Apache setup, Hostinger's LiteSpeed server comes with pre-configured caching, even on the basic plan. By comparison, Namecheap's xCache is only available on its most expensive shared plan.
Managed WordPress. Hostinger offers managed WordPress features for all its plans. You'll have access to automatic core and plugin updates, plus the WP Starter site-building wizard.
Proprietary control panel. With its streamlined look and overall functionality, Hostinger's proprietary control panel (hPanel) makes it easier to manage your hosting account and website.
Secure domains. If you want to avoid the hassle of registering a domain with one company and hosting your website with another, you can do both with Hostinger. Moreover, all nameservers hosted by the platform are protected by Cloudflare technology.
For more features, read our expert Hostinger review.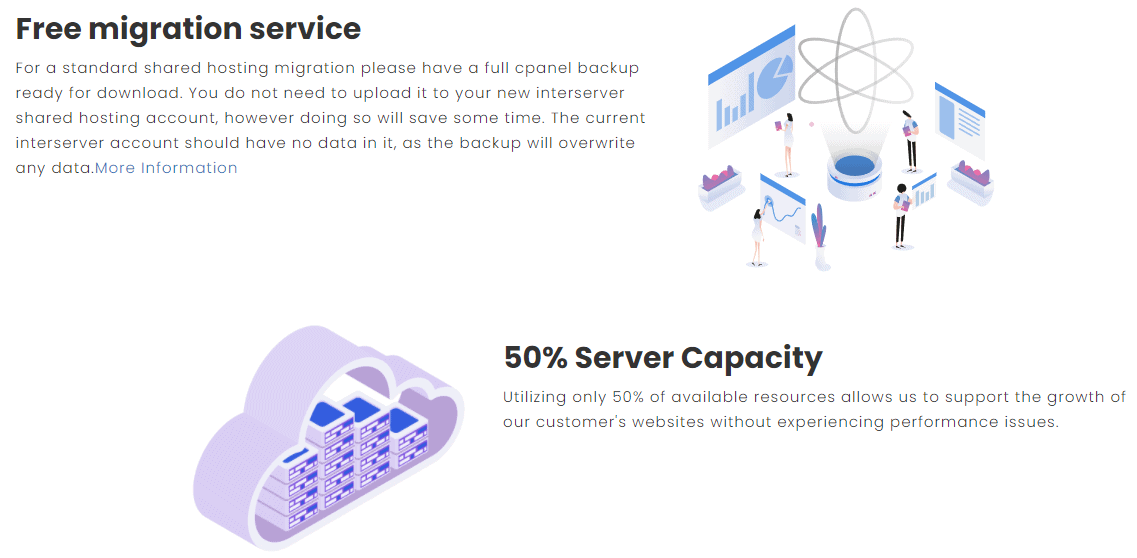 High renewals are pretty standard for the web hosting industry, but Namecheap takes the practice to the next level – all of its shared hosting plans are more than twice their regular price when you renew. On the other hand, InterServer is the best Namecheap alternative if you're not ready to commit to a yearly hosting plan.
InterServer has a price-lock guarantee policy, which means that the rate you sign up for is what you'll continue to pay for as long as you use the platform – well, unless you decide it's time to upgrade your plan.
There are more goodies in store. InterServer also has a policy of using only 50% of its servers' capacity, which is almost unheard of in the hosting industry. This is a great feature if you expect your traffic to pick up because it means the infrastructure is there to support the growth.
The downside with InterServer is that there's no free domain name available for yearly plans, but you'll be able to purchase one from InterServer. Like its price-lock guarantee, most domains renew at the same price.
Features
Unlimited resources. Even on the entry-level plan, InterServer offers access to unlimited SSD storage, bandwidth, and emails. Oh, and you can host unlimited websites.
Awesome security. The host has a comprehensive security system in place that includes a malware database, machine learning firewall, traffic analyzer, and virus scanner. What more can you ask for?
Fast infrastructure. Like Hostinger and, to a certain extent, FastComet, InterServer relies on the LiteSpeed Web Server, as well as a multi-layered caching system to ensure your website loads really fast.
Free website cleanup. Whether you're a new customer or an existing one, InterServer's team will clean up a malware-ridden website completely free of charge.
See our in-depth InterServer review for details.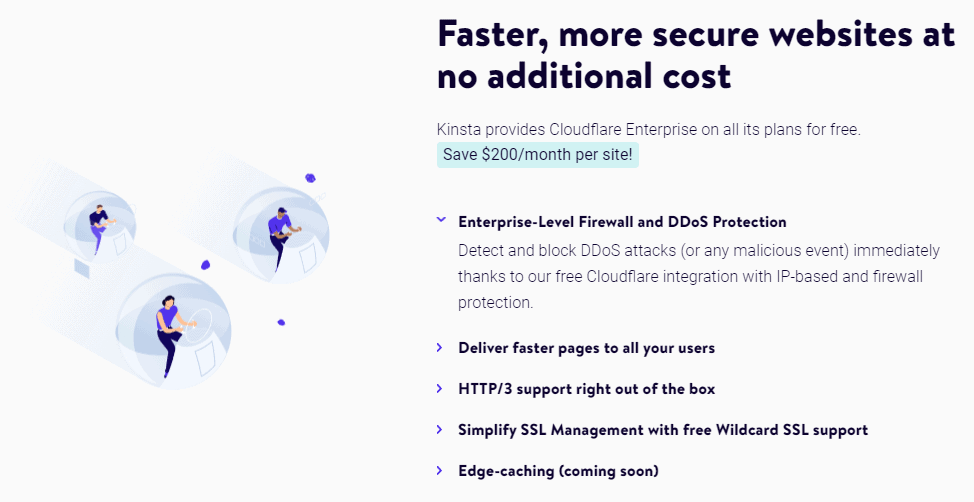 Namecheap's managed WordPress plans pale in comparison to Kinsta's managed WordPress services. For starters, Kinsta is based in the cloud. All of its plans include a hefty amount of free CDN traffic every month, as well as at least two weeks' worth of automatic backups.
The host also includes a lot of valuable features, like a caching manager, performance-monitoring tools, and a minimum number of PHP workers per site. This is partly why we found Kinsta to be much faster than Namecheap. You can also choose to host your site in any of its 29 Google Cloud Platform (GCP) data centers, whereas Namecheap only has two options.
Another highlight of Kinsta's platform is the fact that you get fully managed WordPress hosting. Aside from 24/7 security monitoring and patching, the team will fix your site immediately if it's hacked or unavailable for any reason. How do they know? The host does a system-wide health check every 2 minutes.
As you might have expected, Kinsta's main drawback is pricing. Even its cheapest plan is quite expensive, and there's a scarcity of mid-range options. Still, if you don't want the hassle of managing your WordPress backend or want a secure host that knows what it's doing, Kinsta is a good option.
Features
Easy scaling. Namecheap claims it offers easy scaling, but its infrastructure isn't based in the cloud, nor is it as powerful as the one you get with Kinsta. Even if you're not ready for traffic surges, the servers are.
Stellar support. Unlike most regular hosts, Kinsta's reps are fully trained in all things WordPress and will help you solve most problems, including troubleshooting server and plugin issues. The team boasts a 100% solve rate.
Powerful interface. The host's proprietary dashboard takes website management to another level. You can easily manage, update, and back up all your sites from a single interface.
Great add-ons. Kinsta has a handful of powerful add-ons, including automatic hourly backups. You can also get performance-enhancing features like Redis and NGINX Reverse Proxy.
Read our full Kinsta review for performance results.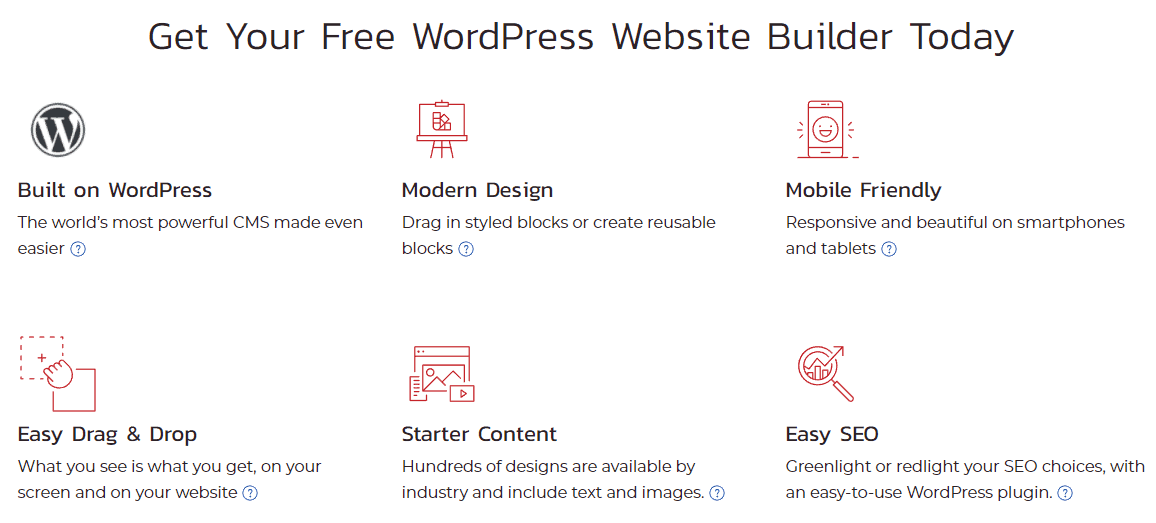 If your website targets a North American audience and you want your support team to be completely US-based, look no further than InMotion Hosting. Outsourcing customer support to other companies is almost standard practice in the web hosting industry, but InMotion keeps everything in-house.
InMotion Hosting also has a better hosting stack than Namecheap. While the latter relies on a fairly straightforward Apache setup, InMotion has a proprietary solution called UltraStack. Between NGINX caching, PHP handling, and advanced website compression, InMotion's setup will definitely offer better website performance.
Unlike Namecheap's website builder, InMotion's BoldGrid builder works with the versatile WordPress platform. This means you'll be able to easily move your website to another host if you ever want to. In addition, adding more functionality to a website is really easy in the WordPress ecosystem.
Features
High-performance hosting. InMotion Hosting constantly tweaks and updates its web hosting stack and infrastructure for optimal website performance. If your visitors are in North America, there's a good chance your pages will load really fast.
Free ad credits. All of InMotion Hosting's shared hosting plans (except for its basic plan, Core) include $150 in advertising credits to get your website's name out there.
No downtime transfers. InMotion Hosting's tech squad will transfer your website for you with zero downtime, free of charge.
Excellent money-back guarantee. While Namecheap offers a 30-day money-back guarantee, InMotion gives you three times more (90 days). If you need time to try things out, this is where you'll find it.
For more, take a look at our InMotion Hosting review.

Namecheap's initial offerings may look attractive, but upgrading to a better plan can be really expensive and you won't get much for it. On the other hand, A2 Hosting's Turbo plans are a perfect middle-ground for growing websites. They give you more room to postpone that major infrastructure upgrade, at least until you're sure you need it.
A2 Hosting's plans also come with a lot of valuable features. Most shared plans include unlimited storage, unlimited bandwidth, website staging, free automatic backups, and advanced security. In case you were wondering, you won't have to worry about SSL certificates either – they're free on all of A2's plans.
A2 Hosting's support can be hit-or-miss. During our tests, the live chat support was a far cry from the "guru" squad it advertises. Overall, the representatives were more confusing than supportive. Thankfully, A2's ticketing system proved to be far more helpful than its live chat.
Features
A2 optimized installs. A2 Hosting sees Namecheap's EasyWP setup and counters it with optimized installations for all the popular CMSs, including WordPress, Magento, Drupal, and more.
Free WordPress plugin. If your website uses the WordPress platform, A2 Hosting has a proprietary plugin you can use to improve your page loading speeds. It automates a handful of caching systems with just one click.
Turbo server setup. While I wouldn't go as far as to say your website will be 20 times faster, A2 Hosting's Turbo servers have advanced architecture and infrastructure. This makes A2's Turbo plans a great stepping stone on your way to more serious hosting setups, such as a VPS or dedicated server.
Excellent refund policy. You can cancel at any time and request a pro-rata refund. You'll get reimbursed for any unused time left in your plan.
Are Turbo servers fast? Read our A2 Hosting review to find out.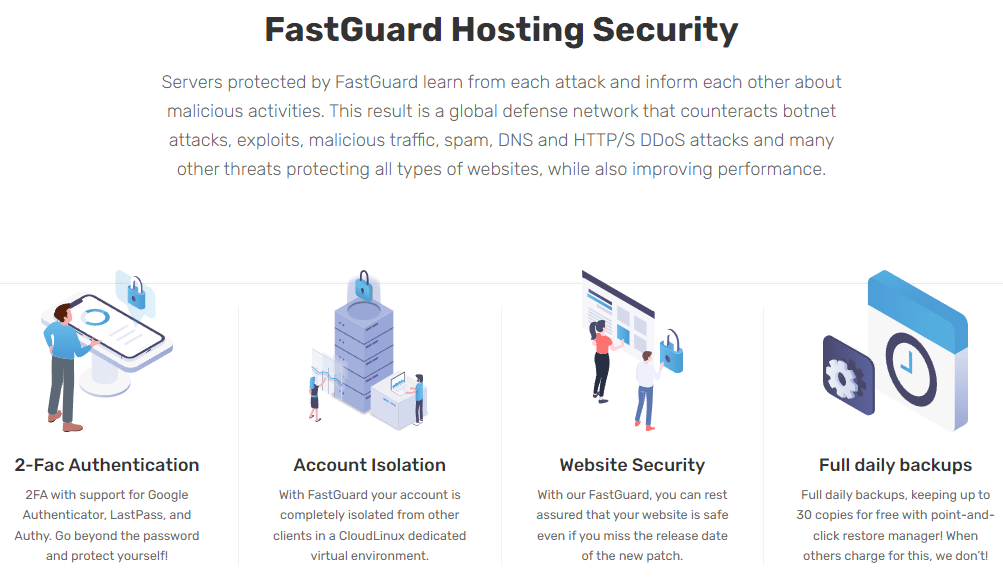 Unlike Namecheap, which only has data centers in North America and Europe, FastComet lets you host your website in Singapore, Tokyo, Sydney, or Mumbai, plus 7 other locations around the world. This is a major advantage for websites that target customers in Asia and Oceania because a smaller geographic distance is likely to result in better speeds.
Another neat FastComet feature is that there's no account suspension policy if you over-use shared hosting resources. This doesn't mean you can go ahead and host a file sharing platform, but that the team won't enforce strict limits on your bandwidth. So long as you abide by its terms of service, FastComet won't charge you for high bandwidth usage. How awesome is that?
FastComet's main drawback is its pricing. While not as affordable as some of the hosts on my list, you can argue that your money is well spent given the level of support you get, your choice of data center location, and the features included with each plan.
Features
RocketBooster infrastructure. FastCloud Extra plans are hosted on a better infrastructure that uses LiteSpeed Web Server. Moreover, accounts receive more resources, and no less than five layers of caching.
Free backups. Two of FastComet's shared hosting plans save a week's worth of backups (which are stored offsite), while the most expensive shared plan includes backups going back 30 days.
Solid support. Unlike Namecheap's support, which covers the basics but often gets lost in more advanced issues, FastComet's customer service platform is one of the best we've tested.
Premium SSL. FastComet is one of the few hosting services that includes a premium SSL in its higher tier plans – it's free for one year on Plus and Extra plans.
Read our FastComet review for more on plans.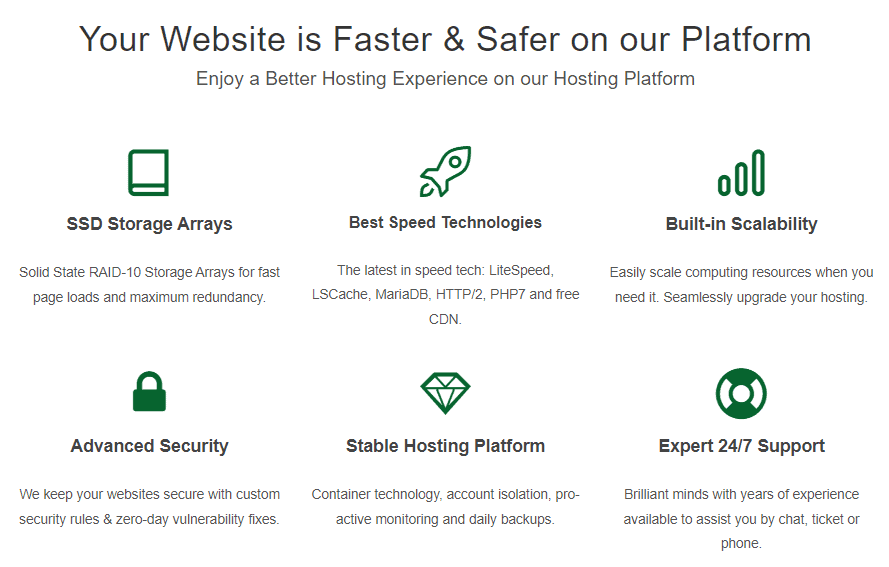 Although Namecheap's support wasn't bad (trust me, I've seen worse), there's no comparison to GreenGeeks' support. GreenGeeks has one of the best support teams in the shared hosting industry. Agents respond to live chats immediately and they offer comprehensive answers to each and every question you might have. The host values every customer, and it shows.
Similar to Hostinger, GreenGeeks' regular plans include managed WordPress services, which means you get all the WordPress support you'd ever want at regular hosting prices. In addition to daily automatic backups and automatic updates for the core software, you'll also get a free SSL certificate, domain name for one year, and CDN integration.
A more or less unique feature to GreenGeeks is its commitment to green hosting. Data centers use a lot of power at all times. If you or your customers are environmentally conscious, GreenGeeks is one of the best hosts you can choose.
Features
Secure hosting. All GreenGeeks accounts are isolated from one another using virtualization technology. In addition to several layers of protection, there's a tech team that monitors the network 24/7.
Great performance. Like many of the top hosting platforms, GreenGeeks relies on the LiteSpeed Web Server, which means premium caching is guaranteed. Also, you can activate the free version of Cloudflare CDN whenever you want.
Free website transfer. If you're transferring from another host, the customer support reps will optimize your site and explain everything in depth.
Easy scaling. If your traffic dramatically increases because Elon Musk retweeted a quote from your blog, you can easily add more RAM to your account so that your website can handle the additional load.
Read our comprehensive GreenGeeks review for more.
Namecheap Needs to Step up Its Game to Compete with These Alternatives
While Namecheap is a major domain registrar, its web hosting service leaves a lot to be desired. A high number of add-ons (that a lot of hosts offer for free) and high renewal rates are major weaknesses.
Hostinger is the best overall Namecheap alternative. It offers better performance at a lower price than Namecheap, while its value-added features are really hard to beat. Sure, you have to commit to several years of hosting to benefit from Hostinger's cheapest prices, but it's actually worth it.
Kinsta's WordPress plans are the best in the industry. You'll get all the usual managed hosting features like automatic core updates, security patching, and remediation, plus a lot of premium speed-boosting features. Kinsta's cloud hosting also offers 29 data center locations.
Lastly, if you want to pay on a monthly basis, InterServer offers the best value. Renewals are the same cost as the initial price, you get unlimited storage and bandwidth, and free website cleanup services.
Take a look at my summary table for a quick recap of my top Namecheap alternatives.
FAQ
Which is the best Namecheap alternative?The best Namecheap alternative depends on what you're looking for. If you're looking for value, Hostinger is your best bet, since you get better performance at lower prices. InMotion hosting is a suitable alternative if you want a powerful yet easy-to-use WordPress builder. Its performance is also solid, while hosting plans have a lot of great features. If your needs are slightly different, you can check out our list of the best web hosting services in 2022. All these hosting services have been hand-picked by our hosting experts.Are there free alternatives to Namecheap?While there are several free web hosting services, they come with significant limitations. You rarely get enough storage to host a WordPress site, while bandwidth caps can be outrageous. And don't get me started on impossibly slow loading speeds, or dealing with intrusive ads on your website. If you're on a budget, you should visit our deals and coupons page for some great discounts from the top Namecheap alternatives.How do I cancel Namecheap?To cancel your Namecheap account, you have to first cancel all your active services. This means you'll have to manually remove domains (with the help of support) or transfer them to another Namecheap account. Next, you'll want to cancel your SSL or application subscriptions, as well as hosting packages. Finally, you'll need to submit a ticket to support that includes your support PIN, username, and why you want to shut down your Namecheap account.Which is the cheapest and most reliable Namecheap alternative?A cheaper (and more reliable) alternative is Hostinger. When you sign up for one of its long-term plans, you'll be paying the equivalent price of a small cup of coffee per month – but you'll get all the benefits of excellent page loading speeds, free SSL certificates, free domain, and weekly backups.