But I've tested dozens of UK-based web hosting services, and not all of them delivered good performance in the region.
I was also surprised to see that many local hosts don't offer essential features like free SSL certificates or automatic backups. Others claim to have WordPress-optimized plans, but provide no actual WordPress optimizations. And some are just too expensive.
But before you give up hope, let me assure you: there are some fantastic UK-based hosting options.
Earlier this year,
 Website Planet undertook possibly the largest web hosting comparison project we've ever done in order to find the best hosts for UK websites.
 We tried out all the popular local providers, plus several international services with data centers in or near the British Isles. To rank them, we looked at pricing, performance, ease of use, customer support, and other features. Some popular hosts failed to live up to the hype, while others turned out to be speedier (and cheaper) than we expected. Which of these providers is right for
your
UK website? Find out below.
What We Tested in Ranking the Best Web Hosts for the UK
In a single word,
everything
. Seriously. We ran rigorous, extensive benchmarks for each host we tested. Then, we organized the results into five main categories:
Features. Storage space and bandwidth are the primary resources required to host a website, so we looked for providers that offer plenty of both. That said, we also prioritized other essential features like SSL certificates, built-in performance boosters, and automatic backups.
Ease of use. We didn't just sign up with every host on our list. We set up WordPress, built a website from scratch, and fiddled with performance settings to evaluate ease-of-use for each provider's hosting platform.
Performance. We ran several benchmarks to test each host's speed and uptime. Instead of using a blank website, we set up a typical landing page with text, images, and a number of plugins to give you more accurate results.
Support. Most providers claim to offer expert 24/7 support, but service quality often falls short. We got in touch with each host's support agents over several channels (where possible), and rated them based on availability, waiting time, and helpfulness.
Pricing. Super-low prices can be attractive, but we rated the hosting plans on our list based on value rather than cost. You'll find some incredibly cheap options with tons of features, but we've also included a premium host with an unmatched level of managed support.
This is just a preview of everything we tested in our huge web hosting comparison project. I'll explain our process later, but for now, here are the best web hosts for the UK.
Hostinger offers the best deals for long-term shared hosting plans; no other provider can match its prices.
 But surprisingly, this isn't Hostinger's best quality – performance is. It sounds mad, but
Hostinger is actually the fastest budget-priced host I've tested, and its results were consistent across several benchmarks.
 Its specialty is shared hosting, so I wouldn't use it for a high-traffic website or a large ecommerce platform. But for basic portfolios, personal blogs, or small online stores, it's perfect.
It has a data center in the UK,
and according to Sucuri Load Time Tester, performance is outstanding around the world.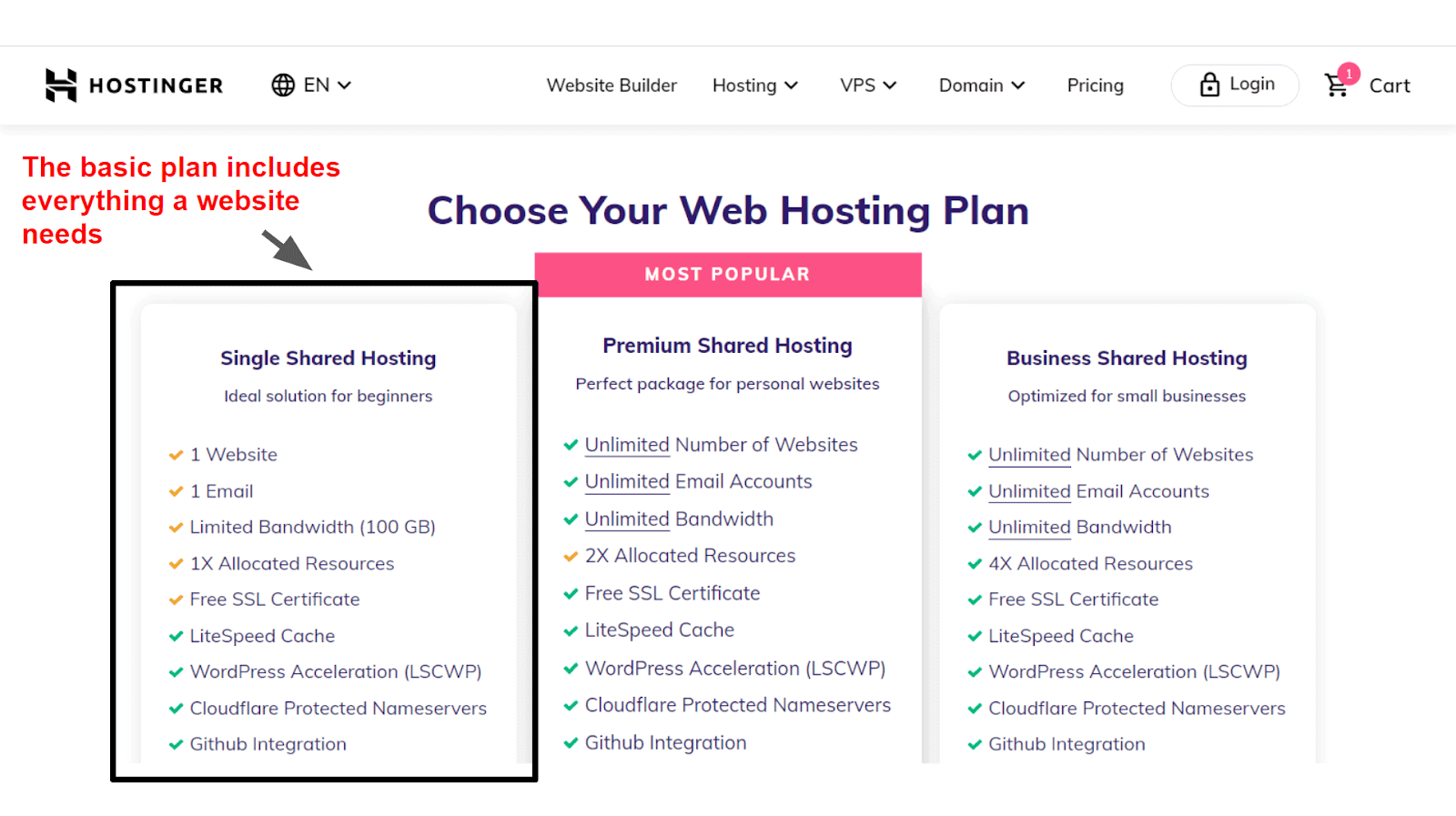 You also get lots of freebies with your hosting.
Even the entry-level Single plan nets you a free SSL certificate, email hosting, and automatic weekly backups –
 in short, all the essential features you need to reliably host your website. Customer support can be a bit slow, but the agents are super-helpful once they do get in touch.
Features:
Easy-to-use control panel. Hostinger's proprietary hPanel can do almost everything cPanel can – plus, it's better organized and easier to navigate. Hostinger will use it to pester you with upsells from time to time, but these can easily be ignored.
LiteSpeed web server. This is one of the main reasons for Hostinger's excellent performance. LiteSpeed can handle more simultaneous requests than the older Apache server used by most other providers.
Built-in caching. You'll find LiteSpeed Cache Manager neatly integrated into your dashboard. Caching is easily switched on, and it'll provide a boost to your WordPress-based website's performance.
Automatic WordPress updates. WordPress is awesome, but because it gets updated constantly, it can become very tedious to maintain. Hostinger will update your WordPress installation and plugins for you, so that's one less thing for you to worry about.
InterServer's Standard shared hosting plan gives you unlimited websites, domains, storage space, bandwidth, and email – all at a fairly low price.
 Unless your blog or online store sees a big surge in monthly visits, you won't have to upgrade to a more expensive plan.
Additionally, if you prefer to pay monthly, InterServer is one of your cheapest options.
Many other hosts charge ridiculous prices for their monthly payment plans because they want to entice you into a multi-year commitment. InterServer lets you stay flexible
and
enjoy great prices.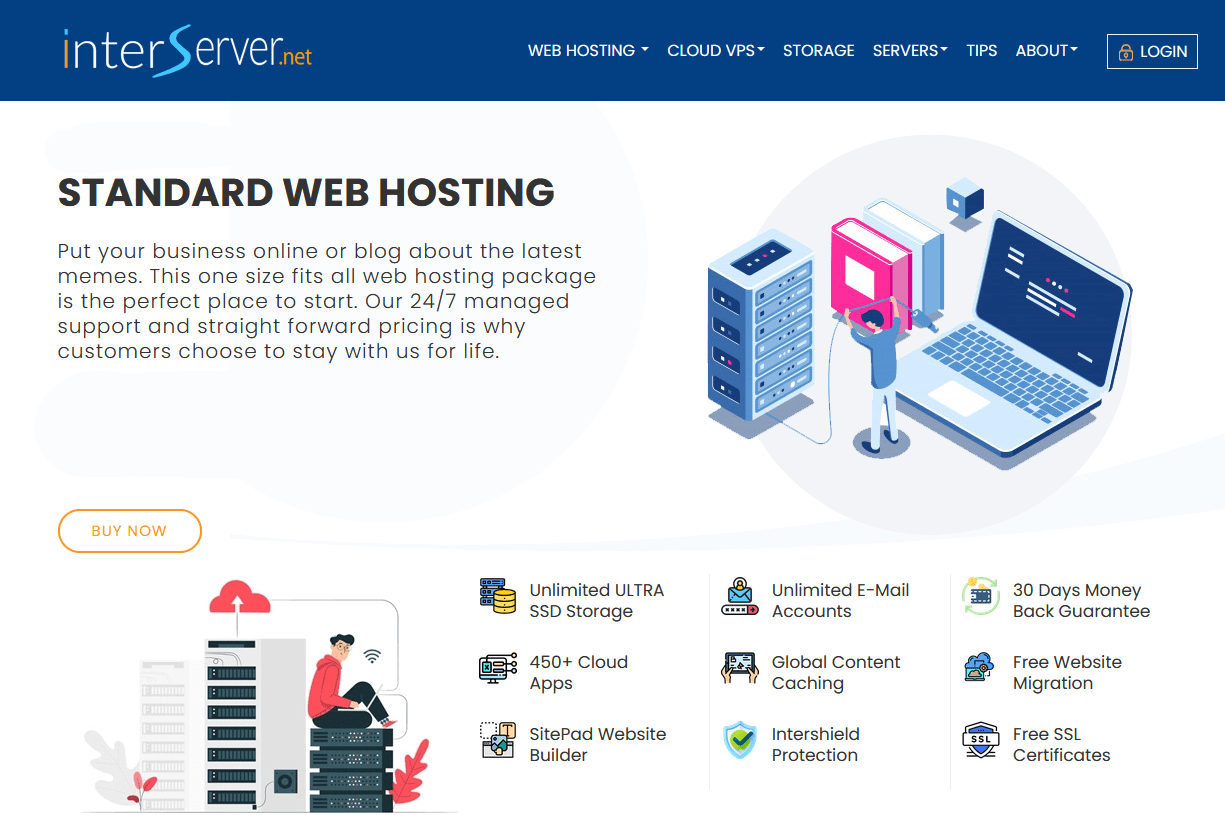 The downside is that InterServer's data centers are both located in the US. But according to Sucuri Load Time Tester, you can get decent performance in the UK and most of Western Europe if you choose the NY data center.
Access to a CDN (content delivery network) is included in the Standard plan, which can help speed up loading times for code and images on your site.
Features:
Premium auto-installer. Softaculous lets you install over 400 apps with just a couple of clicks. WordPress and other popular CMSs are all there, but you can also use it to set up a gallery, a contact form, or other functionality.
Underloaded servers. When you share a server with hundreds of other users, your website's performance may be affected by heavy traffic on other users' sites. InterServer avoids this issue by hosting fewer users per machine.
Basic website builder. If you don't want to get into WordPress, a website builder is the next best thing. InterServer provides one for free, and it includes several professional-looking templates.
InterShield Security. InterServer's exclusive security solution shares data amongst all of its servers to detect and block attacks across its network. It also includes a machine-learning firewall and an automatic malware scanner. Oh, and InterServer will fix your website for you if you ever do get hacked. Neat.
If you want a host that'll take care of
everything
 for you, Liquid Web is it.
 From performance optimizations to account security, experts will manage almost every aspect of your hosting while you focus on your website.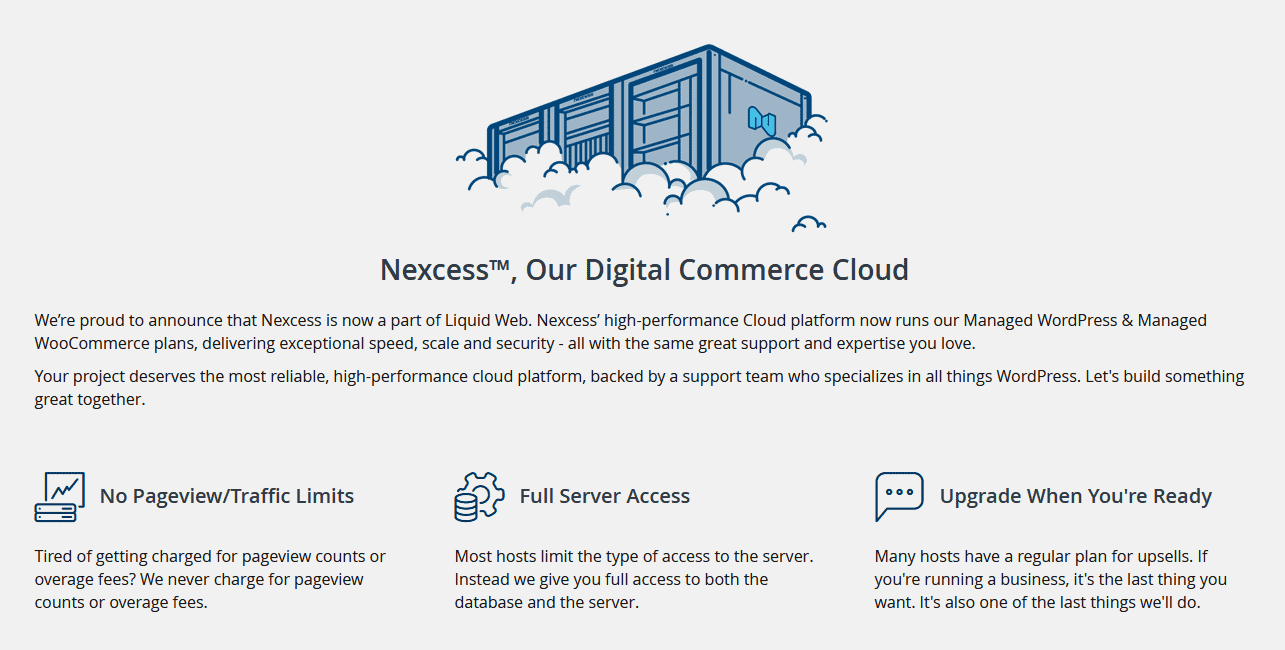 Most hosts that offer automatic plugin updates do so through an auto-updater that may or may not break your website.
Liquid Web
manually
tests
each new plugin version before making any changes to your live site.
 Updates are carried out only if everything works perfectly. Otherwise, you are notified in a report.
I've yet to find another host that offers such a comprehensive managed hosting service.
 But Liquid Web isn't cheap. It's competitively priced compared to most premium web hosting services, but it's not the best choice for personal or low-traffic websites.
Features:
Custom-built dashboard. Liquid Web's WordPress interface is streamlined and easy to use, but you're not limited to WordPress. The host also has managed hosting for Magento, Drupal, and several other CMSs. Each plan includes a dashboard that is custom-built for your CMS of choice.
NGINX web server. NGINX is arguably the fastest, most stable web server technology currently available. It's the default on all Liquid Web plans, alongside the latest PHP versions.
Premium iThemes plugins. iThemes Sync helps you manage multiple websites from a single dashboard, whereas iThemes Security Pro keeps your site(s) safe from malicious attacks. Both are designed for WordPress, and included for free.
No traffic caps. Most premium hosts limit your monthly visitors, and force you to pay overage fees if you exceed your allocation. Although Liquid Web has (very generous) bandwidth limits to prevent abuse, it doesn't charge overage fees, which makes it a better deal for high-traffic websites.
Like most shared hosting providers, FastComet offers affordable hosting for simple websites, but with one important difference.
FastComet uses CloudLinux OS in order to isolate each account on a shared server.
This setup is more expensive than when providers group multiple users within a single CloudLinux instance, but it comes with several advantages.
For one, you have access to a guaranteed amount of vCPU cores and RAM at all times,
so your website's performance won't suffer if other users' sites get heavy traffic. More importantly,
security breaches in neighboring accounts can't spread to your own,
 so your website(s) will be safer overall.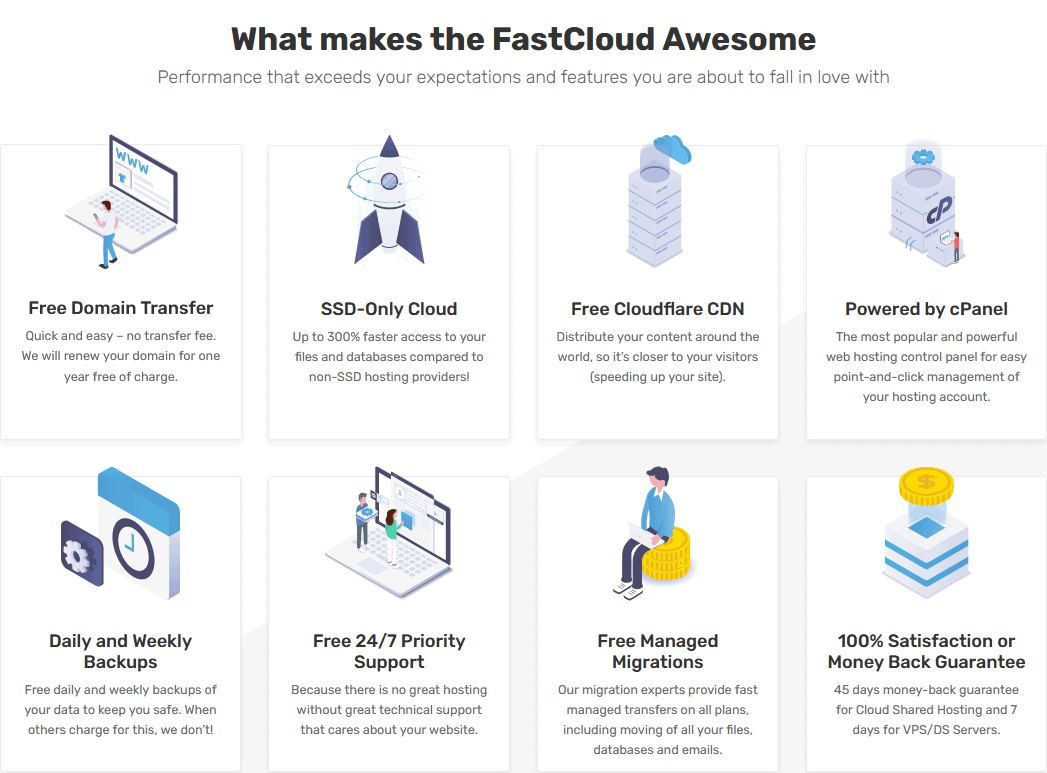 FastComet has an impressive number of data centers strategically positioned around the world, including one location in the UK.
 It's not quite as fast as Hostinger on average (hence its lower position on my list), but it's still a solid option for UK websites.
Features:
Optimized servers. FastComet offers several performance tweaks for you, even on the entry-level plan. gzip compression, code minification, and browser optimization are all set up by default, although if you want advanced caching, you'll have to upgrade to the FastCloud Extra plan.
Integrated CDN. Cloudflare CDN is built into your dashboard, so you can turn it on with just a couple of clicks. This will improve your website's security, as well as its performance for visitors located around the world.
Hack–fix guarantee. FastComet has a fairly solid security configuration for its servers, but if your website is ever compromised, the tech team will clean and restore it for you.
Resource usage stats. Most shared hosting providers throttle websites that use too much CPU, RAM, or bandwidth, but few of them properly define what "too much" is. FastComet tells you exactly how many resources you have available, and how much you're using at any given time. It does this with colorful "I-almost-feel-better-for-having-to-pay-extra" charts.
eUKhost won't win any popularity contests, but it was actually the best local host that I tested.
Even its entry-level cPanel Basic plan gives you everything you need to host a decent website while still being relatively cheap and easy to use.
 Storage space is a bit meagre, but there's enough for a single site. As for performance,
eUKhost did very well on GTmetrix
. Although it wasn't the fastest local host I tested,
it was speedier in the UK than premium international services like Liquid Web.
 Performance wasn't as good outside of the region, but if you have a local audience, you won't much care about that.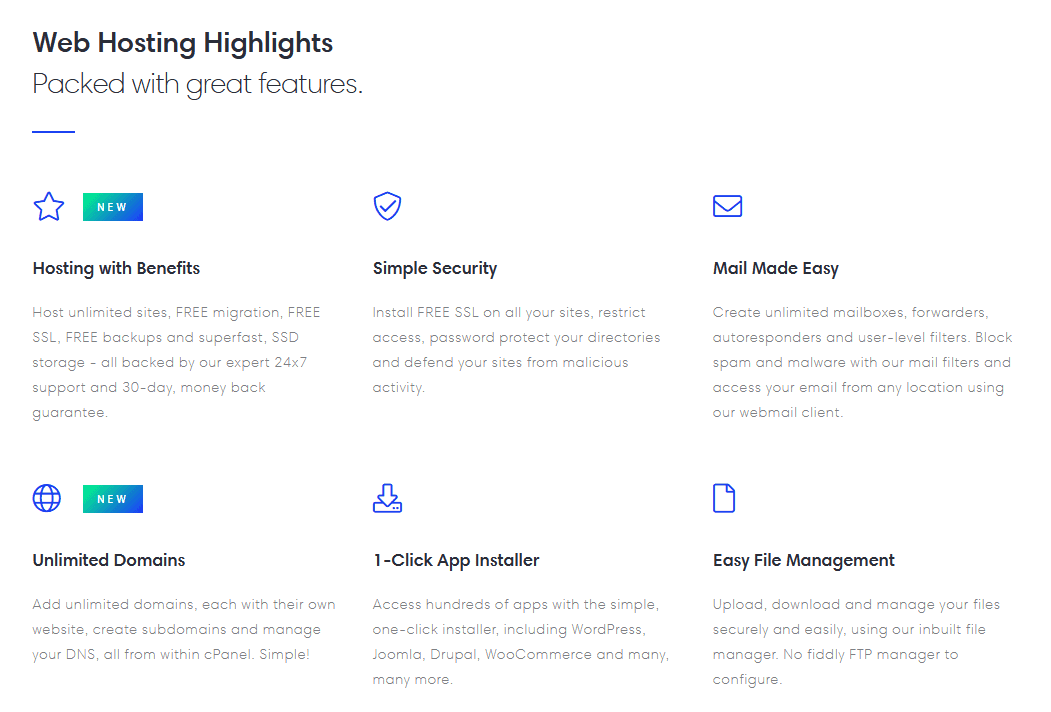 An international provider would be better if you have visitors from around the world, but
overall, eUKhost is worth considering if you'd prefer a local option.
Features:
Unlimited domains. Next to InterServer, eUKhost is one of the few providers that let you host an unlimited number of websites on an entry-level plan. It's a great setup for multiple low-traffic sites, but you'll have to keep a close eye on that storage cap.
Free SSL. eUKhost won't make you pay extra for essential features like an SSL certificate. SSL is easy to activate, and it'll keep your website safer while also boosting its SEO.
WordPress-optimized plans. eUKhost's WordPress plans offer great value. The servers are properly optimized, and you get built-in caching, website staging, and automatic backups to boot.
Excellent support. Live chat is available 24/7, and the agents are knowledgeable and willing to help. One agent even walked me through my WordPress installation and helped me optimize my website, whereas reps from most other hosts sent me DIY links.
Eco Web Hosting is all about protecting the environment, but that's not the only thing to love about this provider.
All of its plans
 come with generous storage space and bandwidth, a free SSL certificate, email hosting, and an easy-to-use control panel.
 In other words, you won't be forced to pay extra for must-have features.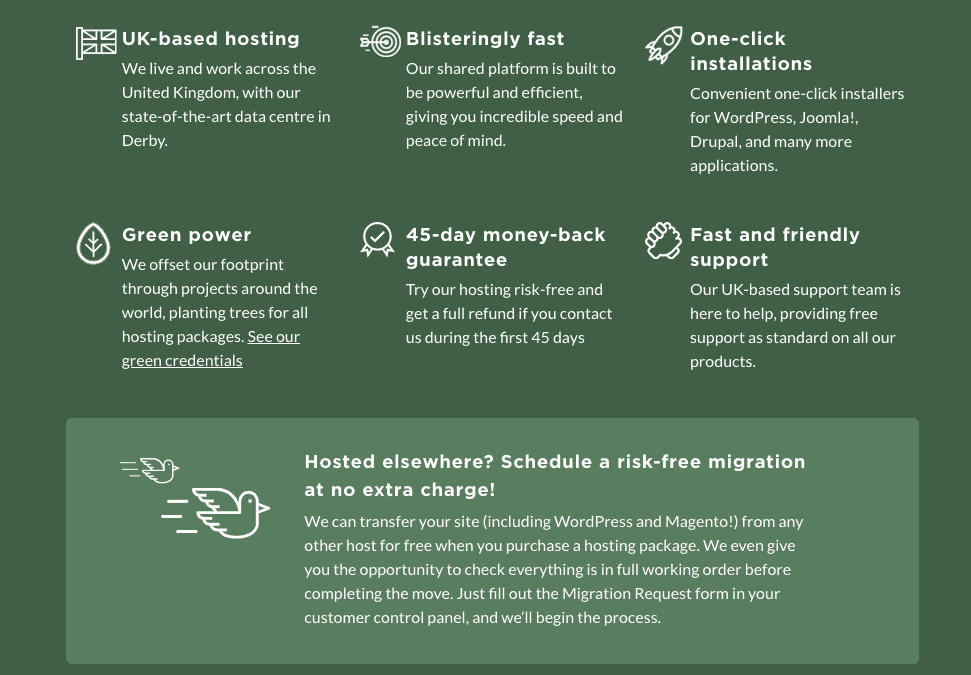 Performance is decent, although speeds tend to drop outside of the UK,
and most server optimizations are only available on the WordPress plans. Live chat support is only available during standard office hours, which isn't ideal, but the agents are helpful and polite when they are online.
All in all, Eco Web Hosting may not be perfect, but it's a better option than most local UK hosts I've tested.
 Prices are a bit high, but if you like to breathe air (and you want your grandkids to be able to do the same), the eco-friendly approach might be worth the extra dosh.
Features:
StackCP. It's not cPanel, but Eco Web Hosting's control panel is actually better organized and easier to use, since you don't have to sort through scads of icons linking to options that you may never use.
Resource auto-scaling. Instead of throttling your bandwidth, Eco Web Hosting temporarily allocates more resources to your website whenever you get a surge in traffic. You don't pay extra, and your website stays online at all times.
Large mailboxes. Eco Web Hosting gives you 10GB of storage space per mailbox, and even its cheapest plan has 25 mailboxes. That's pretty impressive, although not quite as generous as InterServer's unlimited email offer.
Trees! Eco Web Hosting will plant up to four trees per month depending on your subscription. Will this affect your hosting in any way? No. But who doesn't love trees?
FastHosts ticks all the right boxes: it's affordable, easy to use, and relatively fast in the UK.
 It also includes must-have features, like free email accounts and plenty of bandwidth and SSD storage space, with every plan. But unfortunately, there is a downside.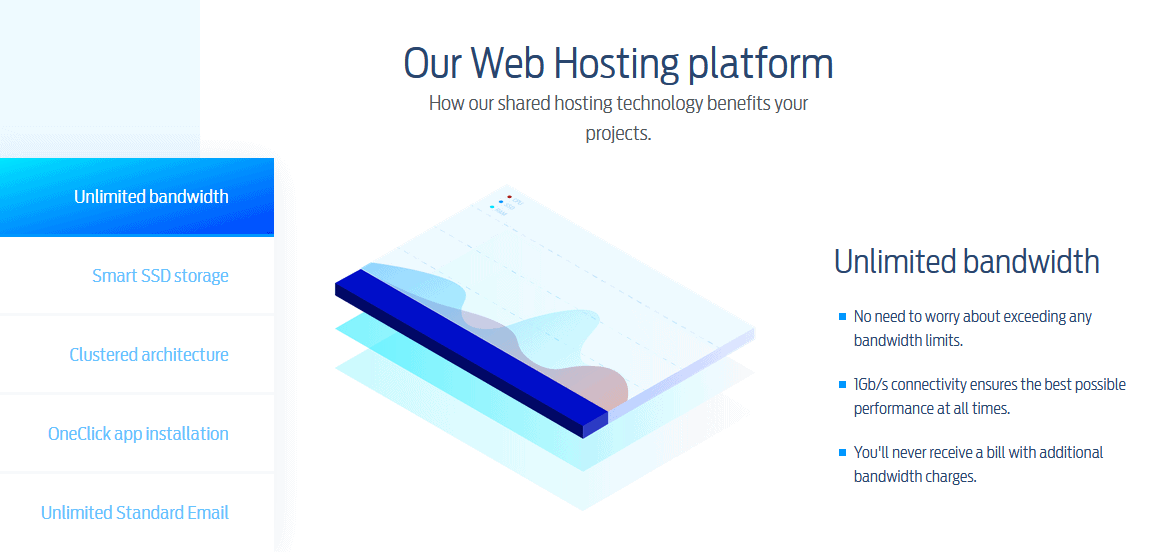 I tested FastHosts for three months
, and while its speed was pretty good in the UK,
I was appalled to see that my website was up only 88.45% of the time.
 During one month, my site was down for
20 days straight
. Honestly, I've never seen a host do so poorly in this department. Uptime was better during the other two months of testing,
but you still might want to consider a more reliable provider.
Features:
Preinstalled WordPress. If you opt for one of FastHosts' WordPress plans, the CMS is automatically installed for you during checkout along with a number of useful plugins. This is the perfect way to get started if you don't want to get your hands dirty with any of the technical stuff.
Free email accounts. FastHosts' WordPress plans include five mailboxes per domain, and even its most basic shared hosting plan includes a free mailbox. Email services are often not included at all with packages from other web hosts.
Gigabit connectivity. Gigabit internet might be overkill at home, but when it comes to web hosting, it can help your website run smoothly during periods of intense traffic. This feature is included with every FastHosts plan.
Unlimited bandwidth. Most local hosts limit your bandwidth, which may force you to upgrade to a more expensive plan if your website begins to attract lots of visitors. FastHosts imposes no such limits, even on the cheapest plan.
According to my tests, Easyspace delivers incredibly fast loading speeds for a shared hosting provider.
 To give you some context, it's about twice as fast as eUKhost and three times faster than Hostinger, on average. It even did well in the US and in most European countries, despite the fact that all of its data centers are based in the UK.
But…
There are a few reasons why Easyspace isn't further up on my list.
For one, its uptime was disappointing throughout the duration of testing.
 The results weren't as disastrous as FastHosts', but they still came in under the promised 99.9%.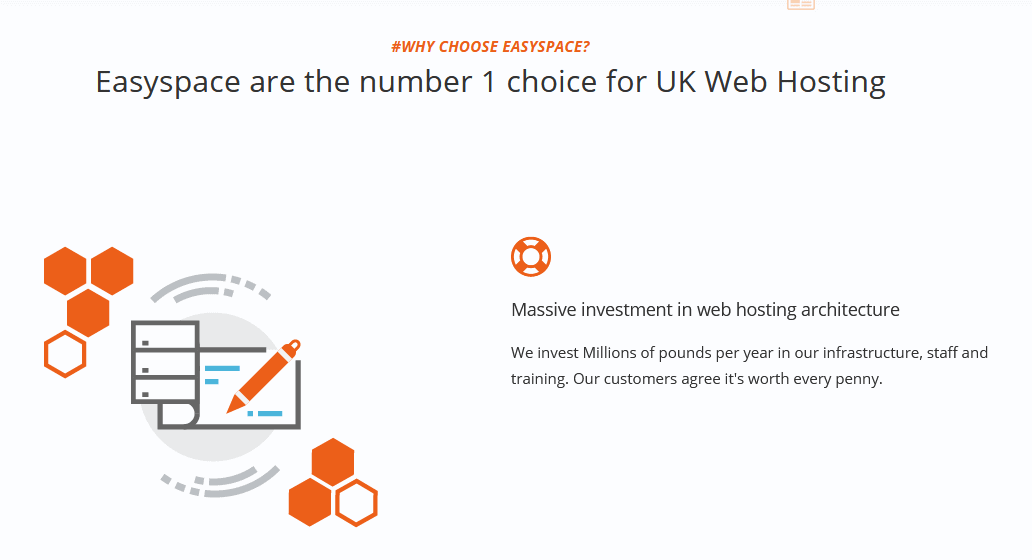 More importantly, some Easyspace plans lack important features.
For example, the entry-level plan doesn't give you an SSL certificate or automatic backups, and it includes just 1GB of storage, which is
very
stingy.
Customer support is neither fast, nor particularly helpful, so I wouldn't recommend Easyspace to beginners (or any website owner who expects or requires decent support).
Features:
Instant WordPress website. All you have to do is to type in a few details about yourself and your business, and the AI will build a decent-looking website for you. You can then customize different elements of the site to better suit your brand.
State-of-the-art server technology. Many hosts use outdated CPUs and other hardware to cut down on costs, but Easyspace takes a different approach. Its servers are truly optimized for performance, and this shows in its GTmetrix and Sucuri Load Time Tester results.
Data centers all over the UK. Easyspace owns no fewer than ten data centers throughout the UK, more than any other host on my list. No matter where your audience is in the region, your website will load quickly.
Free setup call. Once you sign up, a tech support agent will get in touch to help you set up your domain and website. I recommend you take advantage of this call because it can take a long time to get a reply later on through live chat or tickets.
My experience with tsoHost was a mixed bag.
Its shared plans
 are fairly cheap, and performance is decent both in the UK and throughout the rest of Europe.
 But tsoHost doesn't support free SSL certificates, which means that you'll be forced to buy a premium (and very pricey) SSL, or upgrade to a higher-tier plan. Fortunately, tsoHost's
WordPress plans
 do include SSL certificates, automatic updates, and daily backups. 
The problem is, there are no server optimizations listed in the plan descriptions,
and to get more than a single site you'll have to pay a much higher price for a WordPress Pro plan.
And, oddly, WordPress plans have stricter storage limits than on the corresponding shared plans.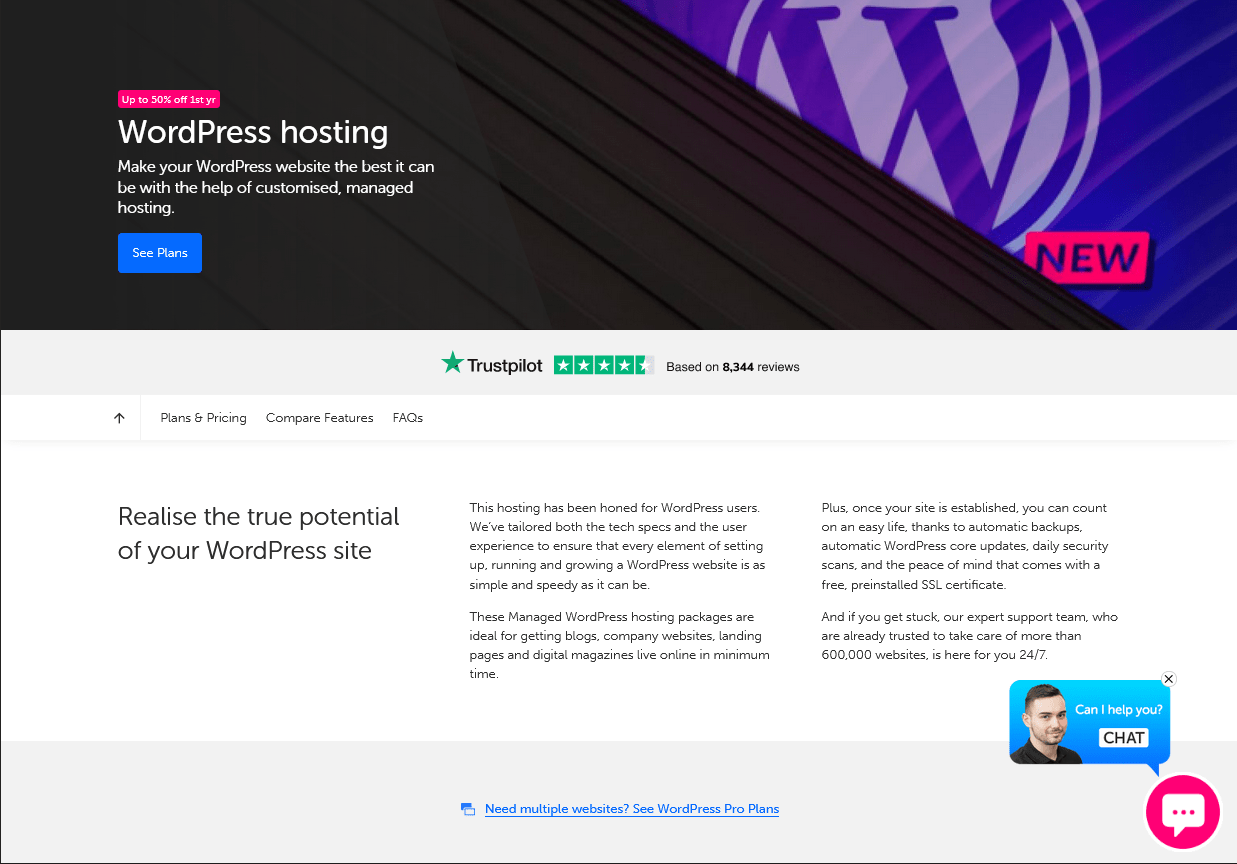 As for customer support, the agents were quick to respond, so that's a plus.
 However, their answers were often unhelpful. One agent couldn't tell me how the WordPress plans are different from the shared hosting plans. And later on, another agent told me that he had optimized my website, but when I looked for proof of his work, I found no changes. Ugh.
Features:
Generous storage space. You don't have to worry about unreasonable storage caps with tsoHost's shared hosting plans. Even the cheapest plan comes with 100GB of storage, while the other plans offer unlimited space.
Installatron one-click installer. This is one of the best automatic installers available. You can use it to set up dozens of CMSs and scripts, but you can also configure it to create automatic backups and to update your software.
Cloud-based infrastructure. tsoHost's shared hosting infrastructure is built upon a server cluster, providing automatic scaling of resources for traffic spikes. This should ensure that your site always loads promptly, even when you (or other users) are getting lots of unique visits.
Solid uptime SLA. tsoHost has a standard 99.9% uptime guarantee. However, it offers better compensation for downtime than most other hosts I've tested. If you record more than 0.1% downtime during the month, you get a free week of hosting.
Heart Internet is actually one of the few local UK hosts that boasts fantastic performance worldwide.
It got an A+ in my Sucuri Load Time Tester tests
, which puts it right up there with Hostinger and other international providers. And although it wasn't the fastest UK host that I've tested, it also did fairly well in GTmetrix.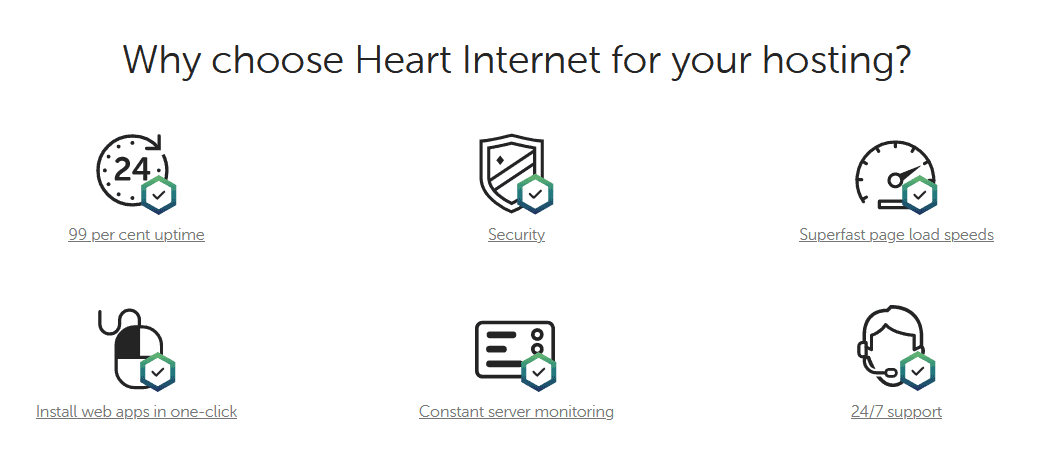 That said, I did find a few noteworthy issues. First, like tsoHost, SSL certificates are not included with many of Heart Internet's shared plans.
Free SSLs aren't supported, so you'll have to pay extra for a certificate, or upgrade to a higher-tier or WordPress plan.
 Since the baseline prices are already pretty high, the overall cost could become a problem. Also, the list of features is somewhat short, aside from unlimited email.
Automatic backups aren't included, and there are no built-in performance boosters.
The WordPress plans give you some better features and performance boosts, such as automated SSL, load balancing, and caching with Varnish.
 But each plan allows for only a single site, storage limits are less generous, and there is only a single email account included, and even then, only for the first year.
Features:
Free domain name. If you buy at least one year of hosting, a free domain name is included for the first year of your plan. It's a pretty unspectacular feature, but that's Heart Internet for you.
Excellent resource allocations. Even on the cheapest shared plan, you get 100GB of storage space, unlimited bandwidth, and unlimited email. Not bad for a small local host.
cPanel backups. You might not get automatic backups, but you can set up your own backup schedule using cPanel. It's better than nothing, right?
Northern England data center. Heart Internet is one of the few local UK hosts with a data center in this region. If your website visitors live in the North, this is the nearest you'll get to them.
iFastNet's website looks dated, but surprisingly
it was one of the best performing local hosts that I've tested
.
Loading speeds were great in the UK and around the world and uptime was way better than the promised 99.9%.
 So far, so good – but when I dug a little deeper, things took a different turn. I wanted to see whether iFastNet would offer any help with WordPress installation or website optimization. So, I looked for a live chat button. But as it turns out, there wasn't one, nor could I get in touch by phone.
iFastNet offers support through tickets only, and it can take half a day to get any help.
 That's
if
the host deems your question worthy of a reply – which, in my case, didn't happen often.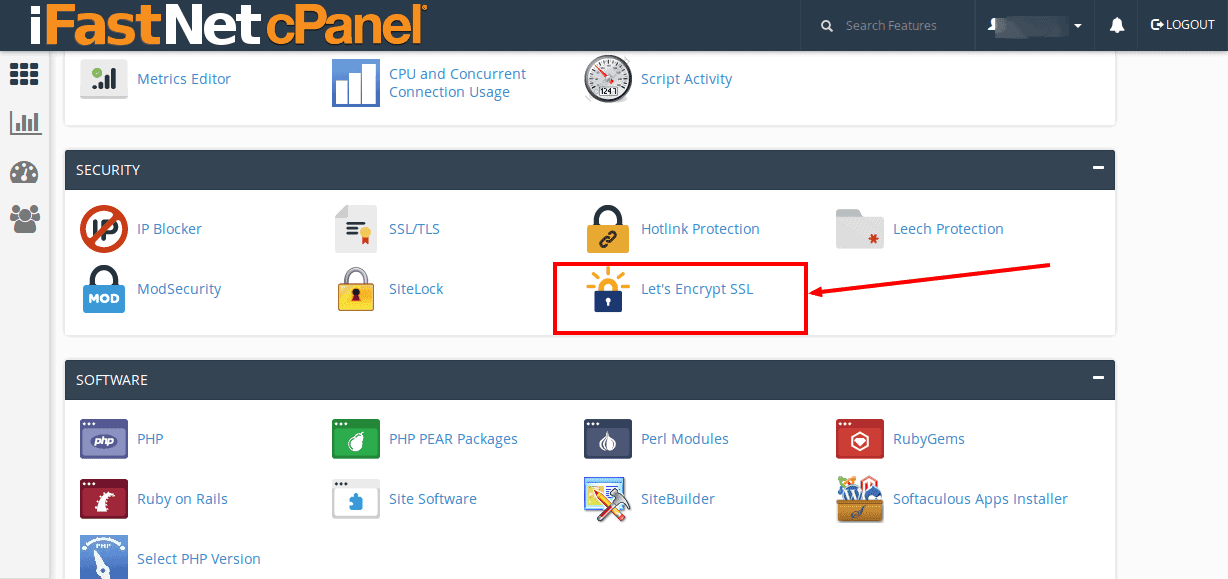 An absolute shame, especially since iFastNet has decent features (including free SSL certificates) on all of its plans.
If you're tech-savvy and you don't expect to need any support, this provider might be worth a shot.
 Otherwise, I'd look elsewhere.
Features:
Softaculous one-click installer. Like Installatron, Softaculous can install more than just WordPress. Plus, you can use it to set up automatic updates for your core software and plugins.
Cloudflare support. Cloudflare CDN is integrated into the iFastNet dashboard, so you don't have to set it up yourself. Just switch it on and enjoy better performance worldwide.
"Bonus" domain extensions. iFastNet says it'll give you up to 21 free domains, but that's not technically true. You get one proper domain name on the higher-tier plans, plus your choice of a bunch of alien-looking extensions like oo.gd and es.ht.
Decent security suite. You get a firewall, spam protection, and the SiteLock security add-on regardless of the plan you choose. Automatic backups aren't included, but you can set them up yourself through cPanel.
UK2 is the most affordable local host on my list.
 It's not quite as cheap as Hostinger, but its prices are still
very
impressive, both for regular shared hosting and for WordPress hosting. That said, there are some trade-offs.
Although UK2 is definitely beginner-friendly, its proprietary control panel is rather basic.
 For example, there's no comprehensive one-click installer like Softaculous or Installatron. There is a guided installation of WordPress, but it takes longer than with most hosts, and you can't configure automatic updates.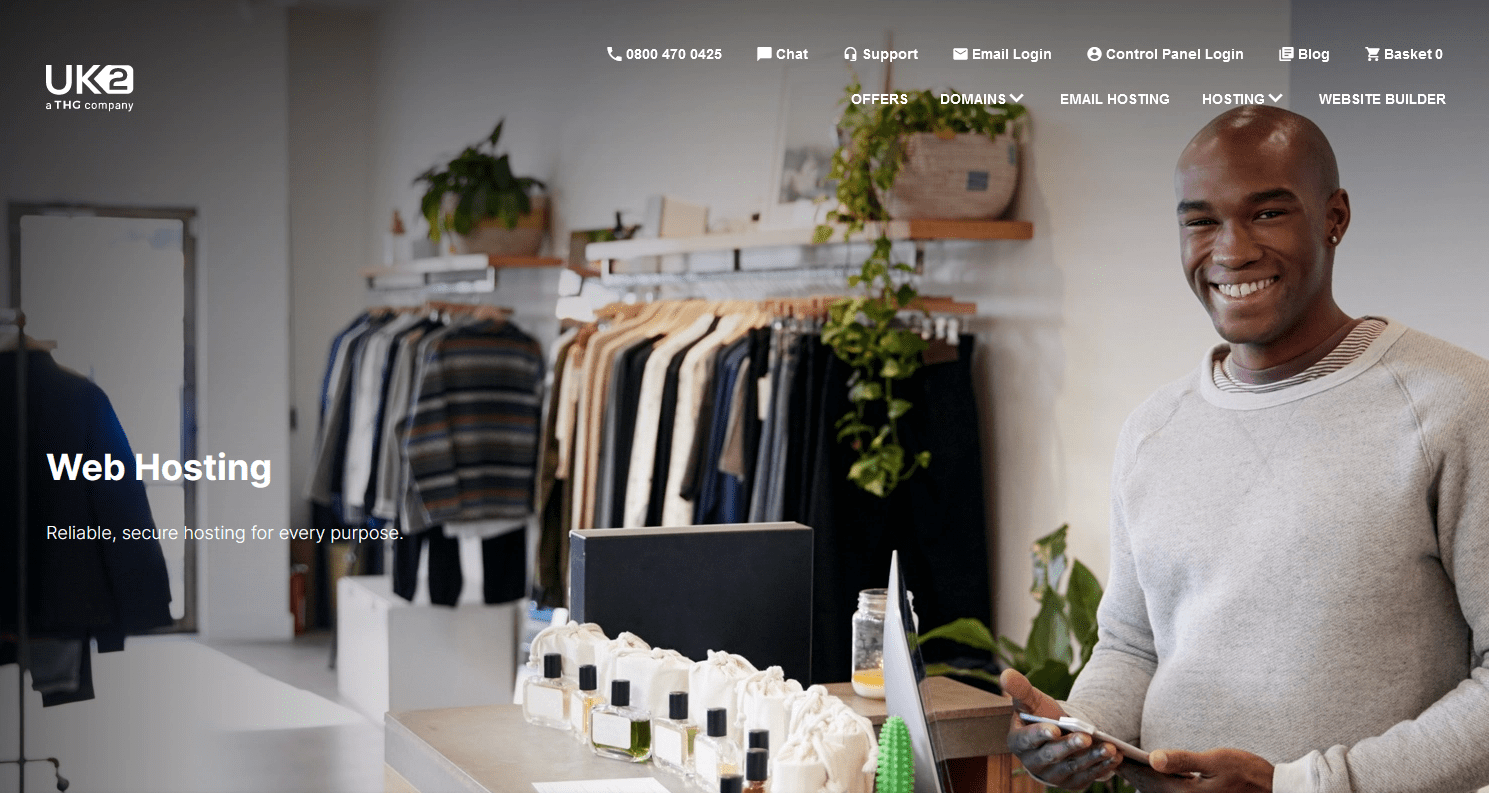 There's no support for free SSL certificates unless you get the Business Hosting plan, so if you want one with any other plan (and you
will
 want one if you care about SEO rankings), your costs will increase.
As for performance, the uptime is stellar, but loading times can range from 1.5 seconds to an appalling 9s.
 Yikes.
Features:
Unlimited resources. You get unlimited bandwidth, storage space, and email accounts on all plans. Be warned, though – only one MySQL database is included with the entry-level plan, even though it allows for ten websites, so it won't be easy to host more than a single WordPress website unless you upgrade to a better plan.
Dedicated IP. The Business Hosting plan comes with a dedicated IP, which isn't very common with shared hosting. It'll help prevent your website and email accounts from getting flagged for malware or spam.
Free premium themes. UK2's Primary and Pro WordPress plans come with dozens of free premium themes that are already optimized for performance and security. Each theme goes for roughly $40 on the marketplace, so this is a big plus.
Automatic updates and backups. These perks are also reserved for UK2's WordPress plans. International hosts like Hostinger and InterServer offer updates and backups with all plans, but then again, I've seen many local hosts that don't provide them at all, so…extra points for UK2.
Names.co.uk (also known as Namesco) is a long-standing, reliable domain registrar in the UK.
 Namesco is reasonably generous with storage space and bandwidth, but essential features like SSL certificates are missing from the basic plans. Also, the free domain name is only available for the first year of an annual plan, and while the .co.uk extension is available, .com is not.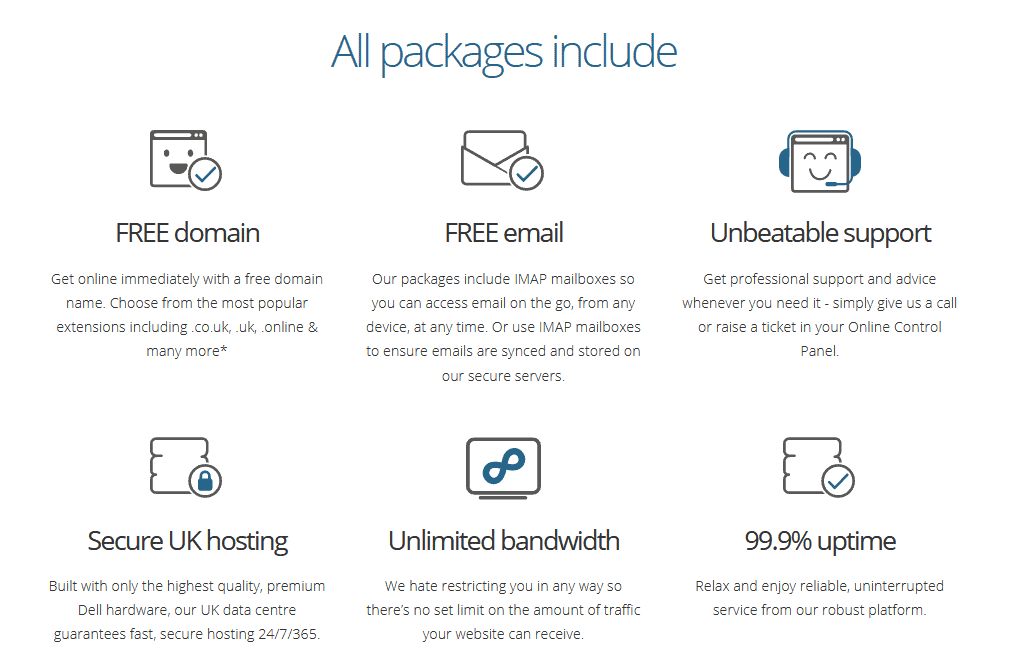 Not only does Namesco make you pay extra for SSL, but it also pushes several other paid services by default.
 For example, domain privacy and a site backup service are automatically added to your cart during checkout. If you're not careful, you could end up paying more than you need to. Then there's the issue of performance.
Namesco did poorly on both GTmetrix and Sucuri Load Time Tester, and its uptime was well under the guaranteed 99.9%.
 It's not the worst UK host that I've tested, but given that its prices are fairly average, I'd say you're not really getting your money's worth.
Features:
Easy-to-use WordPress plan. WordPress is preinstalled for you, and Namesco takes care of all software updates. If you want to host multiple sites, you can use Softaculous to set them up easily. The entire platform is very user-friendly.
Varnish caching. If you have a lot of static content, the Varnish HTTP accelerator can speed up loading of your website. It's apparently included by default with all of Namesco's hosting plans, but it didn't have much of an effect on my performance tests.
Email perks. You get anywhere from 10 to an unlimited number of mailboxes depending on your plan, although storage is limited to 1GB per mailbox if you opt for the Starter package. Spam protection, email forwarding, autoresponders, and a few other useful tools are also included.
Daily backups. These are snapshots of your entire web space rather than just your website, which is certainly better than nothing. You can also set up your own backups through cPanel.
Like Namesco, 123 Reg is mostly known for its domain registration services. It claims to offer high-quality, "rock-solid hosting," but having tested it for several months, I'm not at all impressed.
Given the lack of free SSL certificates, the overly-complicated sign-up process, the subpar performance, and the useless support, it's difficult to find any redeeming qualities.

Take the sign-up process, for example.
123 Reg offers a free domain name for the first year on all annual plans, but
only
if you add the domain to your basket before you continue to checkout.
 Literally every other host that I've tested allowed me to use the free domain registration either before
or
after I signed up. But not 123 Reg. Once I clicked
Continue without free domain
, I was doomed, apparently. I contacted customer support, expecting an easy solution.
Instead, an agent told me to cancel my plan, wait for a refund, and then buy it again, this time
with
the free domain.
 Really? There were other issues, too, so I'm giving 123 Reg a hard pass.
Features:
Generous storage space and bandwidth. You get plenty of both, even on the entry-level shared hosting plan. But this is one of 123 Reg's few redeeming features.
Free domain and email. More freebies are always nice. Just remember to add your domain to the basket before you proceed to checkout.
Web application firewall. 123 Reg doesn't have the most comprehensive security suite, but your website is monitored 24/7 and protected by a firewall. Pity you need to pay extra for an SSL certificate.
Load balancing. If you opt for a WordPress plan, you benefit from load balancing by default. Surges in traffic are distributed across multiple servers, which will make your website load more promptly.
Top Hosts for the UK – Full Comparison
Ready for a quick, side-by-side comparison of the best web hosts for the UK? I've included the most important details from each host's entry-level plan in the table below:
Our Testing Process in Detail
Earlier on, I promised to go into more detail about our testing methodology at Website Planet. This was one of the largest hosting comparison projects we've ever done, so there's lots to talk about. However, you can also
skip straight to my recommendations
if you're in a hurry.
Features
I have a mental checklist I go through every time I rank a host in this category. These are the features I want to see (even on the entry-level plan):
Plenty of storage space and bandwidth
Email hosting
A free SSL certificate
Automatic website backups
Built-in caching and/or a CDN
With a few exceptions, the providers on my list give you lots of storage space and bandwidth. 
eUKhost, Easyspace, and iFastNet are a bit stingy in this respect, but you still get enough for one simple website. SSL certificates are an entirely different story. International hosts like
Hostinger
 and
InterServer
 offer free SSL by default, so
I was surprised to see just how many local UK providers make you pay extra for this essential feature.
 It isn't a small expense, either. In fact, it can more than double the total cost of your hosting, so watch out.
Built-in performance optimizations are even scarcer with UK hosts.
 Some of the local providers offer caching and/or a CDN on their more expensive shared hosting and WordPress plans, but as far as entry-level plans are concerned, international hosts provide considerably more.
Ease of Use
Most hosts
try
to create a user-friendly experience, but not all of them succeed. Some make it incredibly difficult to sign up, while others have needlessly complicated dashboards or outdated control panels.
The good news is that the providers on my list did very well in this category, for the most part.
There were a few exceptions, but none did quite as poorly as 123 Reg.
 The sign-up process was difficult, and I got
no warning
that to use my free year of domain registration, I'd have to add it to my basket before checkout. The dashboard itself wasn't easy to navigate, and customer support offered close to zero help.
Signing up with Liquid Web was also somewhat of an uphill battle because my account was flagged as fraudulent,
 so I had to get a friend to sign up for me. That said, this is not likely to happen to people who don't regularly sign up with dozens of hosts. Once it lets you in, Liquid Web is actually one of the easiest platforms to navigate.
Performance
If you take them at their word, all hosting services offer "blazing-fast speeds." My tests told a different story.
I signed up with each host's entry-level plan, and built a simple landing page website in order to test its loading speed, global performance, and uptime.
As expected, local UK hosts delivered excellent loading speeds in the region.
They couldn't compete with international providers on a global scale, but if your audience is strictly from the UK this won't matter.
What did surprise me was the number of UK hosts that failed to meet the minimum uptime requirement of 99.9%.
 Some of them have decent uptime guarantees backed by an SLA, but you only get compensation if you notify your provider shortly after the downtime is recorded. Sadly, what you get (usually in the form of credits) is rarely worth the bother.
Even if a host reimburses you for the entire month, a couple of pounds may not cover your losses if your site is offline for days.
Support
Here's another thing that hosting providers
love
to exaggerate: "24/7 expert support." I've actually tested each host's live chat, phone, and ticket service (where possible), and let me tell you –
only a handful of providers are actually available around the clock, and even fewer can offer expert support.
Liquid Web and FastComet took the lead on this one, alongside eUKhost.
 It never took more than a couple of minutes for me to get in touch with their agents, who were almost always willing and able to help.
At the other end of the spectrum, InterServer, iFastNet, and 123 Reg were more or less useless.
 iFastNet was particularly difficult to work with because support was rarely available, and even the knowledge base was outdated and full of erroneous information.
Pricing
This is where I considered a host's baseline price, and weighed it against the value it offers.
I also kept an eye out for hidden costs, sneaky automatic upsells, and steep renewal fees.
Hostinger is, by far, the highest rated provider in this category.
 It's incredibly inexpensive, and it doesn't force you to buy essential features like an SSL certificate later on down the line. Instead, it includes everything you need.
UK2 comes close in terms of baseline prices, but its plans include far fewer features.
 For one, you have to pay extra for  SSL, which can drastically increase the overall cost. No backups or caching features are included either, so it's a pretty bad value deal overall.
Which Host Should You Choose for Your UK Website?
I'd love to offer you a tailored solution for web hosting, but the ideal provider for your needs depends on your precise location, your level of experience, and your website's requirements. However, I can certainly assist you in narrowing down your choices a bit. These are my recommendations:
If you want to host a personal blog, a business landing page, or a small online store,
go with Hostinger
.
 You won't find a cheaper provider with similar performance, and you'll get more than enough storage space and bandwidth for one site, even on the entry-level plan. Hostinger is an international host, but it has a data center in the UK, so you'll be close to your target audience.
InterServer is a US-based web host, but
its Standard shared hosting plan
is too good to leave off this list. It comes with unlimited websites, storage space, and bandwidth, making it ideal for hosting multiple sites at a very low price.
It also offers low-cost monthly billing – no commitment necessary.
If you can afford it,
Liquid Web has the best managed hosting
 for several different CMSs including WordPress, WooCommerce, Magento, and others. I wouldn't necessarily use it for a small portfolio or a landing page, but it'd be my first choice for an online store, popular blog, or other high-traffic website.
Several hosts on my list use CloudLinux OS to offer improved performance and security, but FastComet has more to offer.
Each plan
 comes with generous storage space and bandwidth, free SSL, automatic backups, a hack fix guarantee, built-in performance optimizations, and a website builder. Few other providers with a data center in the UK have such comprehensive plans.
eUKhost is not the fastest local host that I've tested, nor is it the cheapest. However,
its plans offer the best value for money
, with great features like a free SSL certificate, automatic backups, and more. Speed and uptime are above average, while customer support is considerably better than that of other UK providers. Definitely worth a shot.
FAQ
Which is the best host for the UK?
It depends on what you're after. Hostinger is my go-to provider for cheap, reliable hosting. Its long-term plans cost very little, and give you all the features you need for a personal website, portfolio, or small online store. However, if you have a high-traffic or large ecommerce website, I recommend Liquid Web. It's more expensive, but it offers a level of performance and managed support that few other hosts can match. You can also check out our list of the best web hosting services for more options. Most of these providers have data centers in or near the UK.
Is it better to choose a local host or an international host?
A neighborhood host with data centers in the UK might promise improved performance in the area, but my tests show this isn't always true. Besides, global hosts bring the advantage of a wider network of data centers worldwide, resulting in quicker loading times for many regions, not just the UK. At the same time, I was surprised to see that many local hosts make you pay extra for essential features that international hosts like Hostinger or InterServer provide for free. SSL certificates are a good example, but not the only one. Automatic backups, access to a CDN, and built-in caching are also often missing.
Is Bluehost good for websites in the UK?
No. Bluehost is popular, I'll give it that, but its plans are mediocre and far too expensive for what it offers. Hostinger has more features, considerably better performance, and much lower prices. Plus, Hostinger has a data center in the UK, whereas Bluehost is entirely US-based.
Which is the cheapest host for the UK?
UK2 is the cheapest local host that I've tested, but before you get too excited, keep in mind that it doesn't support free SSL certificates, and that its page loading speeds are dreadful. Hostinger is even more affordable than UK2, and it doesn't present any of the same drawbacks. Before you make your decision, remember to head over to our coupons page to find the best possible deals for your provider of choice.