What We Look for in the Best Web Hosting for Multiple Domains
In my search for the best-value web hosting services for multiple domains, I've compared them on the following:
Number of domains per plan: While you may not need a thousand domains and websites, the ability to host an unlimited number of either without any restrictions is a plus.
Domain management and pricing: When you own multiple domains, easy domain management becomes a priority. You'll want a lot of extension options and the ability to easily transfer current domains and connect new ones at a fair price.
Sufficient resources: If you're hosting multiple domain names that lead to more than one website, server resources are important. You'll want a good amount of storage space and bandwidth.
Reliable support: Back-end problems with email, DNS, uptime, or other server-related services are not uncommon. If something isn't working properly, you'll want a tech crew at the ready to take care of things.
Hostinger is one of the most affordable web hosting services for multiple domains.
You can host 100 websites on all shared plans and then add 100 subdomains, as well as another 100 parked domains. The only exception to this rule is the entry-level plan, the Single. If you need more room for your domains, you can discuss your needs with the team and they'll help you.
You also can buy and register domains through Hostinger
, so you don't have to go through the trouble of updating the nameservers or transferring the domains from a different place.
Hostinger's hPanel is a proprietary control panel that helps you manage multiple domains by streamlining your access to a wide range of server features.
 With it, you can put content management systems on your domains with a one-click installer, easily create and edit databases, manage emails, and more.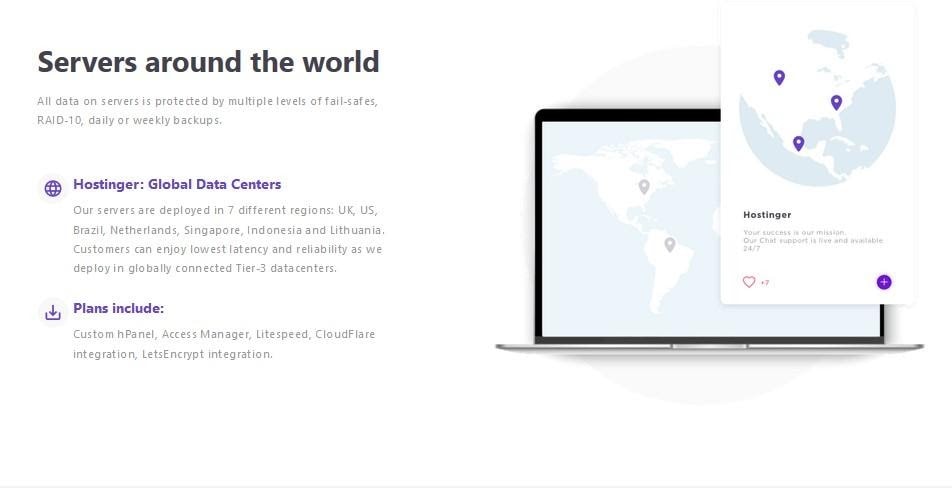 All Hostinger's plans
 come with 24/7 support, so you can rest assured that if an issue comes up, a member of Hostinger's tech crew will always be on duty to take care of it.
Features:
Unlimited bandwidth on all cloud and shared plans (except the Single plan) to ensure that you can easily accommodate traffic spikes.
Unlimited email accounts on higher-tier shared plans and cloud plans.
DNS zone editor that allows you to easily update and/or change domain records and settings.
Unlimited FTP accounts on higher-tier shared plans.
To learn more, read our
in-depth Hostinger review
.
HostPapa offers the ability to host unlimited domains, subdomains, websites, and email accounts on its shared Business and Business Pro plans.
And if you're a fan of green energy, you'll be pleased to know that all of HostPapa's data centers are powered by 100% renewable sources.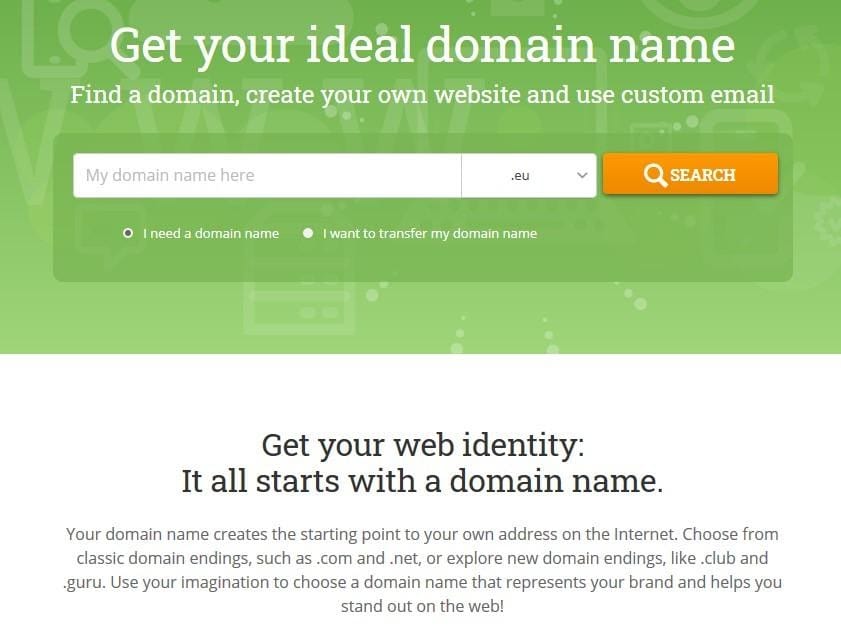 You'll want to look out for email limitations:
 The plans have different storage limits for your mailbox, ranging from 500MB of individual storage to 10GB of overall storage.
All HostPapa's plans
 come with cPanel to help you manage your websites, domains, emails, and more.
You can purchase your domains straight from HostPapa.
One free domain name for your first term is included with HostPapa's shared hosting plans, but you'll have to opt for either a 12-month, 24-month, or 36-month contract. There are no monthly subscriptions.
Features:
Unlimited storage and bandwidth on the higher-tier shared plans.
99.9% uptime guarantee.
Reliable support and a free 30-minute training session with a PapaSquad expert. Learn about managing your website and account, moving your business online, and more.
For more information, check out our
expert HostPapa review
.
A2 Hosting's higher-tier shared plans let you host unlimited websites and domains. The Turbo option, available on the Turbo plan and VPS plans, guarantees fewer users per server, faster performance, and more resources per user.
 A2 Hosting's unique advantage is its A2 Optimized software.
 This is a fancy way of saying you can opt for pre-configured software installations for popular CMSs (like WordPress or Drupal). It saves a good amount of time you'd otherwise spend configuring.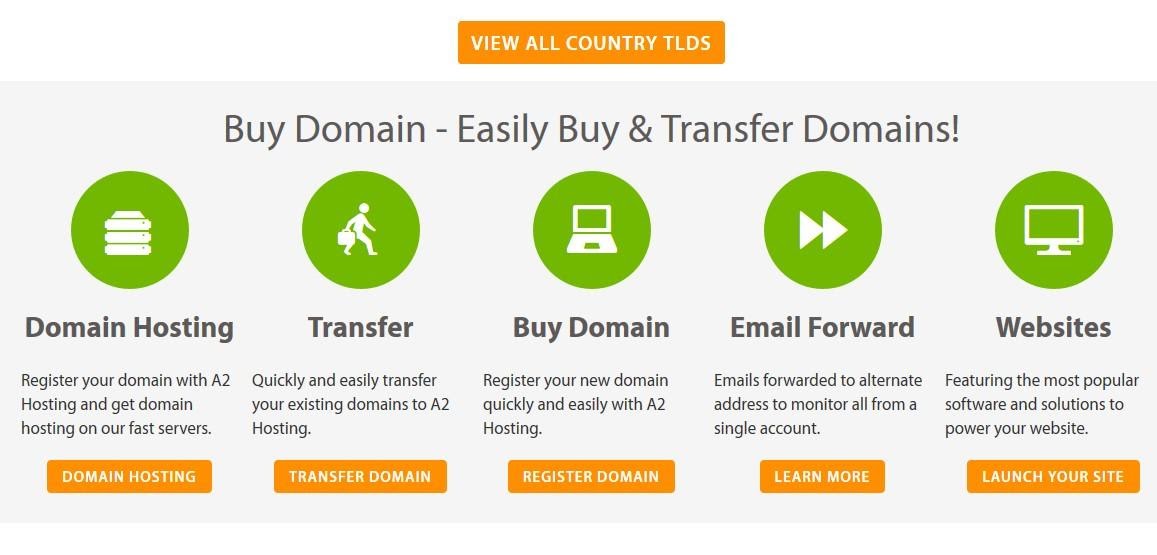 A2 Hosting's VPS plans offer improved granular control and high-performing servers.
You can install any operating system you want, choose your data center location, and modify resource allocations as needed.
Features:
One free site migration with all shared plans.
Unlimited storage with all shared plans, except for Startup.
Multiple versions of PHP available. Shared plans support lightweight Python frameworks, such as Flask.
No cap on email storage space for the two higher-tier shared plans.
For a full list of features, head over to our
expert A2 Hosting review
.
SiteGround's GrowBig and GoGeek shared plans have unlimited websites, unlimited bandwidth, advanced on-demand backups, and WordPress staging.
In other words, the works. Although I'm not usually a fan of premium shared hosting, SiteGround's top-tier offer is worth considering. For a slightly higher price, you get 40GB of storage, pre-installed Git, staging, and a white-label hosting option, which can be helpful if you build sites for clients.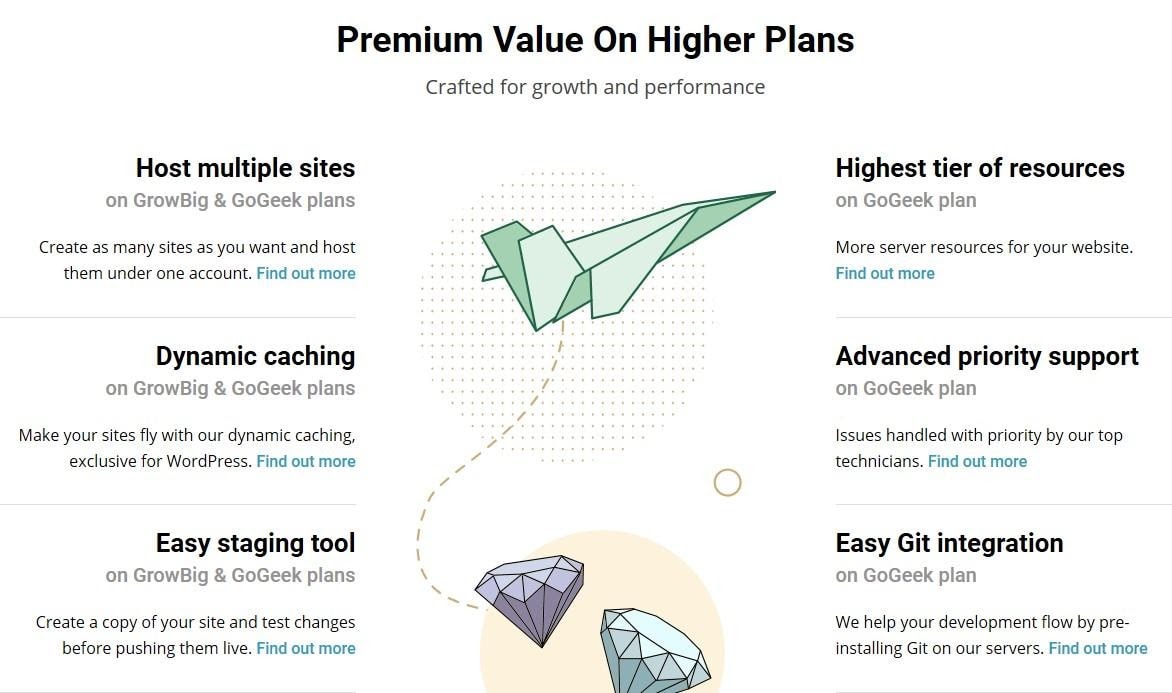 One SiteGround's best features is its proprietary control panel, Site Tools.
 The dashboard is sleek and responsive, and it will make website management more easy and fun. A minor drawback is that you don't have a one-click install for hundreds of apps, as is the case with cPanel. Rest assured the big names, like WordPress or Joomla, are there.
Features:
Automated daily backups going back 30 days, so you can restore your websites, emails, or files if something goes wrong.
Reliable data centers running on redundant Google Cloud architecture that is powered by renewable energy.
Web application firewall and account isolation, so that breaches on other websites on your server don't affect your sites.
To find out more, read our
full SiteGround review
.
Offering free website transfers and generous resources, Scala Hosting is a great choice for hosting multiple domains. All of the higher-tier shared hosting plans offer
 unlimited websites and domains, free migration for all your websites, and more.
 You can also get a free domain name for a year with every plan.
Scala Hosting's plans
 come with generous storage space (50GB on the Mini plan, unlimited on all the rest) and unlimited bandwidth. In addition, the higher-tier shared plans come with SShield Security Protection.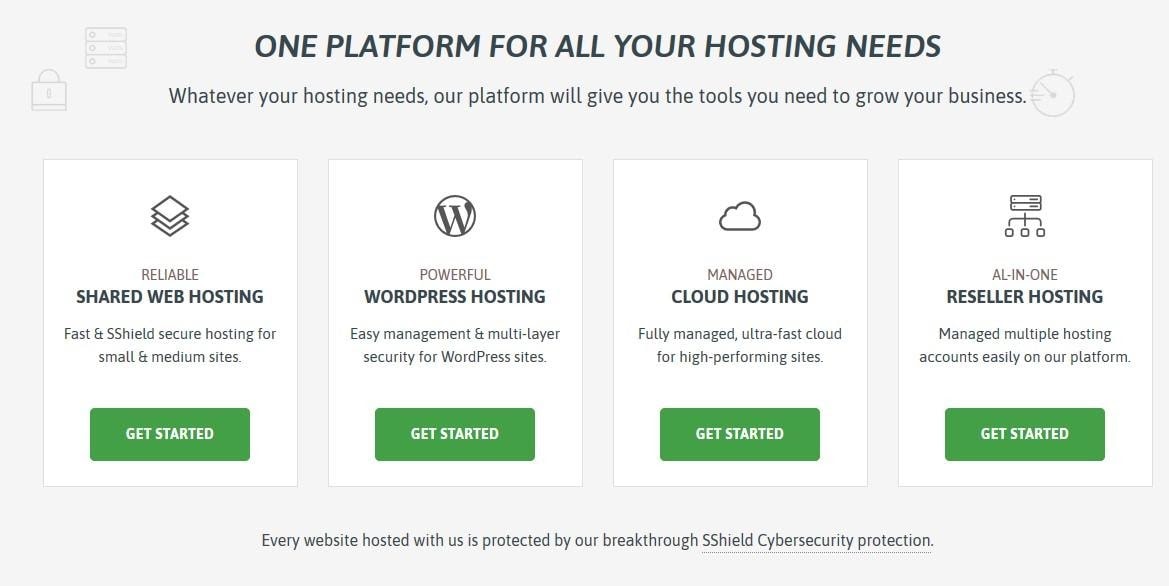 Features:
Unlimited emails with every shared plan.
Free website migration for all of your websites. The support team will also double-check to ensure that they are properly configured for a new server.
99.9% uptime guarantee.
Want to know more? Read our
full Scala Hosting review
.
FastComet stands out from other hosting services because it provides free daily backups, a web application firewall, and a comprehensive resource usage monitoring tool with every shared hosting plan.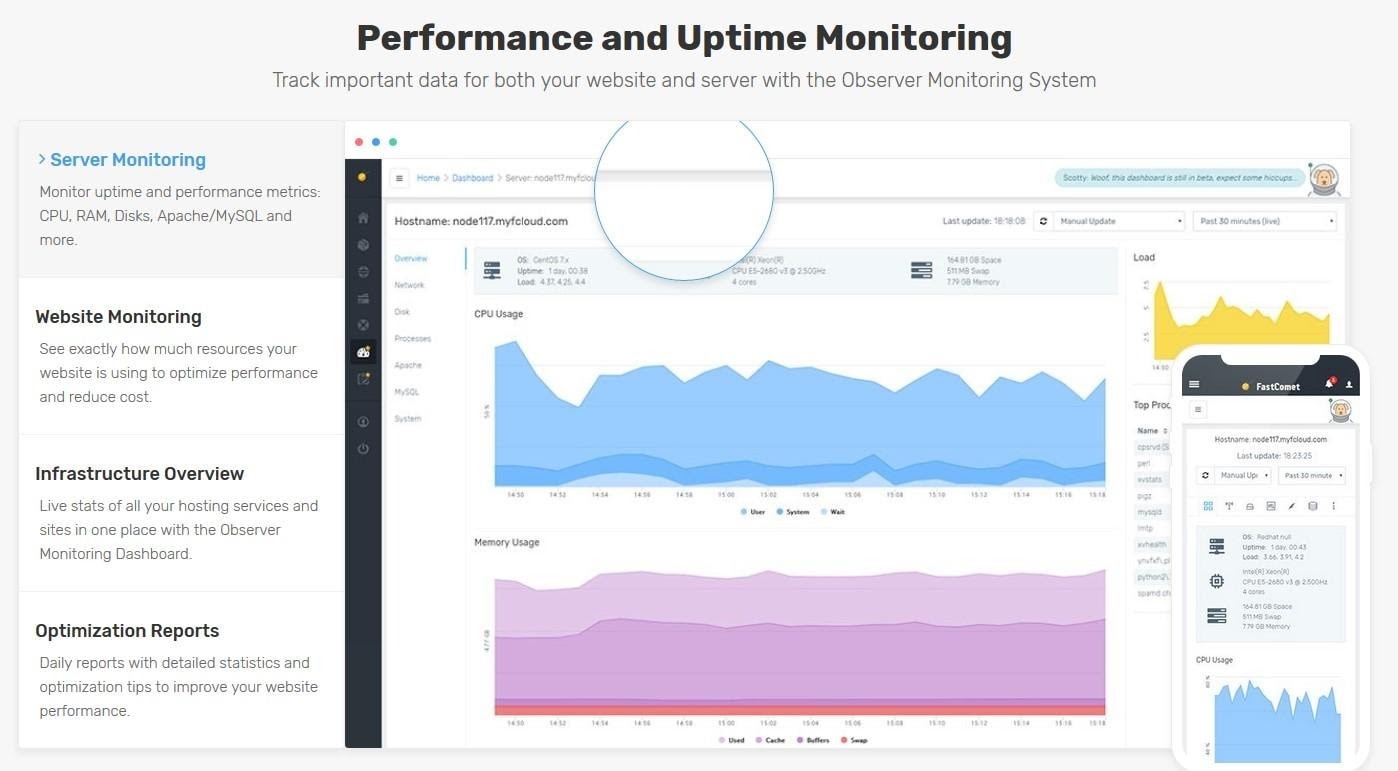 All FastComet's plans
 come with cPanel and Softaculous solo licenses. You also get unlimited parked domains, subdomains, and databases. FastComet will transfer one of your domains for free and renew it for a full year.
Features:
Free website transfer for up to three of your websites on the higher-tier shared plans.
99.9% uptime guarantee.
Multiple server locations to improve your websites' loading speeds.
Web application firewall that protects your websites from hacking attempts. 
For a full list of features, read our
in-depth FastComet review
.
GoDaddy has an array of features for hosting multiple domains, such as unlimited bandwidth on all shared plans and easy setup for domains registered with GoDaddy.
The GoDaddy Pro dashboard streamlines your website management tasks by enabling bulk updates, automating routine tasks, and monitoring the security of all your sites.
GoDaddy's rewards program will give you access to a series of discounts on their qualifying products,
 a helpful feature if you're managing a lot of clients. The problem is that they cost quite a bit, so the rebate might not make you feel any different.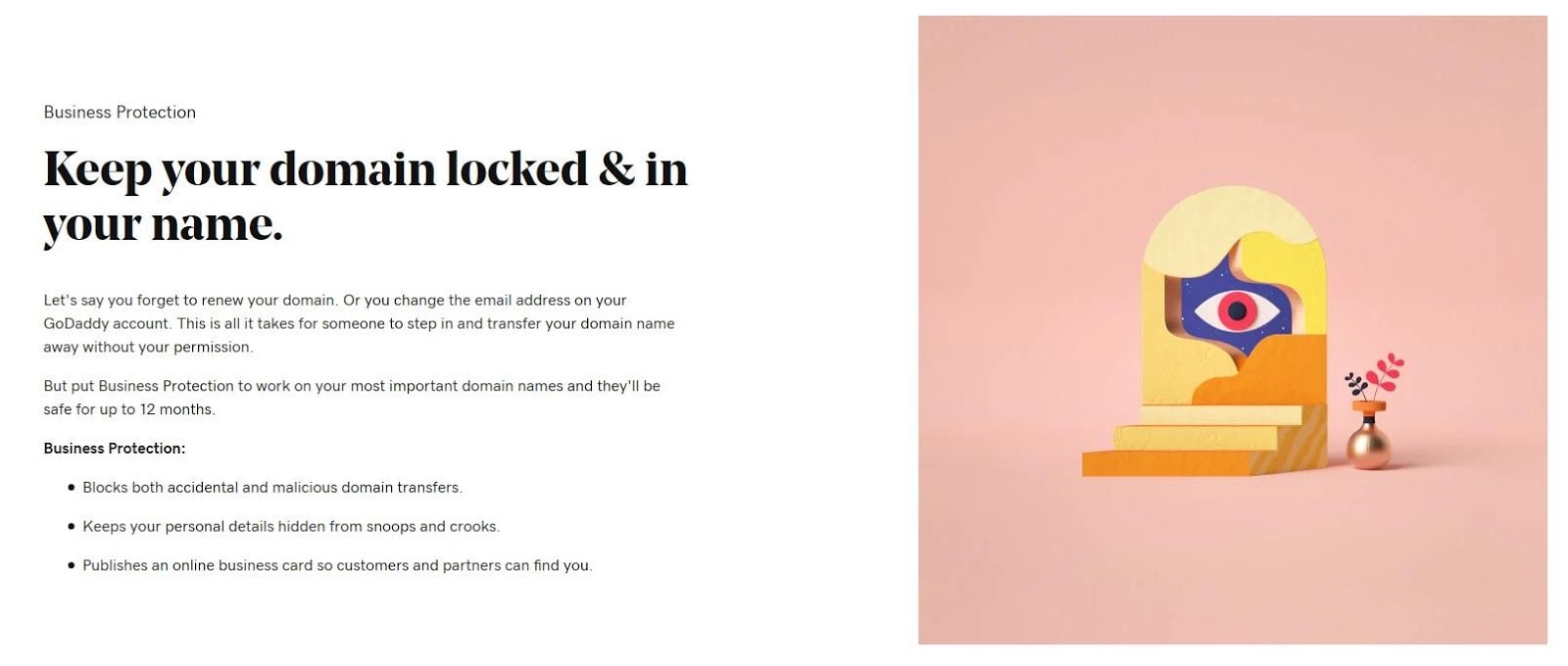 Besides the entry-level plan,
all GoDaddy's shared hosting plans
come with unlimited storage and allow you to host unlimited domains and subdomains.
(Just keep in mind that there are some caps on bandwidth, so be sure to read the fine print.)
Features:
Free domain with annual plan purchases.
Ability to have different PHP versions on your websites.
99.9% uptime guarantee.
Office 365 email mailbox, free for the first year.
For more details, read our
full GoDaddy review
.
Which Host Is Best for You?
As you're looking for the best web hosting service for multiple domains, you'll want to consider your needs and preferences to make sure the host offers everything you want.
If you want the best overall host, go with Hostinger. 
It's the most cost-effective solution, thanks to hPanel, affordable domains, and outstanding performance.
If you want excellent website management, try SiteGround. 
Its developer tools, impressive infrastructure, and support
will easily accommodate your needs, even as they increase. It's just a little more expensive. Here's a quick comparison table to sum everything up:
FAQ
1. Can I point multiple domains to the same website?
Yes, you can. In fact, large companies often do so for a variety of reasons, including SEO, type-in traffic, and more. To point more than one domain to your web page, you can either park them on your web hosting account or redirect them to your canonical domain.
2. Can you host multiple domains on the same hosting account?
Theoretically, you can host as many domains as you want on the same hosting account. In practice, your ability to do so depends on your web host. To make sure it's possible, choose a web hosting plan that allows multiple or unlimited domains (sometimes known as add-on domains).
3. Do multiple domains help SEO?
Many big businesses dominate search engine results pages (SERPs) with the help of multiple domains. To make sure you don't actually hurt your SEO, you'll need to develop a thorough multiple-domain strategy and properly set up your URLs with 301 redirects. A word of caution: The more domains you have, the more it will cost you to renew them every year. To get the best possible price, and to learn more, you can check out this article to see what these web hosts offer – cheap domains with reasonable renewal rates.
4. Which domain host is the best?
Depending on your needs and budget, there may be more than one domain host that can work for you. To compare the most competitive domain host offers, feel free to check out our list of the top 10 best web hosts.