| | |
| --- | --- |
| POS equipment | Custom Verifone VX520 POS Terminal ($35 monthly rental fee). Optional Magtek swiper for $120 one-time fee. |
| Payment methods accepted | Credit and debit cards, ACH (e-checks) |
| Payout times | WIthin 24 hours |
| Contract length | Monthly (no cancellation fees) |
| Customer support | 24/7 technical support line, other support available via phone, email, and live chat Monday to Friday from 7:00 AM – 6:00 PM CST |
| Security | Level 1 PCI-compliant, tokenization, end-to-end encryption, and fraud monitoring and prevention for chargeback protection |
Seamless Surcharging Plans Reduce Your Processing Costs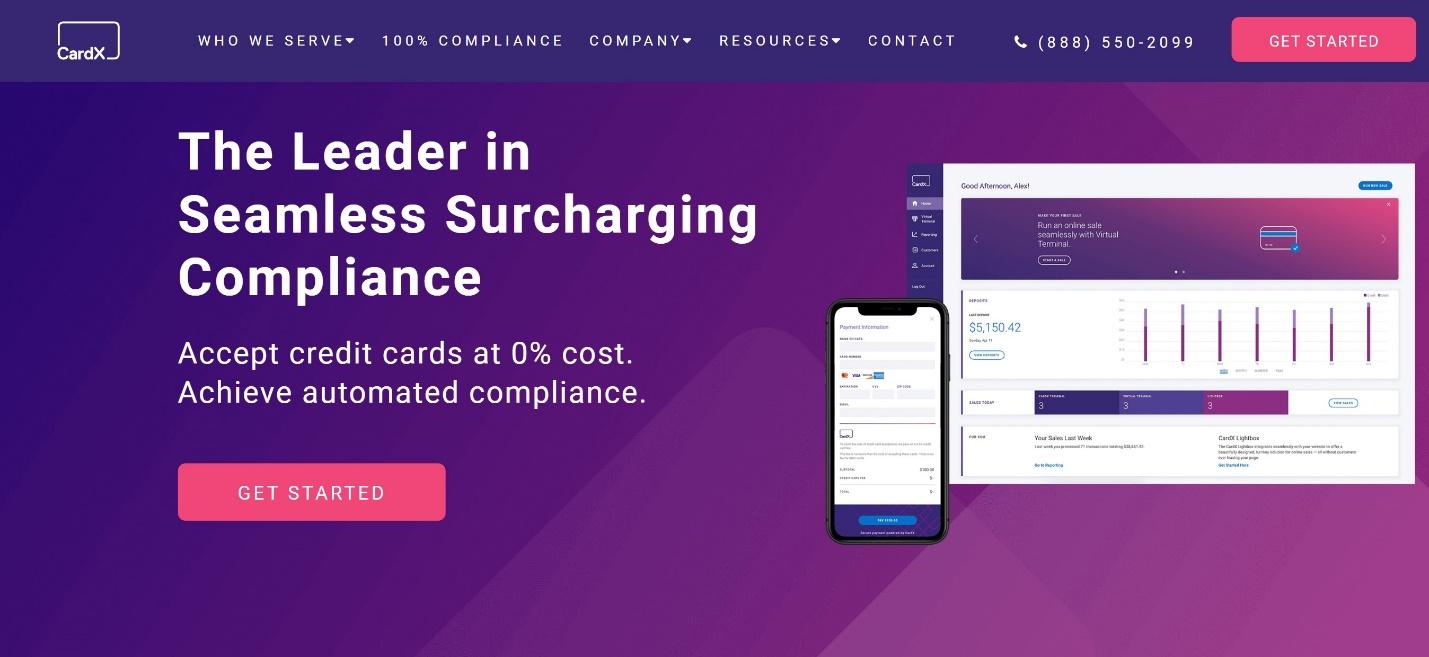 Too often, the big savings some credit card processors promise with cash discount programs never materialize. Here's the catch: you'll need to mark up all your prices to recoup the discount.
CardX's surcharging plans are different. CardX, like its parent company Stax, is extremely upfront about pricing and delivers the savings it promises. Once you sign up with CardX, you'll be able to keep the full value of your credit card transactions and pay an interchange plus fee as low as 1% + 25¢ for debit card transactions.
CardX accomplishes this feat with automated surcharging, so you'll never have to worry about complex federal, state, and card brand regulations. By taking care of all the persnickety details for you, CardX saves you money and leaves you free to run and grow your business.
Available in all 48 US states where credit card surcharging is legal, CardX is best suited to businesses with thin profit margins, regardless of size. It also offers favorable pricing plans to government and educational entities.
After reviewing hundreds of merchant reviews, contacting its customer support, and researching CardX from top to bottom, here's my advice: if you've considered surcharging but have been put off by the regulatory requirements, CardX just might be the right payment processor for you.