not all these hosts can actually provide you with reliable hosting.
Just because you want to keep your credit card information private doesn't mean you should have to settle for slow loading speeds, frequent downtime, or limited storage and bandwidth.
I made a list of all the major web hosts that accept PayPal, then tested their features, performance, and support
 to see which ones actually provide high-quality hosting and give you good value for your money. Read on to learn more about my top choices.
Short on time? These are the best web hosts that work with PayPal in 2020:
Hostinger – Unbeatable prices, generous resources, and data centers in four continents
InterServer – Unlimited, low-cost shared hosting with excellent security
A2 Hosting – Turbo servers for top-notch performance and an anytime money-back guarantee
What We Look For in the Best Web Hosts That Accept PayPal
I wanted to make sure that all the hosts on this list deliver outstanding service, so I prioritized the following features:
Pricing: I looked for the hosts that offer the most value for your money without unpleasant surprises in the form of steep renewal fees.
Performance: Using PayPal shouldn't mean that you have to settle for an inferior hosting service. The web hosts on my list offer excellent uptime records and blazing-fast loading speeds.
Support: If anything goes wrong while setting your account or managing your website, you have to be able to count on reliable support for a quick resolution.
Security: Some web hosts charge extra for basic security, while others include it for free. I prefer the latter.
Do you need a special hosting plan to accept PayPal payments on your website? The answer is a big NO. While some web hosts out there like to include "PayPal shopping cart" in their lists of features, this is just a marketing trick. You can easily add PayPal payment buttons or even a full PayPal shopping cart to any website, no matter where it is hosted. All you have to do is follow the instructions on the PayPal website.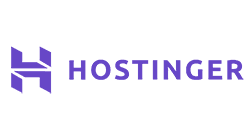 Save up to 75 % on your Hostinger plan!
Limited-time offer - Don't miss it!
7002 users used this coupon!
It's no wonder Hostinger is an industry giant. With incredibly affordable prices and
a wide range of plans packed with free features
, few other providers can match it.
A free domain name is included with some hosting plans from Hostinger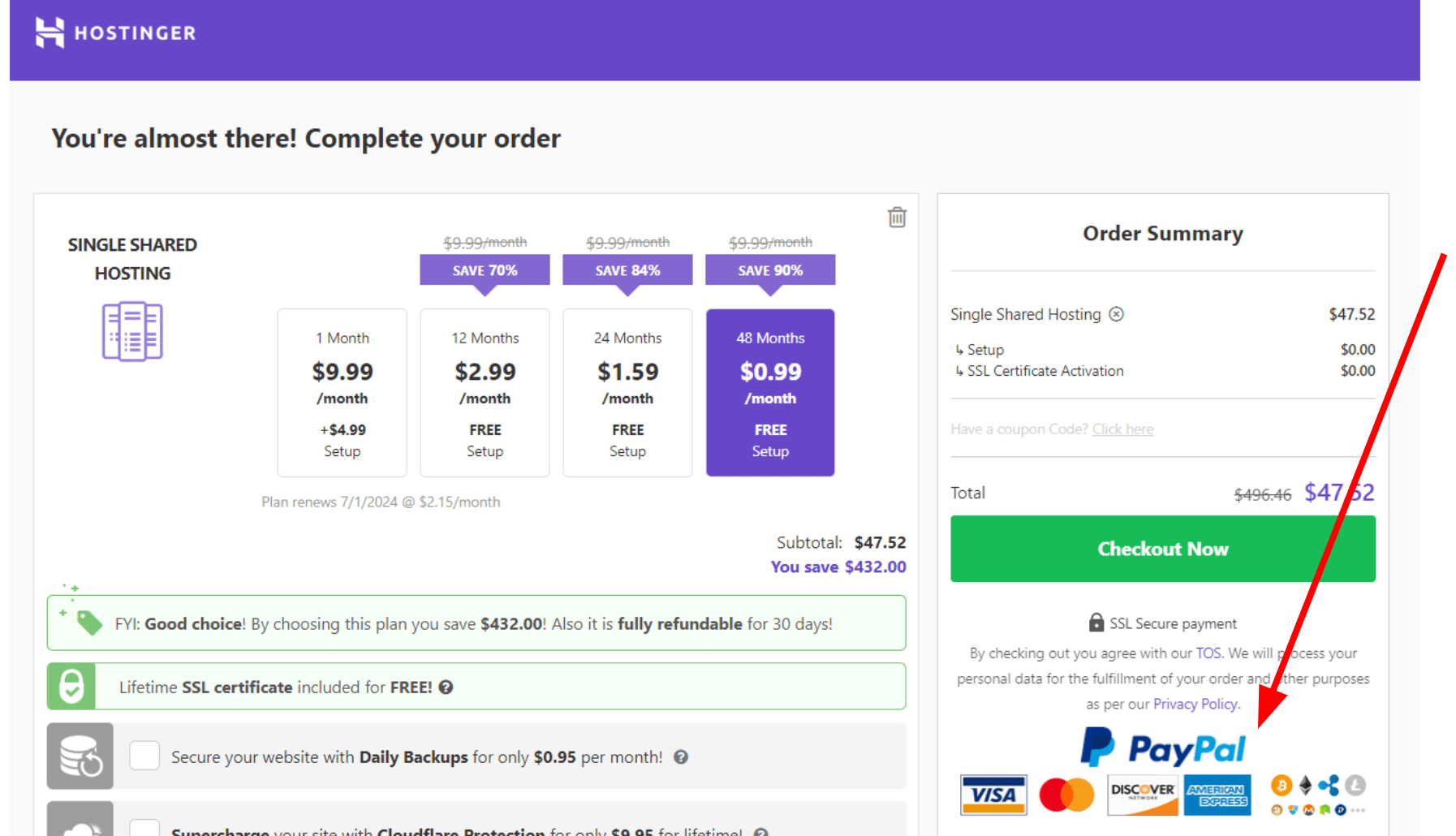 When you sign up with Hostinger, this is what you can expect:
Excellent deals for long-term plans. Whether you're looking for shared, WordPress, cloud, or VPS hosting, Hostinger has the lowest prices in the industry for long-term plans. Renewal prices aren't bad either, thanks to the host's customer loyalty program.
Data centers in seven regions. Hostinger has servers in the US, the UK, Brazil, the Netherlands, Lithuania, Singapore, and Indonesia. You can choose to host your website on the server that is closest to your target audience. When my colleague tested Hostinger's performance, he was very impressed.
Generous resources. The Premium and Business shared hosting plans come with unlimited websites, bandwidth, email accounts, and MySQL databases. Storage is capped, but both plans give you plenty of space.
Optimized for WordPress. Hostinger's servers are configured for fast WordPress websites. You also get a one-click installer for WordPress and a proprietary caching suite for improved performance.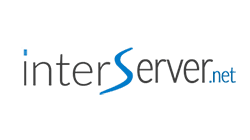 Get your first month of hosting for just $0.01!
Take advantage of this exclusive deal to try out InterServer.
424 users used this coupon!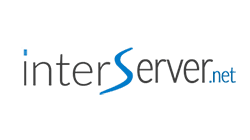 Get your first month of hosting for just
$
0.01
!
Copy and paste this code at InterServer
InterServer's Standard web hosting plan
 gives you unlimited storage, bandwidth, and email addresses at a bargain. The plan includes everything you need to get started with your website even if you have no previous experience.
You also get a website builder, a one-click installer for WordPress and over 400 other scripts, automated WordPress updates, and advanced security tools.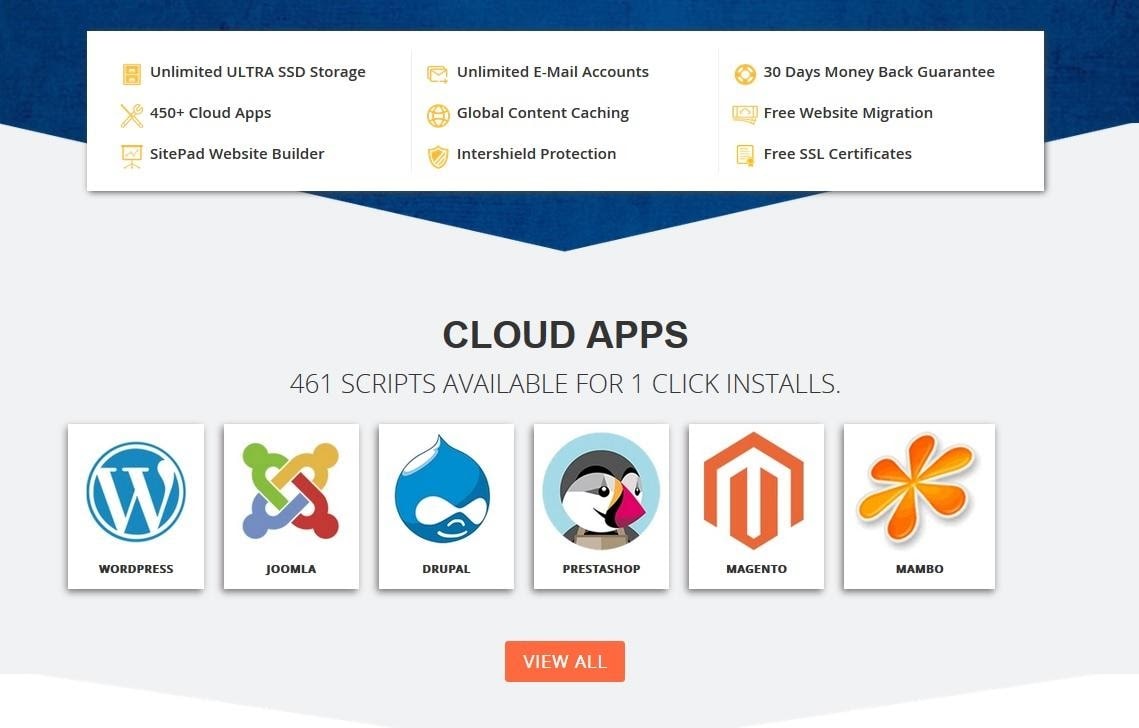 You can
see a full list of features in our in-depth InterServer review
, but these are a few of my favorites:
Monthly plans. InterServer does offer discounts for longer billing cycles, but you don't have to commit to a long-term plan to get a great deal. If you'd rather start small and pay on a monthly basis, you can.
Redundant SSD storage.

InterServer uses RAID-10 SSD storage, which means your files are replicated across multiple drives. If one drive fails, your data will be safe on another. 

Room to grow. Although InterServer offers only one shared hosting plan, you do have options if you outgrow it. The provider has some of the best cloud VPS plans in the industry, and you can even provision your own bare-metal dedicated server.
Free security tools. InterShield is InterServer's proprietary security solution, and it is included with all plans. You get a firewall, a malware scanner, and email spam protection for free. The host will also help you clean up your website if it does get hacked.
A2 Hosting focuses on performance, and it's also fairly affordable. With the Turbo Boost and Turbo Max shared hosting plans, you can run your website on LiteSpeed technology with advanced caching to ensure that your visitors experience fast loading speeds. How fast?
Check our expert A2 Hosting review to see the results of our tests
.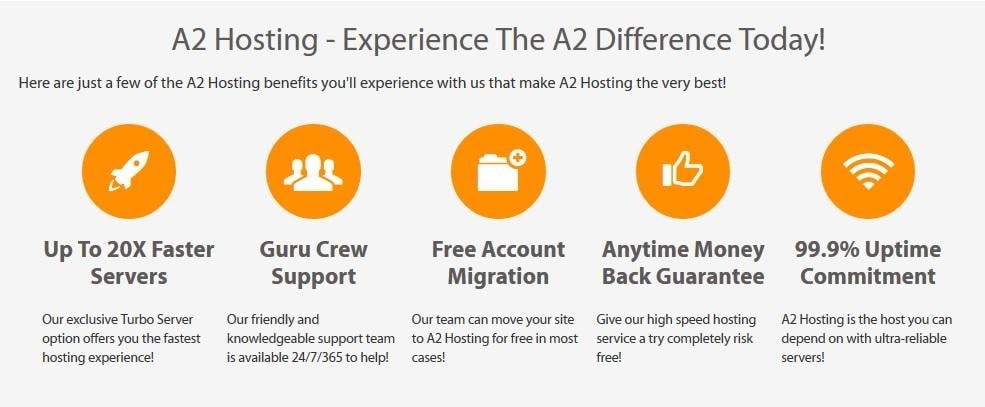 A2 Hosting also has an impressive range of managed WordPress plans
 that include some advanced plugins like Jetpack and A2 Optimized for added speed and security. VPS plans and dedicated servers are also available.
Features:
Unlimited resources on most plans. Apart from the Startup plan, which comes with just 1 website and 100GB of SSD storage, all A2 Hosting plans give you unlimited websites, storage, bandwidth, email addresses, and databases.
A2 Optimized installation. You can choose to automatically configure your website for WordPress, Joomla, Drupal, or another popular content management system (CMS), giving you the best performance and the most secure setup.
Performance-enhancing tools. In addition to A2 Hosting's proprietary caching suite, you get the Cloudflare content delivery network (CDN) integrated into your dashboard. With just a few clicks, you can ensure good loading speeds for visitors from all over the world.
Anytime money–back guarantee. Most hosts offer a 30-day guarantee, but with A2 Hosting, you can change your mind at any point during your contract and still get a prorated refund.
SiteGround is a great option for beginners and experienced web developers working with WordPress. Although not as affordable as other hosts, its advanced features and superior performance for WordPress websites are worth every penny.
Important:
You won't find PayPal listed as a payment option on SiteGround's order pages, but the company does accept PayPal. You just have to contact the sales department through
the live chat on SiteGround's website
, and they will allow you to use PayPal as your method of payment.
A free domain name is included with some hosting plans from SiteGround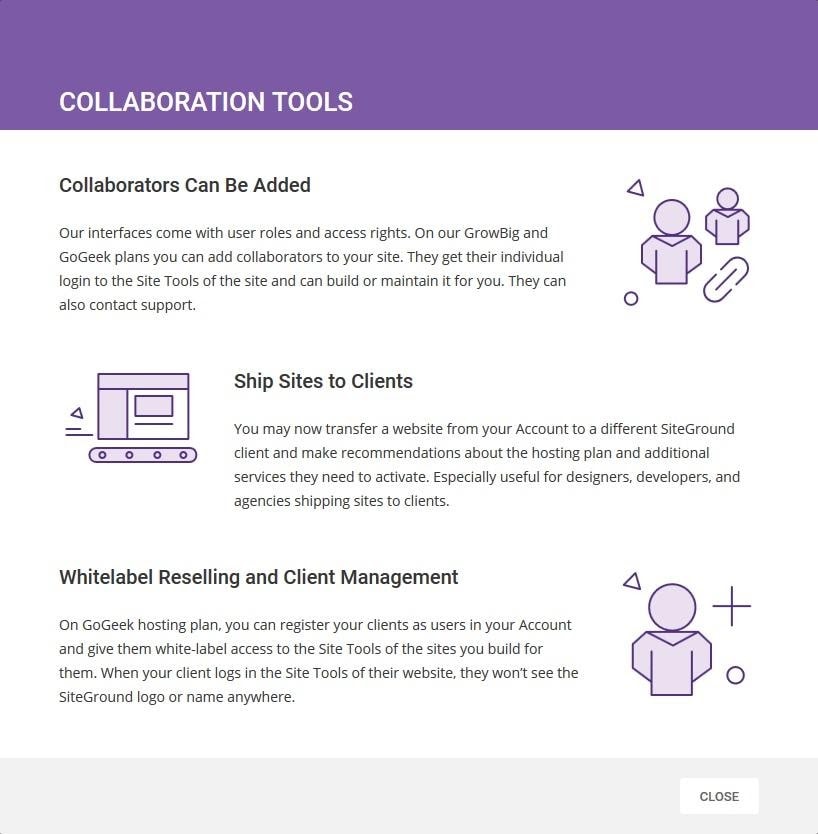 With
SiteGround's GoGeek plan
, you get an impressive set of developer-oriented tools, such as Git integration, one-click staging, and easy website ownership transfers. Features:
Managed WordPress. All SiteGround plans come with one-click installation for WordPress, as well as automatic updates for the core software and any related plugins. Technical support for WordPress-related issues is also included.
Google Cloud infrastructure. SiteGround uses Google Cloud Platform (GCP) servers for all of its plans, which translates into better performance and increased stability overall. You can see the results of our performance tests in our in-depth SiteGround review.
Built for performance. SiteGround's software stack is optimized for speed. It includes Nginx as a reverse proxy, the latest PHP versions, and an in-house caching solution based on Nginx and Memcached.
Data centers in four continents. You can host your website in the US (Chicago or Iowa), the UK, the Netherlands, Germany, Singapore, or Australia.
Scala Hosting's three shared hosting plans
give you the resources and features that you need to get online quickly, but its most impressive plans are managed VPS. These are not only affordable but also suitable for beginners to managing a virtual machine (VM).
A free domain name is included with some hosting plans from ScalaHosting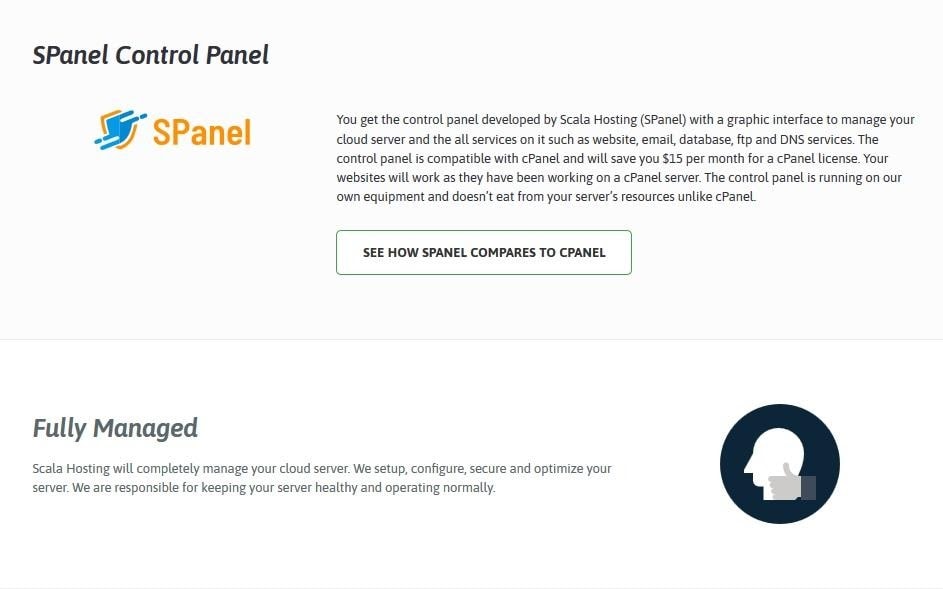 If you've outgrown the limitations of shared hosting and want to provision your own dedicated resources, Scala Hosting provides an optimal solution. Features:
The sPanel control panel for VPS. A dedicated VM comes with a noticeable boost in performance, and with Scala Hosting's proprietary sPanel it's also easy to manage.
Highly customizable VPS plans. From CPU power to RAM to storage, you choose exactly what to include in your plan. If needed, you can easily scale your resources later on. To find out more about these plans, read our full Scala Hosting review.
Unlimited website migrations. If you already own multiple websites, you'll be happy to know that Scala Hosting will transfer them all and ensure they function properly for free.
Transparent pricing. Scala Hosting doesn't lure you in with attractive first-term prices only to surprise you with outrageous renewal fees down the road. You can pay on a monthly basis or opt for a long-term discounted plan, but rest assured that renewals will be only slightly higher than the initial cost.
If you need a VM or dedicated server to support multiple applications or an enterprise-level website, Liquid Web is an excellent choice. This host boasts one of the best-performing infrastructures in the industry, and
all of its plans
 are fully managed.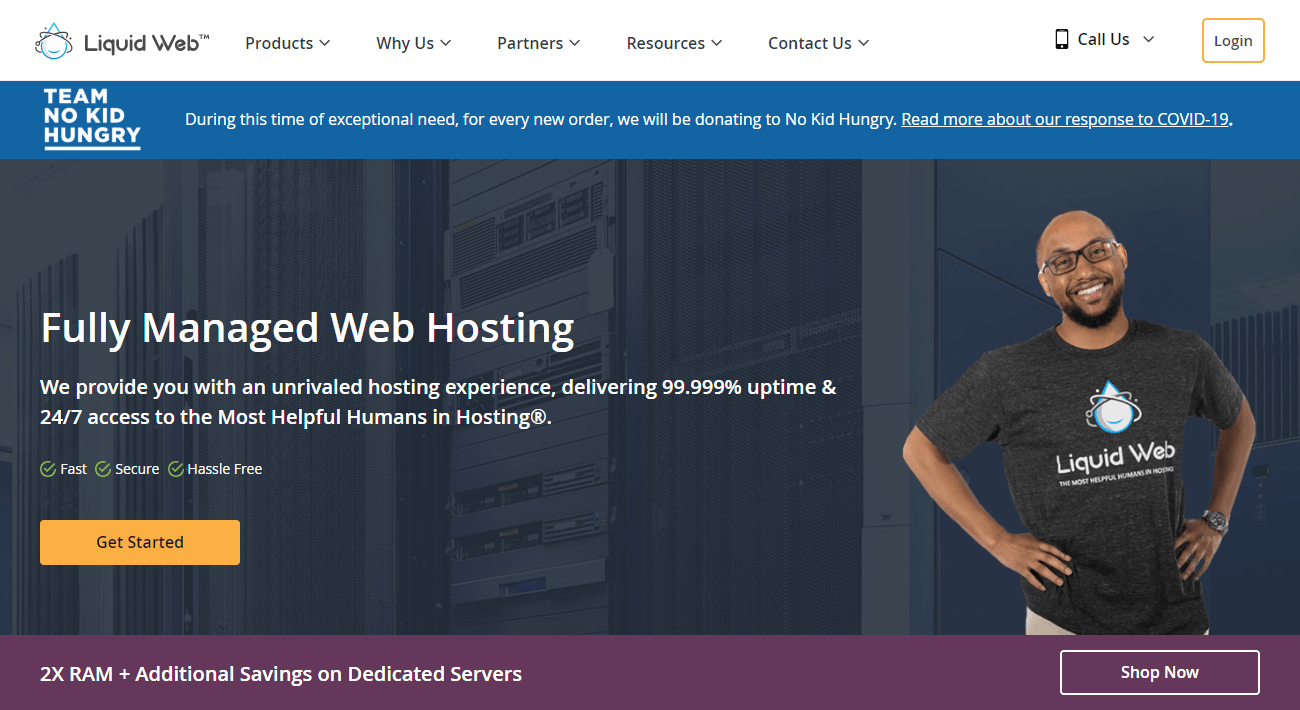 That said, Liquid Web's services come at a premium cost. You won't find any cheap shared hosting plans here, but you can get high-quality managed WordPress hosting.
100% uptime guarantee. If you experience any downtime in the course of a year you'll receive a credit worth ten times the actual amount of recorded downtime. This isn't likely though, as our performance tests show.
A choice of three premium control panels. While most hosts offer a basic cPanel license on all plans, Liquid Web lets you choose cPanel, InterWorx, or Plesk.
Enhanced security and backups. Liquid Web's ServerSecure suite is included for free on all plans. You also get local site backups and can add cloud backups for an added layer of protection.
Managed Cloudflare. A CDN is a must-have if you expect online visitors from around the world. Liquid Web installs and manages Cloudflare for you.
Hostwinds offers a range of solutions, including shared, VPS, cloud, and dedicated server hosting. All the essentials – such as a free domain for one year, free website transfers, SSL certificates, and a website builder – are included. That said, you should know that renewal fees can double the initial cost of a plan.
A free domain name is included with some hosting plans from Hostwinds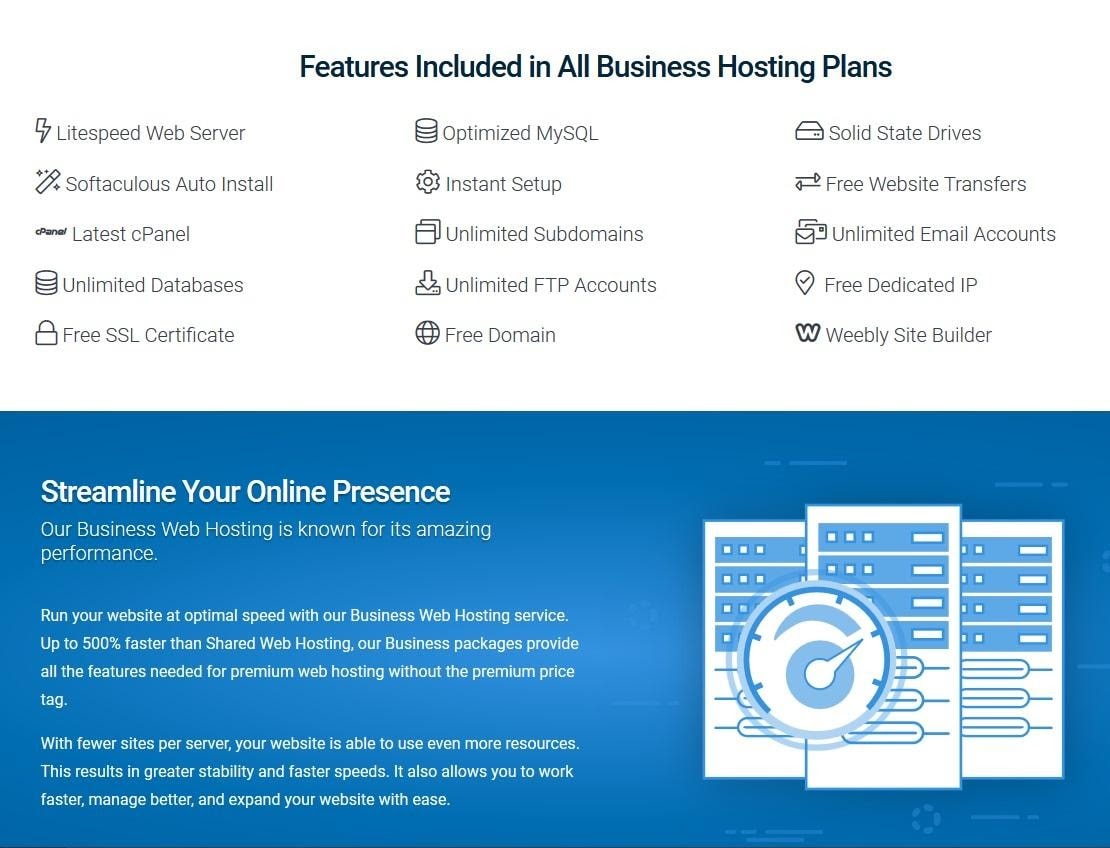 Features:
Generous resources on all shared hosting plans. You get unlimited storage, bandwidth, databases, and email addresses, regardless of the package you choose. Unlimited domains are only available on the top-tier, Ultimate plan.
Free dedicated IP. A dedicated IP gives you more control over your shared hosting account or dedicated server. Most hosts charge extra for this service, but with Hostwinds, it's included for free. To learn more about the benefits, read our full Hostwinds review.
99.9999% uptime guarantee. Hostwinds claims that its servers have less than 31.6 seconds of downtime in an entire year. Compensation in the form of credits is issued otherwise.
Business options for increased traffic. If you outgrow the Ultimate shared hosting plan, you can scale up to one of Hostwinds' Business plans. They're better optimized for performance but cost significantly less than a VPS.
HostGator has been around for a while, and it still offers some of
the best discounts for long-term plans
. The discounts won't come close to the prices you can get with Hostinger, but they can help you save money if you're willing to commit to a three-year plan. We offer unlimited storage space and bandwidth on all plans, which sets us apart from Hostinger, where such benefits are not available. However, please be mindful of renewal fees, as they can be triple the initial cost.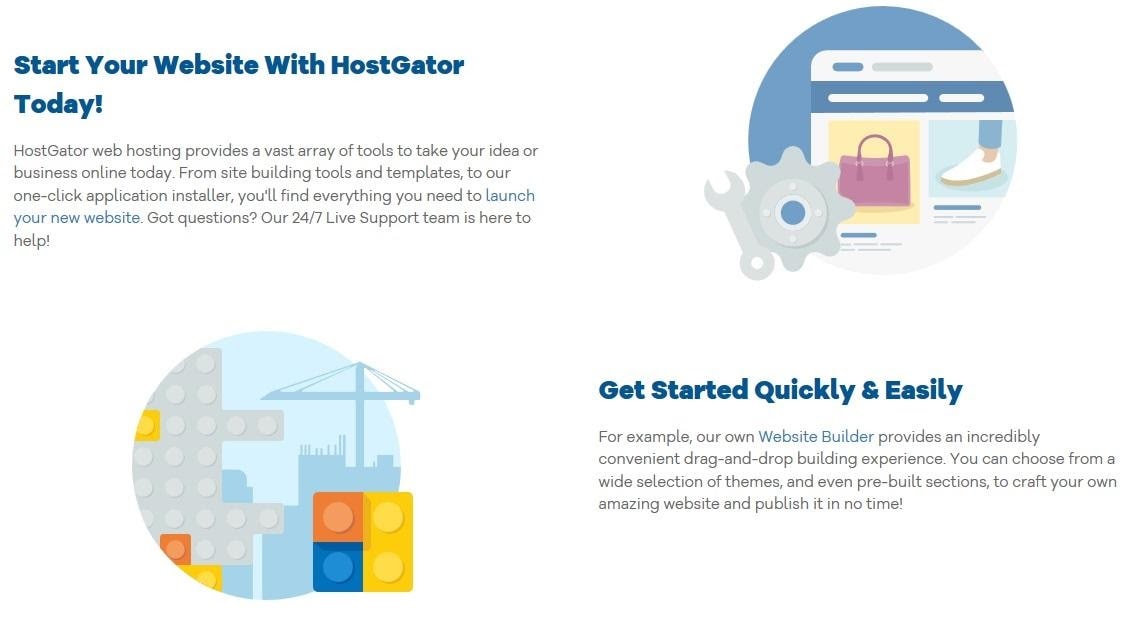 Features:
Plenty of storage space on all plans. With the entry-level Hatchling plan, you get only one domain but unlimited storage and unmetered bandwidth. To see what else this plan includes, read our in-depth HostGator review.
Easy to scale. If you have a traffic spike, you can easily add more resources to your account from your control panel. Best of all, you only pay for what you use.
The Gator website builder. You'll love this feature if this is your first time creating a website, as it includes more than 100 templates that you can easily customize through its drag-and-drop interface. Just be aware that the free version included with all hosting plans is capped at six pages.
Advertising credits. US-based clients who opt for a Linux hosting package receive $100 in credits for Google AdWords and Bing.
FastComet combines decent prices with the advantages of cloud hosting, which makes it a great option if you expect your site to grow quickly.
The shared hosting plans are especially cheap
, but keep an eye out for price increases after the initial term. FastComet does include an impressive set of features for free on all plans (
see a full list in our expert FastComet review
), so the cost might be worth it even after renewal.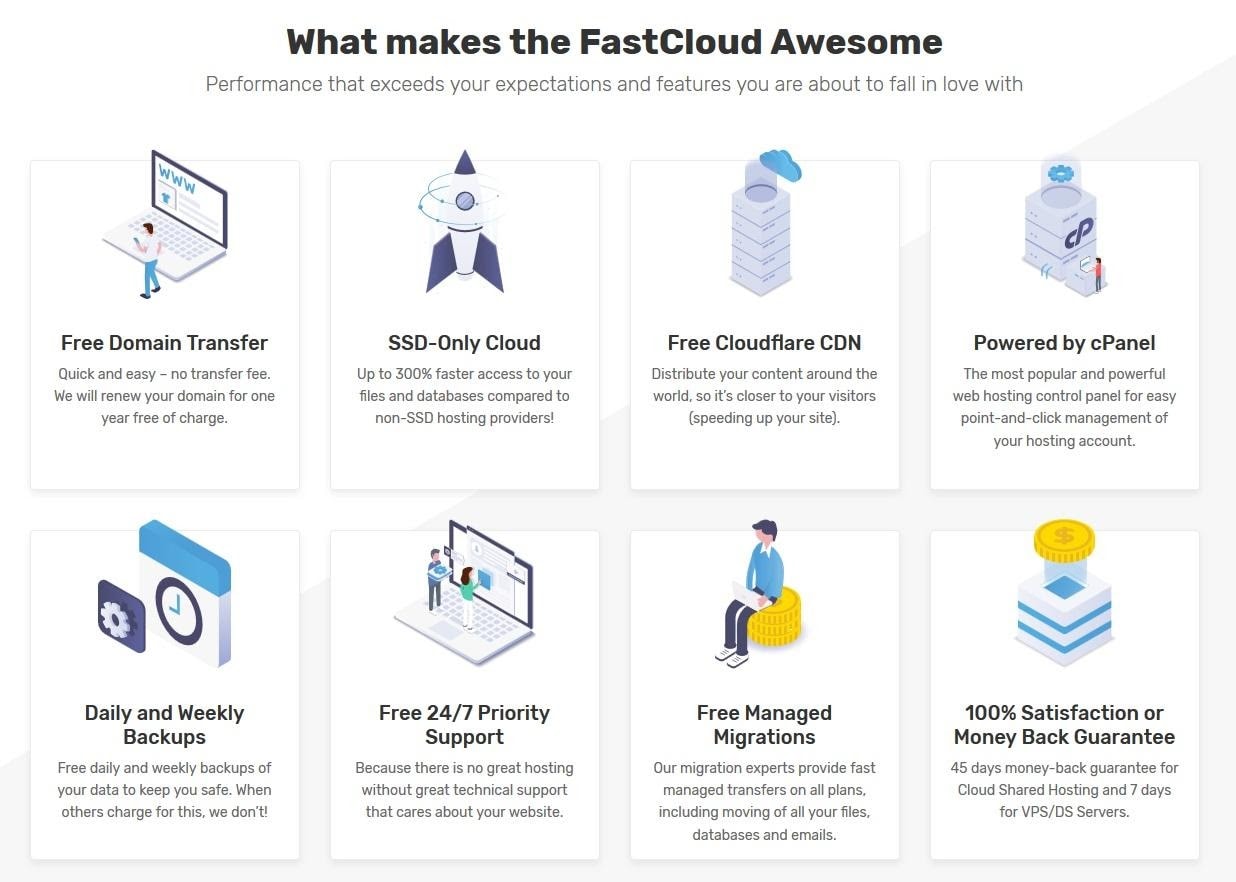 Features:
Cloud solutions. With the exception of its dedicated servers, all of FastComet's plans run on cloud infrastructure, which is more stable and easier to scale.
Guaranteed resources. Even if you're on a shared hosting plan, you are guaranteed to always have access to a minimum of resources. For the entry-level FastCloud plan, this baseline covers 2 CPU cores and 2GB of RAM, which is a great setup for shared hosting.
Website starter kit. All FastComet plans come with a kit for beginners. A free domain, one-click WordPress installation, a website builder, and over 350 templates are all included.
An impressive fleet of 11 data centers around the world. These include four locations in North America, three in Europe, three in Asia, and one in Australia.
If you're looking for an easy way to get online and you don't need a lot of advanced features, HostPapa is a decent choice. Its
shared hosting plans
 come with plenty of resources, free domain registration for one year, a basic website builder, a one-click installer for more than 400 scripts, and SSL certificates.
A free domain name is included with some hosting plans from HostPapa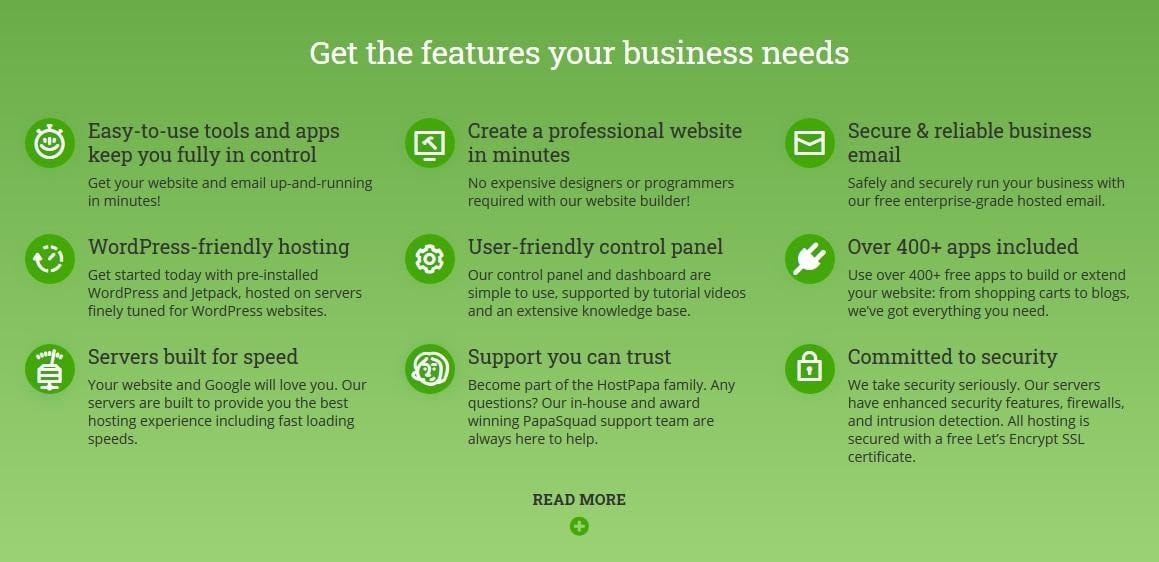 However, to get the best prices, you need to commit to at least one year of hosting, and the most favorable rates are available with a three-year commitment. But, to be fair, you have the option to apply for a refund within 45 days if needed. Features:
Premium Wildcard SSL. If you opt for the Business Pro plan, you get a superior SSL certificate that can be applied to all of your subdomains. You also get Domain Privacy and automatic daily backups for free.
Lightning-fast premium servers. As a Business Pro client, your website is hosted on a server with more resources and fewer neighbors. To see what kind of effect this could have on your loading speeds, see the results of our performance tests.
One-on-one training. When you create a new account, you can schedule a meeting with a HostPapa expert to learn more about building websites, account management, cPanel, security, and more.
Outstanding customer support. You can get in touch through email, live chat, and phone at any time during the day. The support agents are knowledgeable and helpful.
PayPal Hosting: You Have Some Excellent Options
One thing is certain – some of the top web hosts in the business offer the choice to pay using PayPal. However, it's important to pick the service that can deliver the appropriate features for your unique requirements. For example, if you're looking for an affordable, long-term shared hosting plan that gives you all the tools you need to get started quickly,
Hostinger is the best value choice
. And you don't have to worry about outrageous renewal fees. If you don't like the idea of paying for three years of hosting upfront,
InterServer might be a better option
. With unlimited resources and an attractive monthly fee, you don't have to be locked into a long-term deal. As a web developer,
you might be more interested in SiteGround
. Its top-tier plans come with all the amenities of managed WordPress hosting in addition to developer-friendly tools like one-click staging. For advanced hosting solutions,
look to Liquid Web and its high-performance infrastructure
. Its VPS, cloud, and dedicated plans are all fully managed, so you don't have to pay extra for a SysOps admin. If you need to keep costs low,
Scala Hosting has affordable, fully managed VPS solutions
 with an easy-to-use control panel.
| | | | | | | |
| --- | --- | --- | --- | --- | --- | --- |
| Web Host | PayPal | Credit/Debit | BitPay | Money Order | Wire Transfer | |
| Hostinger | ✔ | ✔ | ✔ | ✗ | ✘ | |
| InterServer | ✔ | ✔ | ✘ | ✔ | Only on dedicated servers | |
| A2 Hosting | ✔ | ✔ | ✘ | ✔ | ✔ | |
| SiteGround | Only on request | ✔ | ✘ | ✘ | ✘ | |
| Scala Hosting | ✔ | ✔ | ✘ | ✘ | ✘ | |
| Liquid Web | ✔ | ✔ | ✘ | Only on request | Only on request | |
| Hostwinds | ✔ | ✔ | ✔ | ✘ | ✘ | |
| HostGator | ✔ | ✔ | ✘ | Only in the US | ✔ | |
| FastComet | ✔ | ✔ | ✘ | ✘ | ✘ | |
| HostPapa | ✔ | ✔ | ✘ | ✘ | ✘ | |
FAQ
Do the best web hosts accept PayPal payments?
Yes, most industry-leading web hosts let you pay for their services through PayPal. However, some providers – like SiteGround, for example – do not have PayPal listed on their order pages. In these cases, you have to get in touch with support and make a special request.
Is PayPal better than other payment methods?
That depends, but there are a few noteworthy advantages to using PayPal. For one, all payments made through PayPal fall under its 180-day buyer protection, which means that you can dispute a transaction if necessary. In addition, your payment information, such as your name and credit card number, are never disclosed by PayPal. All you need to make a payment is an email address or a phone number. In other good news – the codes on our web hosting coupon code page are all applicable when you pay with PayPal.
Can you pay for a domain name with PayPal?
Not all domain resellers will accept PayPal payments, mainly because PayPal offers poor protection for sellers compared to licensed escrow integration partners like Escrow.com. But most major domain registrars – such as Namecheap – do accept PayPal as a payment method. Haven't decided on a name yet? Don't miss our ultimate guide to choosing a domain name.
Which hosts offer PayPal integration for your online store?
You can add several types of PayPal Payment Buttons to your website regardless of the host you choose. PayPal offers easy-to-follow tutorials and video guides on how to complete the process, but you will have to copy some of the code yourself. You'll also have to test each button to ensure that it is working properly.