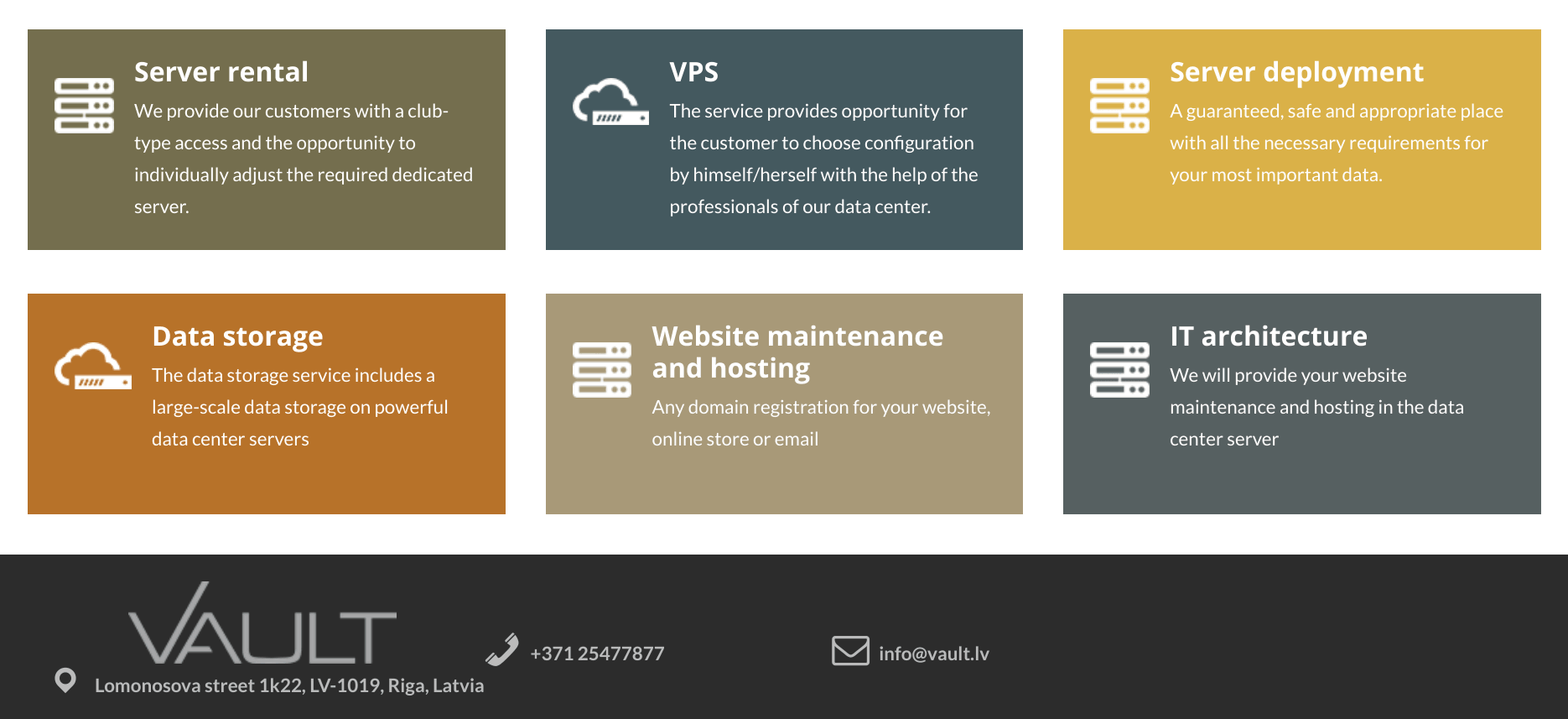 VAULT is a Riga-based Latvian provider of website hosting, VPS, dedicated rental servers, server deployment, server rack cabinet rental, and domain registration services. Its end-to-end services also include website design, deployment, and maintenance services.
VAULT's website is available in the Russian, English, and (of course) Latvian languages.
Features and Ease of Use
VAULT offers three VPS plans and four data storage plans, plus the aforementioned dedicated server deployment and rental services. Only the VPS plans are detailed on the website, so that's what I focus on here.
While the "VPS Start Up" plan is ideal for small I.T. projects, the "VPS Advanced" plan is the natural choice for a growing I.T. project. Anyone wanting a larger, more robust solution should opt for the highest "VPS Professional" plan.
With all three VPS plans, you will benefit from:
1 to 2 core vCPU
2 GB to 3 GB RAM
40 GB to 80 GB HDD
With the customizable dedicated servers, you get deployment in a modern data center. VAULT's data center uses uninterruptible power supplies and an N+1 cooling system, and it assures 99.7% access to data center resources. It also has several backup optical fiber channels and direct connections to many ISPs.
Pricing and Support
VAULT's VPS plans are pricey, with even the starter plan costing almost twice the industry average. The plans are priced in euros, and you can pay for them on monthly or annual billing cycles, with annual prepayments attracting discounts. I can't confirm the available payment methods apart from PayPal, but I can say that there is no money-back guarantee as far as I can see.
There are no self-support pages as far as I know. And while company contact channels include telephone, email, and an online contact form, I'm sorry to say that my exploratory email went unanswered. When you try to purchase a plan, you will find that the "ORDER NOW" buttons lead to the contact form: