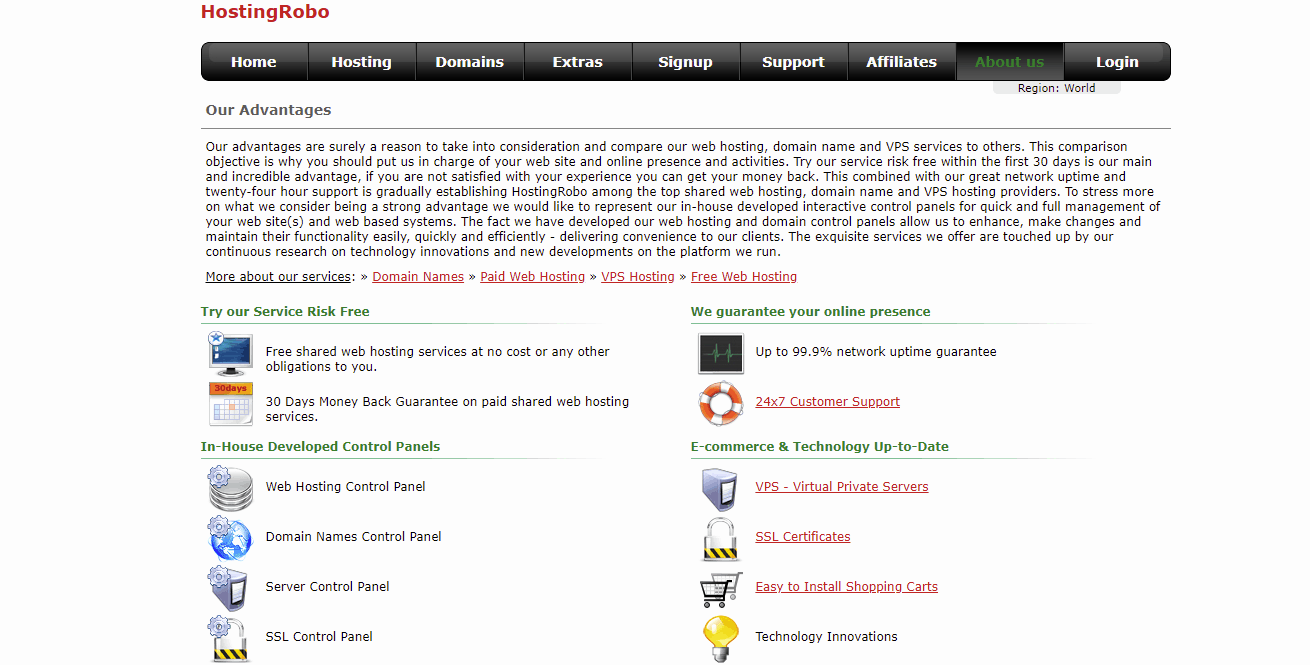 HostingRobo provides web hosting, Virtual Private Servers (VPS), domain registration, SSL certificates, and semi-dedicated hosting. This company hosts over 500,000 websites and is dedicated to learning and re-learning all aspects of web hosting to enable it to act in an adequate and up-to-date manner.
Its website is in English and its servers are collocated in a data center in Kiel, Schleswig-Holstein, Germany.
Features and Ease of Use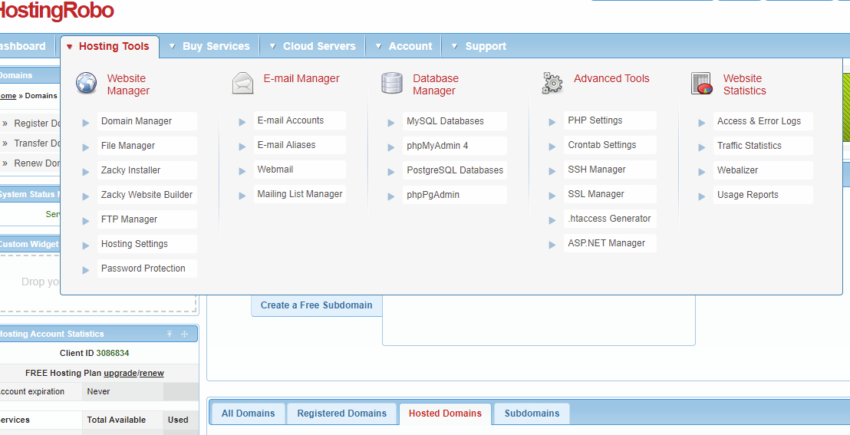 HostingRobo offers three shared hosting plans. These are great for individuals looking to host a personal blog and businesses wanting to host their company website. Some of the features that shared hosting customers get at HostingRobo are:
99.9% uptime
Free SSL on top two plans
Weekly automatic backups
Free domain name
Up to unlimited domains allowed on one plan
5GB or unlimited traffic
The free domain name offer differs with the plans. On one plan, you get a free domain for life, while on another, you get it for a year, and on another, you don't get it at all – for good reason.
HostingRobo provides basic and premium security and backup solutions. It also provides firewall protection on its servers to protect them from standard web server attacks. For backups, it uses RAID (redundant area of independent drives) to store your data on two HDDs at the same time for better reliability in case of a hard drive failure.
The company provides advanced and beginner-friendly tools. Experienced customers can use SSH to set up custom settings and tools on their server on the top plans. Cron jobs are allowed as well on the top plan only.
Beginners will find installing WordPress and a bunch of other applications a breeze with Zacky app installer. Otherwise, they can build websites with the website builder.
HostingRobo doesn't offer cPanel. Rather, it provides its own custom control panel to customers. I tried it and one thing that caught my eye were snippets of help here and there, like after connecting my domain, I was given a tutorial on changing my DNS straight up so that it works. It's simple, easy to use, and everything is outlined on the menu and page.
Pricing and Support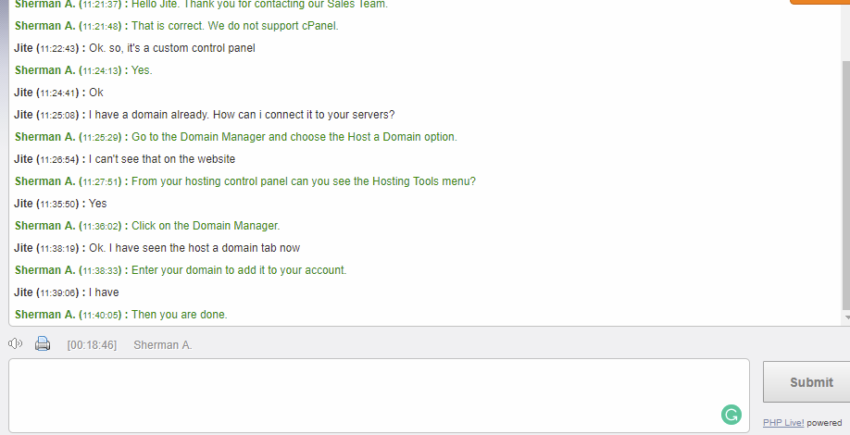 Amongst the three shared hosting plans, one is free and two are paid. With the free plan, you can host a personal blog or test out the service before committing to the faster and more secure hosting that comes with the paid plans.
Aside from the better speed and security of the paid plans, you have access to more features. For example, you don't get a free domain or email forwarding, and are locked out of many programming tools like Python.
The paid plans are low-cost, though be aware that the price you pay initially isn't what you'll pay at renewal. The good thing is, it isn't hidden and the renewal price is still leaning towards the low side. The free domain – lifetime on one plan – and the free SSL certificate are some additional perks you'll receive, as well.
If you pay and aren't satisfied with the service or it doesn't live up to its promises, you can get your money back. There is a 30-day money-back guarantee policy in place for this.
To contact customer support, you can use the live chat or submit a ticket, and the support agents work 24/7. I had to contact support because I needed to connect my domain to the hosting account and a polite agent walked me through the process.