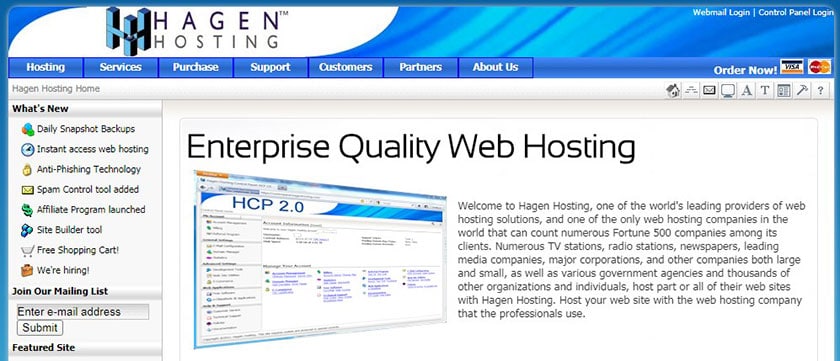 Hagen Hosting has been providing professional, corporate, and enterprise hosting since 2001. They offer feature-rich and stable hosting packages and a range of VPS and dedicated servers. Over the years they have earned the trust of some big companies such as HP, Novell, and Compaq, and even the United Nations.
Features and Ease of Use
Unlike some hosting companies with unstable servers, Hagen Hosting has a reliable network architecture and high-grade hardware with dual-core processors connected to RAID hard drives with automatic failover in multiple data centers. Their 24 GB RAM machines can handle all heavy workloads and traffic.
Starting with their Lite and Basic hosting packages, you get a good number of features that can jump-start your online business. I like the fact that they've put a cap on the number of clients who use a specific server, so their server response time is pretty good. They offer ample disk space that can support a standard website with a couple of pages.
Having an anti-phishing tool is a great way to reassure your clients that their data is safe. For the security of your website and clients, Hagen Hosting includes such an anti-phishing tool along with spam control and virus checks.
Now let me list some of the other features you can expect under shared hosting:
One-click installer
Free website transfer
Daily onsite and weekly offsite backups
Snapshot backups
Scripting languages
Phishing scam blockers
Website builder
Instant website access
If you're starting out, you can use their WYSIWYG Site Builder to create a static website. If you want something more advanced like a database-driven website, I'd encourage you to deploy their pre-installed scripts that include Joomla, Drupal, WordPress, and other Open Source apps. But that's not all. With your site up, you can also create personalized POP3 mailboxes within minutes.
I have some simple advice for those of you who are tempted to stick to the entry-level packages. Upgrade your hosting account to the Standard, Premium or Commerce plan as soon as you can to unlock more storage space, advanced spam control, SEO tools, and access to a full development environment. I can't list all the advantages here, so just know that you'll enjoy a whole lot more when you scale up.
Hagen Hosting offers onsite daily backups, weekly offsite backups, and daily snapshot backups of your website. The daily snapshots, which are available for five days, allow you to restore any part of your website that gets accidentally deleted.
Don't worry about the admin panel. HagenHosting has a simple but functional control panel that gives you access to a suite of tools and many privileges. Within minutes of signing up, you could be well on your way to migrating your files and databases, and creating personalized emails.
Pricing and Support

While the prices are relatively high for shared hosting, these premium prices match the premium services and features. I like the fact that they have flexible hosting plans for almost every price point, but I don't like the fact that they don't seem to offer any money-back guarantee.
Customers benefit from full access to friendly technical support staff. I can confirm that they don't outsource any of their online technical support functions, so you can rest assured that you'll be dealing with knowledgeable English-speaking technicians whom you can reach via email, telephone or their ticketing system. They do, though, prefer you open a ticket or leave a request for a callback.
If you like to "do it yourself", you can learn a lot about how their hosting works by exploring the comprehensive knowledge base that contains a large number of articles and how-to guides.