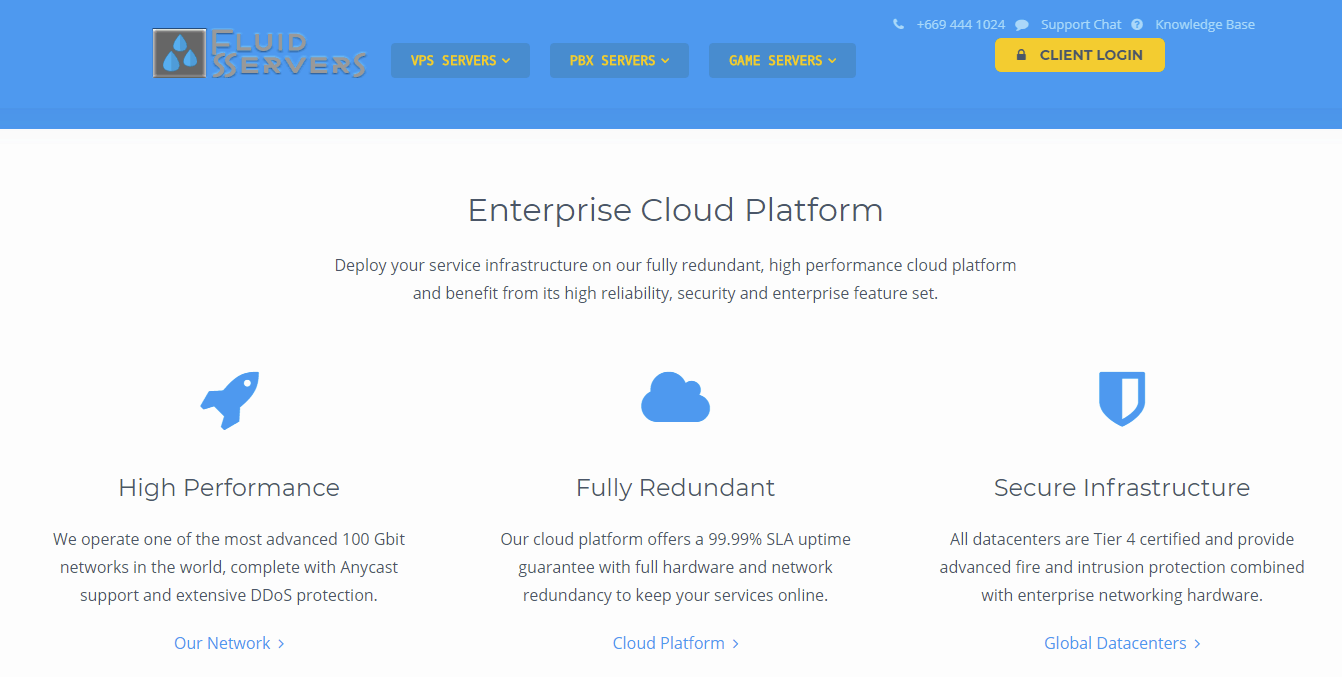 FluidServers has been in operation since 2000. This company provides cloud-based hosting, servers, and storage solutions from its office in Alabama, United States. Its servers are spread across three countries – Canada, France, and Germany. Its website is in English only.
Features and Ease of Use
FluidServers provides three types of hosting – general website or application hosting on Virtual Private Servers (VPS), Private Branch Exchange (PBX) hosting, and Game servers. It offers Xen VPS, public cloud VPS, and private VPN virtualized servers under VPS.
Customers on the VPS plans get the following:
99.99% SLA uptime
Up to 400GB RAID storage
Anywhere from 50GB bandwidth to 1000GB bandwidth
FluidServers provides Solid-State Disks, known for their speed and reliability compared to hard disk drives. This web host enhances that with Redundant Array of Independent Disks (RAID).
It uses RAID 10 mirroring and stripping that enhances performance a bit while also allowing for the fast rebuilding of disks when one fails, ensuring that your website files are not lost and stay online.
The company has Intrusion Protection Systems (IPS). This detects and stops a variety of web attacks that firewalls and antivirus software can't get. Completing that is anti-DDoS protection. With the increase in the frequency and level of DDoS attacks on the internet and even small websites being affected, it's important to have a measure in place to mitigate attacks.
FluidServers supports various versions of many operating system distributions, including Ubuntu, CentOS, and Debian. You can choose either ISPConfig, CentOS Web Panel, Webmin, or VestaCP as your control panel. You can also pay to have cPanel, Plesk, Interworx, or Webuzo installed on your server.
As with most VPS, beginners to web hosting and development will find it hard to understand and manage because there are no application installers and website builders.
Pricing and Support
Xen VPS on FluidServers is low cost. There are six plans that vary in disk space, bandwidth, vCPU, and bandwidth offered.
For its public cloud servers, there are no plans. Instead of plans, you choose the exact features that you want on your server, from the storage space to the number of IP addresses that you want. The prices here are low-cost, as well.
You can always add features to your server later on if you need more resources than you initially paid for. Also, the company allows custom specifications, so you can email the sales team to build a custom quote for you.
FluidServers offers a monthly subscription period on all VPS plans. You can pay with either your credit/debit card or PayPal.
For customer support, it has a knowledge base, but it contains very few tutorials. You will need to contact its support agents if you can't find a solution in the help center via ticket and phone support. Unfortunately, I submitted a ticket but never received a reply.