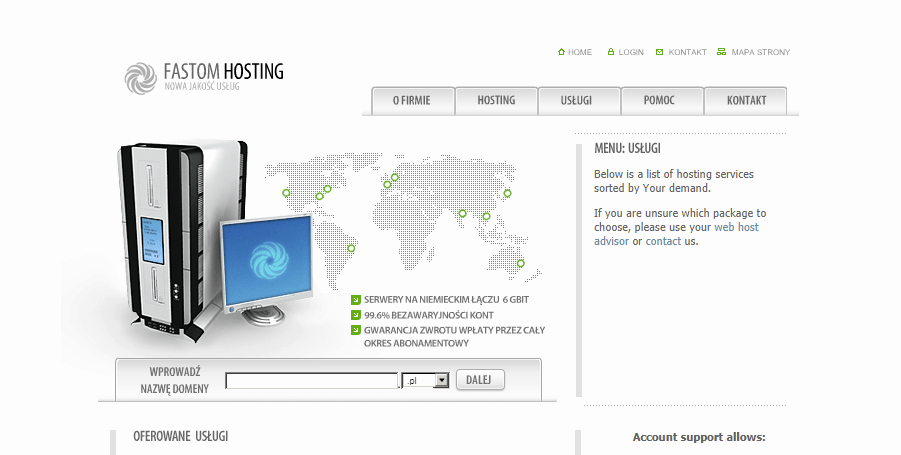 Fastom.pl is a hosting platform that's owned and operated by CertaIT Andrzej Nawrot. It was founded in 2001 and has served over 790 customers with web hosting, virtual private servers, dedicated servers, and domain registration services.
The company also provides web development, SEO, and advertising services. Its website is in Polish only and its servers are located in Munich, Germany.
Features and Ease of Use
You can send a message to the sales team to configure hosting features that correspond to your needs. Alternatively, there are six shared hosting plans that you can consider, which are suitable for personal blog and small business websites. These are some of the features on offer:
99.6% uptime
Weekly automatic backups
Unlimited add-on domains
Up to 70GB monthly transfer
Fastom.pl's provided storage space is very minimal with the starter plan providing only a meager 100MB. If you have a simple HTML website, you should be fine with that, as long as you don't plan on adding large media files. However, if you're going to use a CMS, host media files, and publish posts regularly, that storage space won't do.
The next three plans also provide very little storage space. I would only advise starter simple websites to subscribe to them.
Fastom.pl provides the cPanel management tool to customers. It's simple, organized, and easy to use and shouldn't pose challenges to beginners to web hosting. Also, there's a large community of users of the control panel, so help is easy to find if you don't want to contact Fastom.pl.
For databases, customers get MySQL and PHPMyAdmin to manage the SQL databases. The programming scripts that it supports are PHP, Perl, and GGI. All of these are features that mostly only experienced webmasters can handle.
If you're a beginner, you may feel left out because there's no website builder tool. You'll have to either learn how to write HTML or pay a whiz at website design to handle that for you. For those looking to use CMSes like WordPress, the option provided for installation is manual, which means that you'll have to dabble with databases and the file manager as there's no auto-installer.
Fastom.pl provides unlimited email accounts with any of the hosting plans. Also, it protects customers from virus and spam messages with its anti-virus and anti-spam scanner.
Pricing and Support
Fastom.pl shared hosting plans are affordable, but some of the plans are higher-priced than you will get for the same features from the company's competitors. For example, the Plan Zloty is offered at a price that many other hosts offer for five to ten times more features.
The prices are all listed in Polish zloty. The minimum subscription period differs based on the plan; you can pay for six months as the minimum order period on the first three shared hosting plans, while the top three allow one-month subscriptions for a minimum order.
There's no knowledge base but there is an FAQ section that might help. Through it, I was able to get the nameserver information, but it's not a full tutorial. Customer support is available through phone and email only. I sent an email but never got a response, despite waiting for more than three weeks.