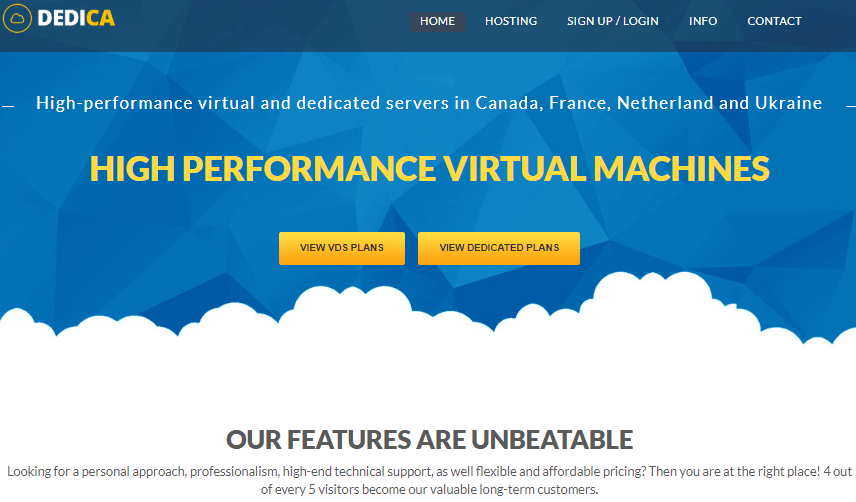 Dedica
has been providing
reliable and affordable
hosting solutions to its Canadian customers and international customers since 2011. With datacenters in four countries, Canada, Ukraine, Netherlands and France,
Dedica
offers unparalleled VPS and Dedicated server hosting services with an
excellent customer support
record.
Features and Ease of Use
Dedica provides its customers a great platform to run their businesses or manage their personal websites and applications. Some of the tools and features they have in their arsenal include:
9% network availability
Unmetered bandwidth
HDD/SDD storage space
CP ISP Manager Lite v5
SSD storage
24/7 monitoring
Free 100Gb backup
One of the things I was impressed with is how fast the servers took to come online. Within minutes of purchasing a package, I could already use it. The high-performance hardware, which includes SSD storage and fast uplinks connection, makes great load times for the users. This is by far one of the greatest activation times out there. The SSD drives are optional for the dedicated servers. You can trade them for a larger HDD space.
Do you have your website or application hosted somewhere else? With Dedica, they provide a free website transfer. I had several sites that I needed transferred and the technical support team helped me to do quickly. The best part is that during this whole process you won't experience much downtime.
When you order a dedicated server or VPS, you will get remote access to your machine via IP-KVM. Dedica gives you complete access to a custom control panel that lets you manage the different aspects of your hosting. This can be a little intimidating at first but once you get the hang of it, it is pretty much straight forward. They also support different languages to cater for clients from different parts of the world. I would definitely say it is simple enough for the everyday guy to get around.
Pricing and support
With Dedica, you can say goodbye to long-term contracts that tie you down. They have a monthly billing cycle for all their products. They also offer competitive prices for their packages both for their VPS solutions and the dedicated server solutions. I wouldn't worry too much about their pricing as the speed, reliability and hardware they use is quite good. Scaling up or down between the packages is easy. You may want to take advantage of their full server management service if your hands are tied.
Dedica has one of the best customer support response times out there. Their team is both friendly and professional. Once you launch a support ticket or get to their live chat, you can expect help within minutes.  You also have the option to send an email or call their support phone number besides sending a Facebook message. And since they fully monitor their systems, you can count on them to resolve hosting issues before they knock your website offline.