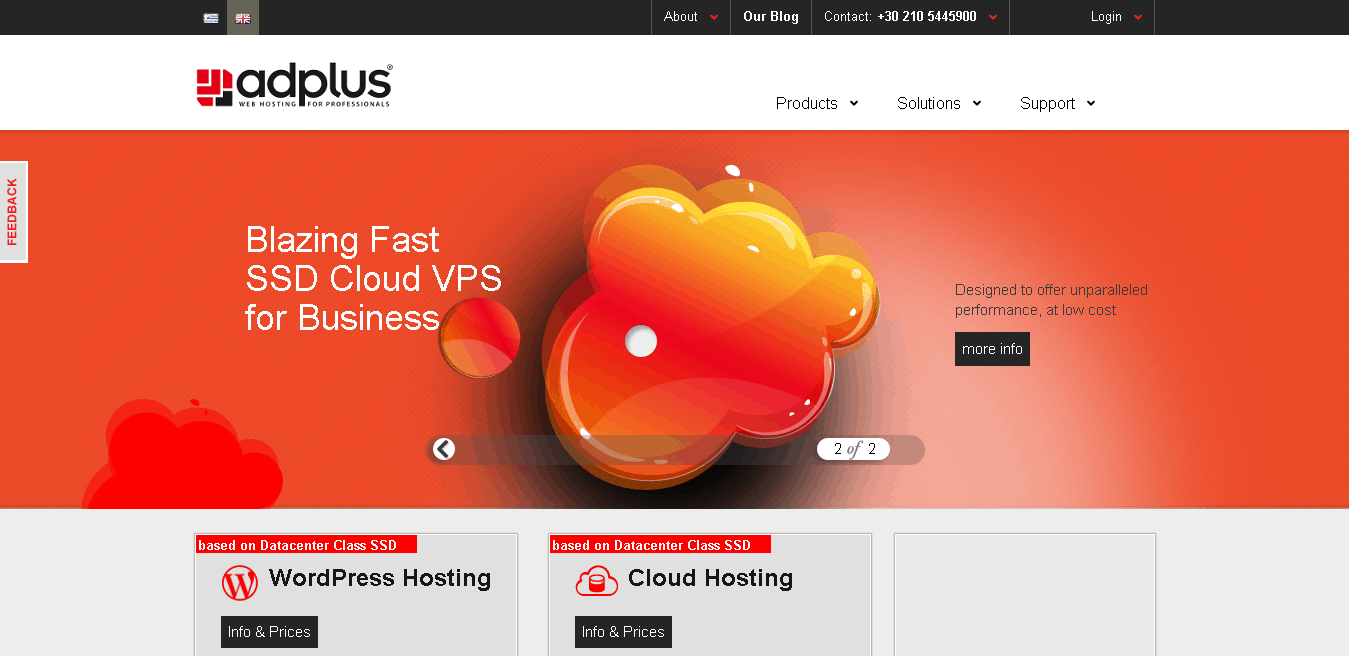 AdPlus was founded in the year 2000 as a website development company that quickly pivoted to become a hosting provider. They serve thousands of websites from
Greek data centers
, but their website is in English as well as Greek.
Features and Ease of Use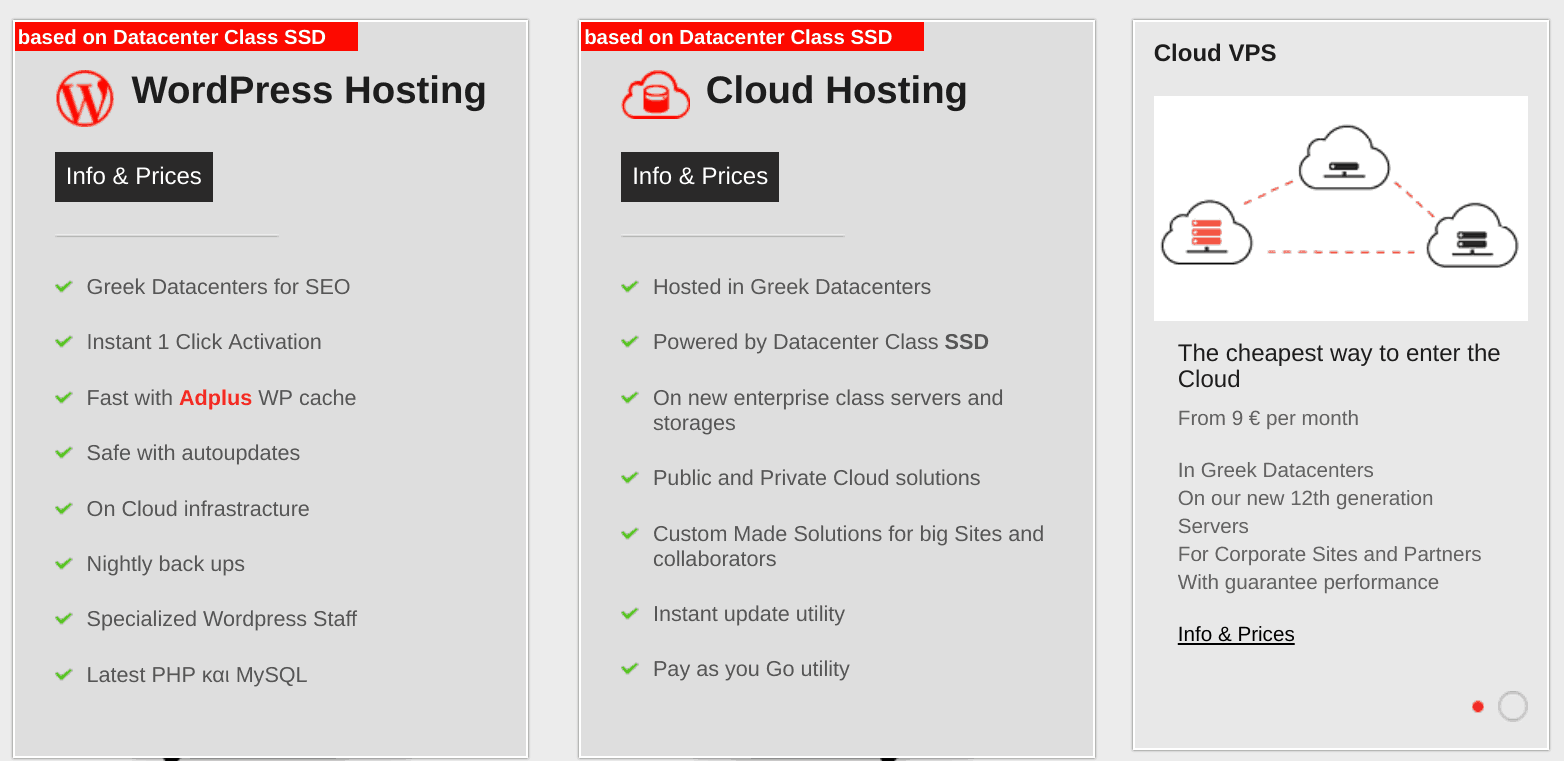 AdPlus sells a comprehensive selection of services including shared website hosting, WordPress hosting, dedicated servers, virtual private servers, and cloud management. They also provide other website solutions such as e-commerce hosting, CRM hosting, and high traffic hosting.
To give you an idea of their services, their shared hosting plans come with the following features as standard:
99.9% uptime guarantee with SLA
Automatic backups performed at night, every night
Servers colocated in Greek data centers
One-click activation for instant setup
From one to ten domains per plan
Between 10 GB and 20 GB disk space
1 TB of traffic per month on all plans
Considering they are such a well-established company, the AdPlus website is actually quite empty, so it's hard to learn a huge amount about their network or servers except that they are based in Greece, which is no doubt good news for Greek customers. They have built their own cloud-based infrastructure with solid state disk drives (SSD) for much faster speeds than traditional drives. And they have a team of on-site engineers.
Unlike many companies that advertise an uptime guarantee but don't actually back it up with any kind of compensation plan, AdPlus has a 99.9% uptime guarantee SLA that offers credits for excessive downtime. Hopefully, I've saved you some time by reading through all their fine print to find this out!
For experts, they say that they offer the latest version of PHP. They don't state the actual version number, so I can only assume that they keep up with all the updates. For beginners, they offer one-click WordPress setup and specialist WordPress staff.
Pricing and Support
AdPlus prices are quite high compared to both local Greek companies and also international competitors. However, you may be willing to pay the extra cost if you're looking specifically for SSD-based servers in Greece. Beware that prices are exclusive of VAT, and domain registration and SSL certificates cost extra.
Hosting can be purchased on monthly or yearly terms, with generous discounts for the yearly options. There is no free trial but there is an anytime money-back guarantee that is more generous than you get with most other companies.
Customer services can be contacted by telephone, email, and live chat, but they do not clearly advertise their hours of business. To make matters worse, a security error blocks me from accessing their live chat because (apparently) their SSL certificate is invalid. Unless it's my mistake – which is quite possible – then this could be quite off-putting for a company that supposedly specializes in supplying SSL certificates.
How much does AdPlus cost?
AdPlus offers plans from $6 to $17. The price depends on which type of hosting plan you choose. You can see the updated pricing table (updated weekly) below.

Which AdPlus plan should I get?
My recommendation is to start with a cheaper plan. You can always upgrade later on. AdPlus can help you with the migration to a more expensive plan. The increase in visitors many times takes longer than expected and you shouldn't pay a lot of money until the need arises. Of course, your needs may vary, and you can consult with a hosting expert from AdPlus
here
.
How good is AdPlus's customer support?
AdPlus is not ranked as one of our top web hosts. But that can also be a result of AdPlus being a small, under the radar, hosting provider. There are advantages to a small hosting company – as a customer, you are more important to them. You can also check out our comparison of the
most popular web hosting services here
.