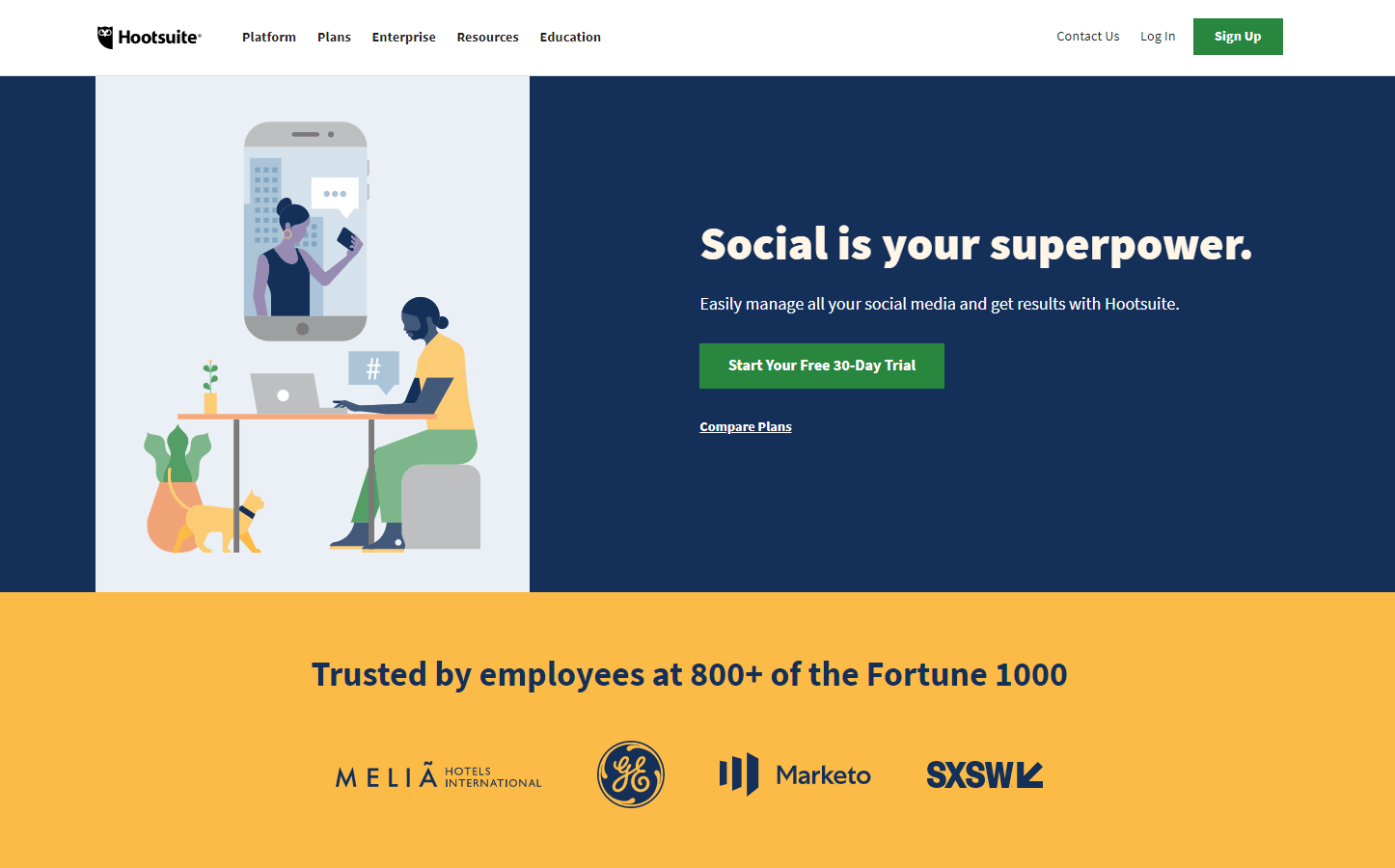 Hootsuite – Helpful or Hyped?
Hootsuite is a great tool, but in order to stay on top of your marketing game, you need to have a strong social media strategy in place. As an SMB you might not have the time or skills to build one yourself but for the price of a business lunch, you can
hire a social media expert on Fiverr
 that will take your business to the next level.
When you're talking about the best social media management tools, the name Hootsuite is bound to come up. And that's not a surprise – it's been around for a while, and many individuals and businesses depend on it. But does this mean it's the best?
We've tested the best social media tools. Our Hootsuite review will help you decide if this tool is the right one for you.
Hootsuite launched in 2008 as a way to manage multiple social media accounts. Initially, it worked mainly as a tweet scheduler, but it has added more social media services over the years. If you're looking for a Facebook scheduler, Instagram scheduler, or Pinterest scheduler, Hootsuite will work for you.
Currently, Hootsuite supports Twitter, Facebook (profiles, pages, and groups), LinkedIn (profiles and pages), Instagram (business and personal profiles), Pinterest, and YouTube channels. It also supports Google My Business through the Hootsuite app directory.
Is Hootsuite free? Well, yes and no. One of the best things about Hootsuite is that it has a free plan. That gives a single user a social media dashboard for three social accounts. Plus, you can set up a social media posting schedule, with up to 30 messages scheduled in advance.
But if you need to schedule content for more than three profiles – and what business doesn't? – you'll need one of the paid Hootsuite plans. One cool feature when you upgrade is that there are no more limits, which means you get unlimited social media scheduling.
Hootsuite Professional lets a single user manage ten social media profiles, while Hootsuite Team lets a group of three manage up to 20 social media profiles. This is the plan our review will largely focus on. But don't worry – if you're not sure which one to choose, all paid plans come with a 30-day free trial, so there's plenty of time to test out Hootsuite's automated Facebook post scheduler and other social media scheduling tools.
Hootsuite also has an employee social media advocacy tool, Hootsuite Amplify, although that's not part of this review.
In the past, I've found Hootsuite's interface kind of dated and clunky, although it recently had a refresh. But is that enough to eliminate the competition from Hootsuite alternatives? More importantly, will Hootsuite work for you and your business? Read this in-depth review of Hootsuite's features to find out.
We tested this tool as part of a larger project rating all of the top social media management tools.