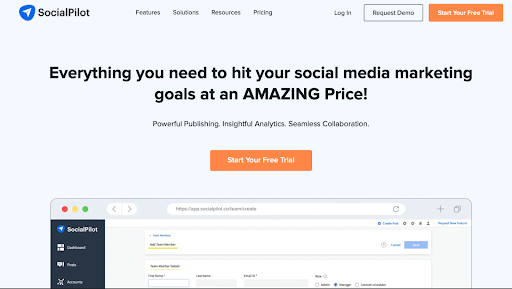 A Solid Social Media Scheduler, but Does It Do Enough?
Compared with other social media management tools for teams and agencies, SocialPilot has a good reputation. Many SocialPilot reviews talk about how easy it is to use compared to other agency social media scheduling tools.
SocialPilot supports all the major social media networks, making it a useful all-round social media dashboard. You can create and schedule posts for Facebook, Twitter, Instagram, LinkedIn, Google Business, Pinterest, TikTok and YouTube.
That means it works well as a Facebook scheduler, Pinterest scheduler, tweet scheduler, or Google Business post planner.You can even schedule short-form video content such as Instagram Reels, YouTube shorts, and TikTok videos – although not that TikTok videos can't be scheduled directly.
SocialPilot is a great tool, but in order to stay on top of your marketing game, you also need a strong social media strategy in place. And while you might not have the time or skills to build one yourself, for the price of a business lunch, you can
hire a social media expert on Fiverr
 that will take your business to the next level.
SocialPilot's social media tool has five plan offerings: Professional, Small Team, Studio, Agency, and Enterprise:
The Professional plan lets you manage 10 accounts.
The Small Team plan lets 3 team members manage 20 social media accounts.
The Studio plan lets 6 team members manage 30 social media accounts.
The Agency plan lets 9 team members manage 50 social media accounts.
The Enterprise plan is fully customizable, based on your company's needs. You'll need to schedule a phone call to discuss the plan.
There's a 14-day free trial (no credit card required) with all plans. While there's no free plan, that's more than enough time to test all of SocialPilot's features.
In this in-depth review, I'm going to test SocialPilot's Studio plan to see whether it's the right social media dashboard to meet your business needs.
I tested this tool as part of a larger project rating all of the top social media management tools.