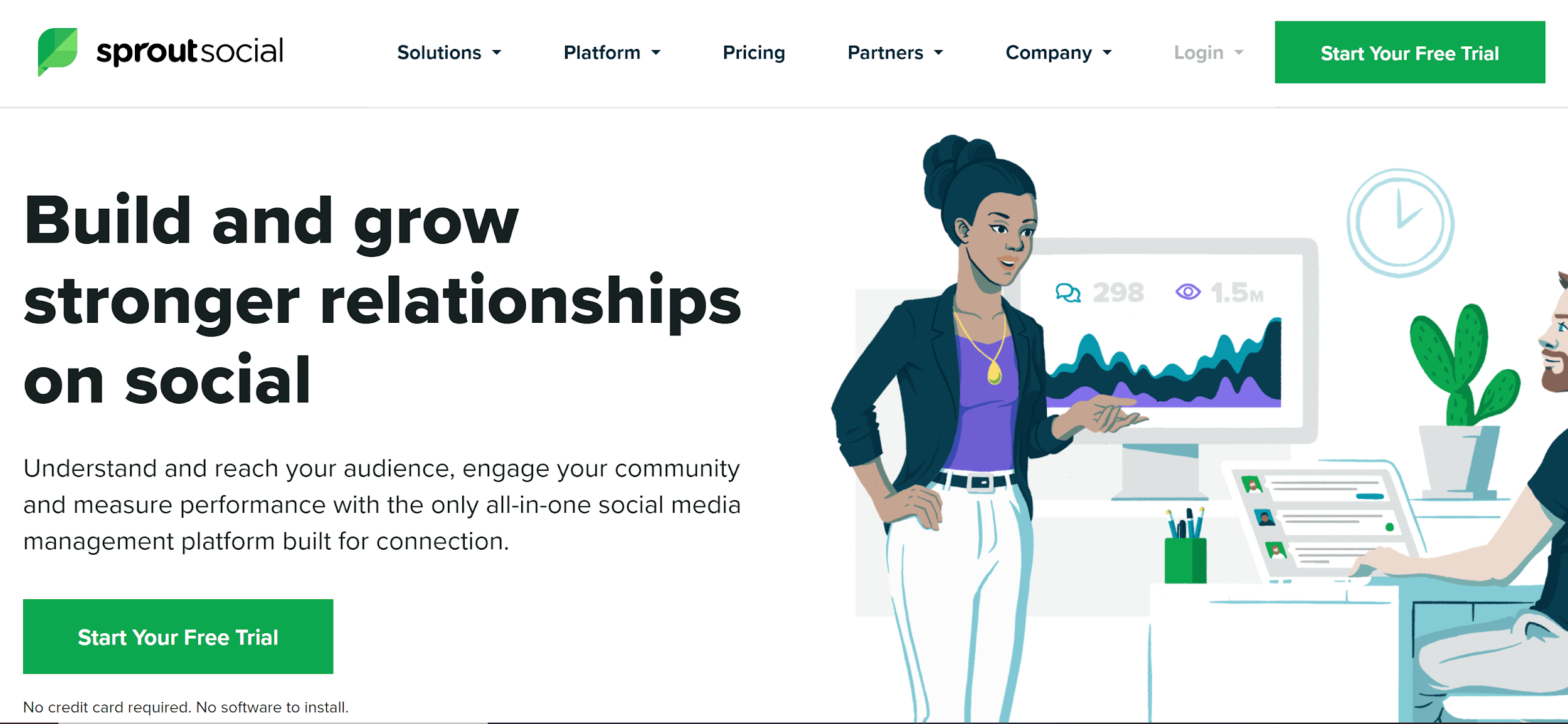 A Pricey Social Media Dashboard for Businesses
Sprout Social is a great tool, but in order to stay on top of your marketing game, you need to have a strong social media strategy in place. As an SMB you might not have the time or skills to build one yourself but for the price of a business lunch, you can
hire a social media expert on Fiverr
 that will take your business to the next level.
Founded in 2010, Sprout Social is absolutely one of the best social media management tools for businesses and brands. In fact, business users are its main focus, and it currently has more than 20,000 customers.
There's one thing we should state up front: Sprout Social is not a cheap option. Although, that's the case with many of the best social media tools available today.
The good news is that there's a risk-free Sprout Social free trial. You get 30 days to test it out, and you don't even need to supply your credit card information.
Unlike tools like Hootsuite and SocialPilot, Sprout Social doesn't have a team plan. Instead, you pay per user, per month. You can manage up to five social media profiles with the Standard plan, and ten with the Professional or Advanced plan.
Sprout Social can be used as a:
Facebook scheduler
Instagram scheduler
Tweet scheduler
Pinterest scheduler
The app supports automated Facebook posting, plus posting to Twitter, LinkedIn, Instagram, and Pinterest. You can also use chatbots with Facebook Messenger, and can monitor Google My Business and TripAdvisor reviews via Sprout Social integrations.
Most Sprout Social reviews report that it is an excellent social media tool for business, but there are two important questions to ask:
First, is it really worth the hefty price tag when there are more affordable social media tools out there?
And second, is Sprout Social the right social media management tool to address your distinct business needs?
We're going to test out the Advanced plan. And, by the end of this Sprout Social review, you should have the answers to these questions.
We tested this tool as part of a larger project rating all of the top social media management tools.