Hootsuite
is the leading social media management tool, there's no doubt. However, that's not to say that it's the right fit for everyone.
The interface is not as sleek as
Sendible
and it's overly complex for some situations. If you've read my
in-depth review of Hootsuite
and you are still undecided, perhaps you're worried about the price or you're not sure if whether the "streams" interface is suitable for your business needs, there is a fully functional 30-day free trial to help you get started. When you sign up for a free trial with Hootsuite, unlike other companies,
you have to enter your credit card details
. It's not a huge deal, you won't get billed until the end of the 30-days, but you do need to remember to cancel your account if you decide not to stick around at the end of the trial period. Also, if for any reason you've forgotten to cancel your account, the
website claims that refunds will be issued within 30 days of your subscription start date
, although I wasn't able to test this.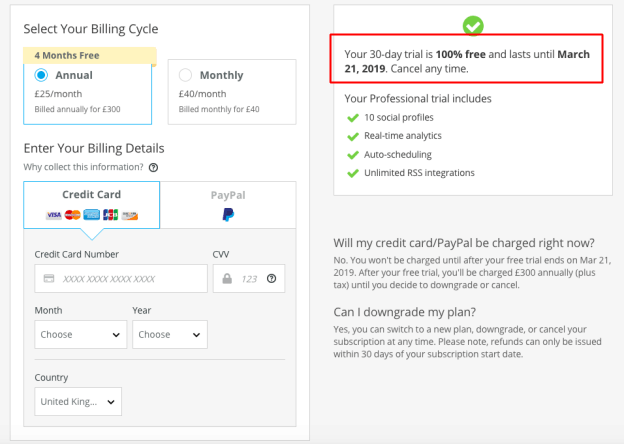 When you create an account, you will receive a series of visually appealing onboarding emails which include help documents and tutorials relating to Hootsuite's features. During the trial period,
you can cancel, downgrade, or upgrade at any time
, although it is recommended to do so five days prior to your next billing date – just in case. If you don't want a refund, it is really
easy to cancel an account
. Select Account Removal from inside your Profile tab and click Remove Account. After leaving some feedback, your account will be deleted completely.
It's as simple as that
.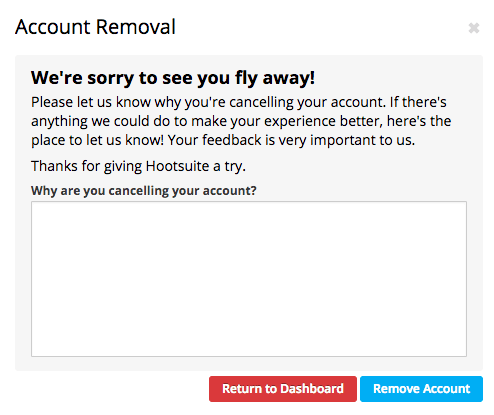 As well as offering a free 30-day trial of the paid plans, there is a
freemium version which includes three social profiles, thirty scheduled messages, and one user
. Overall, even by Hootsuite's admission, it is "limited". Therefore, to be able to test whether the plans meet your business needs, you are likely going to have to test one of the two lower-tier plans, Professional or Team. Both are
fully functional trials, which means you get 30-days to test all of the features included
in the specific plan. Take a look at their pricing plans before you get started though and see which one works best for you.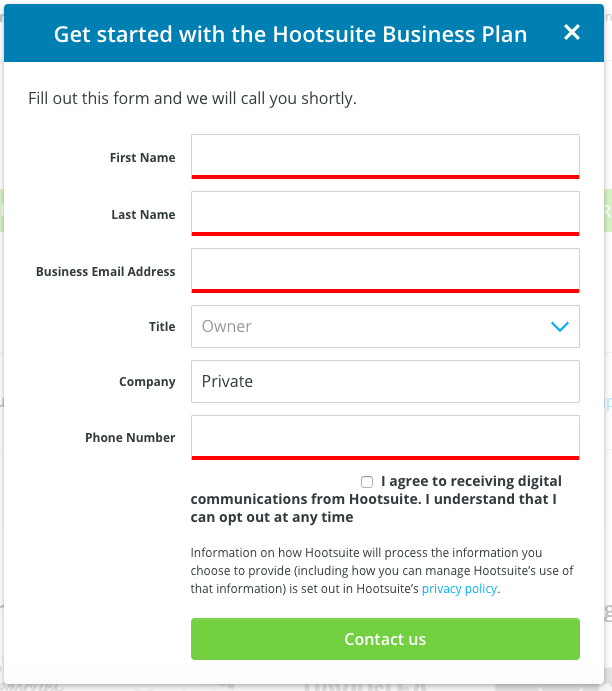 The value-added features in these plans are certainly geared towards larger agencies and are more hands-on services offered by Hootsuite
, so I can understand why they wouldn't be included in a free. The features include flexible approval workflows, one-on-one onboarding, five social media certifications, 24/7 support, and ad spend limit of £4,000 per month to boost posts.
Conclusion
Overall, Hootsuite is an easy company to deal with. It's really straightforward to trial the lower tier plans risk-free, which gives you more than enough time to test the platform against your business needs.
Read more about Hootsuite here
. The only slight downside is the lack of a free trial for potential "Business" customer, however, you can take advantage of the demo and test the lower tier plans to get a good overview of the system, without missing too many of the day-to-day features you'll need. Hootsuite is a comprehensive all-in-one solution, but it is overkill for some agencies. If you're looking for a simpler solution, I'd recommend reading this
Buffer review
.