In reality, no one can offer infinite storage space, bandwidth, databases, or any other resources.
 These plans
always
come with limitations. Does that mean unlimited hosting is always bad? Absolutely not. The phrase might be sketchy, but the hosting itself
can
 be good. So long as you know exactly what you're getting (each provider has different limitations),
you can use an "unlimited" plan to host multiple low-traffic websites at a really low cost.
That said, you have to be careful. A website with decent traffic can easily exceed the limitations of unlimited shared hosting, and hosts aren't always reasonable when you do exceed these limits. Some let you off with a warning and a nudge to buy a more expensive plan, but others will shut down your account altogether.
At Website Planet, we exhaustively test the most popular shared hosting providers, and we often push the limits of their plans.
 In this guide, I'll tell you what those limits usually are, how you can avoid exceeding them, and which hosts have the best "unlimited" plans.
An Overview of Unlimited Hosting: Busting the Myths
Budget-friendly hosts often promise "unlimited hosting" on their low-cost shared hosting plans.
 They're usually talking about unlimited storage space, bandwidth, databases, email, and/or the ability to host an unlimited number of websites. But there's a twist. "Unlimited" doesn't mean the same thing for you and me as it does for these hosts. In everyday language, "unlimited" means without limits.
In hosting terms, it means unlimited… as long as you stay within certain limits.
 It's weird, I know, but for most hosts it's a useful marketing tool. People like to see "unlimited," so providers use the term to increase their sales. Take
Bluehost
, for example, one of the first budget hosts to offer unlimited hosting. Looking at its plans, you'd think several of them included unlimited websites and storage: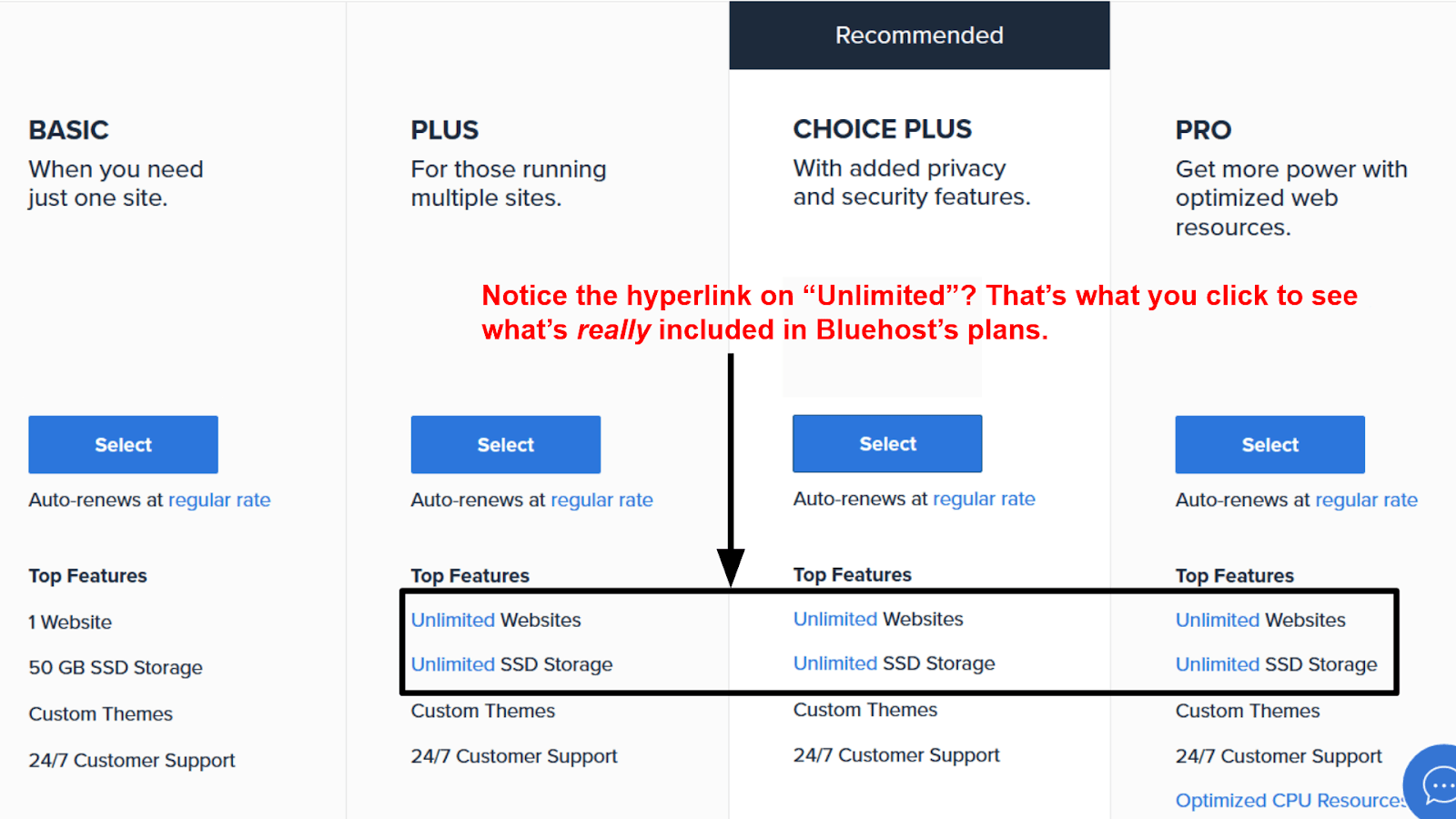 Once you actually click on "Unlimited," you get Bluehost's
unique
definition of the term: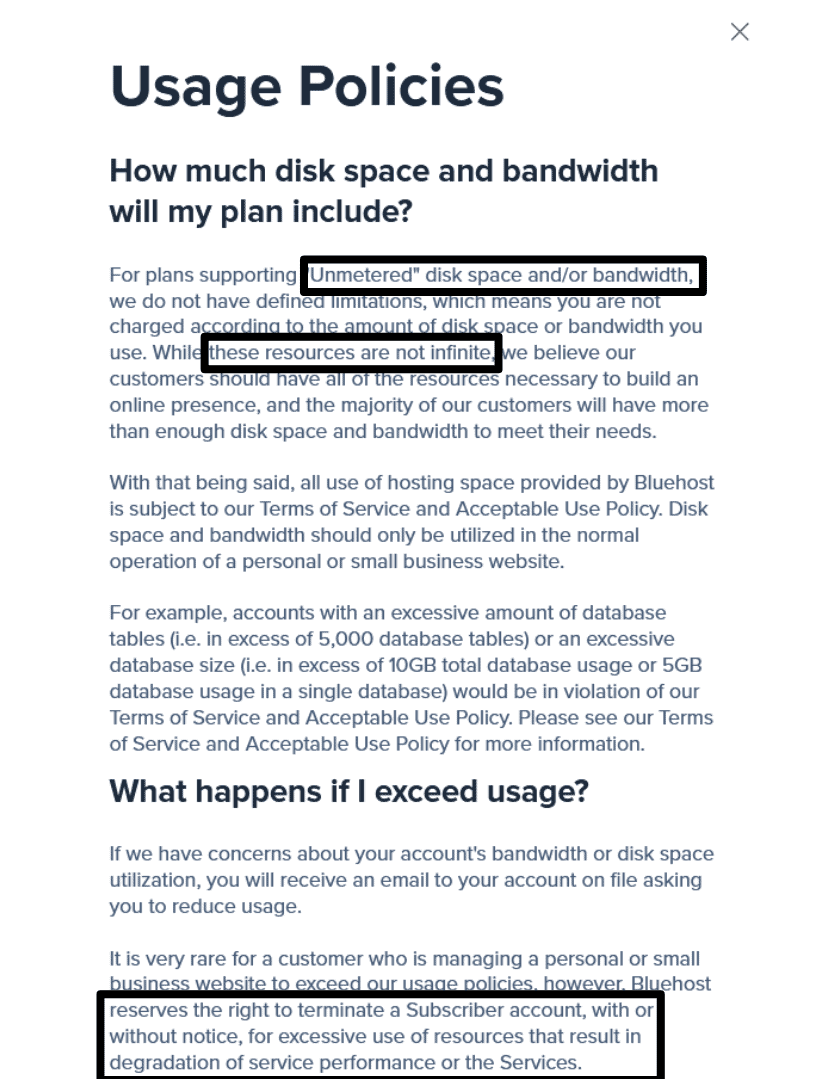 Turns out there's no such thing as infinite storage or bandwidth
. If you don't comply with the limitations set out in Bluehost's Terms of Service, the host can pull the plug on your account, with or without notice.
 Yeah… Bluehost is one of
those
 hosts. But it's not the only provider with such terms. Here's
HostGator
claiming to offer "unbeatable hosting" with unlimited storage and unmetered bandwidth (
more on the distinction between unlimited and unmetered later on
):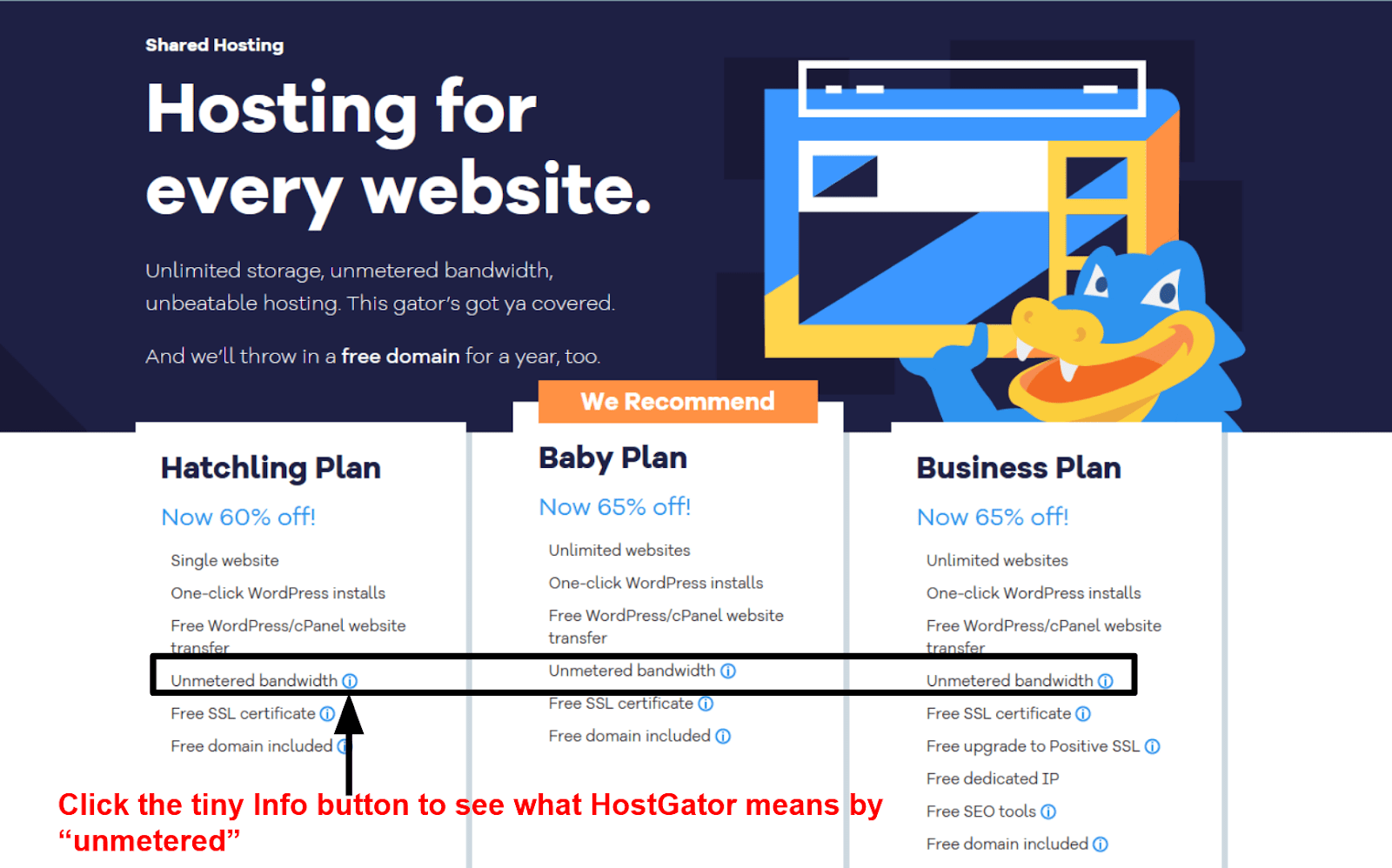 Click the button for more information, and you get a similar disclaimer. At least HostGator promises to send you a warning if you exceed its limits: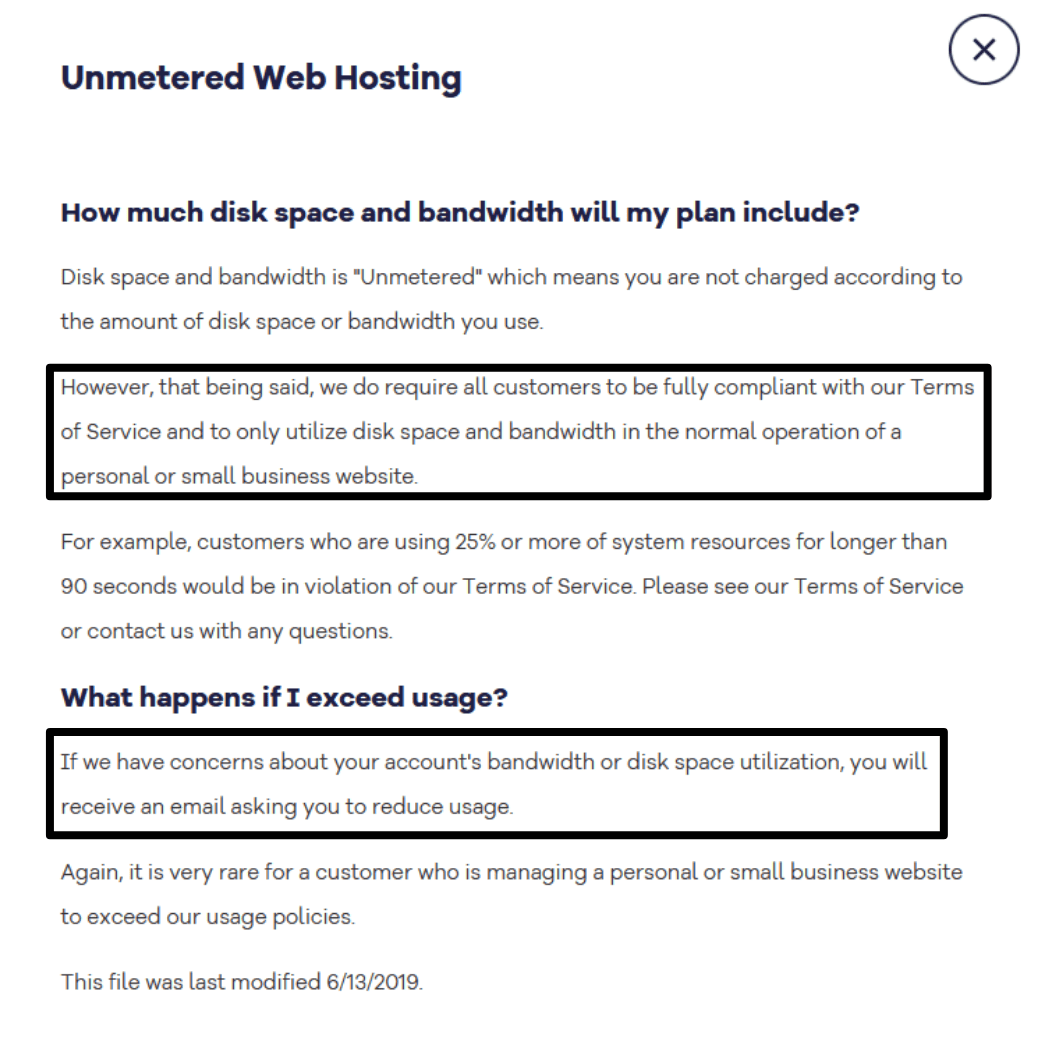 HostPapa
has a similar approach. Two of its shared hosting plans are supposed to include unlimited storage, email, and bandwidth: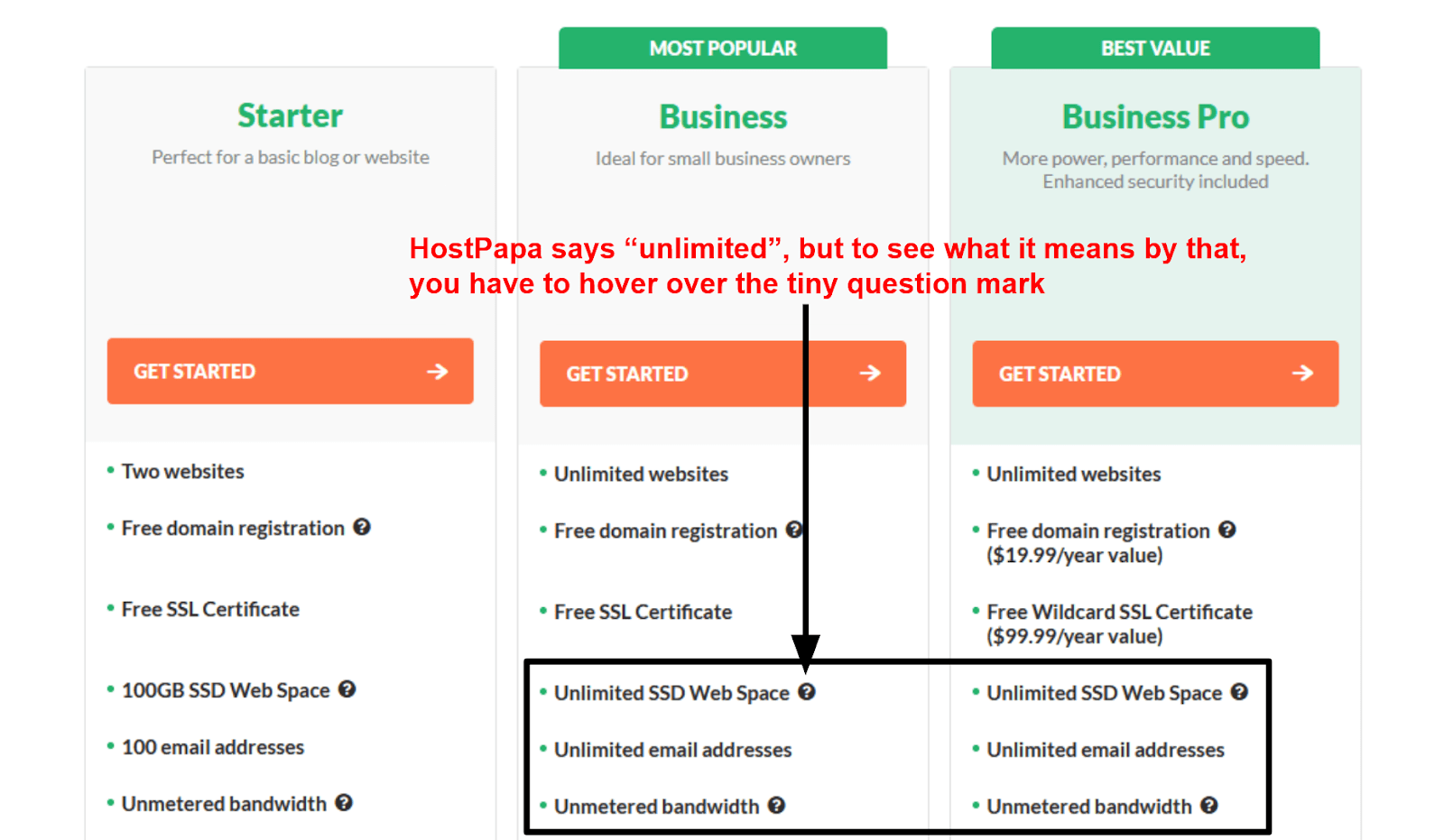 But if you hover over the question mark next to these resources, you get more or less the same explanation. Everything is unlimited… so long as you don't affect the "stability" of the server: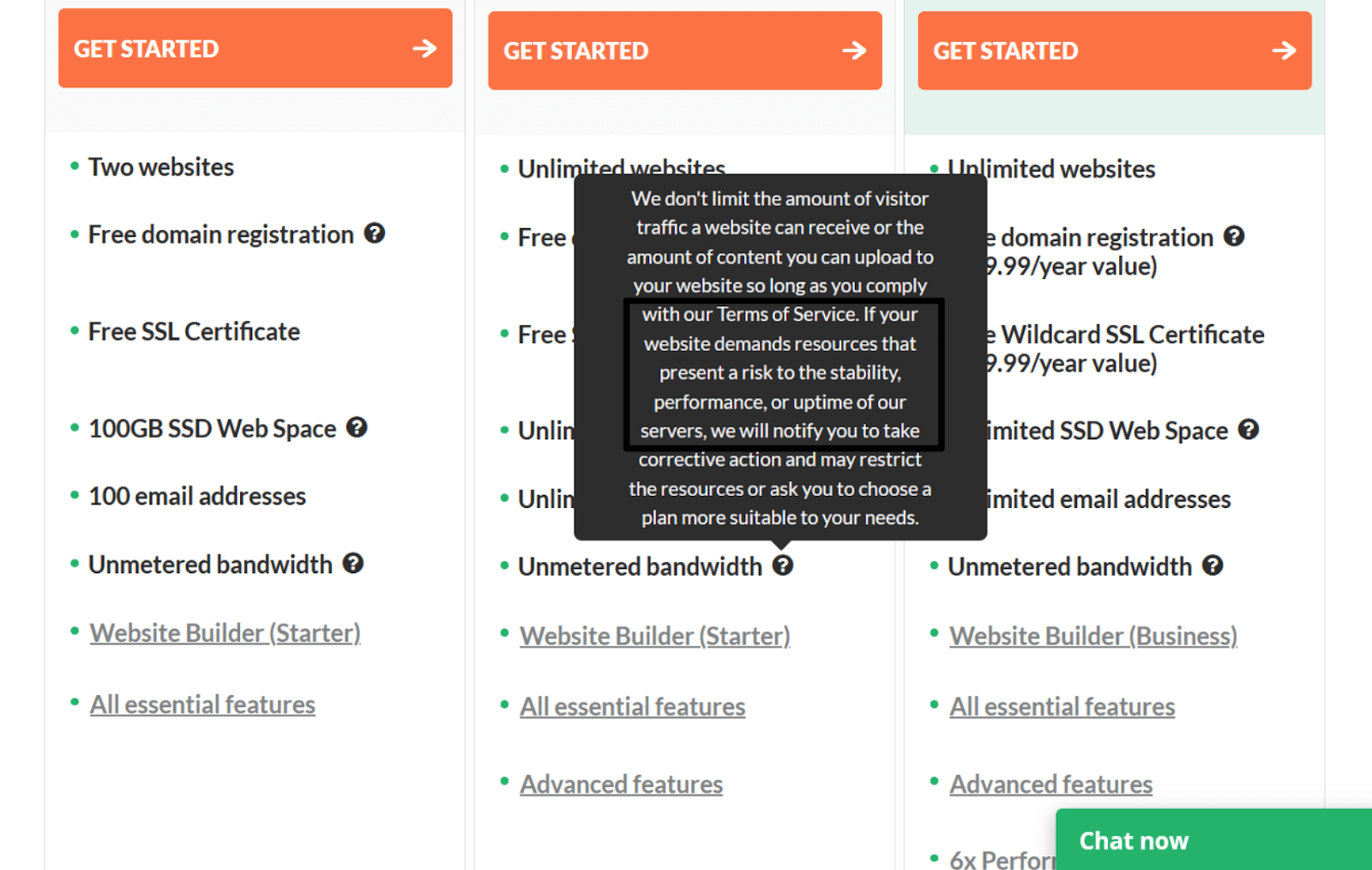 Bandwidth and storage aren't the only limitations in place with most hosts.
 The amount of CPU and RAM you can use is also often restricted, and each host has different policies on this. Now, just to be perfectly clear,
the fact that "unlimited" hosting is actually limited doesn't make it useless.
Most websites don't
need
an infinite amount of storage or bandwidth. In fact, they use very little of either. If you want to host a personal blog, portfolio, or business landing page, you probably won't have to worry about any of these restrictions. But if you have an online store, you might run into trouble. I'm not saying you shouldn't use shared hosting, but you should
always
check the Terms of Service before you sign up. Hosts can make it difficult to find specific information about their resource caps. However, there are a few key things you can look out for.
What Hosts Really Mean by Unlimited Hosting
Each host has its own definition of "unlimited hosting," and this makes it all the more difficult to find out what you're actually getting with your plan. To make things easier,
I read through dozens of Terms of Service agreements and put together some of the most common tricks to keep users in check.
 If you're going to pick an unlimited hosting plan, these are the things you should keep an eye out for.
There Are ALWAYS Limits
When you buy a shared hosting plan, you get access to a server with a finite amount of storage space, bandwidth, CPU, and RAM.
 But the server isn't yours alone. You share it with dozens, or sometimes hundreds, of other users, and this can have a direct impact on your website's performance. If one of your neighbors takes up a lot of bandwidth, for example, that can really slow your site down.
To make sure that every user has a decent experience, the host has to impose restrictions on all accounts.
That means it's impossible
for any shared hosting plan to offer truly unlimited resources.
The question is – what are each host's limits, and how will they affect your website?
For that, you have to dig into the host's Terms of Service. And when you do, you'll notice that most providers don't state restrictions clearly. Instead, they use some or all of these technical terms to describe their "unlimited" hosting:
CPU core – This is the part of the CPU that processes instructions. A server with multiple CPU cores can process more instructions at a faster pace. When you use shared hosting, you're usually limited to only a fraction of a CPU core.
CPU threads – Physical cores can be further separated into virtual cores or threads. A CPU with four cores, for example, could provide eight threads. Each thread can work on a separate task at any given time but has less processing power than an entire core.
RAM – This is a server's short-term memory; it temporarily holds information that the server needs in order to carry out processes quickly. The more of it that's available, the more instructions that can be processed at the same time, and the more traffic your website can handle without slowing down.
MySQL database – All of the information used to generate your website is usually stored in a MySQL database. Each website needs its own database, so if a host limits the number of databases you can create, it also restricts the number of websites you can host.
Database tables – Databases are organized into different sections called tables (like files in a cabinet). A WordPress website creates 12 tables by default, but you might need more depending on the complexity of your site.
MySQL queries – These are instructions issued by MySQL to retrieve certain information from a database server. For instance, when a user clicks on your site, WordPress uses a certain number of MySQL queries to generate web pages. A limited number of queries means that fewer users can load your website at a time.
Inodes – Linux uses inodes to store information about each file on a server. When a host restricts the number of inodes you can store, it essentially limits the number of files and directories on your account. To give you some context, a WordPress website that's regularly updated with new posts will likely need about 30,000 inodes several years after its launch.
A host can limit any of the things listed above – and more.
Should you care? Well, here are a few examples of restrictions that could affect your website.
Remember Bluehost's plans with "unlimited storage"? There's actually a limit on the number of inodes you can have per account. According to Bluehost's Terms of Service, you can't exceed 200,000 inodes:

Now, 200,000 seems like a decent amount, especially if you only host one website. But Bluehost indicates a much lower limit elsewhere on its site:

What exactly is a "soft limit"? I couldn't get Bluehost to say. But it could be, for example, that Bluehost doesn't create backups of accounts with more than 50,000 inodes. Or it could be anything else. And inodes aren't the only restricted resource.
CPU usage, RAM, processes, and bandwidth can all be limited if Bluehost thinks your website is negatively impacting the server:

No one knows when exactly these limits are enforced. Bluehost is once again vague, and that's a big problem. Because
while all shared hosting is limited, you can't know if a plan is right for you if the restrictions aren't clear.
I always prefer hosts that are more transparent. For example,
Hostinger's
 resource usage restrictions are included right on the pricing page.
 A maximum of 1 CPU core and 1GB of RAM isn't much, but at least you know what you're getting:

HostGator also does a better job at disclosing the restrictions on its "unlimited" shared hosting.
 You won't find the limits on the pricing page, but they are clearly explained in the Terms of Service. For example, HostGator says you can't use more than 25% of the server's allocated CPU for longer than 90 seconds at a time: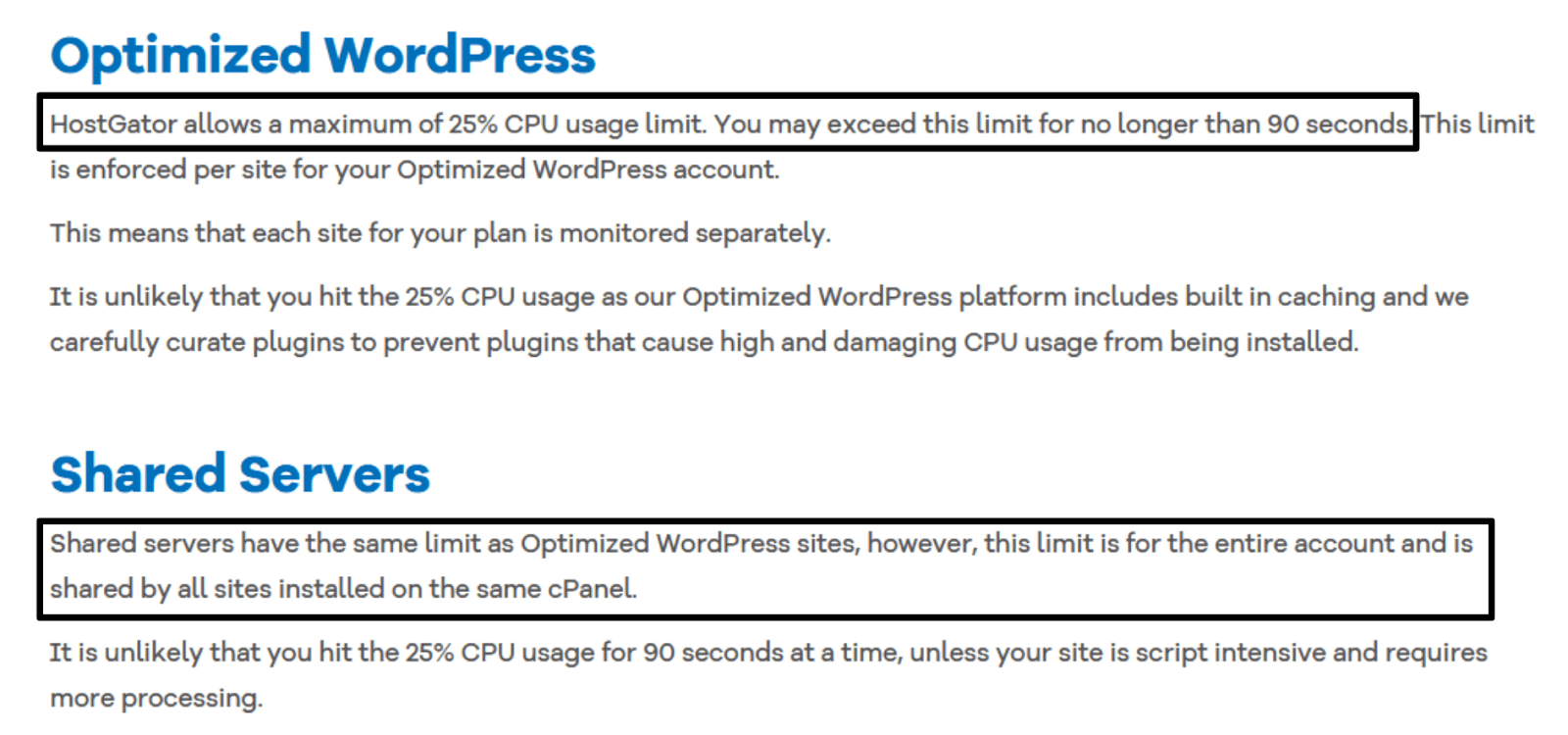 In addition, you can't run more than 25 simultaneous processes per cPanel account: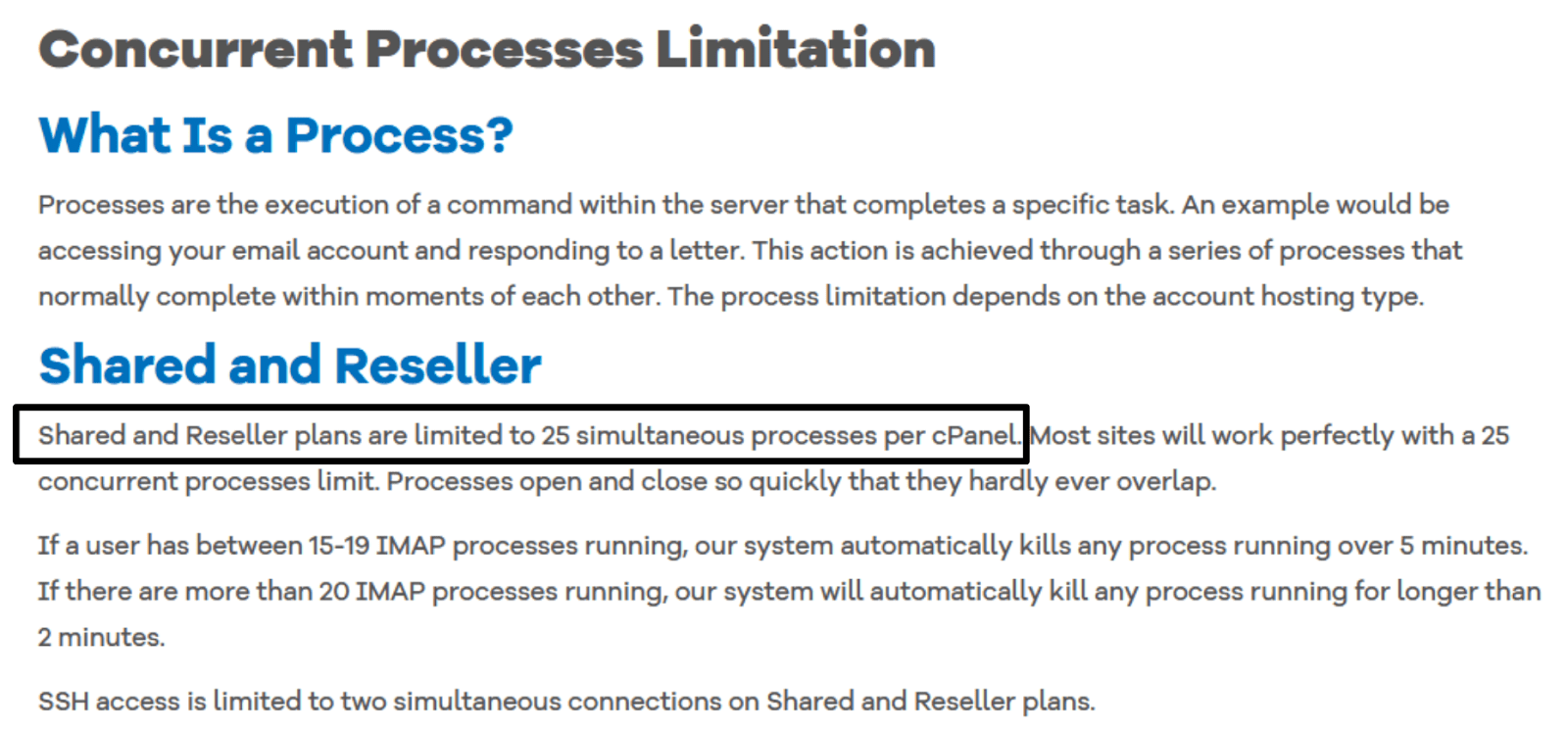 For a low-traffic website, that's perfectly fine. However, process limitations are problematic for online stores,
 because users don't just browse for products on these sites. They also add items to their carts, pay for orders, and leave reviews, all of which can contribute to a higher number of processes. HostPapa's resource usage chart gives us even more examples of possible restrictions. For instance,
"I/O usage" refers to the amount of data transferred between your website and the host's storage disk per second.
 The higher this number, the faster your website will be: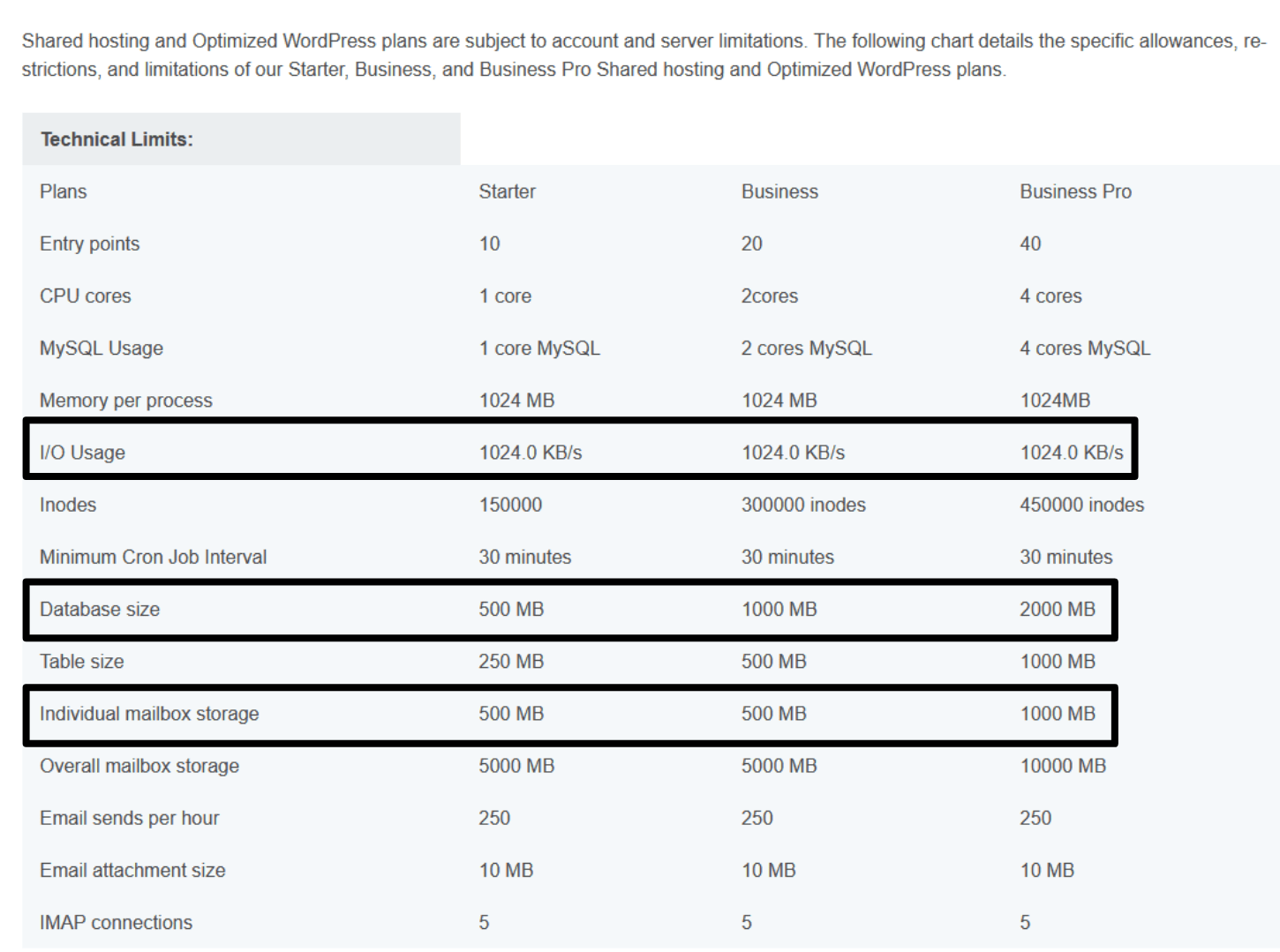 Like HostPapa, most providers limit I/O usage to 1MB/s (or 1024KB/s), which is a decent standard.
 That said, some hosts impose less generous restrictions, and this can significantly slow down your site. You'll also notice that
while most HostPapa plans come with an unlimited number of databases, the size of each database is limited.
 A regular WordPress website needs about 200MB of database storage, so it would work fine on HostPapa's Starter plan. But more complex sites with a ton of content need more storage, and this can force you to upgrade to a more expensive plan. Then there's "unlimited" email hosting, which is often advertised with shared hosting plans. Spoiler alert: It's not unlimited.
If you want to set up a professional email address @yourdomain, make sure to take a look at the host's email storage cap.
With HostPapa, for example, you get 100 email addresses on the Starter plan, which might sound like a lot more than you need. However,
each mailbox is limited to a meager 500MB of storage, and the overall mailbox storage is capped at 5GB.
Upgrading to the Business plan allegedly gives you "unlimited email." Compared to 100 email addresses, it sounds like you're getting a better deal, right? But as you can see in the resource usage chart, you get the exact same amount of storage: 500MB per mailbox, and total mailbox storage of under 5GB. Compare this to
InterServer's Standard shared hosting plan
, which comes with unlimited email addresses and 25GB of storage
per mailbox
.

These are just some examples, but my point is this: "Unlimited hosting" is never actually unlimited.
If a host advertises unlimited anything, head over to the Terms of Service to find out what you're actually getting.
Overselling
Overselling is the practice of selling more server resources than a server actually has.
 Let me explain. When you buy a shared hosting plan, you're allocated a certain amount of storage space, bandwidth, CPU, and RAM. But if you host a simple WordPress website, for example, you're not likely to use everything you get.
So, a hosting provider can take some of the resources you don't use and sell them to another client.
 More clients are packed into the same server in order to minimize costs and maximize profits. As long as you don't need all the storage, bandwidth, or compute resources included in your plan, you won't have any issues. But this can quickly change if you get an uptick in traffic and your website can't access enough resources to keep working. Although not all hosts are guilty of overselling, it's something that budget providers often do to keep their prices low. But they don't exactly advertise this fact on their website, so you can never really know it's happening until it starts to affect you.
If you can't take the chance that something will go wrong, then shared hosting is not the right solution for you.
 If you've got an e-commerce site, you'll want to consider an alternative. VPS hosting is more stable and usually comes with guaranteed resources.
The Difference between Unlimited and Unmetered Bandwidth
We've already established that "unlimited bandwidth" isn't actually a thing. Each server has a limited amount of bandwidth, which is further split between multiple users. There's simply no way that a host can offer unlimited bandwidth. That's why more and more hosts are now advertising "unmetered" bandwidth, which has a slightly different meaning. Basically, they're saying
they won't actively monitor your bandwidth usage or charge you for what you use
. You're probably thinking: So wait, doesn't that mean that I could take up the server's entire bandwidth? In theory you could, but in practice there are usually other restrictions in place that prevent you from doing this.
For example, the amount of CPU and RAM that you can use will be limited, as will the number of simultaneous processes you can run per account. As a result,
your website will only be able to handle a relatively low number of visitors per month, so you'll end up using only a fraction of the server's bandwidth.
Plus, if you ever do use "too much" bandwidth (whatever that means), rest assured that your host will let you know. Most providers do it straight away by throttling (or slowing down) your traffic.
What Happens When You Exceed the Limits of Unlimited Hosting?
Basically, anything can happen, depending on which host you're with.
 Take a look at this snippet from HostGator's Terms of Service: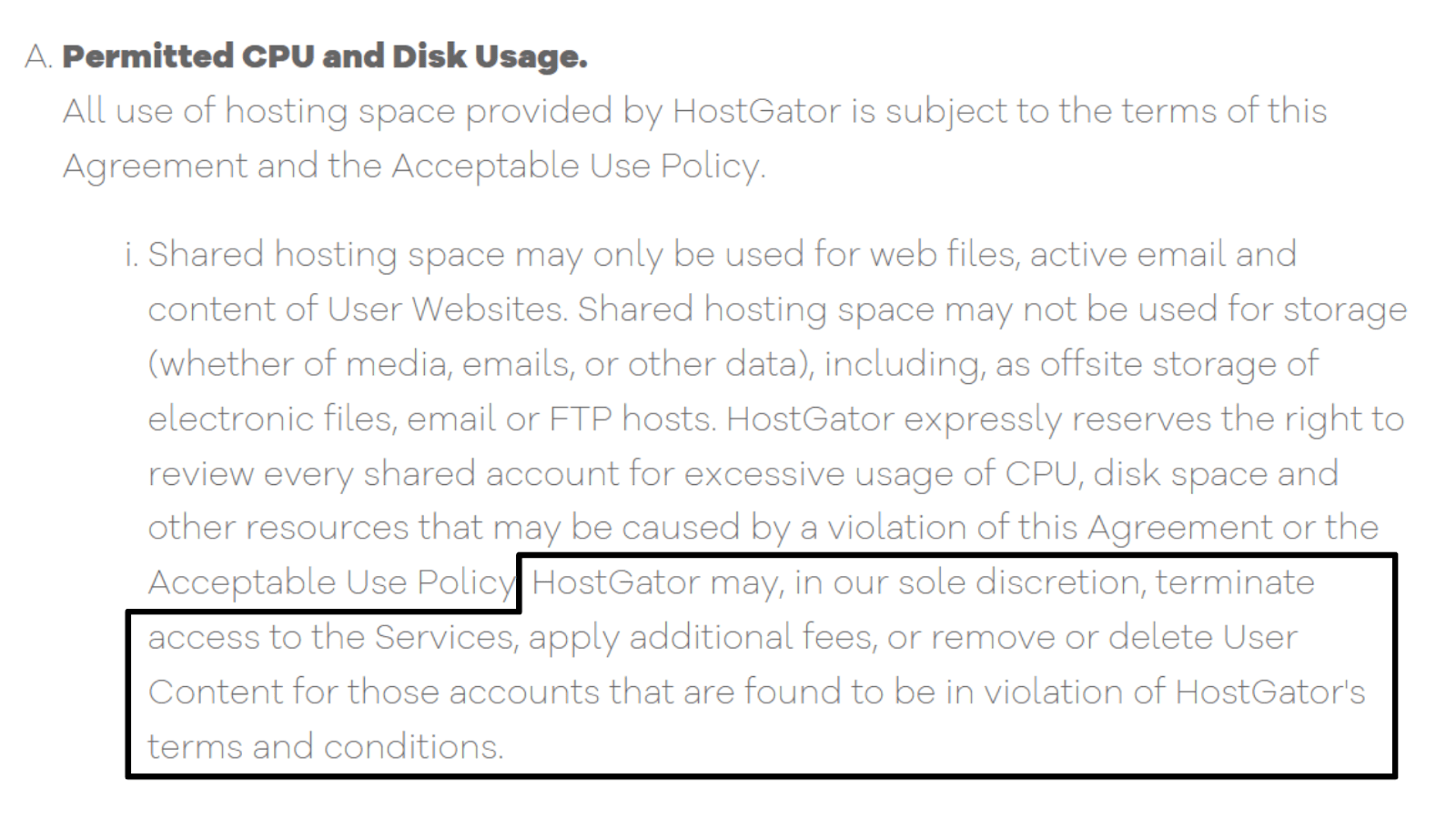 Here's another example, this time from
InMotion Hosting
. It makes sure to specify that you won't be refunded for any services you paid in advance if InMotion decides to suspend your account:
Each host has its own policies, but in my experience, they do one or several of these things:
Make you pay extra for using "too much" bandwidth, storage space, or compute resources
Force you to upgrade to a better (read "more expensive") plan
Suspend your hosting account
Close your account altogether and delete some or all of the files stored on it
In many cases, you'll get a notification before any drastic measures are applied, but not all hosts give you this courtesy.
 Bluehost, as we saw earlier, reserves the right to cancel your account with or
without
prior notice. In addition, you only have two days to respond to a notification from Bluehost. If you don't check your email in time, your account can get suspended:

I've actually seen this happen, which is why I always make sure to back up my websites and download a copy to my own PC.
 It might sound like a bother, but trust me – you don't want to lose your work because your host decided to pull the plug on your account. Unfortunately, however, you can't create backups for your brand's reputation. If your e-commerce store suddenly becomes unavailable, there's a good chance potential buyers will jump ship and turn to your competition for their shopping.
Should You Avoid Unlimited Hosting?
At this point, you might think that unlimited hosting is
the worst
. It's not actually unlimited, the limits are not clearly defined, and the provider holds most of the power.
However, this type of hosting can be useful in certain situations.
For small to medium websites, unlimited hosting is very cost-effective.
 Why pay a small fortune for a VPS when your site can run just fine on a shared server? A regular website uses no more than 5GB of storage, roughly 30,000 inodes, and 200MB of database storage. Most hosts easily meet these requirements.
The important thing is to understand the true limits of unlimited hosting.
 If you have a high-traffic website, unlimited hosting is not for you. And if you want to host an online store, you're better off with a secure VPS anyway. You'll find several reliable options on our list of
the best e-commerce hosting providers
.
When (and When Not) to Choose Unlimited Web Hosting
Unlimited web hosting could work for you if:
You want to host a personal blog. You'll likely need an upgrade once your content takes off, but shared hosting is a cheap and easy way to get started.
You want to host an online resume or portfolio. These websites rarely get enough traffic to justify a more expensive type of hosting.
You want to host a business landing page. Unlimited hosting lets you create an online presence without having to make a huge investment.
You want to host a small online store. I generally recommend VPS hosting for e-commerce, but if you don't sell a lot of products and you have fewer than 100,000 monthly visitors, a top-tier shared hosting plan can do the trick.
As a general rule,
websites with low traffic are great candidates for unlimited shared hosting.
That said, you should
not
use this type of hosting if:
You have a website that regularly gets more than 100,000 monthly visitors. At this point, a VPS would be more suitable. If you're worried about setting up your own server, you can always go for a managed VPS solution.
You want to host multiple websites. Some shared hosting plans can support several low-traffic sites, but if you start seeing decent traffic, you'll probably have to upgrade to a VPS.
You want to host a large e-commerce store. In this instance you should absolutely consider VPS hosting. Not just because it'll speed up your site, but because a VPS is more stable and more secure than shared hosting.
You're a web developer and you want to offer hosting to your clients. The last thing you want is to have all your clients' websites taken down because you've used "too many" server resources. A VPS is a safer bet.
Getting the Most Out of Unlimited Hosting
If you have a low- to medium-traffic website, you can avoid overage fees and other unpleasant surprises by optimizing your hosting and using server resources more efficiently. I've included a few simple tricks below.
Use Aggressive Caching
Whenever a visitor clicks on your website, their browser requests data from your web server.
By caching your website, you can store some of this data on the user's computer (or browser) for future visits.
This way, fewer requests will be processed by the server, and your website won't need as many resources to work. To leverage caching, you can install plugins like WP Super Cache, or use the tools provided by your web host.
Use a Free CDN
A content delivery network (CDN) stores cached copies of your website on servers around the world.
 Visitors connect to the closest of these servers and download the cached version of your site. This relieves some of the pressure on the server where your original website is stored.
Optimize Your Database
It sounds scary, but database optimization is actually an easy process. Just log into your database via phpMyAdmin, select the database you want to optimize, and look at the right-hand column (called Overhead).
Select any tables that show a number in the Overhead column, then choose Optimize table from the dropdown menu at the bottom of the screen.
 The whole thing will take less than ten minutes.
Minify CSS and JavaScript Files
Removing unnecessary whitespaces, line breaks, and other characters from your CSS and JavaScript files can decrease your bandwidth consumption and reduce the number of requests sent to your server. Again, this sounds scarier than it actually is.
There are tools that let you upload entire CSS or JavaScript files and will automatically minify them for you.
We even created one ourselves.
Enable GZIP Compression
GZIP compression can drastically reduce the size of your HTML pages and scripts, so your site will use less bandwidth. Most web hosts turn on GZIP compression by default, but in some cases you have to do it yourself. Or you can install a plugin like W3 Total Cache to do it for you.
Use Fewer Plugins
It's tempting to add all kinds of widgets to your website, but
the fewer plugins you use, the faster your site will be.
 Install only the plugins that are absolutely necessary to avoid using too many server resources.
Top 8 Hosts with Unlimited Hosting Features
At Website Planet,
we regularly test industry-leading providers
 as part of our search for the best web hosting services. Over the years,
we've come across several with "unlimited" features that are worth considering.
These hosts have generous entry-level plans with reasonable limitations and built-in optimization tools. More importantly,
they offer solid performance and stability for small to medium websites.
InterServer's Standard shared hosting is the only entry-level plan on my list that can accommodate multiple low-traffic websites. It's also the most affordable option if you want to pay monthly rather than yearly.
Features:
Unlimited domains. You can host several websites (each with a proper domain name) on the Standard plan. You also get unlimited storage space and unmetered bandwidth, up to 400,000 inodes, and access to 1 CPU core with 2GB of RAM – more than enough for a few low-traffic sites.
Built-in caching. You won't have to install or configure a caching plugin, as one is already built into the dashboard. Just turn on LiteSpeed caching and enjoy the speed boost.
Huge mailboxes. You can create an unlimited number of email addresses, each with 25GB of storage. It's not unlimited storage, but it's more than any other budget host will offer.
Price-lock guarantee. No need to worry about steep renewals. The price of the Standard plan will never change so long as you're a client.
Hostinger has the best deals for long-term contracts. If you're willing to sign up for several years, you can get reliable hosting for
$
1.99
per month.
Features:
Transparent policies. Hostinger doesn't bury its restrictions in long pages of fine print. All limitations are listed directly on the pricing page, so you know exactly what you're getting with each plan.
Easy-to-use control panel. hPanel is a simplified version of the more traditional cPanel. It's easier to navigate, and all the essential options are in plain sight.
Excellent performance. According to our tests, Hostinger is one of the fastest low-cost providers in the industry. It uses the LiteSpeed web server and offers a built-in caching plugin for WordPress.
Generous database storage. Each database comes with up to 3GB of storage, so you can build a fairly complex website. You only get 1 CPU core and 256MB of RAM, though, so most of the content will have to be static if you want your site to load quickly.
GreenGeeks' entry-level plan
only supports a single website, but it gives you unlimited storage space and unmetered bandwidth. That said, the highlight of this provider has to be its fantastic customer support.
Features:
More CPU cores per server. GreenGeeks allocates 2 CPU cores per shared hosting server, which is pretty generous for a low-cost provider. The more cores you can access, the more visitors you can serve before you have to upgrade.
Scalable RAM. 1GB of RAM is included by default, and you can add more RAM from the dashboard. It'll cost you, but it can be cheaper than upgrading to a better plan.
Built-in CDN. The free version of Cloudflare CDN is integrated into the dashboard, so you don't have to set it up yourself. Using a CDN can relieve some of the strain you'd otherwise put on your server, so I recommend you turn it on.
Support that goes the extra mile. While most other hosts sent me a DIY link when I asked for help with performance optimizations, a GreenGeeks agent took the time to optimize my website for me. If you're a beginner, this can come in handy.
A2 Hosting has an impressive track record of reliable speed and uptime.
It's the fastest low-cost host that we've tested
, so you can expect great performance even on the
entry-level plan
.
Features:
A2 Optimized. A2 Hosting created its own installations for popular apps like WordPress. These are configured for speed, and they come with great optimization plugins like W3 Total Cache.
Turbo boost. If you need more power, you can always upgrade to one of A2's Turbo plans. Turbo servers have more resources and are host to fewer users. They're also preconfigured with LiteSpeed caching, which can seriously boost your website's speed.
One-click staging. Using the Softaculous auto-installer, you can clone your website and test changes before you publish them. That way, you don't risk breaking your site while trying out new features or layouts.
Proactive security. SSL certificates, reinforced DDoS protection, a dual firewall, and a virus scanner are included in every A2 Hosting plan. Automatic backups are missing from the Startup plan, but you can create your own backups with cPanel.
If you're looking for managed WordPress hosting but don't want to pay for a premium service,
SiteGround is your best bet
. The proprietary control panel is a pleasure to work with, and there are plenty of beginner-friendly tools to help you get started.
Features:
Streamlined control panel. Site Tools is modern, visually appealing, and easy to get used to. In other words, a huge upgrade from cPanel.
WordPress Starter wizard. SiteGround has a built-in, step-by-step tutorial that'll help you set up a WordPress website. The plugin includes a few premium themes to get you started.
Aggressive caching. The SuperCacher plugin is included on all plans, and it can greatly improve your website's performance. Better caching also means that your site needs fewer server resources to work.
Collaborator tools. If you sign up for the GrowBig plan or higher, you can add collaborators on your site. This means that if a developer is helping you build your website, it's easy to give them access to certain parts of your dashboard without giving away your login details.
Hostwinds doesn't have any spectacular features, nor does it offer a lot of help for beginners. However,
our tests showed that its performance can be outstanding
… if you don't mind optimizing the hosting yourself.
Features:
Softaculous auto-installer. Softaculous lets you install hundreds of apps with just a couple of clicks, but it also has a bunch of other useful tools. For example, you can use it to set up auto-updates for your CMS or to create a staging environment for your website.
Free dedicated IP. This feature is rare with shared hosting, but Hostwinds includes it for free on all plans. Since you don't share your IP with other users, you're less likely to get blacklisted.
Business hosting. If you upgrade to Business hosting, your website will be moved to a LiteSpeed server with more resources and fewer users. The server is still shared, but it's a decent compromise if you're not ready for a VPS.
Multiple warnings. Your account won't be suspended the moment you exceed your hosting limitations. Instead, Hostwinds will send you up to five warnings before taking any drastic measures.
GoDaddy's shared hosting plans are
very
basic, and
its performance is mediocre
at best. That said, the
WordPress hosting plans
 include all the essential features and come with unmetered bandwidth.
Features:
SSL certificates. These cost extra if you opt for regular shared hosting, but they're included for free in all WordPress plans. Keep in mind that these certificates are a must-have. Without an SSL, your visitors' data is vulnerable, and your website ranks lower in search engine results pages (SERPs).
Automatic backups. GoDaddy creates daily backups for your website and stores each copy for up to 30 days. However, this service is only free with WordPress hosting plans.
SSD storage. This type of storage is significantly faster than older HDD storage. Most hosts include it on all plans, but with GoDaddy, you only get SSDs if you opt for WordPress hosting.
Beginner-friendly installation wizard. Also a feature of GoDaddy's WordPress hosting, the installation wizard guides you through the WordPress setup and helps you pick a theme for your first website.
With FastComet, you don't have to worry about ambiguous resource limitations or surprise fees.
What you get with each plan
 is clearly defined on the pricing page, and you're guaranteed access to these resources at all times.
Features:
Guaranteed resources. FastComet uses an operating system called CloudLinux that lets it properly isolate each account on a server. Other users can't dig into your CPU, RAM, storage space, or bandwidth, and security breaches can't spread to your website.
Data centers around the world. FastComet has 11 data centers strategically positioned on four continents. You can host your website in the US, Canada, several European countries, India, Japan, Singapore, or Australia.
Optimized hosting. By default, we configure GZIP compression, minify JS and CSS, optimize browsers, and implement other performance-enhancing settings. When you choose the FastCloud Extra plan, you'll also receive five distinct caching layers, which include Varnish and Memcached.
Managed security. FastComet uses BitNinja to secure its servers against malicious attacks. If your website ever gets compromised, you can ask the support team to clean it up and restore it for you.
Looking for more details?
The table below offers a side-by-side comparison of each host's entry-level plan:
InterServer
Hostinger
GreenGeeks
A2 Hosting
SiteGround
Hostwinds
GoDaddy
FastComet
Storage
Unlimited
30GB
50GB
100GB
10GB
Unlimited
100GB
15GB
Websites
Unlimited
1
1
1
1
1
1
1
Bandwidth
Unlimited
100GB
Unmetered
Unlimited
Unmetered
Unlimited
Unmetered
30GB
Number of Databases
Unmetered
2
Unlimited
5
Unlimited
Unlimited
10
Unlimited
Database Size
Not specified
3GB
Not specified
Not specified
500MB
Not specified
1GB
350MB
Inodes
400,000
200,000
150,000
600,000
200,000
250,000
250,000
250,000
CPU Cores
1
1
2
1
Not specified
1
1
2
RAM
2GB
256MB
1GB
700MB
768MB
256MB
512MB
2GB
Maximum Usage (Of Server Resources)
20%
N/A
N/A
N/A
20%
100%
25%
80%
Processes
100
25
N/A
N/A
10
10
100
40
Email Addresses
Unlimited
1
50
Unlimited
Unlimited
Unlimited
1
Unlimited
Mailbox Size
25GB
500MB
Unlimited
Unmetered
2000MB
Unmetered
10GB
500MB
Backups
Not specified
10GB
Not specified
50GB
Not specified
Not specified
Not specified
Not specified
Free Domain

✘

✘

✔

✘

✘

✔

✔

✘

Free SSL

✔

✔

✔

✔

✔

✔

✘

✔

Starting Price

$

2.50

$

1.99

$

2.95

$

2.99

$

2.99

$

6.47

$

5.99

$

2.19
Don't Get Tricked by the Myth of Unlimited Web Hosting
Some shared hosting plans are better than others, but what they all have in common is that they are limited.
 Unlimited hosting is nothing more than a marketing slogan.
That said, this type of hosting can have its uses, as long as you're aware of the restrictions.
 If these restrictions are clearly stated on the host's pricing page, all the better. But if they're not, know that they still exist. You just have to dig into the Terms of Service to find them. Should you ever use "unlimited" hosting? It depends. Check our list of
the best web hosting services in 2023
 for affordable and reliable options.
Just remember, this type of hosting is only suitable for small to medium websites.
 If you want to host a large online store or a high-traffic site, unlimited hosting is not for you.
FAQ
Does GoDaddy have hosting resource limits?
At a glance, most GoDaddy shared hosting plans include "unlimited" storage space, bandwidth, and databases. But take a look at the host's Terms of Service, and you'll find limitations on all of these resources. For example, there's a 250,000 inode cap on all plans, which means you can only store a limited number of files on your account. Database size is also limited to 1GB, and your bandwidth can be capped at any time if GoDaddy thinks you're using "too much" of it.
How are inodes calculated?
In Linux operating systems, inodes are data structures that hold crucial details about files. For instance, an inode could hold information about a file's location, its size, or who owns it. Each file on the server pairs with an inode, so typically, the number of inodes you use matches the number of files you keep. That said, Linux files can be anything from regular text, music, and videos to directories, processes (such as cron jobs), and hardware devices. To get an accurate estimate of how many inodes you're currently using, you have to check your usage statistics. In cPanel, you'll find this information under Stats > Inodes Usage.
Which is the best unlimited hosting service?
You have several good options, so it depends on your specific needs. Most of Hostinger's plans come with unmetered bandwidth and generous resource allocations. It's also super cheap if you opt for a long-term plan, and performance is exceptional according to our tests. That said, InterServer has a more flexible monthly plan with unmetered storage space, bandwidth, and email. It also lets you host multiple domains, so it's the perfect choice for hosting several low-traffic sites. If neither of these is the right fit, you can find other reliable options on our list of the best web hosting services in 2023.
How much bandwidth do I need for my website?
It depends on the size of your website, the kind of traffic you're getting, and a couple of other factors. For a regular, low-traffic site, 10GB of bandwidth per month is more than sufficient. However, if you get more than 100,000 monthly visits, you'll likely use more bandwidth than is included in your shared hosting plan – even if your provider claims to offer unmetered bandwidth. At this point, you might need an upgrade, but don't worry. You can find lots of great deals on our coupons page.