tested Scaleway
, it delivered
impressively-fast page loading speeds.
But while Scaleway guarantees at least 99.9% uptime, I've seen quite a few reviews where users claim to have experienced extended downtime.
Scaleway is best if you're serving a European audience
because its data centers are all in Europe. Sure, you can use a content delivery network (CDN) to improve performance around the world, but it's best to choose a data center nearer to your site visitors. Scaleway's
cloud hosting is best for websites with average traffic and occasional traffic spikes,
and
its dedicated servers offer more computing power
for media- or data-heavy sites with more consistently heavy traffic. Is there a Scaleway hosting plan that's right for you? Read on to find out.
Short on Time? These Are Scaleway's Best Plans in 2023:
Cloud Hosting Premium ($35) – Good startup option, with solid resource set, good features, and good value for medium-traffic websites.
Dedicated Server Start-3-L ($66) – Cheap, entry-level dedicated server with more storage and better performance than some more expensive options.
Dedicated Server Core-7-M-A ($320) – Best value, with an advanced CPU core, more storage, and better performance for high-traffic sites and large businesses.
Scaleway Features and Pricing Overview
Cheap Entry-Level Plans, but No Free Support Option
Scaleway keeps its prices low by not including managed support as part of its plans,
like what you get with Liquid Web
. You get cPanel with the cloud hosting plans, and it does offer various levels of paid support for all plans, but you will still have to configure and maintain the dedicated servers yourself, or hire someone to do this for you. There are three cloud hosting plans and around 30 dedicated server configurations available at any given time.
Scaleway doesn't set term lengths, so you pay on a monthly basis and can cancel at any time.
You have 14 days to cancel your account and get a full refund. After that, you can cancel via email, but you won't get a refund. Based in France, Scaleway's prices are listed in euros. It accepts credit and debit cards, direct debit, and bank transfers. Scaleway is a great option if you're looking for medium-to-enterprise scale hosting on a budget, but
to get the most out of Scaleway, you may want to pay extra for advanced support and features,
like backups.
Cloud Hosting
Scaleway's cloud hosting plans are some of the lowest-priced on the market. Although it does offer various paid support upgrades,
the service is primarily designed for developers and experienced users.
As such,
beginners may want to try a service like Hostinger
, which offers slightly less heavy-duty infrastructure, but is also very reasonably priced, and is more newbie-friendly. The resources and features you get are a bit limited, but performance is solid,
making Scaleway a reasonably-priced cloud hosting option for small-to-medium-sized businesses.
But as with most cloud hosting, it's not really intended for sites with consistently heavy traffic.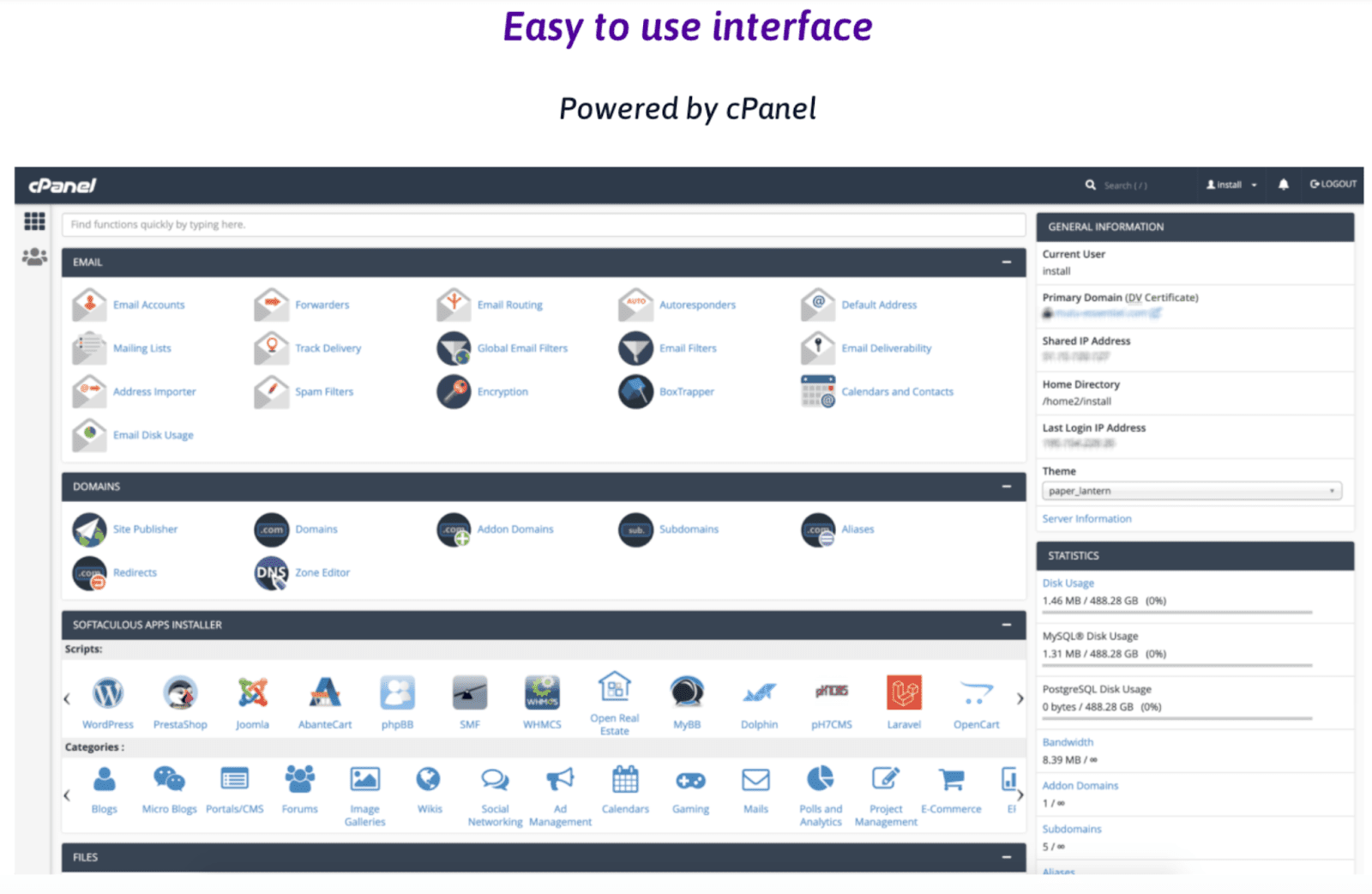 Scaleway's Essential plan is one of the least expensive entry-level cloud hosting plans
on the market. With 2 virtual CPUs, 1GB of RAM, and 500GB of SSD storage, it's best for single-author blogs or other low-traffic websites that need to sustain occasional traffic surges. And like all Scaleway's cloud hosting plans, you get one free domain name, as well as free SSL certificates, unlimited email accounts, and cPanel to manage your sites. Essential is most akin to Hostinger's entry-level cloud hosting plan, as it provides the same number of vCPUs (2), more RAM (3GB), and less storage (200GB). But
Hostinger provides better value
with managed support and more free features, like automated daily backups. If you need to handle more sustained monthly visitors or power more complex websites, it might be worth upgrading to Performance or Premium.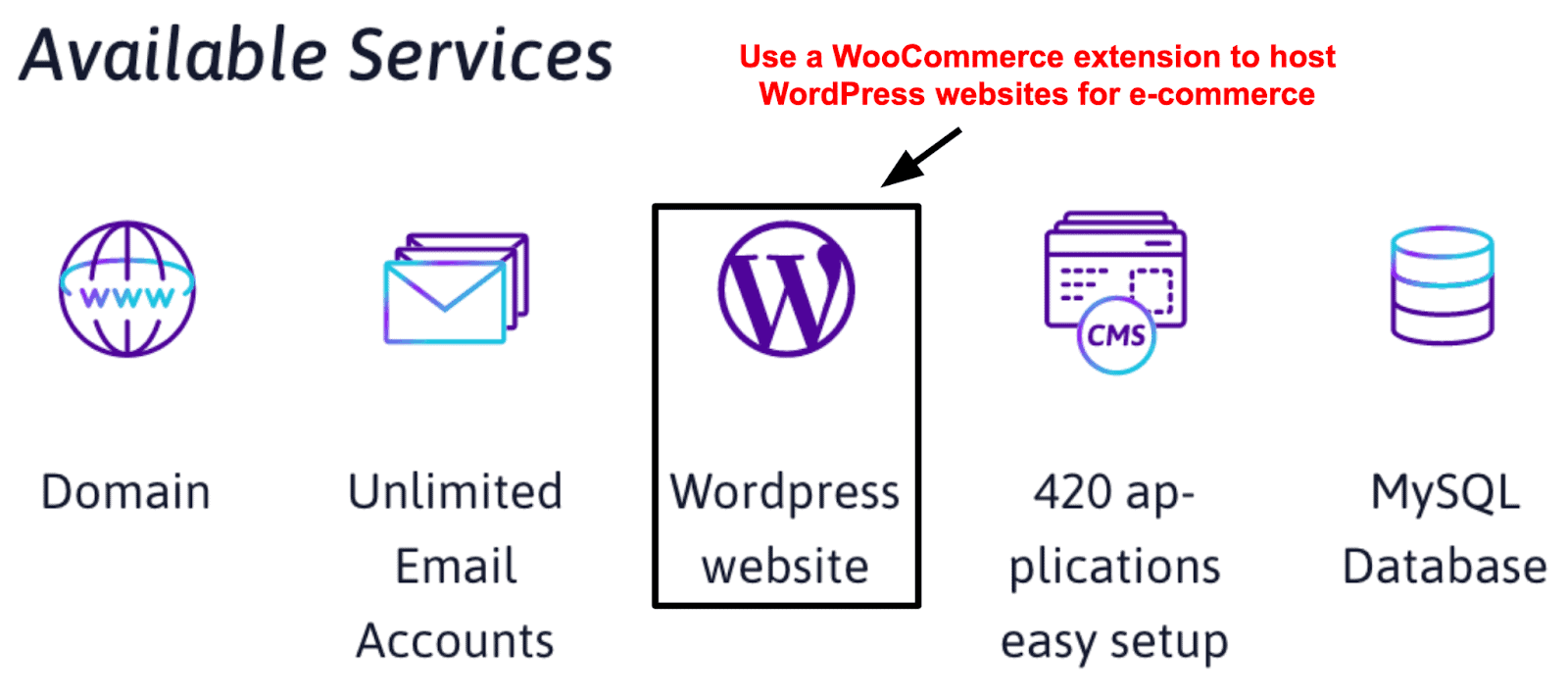 For less than double the price of Essential, Scaleway's Performance plan gives you double the vCPU (4), double the RAM (2GB), and 50% more SSD storage (750GB).
You get the same features, so whether or not to choose this plan comes down to your resource needs. This plan is most comparable to Hostinger's midrange cloud hosting plan. But while you get 750GB storage with Scaleway versus Hostinger's 250GB,
Hostinger again offers more RAM (6GB) and more features
.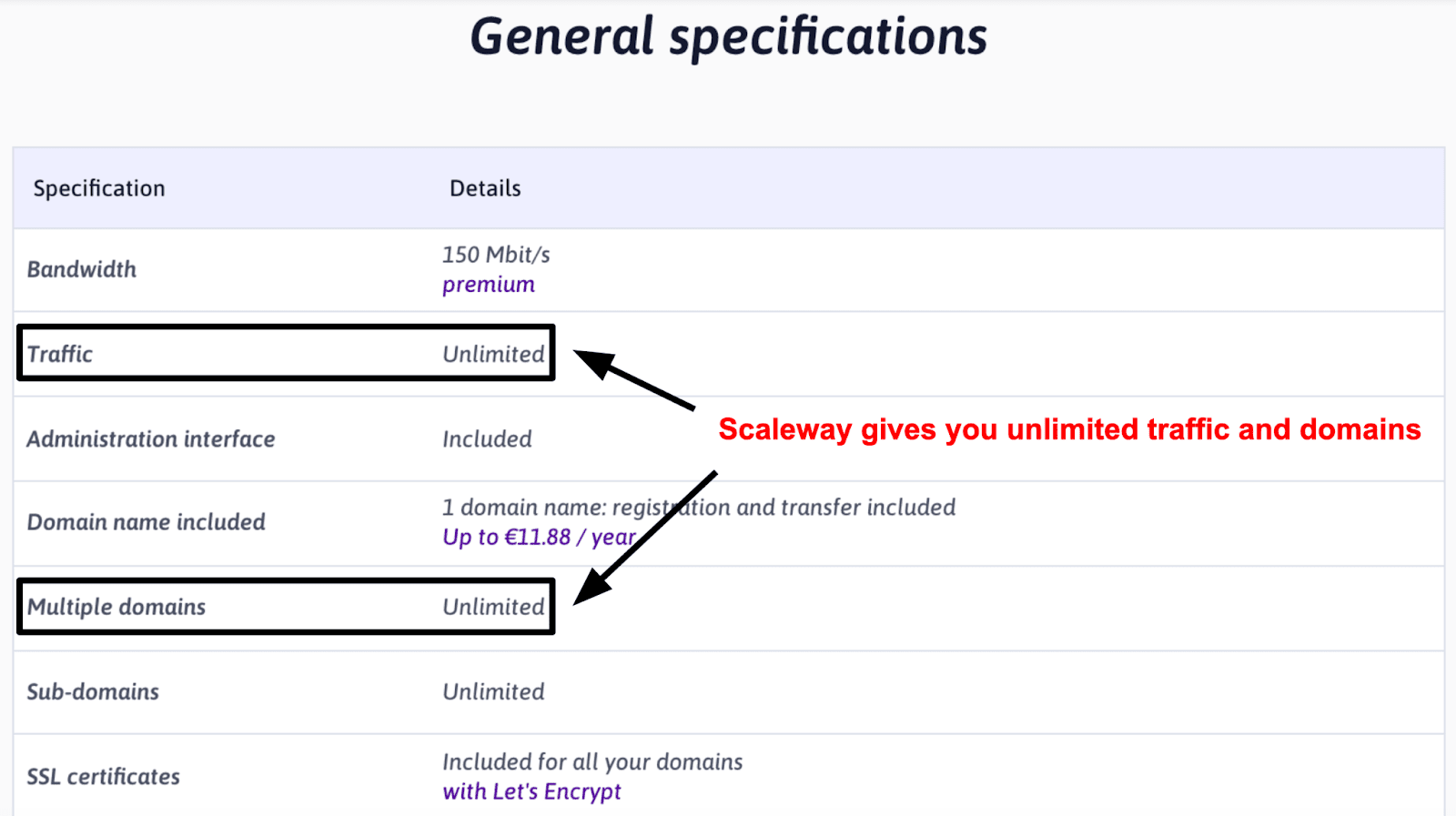 Premium is the most expensive Scaleway cloud hosting plan, but it offers the best value of the three.
You get the same features as the other plans, but Premium's 8 vCPUs are twice as many as Performance and four times as many as Essential. And while it gives you the same 750GB of storage as Performance, you get 8GB of RAM. You can take the fullest advantage of Scaleway's unlimited traffic and its unlimited number of domains with the Premium plan, but given its resource caps, it's still best for medium-sized businesses with periodic traffic surges that aren't too enormous.
Kamatera's customizable cloud hosting with per-second charges
is a better option for higher-traffic sites that need to accommodate longer-term traffic increases, but of course you'll have to adjust server resources yourself as they won't be implemented automatically.
Is Scaleway Cloud Hosting Right for You?
Scaleway cloud hosting is a great choice if you get occasional spikes in traffic rather than a high sustained volume of traffic, and you want the ease of use that comes with cPanel. The prices are reasonable, even for the Premium plan. But if you need to serve consistently high levels of traffic, it may be worth looking at some of the
alternative vendors I've suggested below
.
Dedibox Dedicated Server Hosting
Start-3-L
Pro-7-S
Core-7-M-A
Core-7-L-I
Initial term starting price
$66
 $103
 $320
$480
Price on renewal

Same as above

Same as above

Same as above

Same as above

CPU cores

1 Intel Xeon D

1 Intel Xeon E

1 AMD EPYC

2 Intel Xeon Silver

RAM

32GB

32GB

256GB

576GB

Storage

2 x 500GB SSD

2 x 480GB NVMe

2 x 1.92TB NVMe

2 x 1.92TB NVMe

Bandwidth

300Mbps

750Mbps

1Gbps

1Gbps

Dedicated IPs

✔

✔

✔

✔

Data center locations

France, Amsterdam, Poland
Scaleway offers three ranges of dedicated server plans. The Start plans have very low entry-level prices with lower resource limits, and the Pro and Core plans offer correspondingly higher resource allocations. Overall, Scaleway offers around 30 dedicated server plan variations, but availability may vary.
You can find good value with some Pro and Core plans, but there's only one Start plan worth considering.
I've focused on the four plans I think give you the best value for money.

It may not be Scaleway's cheapest dedicated server plan, but
Start-3-L is by far its best
.
And it only costs slightly more than
InterServer's lowest priced plan
, which gives you 2 fewer cores and 24GB less memory.
Start-3-L gives you 6 cores, 1TB of storage, and 32GB of RAM.
Start-3-L also achieves the highest CPU Benchmark rating of all Scaleway Start plans, meaning it offers potentially the best raw performance. But if you need even better, you'll have to move up to a Pro or Core plan.

Pro-7-S delivers excellent value for the price. It provides the same number of CPU cores (6) and same amount of RAM (32GB) as the Start-3-L plan, but
Pro-7-S uses higher-spec server and storage technology.
Combine that with 750Mbps of public bandwidth, and that should add up to much better server performance. At about half the price of Liquid Web's most similar plan,
Pro-7-S offers more CPU power, more storage, and more RAM
.
However, Liquid Web offers managed service by default. Scaleway charges extra for this, which is one reason it costs so much less.

Scaleway's Core 7-M-A plan might offer the best value
of all its dedicated server plans, though it is specifically geared towards mission-critical, ultra-high-performance deployments.
It includes significantly more computing horsepower than Pro plans,
with nearly four times the NVMe storage of Pro-7-S and significantly more memory. You can get Core-7-M-A for about half the price of
A2 Hosting's most advanced dedicated server plan
, which offers half the storage and memory, but gives you dual AMD EPYC processors.

Dedicated server hosting plans can be very expensive.
The Core-7-L-I plan boasts ultra-high-level resources for a mid-range price
.
You get two Intel Xeon Silver servers with 24 cores each, nearly 4TB of NVMe storage, and 576GB of RAM. Not many dedicated server hosts can match this calibre of hosting at this price.
InterServer has a similar plan
with more CPU cores but less memory.
Is Scaleway Dedicated Hosting Right for You?
If you're after dedicated servers for competitive prices, Scaleway is worth a serious look. Many of its plans provide solid value, especially Core-7-M-A, which gives you more-than-ample resources at a competitive price.
It is possible to add reasonably-priced managed support to Scaleway's dedicated server plans,
and the Business Service Level offers bonuses, such as on-demand customizations to your server's storage allocation. But these services are not intended to replace your own system administration knowledge or in-house IT staff, so
if you want to pay for fully-managed hosting as part of your hosting plan, you'll have to look elsewhere.
Recommended Scaleway Alternatives
Scaleway is a reputable enterprise-tier web host, but with limited customizability, and without a fully-managed option or data centers outside of the EU, it may not give you everything you need. Here are some other top-rated hosts who may be a more appropriate fit for your (or your organization's) hosting requirements.
Starting Price
Main Pro
Main Con
Scaleway

$

11.62

Competitive pricing for quality hardware

Data centers in Europe only

Kamatera

$

4.00

The most flexibility

Decent support costs extra

Liquid Web

$

169.00

Managed hosting

High prices

Hostinger

$

1.99

Lowest prices

Limited customizability, and no bare-metal option

InterServer

$

67.00

Decent flexibility

Disappointing support

Cloudways

$

11.00

Managed performance optimization

No cheaper unmanaged option

A2 Hosting

$

105.99

Good combination of features and performance

Support isn't great

SiteGround

$

2.99

Extensive features

Weaker performance in testing
Kamatera
With
the most customizable plans on the market
,
Kamatera is a great choice for any business, small or large. And its performance is reliable and fast – when my colleague
tested
Kamatera, he recorded 100% uptime and page loading speeds of around 1 second.
Kamatera lets you set up instances with exact levels of each resource
– up to 1,174 available resource configurations are available. Scaleway offers a limited range of hosting plans with limited (and paid) customizability, and resource maximums are much lower – which won't matter to most customers, to be fair. Scaleway charges by the hour until you reach your resource cap, but Kamatera charges by the second, so you'll only pay for exactly what you use, but you'll need to keep a fairly close eye on your resources in order to take advantage of any savings.
Liquid Web
If you want fully-managed cloud hosting, Liquid Web is a top choice.
Its plans are far more expensive than Scaleway's, but you pay for the convenience of very reputable managed support. Liquid Web offers dedicated server plans as well, and although they include superior support and better features, they are also more expensive than Scaleway's. And Scaleway offers a wider range of dedicated server plans overall.
Hostinger
Hostinger does not offer dedicated server plans, but it provides budget-priced cloud hosting. When comparing entry-level plans, Scaleway offers more storage (and arguably, better-quality infrastructure), while Hostinger provides more cores and RAM, along with additional free features, such as automatic backups.
Hostinger also offers managed WordPress plans.
But what really sets Hostinger apart from Scaleway is that its services are suitable for any level of user, from beginners to developers. Scaleway is not really a host for beginner users.
InterServer
InterServer's cloud VPS is a similar service to Scaleway's cloud hosting with a lower starting price.
There's also more flexibility and scalability, with 32 resource configurations (16 for Linux, 16 for Windows). And
if you pay for four or more "slices," you get free managed support
,
which is a big value-add over Scaleway.
Cloudways
Cloudways is a good cloud hosting alternative to Scaleway if you want better performance for a global market.
Cloudways operates as a third-party provider of DigitalOcean, Linode, Vultr, Amazon Web Services (AWS), and Google Cloud Engine (GCE) infrastructure. Features and performance are based on the infrastructure you choose.
Where Cloudways adds value is in its fully-managed service and its optimized hosting stack
;
unlike Scaleway, Cloudways will take care of all the infrastructure configuration and upkeep for you.
A2 Hosting
A2 Hosting offers managed and unmanaged dedicated servers, but it doesn't offer cloud hosting. Its dedicated server plans tend to have lower resource limits than equivalent Scaleway plans, but
A2 Hosting delivers superb performance and reliability
 not only in Europe, but also in Asia and the USA.
A2 Hosting also gives you a money-back guarantee and automatic backups with every plan – Scaleway doesn't.
SiteGround
SiteGround offers cloud hosting, but not dedicated servers.
The main advantage of SiteGround over Scaleway is that the service is managed
,
so you can focus on your website content and your business. But it comes at a correspondingly higher price. For example, the top-end SiteGround plan gives you double the CPU cores and two-and-a-half times the RAM of Scaleway's top cloud hosting plan, but it costs more than 10 times the price.
Which Scaleway Hosting Plan Is Right For You?
If you're looking for budget cloud hosting for a European audience, Scaleway is well worth considering.
Its Cloud Hosting Premium plan gives you a good combination of resources and features at a lower price than most other hosts.
But if hands-on adjustability and per-second pricing is more useful to you,
you should consider Kamatera
 instead. If a dedicated server is what you want, Scaleway's
Start-3-L brings great value with generous resources
. But if you want the most competitive value of any of Scaleway's dedicated server plans,
Core-7-M-A offers top-of-the-line performance for high-traffic sites
 at a lower price than just about anyone else.
FAQ
Is Scaleway legit?
Yes, Scaleway is legit. It offers a number of competitively-priced cloud and dedicated server hosting plans. It is geared towards the higher end of the web hosting market, and is not necessarily the best option for small, simple websites. If you want to compare some more straightforward web hosting plans, have a look at our list of the top 10 web hosts for 2023 to get a sense of what's available.
Where is Scaleway based?
Scaleway is a French company with data centers in France, Amsterdam, and Poland. As such, Scaleway is a good fit if you're targeting a European audience. But it's not one of our top cheap and fast hosts for European WordPress sites in 2023.
Why is Scaleway so cheap?
Scaleway is cheap because it offers limited resources, features, and support, and it doesn't have data centers around the globe. If you're a beginner looking for cheap, decent-quality cloud hosting, take a look at Hostinger. Or, check out our coupons page for some great discounts for 2023 on other top web hosts.
Is Scaleway good value for money?
If you have an average-to-large-sized business and are tech savvy enough to manage your own server deployment, Scaleway's plans can give you good value for money. But if you're running a WordPress site, you'll find better value with any of the providers I've identified as the best cloud hosts for WordPress sites in 2023.