OVHcloud
has high-performance servers located across four continents, allowing the company to provide rapid cloud hosting from around the globe. It specializes in working with companies that need to grow at scale through the smart use of cloud technologies. It's not the easiest of hosts to get started with, but if you've read
my full review
, you'll know it has a decent number of features. If you've taken the plunge and joined OVHcloud, this guide will take you step-by-step through the process of connecting a domain and installing WordPress.
How to Connect a Domain and Install WordPress on OVHcloud
Depending on your browser, when you log in to the dashboard, by default, it may be in French or English.
However, as it's easy to switch between numerous languages,
don't let that put you off. You may have read my article about
creating an account with OVHcloud
. If you did, you'll know I found the process to be long and rather tedious. However, for all my grumbling,
I was pleasantly surprised to see WordPress was already installed
by the time I returned to the dashboard (I selected WordPress as a pre-installed module during the account creation process). To access the WordPress install, you can either follow the instructions in the welcome email titled "WordPress successfully installed," or inside the dashboard, on the left-hand side, select
Hostings
, then the domain name you chose in the account creation process. However, although WordPress is already installed, you still need to connect the domain—otherwise, you can't access the website via the domain name or even via the IP address.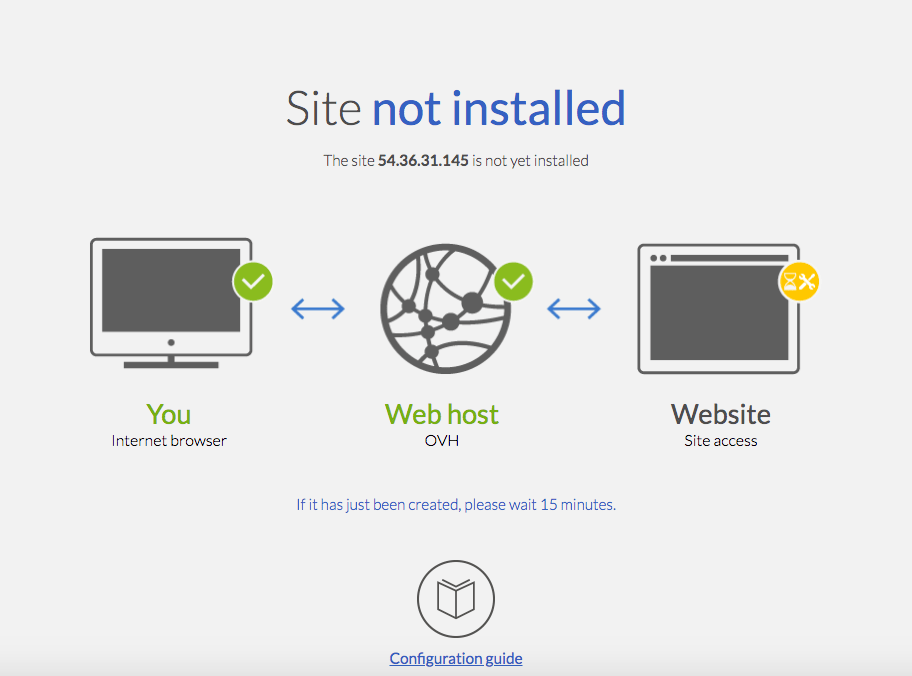 Usually, hosts provide information on how to point to your domain in the welcome emails, so intuitively, this is where I headed. Oddly, I found information relating to updating my MX records (for emails), but not for the nameservers, which could be confusing for newer website owners. Instead,
you can head to your IP address and this, oddly enough, is where you find the configuration guide.
It's on this webpage where you'll find some rather jargony, overly technical information to help you map your domain to OVHcloud.

Essentially, all you need to do it point your A record to your IP address. It's really quite simple, but the
help documentation is complicated and not intuitively laid out
. Coupled with the fact you can't hop on live chat, the process is not super user-friendly.

Nevertheless, once you've updated your A record at your domain registrar to the IP address provided inside the Hosting section of your control panel, you just need to wait for it to propagate. I'd usually install a content delivery network (CDN); however, it wasn't included free with my plan, so I went without this time.
Overly Complex; Little Support
I'm glad to see that your WordPress instance is installed as soon as you create an account. This is the most straightforward process I've come across. However, once you've set up your account, you'll be responsible for managing things on your own. Although the system is the same as most hosts for connecting a domain, beginners will find the help documentation confusing and overly complex. It's a shame, given the ease of setting up WordPress. If you're looking for a vendor that is more beginner-friendly, try
SiteGround
, or if you're looking for a vendor that specializes in managed WordPress hosting,
click here to read about Liquid Web
. Alternatively, if my confusing setup process hasn't put you off, read the detailed
OVHcloud review
.