Afrihost is by no means a bad host, but it does have its downsides.
Perhaps you want to host multiple websites on a shared account, or maybe you're looking for WordPress-optimized hosting.
Luckily, the cancellation process is pretty straightforward.
To help walk you through it, I've included everything you need to know to quickly and easily cancel your Afrihost account (and take advantage of its double-money-back guarantee). If you're thinking about going with a different web host, you can also skip straight ahead to
my list of the best Afrihost alternatives
to see if any are a good fit for your needs. If you're in a hurry and need a quick recommendation,
Hostinger offers better-quality performance at a lower price
, along with WordPress optimization and support for hosting multiple sites.
Quick Guide: How to Cancel Afrihost and Get a Full Refund
Log in. Click the ClientZone button at the top right of Afrihost's website and enter your account details.
Select the package you'd like to cancel. Click on Hosting and select your hosting package on the right-hand side. Then, click or tap the Edit Package button.
Cancel your account. Scroll down to the Cancel Service section and complete the form. Once done, hit Cancel this Service.
Claim your refund (optional). Send an email to [email protected] with the subject line "Double Money-Back Guarantee Claim". Request your refund, being sure to include your username and domain for quicker processing.
My Experience: Here's How I Canceled My Afrihost Account
Thankfully, I had absolutely no trouble canceling my Afrihost account.
Cancellation of your account takes place entirely within the ClientZone admin area, and can be completed in just a few clicks.
Afrihost is the first host I've seen to offer a double money-back guarantee.
If you cancel within 60 days of your initial purchase, you'll be refunded twice the amount you've paid.
So, not only are you getting your money back, but you're actually getting some extra compensation for your trouble. This is very generous, especially with a long 60-day period to try out the service. It can almost feel too generous. What's usually the case with these offers is that they apply a ton of strict terms and conditions, so that you're actually very unlikely to qualify for the refund once you finally cancel. Surprisingly, this wasn't the case with Afrihost –
my refund was actually doubled, as advertised.
That said, I waited quite a while to receive it. This is because cancellations with Afrihost take some time to process. If you cancel before the 15th of a given month, the cancellation doesn't go through until the end of the month. On the other hand, if you cancel after the 15th, you wait until the end of the
following
month. I was in the latter camp – I canceled my account on the 17th and was left waiting a long while for the cancellation process to complete.
I was still charged while I waited for the cancellation to finalize, but these added costs were refunded to me.
Still, it was a long wait. Besides this,
I was happy with the cancellation process overall and 100% satisfied with my refund.
Here's a detailed step-by-step guide to canceling your Afrihost web hosting account:
1. Log in.
To do this, head to the
Afrihost website
and press the
ClientZone
button at the top-right of any page.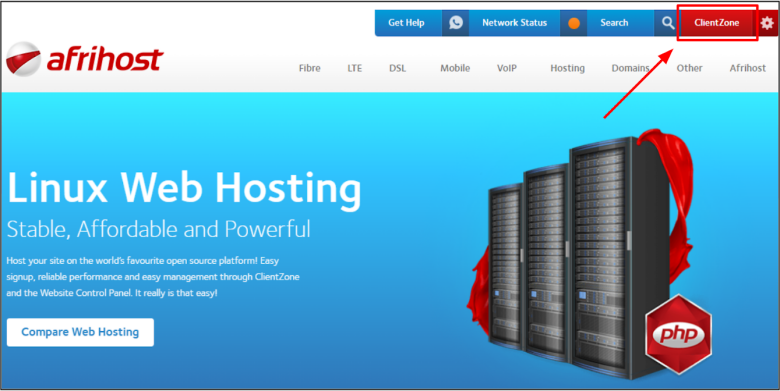 This will bring you to the login screen where you can enter your details. Do so, and you'll be taken to the ClientZone admin area.
2. Click the Hosting tab.
The ClientZone admin area is really easy to navigate. To begin cancellation, click the
Hosting
button on the toolbar at the middle of the page.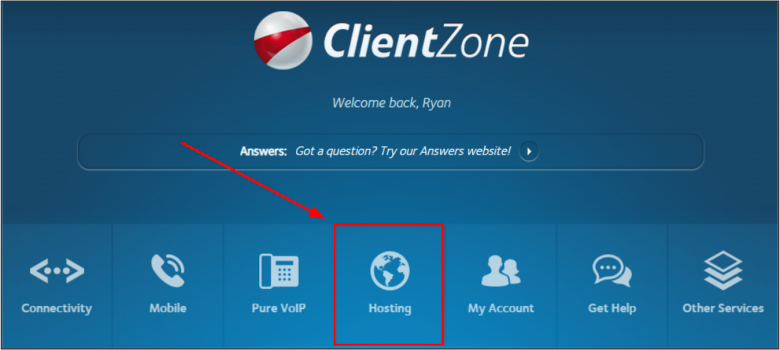 This will take you to a screen where you'll see all your active web hosting packages on the right. To cancel one, click it and then select
Edit Package.
3. Complete the cancellation form.
From here, you'll need to scroll down through the settings and information to the
Cancel Service
section.
You'll have to fill out a form, giving some basic information and confirming that you'd like to cancel your web hosting.
It's easy and quick to fill out. Once you're done, press the
Cancel this Service
button. If you have other packages you'd like to cancel with Afrihost, you can use the same process to cancel these as well.
4. Claim your refund.
Let's quickly make something clear:
Afrihost will not refund you automatically – you need to actually apply for it.
If you forget to do this, the period in which you're eligible to claim a refund may run out. So, I strongly recommend getting this done now. It doesn't take long, as all you have to do is send an email to support.
The correct email address to send refund requests to is [email protected].
I'd recommend putting "Double Money-Back Guarantee Claim" in the subject line, and basic account information such as your username and domain in the body of the email. This should ensure your cancellation isn't stalled for any reason. Still,
you'll have to wait for your cancellation to finalize before your refund is sent through.
Depending on your cancellation date, this can take anywhere from a few weeks to well over a month. Once your cancellation is complete, you should receive your refund in the coming days.
4 Best Afrihost Alternatives for Shared Hosting
If you're looking to switch to a new web hosting provider, I recommend the alternatives below.
We've tested each of them thoroughly – they all managed to provide better service than Afrihost.
If you're looking for a budget-friendly host that doesn't compromise on quality, speed, or features, Hostinger is a great option.
If you choose the Single Shared Hosting plan, you'll pay a much lower price than Afrihost and get 50GB of SSD storage to play with
– 50 times what's offered with Afrihost's cheapest plan.
Hostinger offers far better performance, especially if you use WordPress.
It employs LiteSpeed web servers, which provide a speed boost of their own and also allow you to benefit from the LiteSpeed Cache for WordPress plugin. This is an all-in-one optimization solution that helps WordPress-based sites load more promptly.
If you're looking for a host with a global reach, look no further than FastComet.
With data center locations in the US, Canada, UK, the Netherlands, Japan, Singapore, Germany, India, and Australia, your target audience will never experience slow loading speeds. FastComet also makes switching hosts easy with its complementary site and domain migration from other providers – all you have to do is contact customer service to request this service. In general,
FastComet's support service will usually go the extra mile for any support requests
, even going so far as to provide hands-on help.


FastComet now has a 45 - day money-back guarantee!
Get a discounted annual plan without taking any risks.
67 users used this coupon!
InterServer offers unlimited storage, bandwidth, websites, email accounts, and databases
, in contrast to Afrihost's generally tight resource limits. You have full flexibility to create and develop multiple sites. In addition, InterServer includes a robust security solution for free.
Your site will be protected by a machine-learning firewall and an automatic virus scanner.
It also keeps a database that logs all detected malware so it can better defend your site in the future. Afrihost only includes the bare minimum in terms of security, so InterServer is definitely the safer option.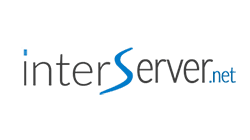 InterServer now has a 30 - day money-back guarantee!
Get a discounted annual plan without taking any risks.
76 users used this coupon!
If you'd prefer to stay with a host local to South Africa, HOSTAFRICA is your best choice. While it's definitely the more expensive option of the two,
HOSTAFRICA offers premium features
 such as daily automatic backups and 24/7 server monitoring
, which alerts you to any problems as they occur. Furthermore,
our performance tests revealed that HOSTAFRICA offers better page loading speeds across South Africa.
If you're serving a local audience, it's one of the best-performing web hosts available.
It's Easy To Cancel Afrihost, but Your Patience Will Be Tested
Some hosting services make it difficult to cancel your plan. Thankfully, Afrihost isn't one of them – you can simply cancel your account from the dashboard. And remarkably,
you'll get your refund back with some extra compensation, thanks to the generous double-money-back guarantee.
However, it's important to note that the wait for service can sometimes be lengthy, and some other web hosts may promptly terminate your account upon request. If they were able to expedite this process, I wouldn't have any complaints whatsoever.
FAQ
How do I contact Afrihost?
Afrihost can be contacted through email, phone, or WhatsApp. Phone support is available Monday to Friday from 08:00 SAST to 17:00 SAST. If you'd prefer WhatsApp support, it's available from 07:00 to 20:00 SAST Monday to Friday and 07:00 to 18:00 SAST on weekends. Email support is available 24/7.
How do I log in to Afrihost?
Click the top right button marked ClientZone on any of Afrihost's website pages. Then, enter your account details. You can see the process for yourself in my guide above.
Is Afrihost month to month?
Yes, Afrihost's web hosting plans are on a monthly contract. However, you can get a better deal elsewhere. Many of the hosts on our list of the best web hosting services in 2023 are cheaper and offer better features, some with good monthly rates.
When can I cancel my Afrihost account?
You can begin the cancellation process for your Afrihost account at any time. However, the date your account actually closes will vary. If you start cancellation before the 15th of a given month, your account will close at the end of the month. On the other hand, if you begin cancellation after the 15th, your account will not close until the end of the following month. If you're a beginner to web hosting, I recommend choosing a host that offers quicker cancellations. For more tips, check out our detailed beginners guide to building and hosting a website in 2023.