Like all things in life,
you get what you pay for with web hosting
. Sure, you could sign up for a basic shared hosting plan for just a couple of dollars per month. Heck, some providers even offer their most basic plans for free. But for a serious online business with high-level demands,
these rock-bottom plans just won't cut it
. Whether it be for optimal performance, security, scalability, or customization, opting for a high-end service through a top-tier hosting provider is a crucial step towards meeting the most demanding business needs. But with so many web host providers out there competing for your business,
how are you supposed to know who's hot and who's not
? We've done the legwork for you by
rounding down the top five high-end web hosts of 2018
. These providers won't be cheap, but I can confidently say they're the best of the best.
High-End Web Hosting – Our Top Picks:
Hostinger – High-end hosting for a price that will make you happy
WP Engine – Managed WordPress hosting with lots of extras
Flywheel – A perfect solution for developers and agencies
Liquid Web – Premium hosting with top-notch performance and security
SiteGround – User-friendly hosting with scalable solutions
1. Hostinger
What Makes Them High-End?
While Hostinger may be among the least expensive options on today's list, it's still a notable step up from most of the competition in terms of performance. For example,
added extras such as SSL certificates, free domain registration, and daily backups come included in their top-tier shared hosting plans
. Opt for cloud hosting and you'll get unlimited bandwidth plus 40GB of SSD storage and 3GB RAM on the cheapest plan, along with a free dedicated IP address and the full scalability of the cloud.
What Makes Them Shine?
Value for money is Hostinger's
biggest drawcard. Regardless of which plan you choose – shared, cloud or VPS – you'll get
a respectable amount of resources for a competitive monthly fee
. Uptime is guaranteed at 99.9% and their customer service gets rave reviews.
What Could They Improve?
Like most providers, Hostinger's pricing lacks transparency. The listed price
requires a whopping four-year commitment
, which is rather excessive for most consumers. The company also doesn't offer a dedicated server plan.
Who Should Consider This Service?
Experienced webmasters looking for "
champagne on a beer budget
" would most benefit from Hostinger. Of course, to get the best price they'll need to commit to a lengthy contract. To learn more about Hostinger,
read our in-depth review
.
2. WP Engine
What Makes Them High-End?
As you may have gathered from the name, WP Engine specializes in web hosting solutions for clients who use WordPress, the world's most popular Content Management System (CMS). In doing so, they charge a
premium to include free WordPress-specific extras
such StudioPress Themes and WordPress plugins as well as a CDN, SSL certificates, and free migrations.
What Makes Them Shine?
Above all else, high-end WordPress users turn to WP Engine for their
renowned managed WordPress hosting services
. Not only does the company take care of the backend on the client's behalf, but they offer specialized marketing and technical advice on how to grow their business as well. Another huge drawcard is that WP Engine customizes plans to suit even the
world's most popular websites
. It doesn't matter how many visitors you get; so long as you use WordPress, WP Engine has a plan for you.
What Could They Improve?
The provider
only hosts WordPress websites
. Therefore, if you're not using the popular CMS, then this option isn't for you.
Who Should Consider This Service?
Owners of well-established WordPress websites
after a premium service with excellent managed support would benefit most from WP Engine. The company is also a hit with large agencies that manage multiple websites. Don't miss our
expert WP Engine review
.
3. Flywheel
What Makes Them High-End?
Much like WP Engine, Flywheel specializes in premium managed WordPress plans for high-traffic clientele. Although they do offer basic plans for freelancers and single website owners, Flywheel gets most of their business through
larger multisite agencies and enterprises
.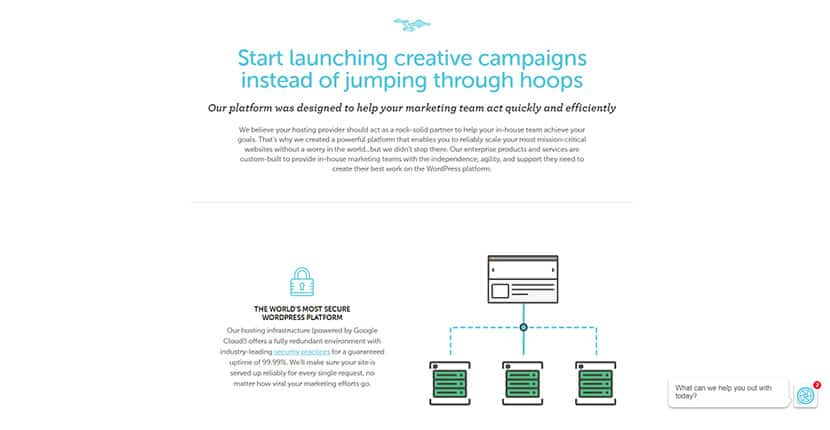 What Makes Them Shine?
The biggest appeals of Flywheel are their feature-rich plans and customization options. For example, all clients receive a built-in server-level caching system for faster website loading times, as well as free malware monitoring/removal and free SSL certificates. In terms of customization, Flywheel allows the client to tinker with cache configurations, custom tools, and the Content Delivery Network, among many other things. Of course,
as a managed service you can leave all this up to Flywheel if you prefer
. A wide range of website builders and e-commerce platforms also help sweeten the deal.
What Could They Improve?
Again, Flywheel only offers WordPress services. Therefore, they're not worth considering for those who don't favor the CMS.
Who Should Consider This Service?
Agencies and large website owners
with hefty demands should look into Flywheel for their feature-rich plans and customization options. Note that the single website plan is about half the monthly cost of WP Engine's equivalent offering, which makes Flywheel a worthy contender for those after a
cost-effective managed WordPress service
. Considering signing up for Flywheel? Read our
in-depth review
 first.
4. Liquid Web
What Makes Them High-End?
Liquid Web may well be the largest premium web host on the planet, boasting over 30,000 customers in more than 130 countries. In fact, big name brands such as National Geographic and Motorola put their trust in Liquid Web's high-end services. The hosting service
offers resource-rich, albeit rather pricey
premium hosting plans, all of which can be managed or not. In fact, Liquid Web only offers high-end hosting; they did away with their shared hosting platform to focus on serving organizations with more complex requirements.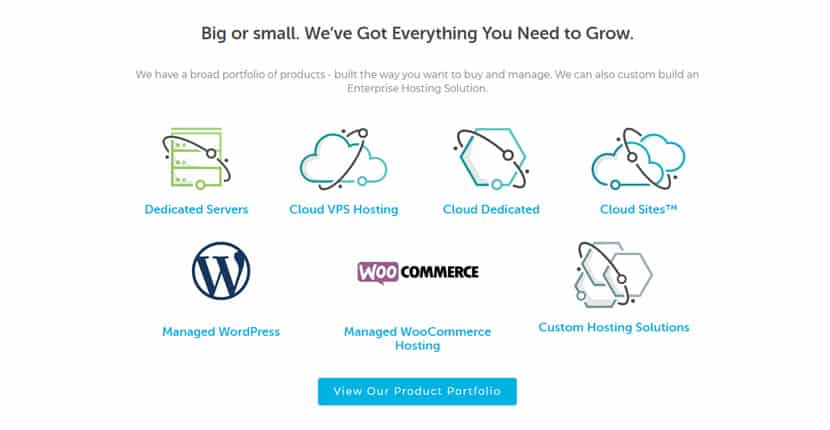 What Makes Them Shine?
Liquid Web provides a
generous amount of resources across all their plans
as well as plenty of features thrown in for free. Their multiple wholly-owned and operated data centers make them
a viable option almost anywhere in the world
. Aside from lightning-quick webpage load times and near 100% uptime, Liquid Web is known for their
responsive customer service representatives
who'll answer the phone in under a minute.
Loads of security features
such as virtual private networks, SSL certificates, firewalls, and malware scanning/removal add to the appeal of this hosting service.
What Could They Improve?
We'll be frank:
Liquid Web is by no means cheap
. Nonetheless, they do equate to excellent value for money for all the extra muscle they provide.
Who Should Consider This Service?
Large and profitable businesses
who are prepared to pay extra for a top-quality service
would get the most out of LiquidWeb. Learn more about Liquid Web in our
expert review
.
5. SiteGround
What Makes Them High-End?
SiteGround prides itself on being super user-friendly while offering a generous level of customization and resources. WordPress users take note: SiteGround's managed WordPress hosting plans are amongst the few in the industry to be
officially endorsed by WordPress.org
. Their highly-optimized WooCommerce hosting solution is also worth a look for e-commerce businesses.
What Makes Them Shine?
A strong level of performance – think 99.996% average uptime with a 99.99% uptime guarantee – for a reasonable price attracts most of SiteGround's clientele. However, for many, it's SiteGround's user-friendly inclusions that really shine. The managed WordPress option is a breeze, as are their website builder, website transfer service, and auto-installers.
What Could They Improve?
Many features typically included in top-tier plans are instead
listed as upsells on SiteGround
. For instance, you'll have to pay extra if you want a dedicated IP address.
Who Should Consider This Service?
SiteGround is ideal for those who want
a user-friendly experience and a respectable level of performance at a reasonable price
. Get the full picture about SiteGround in our
in-depth review
. The above five web hosts are the top premium providers on the market in 2018. As you can see, each specializes in different things. Therefore, it's important to
closely consider your business needs
before locking yourself into a lengthy contract. You might also want to check out reviews on other reputable hosts in our
Web Hosting Reviews
section.