Please note that currently, the Free Website Monitor App is not available in the Google Play Store. You can check back here to see when it will be available again. Thank you.
What is the Free Website Monitor App?
The Free Website Monitor app monitors and analyzes the health of your website, alerts you to any changes, and even allows you to keep an eye on the competition. It is a free and easy way to keep on top of the status of your website wherever you are.
Why Do You Need to Monitor Your Site?
Your website is your business's face to the online world. It defines your reputation. When your website is down, and that embarrassing "error" page goes up, you are effectively closed to the entire global population. It's not just embarrassing – it's also bad for your business. The truth is, every website goes down from time to time. It's inevitable. Even the best hosting platforms that promise that your site will be up 99% of the time will have 1% of downtime each year. 1% doesn't sound like much, but it equates to seven hours a month or over three and a half days a year. That could be thousands of dollars in missed sales and many frustrated visitors who choose to take their business elsewhere, indefinitely.
If your website crashes too often, you will gain a (bad) reputation for being unreliable and unavailable. Visitors will stop recommending your site to friends because it's too frustrating to visit a site without knowing whether or not it will be up.
When your website is down, you can't make a sale. Amazon is estimated to earn $29,000 every minute. That means it would lose over $1.7 million in sales in just one hour of downtime. You might not sell at the same volume as Amazon, but a few hours of downtime a month means losing revenue that you can't afford.
Hackers are constantly looking out for vulnerabilities. A website that is down for an extended period is as good as a welcome sign. It shows that this site is not being monitored, and an unmonitored site is an easy target for cybercriminals and hackers.
One of the elements that search engines consider when ranking websites is the reliability of the site. If your site is repeatedly down or stays down for too long, Google and other search engines will notice, and they will penalize you for it. All of that time you spent working on your SEO can go down the drain when your website is down.
The fact is, there is just no way you can personally check your website's health round the clock. The internet never sleeps, so while you're away from your desk, someone could be trying to buy from your business and failing because your site is down. Fortunately, the Free Website Monitor doesn't sleep either, so you'll be able to stay on guard even when you're asleep, in a meeting, or with your family.
When you monitor your site, you'll know as soon as your site is down or something isn't operating as it should. Website monitoring keeps you informed all the time about the status of your site so that you can respond and fix the problem before anyone notices that your site was out of action.
Why Monitoring Your Site is Good For Your Business
Monitoring your site isn't just a defensive move – it also helps you make your site better.
Using a website monitoring tool is like opening up a window into the performance of your site. You can see where your site is becoming unstable and how to optimize it based on real facts, not guesswork.
Checking your site's performance at regular intervals shows you if your site is slowing down so that you can keep it at peak performance all the time.
With the Free Website Monitor, you can be notified of changes to content on your site (or competitors') site, based on keywords that you define.
Why Choose the Free Website Monitor App?
Get a 360 View of Your Site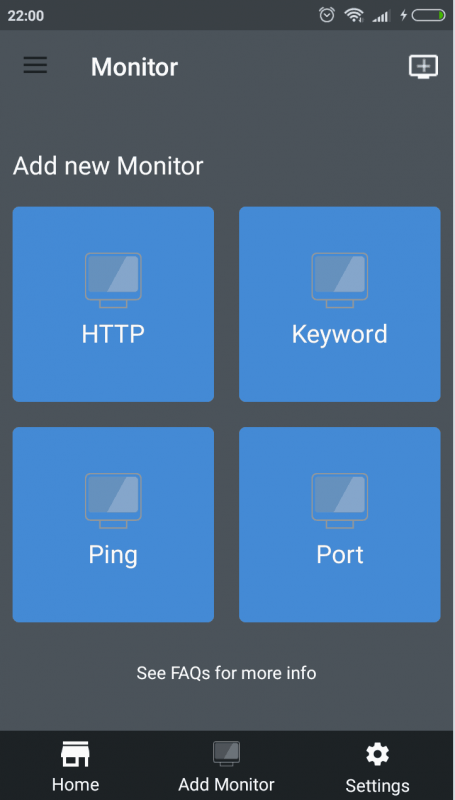 The Free Website Monitor is a multi-purpose tool that lets you set up four different monitors to track different aspects of your site:
http/https
: Checks that a website is running and responding without error.
Ping
: Sends a test message (a "Ping") to your site to test server response time.
Port
: Monitors server port(s) to verify successful connection.
Keyword
: Monitors specific keywords to know when they appear on a particular web page. With the Free Website Monitor, you can gain an overview of your site's health and status in real time to ensure that you are immediately notified of any problematic issues.
Test Up to 288 Times a Day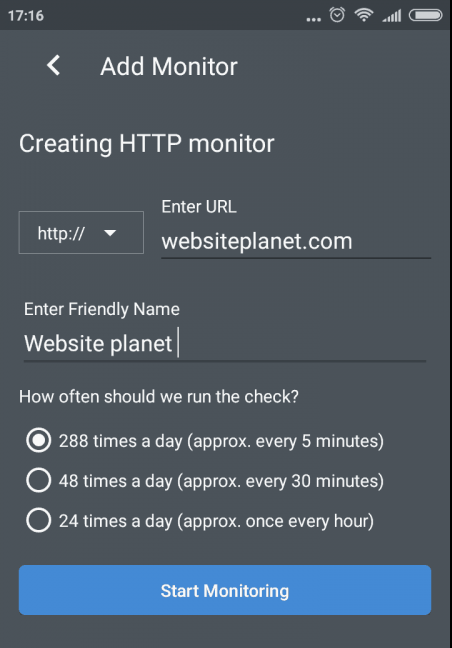 Free Website Monitor lets you choose how often you run a test. You can test once every hour (24 times a day), once every half hour (48 times a day), or even as often as every five minutes (288 times a day). You can set up as many monitors as you would like, and test as frequently as you would like, so that you always know exactly what is going on with your site.
Keep an Eye on the Competition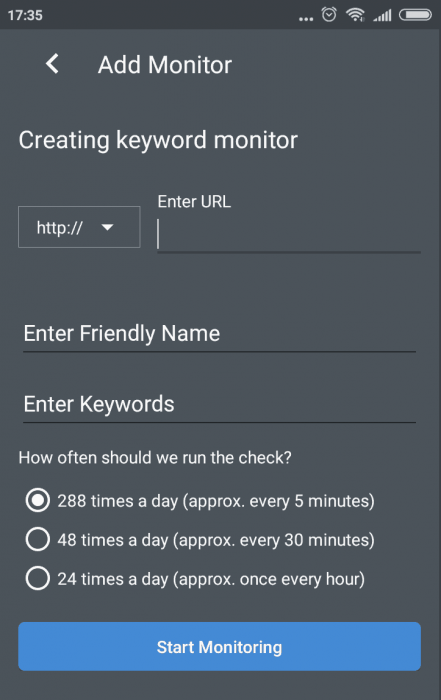 As well as enabling you to track your own site, Free Website Monitor also empowers you to track the competition. Use the Keyword tool to create a keyword alert on any page on a rival website or industry news site. You'll be notified every time your chosen keyword, which could include your company name, is added or deleted.
Easy to Use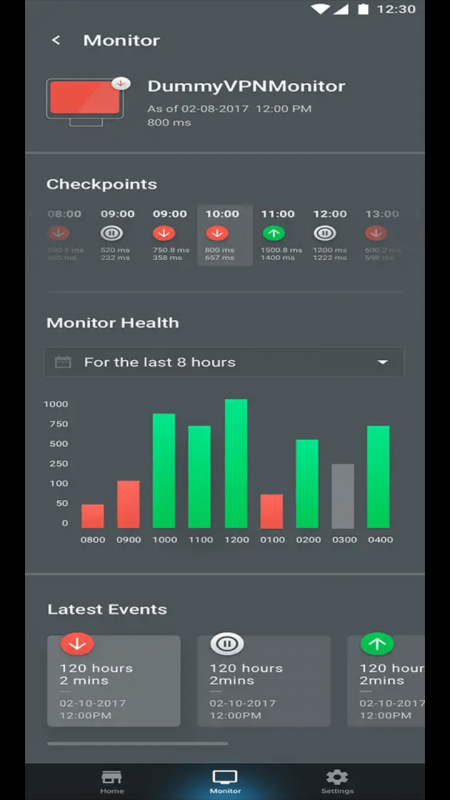 Free Website Monitor's intuitive dashboard makes it easy to view the information you receive. By selecting the monitor you want to view, you can see all of the data gathered over the past 24 hours. Data is presented in easy to read graphs showing uptime and downtime, and you can filter your monitors by 'All,' 'Up,' 'Down,' and 'Paused.'
Ad-Free
You won't be bothered by intrusive, annoying ads when you want to check on your site. Free Website Monitor is completely ad-free.
The Benefits of Using the Free Website Monitor App
The Free Website Monitor app provides continuous visibility into your website's status, ensuring you're promptly informed of any downtime. This tool empowers you to enhance your website's uptime and minimize periods of inactivity. With a more reliable website, Free Website Monitor helps you Improve your revenues and visitor metrics. It also helps increase your online sales, boost visitor engagement, and raise vital metrics such as time on site and conversion. In addition, your site will never be seen as an easy target by cyber hackers and criminals. A more reliable site is also factor in boosting your SEO and bumping your site up the search results rankings. Free Website Monitor is your go-to tool to keep your website in perfect working order, 24×7, to boost your web traffic, improve revenue and reputation, and reduce the risk of cyber-attack. Ready to start monitoring your site? Download the Free Website Monitor Want more details on how to use the Free Website Monitor? See the
Complete Guide to the Free Website Monitor App