Liquid Web has been around since 1997. It now hosts over 500,000 websites for over 30,000 customers from more than 130 countries. With premium plans promising superior support and performance, it definitely caters mainly to an enterprise-scale customer base with a bigger budget. In my
expert Liquid Web review
, I take a good long look at whether it lives up to all its claims. In this step-by-step guide, I'm focusing on Liquid Web's sign-up process. Specifically, I'll check out how long it takes and whether there are any hidden costs or tricks to be aware of. Business-centric hosting companies usually have stricter and lengthier sign-up processes, and we'll soon see if that is the case with Liquid Web.
How to Create a Liquid Web Account Step by Step
Creating a New Account
The first thing you'll need to do is choose a plan. If you go with Managed WordPress, there are only three straightforward options that mostly differ in the number of websites supported and the amount of storage provided: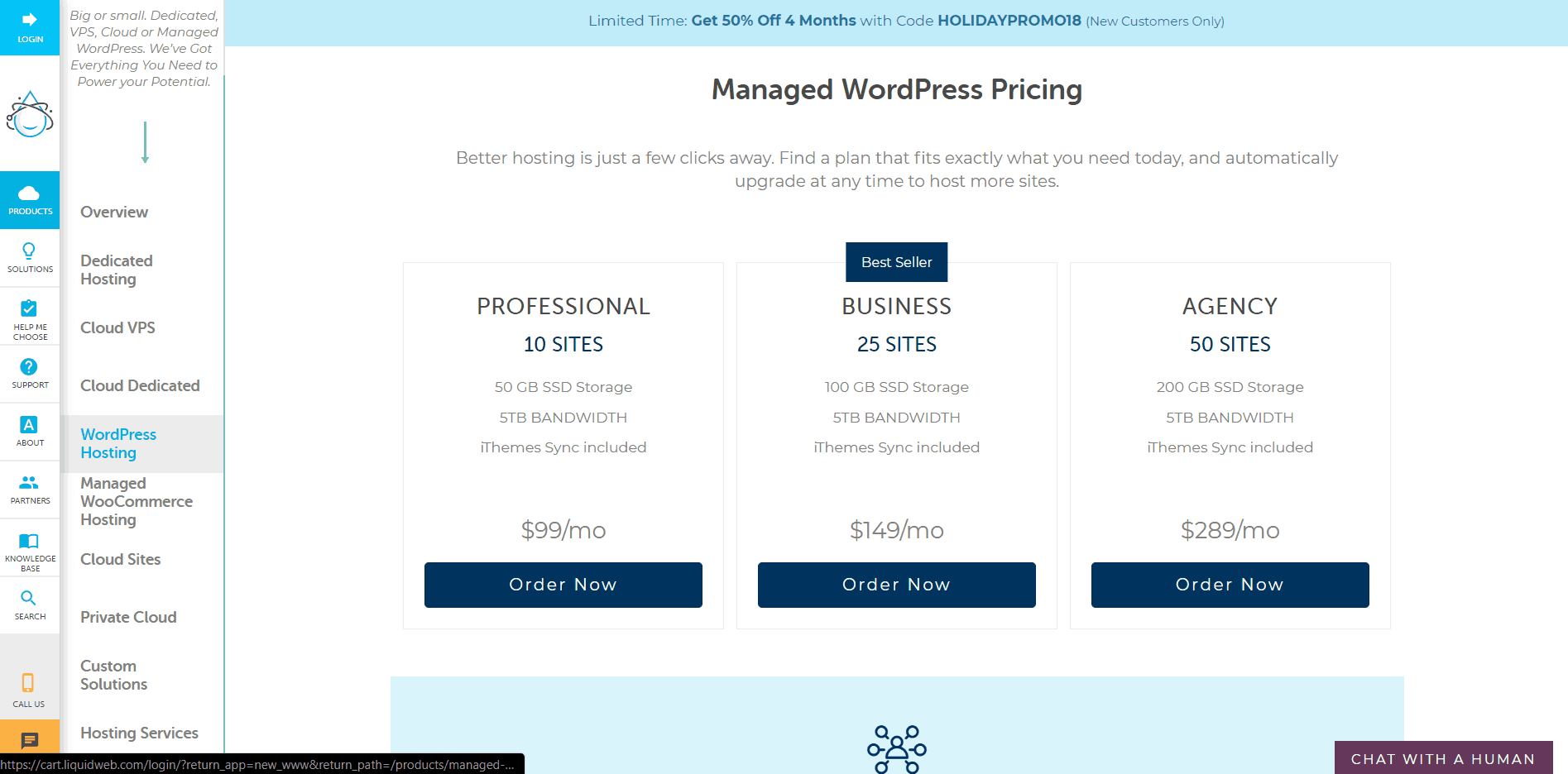 In the next screen, you'll be asked if you'd like a Premium Business Email add-on for your account. Frankly,
I didn't like that this was an upsell
: many other hosts will include this for free in their packages, and given Liquid Web's premium price tag, I thought it would, too.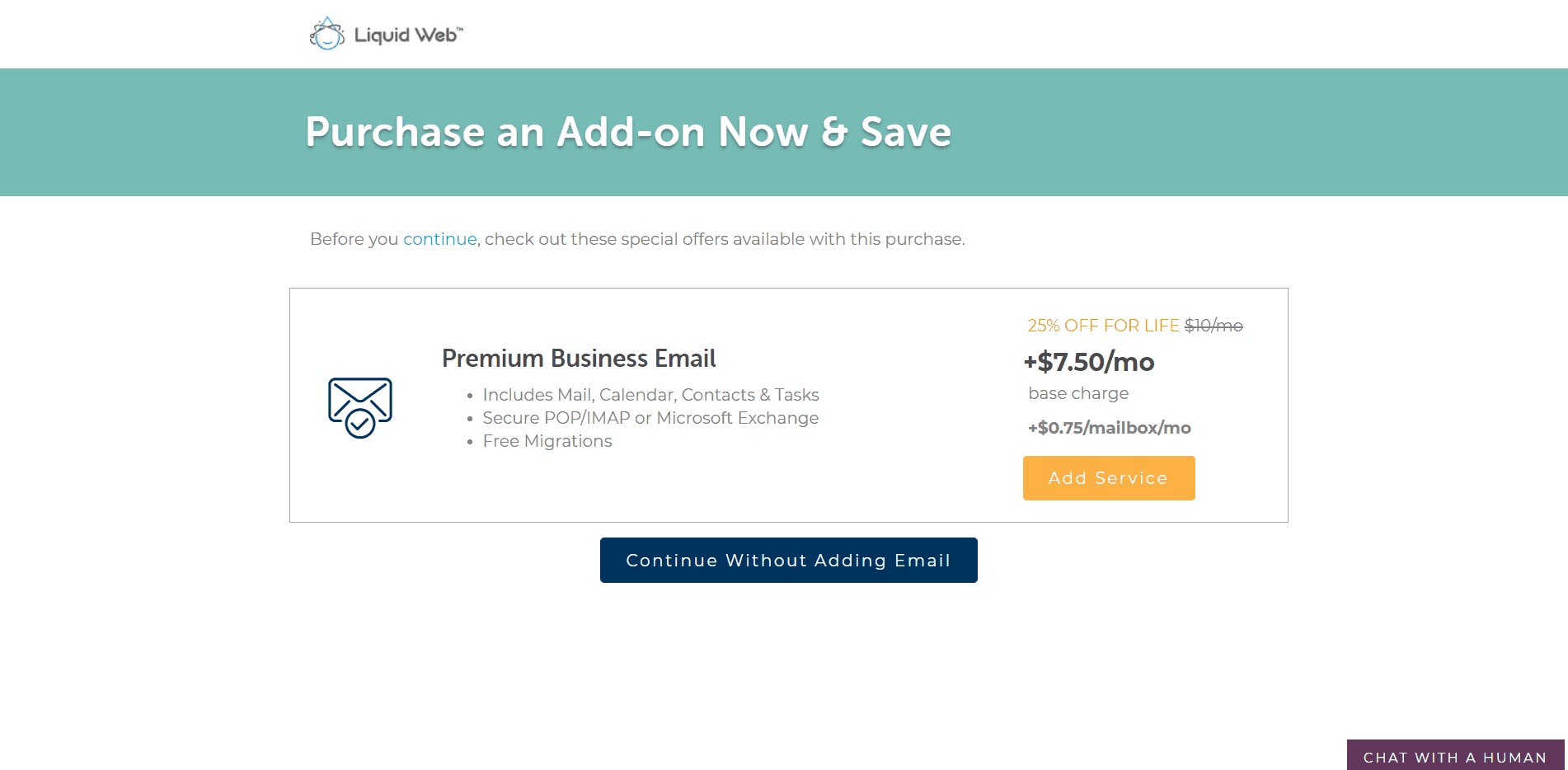 The next page is where you'll review your order.
Liquid Web loves to run promotions, so always be sure to check whether there are any discounts available before you complete your purchase
. Click
have a
coupon? to add the promotional code. In my case, it was 50% off for the first four months, which saved me a significant amount. And once again, you can get the Premium Business Email add-on on the bottom right: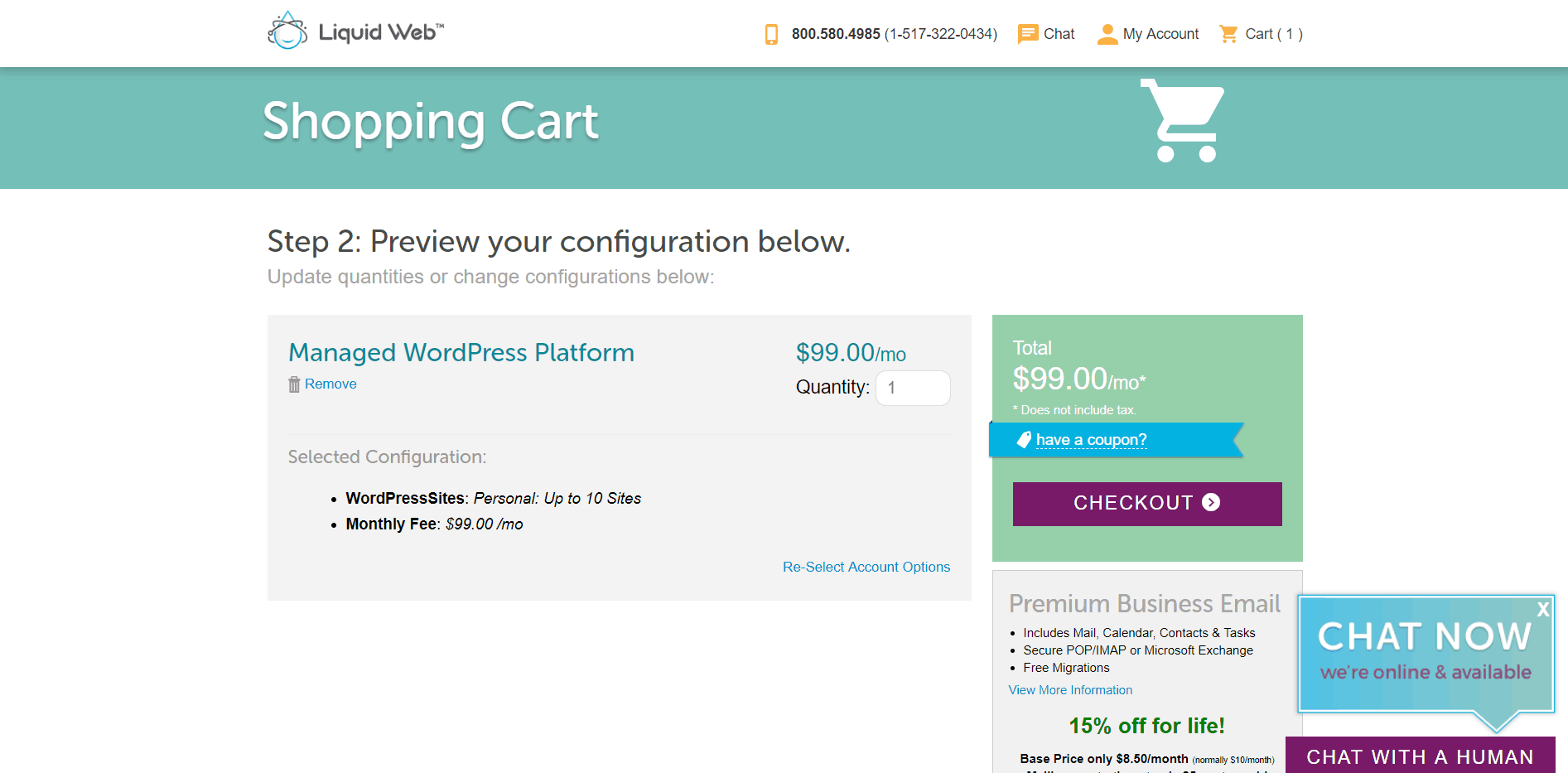 The next step is where you'll register your account and pay. You'll only need to provide very basic account and billing information.
Liquid Web accepts only credit cards and PayPal as payment methods
. If you go with a credit card, you'll need to fill in your card details in a popup box, but you won't be charged until you submit your order below.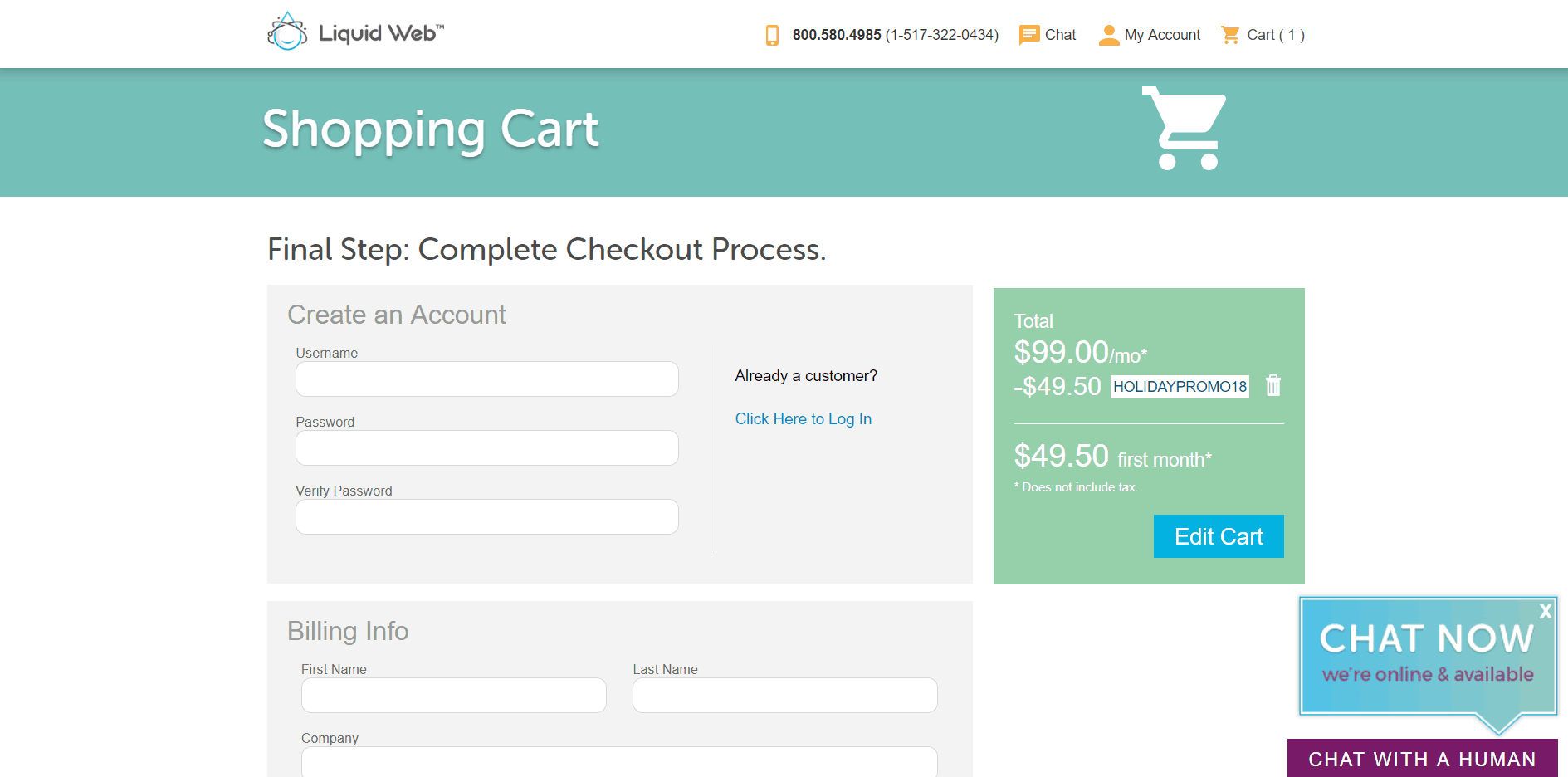 After you've selected your payment method, the Service Info box is where you type in the primary domain to be hosted.
Liquid Web doesn't include free domain registrations with its Managed WordPress packages, so this will be an added cost
. If you haven't already got a domain, you can always purchase hosting first and register your domain later on in your Managed WordPress Portal. Once you've got all of this filled out and you're happy with your order, you can click the
Submit Your Order
button: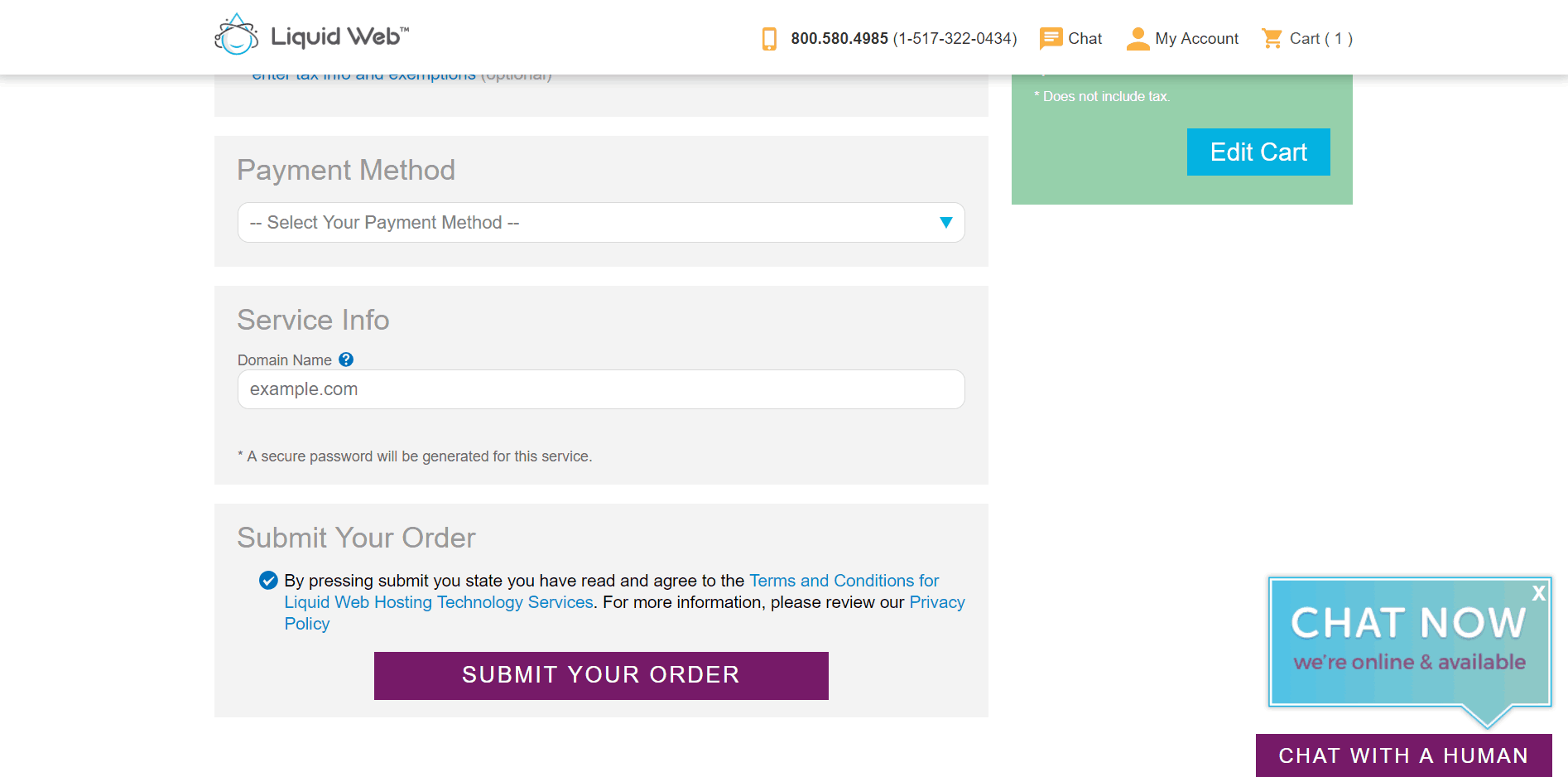 If you opted to pay with a credit card, you'll be presented with the order confirmation page below. If you selected PayPal, you'll be redirected to its website to authorize the purchase, and then be taken back to the order confirmation page. You'll be given a phrase to identify yourself to customer support whenever you talk to them on the phone or live chat. I recommend copying this phrase and keeping it somewhere safe,
though if you do lose it, don't worry: you'll be able to change it at any time from your dashboard
.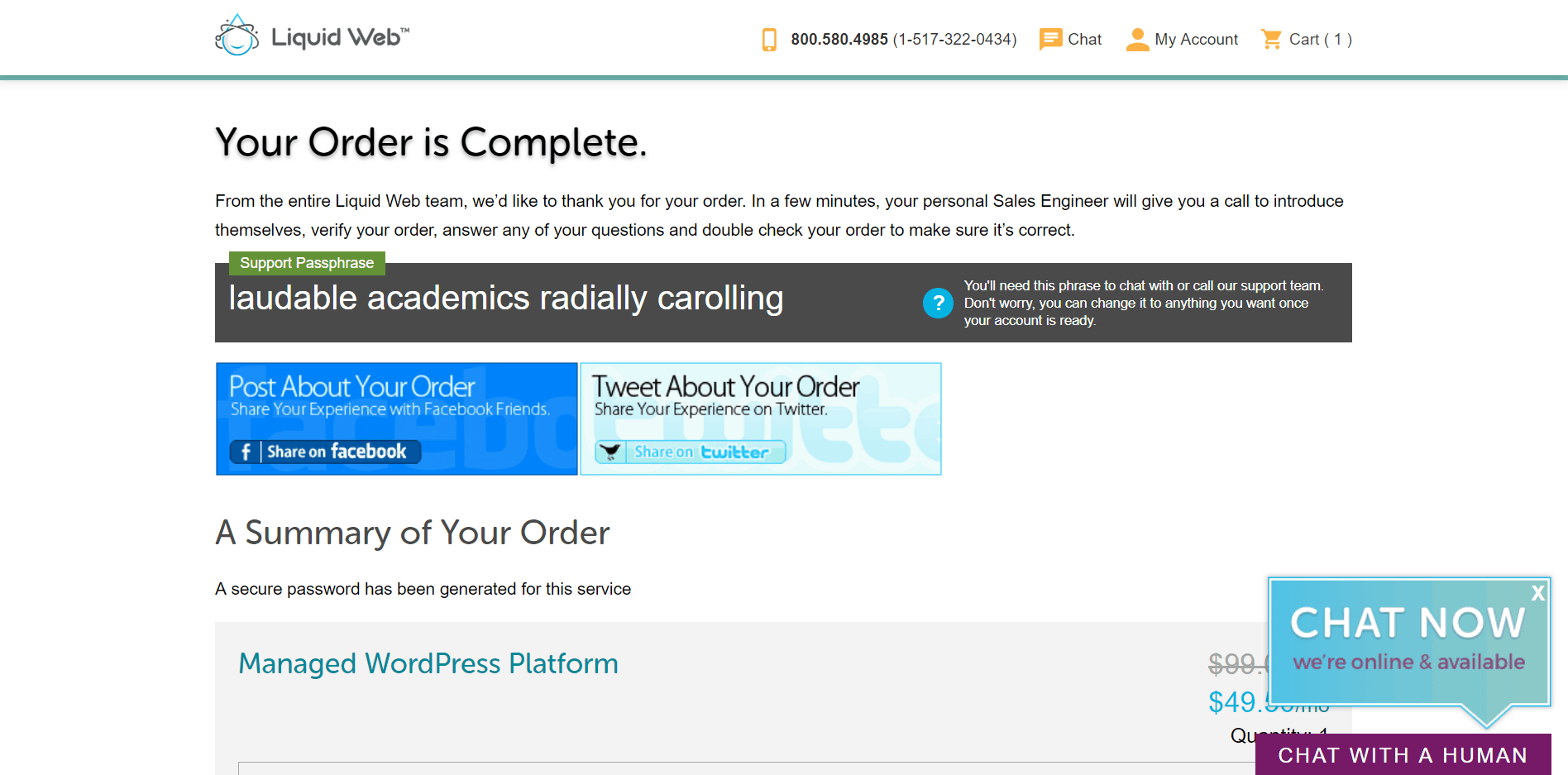 At the bottom of the page, you can also see a summary of your order: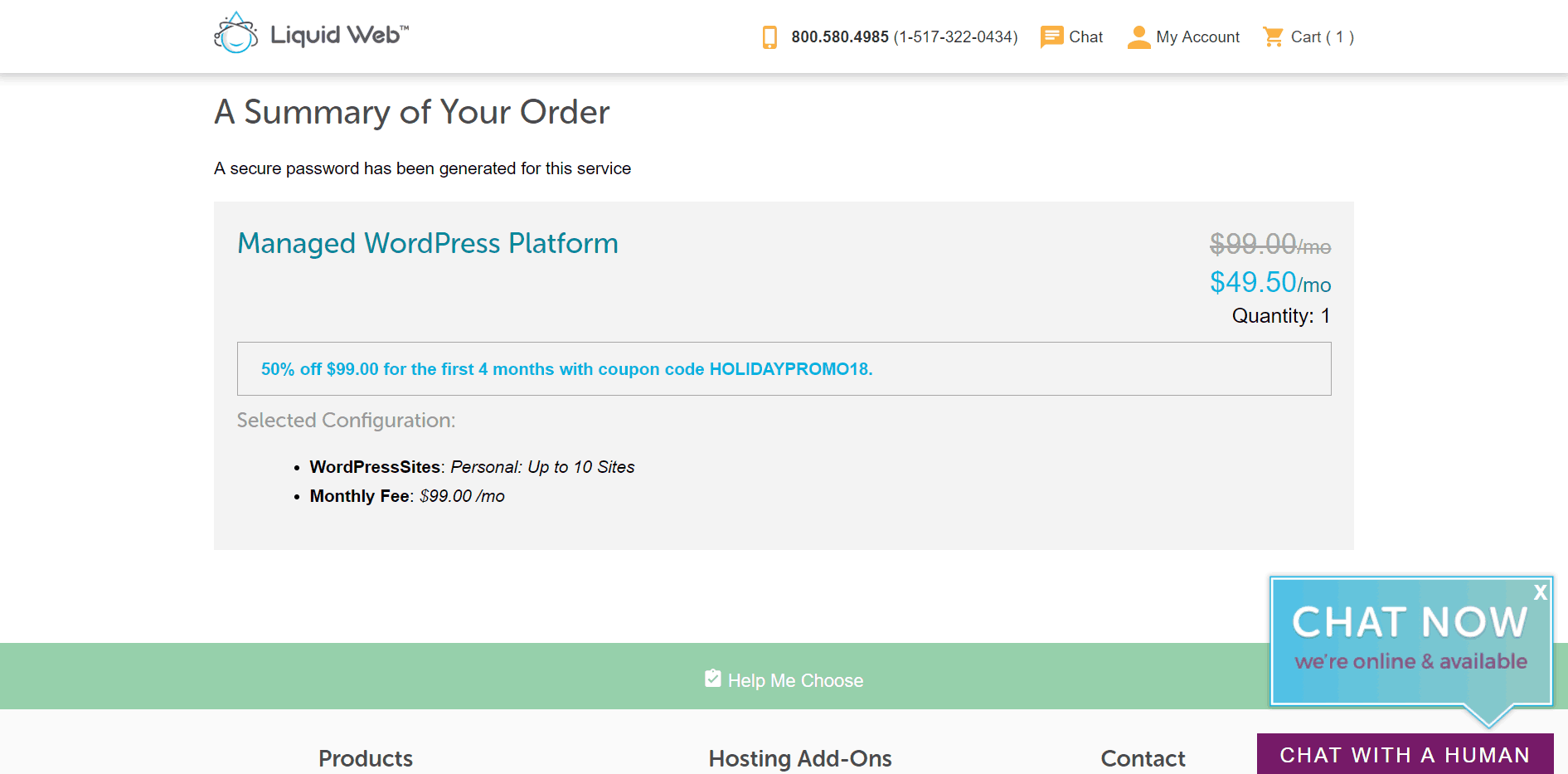 In the meantime, you'll be sent an email to confirm your order. This email doesn't really contain anything useful except for a link to a knowledge base article on migrating to Liquid Web. If the transaction was successful, you'll get the following receipt: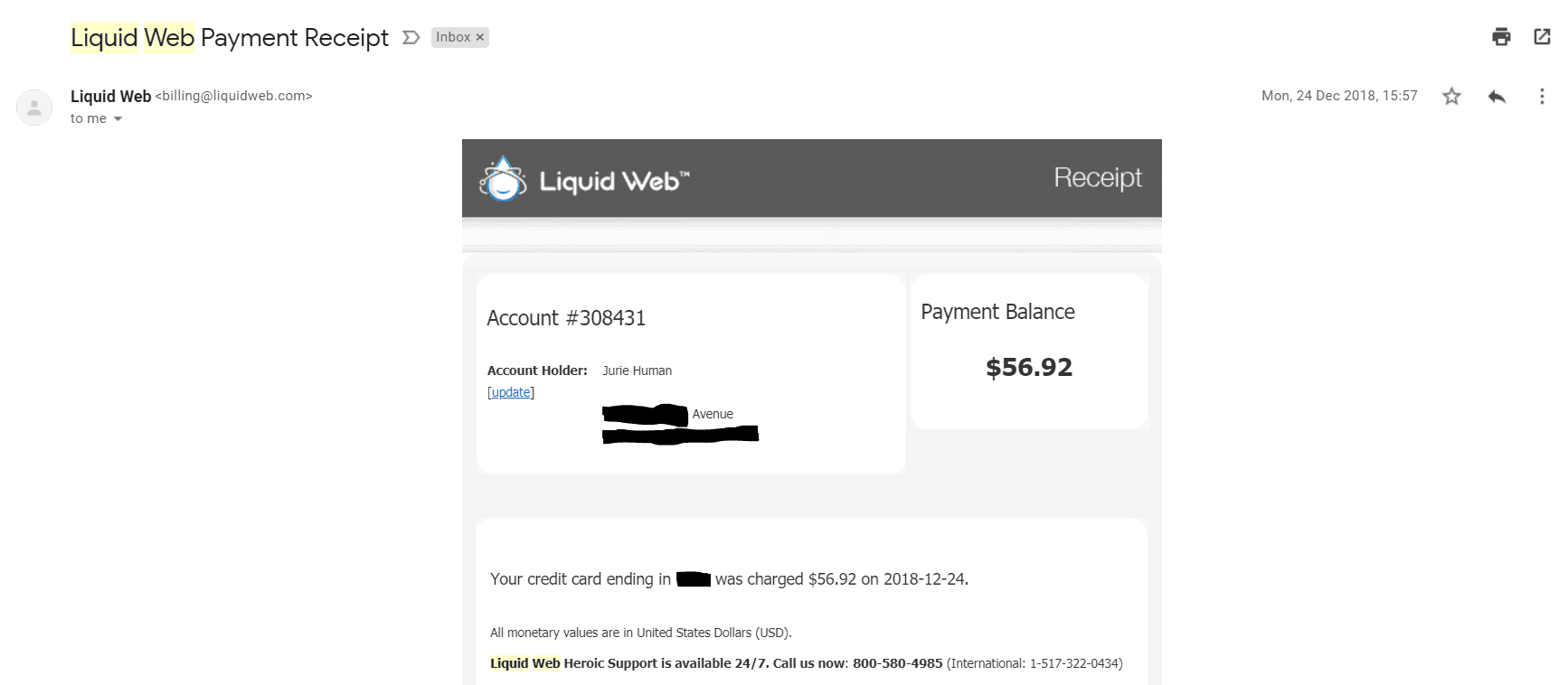 This is all you can do for now. The next step is to wait for your "Personal Support Engineer" to call you to verify your order.
Liquid Web claims that this call will take place in a matter of minutes
. For me, it was closer to 30 minutes, which is still not bad compared to other hosts. Unfortunately, when companies rely on a one-to-one talk with a support agent to verify your purchase, the time to create your account can take quite a bit longer. It also adds a bit of complexity and uncertainty to the whole process, even though it's nice to have an expert to talk to during the onboarding. The support engineer will explain the basics of your Liquid Web hosting. If you have any questions or concerns, he's well-equipped to answer them as well. Note that to verify your identity, he may ask you for your name, the last four digits of your credit card, and the primary domain to be hosted.
After this call, your account will be activated
. The next time you log in, you'll see the following screen. It's a nice way to get acquainted with the next steps forward and make you feel like you're in good hands: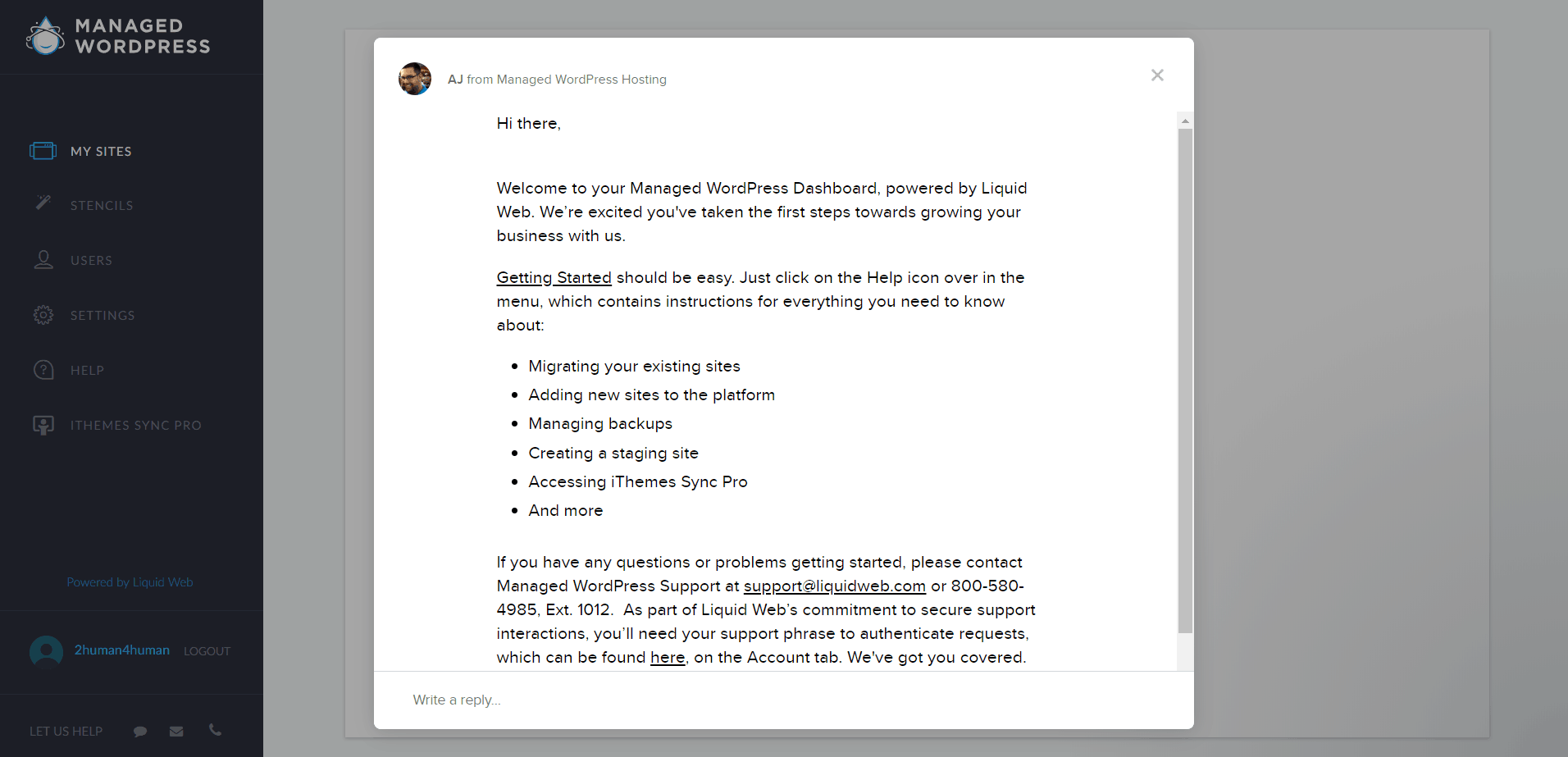 Sometime during the final stages of the process, you'll also be sent the following email. This one does have a few bits of useful information, such as where to find your billing information, the support email address, and introductory knowledge base articles.
An (Almost) Quick and Painless Sign-Up Process
Other than the verification call, signing up with Liquid Web only took about three or four steps.
For a company that focuses on corporate hosting, this is surprisingly streamlined — saving you precious time
. Liquid Web also doesn't spam you: you'll only get three emails during the entire process, two of which contain important information. Liquid Web maintains a high level of pricing transparency, presenting a solitary upsell that is not pre-selected and is showcased on its dedicated page. Additionally, there are no concealed costs that will be revealed only as you prepare to exit the platform.
Here's a pro tip: contact sales support beforehand and express your interest in some of their hosting products
. If you're lucky (which I was), they'll send you an email full of goodies in the form of discount codes or coupons. The only minor snag I encountered was the
compulsory verification phone call with a support engineer
.  This will almost inevitably result in a significant delay, especially considering how quick and painless the rest of the process is. With that in mind,
there are a few other hosts that don't require verification calls and thus have much faster sign-up times
.
iPage
and
GoDaddy
are generally aimed at a less experienced crowd and their short sign-up times reflect this.
Flywheel
has a similar customer base as Liquid Web, but it only requires verification by SMS or your credit card details.
InMotion Hosting
is another company that requires a verification call. You'll also need to wait on an email to proceed, which might be delayed if you're purchasing the plan over the weekend. However, InMotion Hosting offers a cPanel-based managed WordPress hosting experience, if that's something you'd prefer. Since Liquid Web is a premium business hosting service, you definitely can't base your decision to sign up solely on how long it takes to create an account. Read my full
Liquid Web expert review
to see if it provides a suitable hosting infrastructure for your business.