GoDaddy is so well-known in the hosting industry that it barely needs an introduction. The company has been around for a long time and has a comprehensive catalog of hosting services and related products. However, there have always been questions surrounding the integrity of GoDaddy's pricing and selling strategies.
This is something you need to be particularly wary of during the sign-up stage, as you might just accidentally end up paying much more than you initially expected
. That's why I've provided this step-by-step account of what creating an account with GoDaddy looks like. I've identified any potential pitfalls and assessed GoDaddy's accessibility along the way. If you're still not sure if GoDaddy is the right host for you, read my
expert GoDaddy review
 for a broader look at this industry giant.
Creating a New Account
The process starts by selecting the GoDaddy hosting option of your choice. If you click Add to Cart on one of the plans, it'll go ahead with the purchase of that plan. If you just click the green Get Started button, you'll be able to select your plan on the following screen: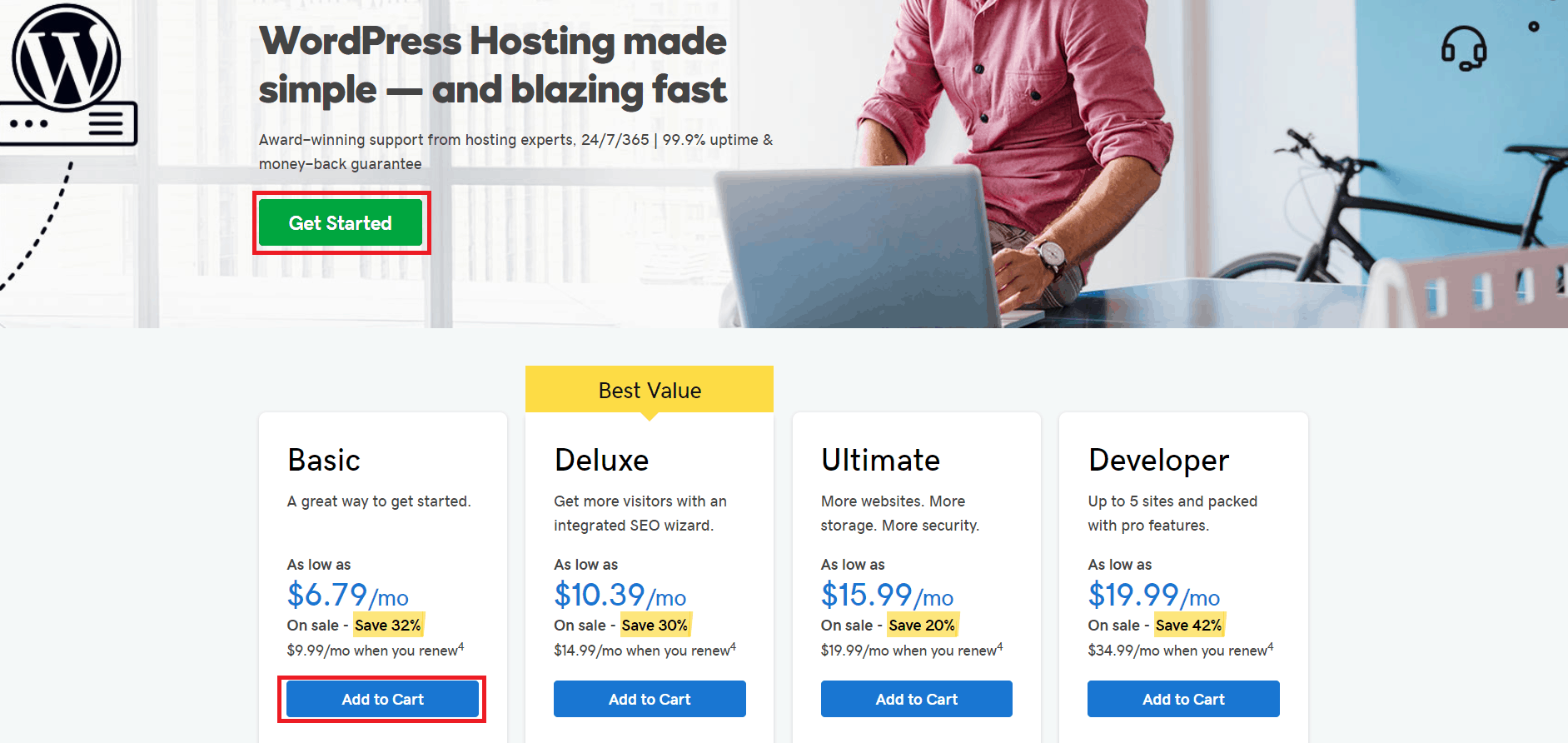 On this page, you'll also find the option to select your billing term.
You should be careful on this page, as the longest billing cycle of 36 months is selected by default
: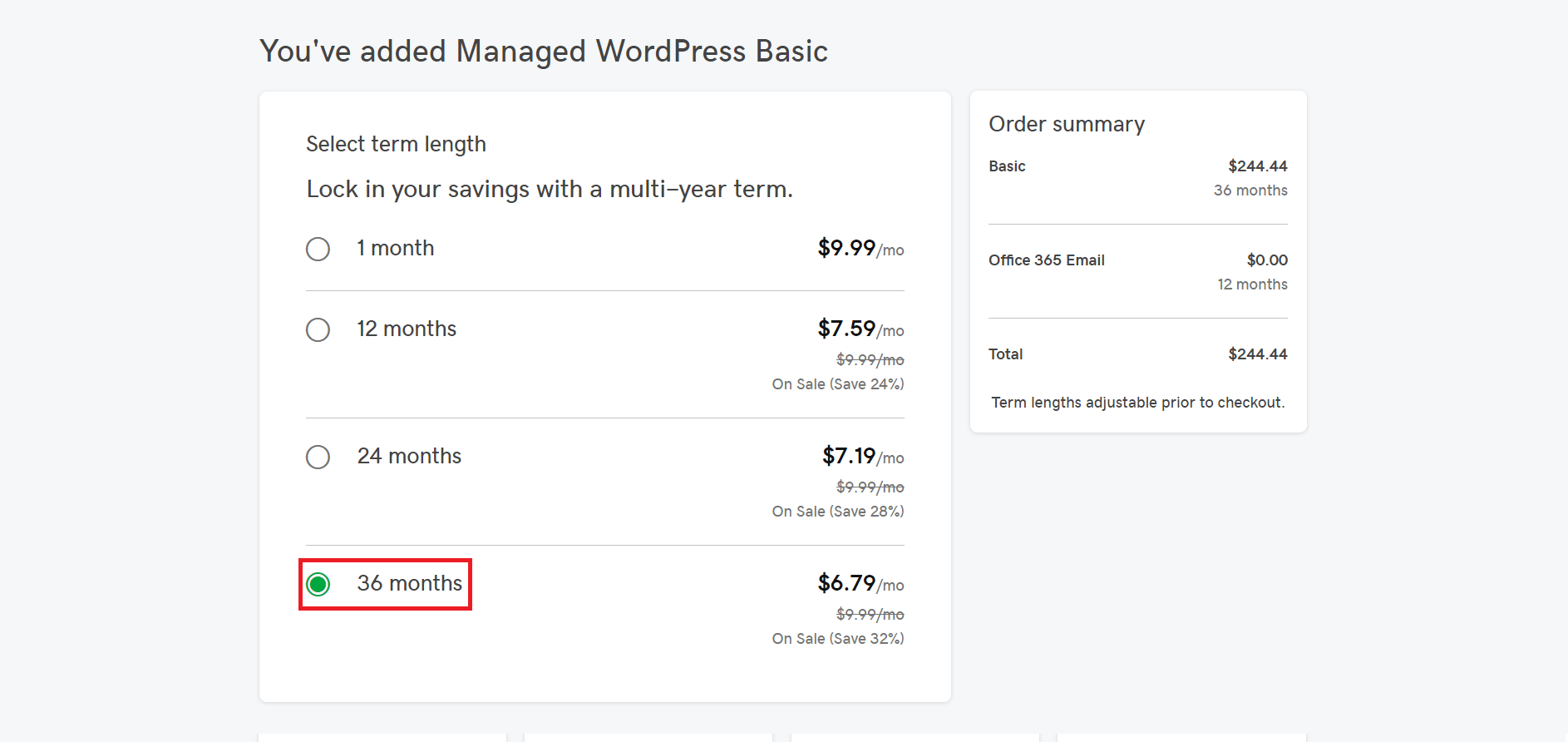 However, both of the other upsells, Website Security Essentials and SSL certification, will be unchecked: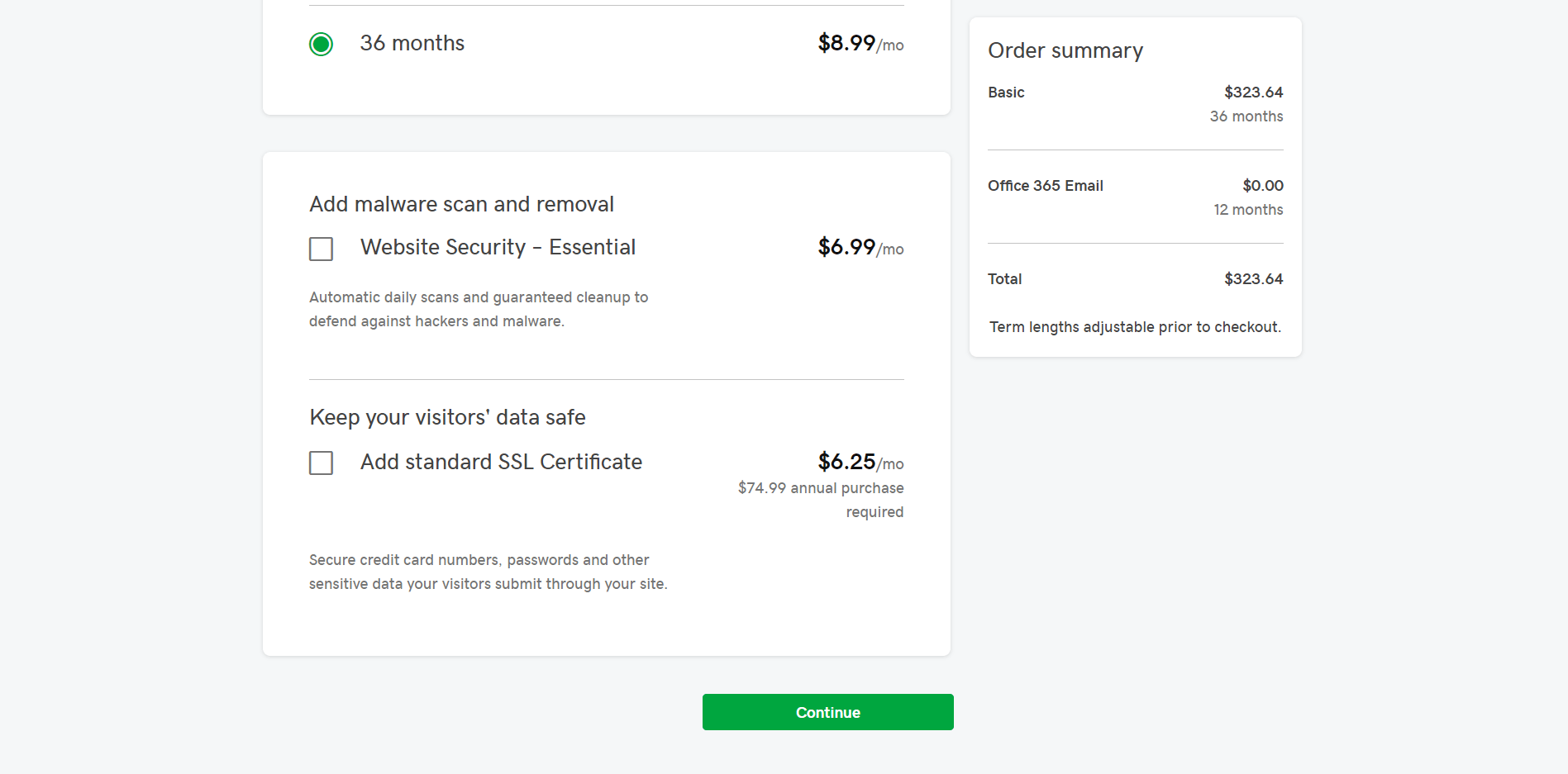 If you choose an annual billing term or longer, you'll be taken to this page where you can select a free domain: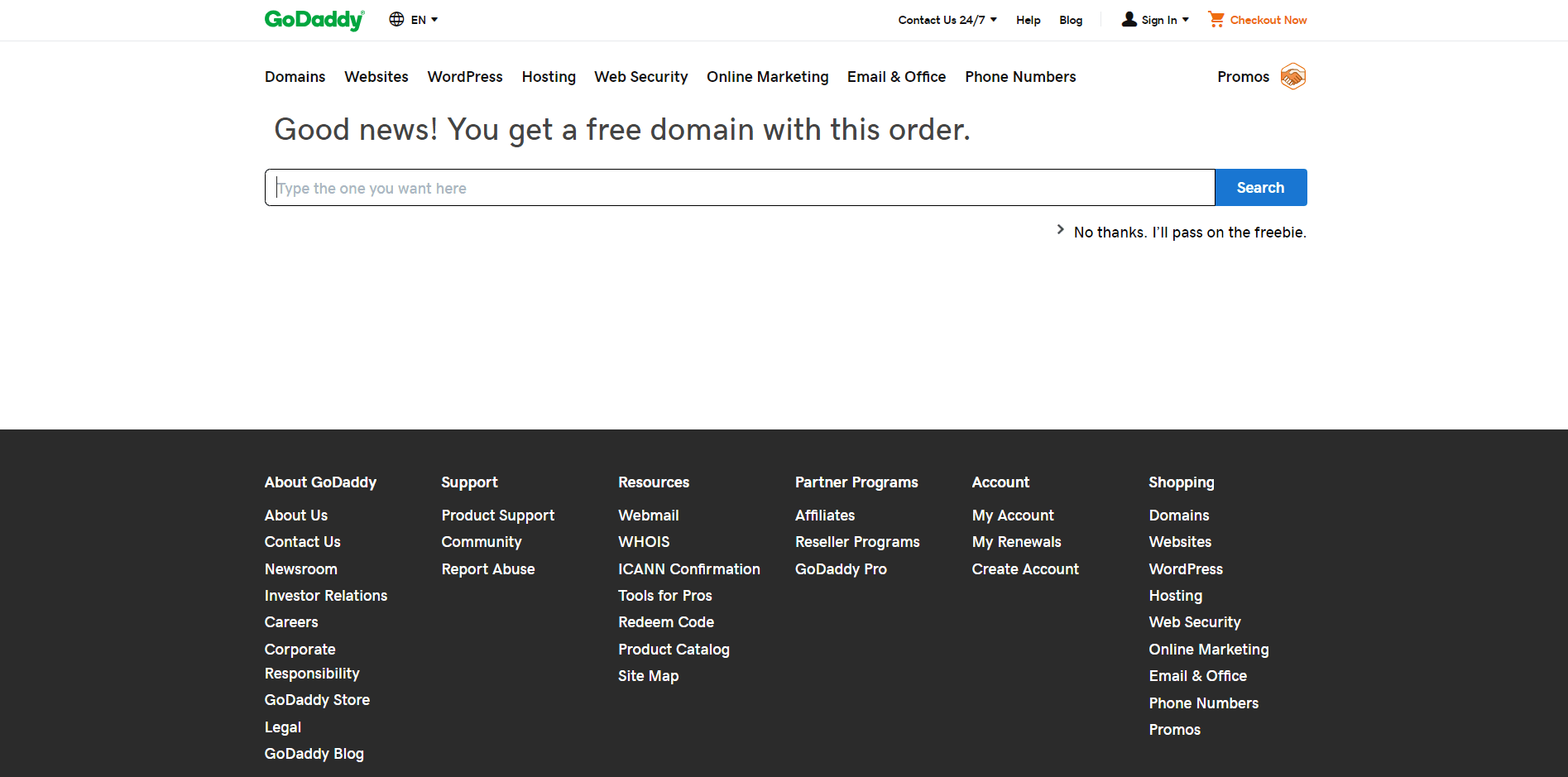 Otherwise, you'll go straight to the purchase page below. Here, you can review all the items in your order and adjust the billing period. I included a domain for illustrative purposes, though this is easily trashed using the icon — as are the other add-ons (paid or otherwise).
Also, make sure that you check the renewal rates on this page
. GoDaddy deserves a pat on the back for addressing concerns surrounding its pricing strategies, and displaying the renewal rates here in a transparent way. As GoDaddy usually offers some kind of promotion when you first sign up, the renewal rates are generally higher than your initial costs. In the domain box, you'll also find the option to purchase WHOIS privacy, which isn't automatically included. The next two upsells allow you to add professional email from Outlook or more domains.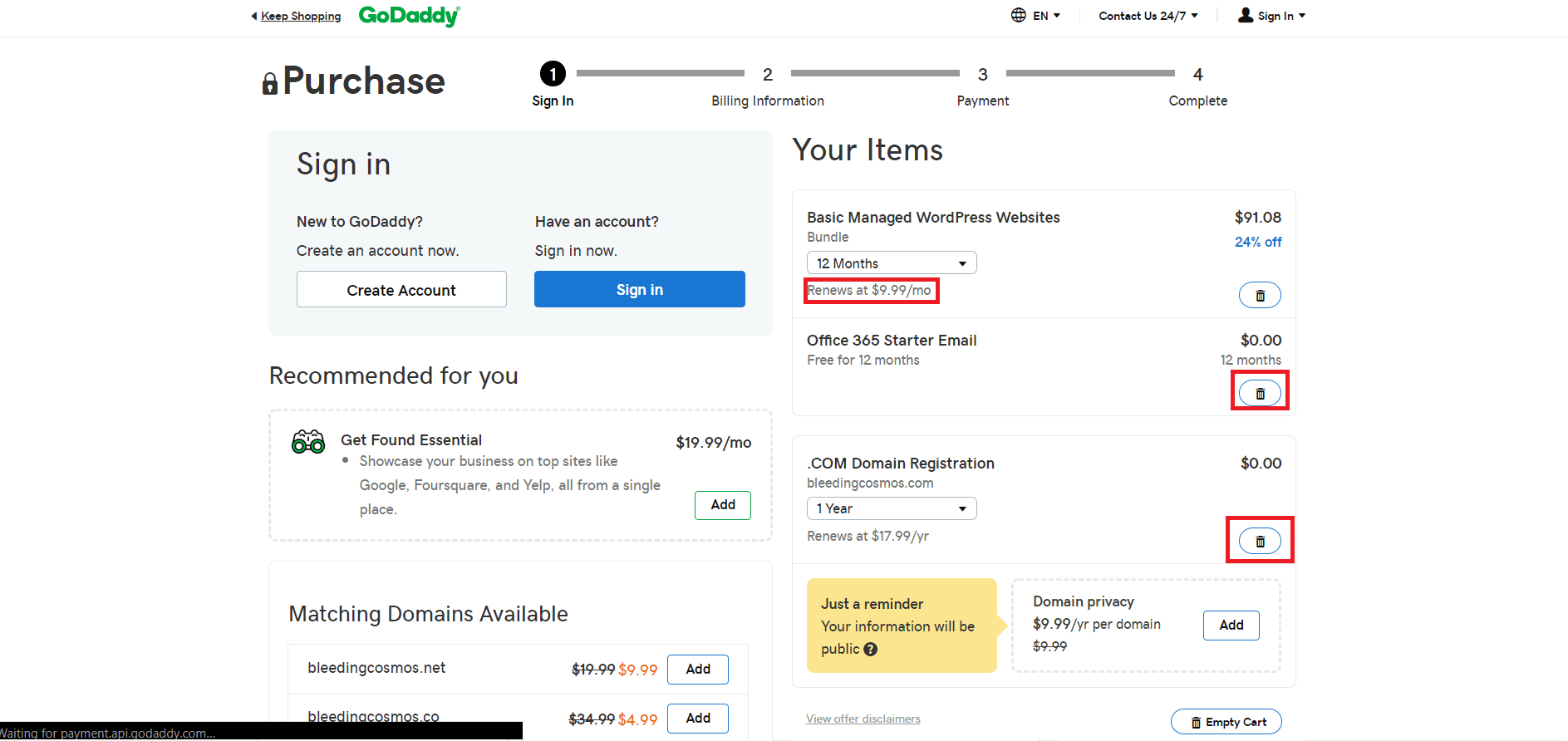 On the same page, it's not entirely clear what you're supposed to do to proceed to the next step. However, if you look to the top left you'll see
a box where you can sign in or create a GoDaddy account, which is what you have to do next
. Fortunately, you won't have to spend too much time on this, as all you have to do is provide an email address, username, and password: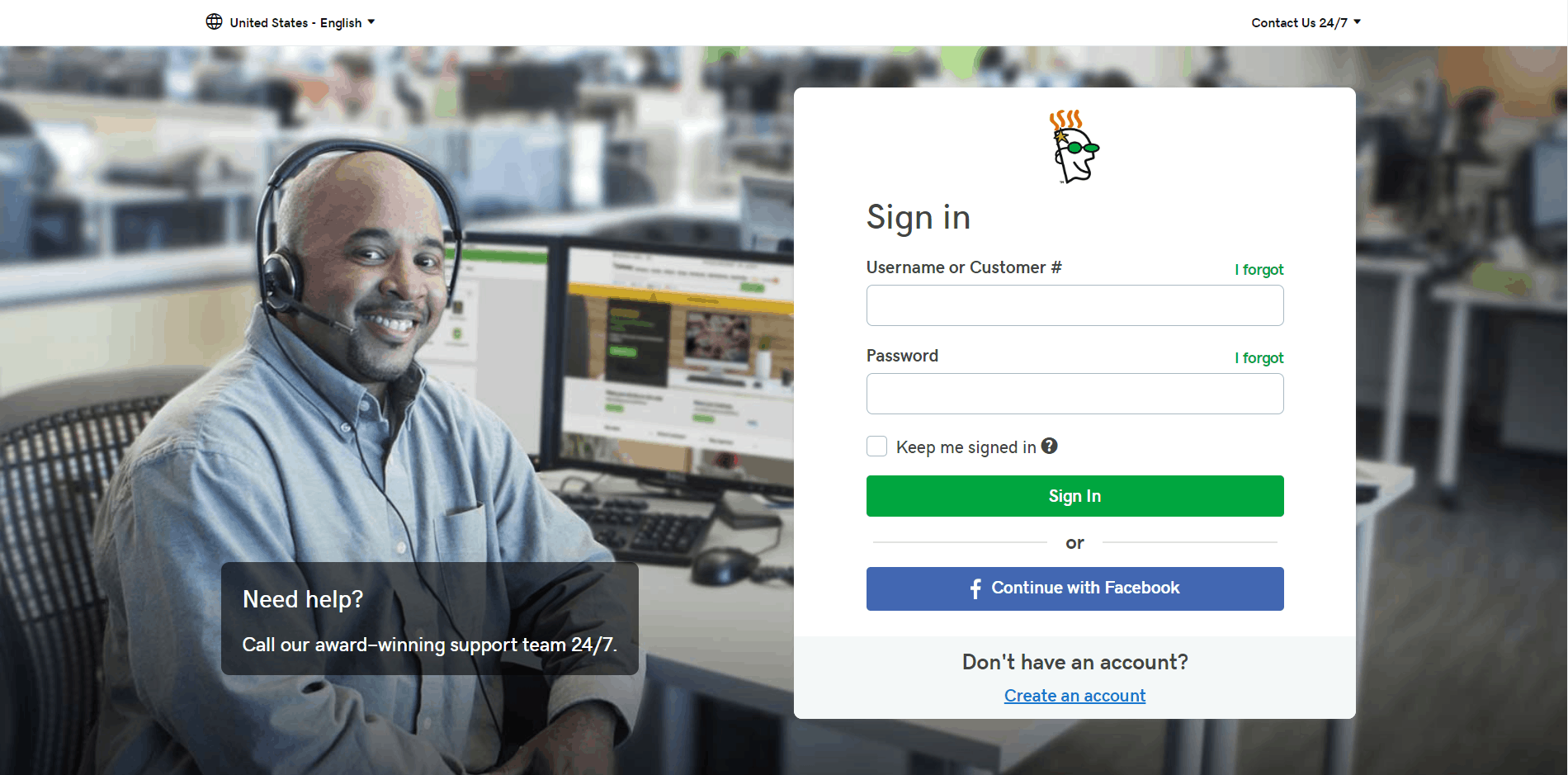 Whichever way you choose to create an account or sign in, the next step is to add your payment details. Make sure everything is correct up until this step, as the payment will be processed here when you click the
Complete Purchase
button. As you can see in the top left,
you can pay with either PayPal or a credit/debit card
(with all major cards supported). Once again, it's easy to remove items from your cart, and the only upsell (for GoDaddy Online Bookkeeping) isn't ticked by default: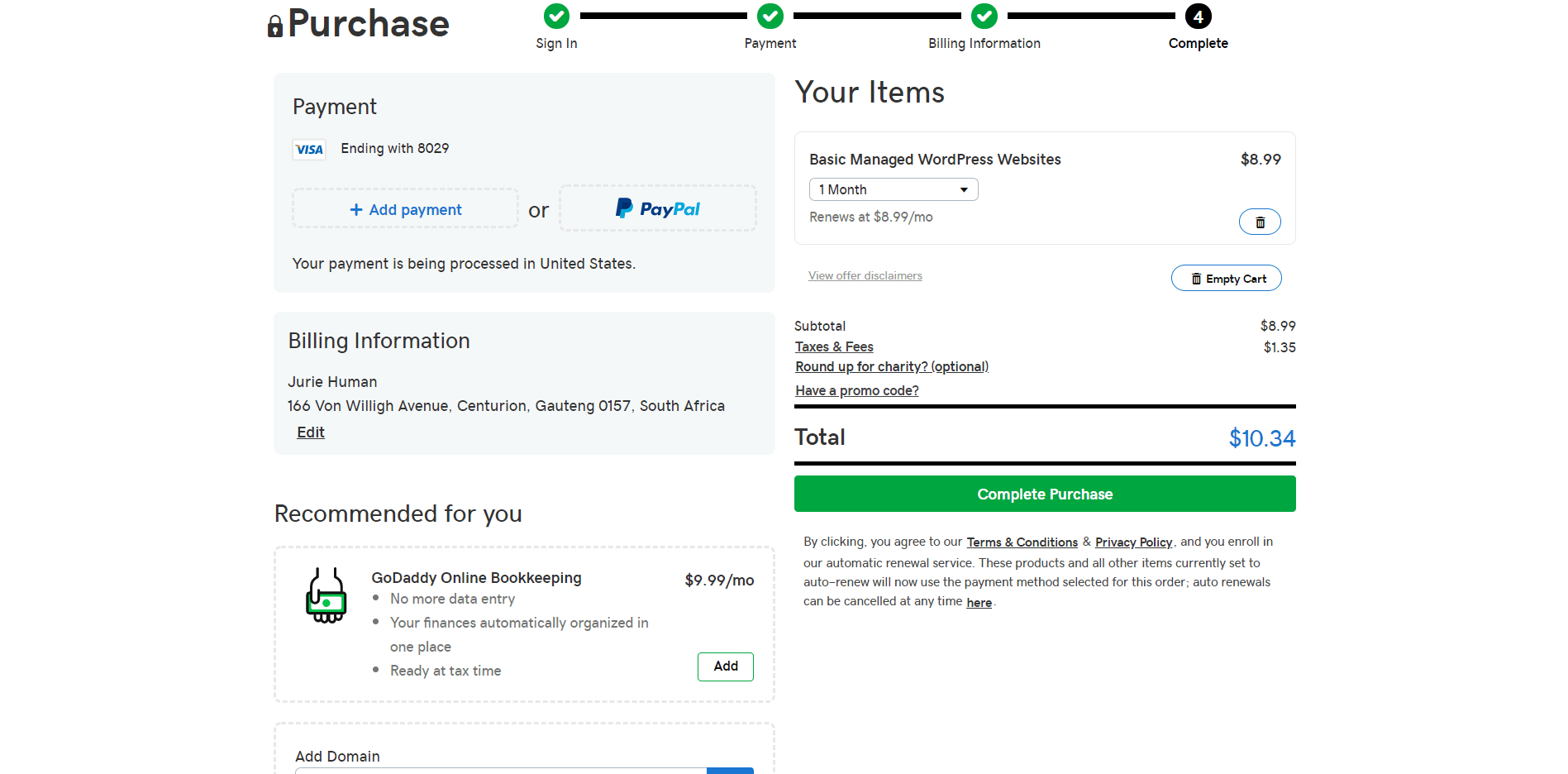 For the socially conscious, GoDaddy allows you to donate money to charity by rounding up your order to the nearest dollar. You'll be able to choose from a number of causes via the popup: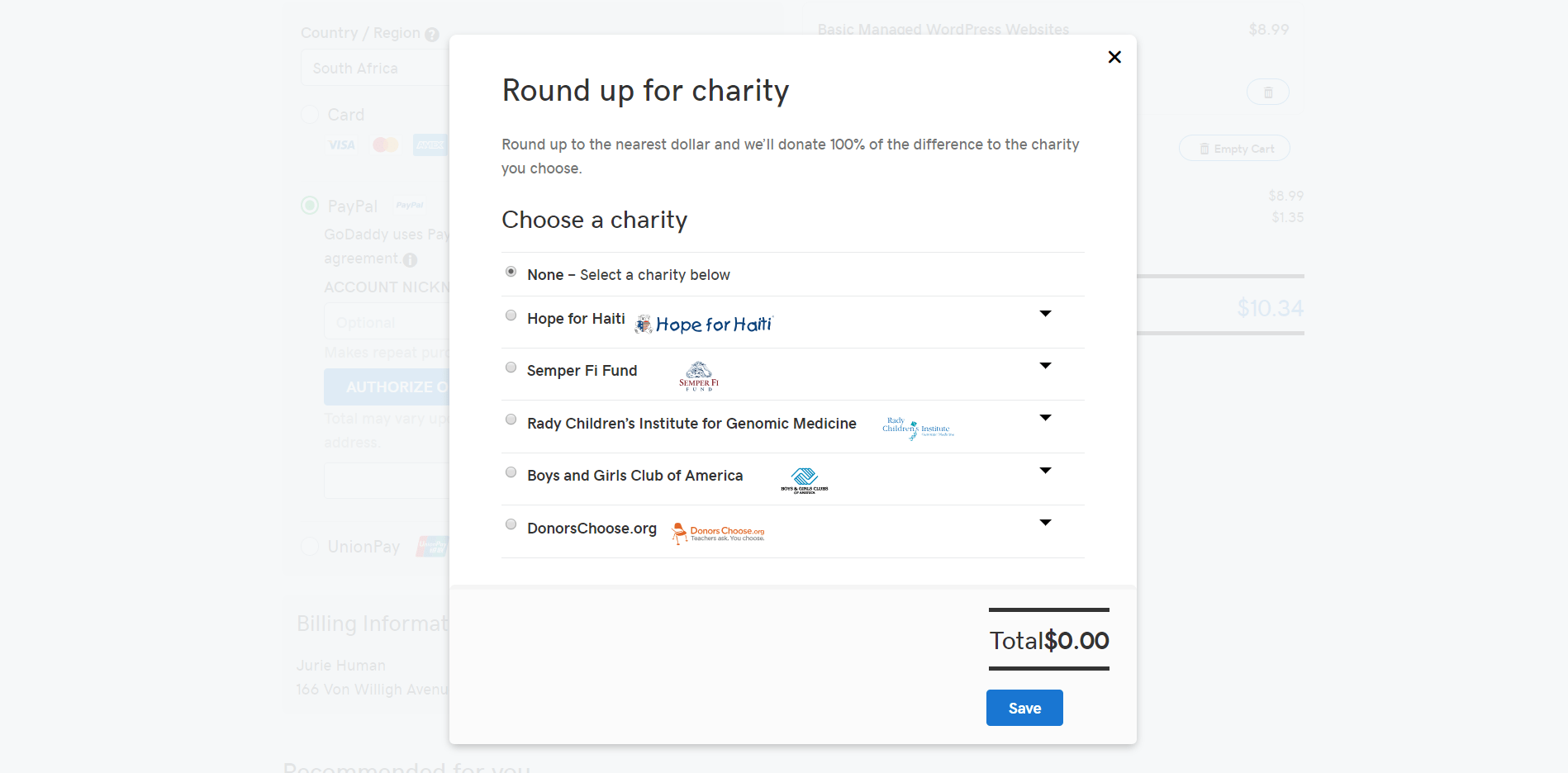 Afterwards, click
Complete Purchase
to commit to the transaction.
You'll immediately be logged in, and you can start creating websites from your WordPress hosting dashboard
: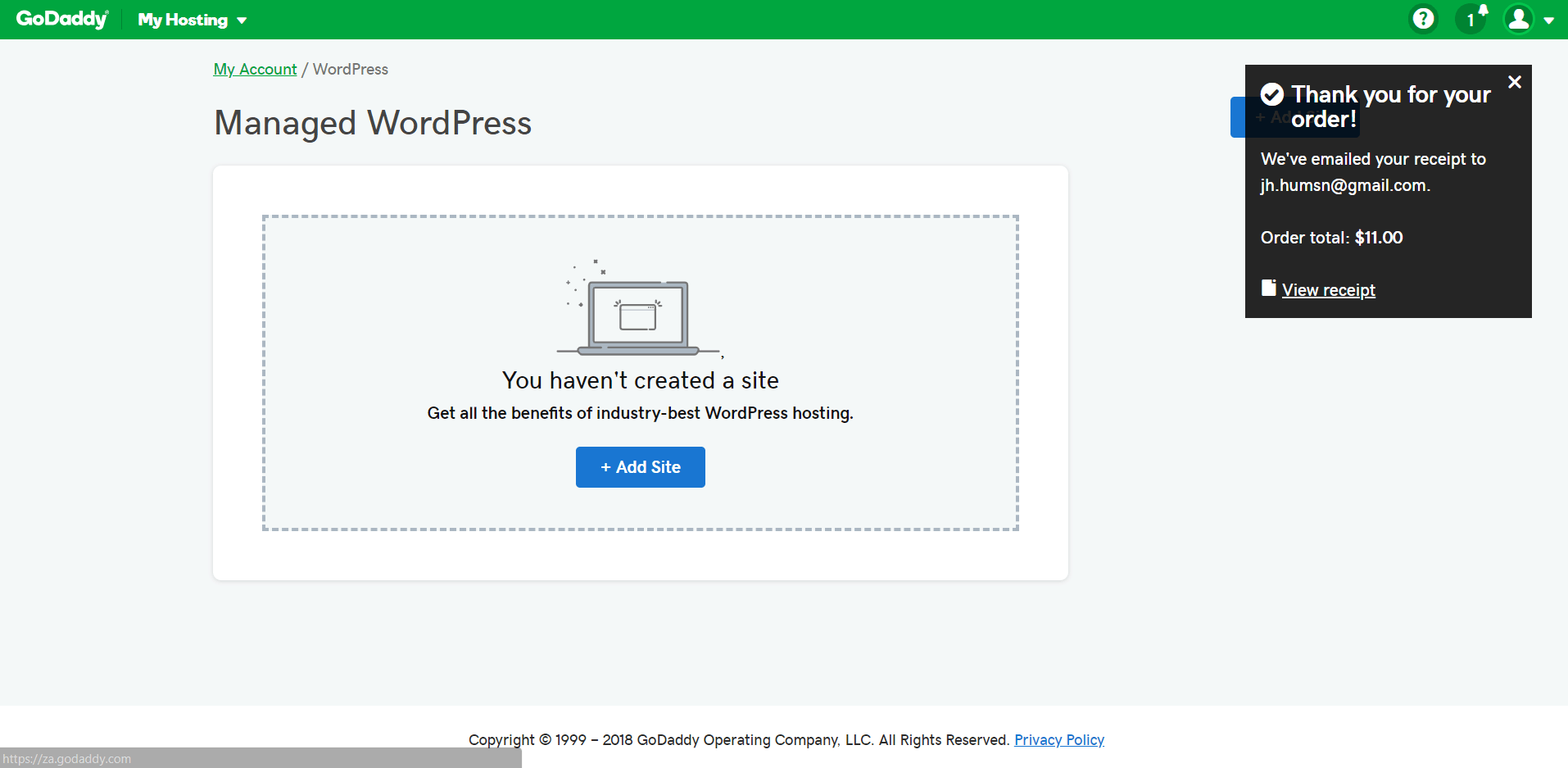 To confirm that everything went through, you'll be emailed a receipt as proof of your purchase: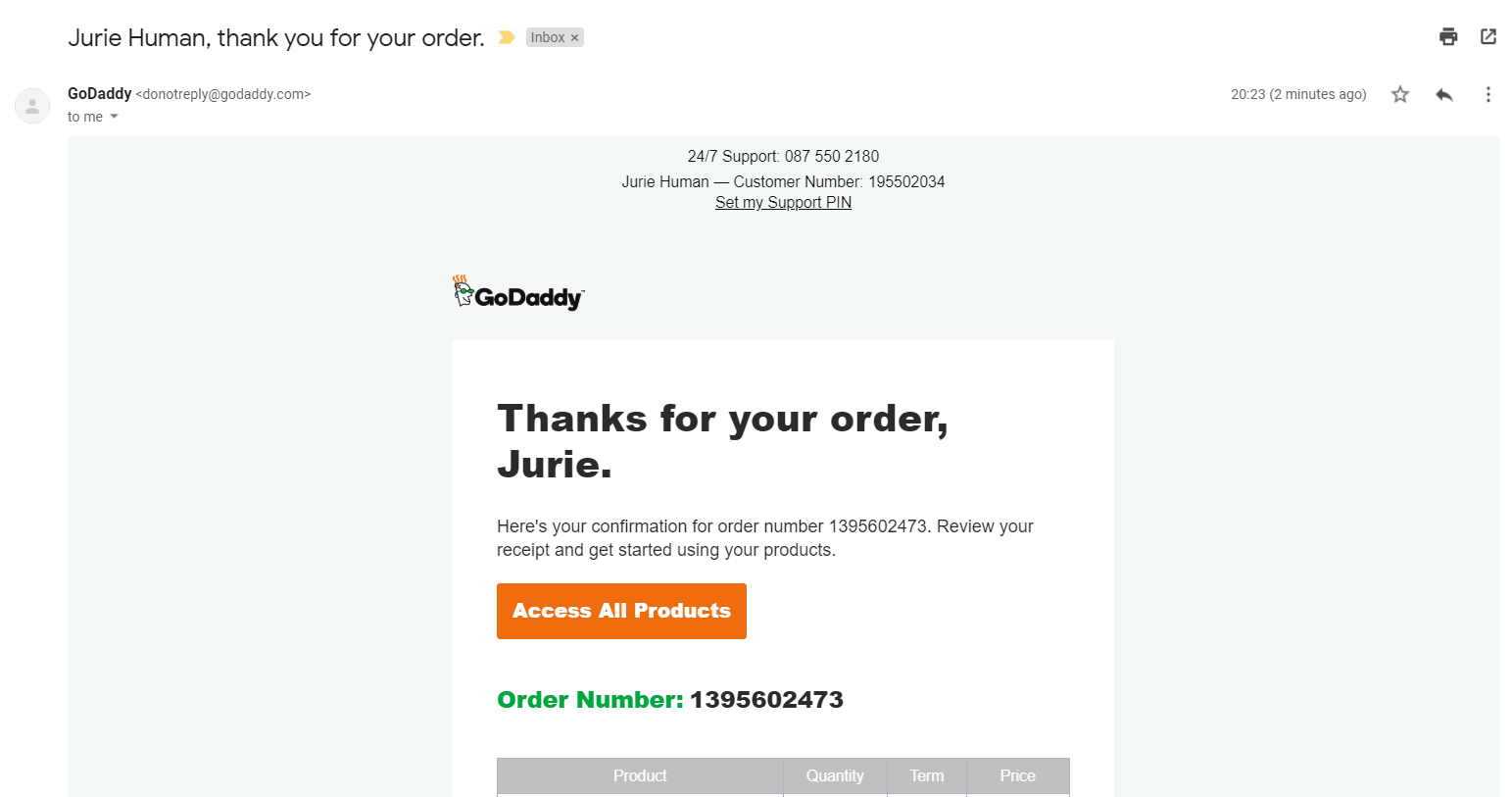 At the bottom of the email, you may also receive a discount coupon for future purchases. That's it! There are no other time-costing verification steps to create your account and purchase your GoDaddy hosting, such as calling a representative.
This is one of the quickest and most painless sign-up processes around
. The only hint of dishonesty was that GoDaddy had this "hidden offer" when I first signed up but didn't finish purchasing my plan: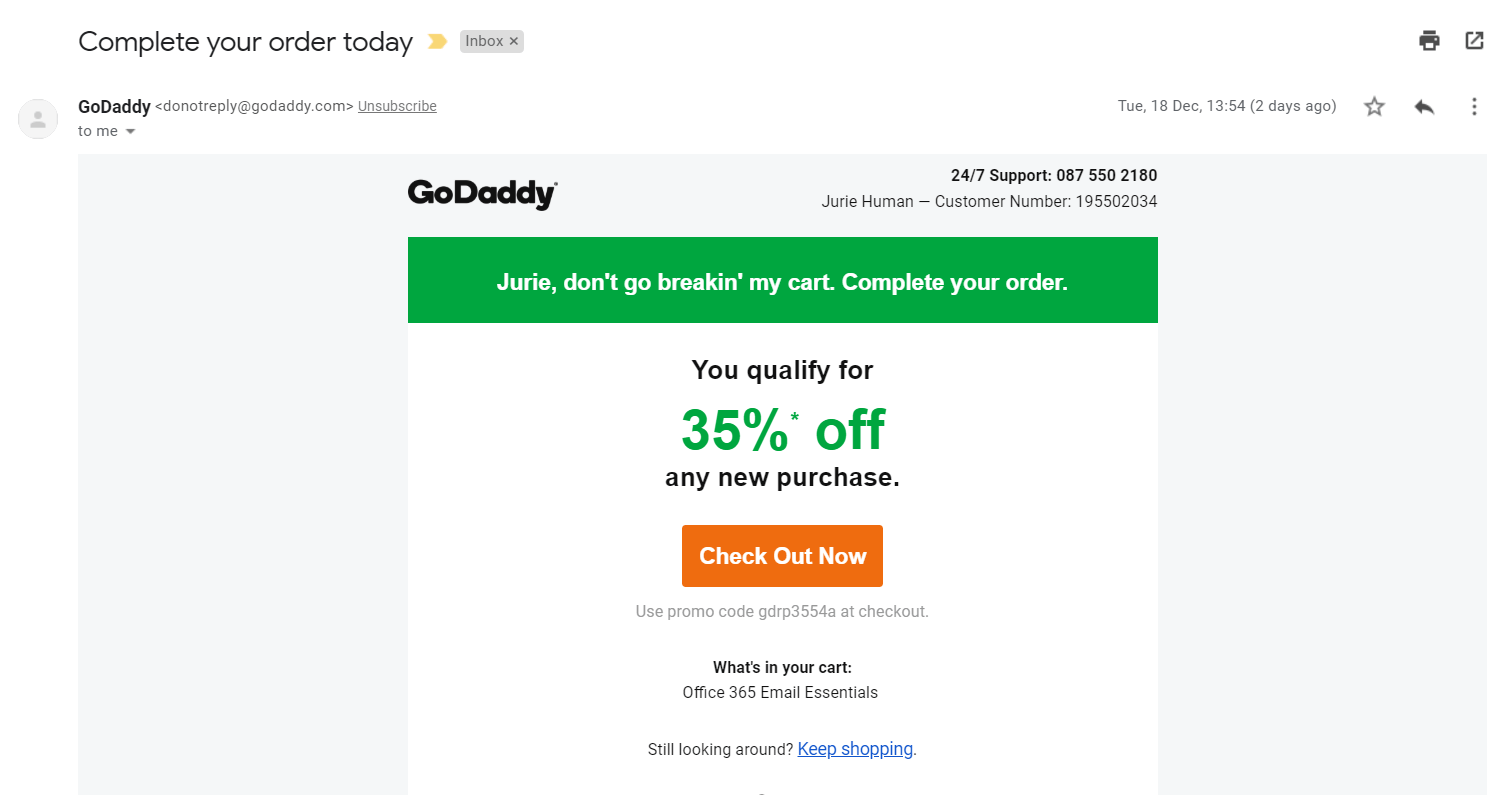 I'm not sure what "qualified" me, but I have a very strong suspicion that it's just a savvy selling tactic.
GoDaddy Lets You Sign Up and Build Websites in a Flash
One thing I did notice throughout the process was that GoDaddy seems to have taken concerns surrounding its billing seriously. While there were a few upsells along the way,
these were all unchecked by default
. The only sign of GoDaddy's past tricks was the discount coupon email when I didn't finish purchasing Office 365.
GoDaddy has also kept emails to a minimum
, and as I pointed out, it displayed the renewal rates for every product on each billing page. This is actually quite rare, and GoDaddy deserves some extra credit for it. You'll also be happy to know that the GoDaddy sign-up process is incredibly short.
The entire process took me less than five minutes to complete
. Except for the one part where you need to log in, the interface is also very user-friendly and accessible. Overall, this has been an almost flawless performance by GoDaddy, which vastly exceeded my expectations. GoDaddy is hard to beat when it comes to a quick sign-up process.
Flywheel
comes a close second, but caters to professional web designers and SMEs that need more team collaboration and client handover features. If you're considering a move to GoDaddy, don't forget to check out my full
GoDaddy review
, where I dive deeper into its pricing as well as many other factors.