In 2012, Flywheel was launched as
a managed WordPress Hosting service created by web developers for other web developers
. This focus is clearly reflected in its signup process. To show you what I mean, I'll run you through the entire Flywheel signup process. You'll get step-by-step instructions on how to create an account, set up your WordPress website, and then purchase a hosting plan. Yes, you read that right — you can set up your website before actually paying for a plan, which will come in handy if you're creating the website for a client.
Flywheel claims you can create your account within 60 seconds
. This is certainly something I wanted to put to the test, as it would make Flywheel by far the fastest host to sign up with. Before you do the same, you might want to see whether or not Flywheel is the best hosting option for you. Read my
full Flywheel review
.
How to Sign Up with Flywheel Step by Step
Step 1: Sign Up with Flywheel
Before you can purchase a Flywheel plan, you need to register an account. It doesn't matter whether you register first or choose a plan from the pricing page. Either way, you'll still be taken through the registration and setup process before actually choosing a plan at the end. To create an account, you need to provide your name and surname, email, a username, and password – pretty standard stuff. You could also tell them more about yourself and why you need a website, but this is optional.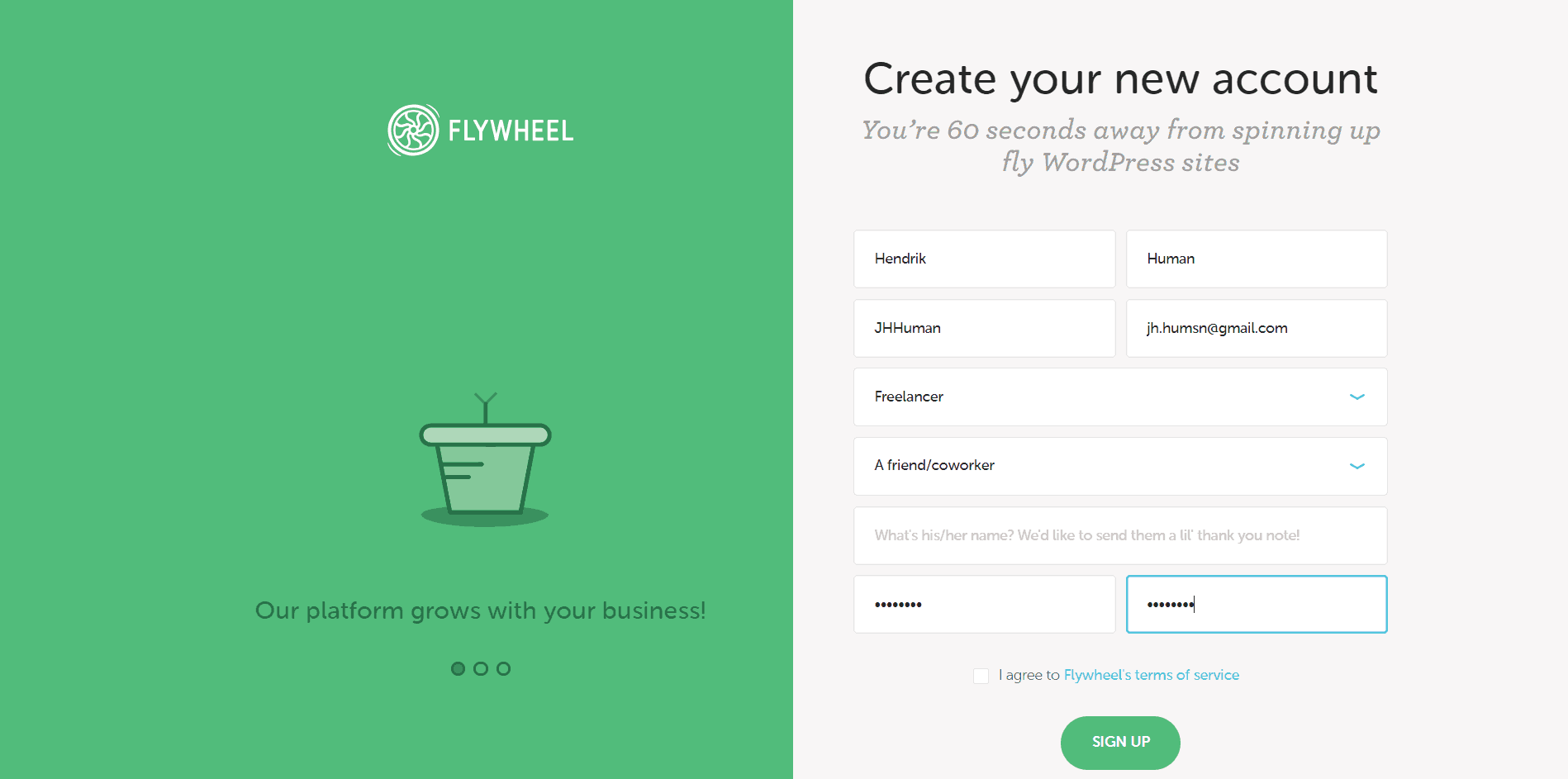 After this step, Flywheel will send you a verification email; you'll just need to click on the link inside. However, you don't need to verify your account unless you aren't paying right away, as there is a
Verify by Credit Card
option later on. Just be aware that if you're creating a free demo site, you only have 30 minutes to complete the verification before the demo site is deleted.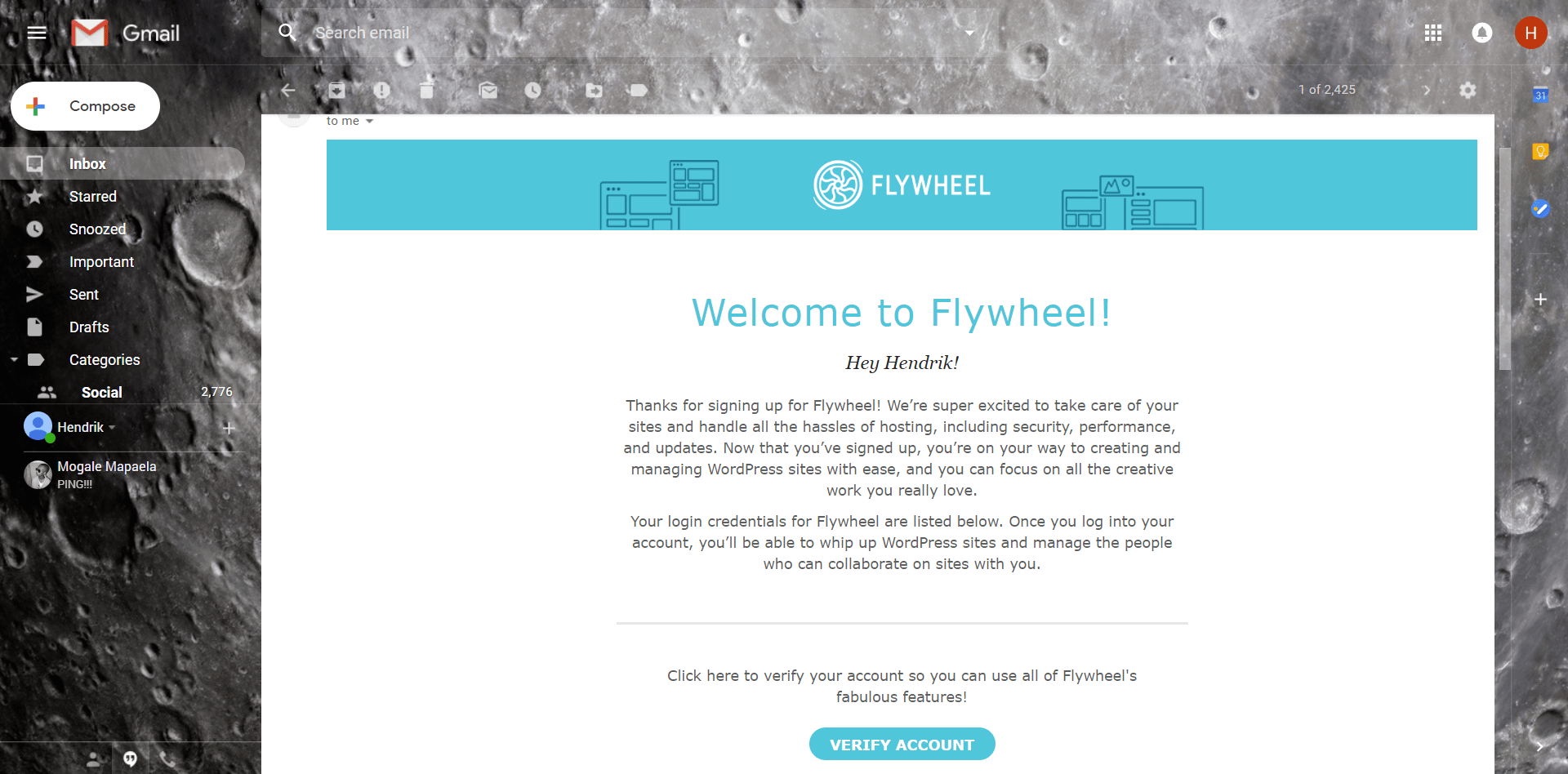 If you choose to do the verification right away, it will take you to this page, where you can use your credit card or an SMS to verify yourself: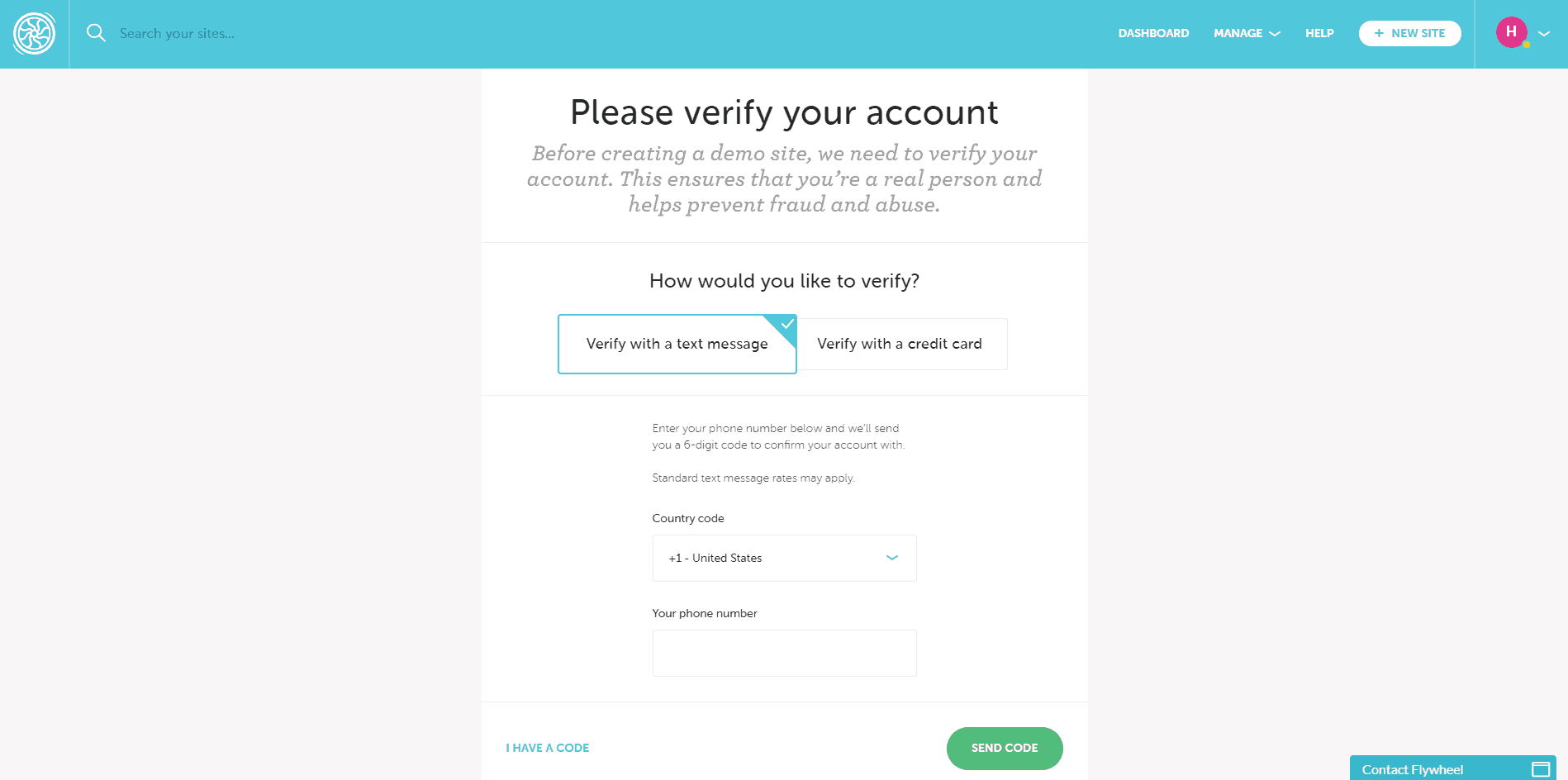 This might be slightly annoying if you're expecting to get through the verification just by clicking the link. However, at least both options are instant. It's also still faster than having to call a support agent. Completing the verification will take you to where you left off with your website's setup:
Step 2: Set Up Your WordPress Website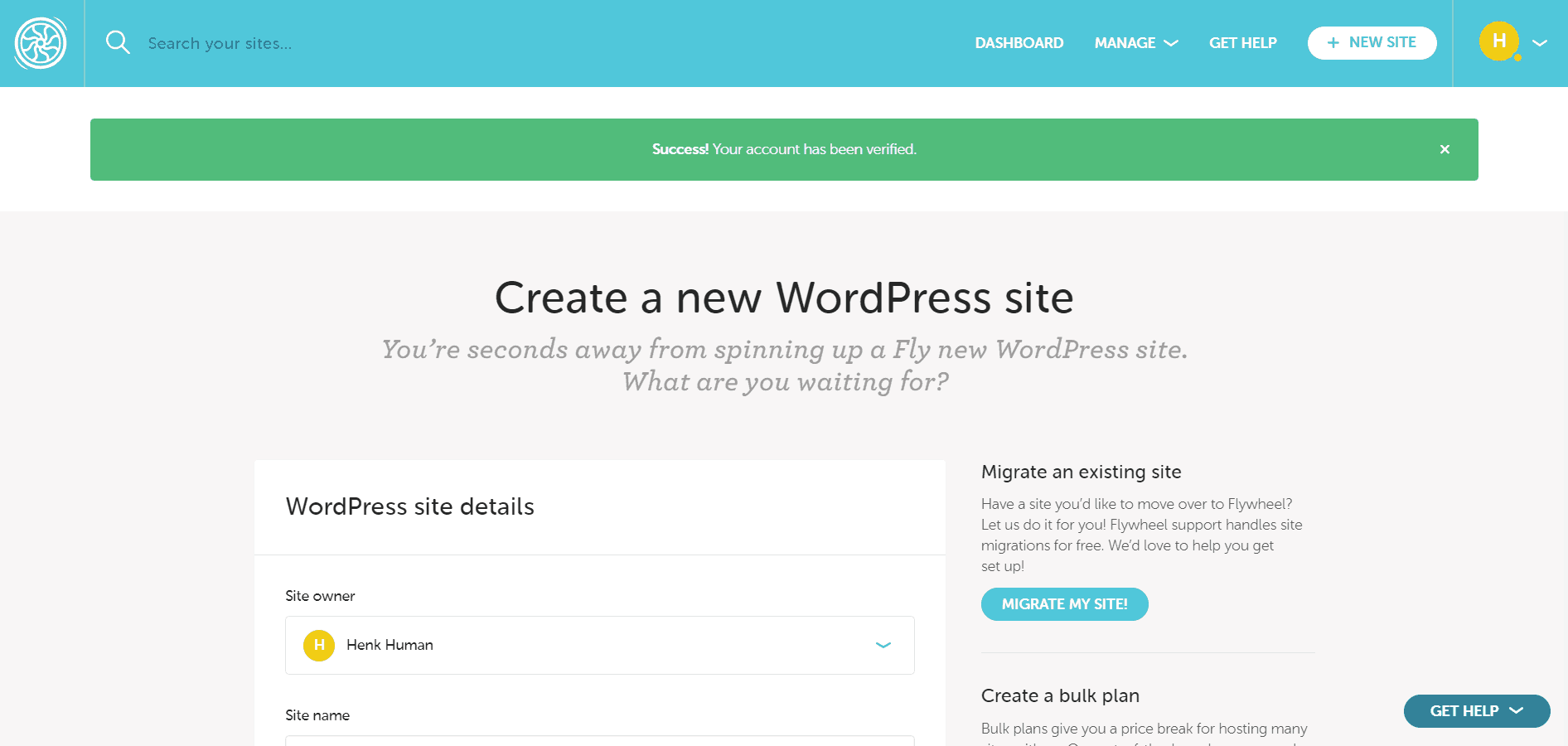 On this page, you'll need to give Flywheel more info about your website, such as the website owner, website name, and your domain. Below that, you'll provide a username and password to log in as an administrator to your WordPress dashboard.
Step 3: Choose How You Will Pay for Your Website
Below that, you need to choose when you'll pay.
A super handy feature for freelancers is the My client will pay later option
. This allows you to create and set up a demo website, which you can transfer to your client to pay for later on.
A demo site has a lifespan of 14 days
, after which you'll have to add it to a plan or purchase one for it.
Add it to a bulk plan also means you won't have to pay now
and the new website will fill one of your remaining bulk plan slots. If you don't have a bulk plan yet but would like one, you can select it and follow the button to purchase one.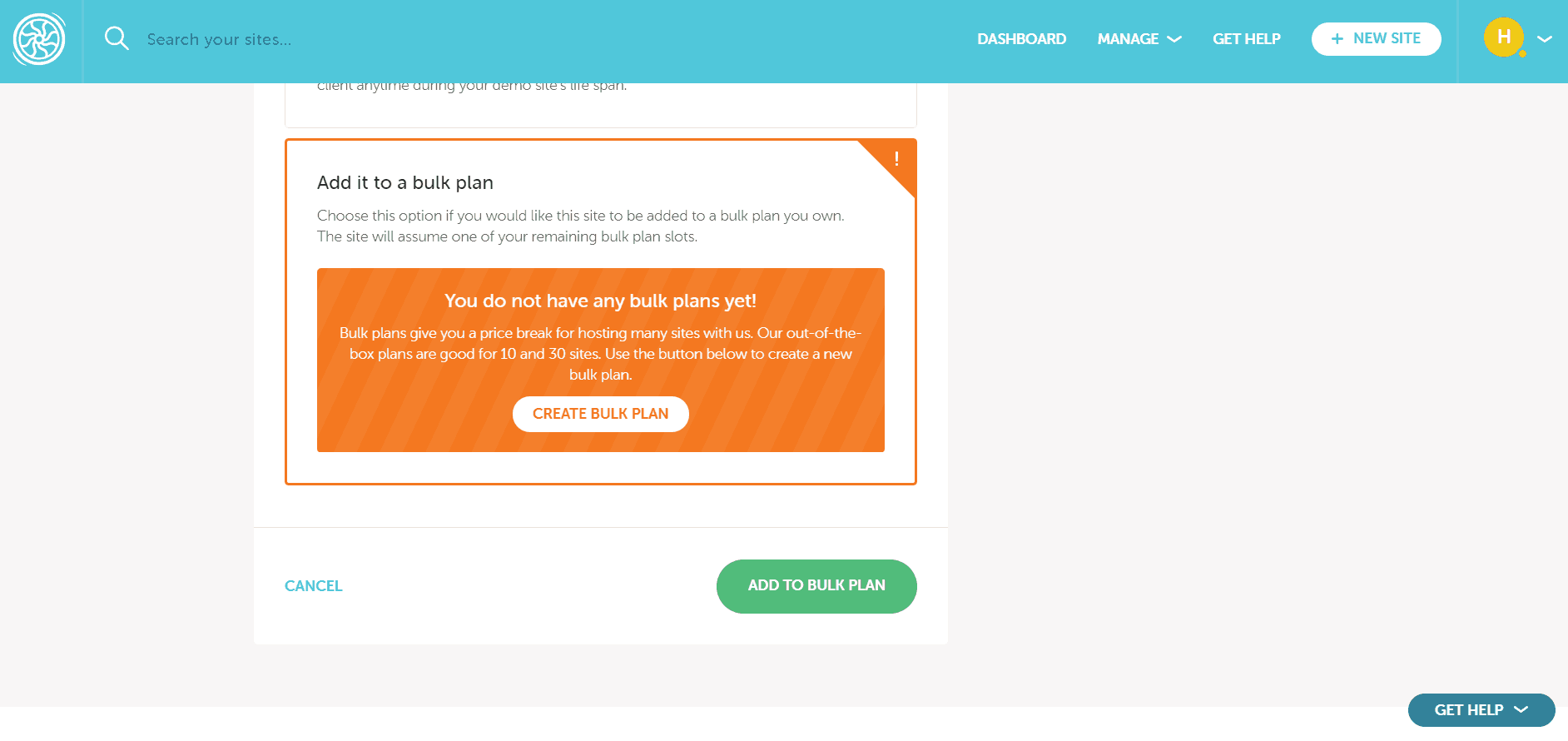 If you want your data center in a particular location, make sure to choose the most appropriate option from the dropdown.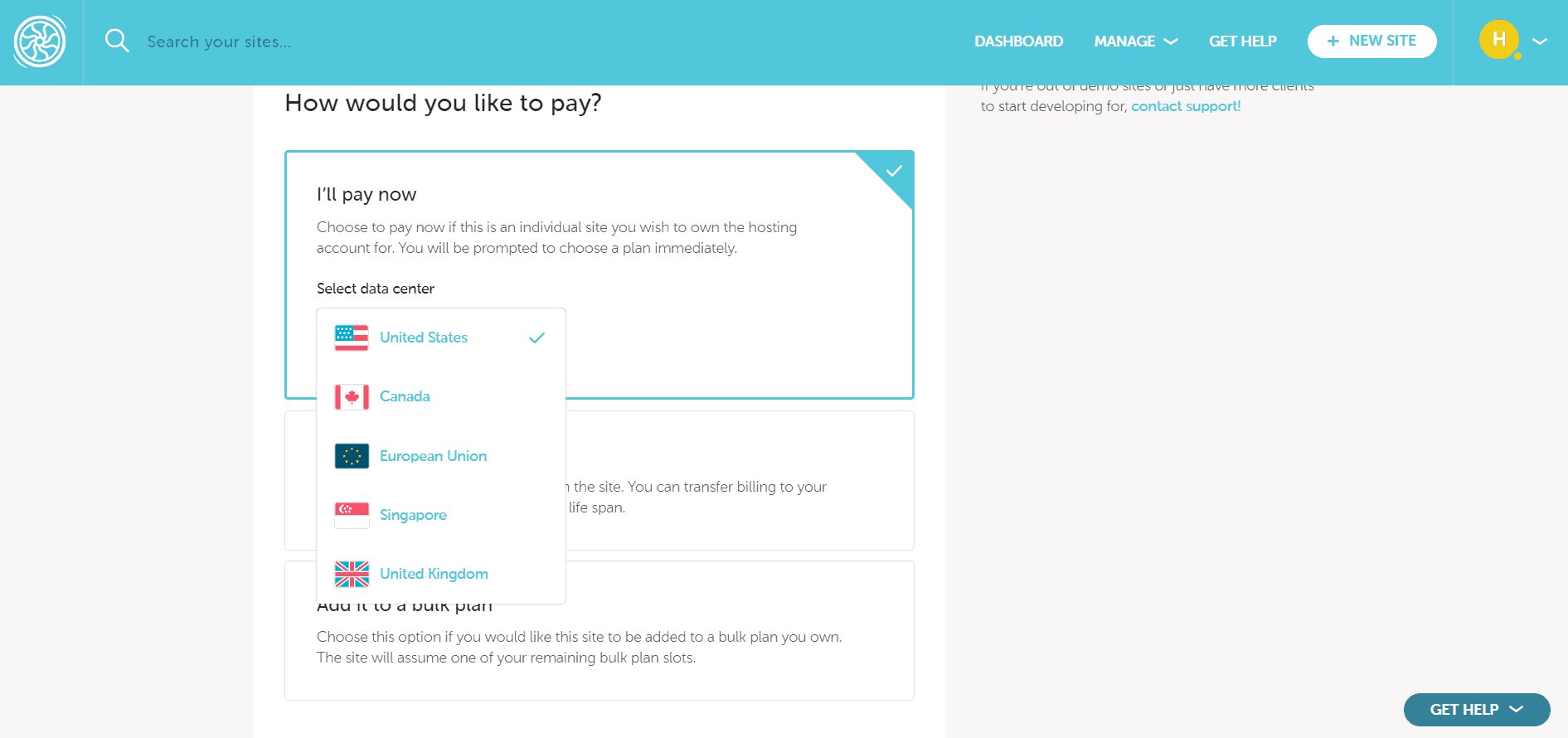 The next step depends on the payment option you chose:
If you opted for I'll pay now, you'll be taken to the pricing page to choose a plan.
If you opted for My client will pay later, you can launch your website straight away and skip selecting a plan.
If you opted for Add it to a bulk plan, you'll choose a bulk plan and then continue straight to launching your website.
Lastly, it's worth bearing in mind that
Flywheel offers free website migration services
. You can do this by clicking the button in the top right corner, which will take you to the following page. Here, you'll need to provide the same details as when you set up your website earlier, plus some additional information so that Flywheel's techies can set it up just the way you need it.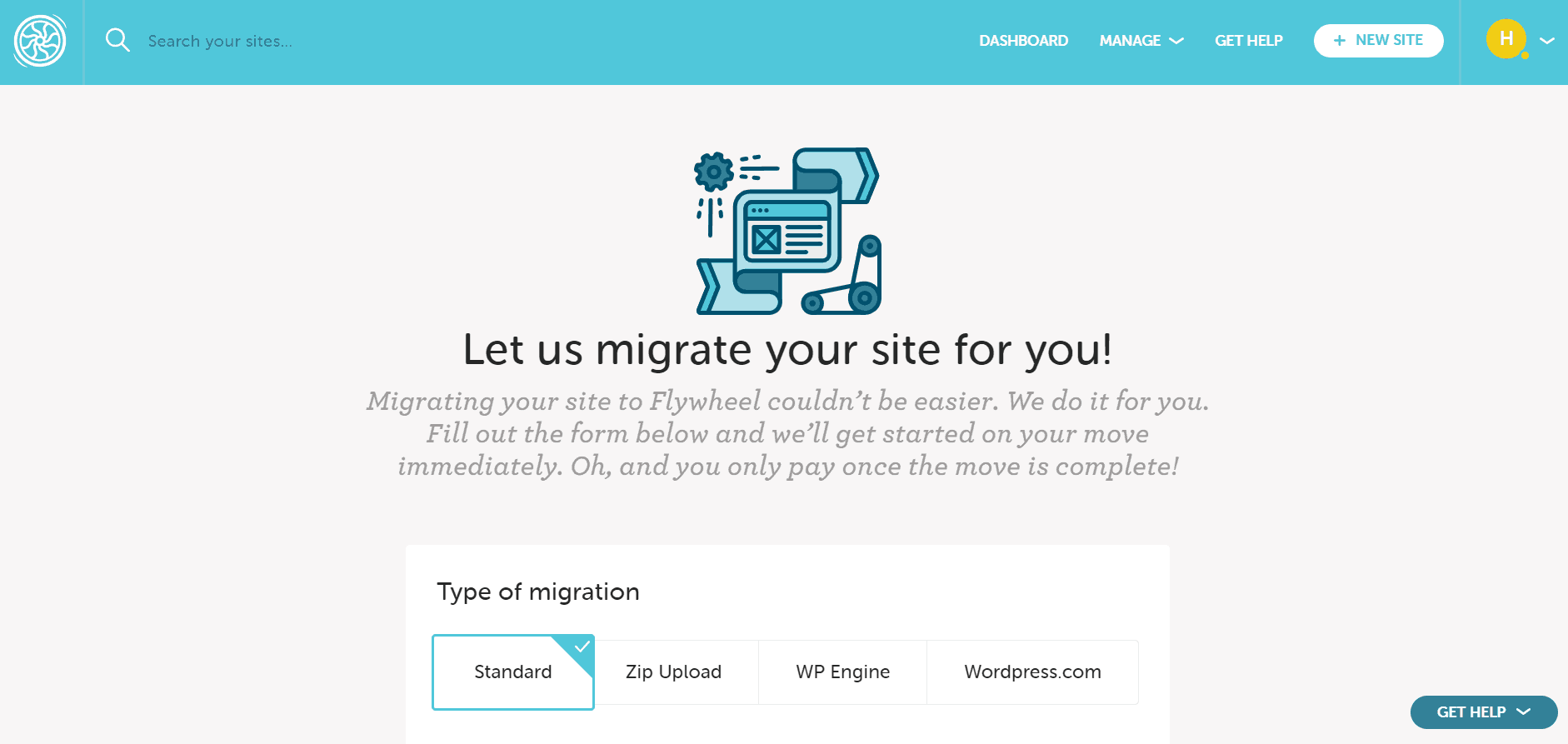 At the bottom of the page, you'll see the options for
Standard migration
, which is free and takes up to three business days, or
Expedited migration, which is not free but can be completed within eight hours
.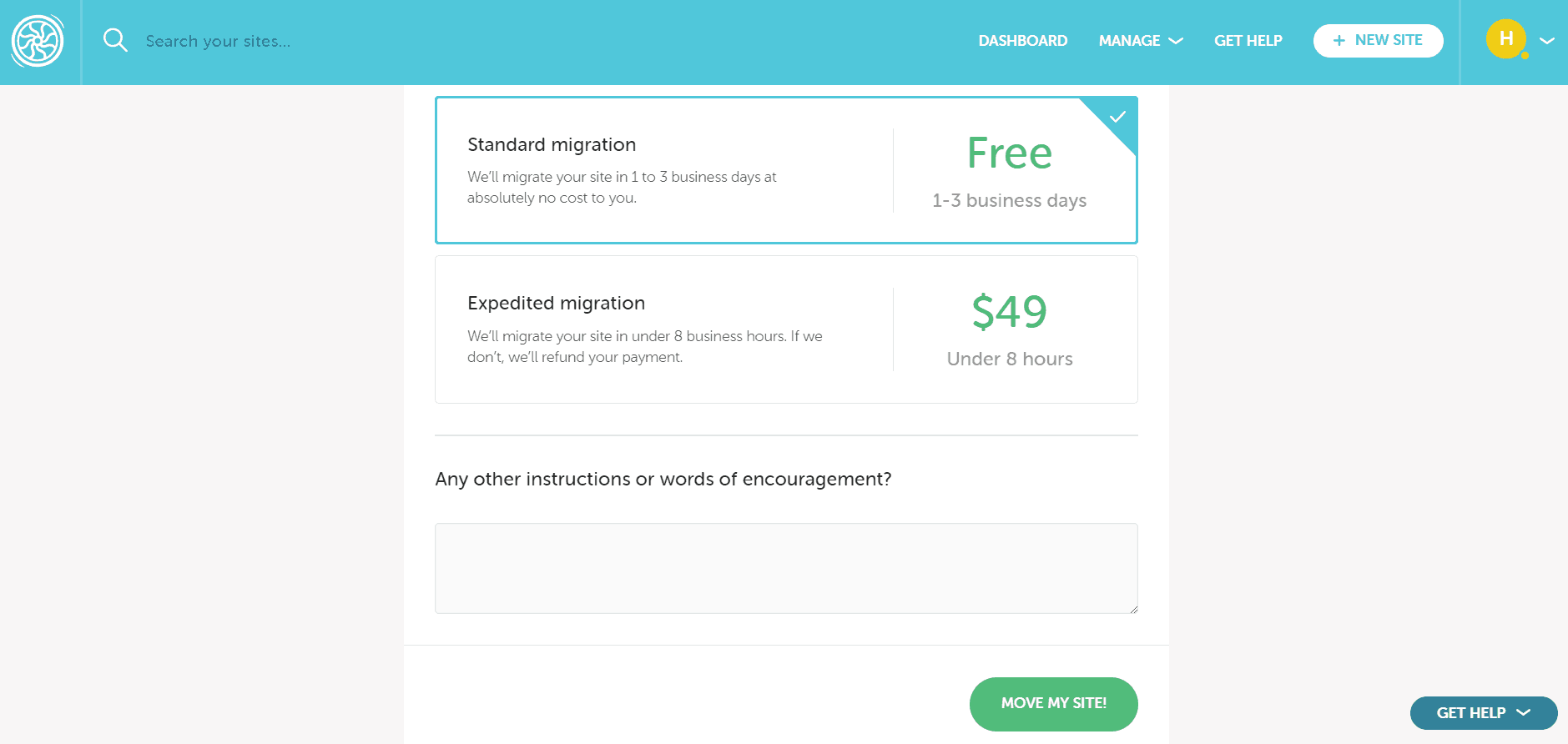 Step 4: Select a Pricing Plan
Now, I'll run you through the process of choosing a pricing plan. As you can see, there are four plans available. The first three scale up in terms of monthly visits, storage space, bandwidth limits, and the freebies you get (such as a CDN, multi-site hosting, and staging). There's also an enterprise option if you have specific business requirements that none of these plans can fulfill.
Just be aware that multi-site hosting can only be added to the Personal plan or higher
. Below this pricing table, you'll find a full list of features included in the plans.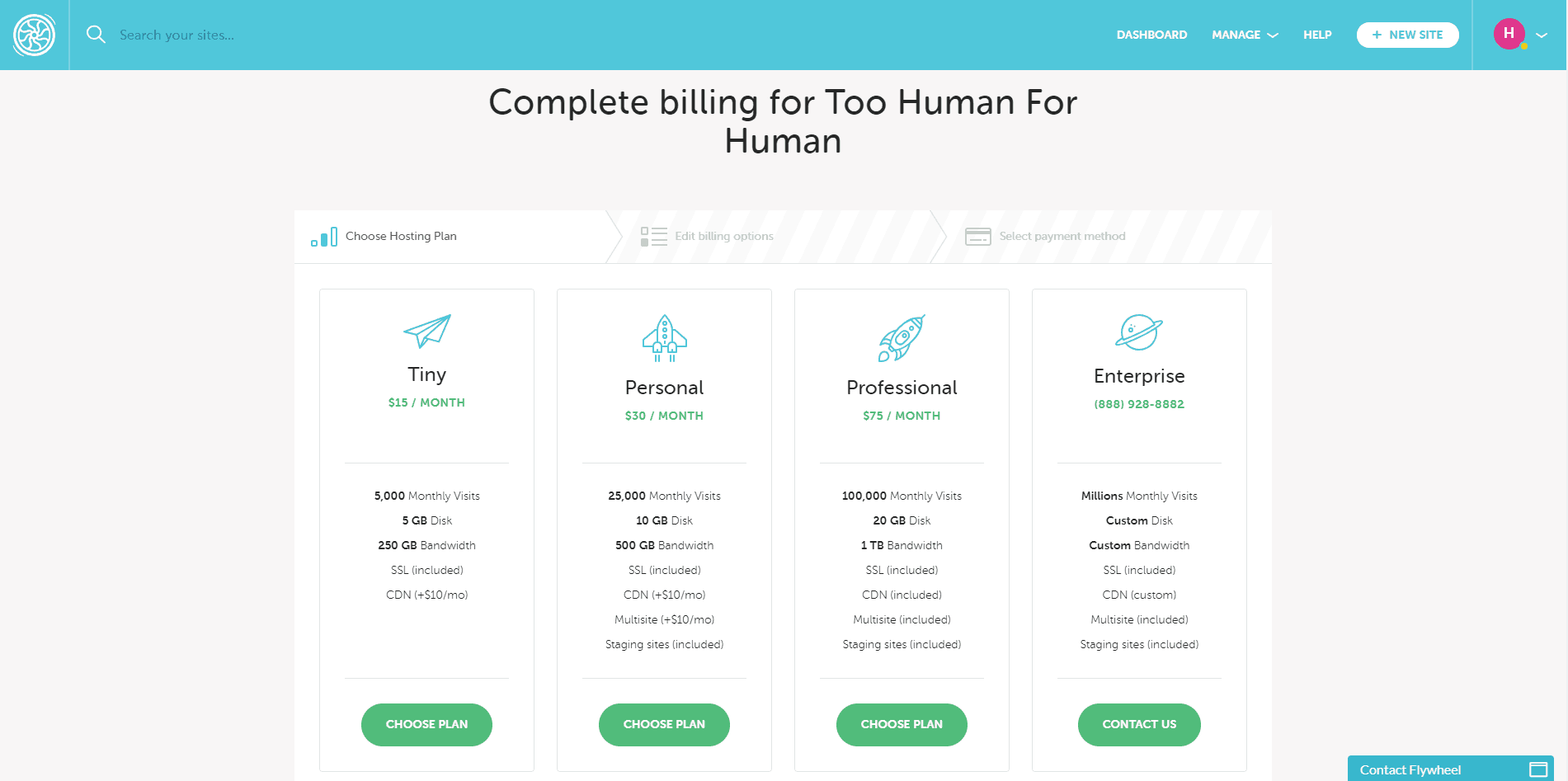 Once you settle on a plan, you'll select annual or monthly billing as well as any of the add-ons you're interested in: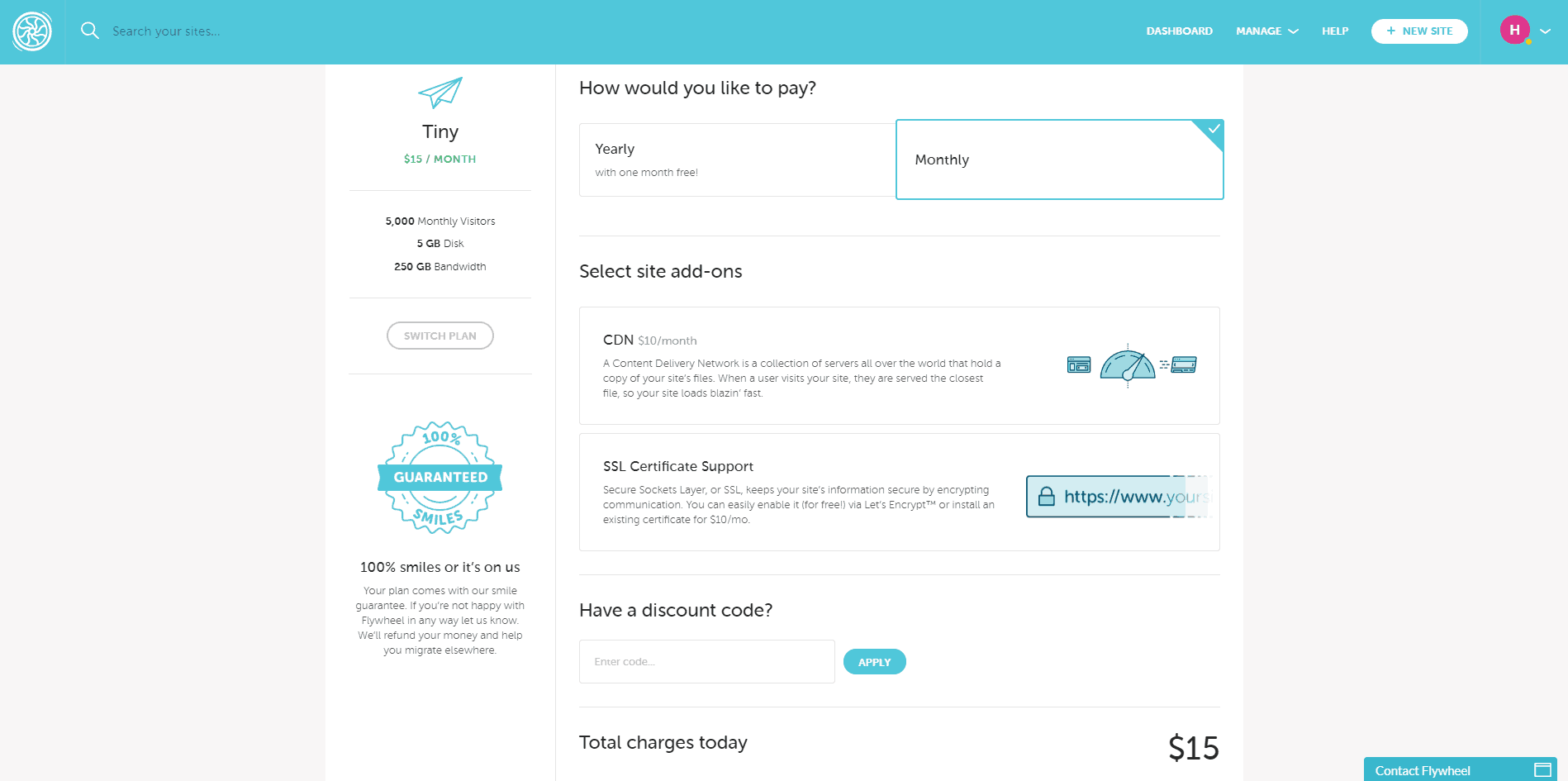 When you select the CDN add-on, you'll get the notification below. The important detail to notice here is that
your CDN bandwidth is limited to 100 GB
. This means that to enjoy the benefits of a CDN for a larger amount of bandwidth, you'll be charged overages per GB.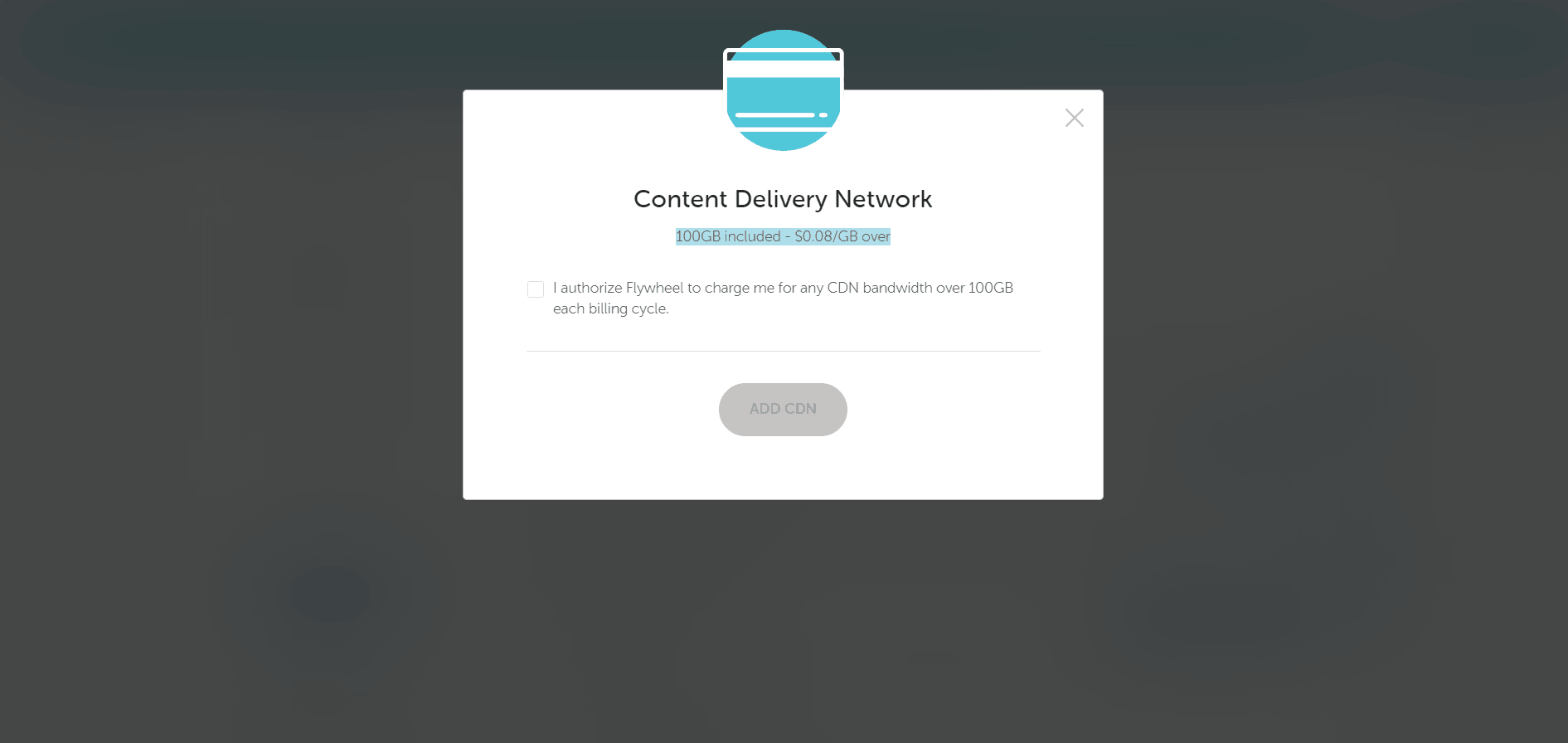 Another unexpected charge is that while Flywheel provides a basic Let's Encrypt SSL certificate for free,
you'll be charged a monthly fee if you connect your own SSL certificate
. Although Flywheel clearly displays these extra charges before you pay anything, it's still far enough down the line that you'll find it a little frustrating if these are deal breakers. That said,
none of these upsells are checked automatically
, which should protect you from accidentally purchasing them. Here's where you'll have to remember to use your coupon code if you have one.
Step 5: Pay for Your Hosting
On the next page, you'll be asked to add a payment method. You can add multiple methods to be used later on to purchase other services or add-ons: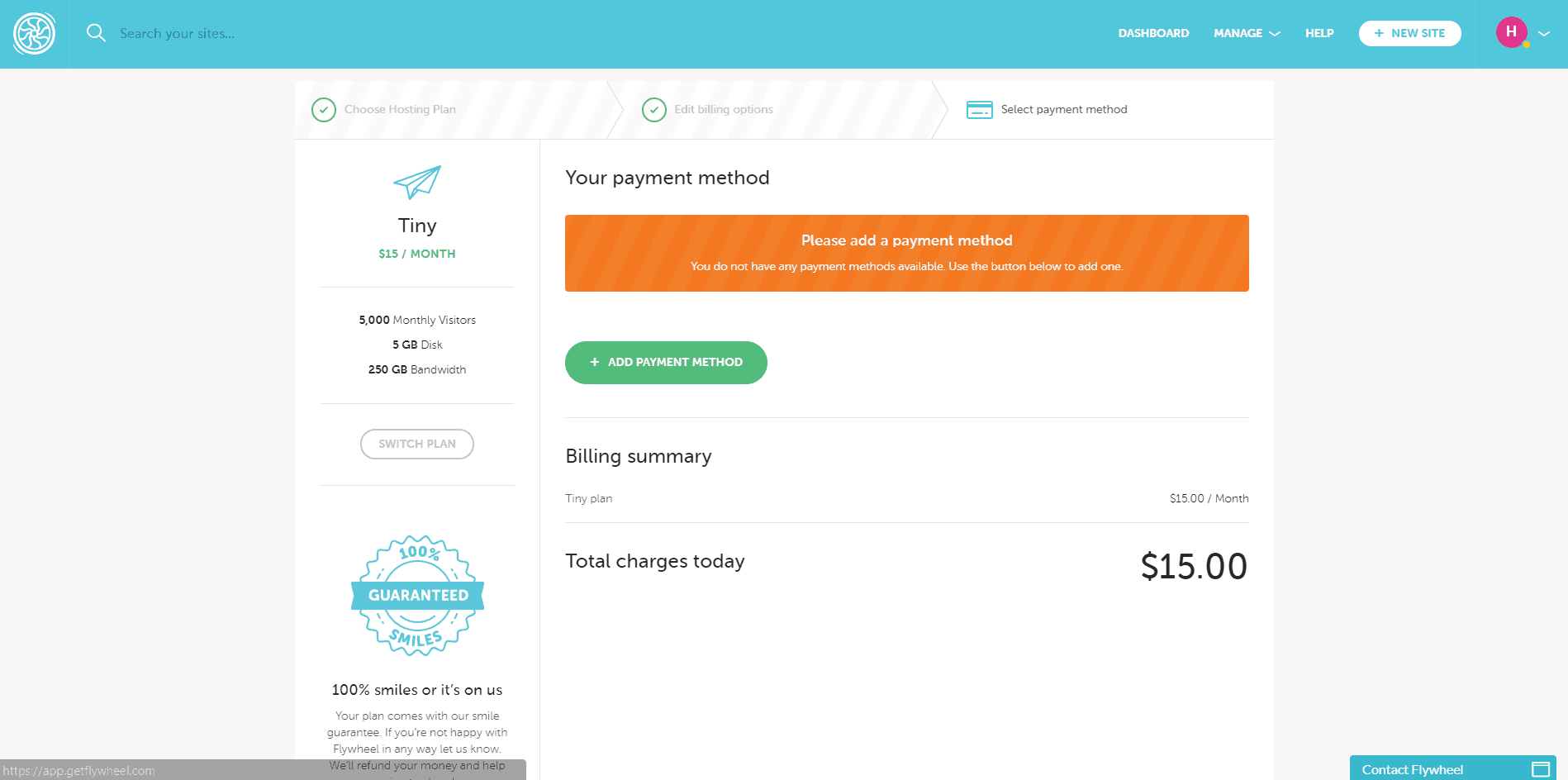 Flywheel provides two payment methods: credit card (Visa or MasterCard) or PayPal
. You can link either of them here. If you use your credit card, expect to provide all the usual information. PayPal only requires you to log in to your account and give Flywheel permission to bill you.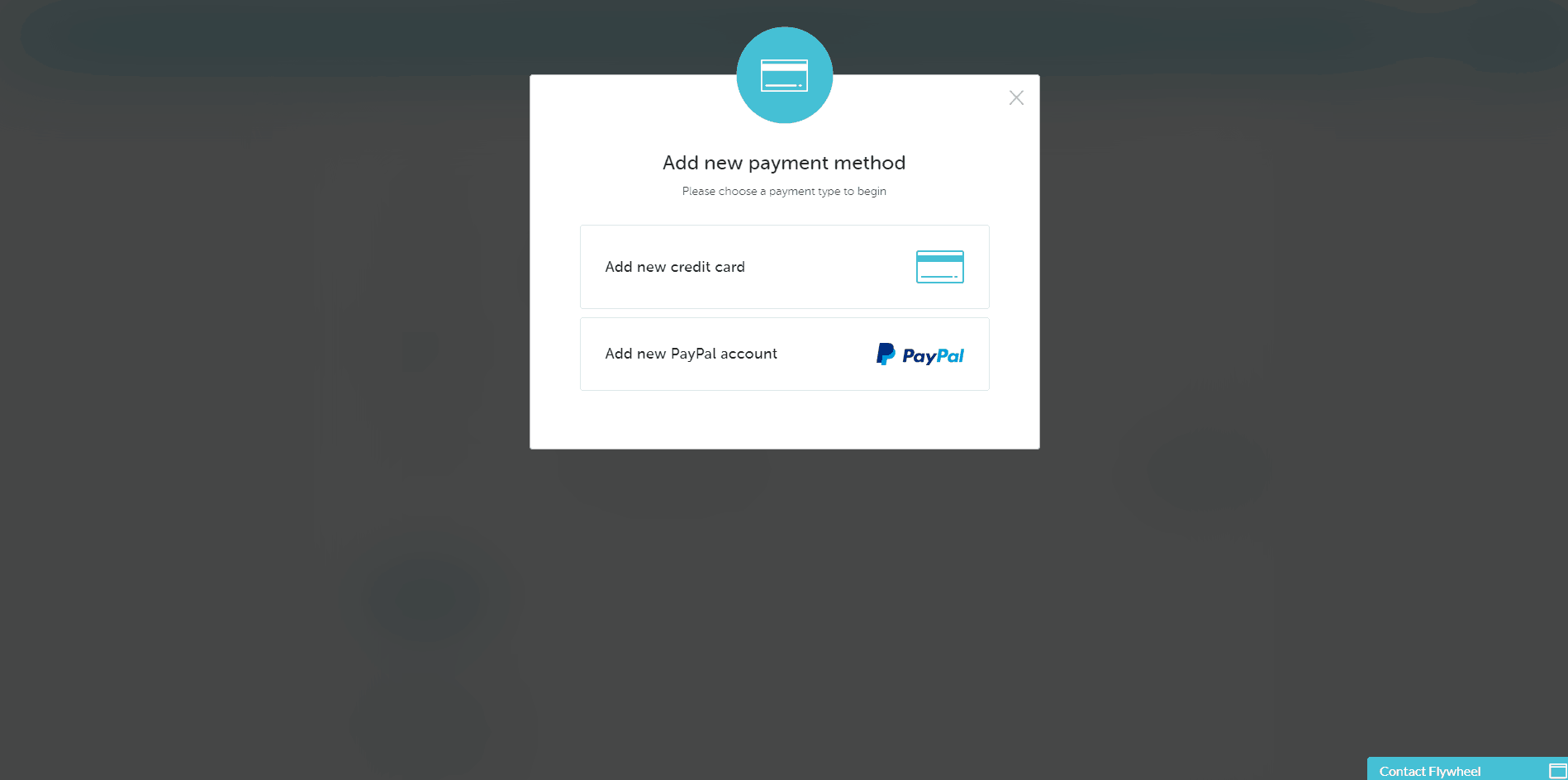 Once you've added a payment method, you'll be presented with the
Purchase Now
option. This is the point of no return, as you'll be charged for your purchase as soon as you click
Pay Now
!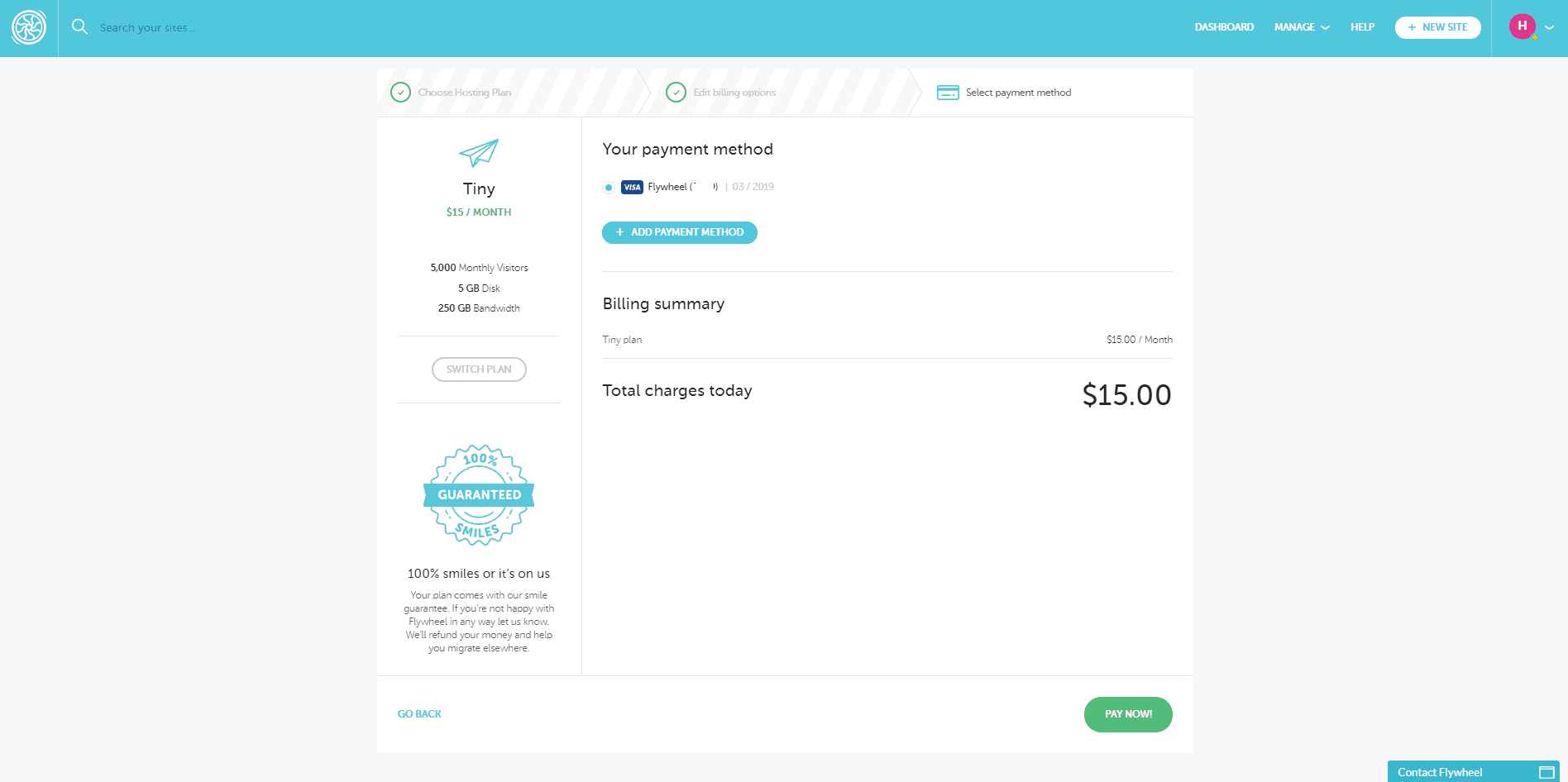 Flywheel will now create your website. This may take a few minutes and this screen will show while it's working: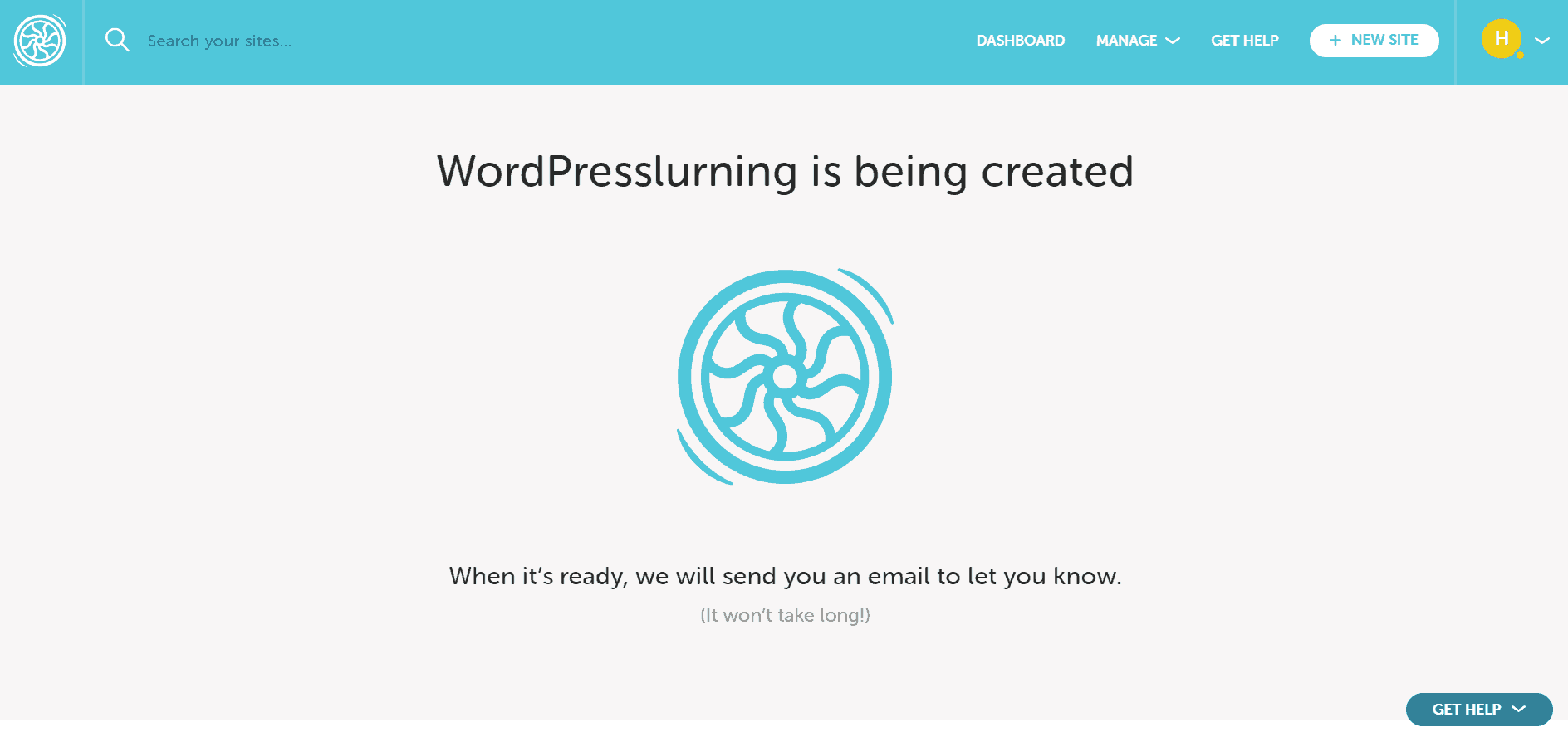 You can leave it or close your browser and relax, as it'll send you an email notification once your website is up and running: Mine took exactly five minutes and 25 seconds to complete.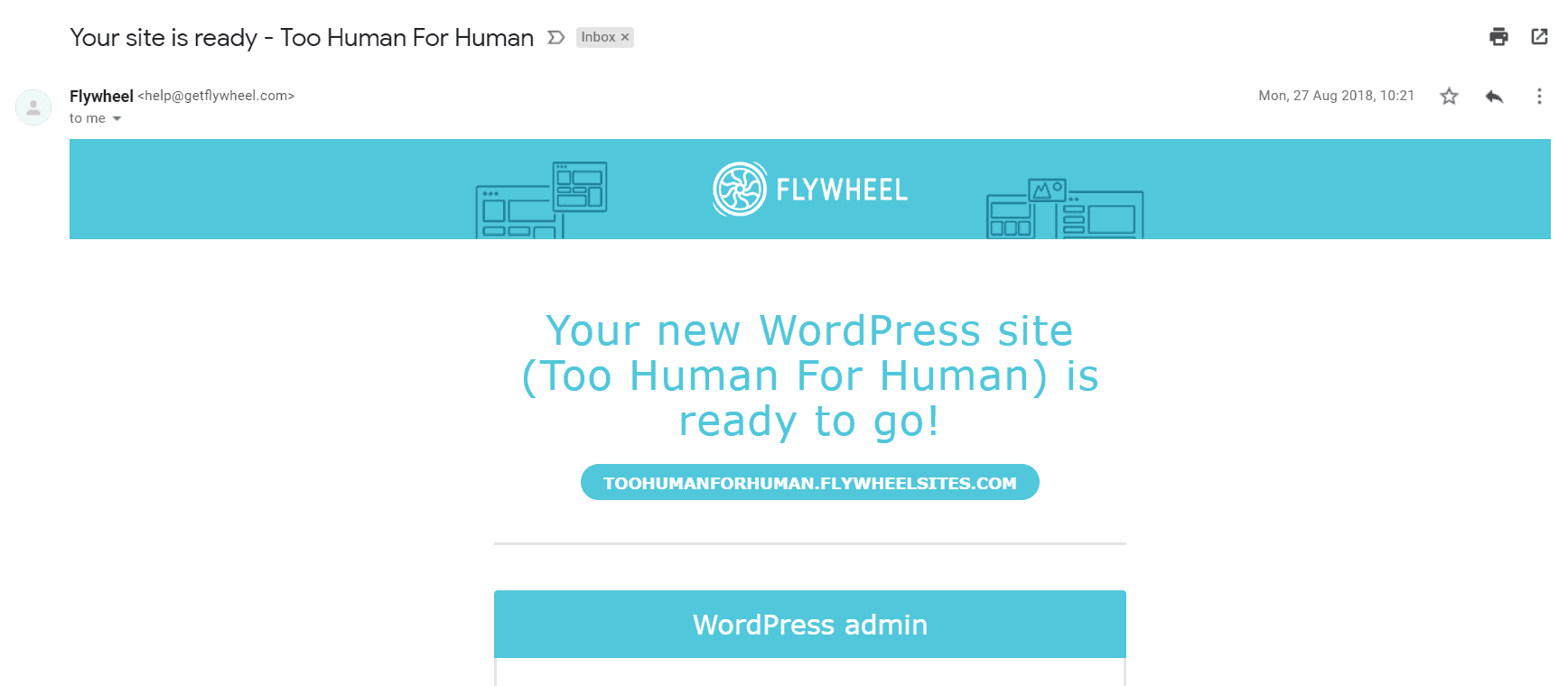 This is the final email you'll receive, and I have to say I'm pleased that Flywheel has kept emails to a minimum. It can be slightly annoying when a host sends you tons of emails during the registration process, especially when most of them aren't useful or necessary. Follow the link in the email to go back to your dashboard. It will look something like this with your newly-created website listed: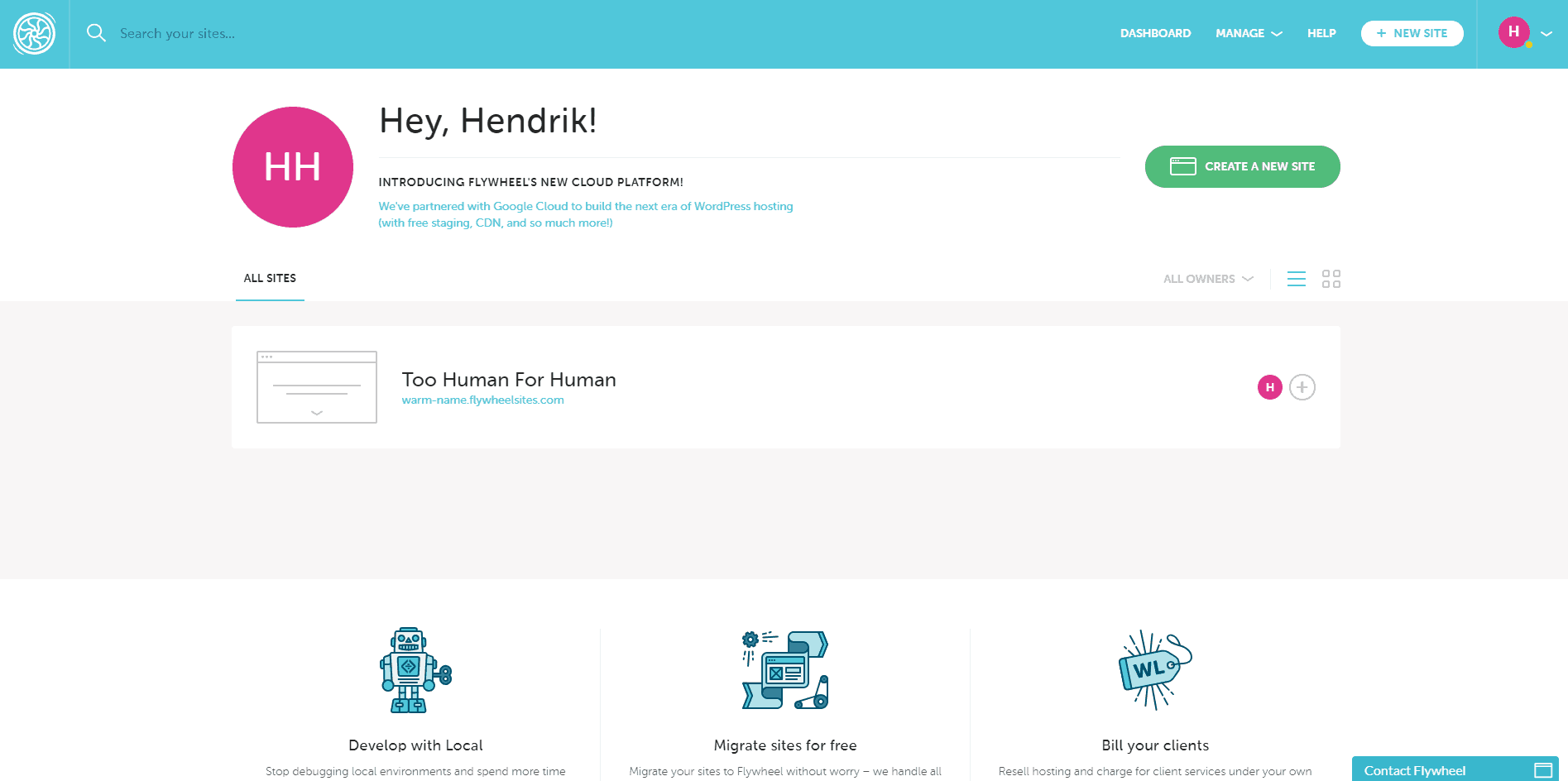 That's pretty much all it takes to set up a new account with Flywheel.
Flywheel Shows Respect for Your Time with a Quick Sign-Up
The sign-up process of Flywheel might not rank as the quickest and easiest when measured solely in terms of time and effort. Nonetheless, given its incorporation of several distinctive and convenient features (such as the capability to transfer websites to clients, inclusion of websites in bulk plans, and more), the Flywheel team has certainly accomplished their task quite well. The interface does a great job guiding you through the process, explaining important concepts when necessary and informing you of any additional costs.
In total, it took me about 15 minutes to sign up, purchase a hosting plan, and have Flywheel create my WordPress website.
As for Flywheel's claim that you can create a WordPress website within 60 seconds, this is only really possible if you know exactly what you want and what to put into each field, and you don't plan on paying for your hosting right away. The only minor frustrations I had to deal with were the fact that you can't input your permanent domain during registration, and the hidden cost of bringing over your own SSL certificate. However, the inconveniences here are nothing compared to issues I've encountered with other hosts, such as verification calls with support agents.
Overall, it was a positive experience, and it didn't make me less likely to recommend Flywheel to anyone.
However,
if time is of the essence, GoDaddy is one host with an even quicker sign-up
and a similar managed WordPress hosting experience.
If time isn't really an issue and you want more control over your solution, InMotion Hosting features a cPanel-based hosting experience
. However, it will take you an hour or more to sign up. To really know whether you should go with Flywheel in the first place, you should read my
full Flywheel review
.