A2 Hosting is a great host with affordable prices and a ton of features to enhance performance and security. To see why it won me over, check out my in-depth A2 Hosting review.
If you're ready to sign up for A2 Hosting, then read this step-by-step guide to find out what you have to do, how long it takes, and what you should look out for.
Create an Account with A2 Hosting Step by Step
To purchase your plan, just head over to A2 Hosting's pricing page and choose the type of hosting you want. I chose WordPress hosting, but the process is mostly the same no matter which one you use.
There are a couple of things about the prices that you should be aware of. First of all, the default prices displayed are the monthly cost calculated according to a 3-year billing period, the longest A2 Hosting has to offer.
You should also know that you almost always get a promotional rate for your first term.
As you can see below, the discount is pointed out, but it's not clear that it's for such a long period: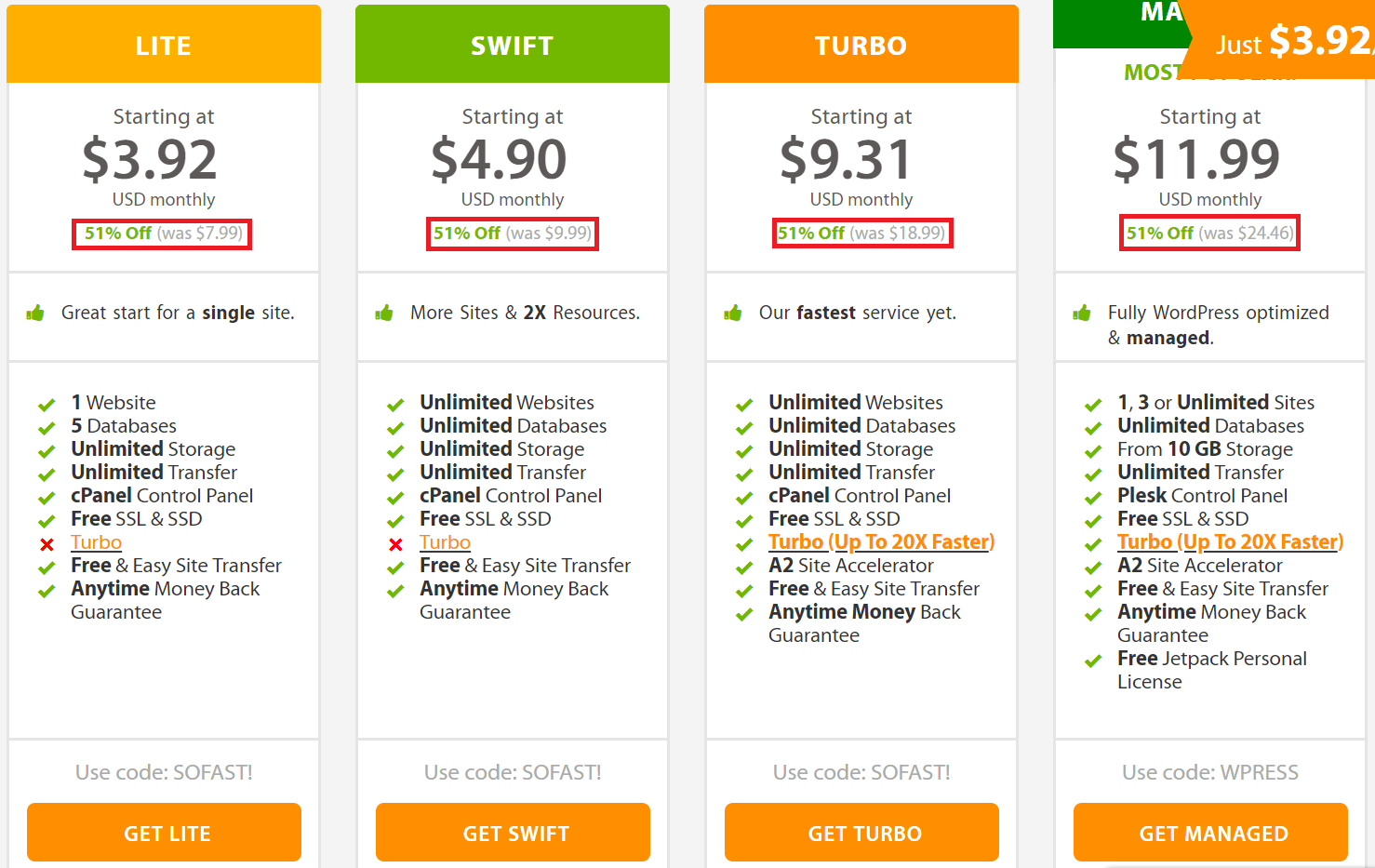 If you click one of the links on the page to compare the plans, you will find the detailed pricing table below.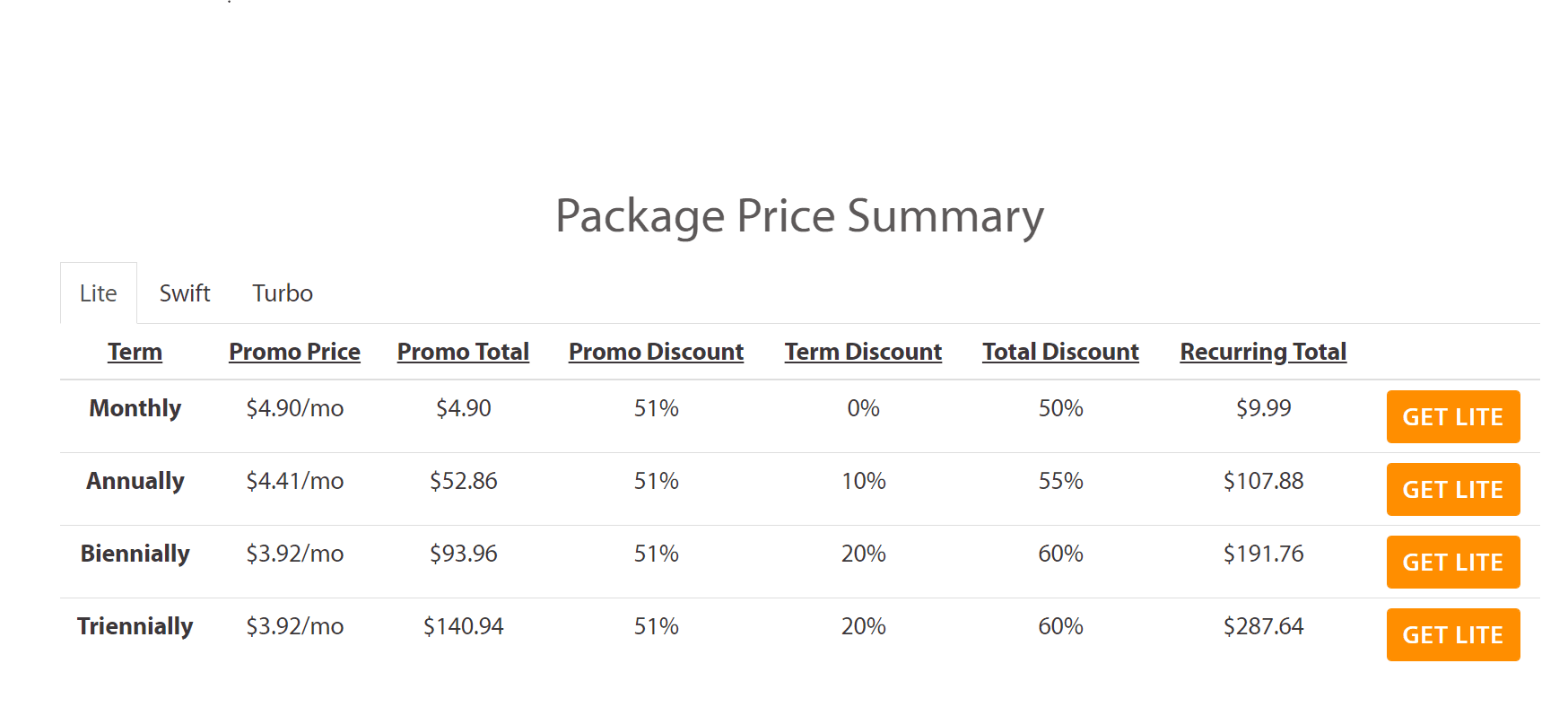 If you click on a button to buy a plan, you'll be taken straight through to register a domain. As you can see, the coupon code will be automatically applied. If you like, you can also change the currency in the top left-hand corner:
Unlike many hosts, A2 Hosting supports multiple currencies – nine, to be precise. This should give you a clearer idea of how much you'll actually pay.
A2 Hosting makes use of the standard domain registration wizard most hosts use. You just need to search for a domain, and then click 'Check' to see if it's available.
If you already own a domain, you have two options: you can either move your DNS management to A2 now, or keep your domain at your registrar, but update your nameservers to point to A2's nameservers.
Once you've got your domain, the next step is to configure your hosting package with some add-ons and server customizations. You can also change your billing cycle.
There are quite a number of upsells here, but they are all unchecked by default. In your order summary, you'll clearly see when one has been added and how it affects your total: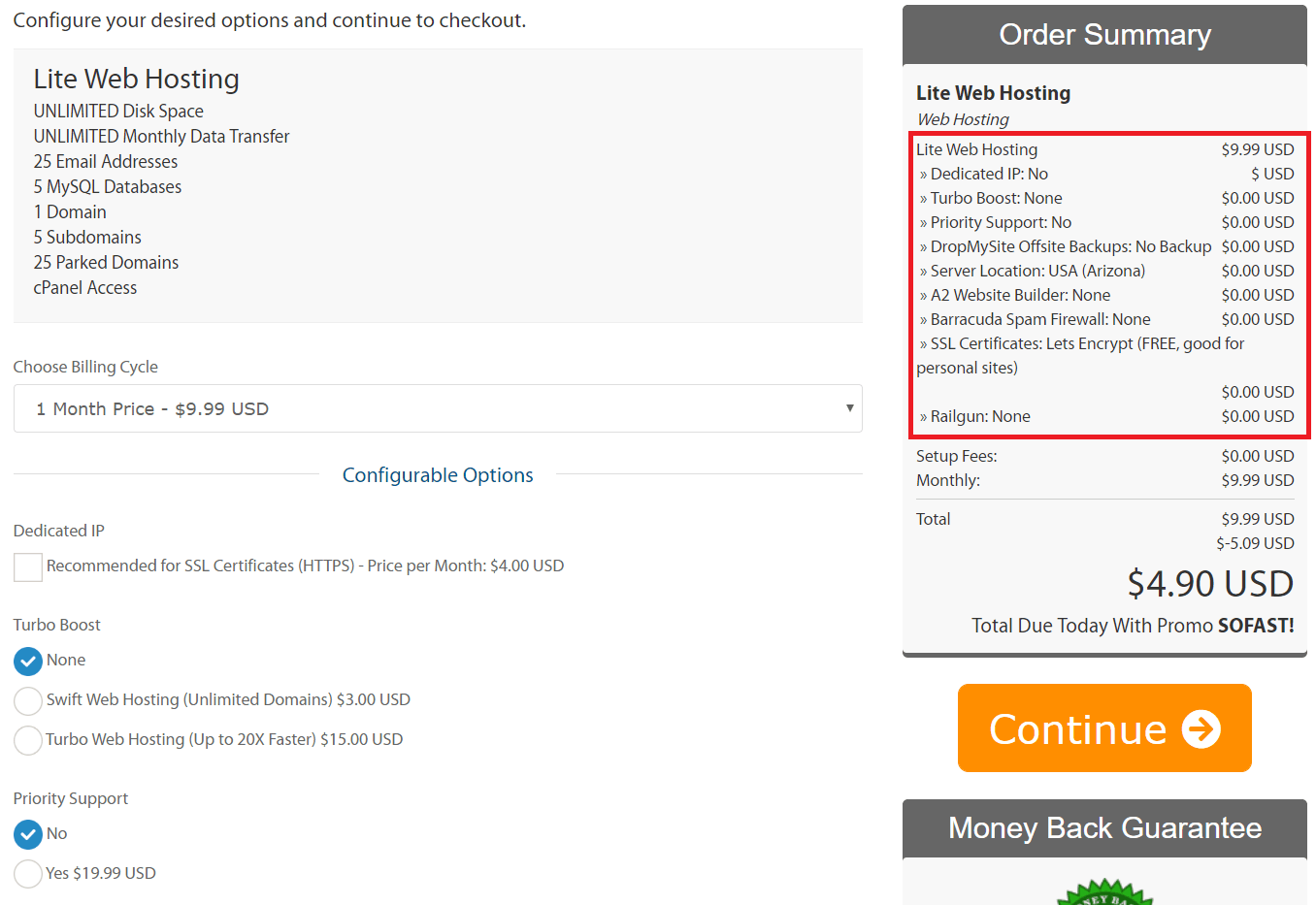 If you scroll down, there are also a few important settings to note. First, you can choose a data center location. Second, you can request that A2's website builder and/or one of the other CMSs, such as WordPress, will be installed for you.
There is a free plan as well as a number of paid plans for the website builder, and all of the CMSs are completely free.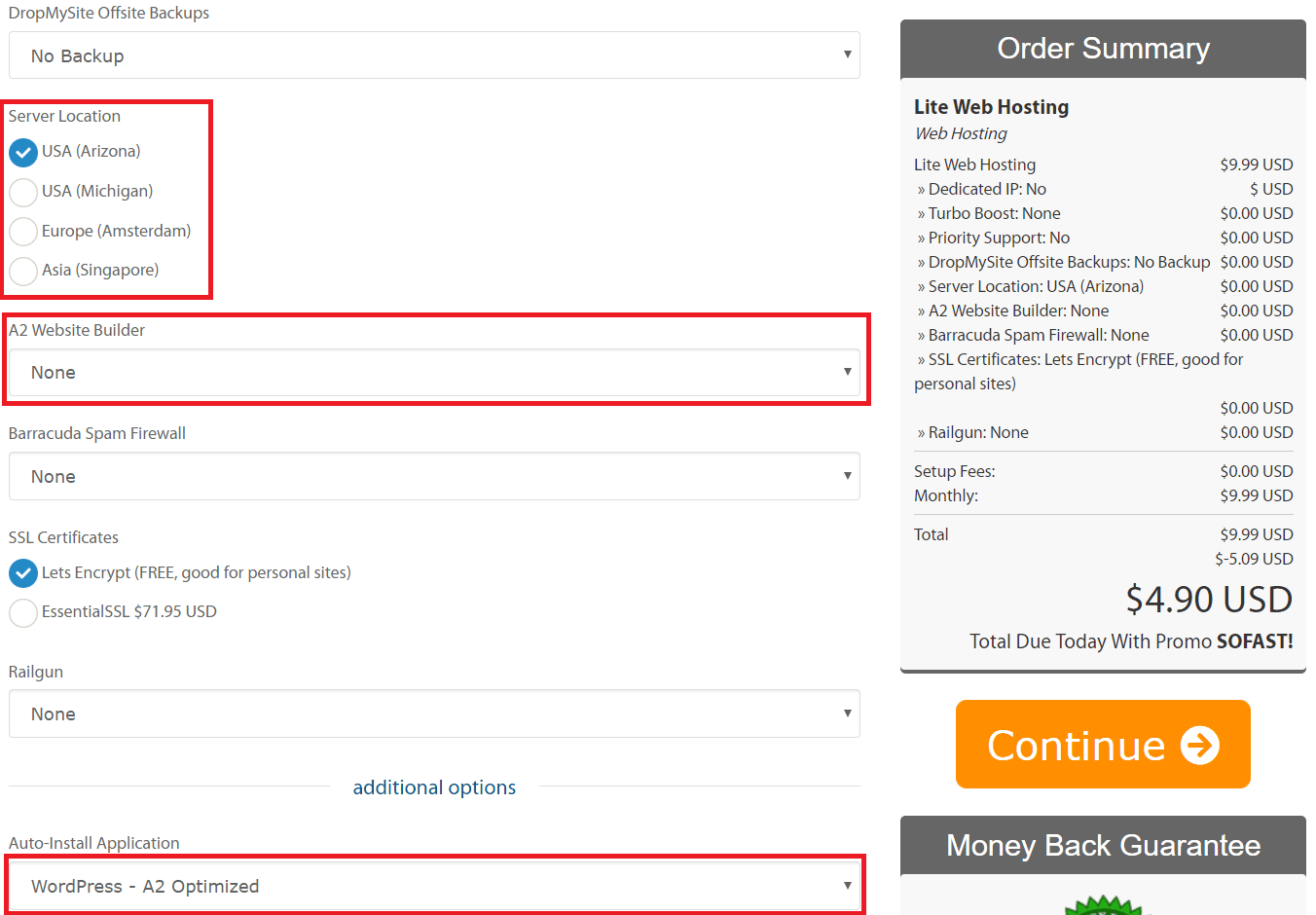 If you choose a CMS, make sure that you copy the login credentials below. A2 Hosting should also send you an email with these credentials, but it can't hurt to play it safe.
The final option is to include a Basic CloudFlare plan with your purchase. However, I feel it is a bit deceptive of them to not mention here that you get a free CloudFlare plan: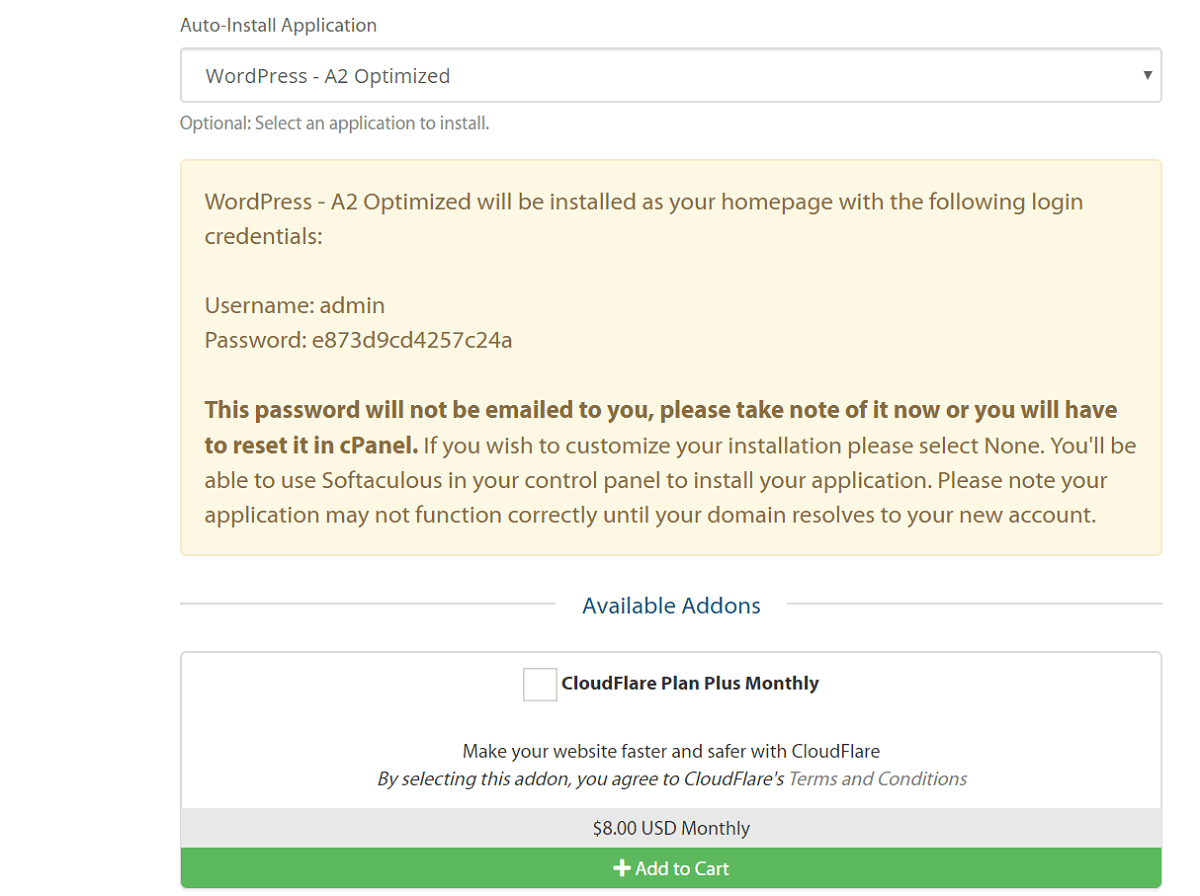 If you click continue, the next step will just be to review the details of your order to make sure they're correct. You can just click 'Checkout' to pay for your hosting: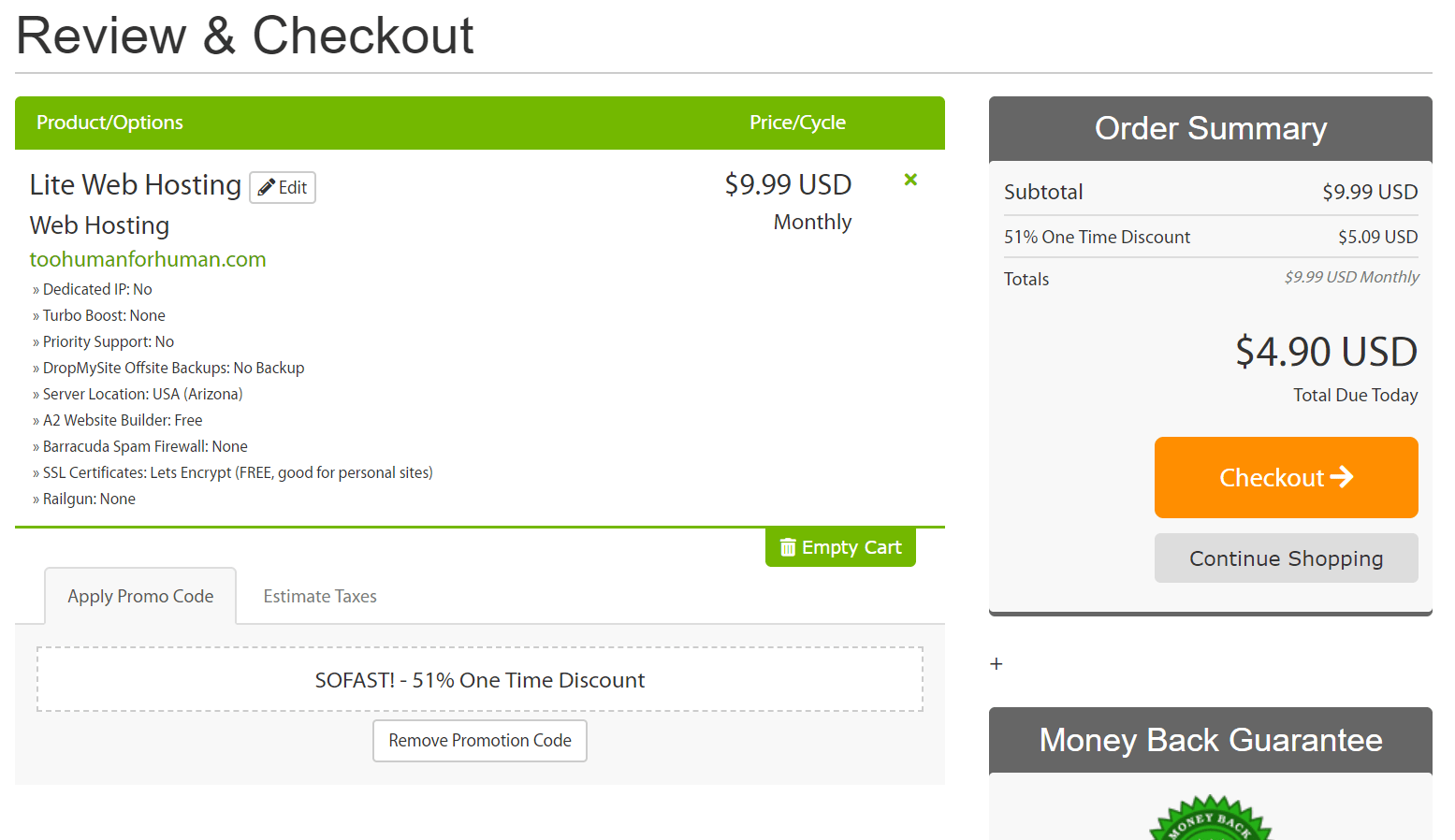 The first step at checkout is to just provide some basic contact details: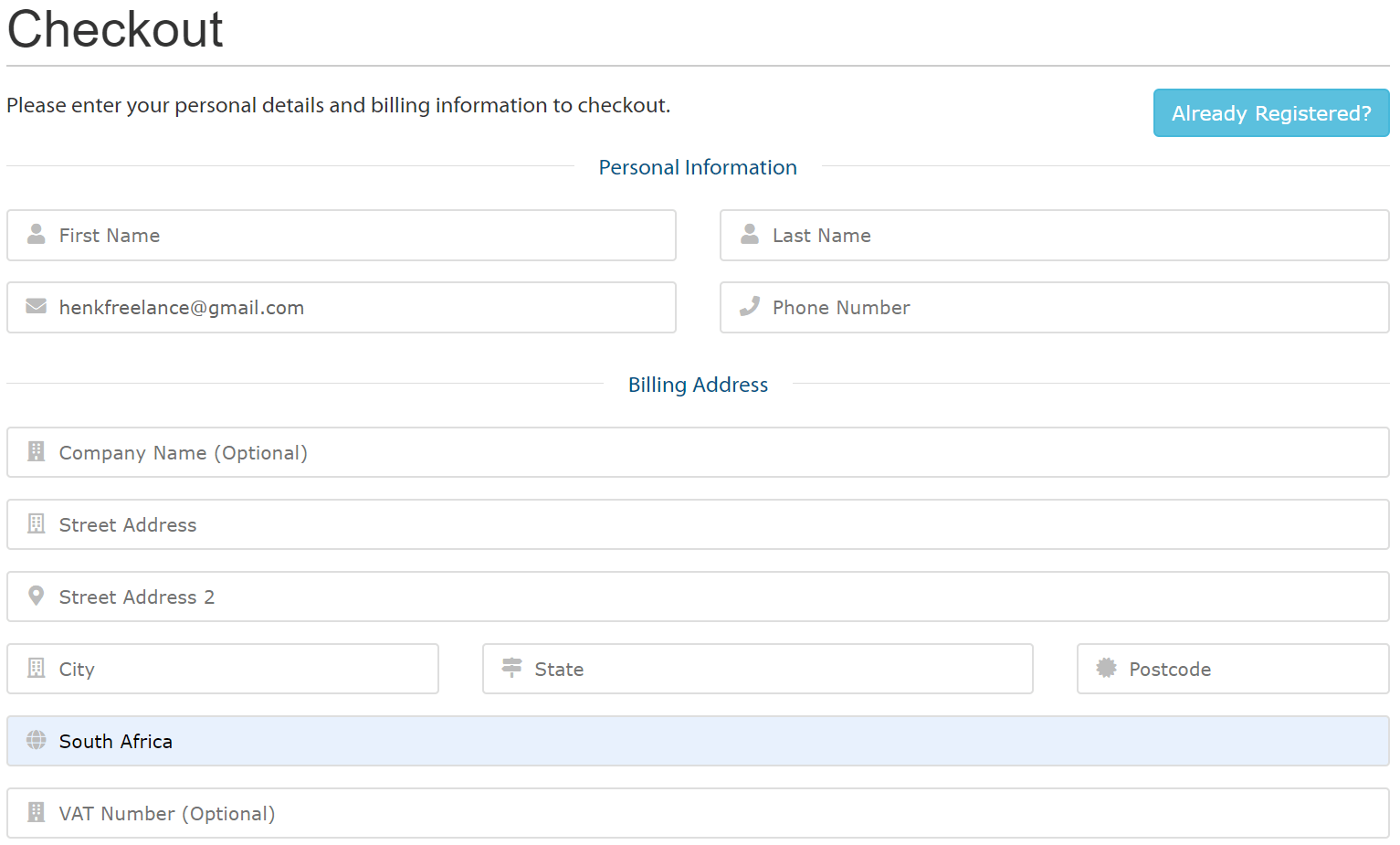 The next is to provide a password and security question for your account. I was happy to see that A2 Hosting clearly displays the total for the current purchase as well as the renewal rate: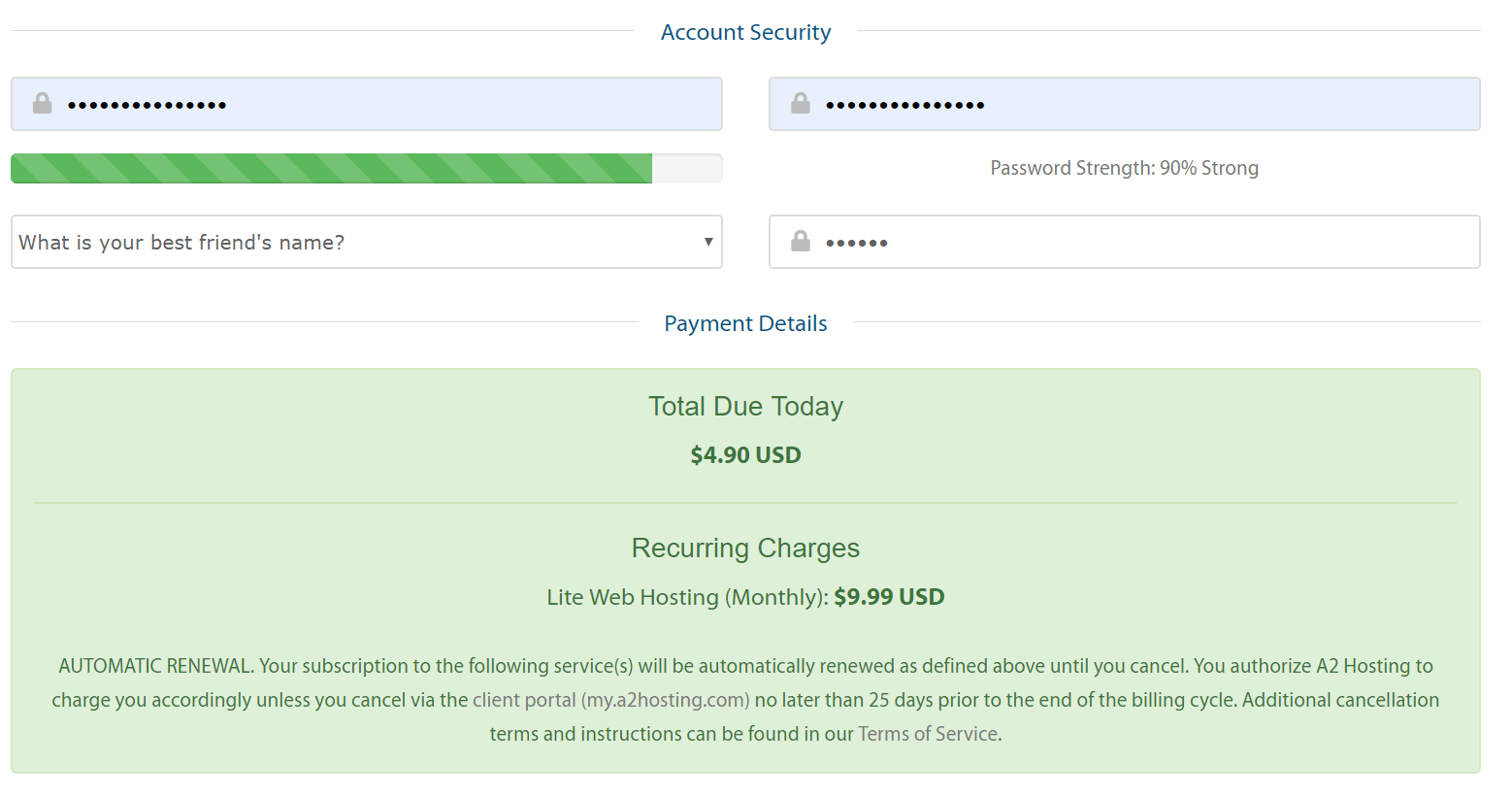 A2 Hosting accepts a number of payment methods, including credit cards, PayPal, Skrill, and bank transfers: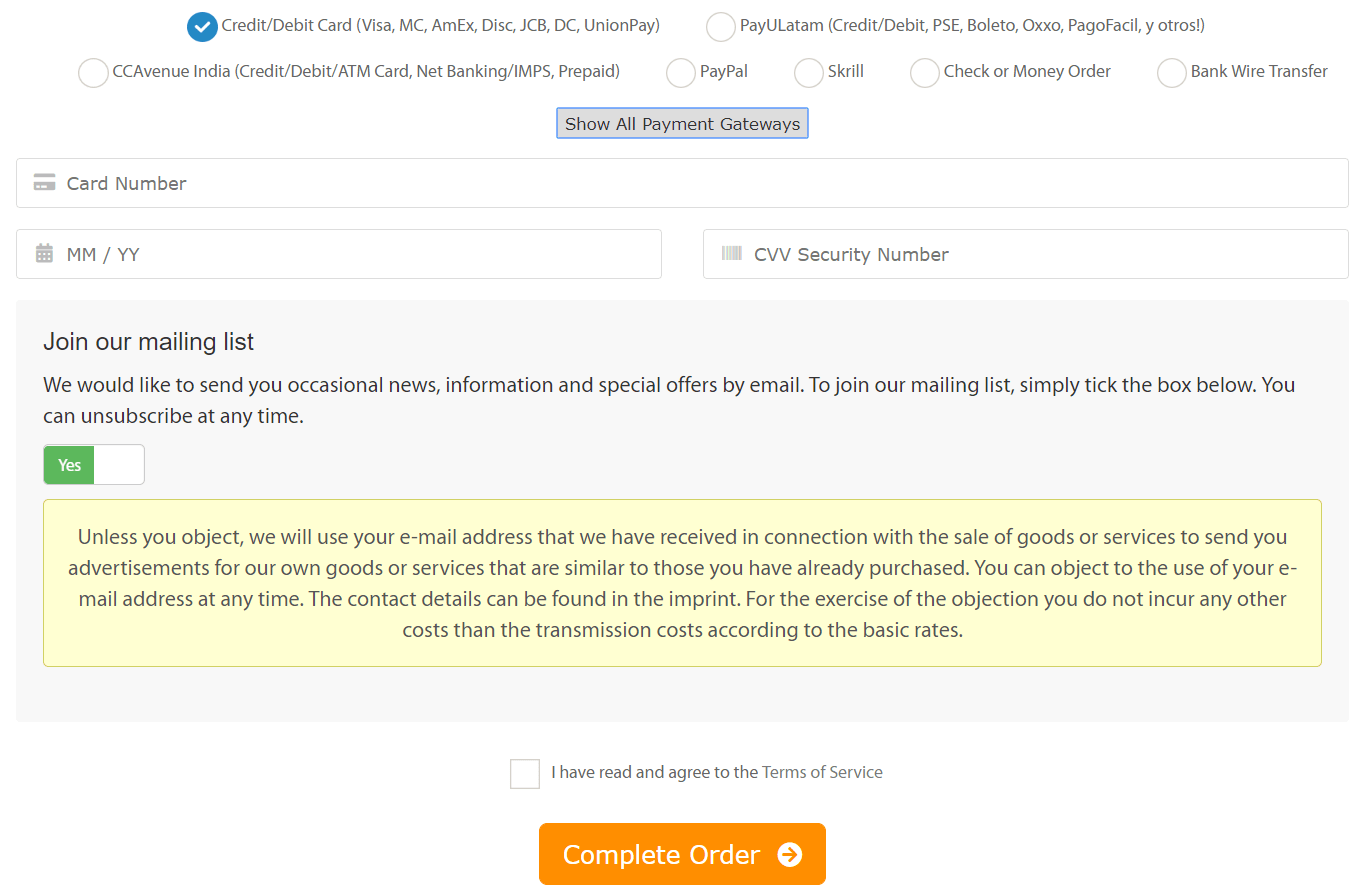 Once you've provided your payment details, make sure to uncheck the mailing list box if you don't want to receive promotional emails. Then, agree to the Terms of Service (it's never a bad idea to read them first), and click 'Complete Order.'
Finally, your payment will be processed and your account will be created. A2 will send you a bunch of emails. One is a welcome email: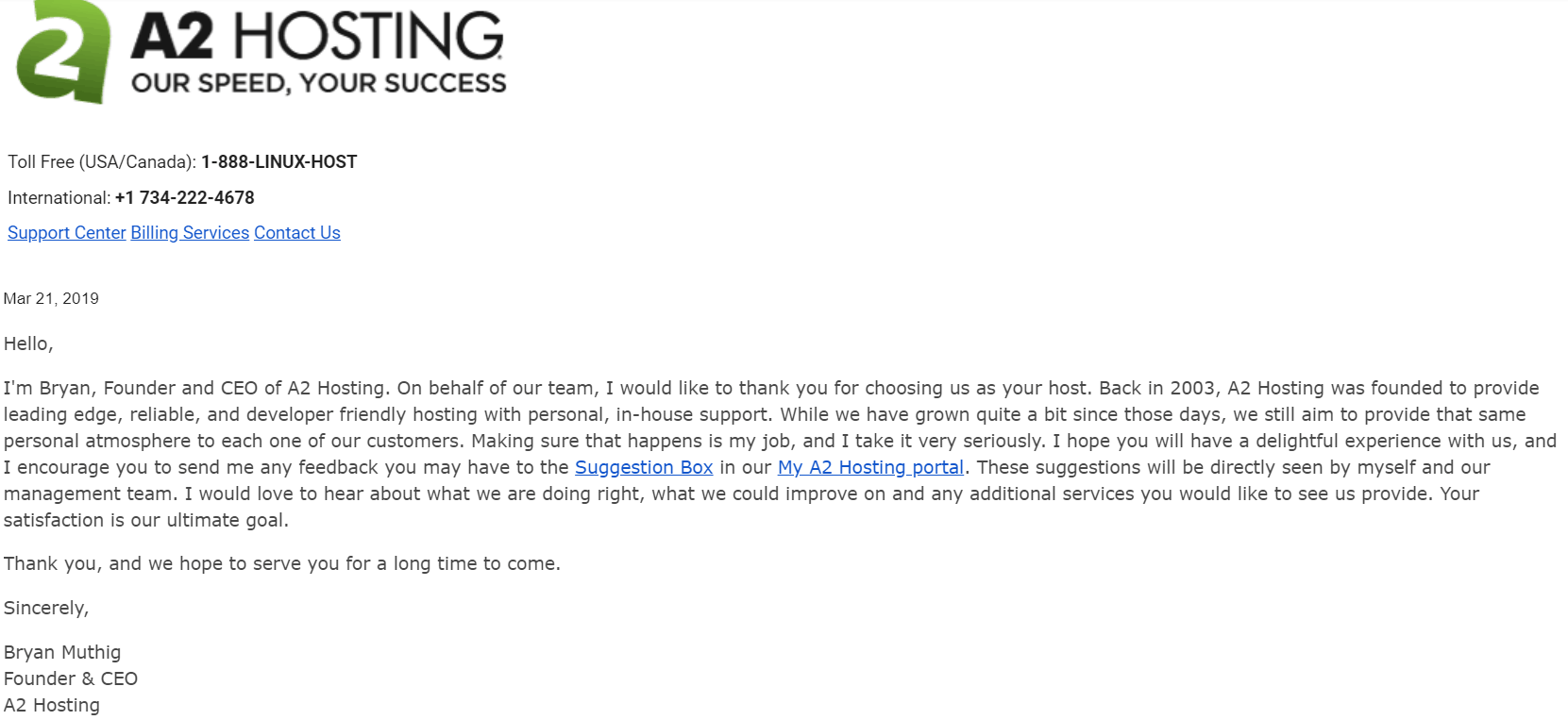 The next is your order confirmation:

The third is actually useful, and contains a number of links to login to various services like your hosting dashboard, FTP, SSH, email, and client portal. A2 Hosting also provides the nameservers, so you can point your domain to your site, as well as links to their customer support and migration services: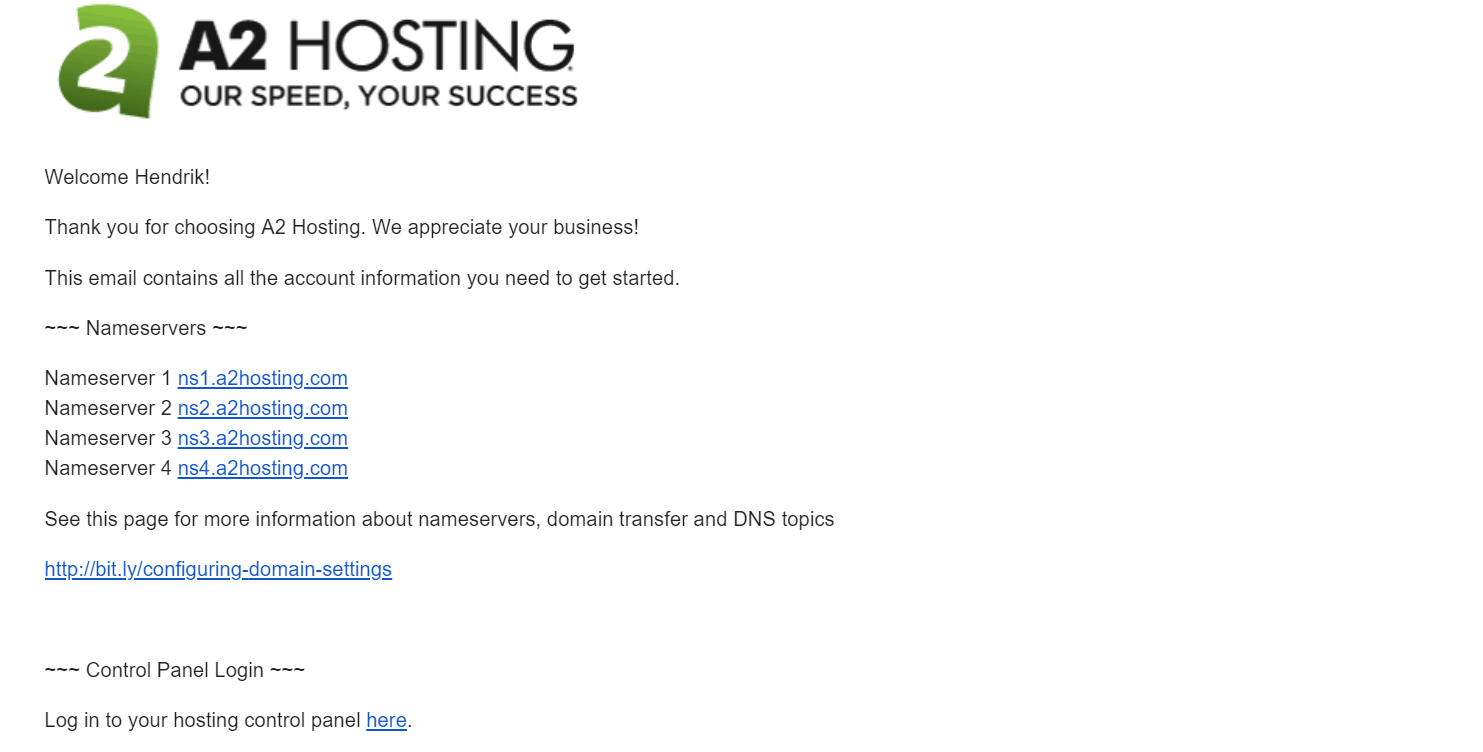 The last email from A2 Hosting will be the invoice for your purchase: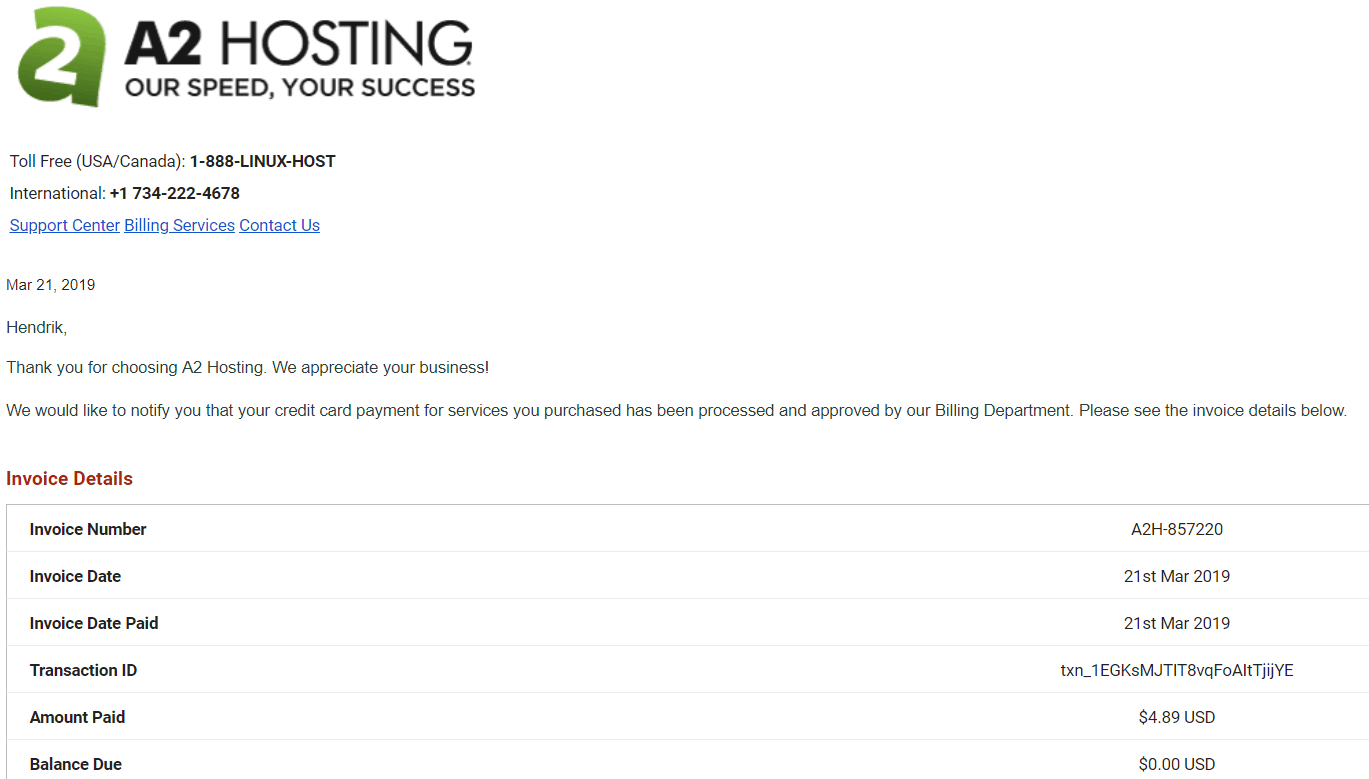 Finally, if you installed WordPress, like I did, or a different CMS, then you should receive an email from the Softaculous script installer with your login credentials for your website and databases.
You'll also get important information regarding the next steps: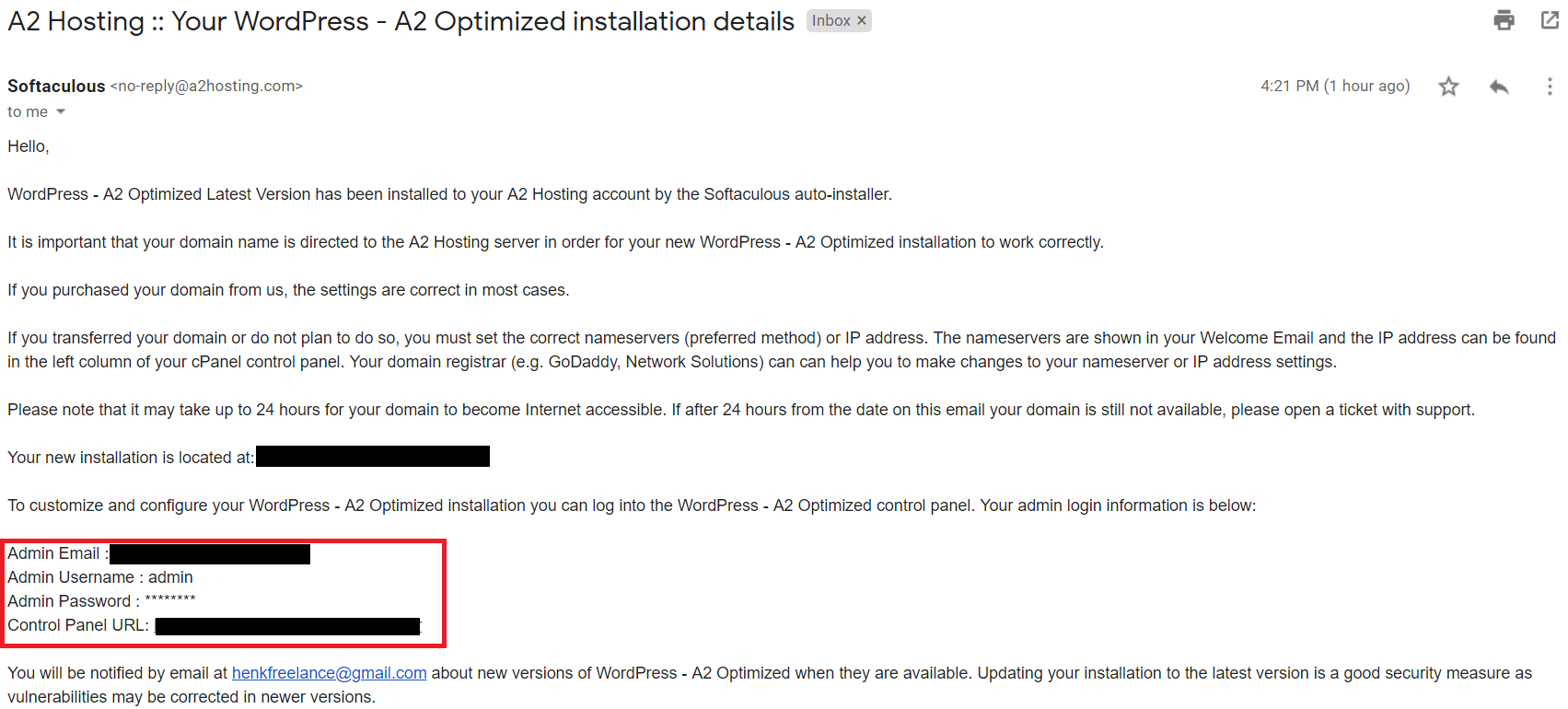 Your account is now ready! You can head over to the A2 Hosting site where you'll be able to login to your dashboard.
A Quick Sign Up Process but With a Few Bumps in the Road
Signing up with A2 Hosting is easy – it shouldn't take you more than 10 minutes from start to finish.
However, they did use a couple of my pet peeve tactics: there were a lot of upsells, and way too many emails.
Still, the upsells weren't checked by default and I didn't find anything majorly wrong with their transparency. In my full A2 Hosting review, I do go into a bit more detail about how they tend to embellish their features.
In short, it's not the best signup process – certainly not compared with companies like Flywheel – but it's not bad either.