in-depth Liquid Web review
. In this step-by-step guide,
I'll take you through the entire process to give you an idea of how long it takes to perform ordinary tasks like connecting your domain and installing WordPress
.
Installing WordPress on Liquid Web
The first thing you'll need to know is that account management and WordPress management have been split into two separate dashboards. Every time you log in, you'll see the following options: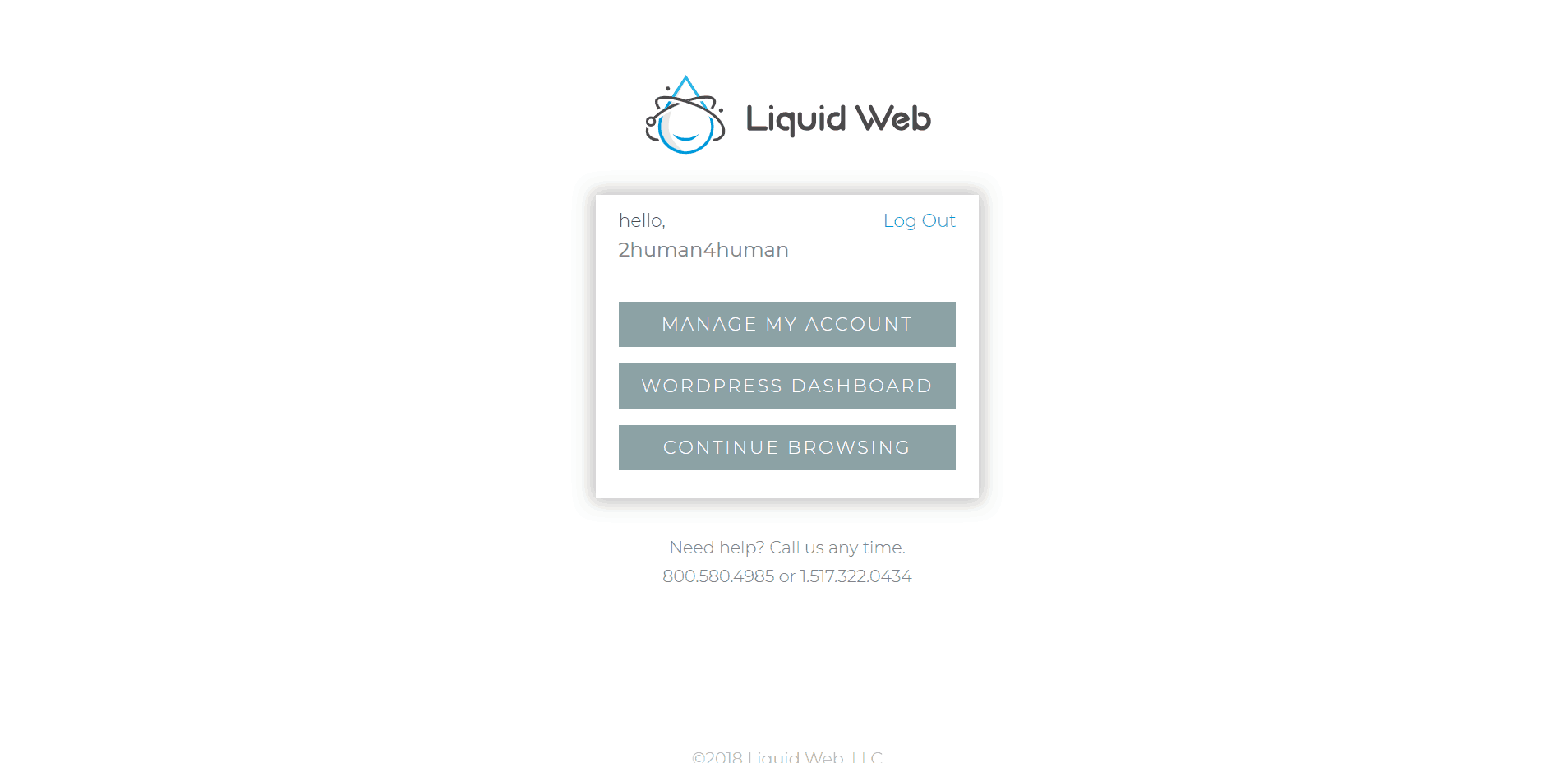 Step 1:
If you want to install WordPress or work on your website, select
WordPress Dashboard
. The first time you log into this dashboard, you'll see this pop-up message, which you can just close for now.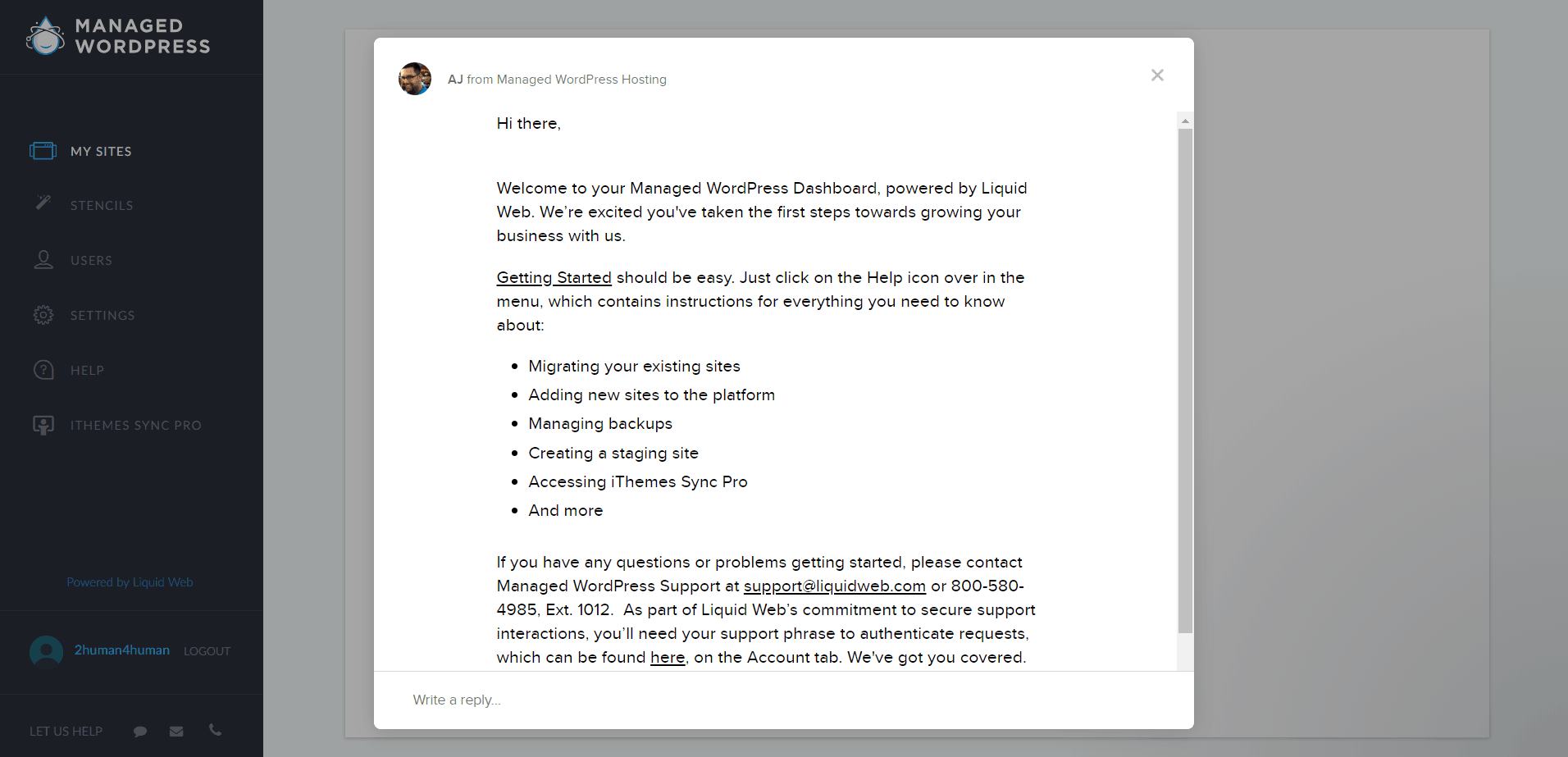 Step 2:
Then, you can immediately create your WordPress website by providing your website name and the email address to be used with it. Remember which email address you used, as you'll be using it to log in. It's also where Liquid Web will send your WordPress login details.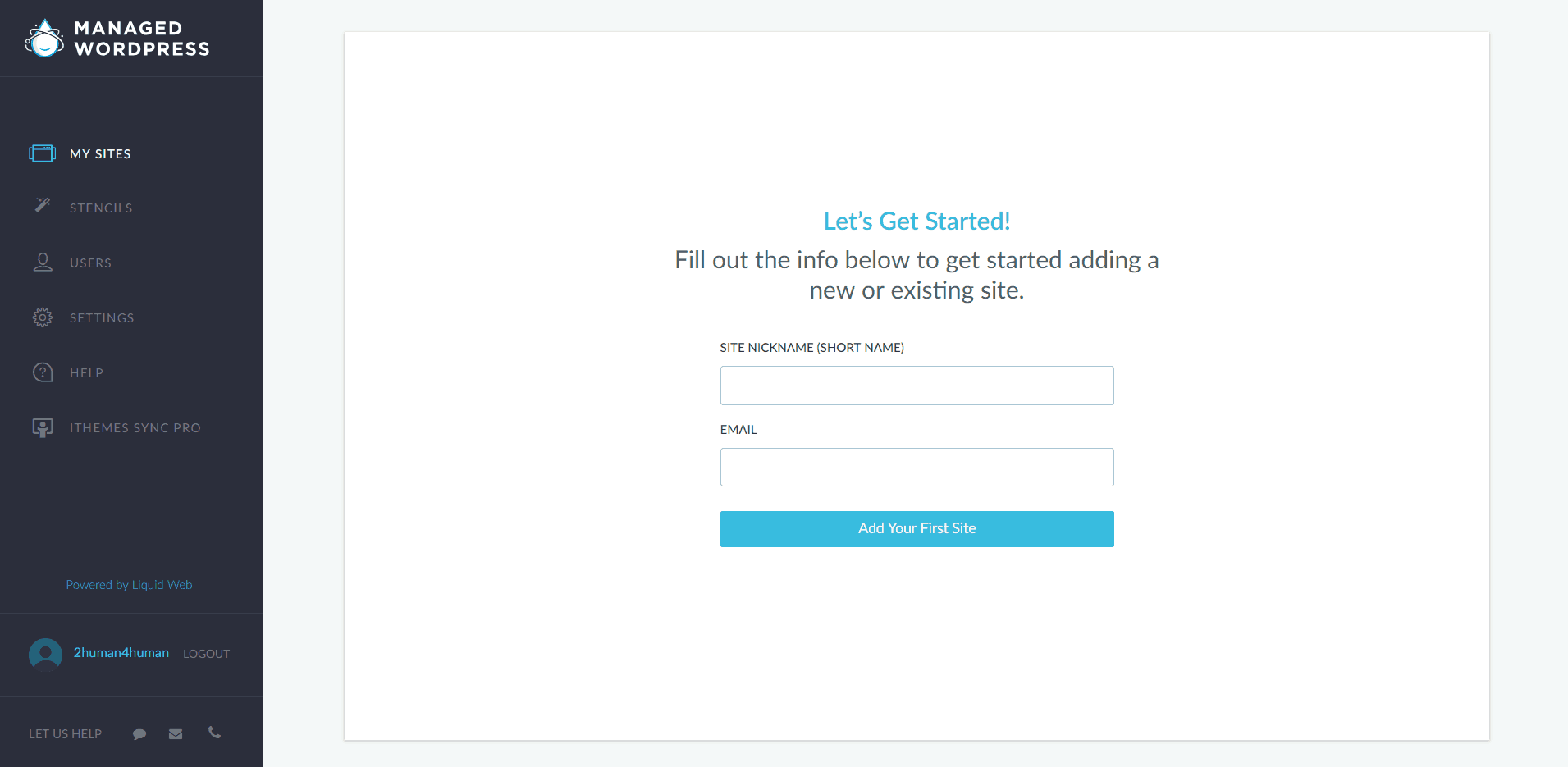 Clicking on
Add Your First Site
will automatically set up your website and take you to your Managed WordPress Portal: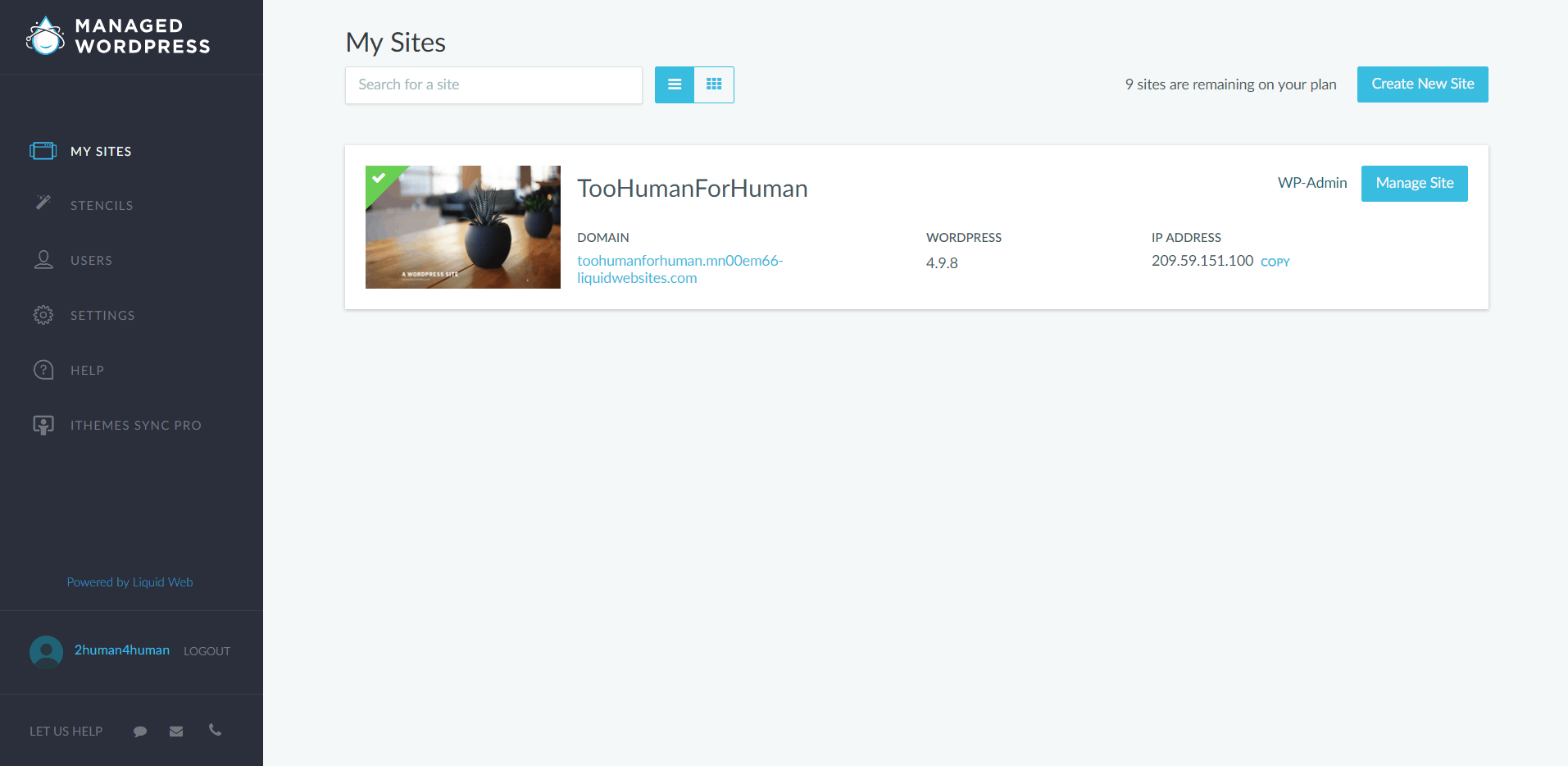 The WordPress installation should take between three to five minutes: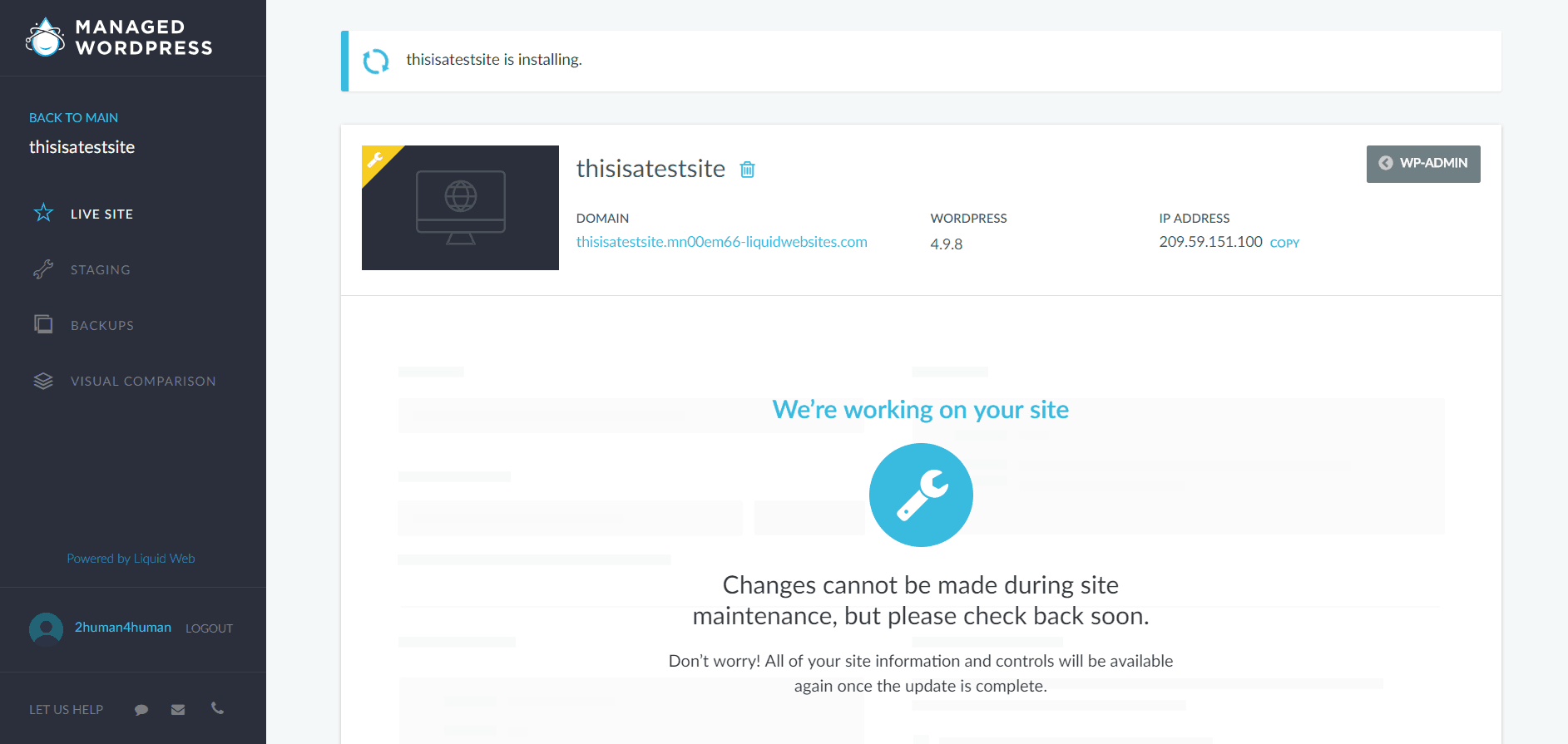 Liquid Web's WordPress management panel is polished, intuitive, and easy to learn. Below, you'll see the management panel for an individual WordPress website. Notice that it provides easy access to important tools such as phpMyAdmin, your WordPress admin dashboard, and so on. You can even delete your cache, enable or disable automatic updates, view your logs, or change your PHP version: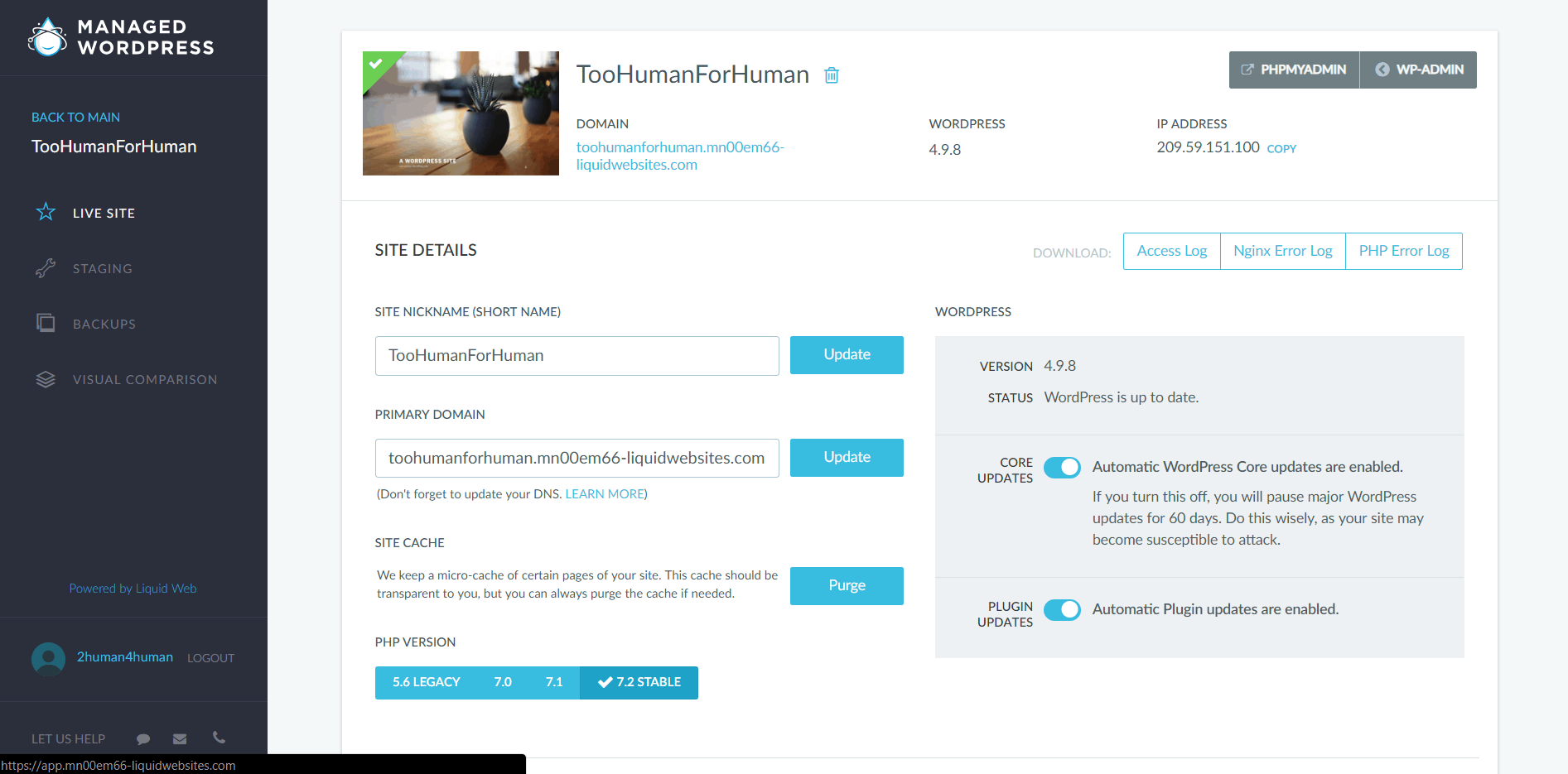 Step 3:
As I mentioned earlier, you'll receive the following email to the address you specified. This contains your login details and a link to access your WordPress admin dashboard. More importantly, it also prompts you to
follow the link and set your own password for your WordPress admin panel
: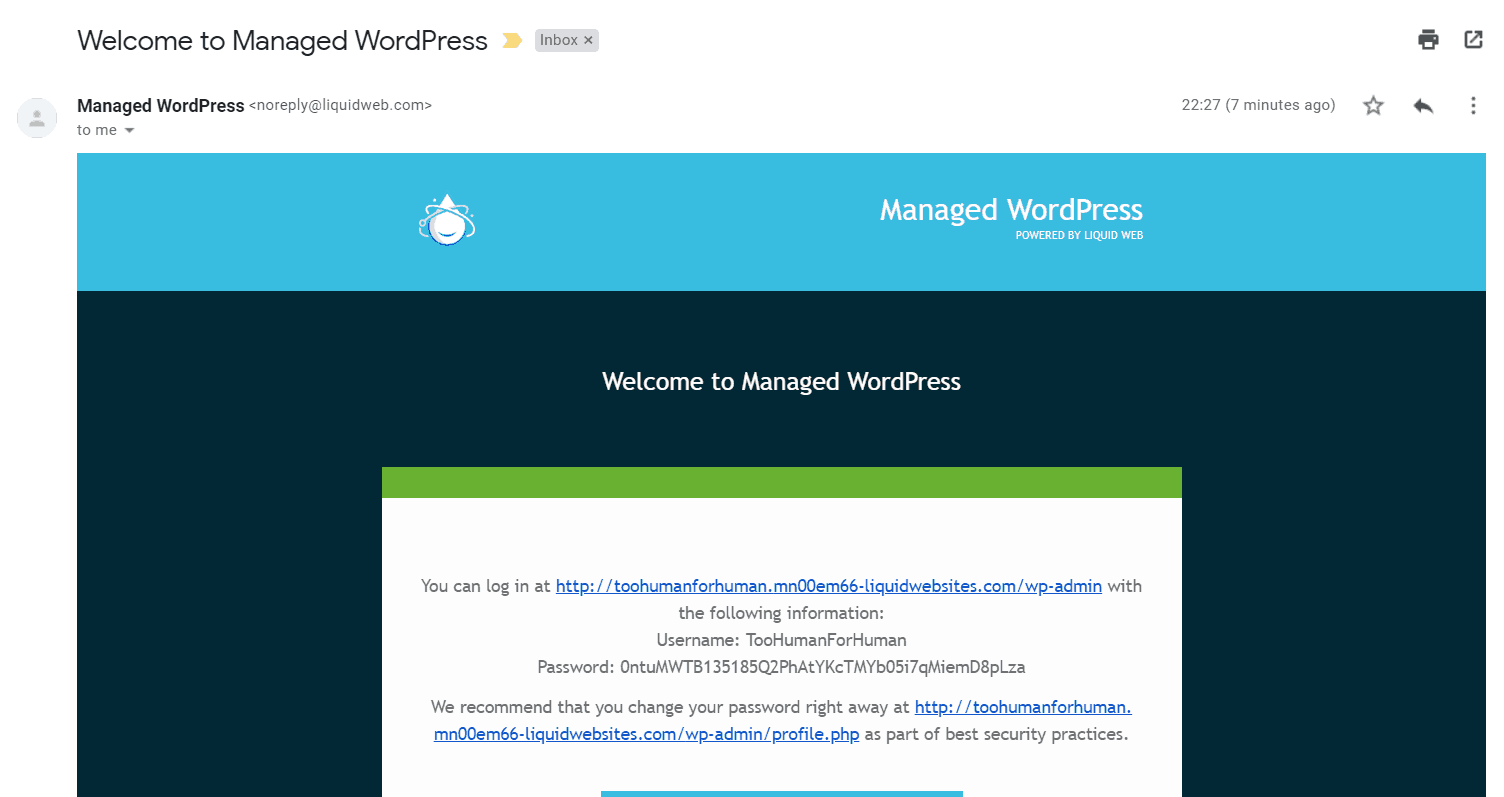 You can now access your WordPress installation and start building your website. As you can see, the process requiresvery little effort. What makes it so quick is that WordPress is already installed for you; you'll just need to get access to it. The whole process up to this point didn't even take five minutes of my time.
Connecting a Domain on Liquid Web
So far, I haven't had much to complain about in terms of ease of use,
but I hit a bit of a snag when trying to connect my domain
. When I entered my domain in the
Primary Domain
field and tried to update it, I got a message saying I needed to create a DNS record and change my domain to use the provided IP address.
Evidently, connecting your domain with Liquid Web is a bit more complicated than with most other hosts
. In fact, I needed to contact support to figure it out. Beginners will probably need some assistance.
Step 1:
First, if you've registered a domain elsewhere, you'll need to update your nameservers at your registrar as per usual. Liquid Web's nameservers are
ns.liquidweb.com
and
ns1.liquidweb.co
m. Mine is registered with GoDaddy, so this is where I went to update the nameservers. My support rep gave me a link to the help documentation for the next steps, but you can find the same link underneath the
Primary Domain
field.
Step 2:
You'll have to create a new DNS zone using your domain and the IP address that Liquid Web provides in the Managed WordPress dashboard.
Luckily, this IP address is prominently displayed in the Managed WordPress dashboard (as you can see in the screenshot below) and comes with a handy
Copy link
. Click on this link, because you'll need it for later: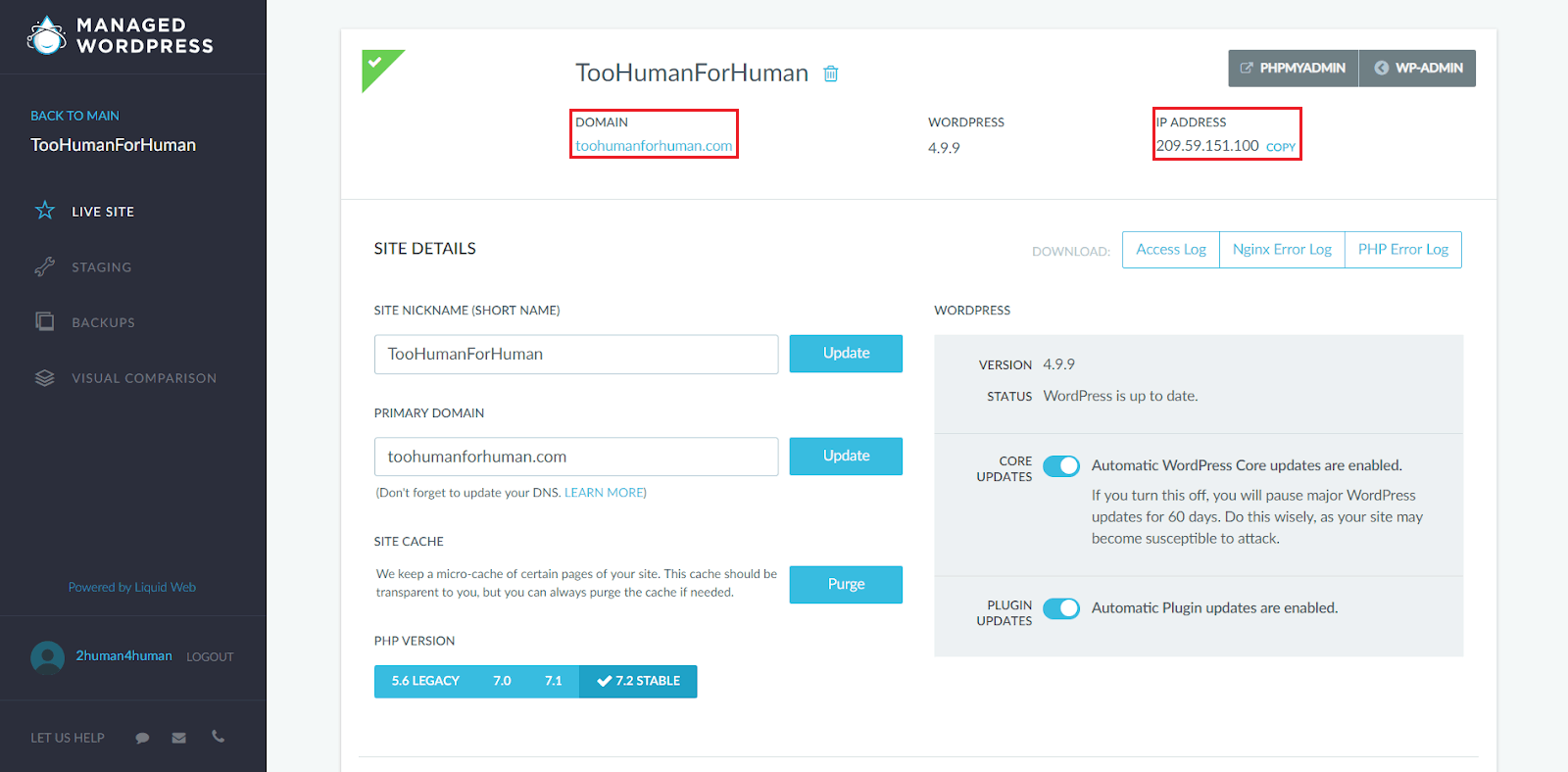 Step 3:
You'll then need to
log into your Liquid Web account dashboard
, which looks like this: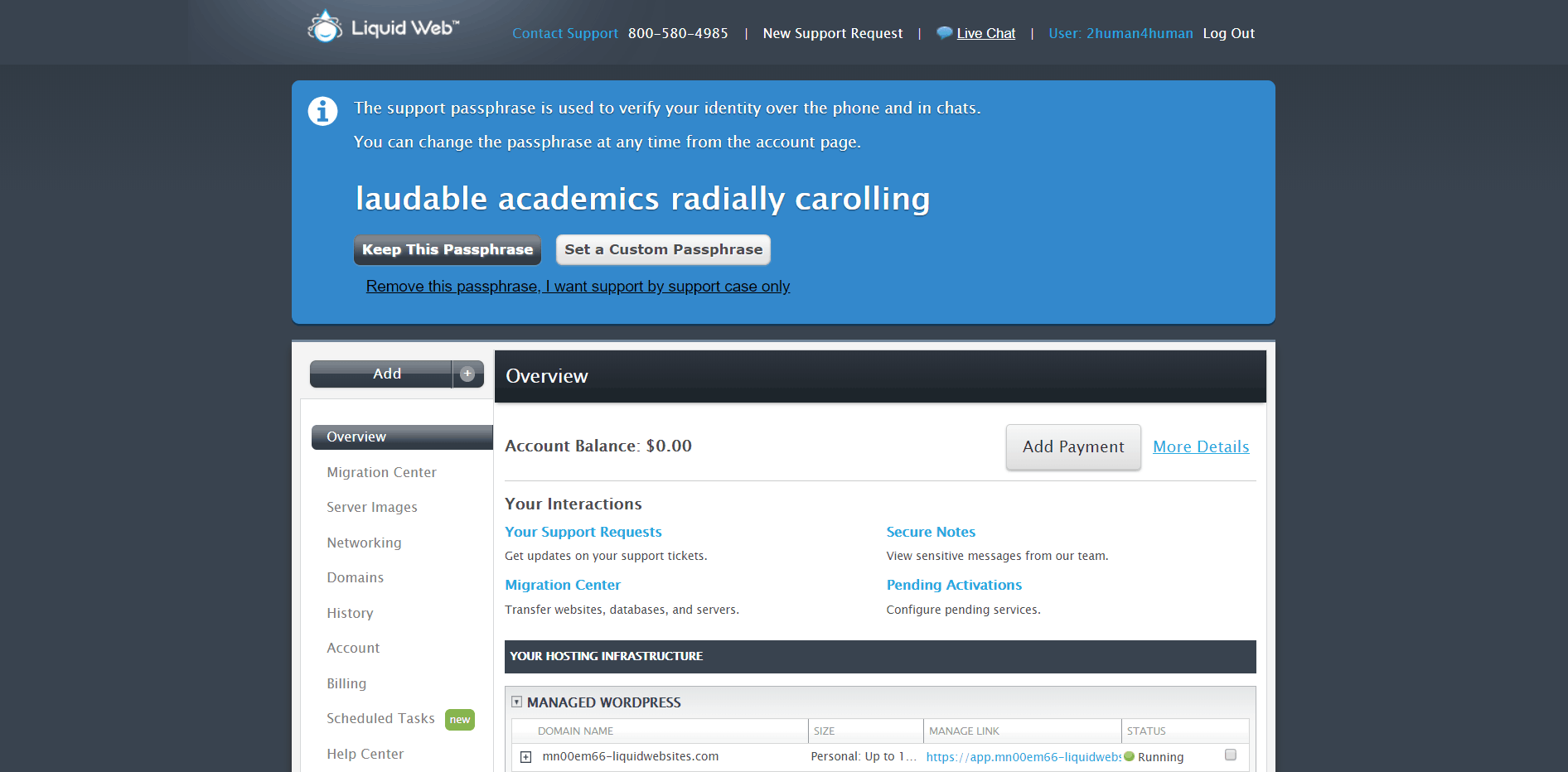 You can do this by selecting
Manage My Account
instead of
WordPress Dashboar
d when you first log in. In the left-hand navigation menu, go to
Domains
and then open up the DNS tab. Expanding the domain entry will show you the entire list of DNS records: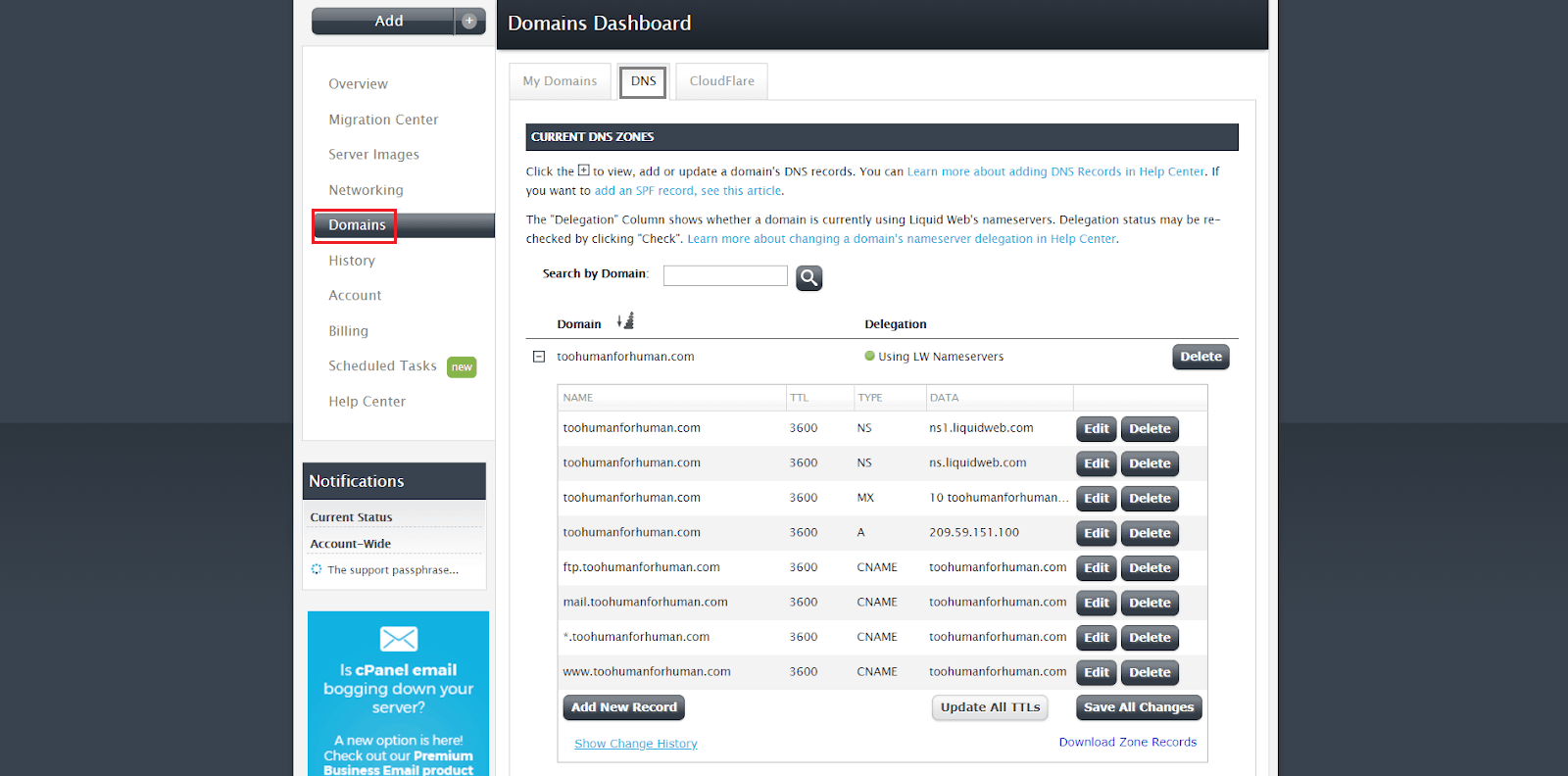 Step 4:
Click on the
Add New Record
button. Then, input the value of 3600 for the TTL field, set the type to A, and paste the IP address you copied earlier into the data field. If you leave the domain field blank, it will apply the A record to the entire domain, which is what you'd want to do in most cases. Clicking on the green box with the checkmark will create your new record: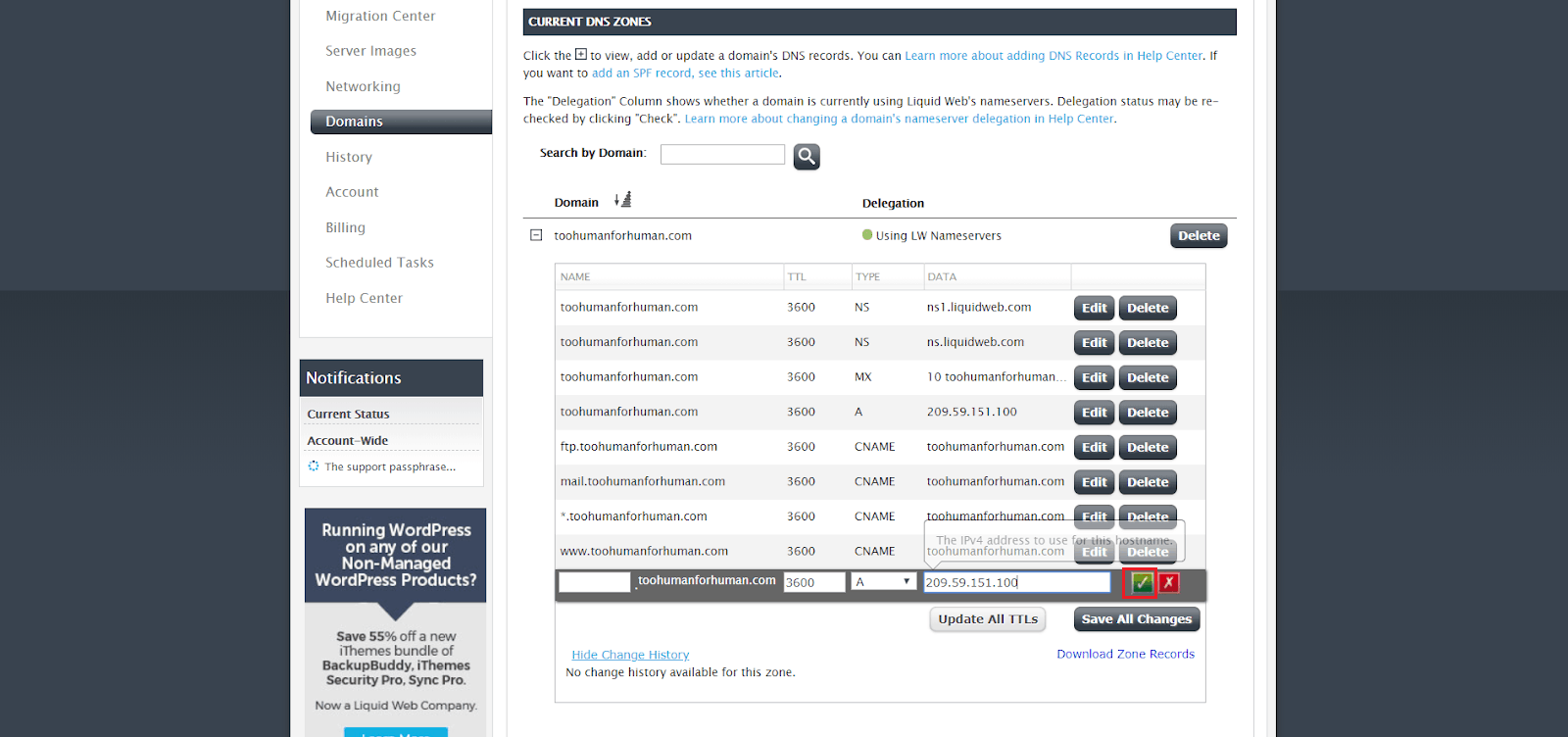 Step 5:
You can now go back to your managed WordPress dashboard and update the
Primary Domain field
with your domain. Hitting
Updat
e will open the page below.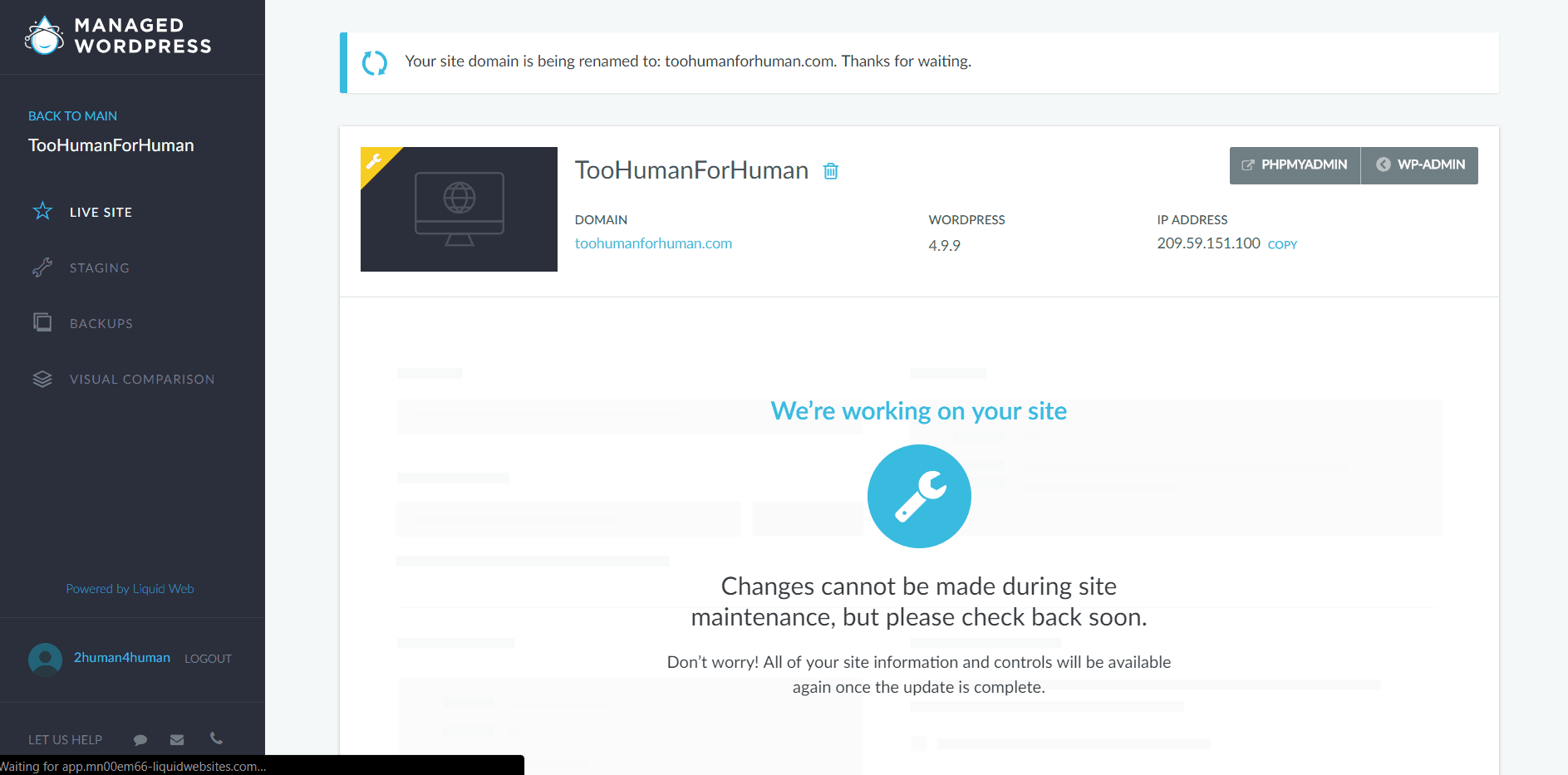 If all goes well, the new domain should display in the
Primary Domain
field without any errors or warnings, and you should be able to go to your WordPress website using that URL. Not the most intuitive way to connect your domain name, is it?
The biggest problem is the lack of clear direction
. Having to work with two different dashboards also further complicated matters. The whole process
took me about 35 minutes to complete
, though this includes the time I spent reading the support documentation and talking to staff.
Activating Cloudflare CDN for Your Liquid Web Domain
Liquid Web also allows you to
set up the Cloudflare CDN straight from your management dashboard
. This isn't the quickest or easiest process either, so you'll want to follow along closely.
Step 1:
The first thing you'll need to do is sign up for a Cloudflare account. There's a free plan available, but you can also purchase the premium plan for your website. You'll use the Account Management dashboard again, but this time, navigate to
Domains
and then the
Cloudflare
tab: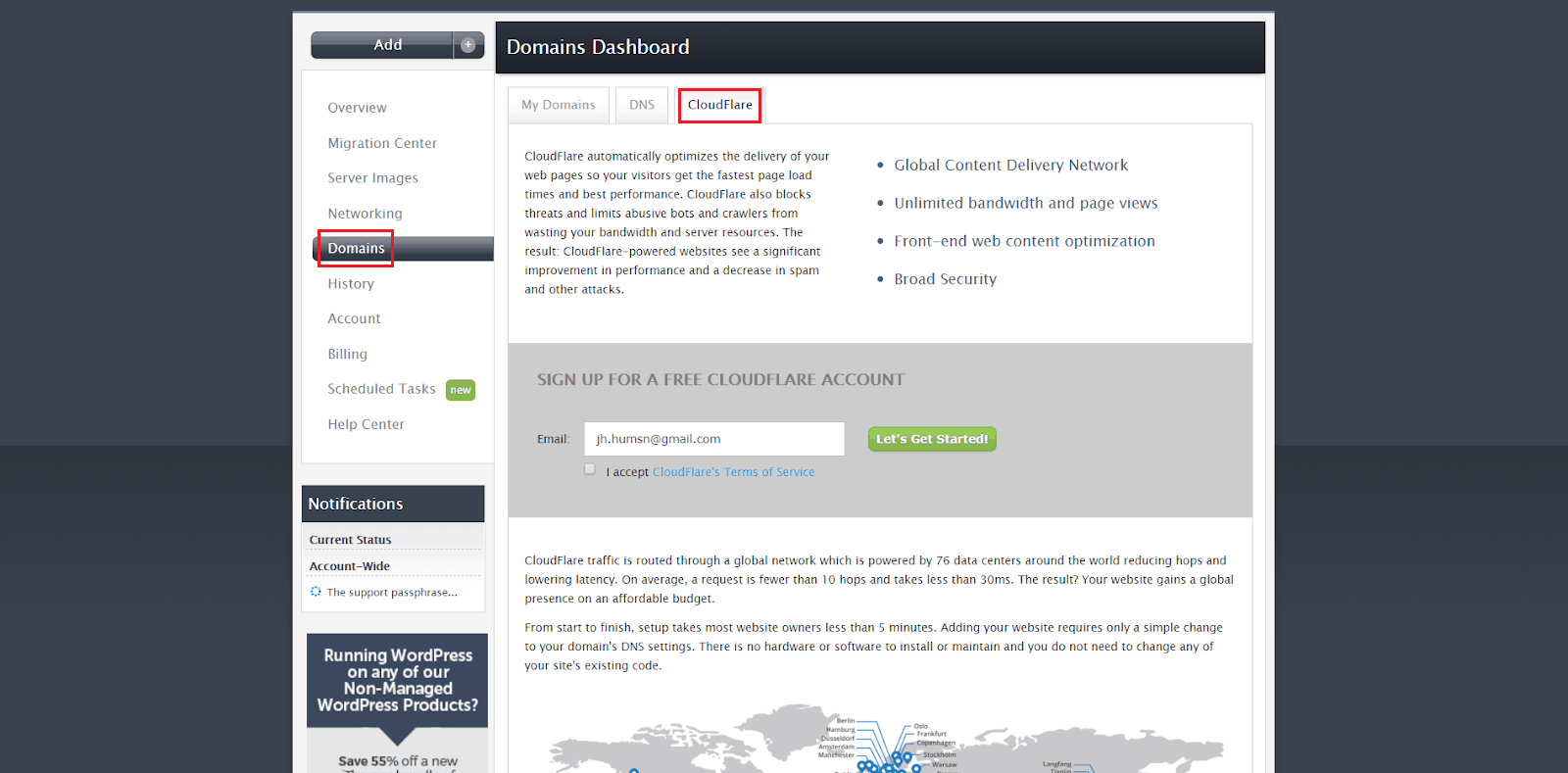 Here, click on
Add a Site
and enter the domain you want the Cloudflare CDN on: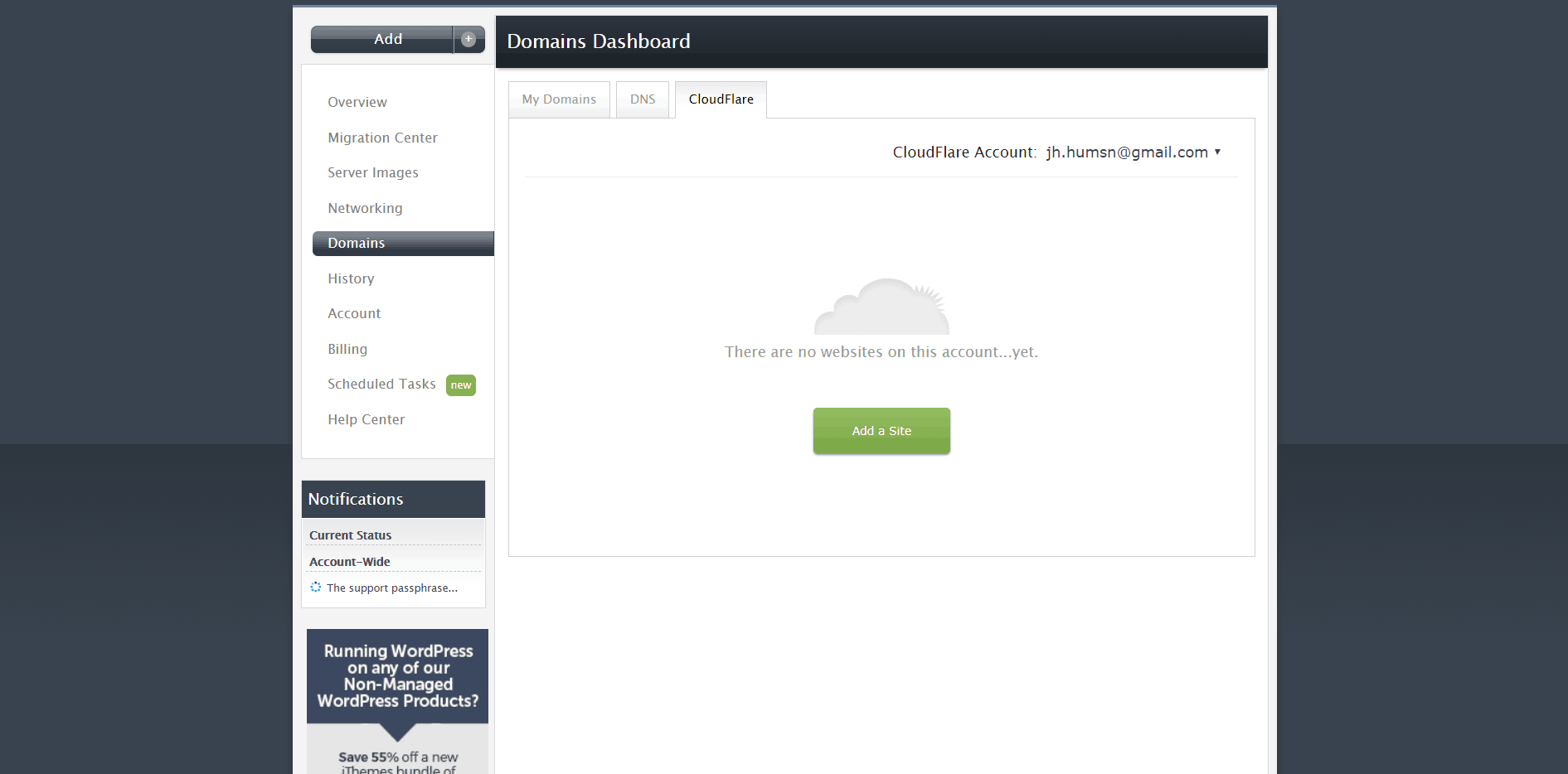 In the next step, you can
choose to move your DNS to Cloudflare or keep it at Liquid Web
. Moving to Cloudflare will get you better loading speeds, but I'm sticking to Liquid Web for this review: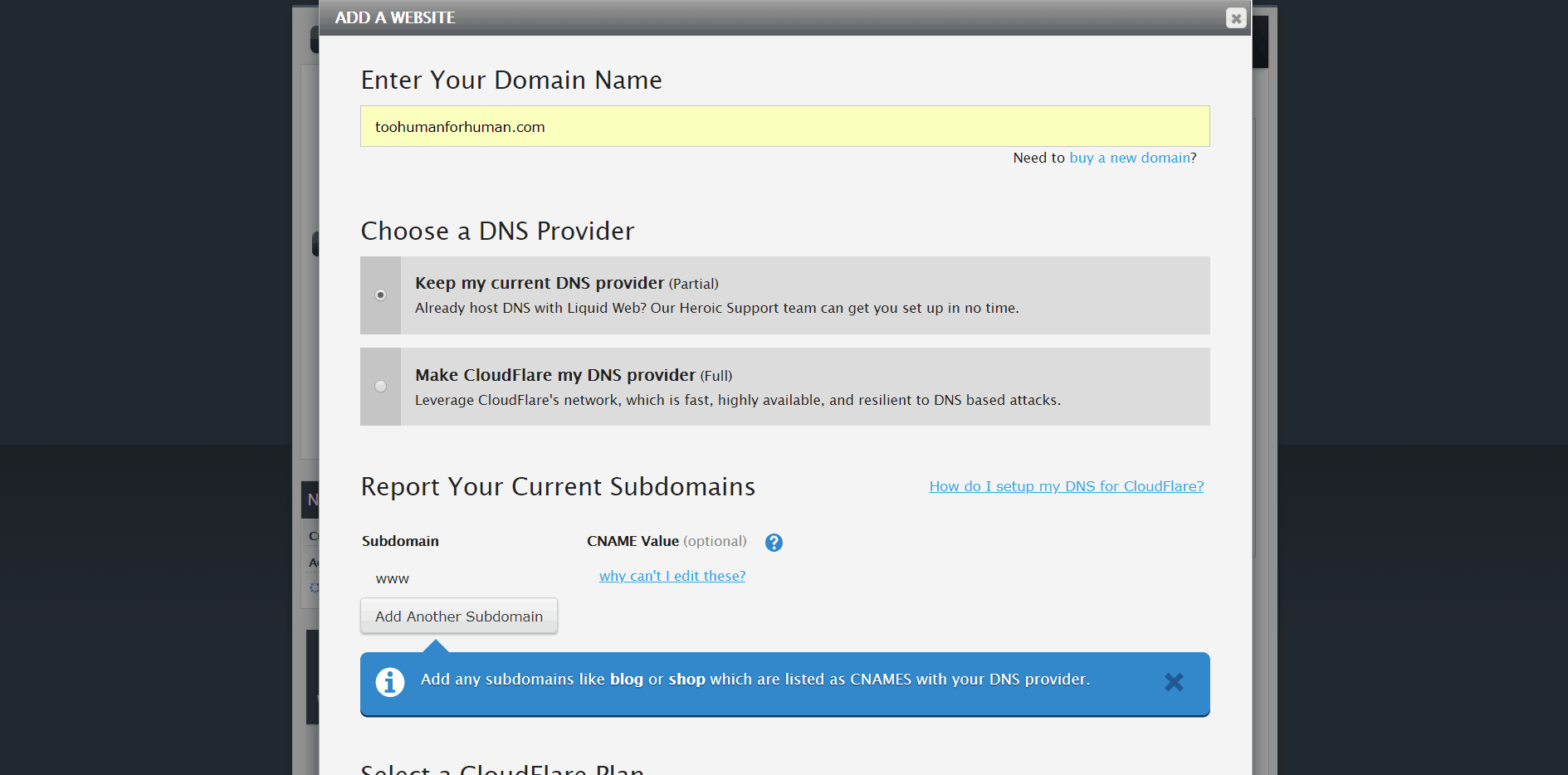 Here are the Cloudflare plans you can choose from: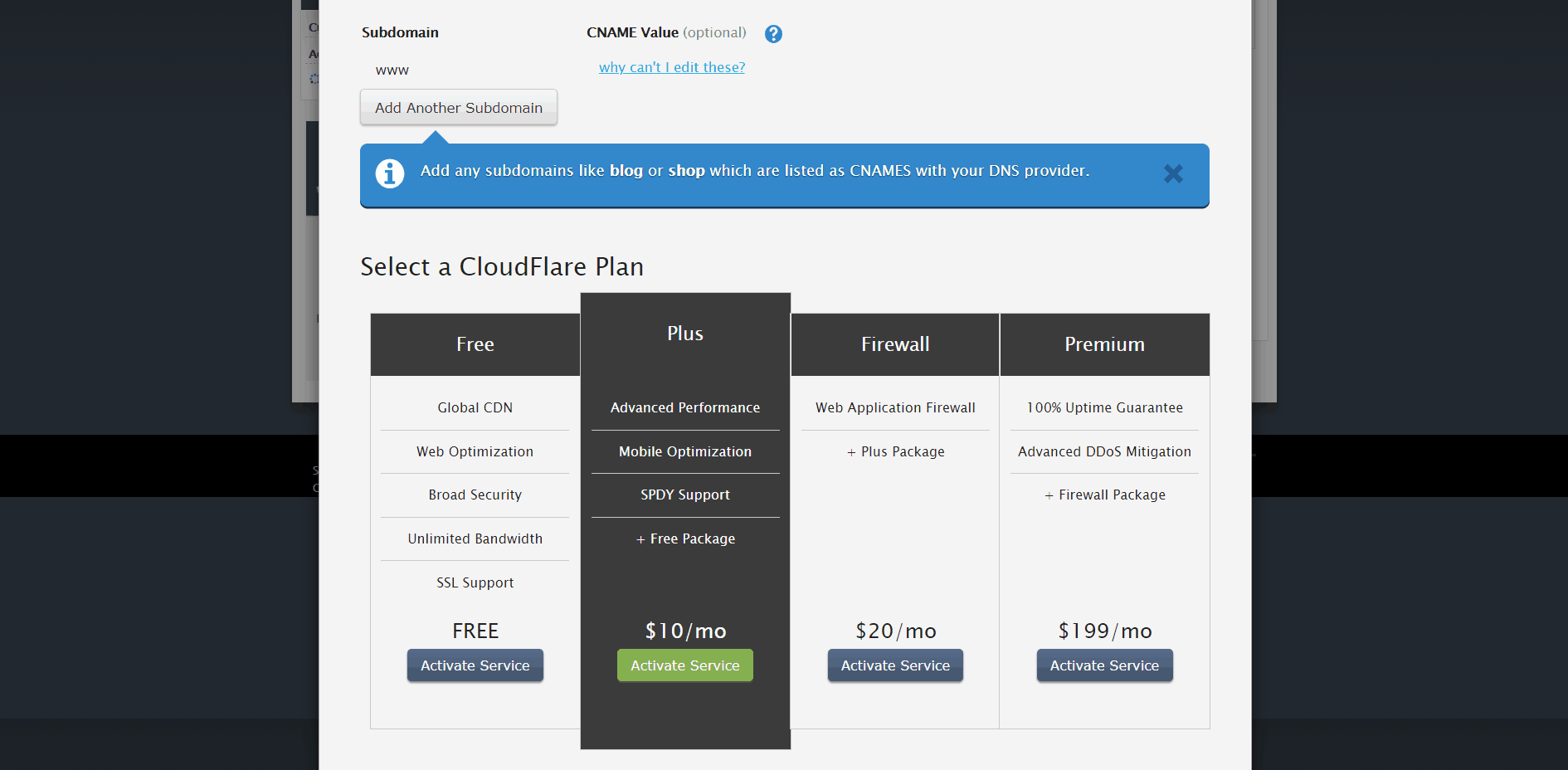 Clicking on
Activate Service
will install Cloudflare on your website. This will only take a minute or two: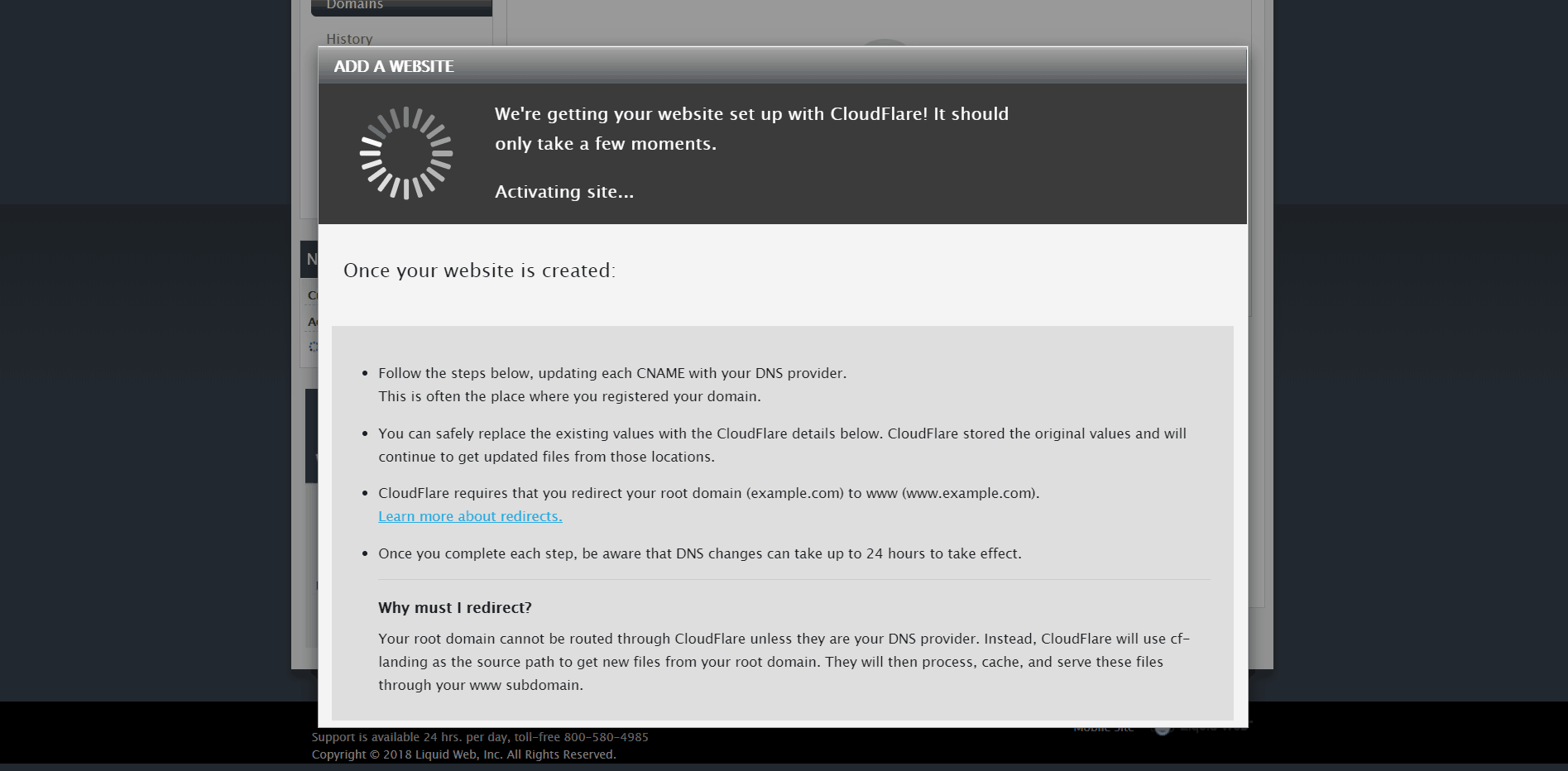 When it's done, you'll have an entry for your domain under the
Cloudflar
e tab: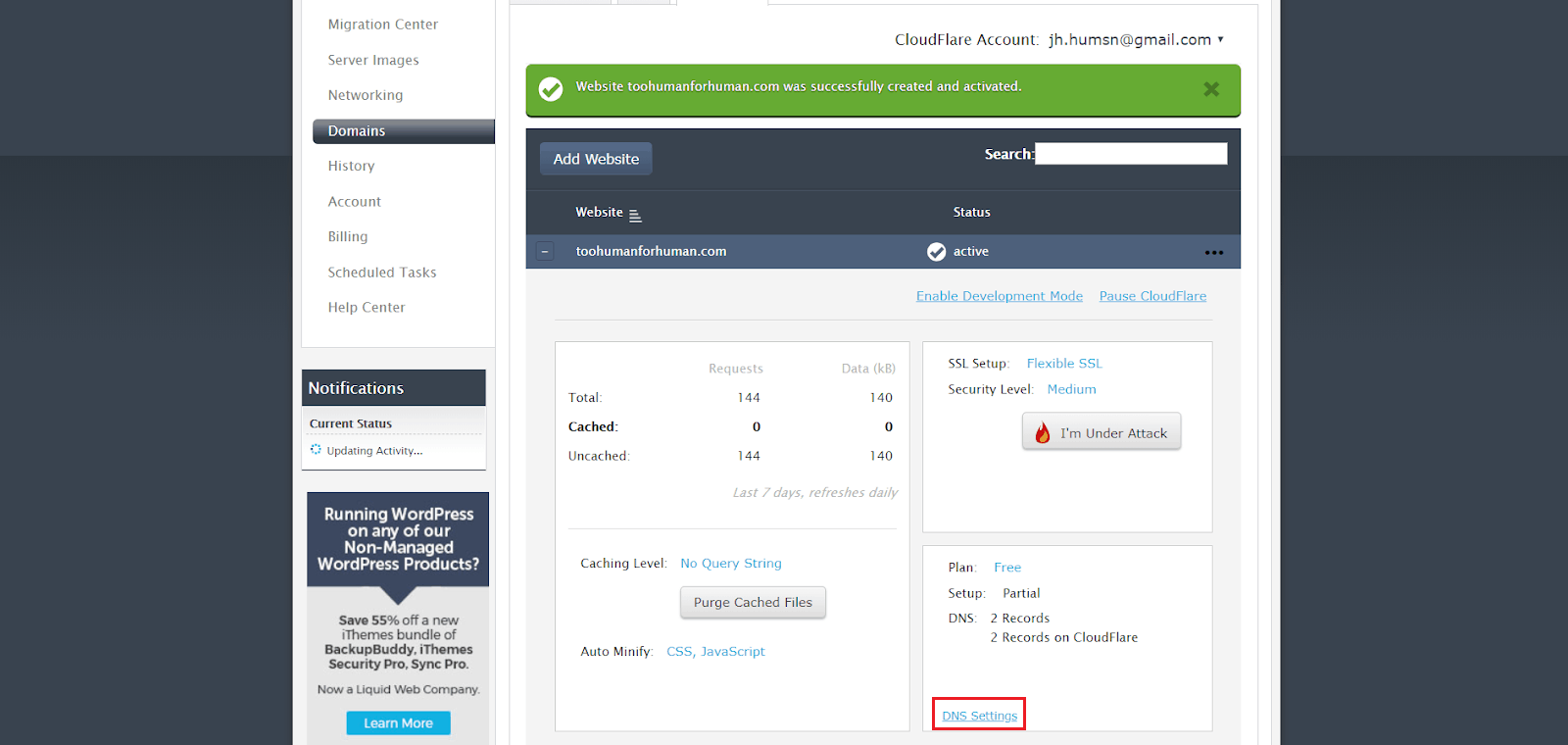 Unfortunately,
this isn't the end of it
.
Step 2:
Clicking on
DNS settings
in the bottom right corner (above screenshot) will show you some of the changes you need to make to your DNS records. Once again, Liquid Web could have made the design a little more intuitive. The information was there but wasn't made obvious, so I had to contact the support staff to figure out how to proceed.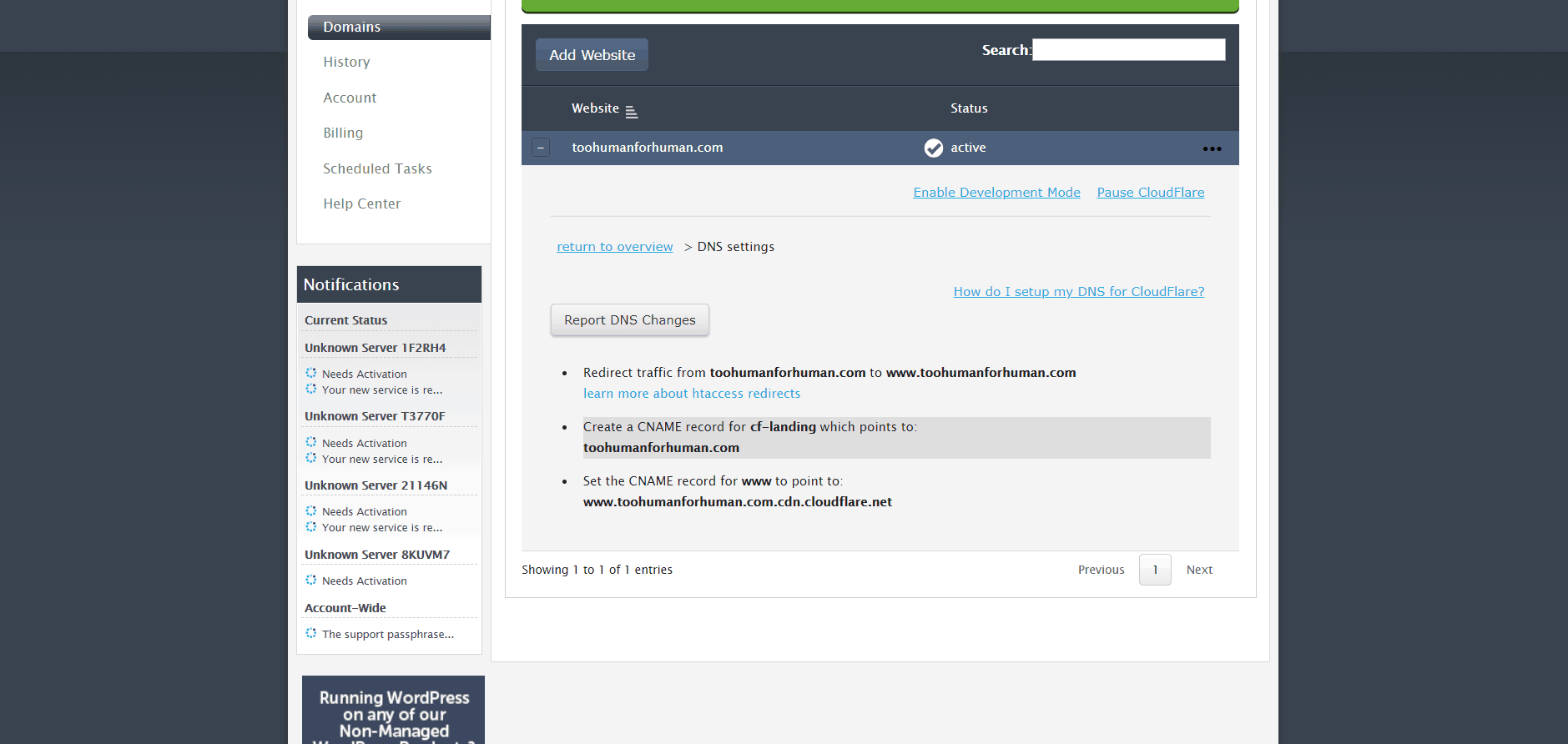 You'll need to manually change your DNS records for the Cloudflare CDN to take effect
. When I contacted support, they provided me with links to the step-by-step guides: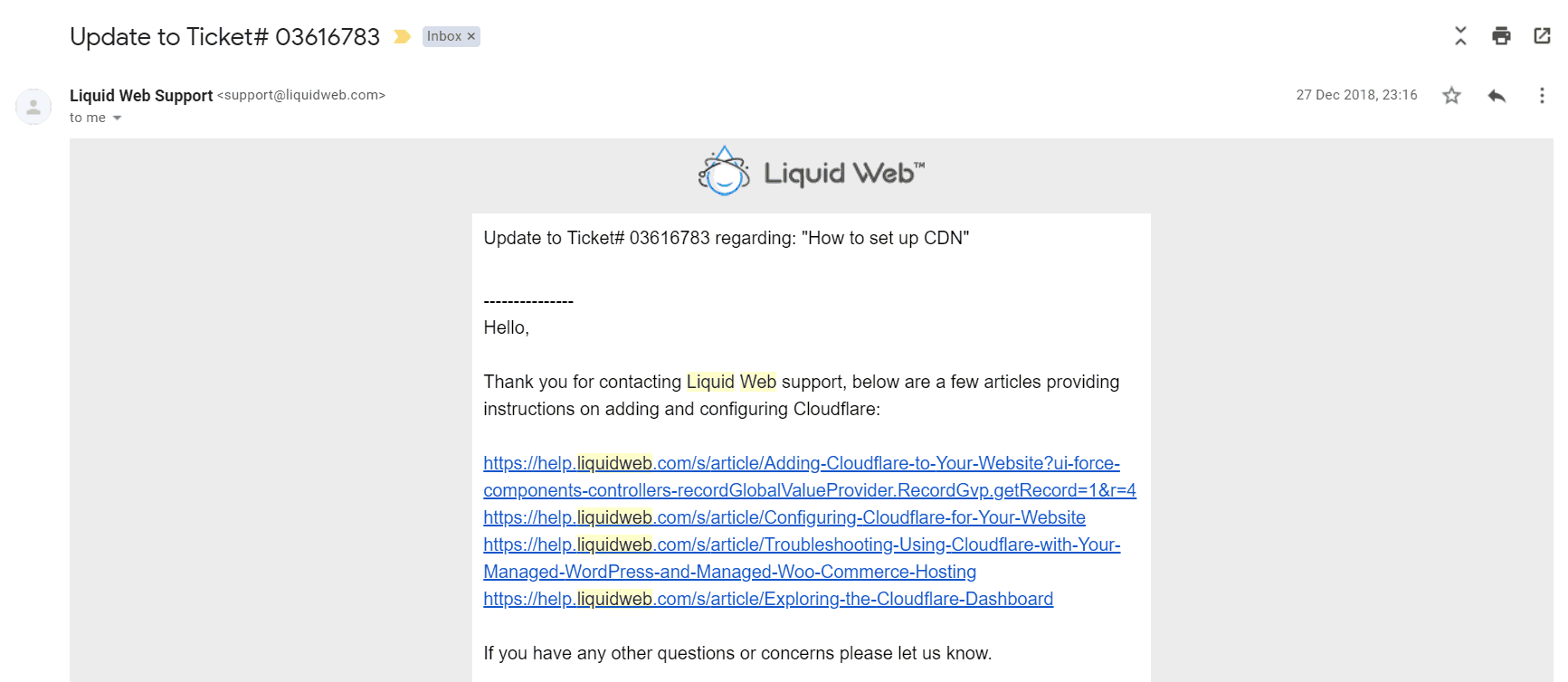 You'll find these articles very useful, but I'll take you through the most important steps anyway.
Step 3:
Within your Account Management panel, go back to the
DNS
tab within the
Domains
dashboard. You'll need to create a new record just like before. Here, type "cf-landing" in the domain field, "3600" in the TTL field, and your entire website URL (with the www. prefix) plus cdn.cloudflare.net. In my case, it was www.toohumanforhuman.com.cdn.cloudflare.net.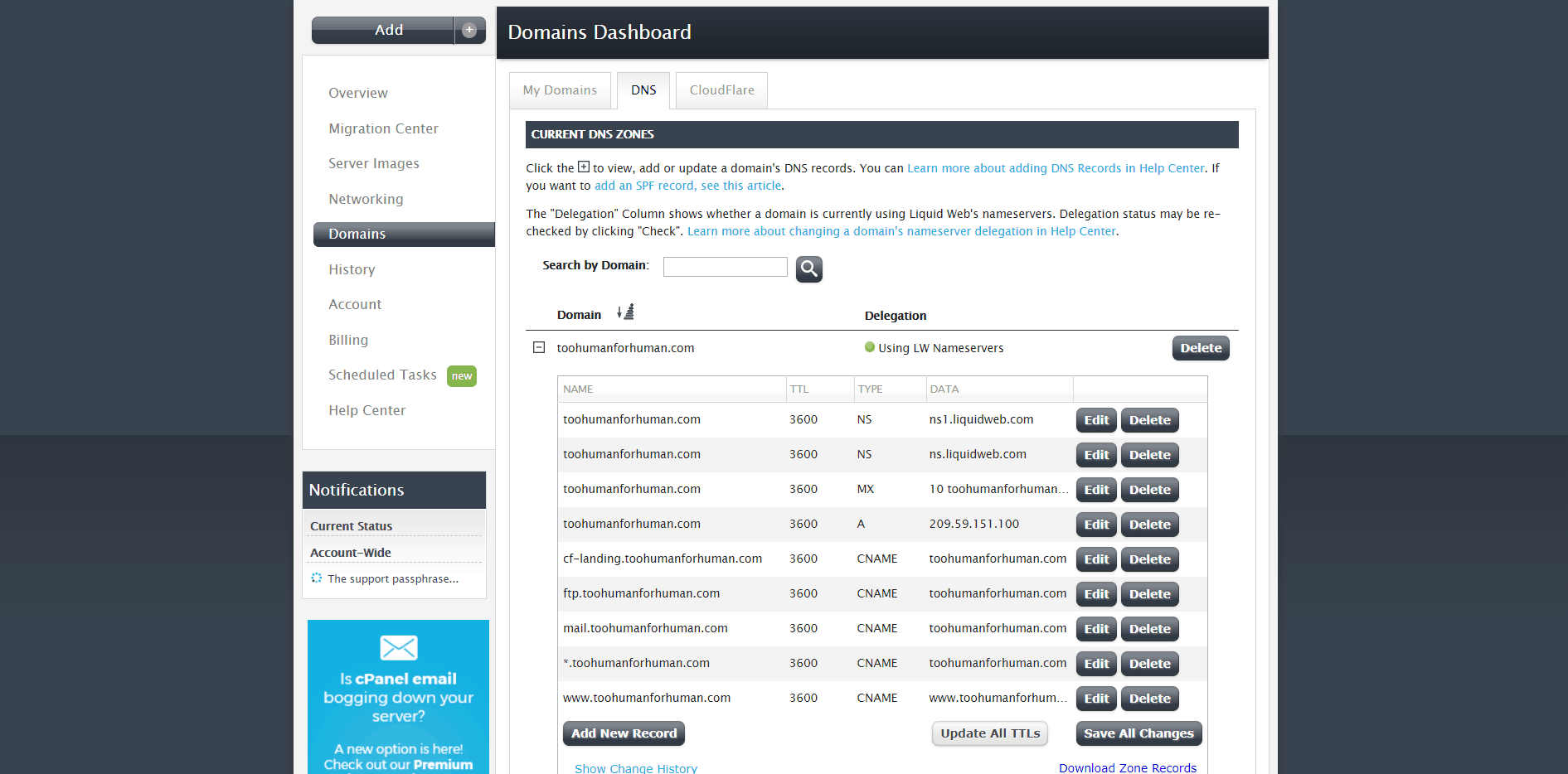 Taking into account the time needed to contact support and go through a few help articles, this whole process
took me about 25 minute
s. Now, you'll have finally set up your Liquid Web hosting. It's neither the most elegant nor the quickest process. In total,
it took me more than an hour to set up hosting
for a single domain; I even had to contact support twice along the way. If you already know what you're doing, it'd probably take you about an hour —
still not the most efficient process if you're managing multiple websites
.
A Challenging Process Suited to Developers or Hosting Pros
If you feel like you've just been through a war, don't worry — you're not alone. Even though I've done it a bunch of times, these tasks still took me quite a while to figure out. Other than the WordPress installation,
the setup process is not at all beginner-friendly. Even if you're a pro, it's still much more time-consuming than with most other hosts
. To begin with, Liquid Web did not sufficiently clarify the presence of two account dashboards. While this configuration offers long-term advantages, it initially added to the overall confusion of the process. Granted,
the reason that Liquid Web has such a lengthy setup process is that it focuses on business clients
. This means that most people who work with the platform are usually IT professionals who have done this many times before. The platform also caters to users who want much more control over their DNS records for technical and organizational reasons.
It's also uncommon that a hosting provider would offer Cloudflare right from its dashboard
. Rather than having to register for and set up Cloudflare separately, you get easier access to the industry-leading CDN. Still, if you're looking for a more beginner-friendly solution, there's no shortage of options. I'd recommend
Flywheel
as an alternative: it's also focused on businesses and has many of the same powerful features. To find out if all this effort is worth it, check out my full
Liquid Web review
.