iPage has a long history as a host catering primarily to customers with relatively simple hosting needs. As such, I expected it to be simple to set up my hosting by connecting a domain and installing WordPress. Let's see if I was right about how easy it is. First things first. If you've not already done so, I encourage you to read my
iPage review
and my article on
How to Create a New Account with iPage
. Don't forget to come back here when you're done. Still with me? Good, because now you can read about my experiences of connecting a domain and installing WordPress on iPage. And as a bonus, I'll see what it takes to set up a CDN.
Installing WordPress
Once you've created your iPage account, you will be presented with the following page that prompts you to enter the location (on your specified domain) where you want WordPress to be installed. The domain will default to the one you bought or asked to be transferred during the initial sign-up: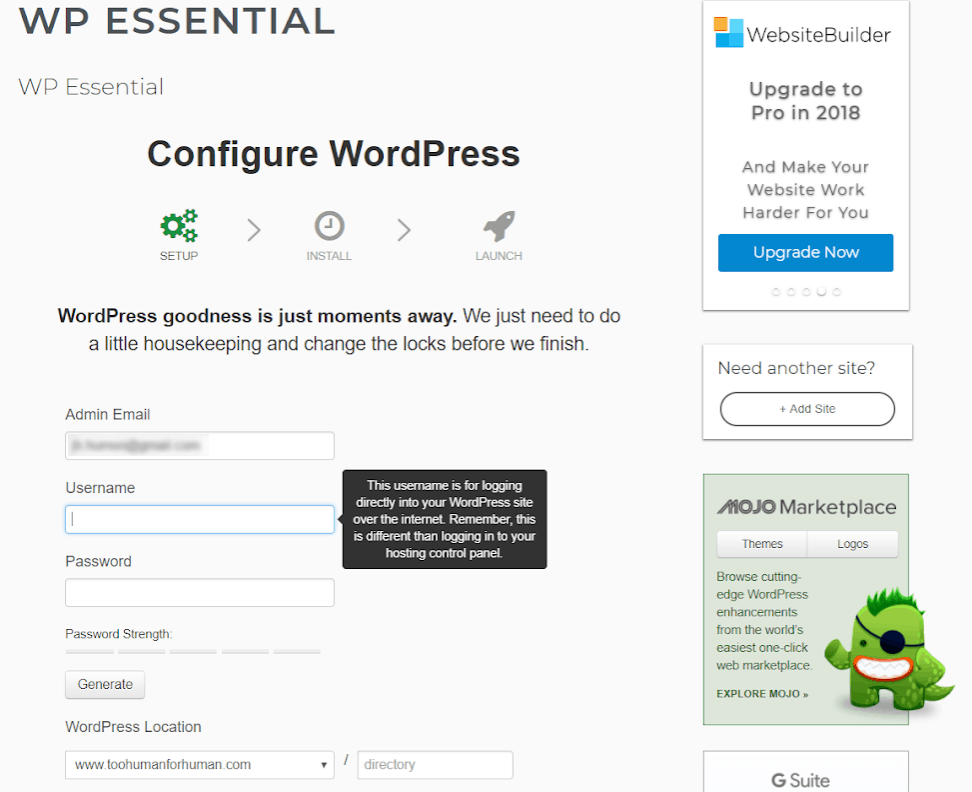 Now the installation and configuration of WordPress started, which took less than a minute to complete and resulted in the following email confirming my new WordPress website: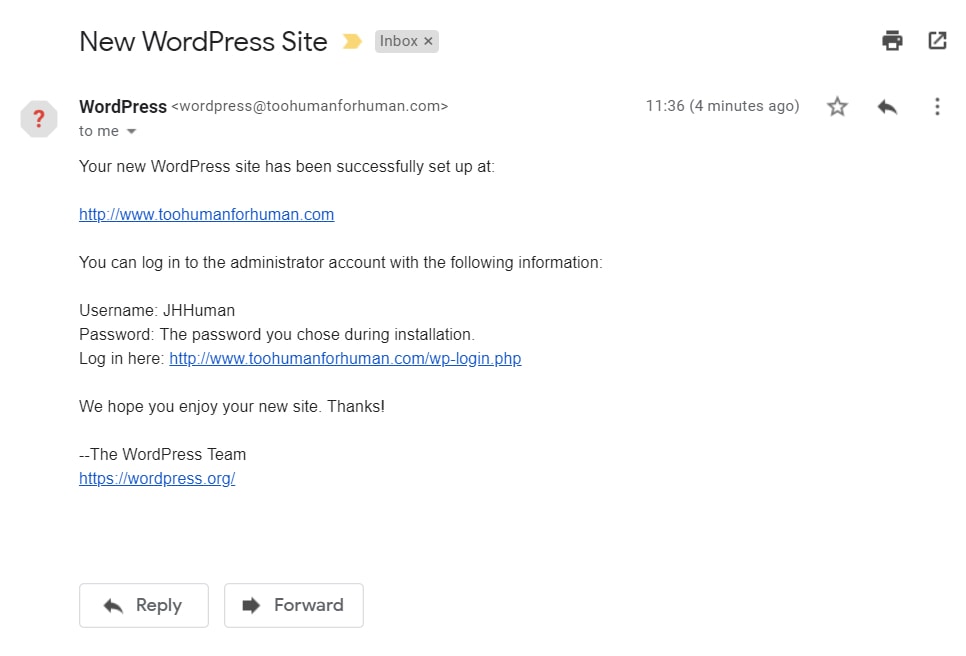 At this point, I finally had access to my iPage dashboard, from where I could control my WordPress hosting via the very simple interface: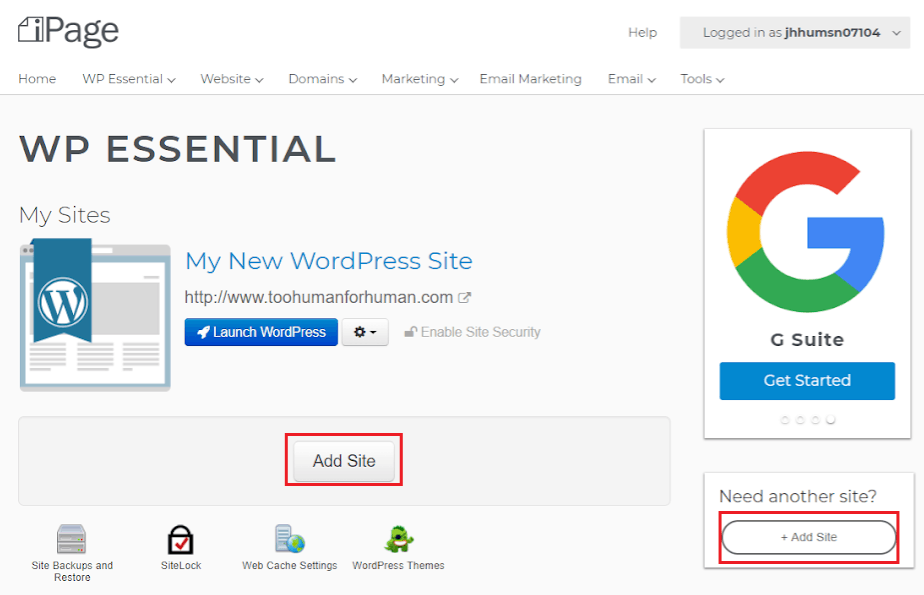 Here you can create another WordPress website, enable SiteLock security, and access other options such as site backups. The WordPress setup process ends with an (optional) wizard that introduces the platform and helps you configure some of the most important website settings. After asking if you want to show a static web page or update your site with news or blog posts, the wizard will automatically create a "Contact Us" page for you.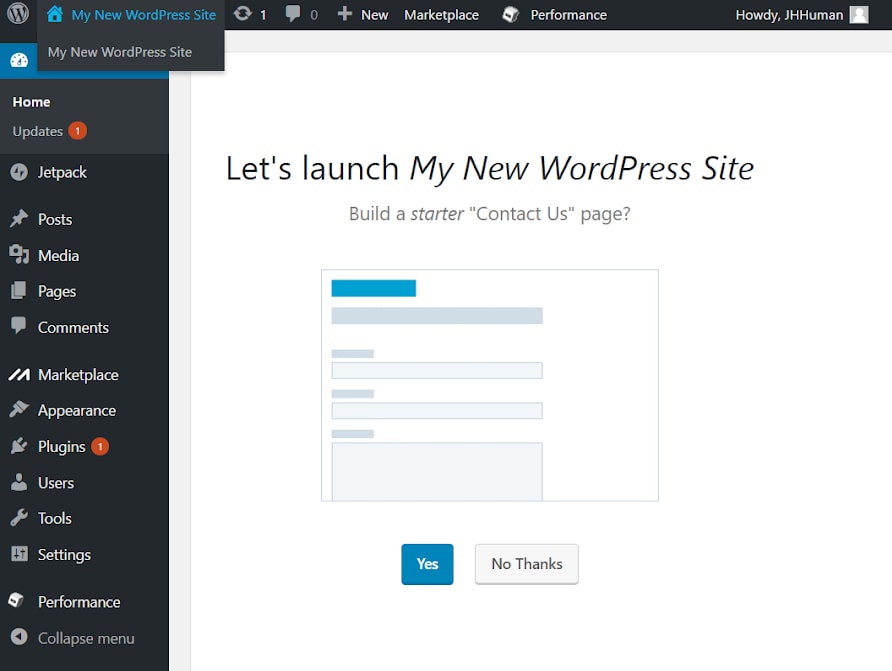 When the wizard wanted to launch my new WordPress website, it asked me to connect my Jetpack profile to improve security and track stats. I had a problem at this stage that had to be solved by support, but it's supposed to be a simple process of following the prompts. Once the issue was resolved, I could click the 'Approve' button to complete the Jetpack setup: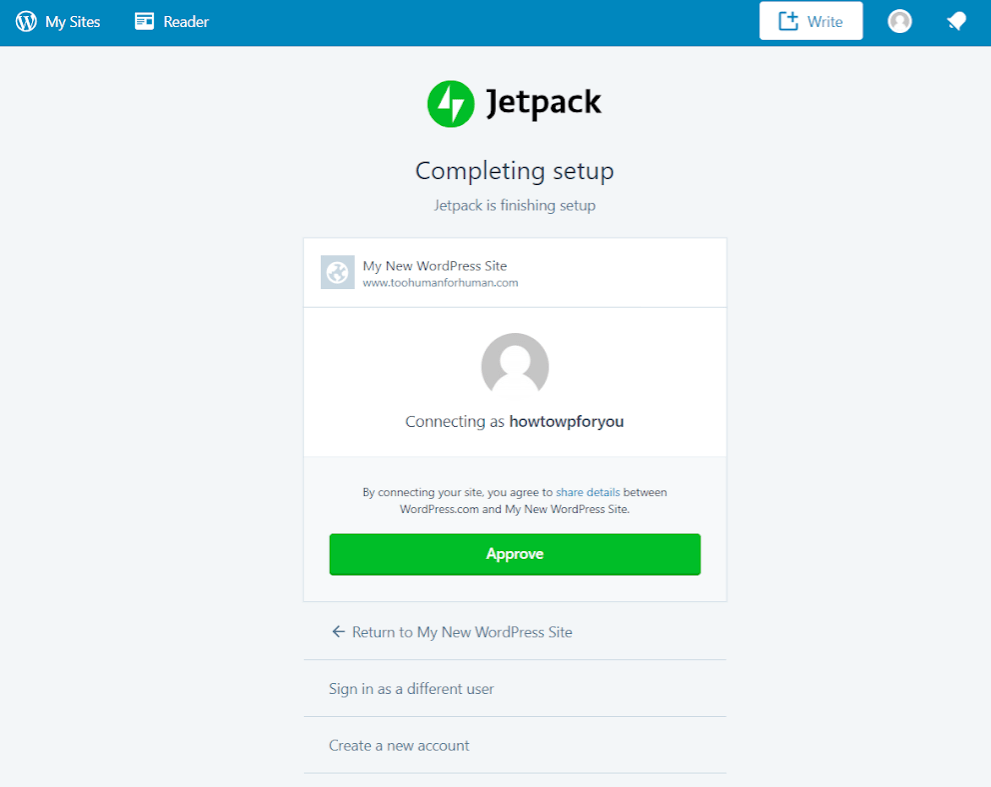 This will install the free Jetpack license on your WordPress website. However, you can also purchase one of the premium plans from the Jetpack website: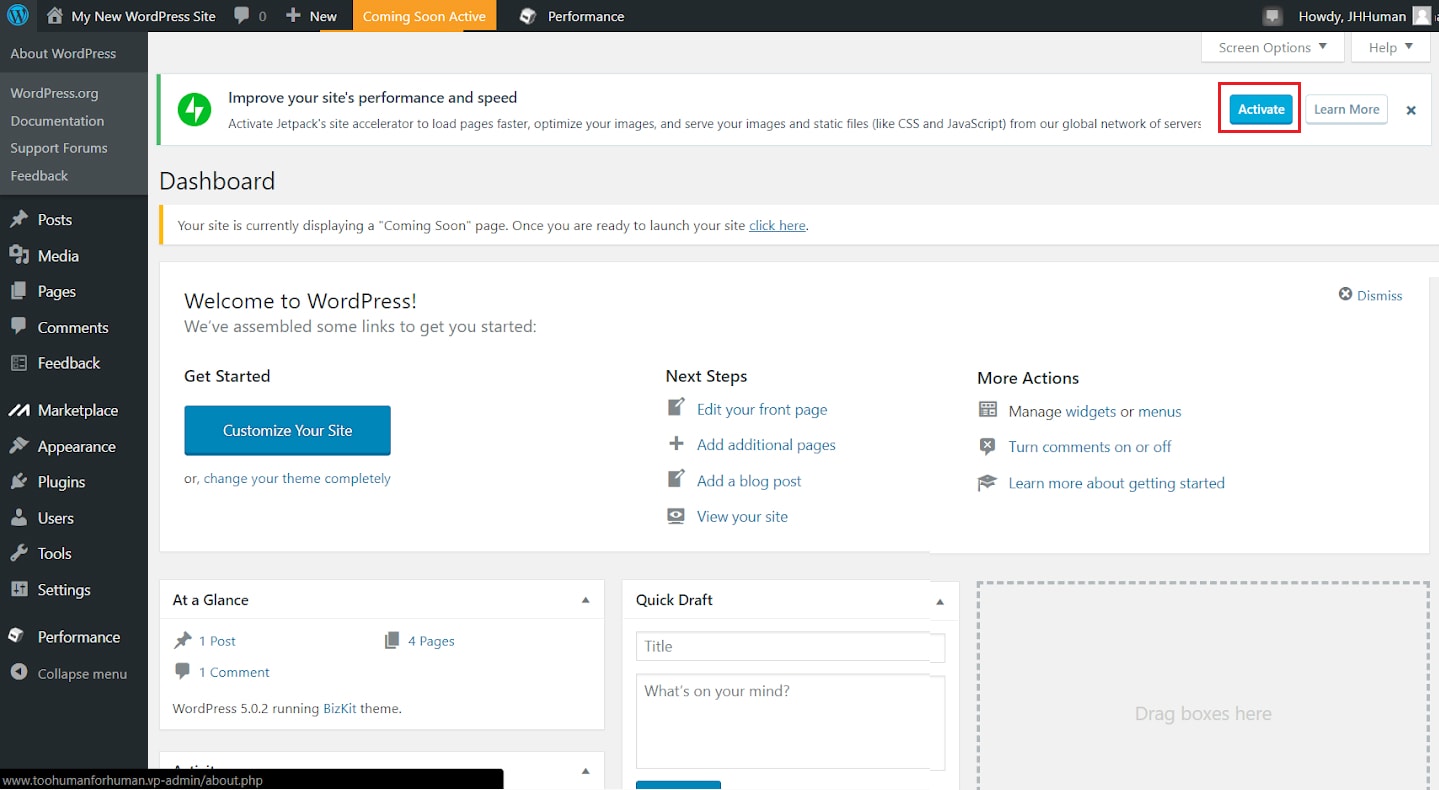 Connecting a Domain
If you bought your domain from iPage when signing up, you don't need to follow any additional steps to make your website available on your domain. If like me, you bought your domain from another provider such as GoDaddy, you'll need to point your GoDaddy nameservers to iPage. iPage doesn't make it obvious that you need to do this and doesn't provide any documentation to help you, so I had to figure out for myself how to update the DNS record at the GoDaddy domain end. When you create a new WordPress website, the only thing you need to do is supply the appropriate domain and make sure your domain registrar is pointing to iPage.
Set Up a CDN
I don't know about you, but I like my website's performance to be optimal. So one of the first things I wanted to do was activate my CDN to make pages load faster for my visitors. The dashboard doesn't make it obvious how to do this, but I happened to know that it is one of the features provided by the SiteLock suite: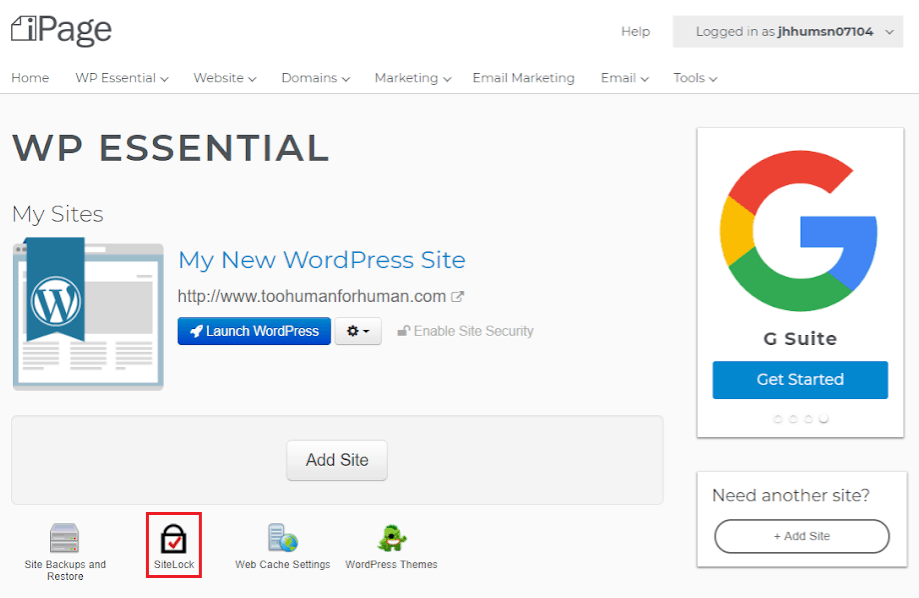 Although SiteLock comes free with the iPage "WP Essentials" plan I chose, it isn't added automatically. Instead, I was allocated some credits with which to buy it: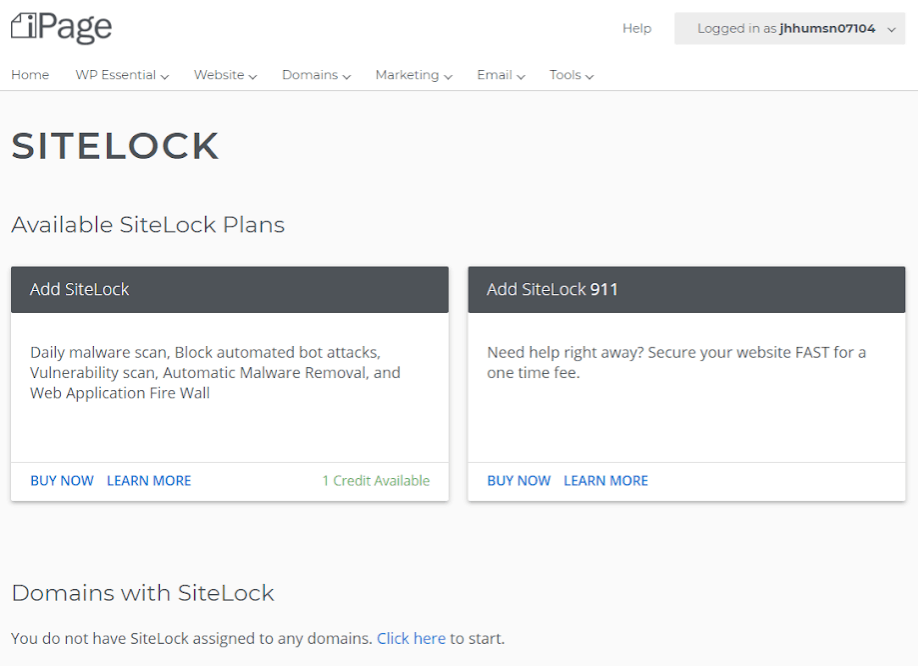 As soon as I associated SiteLock with my domain, I noticed that the
CDN/firewall was automatically activated
, so there was nothing more for me to do.
Conclusion
I have now created an iPage account, installed WordPress, done some basic domain setup, and activated my CDN via SiteLock. I have concluded that, up to this point, iPage has successfully upheld its ambitions to offer a hosting platform that is beginner-friendly and easily accessible. The only aspect I would note is that additional guidance in the form of on-screen prompts during the process of connecting to a domain and setting up the SiteLock CDN would have been appreciated. For some reason, my Jetpack installation didn't go as smoothly as it might have done, but my apparently individual issue (which shouldn't affect you) was soon solved by the support team. It took me a little less than 10 minutes to do all of this, which is one of the quickest setup times I have ever experienced with a new host. The iPage dashboard could do with an update, so if you're looking for an equally easy experience with a more appealing interface, then you should probably go with
GoDaddy
. If you're still interested in
iPage
, and you've not already done so, then I suggest you read my full iPage review.