GoDaddy needs little introduction if you know anything about the hosting or domain registration industry. Though sometimes controversial, GoDaddy's rather (in)famous reputation was largely built on making web hosting services affordable and accessible to everyone. Part of this involves
making hosting as easy as possibl
e. That means providing enough quality features while making the interface easy for beginners to use. Connecting a domain and installing WordPress is one of the first things almost everyone has to do when setting up their websites. To see if GoDaddy delivers in the area of accessibility, I've documented the entire process — including setting up a CDN. In this article, you'll get a good idea of what the GoDaddy hosting experience is like. However, as there's a lot more to consider when choosing a host, I encourage you to
read my full GoDaddy review
.
Installing WordPress
GoDaddy doesn't waste time. As soon as you've purchased a hosting plan, the very first thing you'll be prompted to do is to create a website: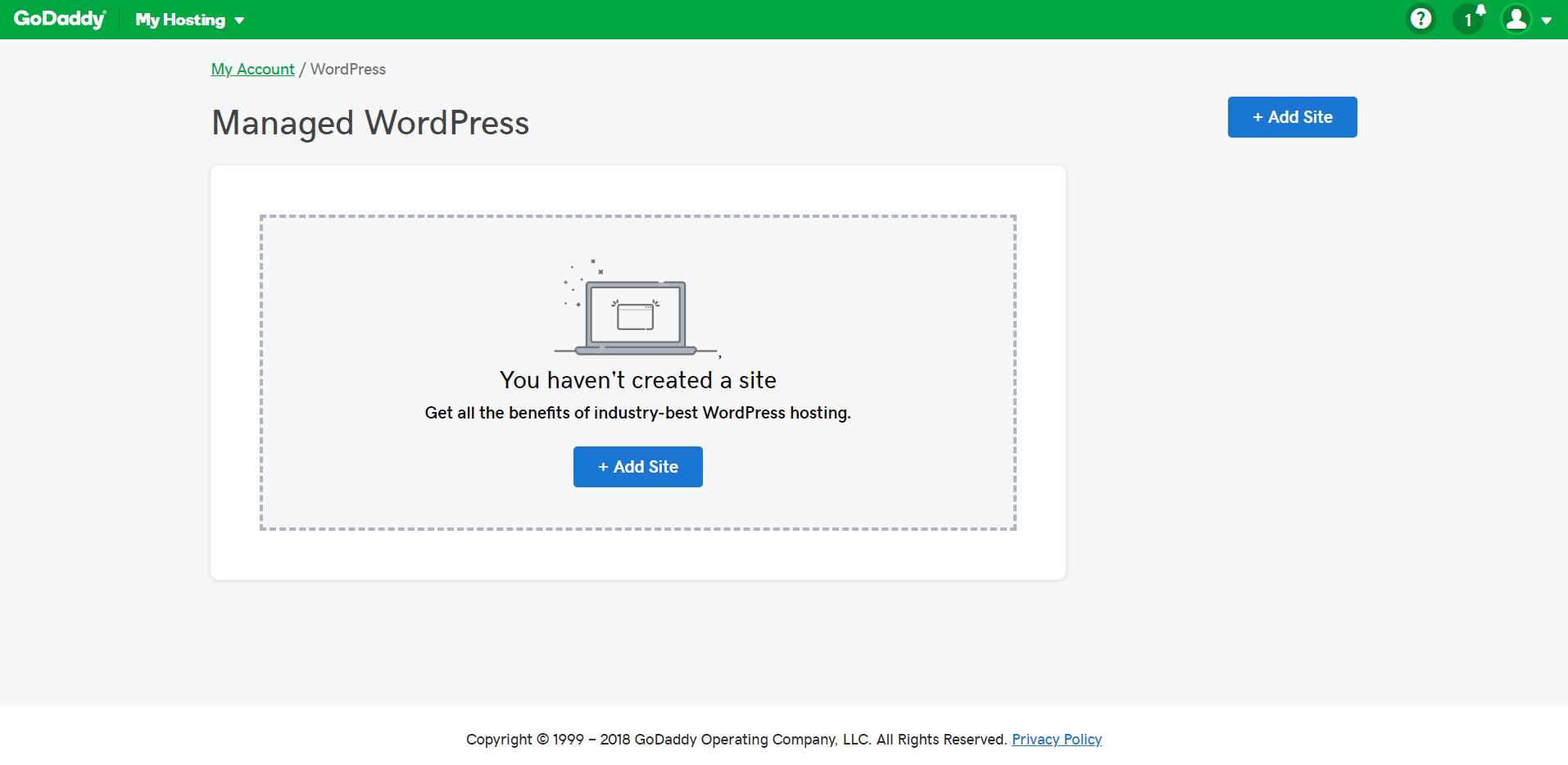 You'll have to choose whether you want to build a new website or migrate an existing one. You'll also be able to select your preferred data center. Lastly, here you should set the username and password that you'll use to log in to your WordPress admin account: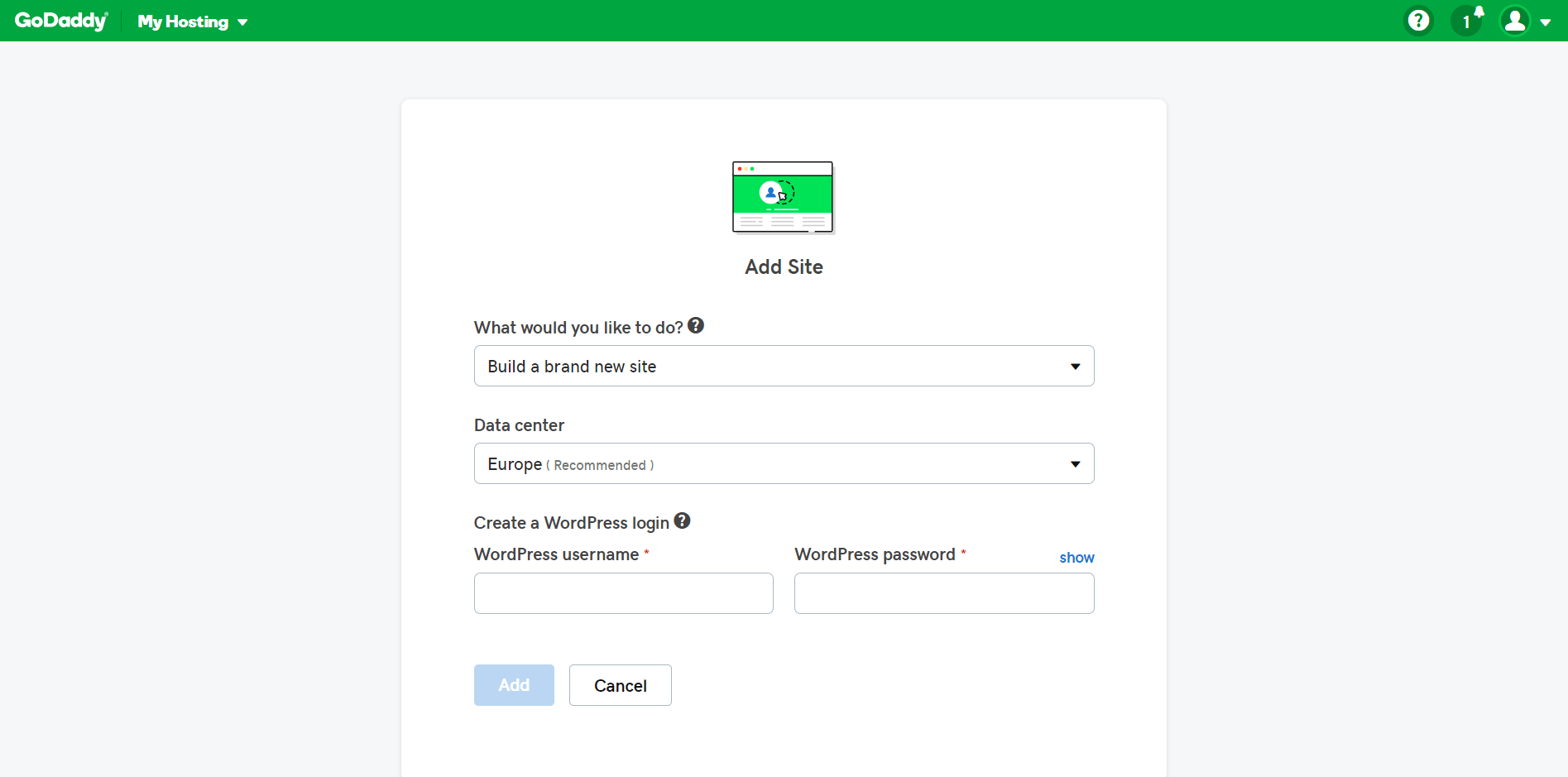 After this, you'll have to wait while GoDaddy creates a new WordPress website. This shouldn't take more than five minutes: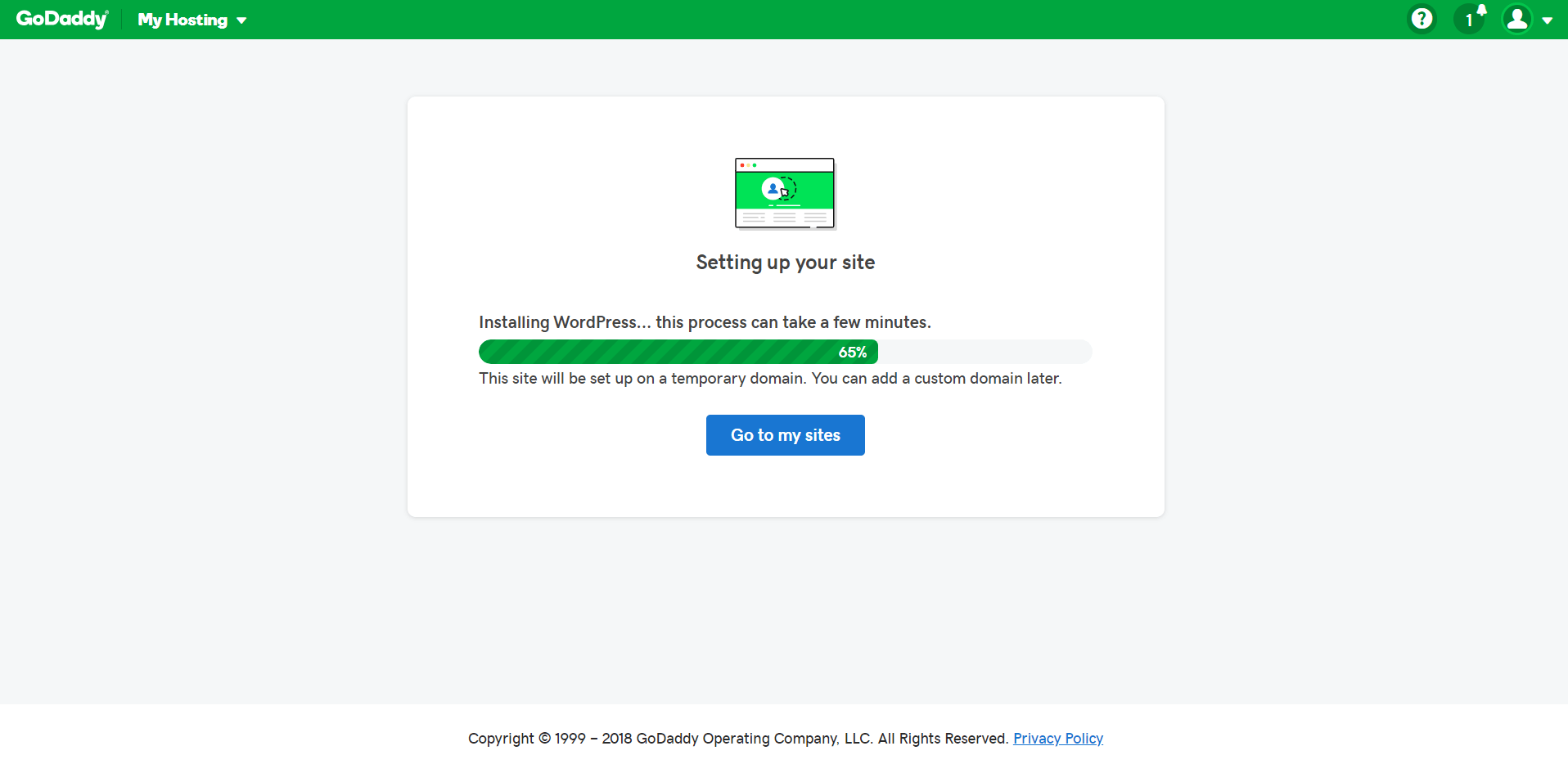 That's how quick and easy it is to create your first GoDaddy WordPress website. I've reviewed a massive number of hosts, and
this is by far one of the fastest and most intuitive platforms up to this point
. However, it's not the end of the road just yet. You'll then need to set up your WordPress installation and website by following the button to
WP Admin
: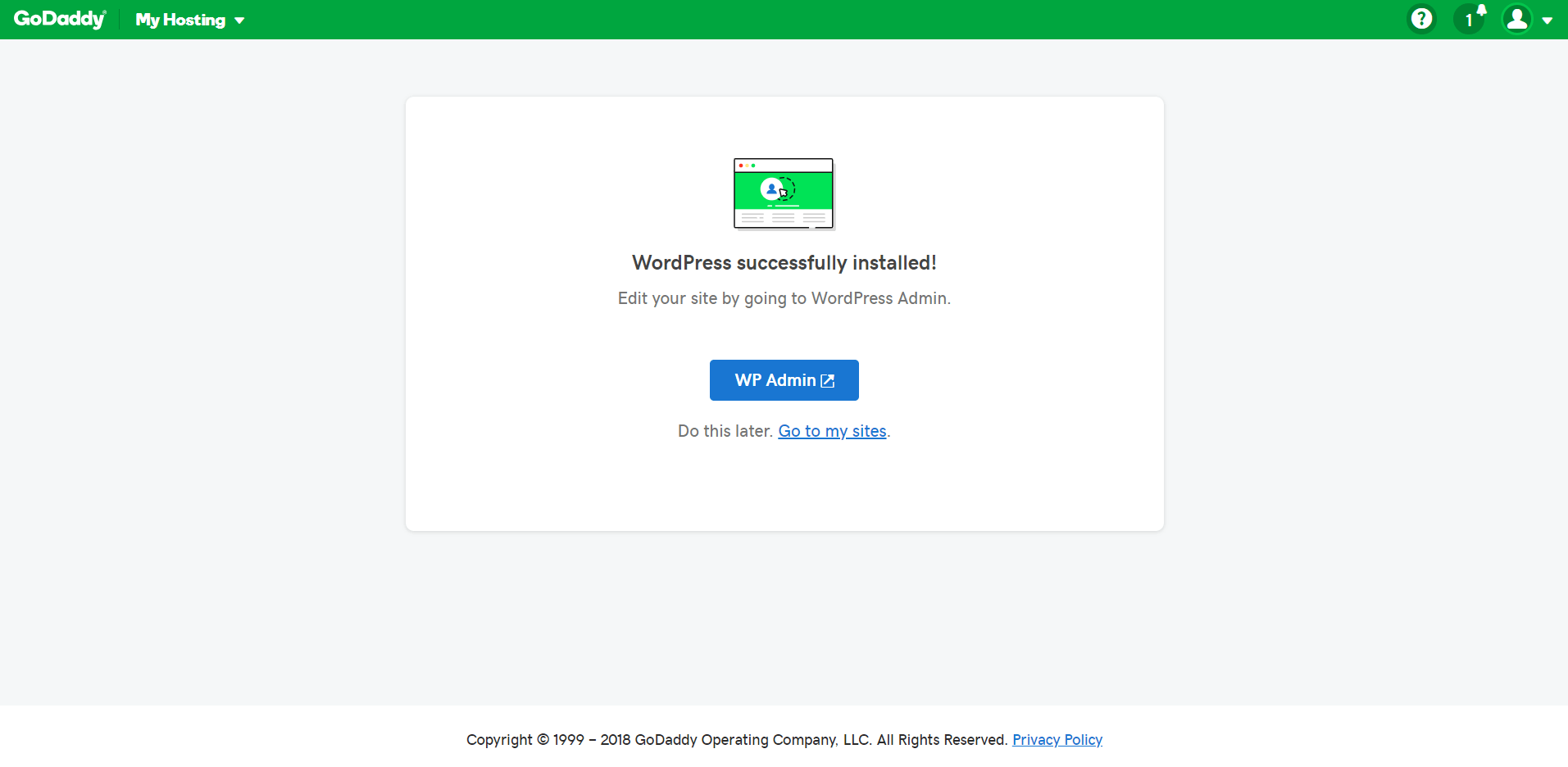 This will automatically log you into your WordPress admin account and activate GoDaddy's
Get Started Quickly with WordPress
wizard: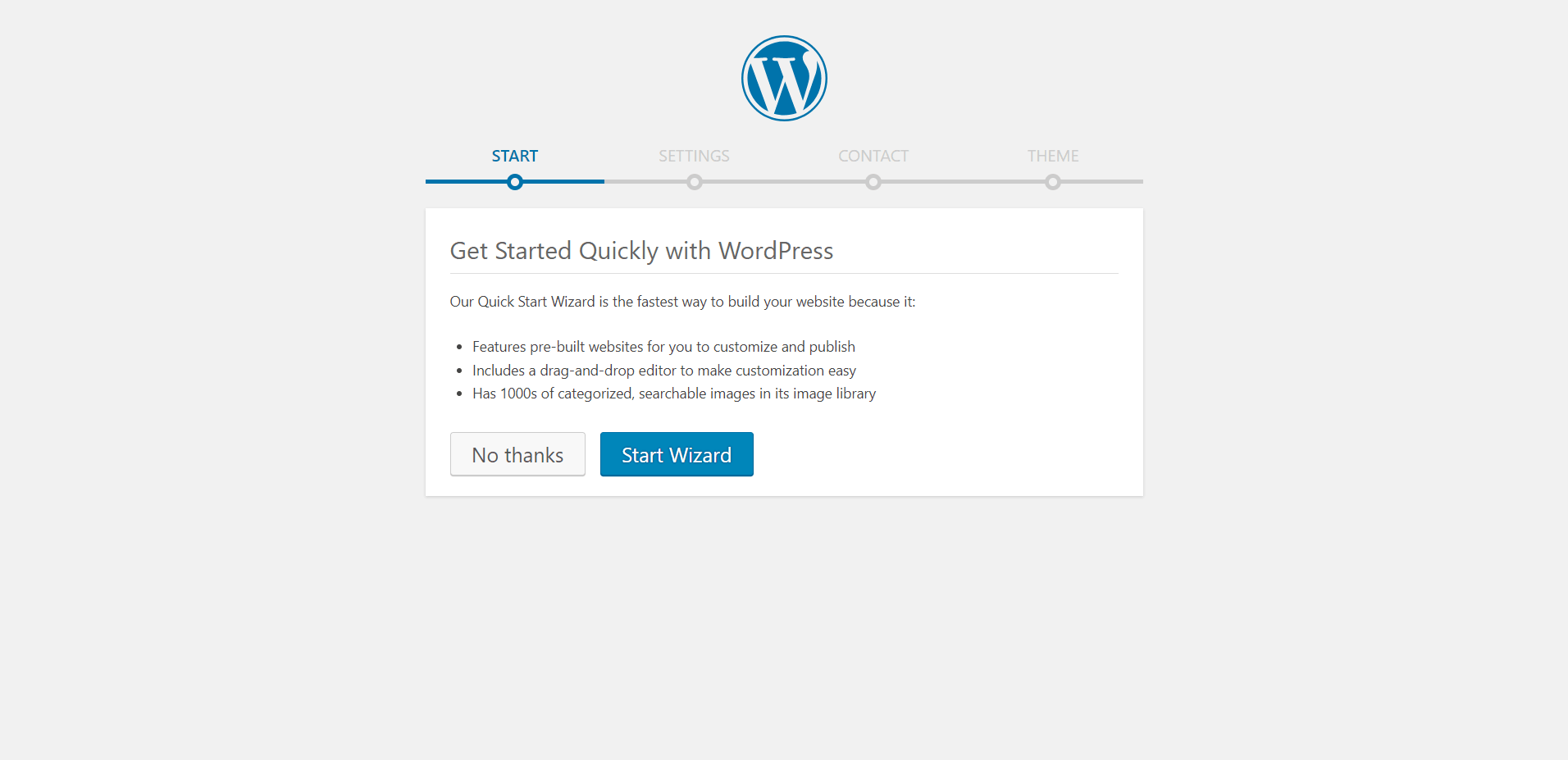 At the next step, you'll provide some more info on your website by filling in
the type, industry, name, and tagline
. You can change these settings later, so you can leave the defaults if you're in a hurry: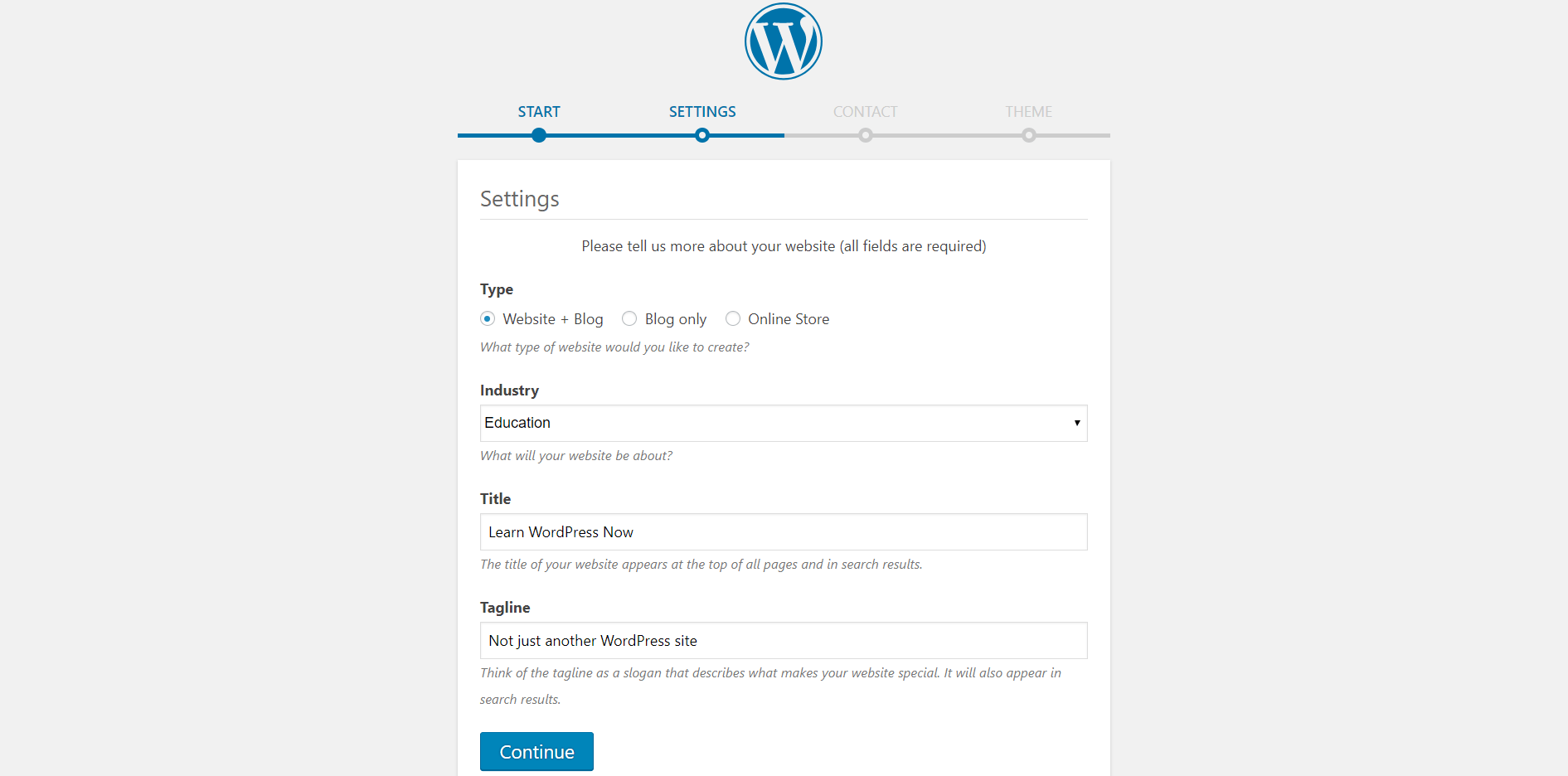 Then, you can provide your company's (or your own personal) contact details so visitors to your website can connect with you, even via social media: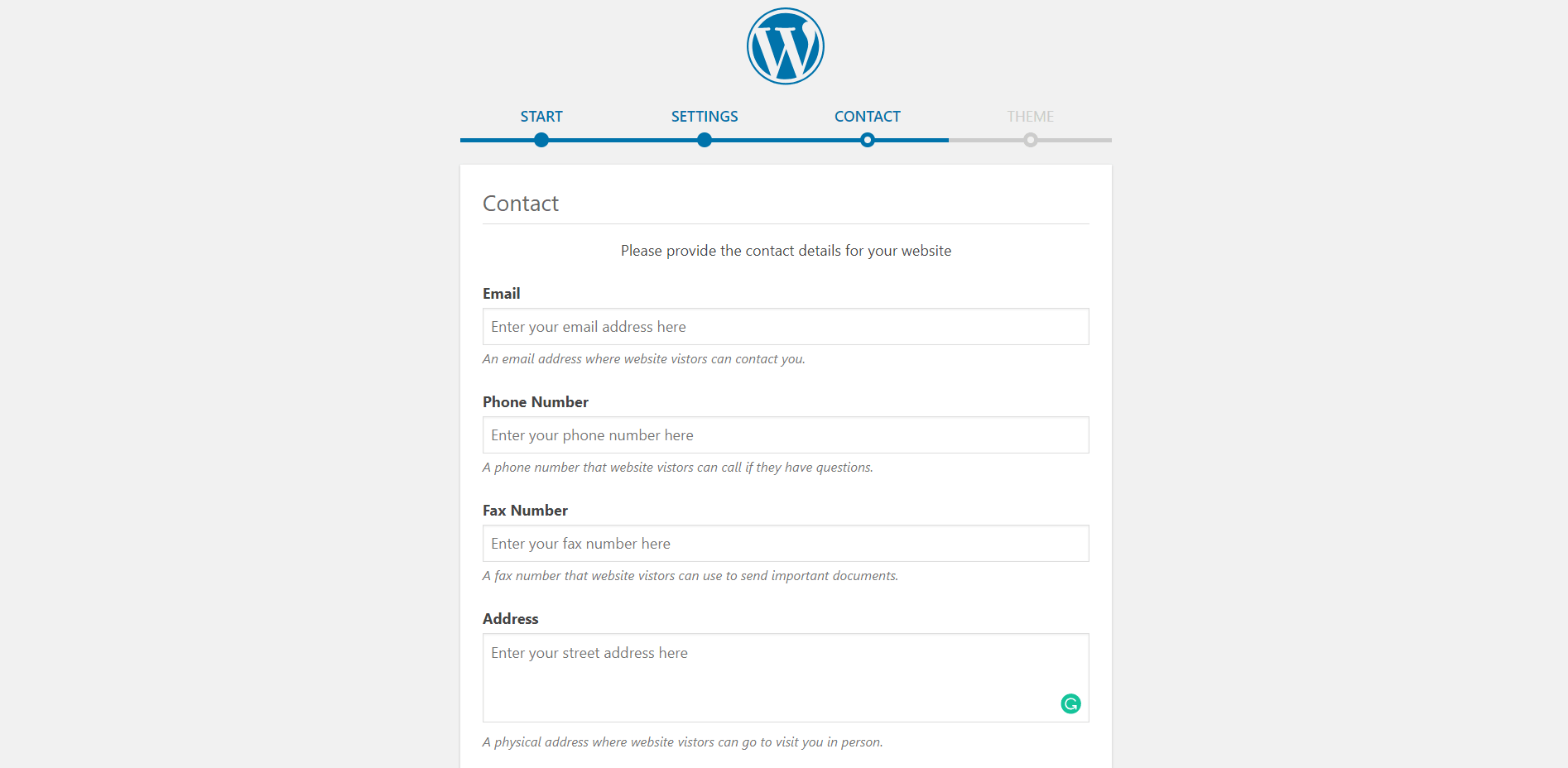 Finally, you can select a theme from one of several provided for free by GoDaddy: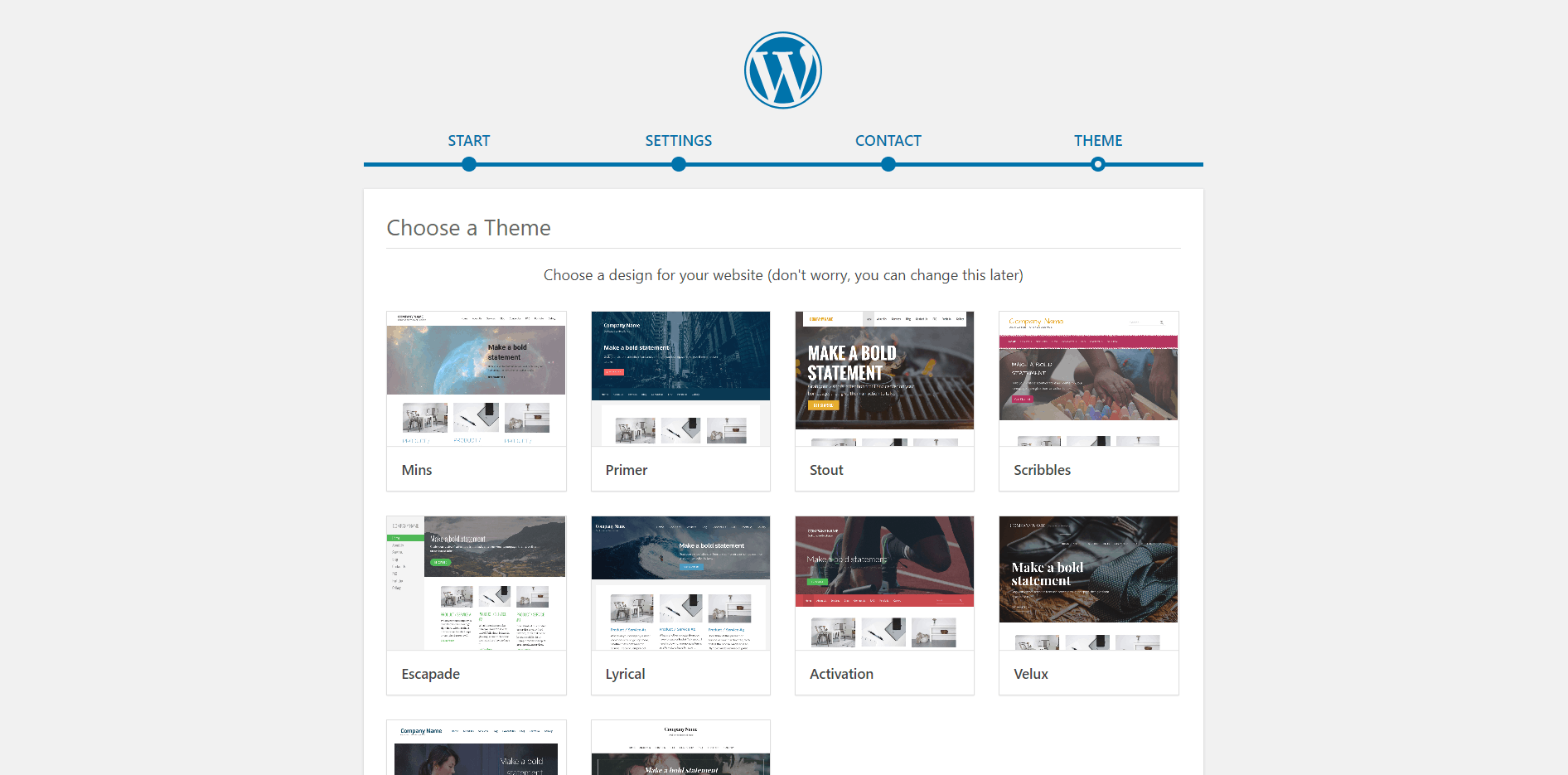 This will take you to a section where you'll be prompted to make a few minor yet essential changes to your website, such as choosing a header image and confirming your template. This interface is very similar to the default WordPress Customizer but simplified, so
it should be easy to use whether you have experience with it or not
. Again, if you don't want to do this right away, you can exit by clicking on the X button in the top left corner. Otherwise, if you're happy with your changes, you can click Select to confirm them: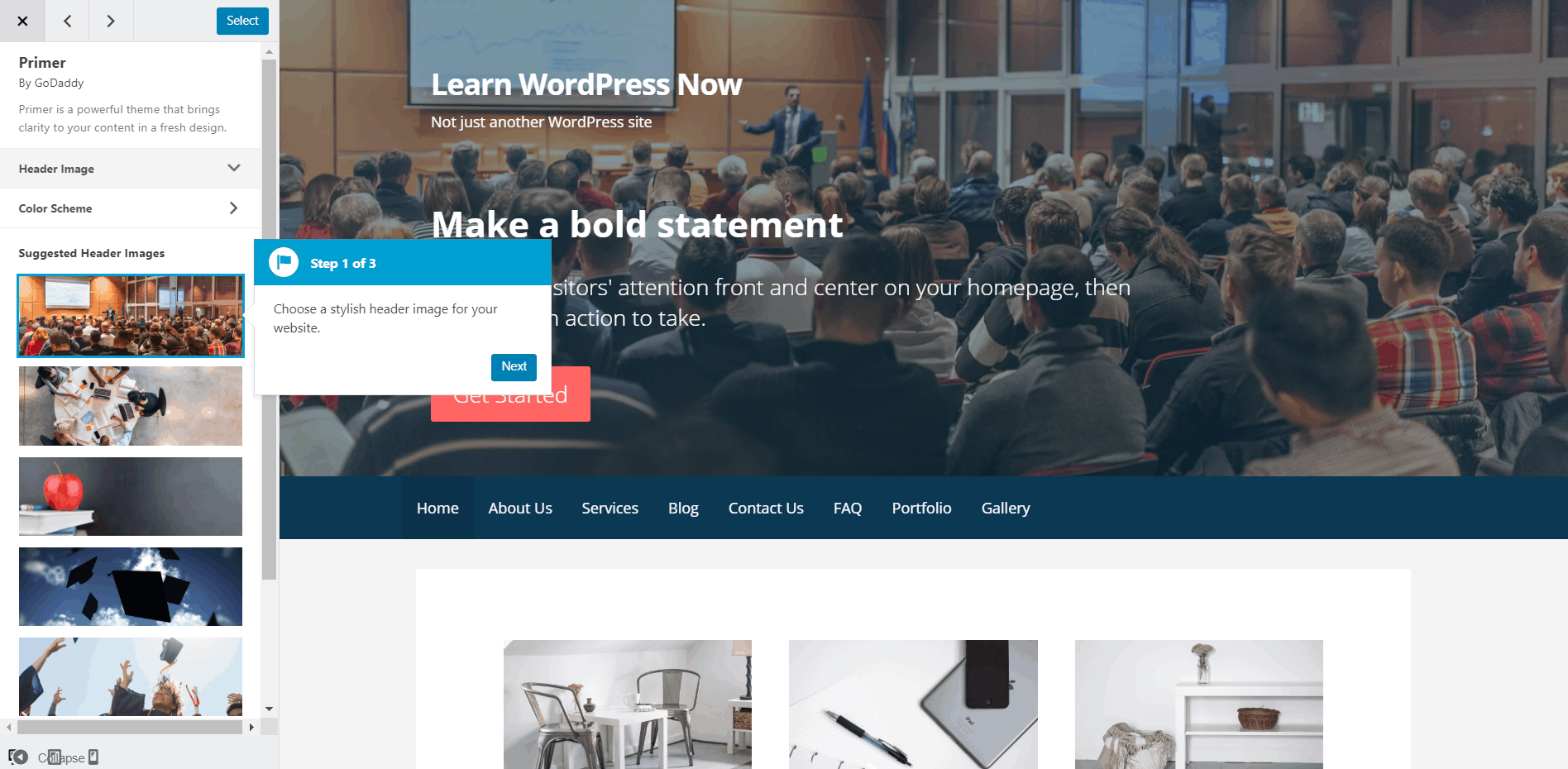 That's it for setting up your WordPress website
. You'll now be taken to the WordPress customizer, where you can start making changes to your website. Alternatively, you can exit the customizer to go to your WordPress dashboard: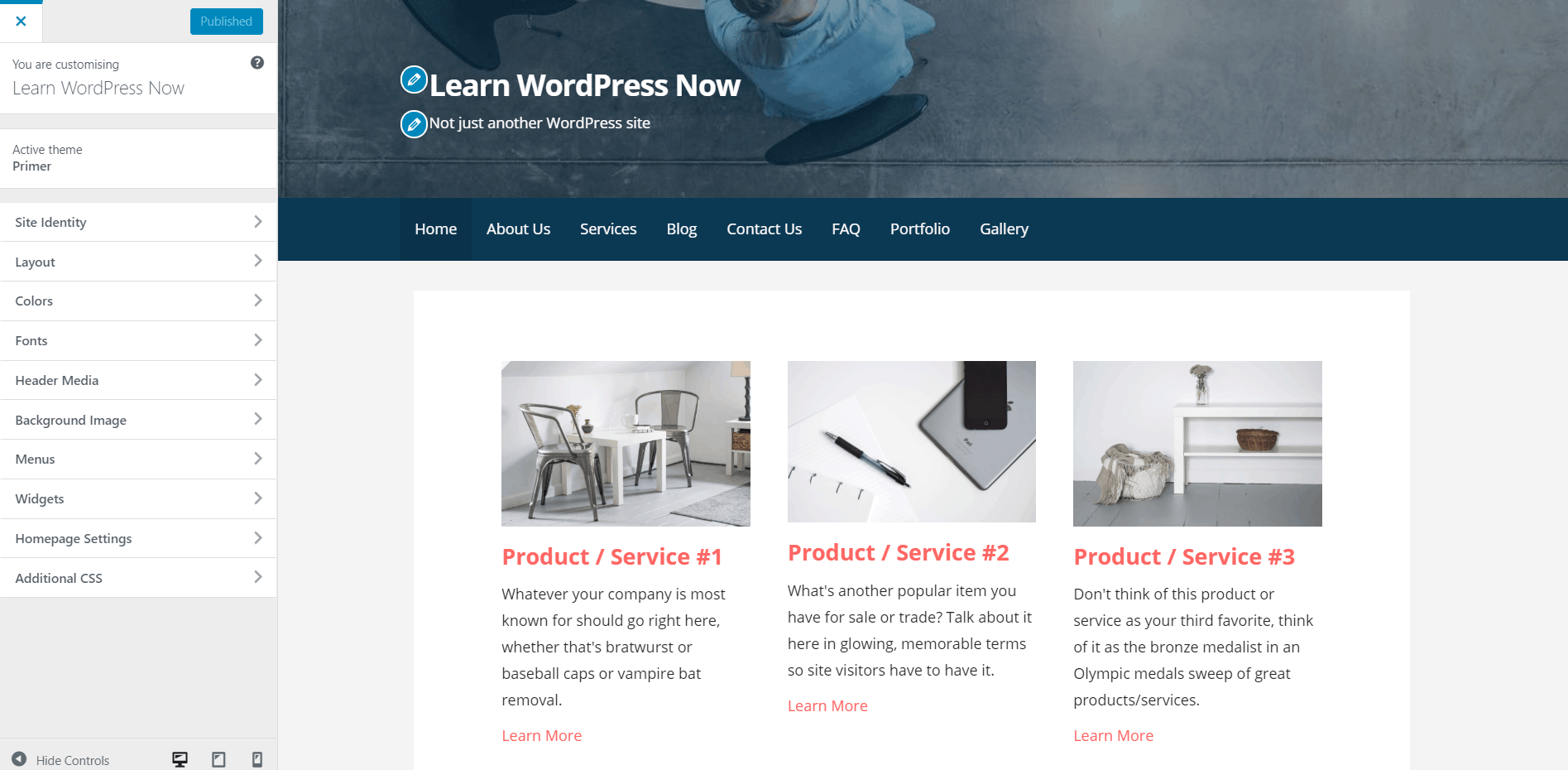 GoDaddy will also send you an email with your WordPress credentials, URL, and so on, so
make sure you store this information safely
: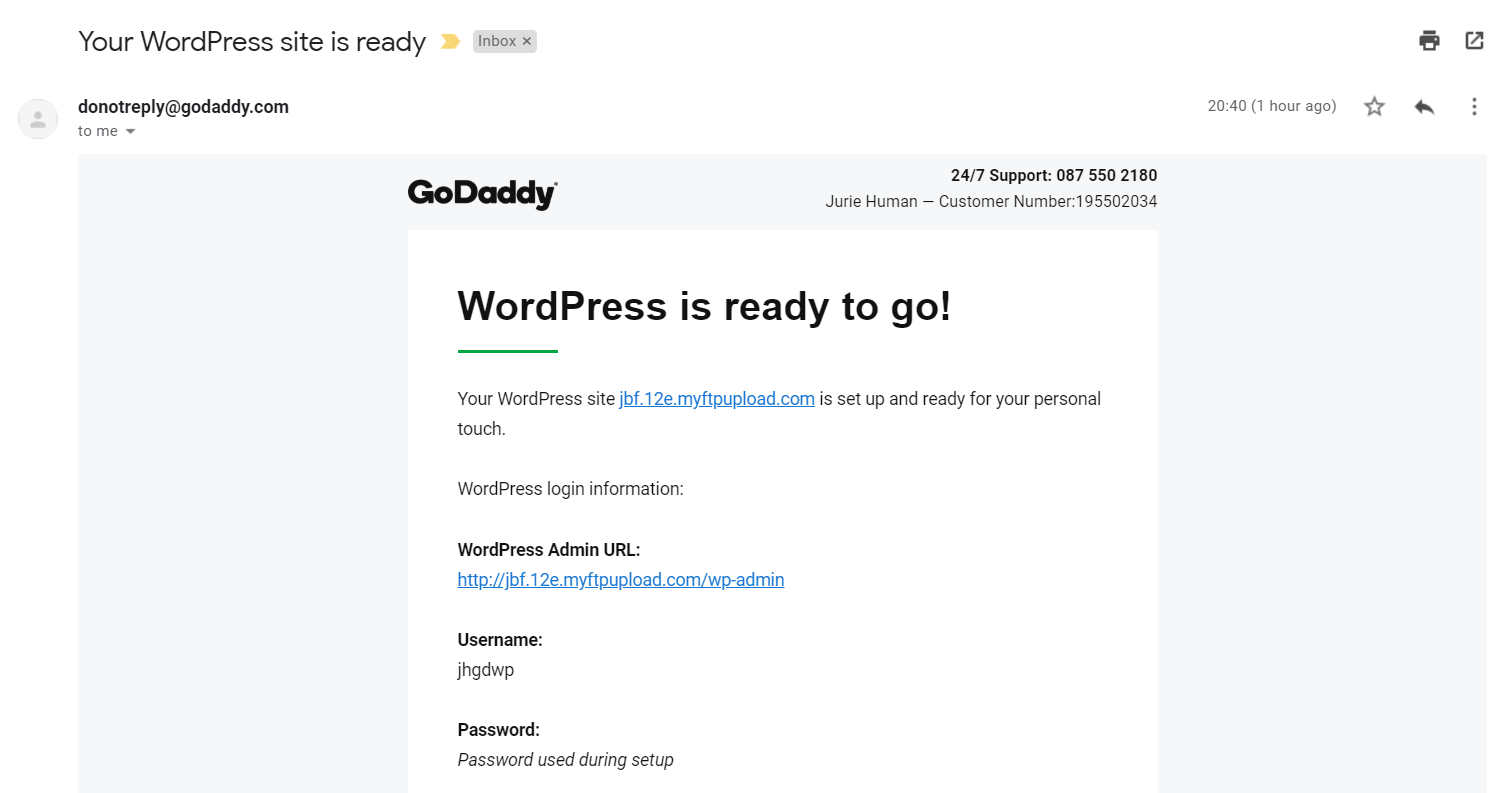 Connecting a Domain
If you're creating a new website, the next step you should take is to add your custom domain
. This option will be prominently displayed in multiple places once you've created your WordPress website, such as in your website management dashboard (as you can see below) and your actual WordPress dashboard. Here's what your simple and straightforward website management dashboard will look like: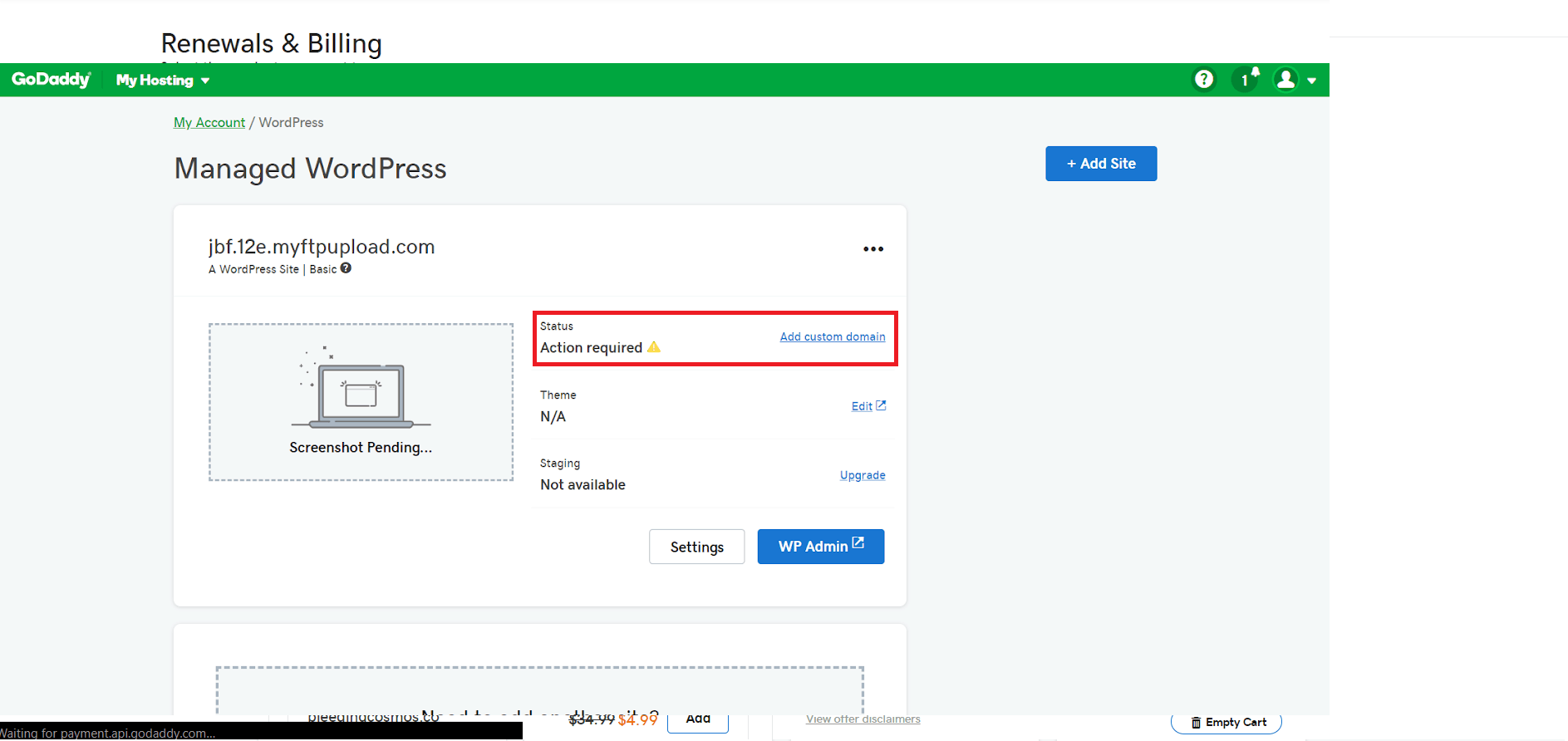 By following the
Add custom domain
link, you can either search for a new domain to register or add an existing GoDaddy domain that you own. If you go with the former route, you'll be asked to purchase domain privacy (it won't be ticked by default), and GoDaddy will automatically set it as your WordPress website's domain: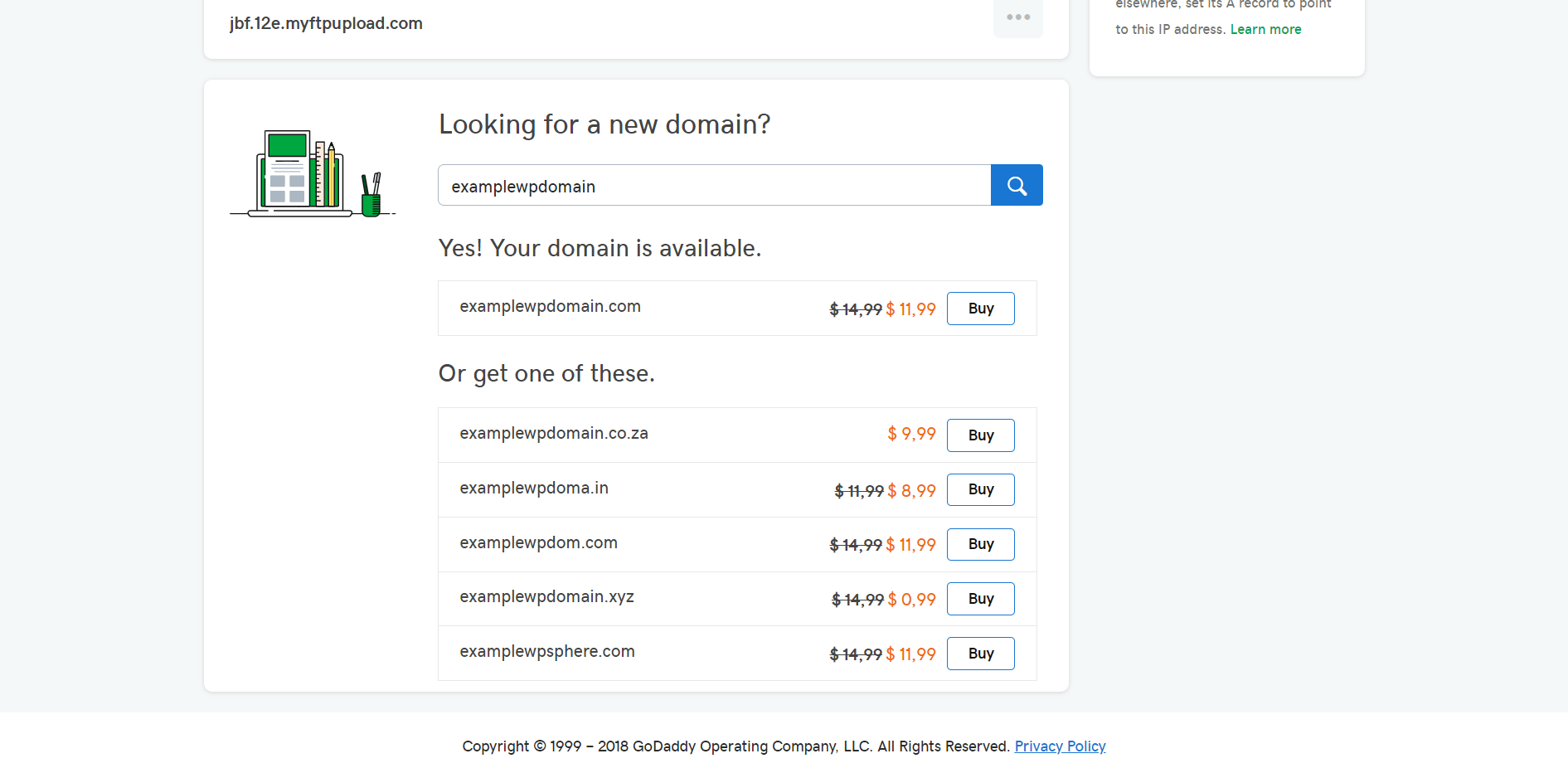 Luckily, I already had one, so I just added it by selecting it from the drop-down menu. If you have a domain registered elsewhere, GoDaddy is clever enough to take care of most of the work for you. All you need to do is to change the nameserver for your domain at the registrar where you purchased it. Then, you can just change your website's default domain in your managed WordPress dashboard.
Setting Up a CDN
To purchase a CDN from GoDaddy, you'll need to add the website security pack
. You can do this from your website dashboard by clicking on
Settings
: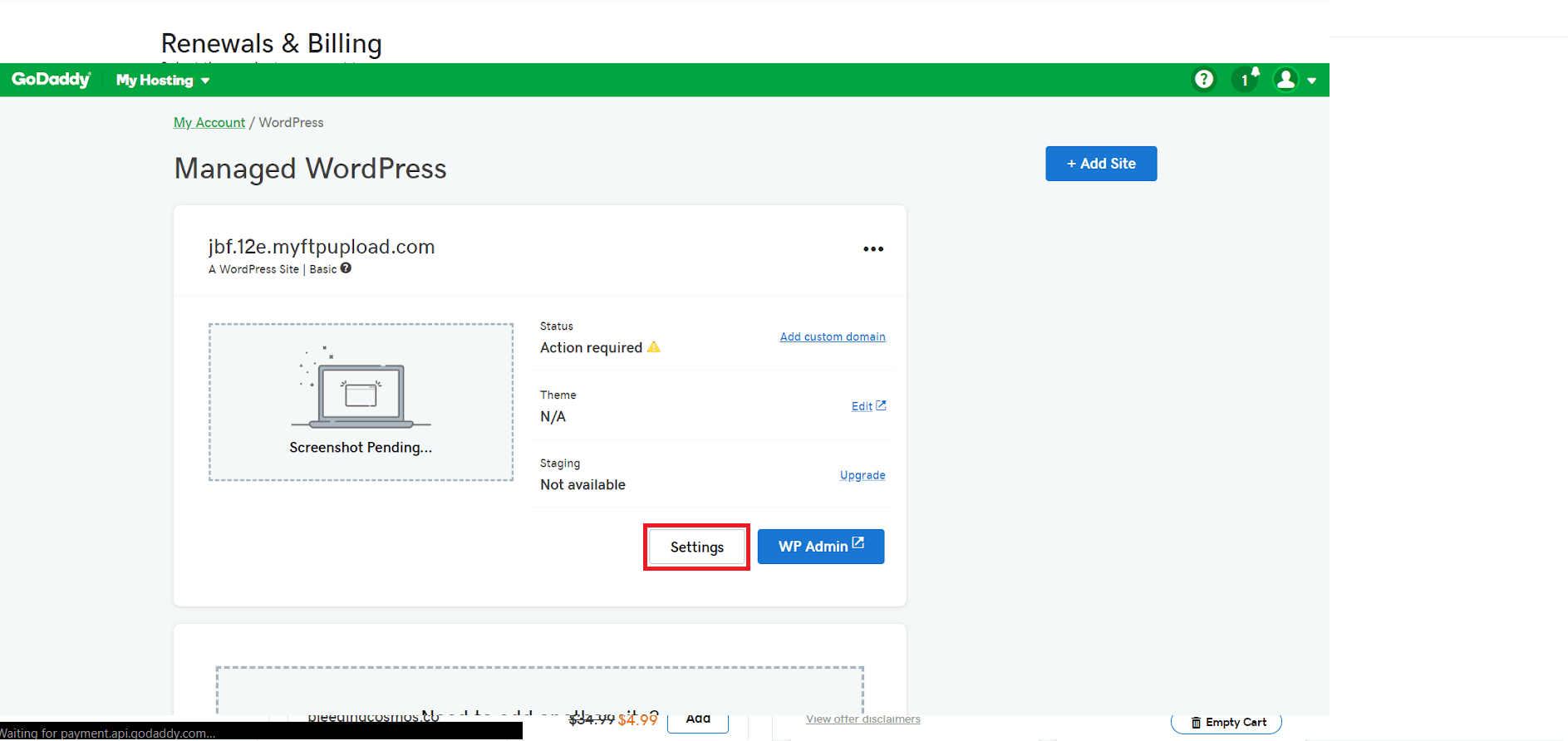 This will take you to the Managed WordPress settings dashboard where you will see a box for
Website Security
at the bottom of the page. Click on
Purchase
to continue: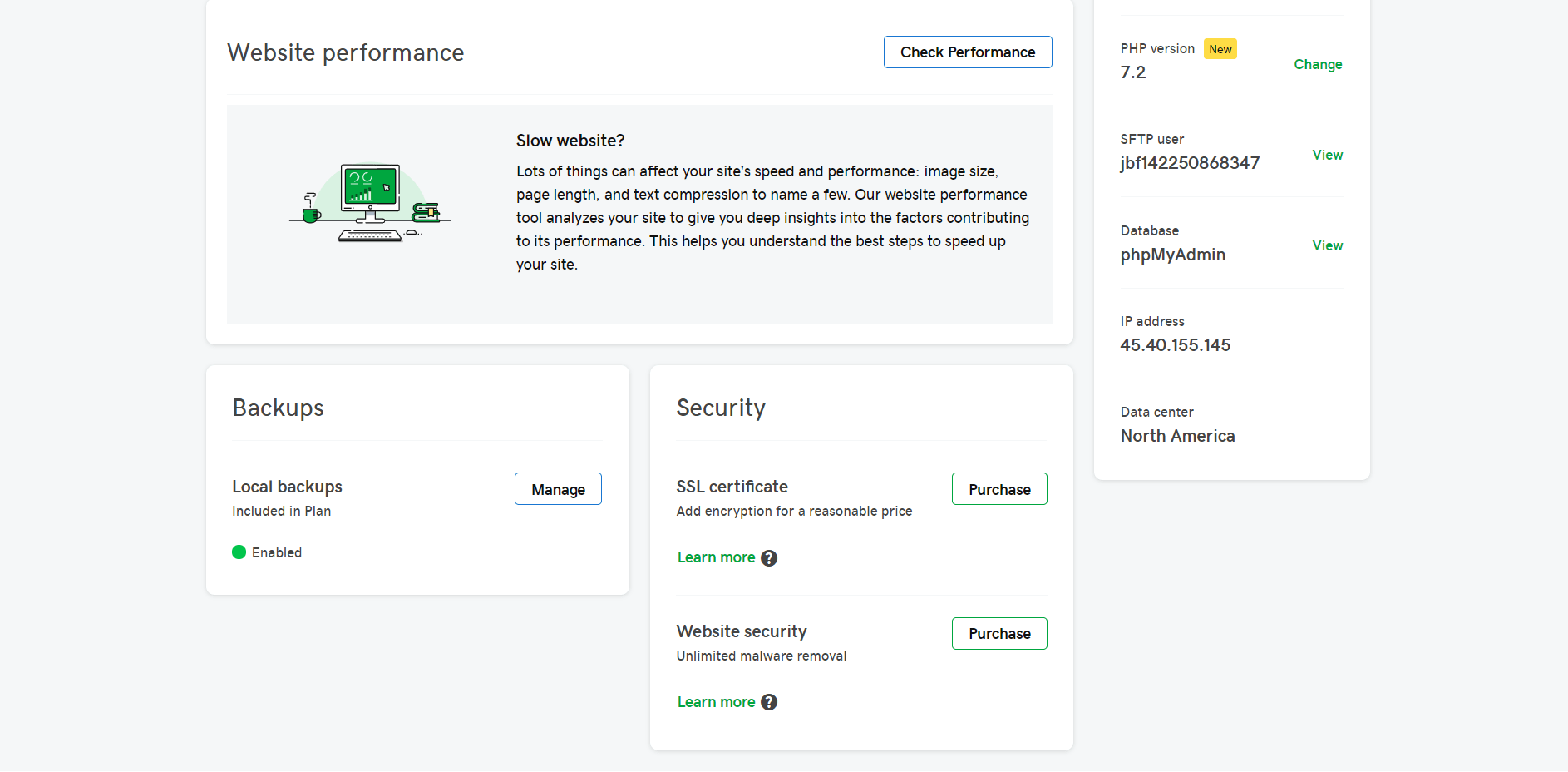 This took me to a screen where I could choose my product. Note that the Deluxe and Ultimate plans are the ones that provide a CDN with boost performance: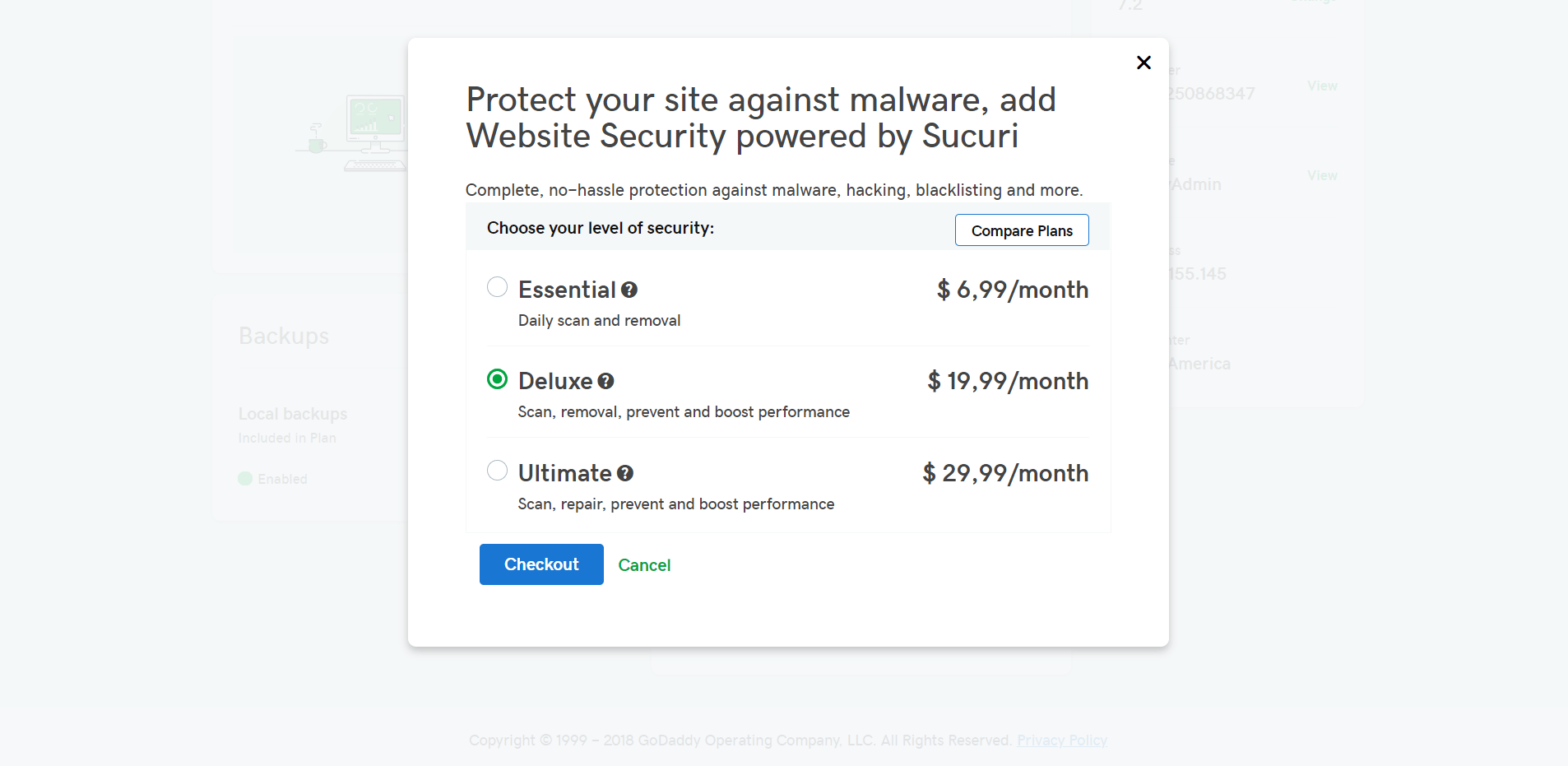 On the next screen, I had to be alert, as
GoDaddy automatically selects the two-year billing term by defaul
t. There are plenty of other billing term options that you can choose from the dropdown list. However, at least the pricing is transparently displayed above the Complete Purchase button: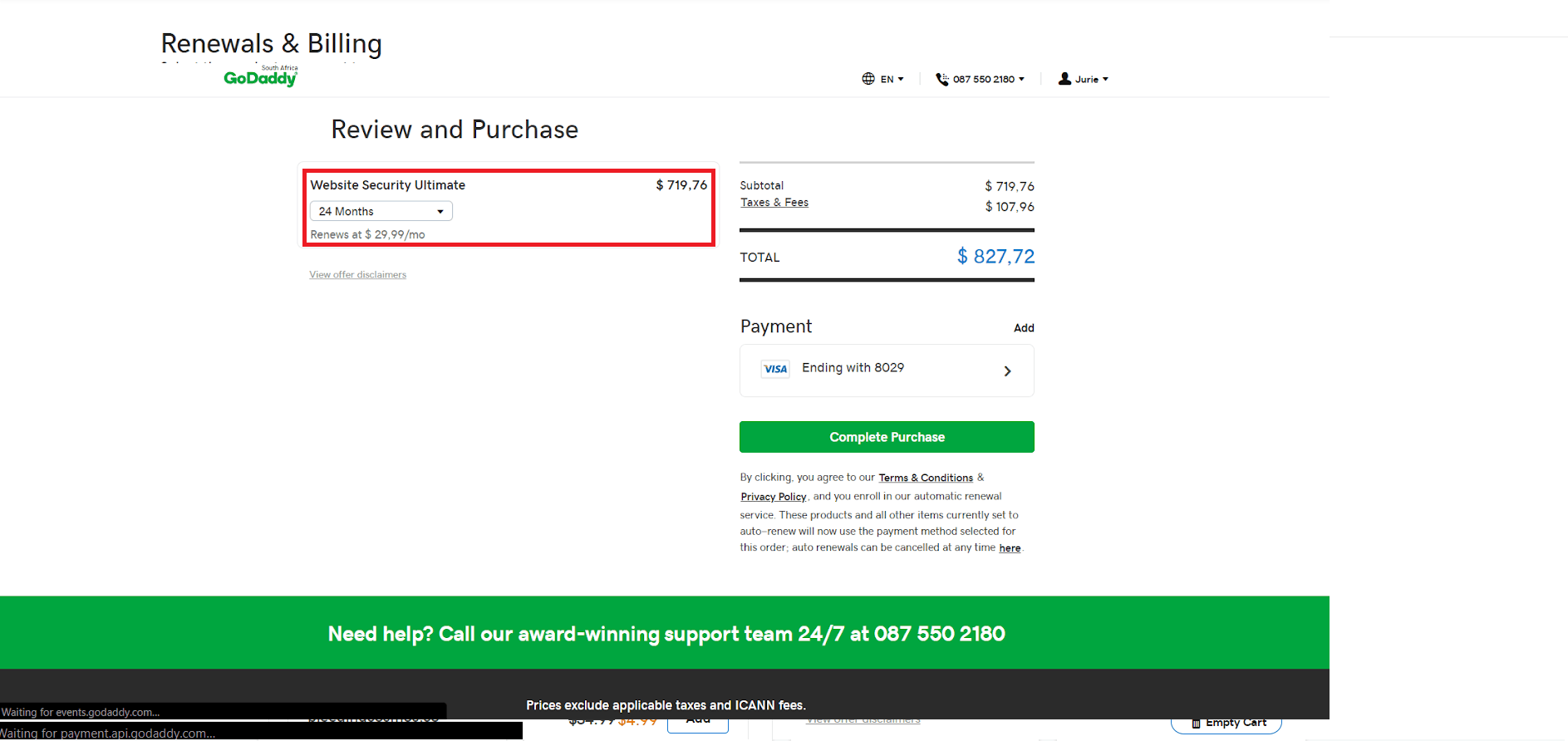 Finally, you'll be provided with your receipt and a confirmation of your purchase. Quick and painless as ever. Just like that, you now have the full website security suite as well as a CDN at your disposal: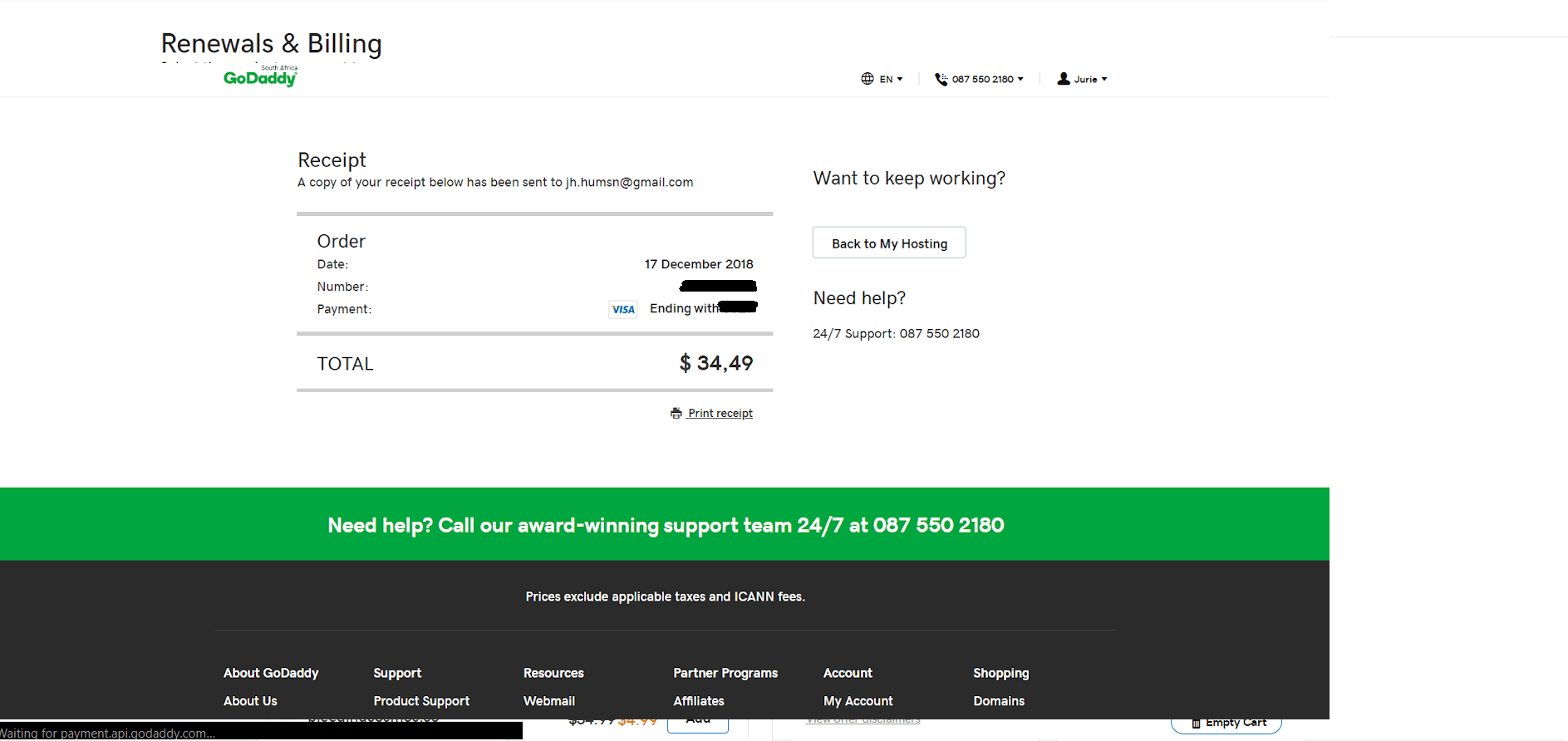 You'll also receive a three-email blast confirming your purchase and that the website security pack is now active on your website: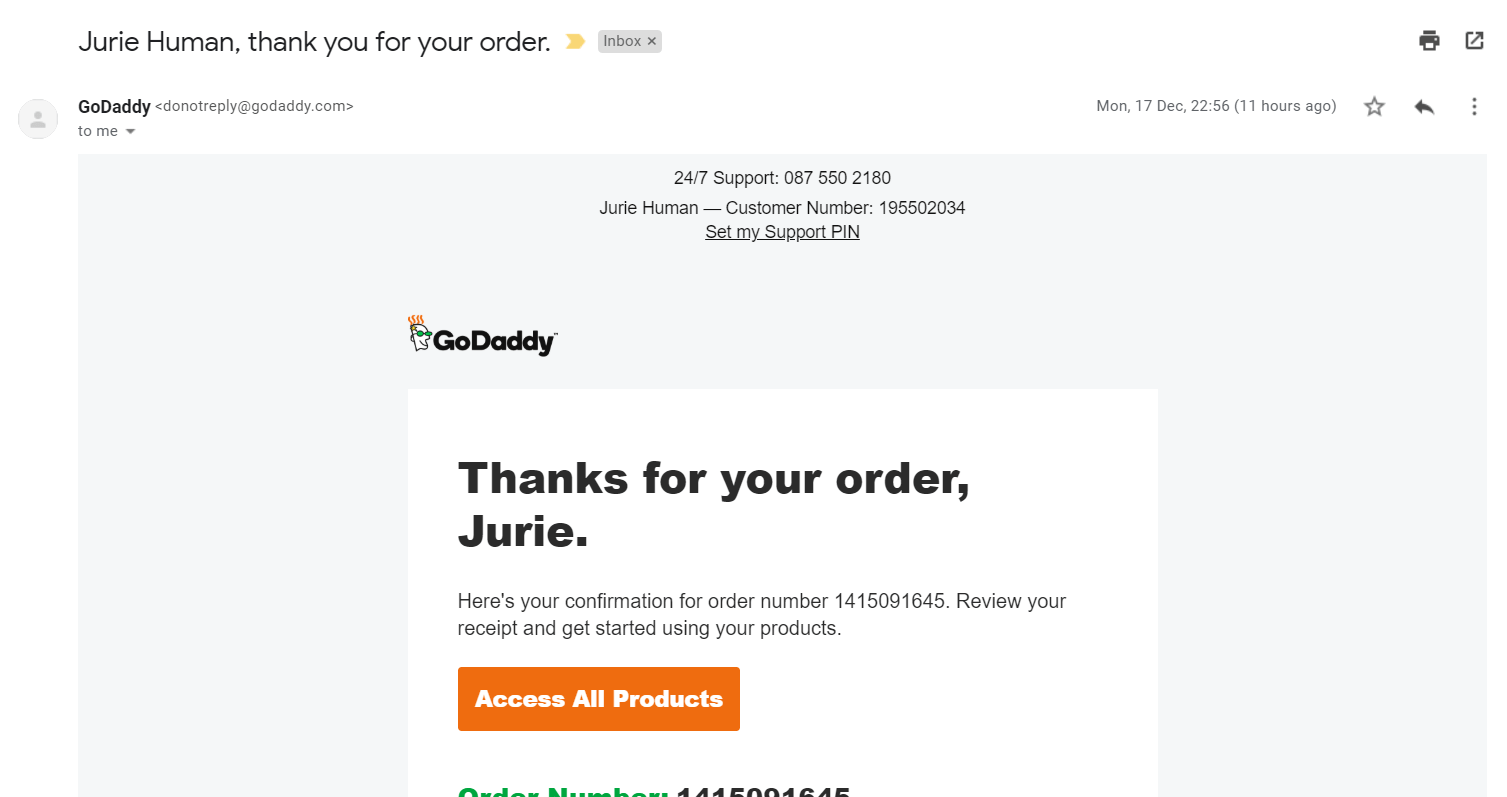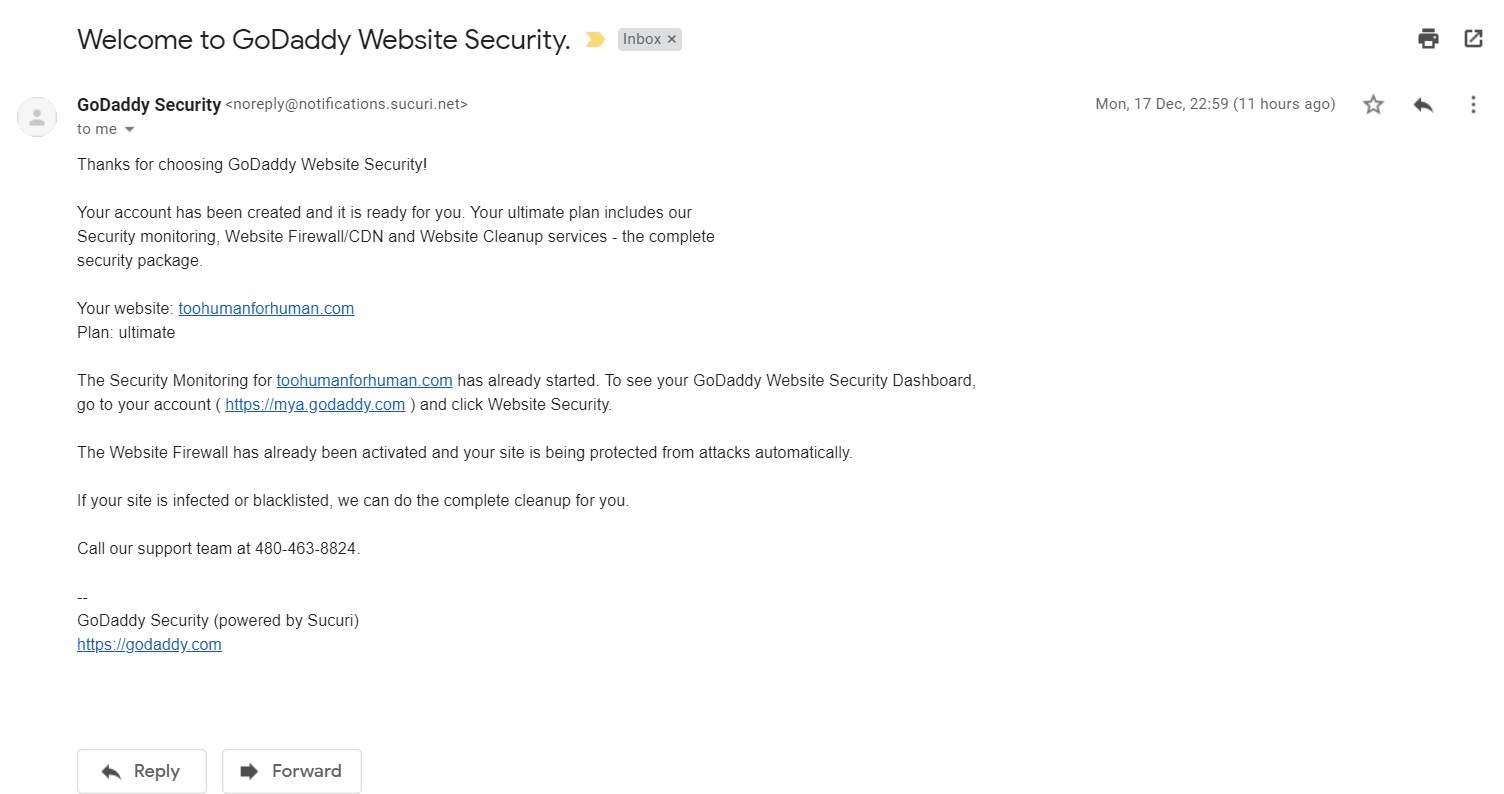 In my case, my original plan didn't include backups, but these were provided with the pack: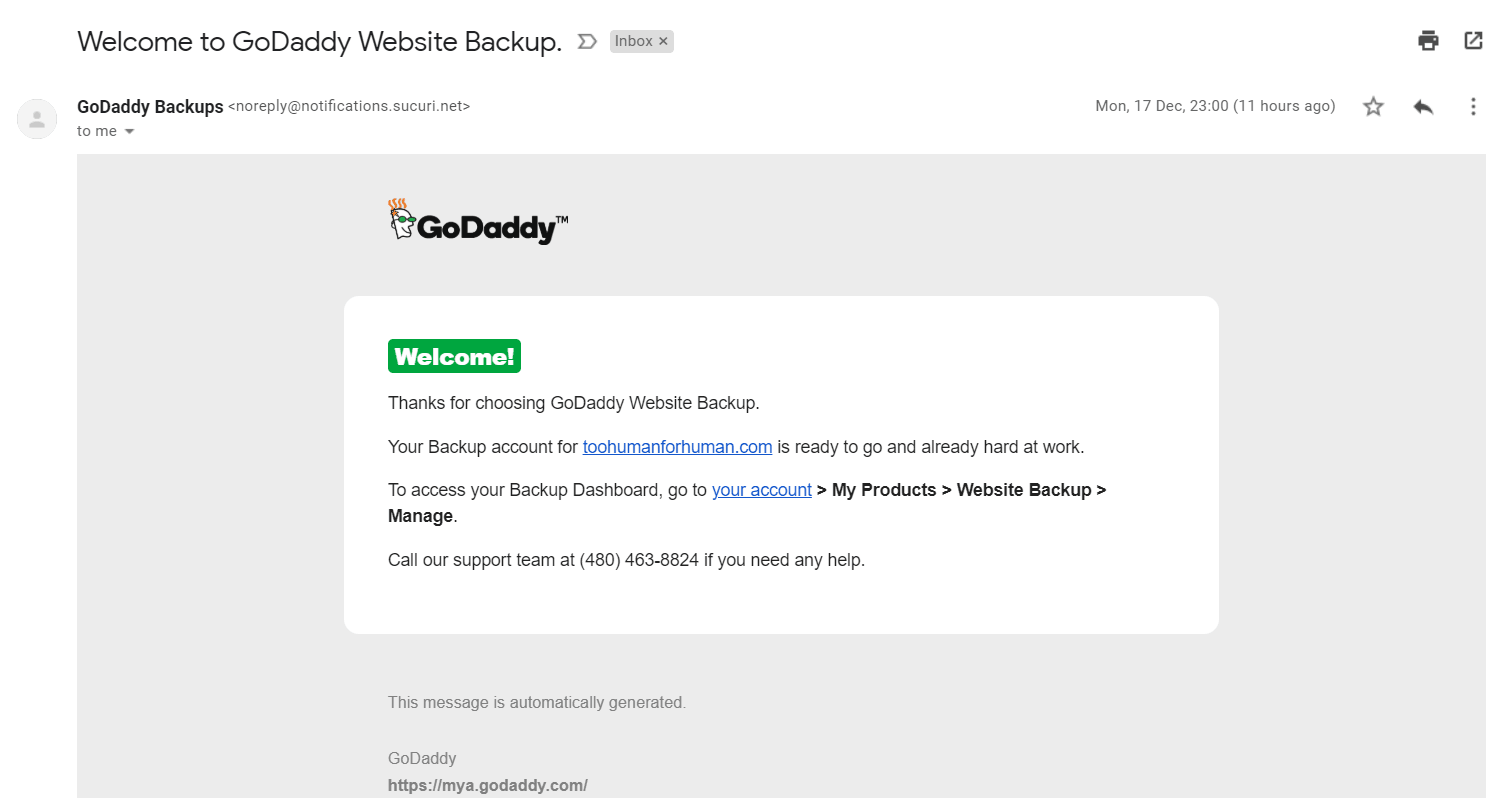 If you go back to your dashboard, you'll see the option to set up your website security.
A fantastic perk of GoDaddy's security suite is that it will work for any website on any domain — not just those hosted by GoDaddy
. To activate it, you just need to add the domain: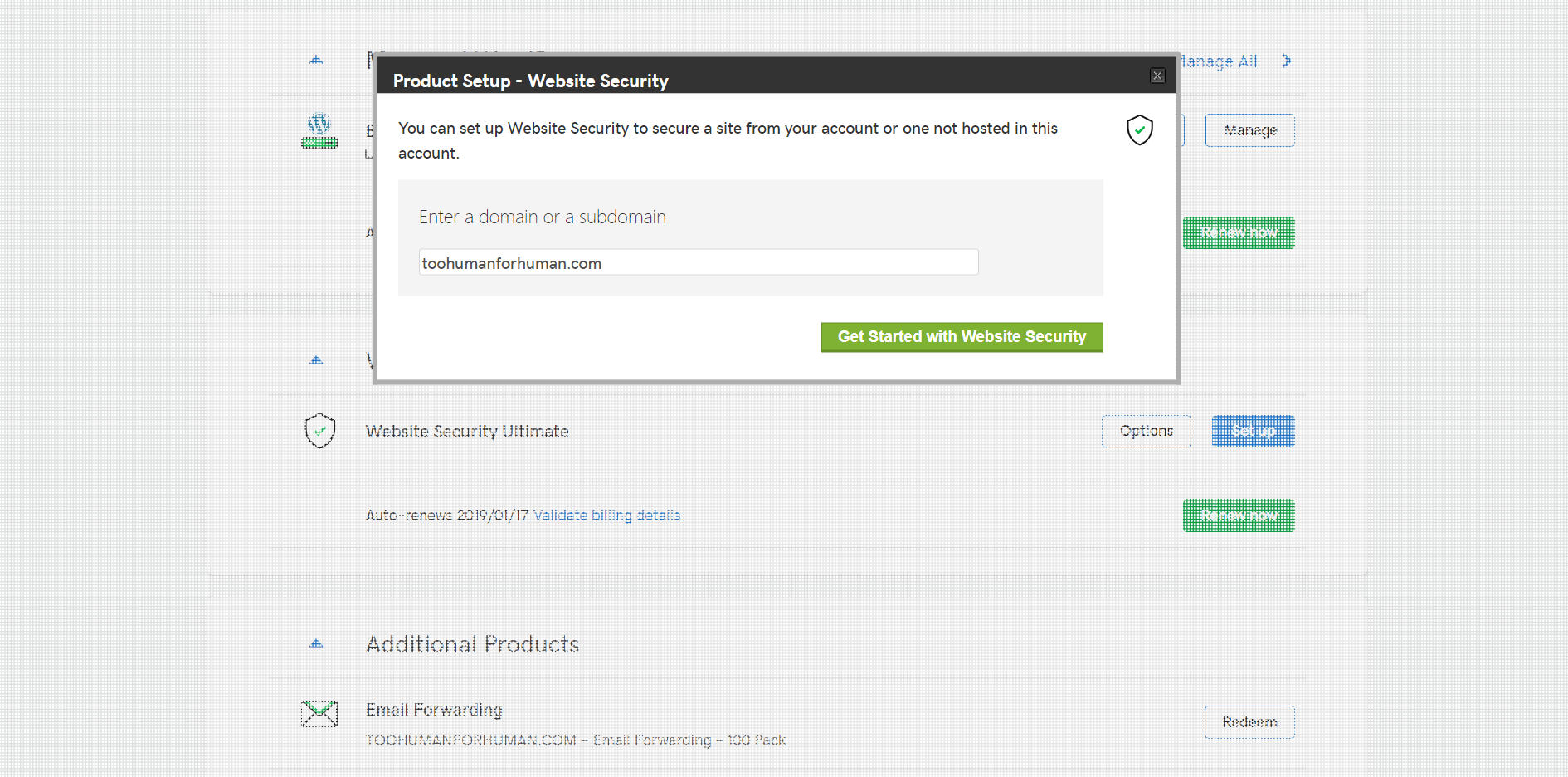 That's it. Once again, you can see how easy it is to use GoDaddy. Purchasing other add-ons or features is similarly quick and straightforward. For example, you can purchase and add Office 365's functionality to your website within minutes.
An Efficient and Non-threatening User Experience
I can honestly say that
I can't remember a host that made setting up these aspects of your hosting as easy as GoDaddy did
. In some ways, it was so easy that I could hardly believe it, and I actually had to check the documentation to make sure I was on the right track. There's no messing around with your DNS or any other type of technical know-how needed. GoDaddy also clearly shows you what options are open to you or what you should do next with warnings or prompts in your dashboard. It would be hard to recommend a simpler host than GoDaddy, but
iPage
gets pretty close as a cheaper option with a different look and feel. To see if the rest of what GoDaddy offers lives up to its high standards in this regard, check out my in-depth
GoDaddy review.