With a new host, some of the first things you'll always have to do is to connect your domain, install WordPress, and set up a CDN. If you're a web designer or developer, then you probably chose Flywheel partly for its multi-site hosting and management features. If this is the case, you'll have to regularly perform these tasks,
which makes it doubly important that the process is quick and easy
. In this article, I'll go through all these tasks to show you what kind of experience you can expect and how long it'll take you. If you want to see what else Flywheel has to offer, check out my
expert Flywheel review
.
Installing WordPress Step-by-Step
As you're registering your account, Flywheel will automatically create a WordPress website for you based on your settings. To access this website, you just need to select it from the dashboard: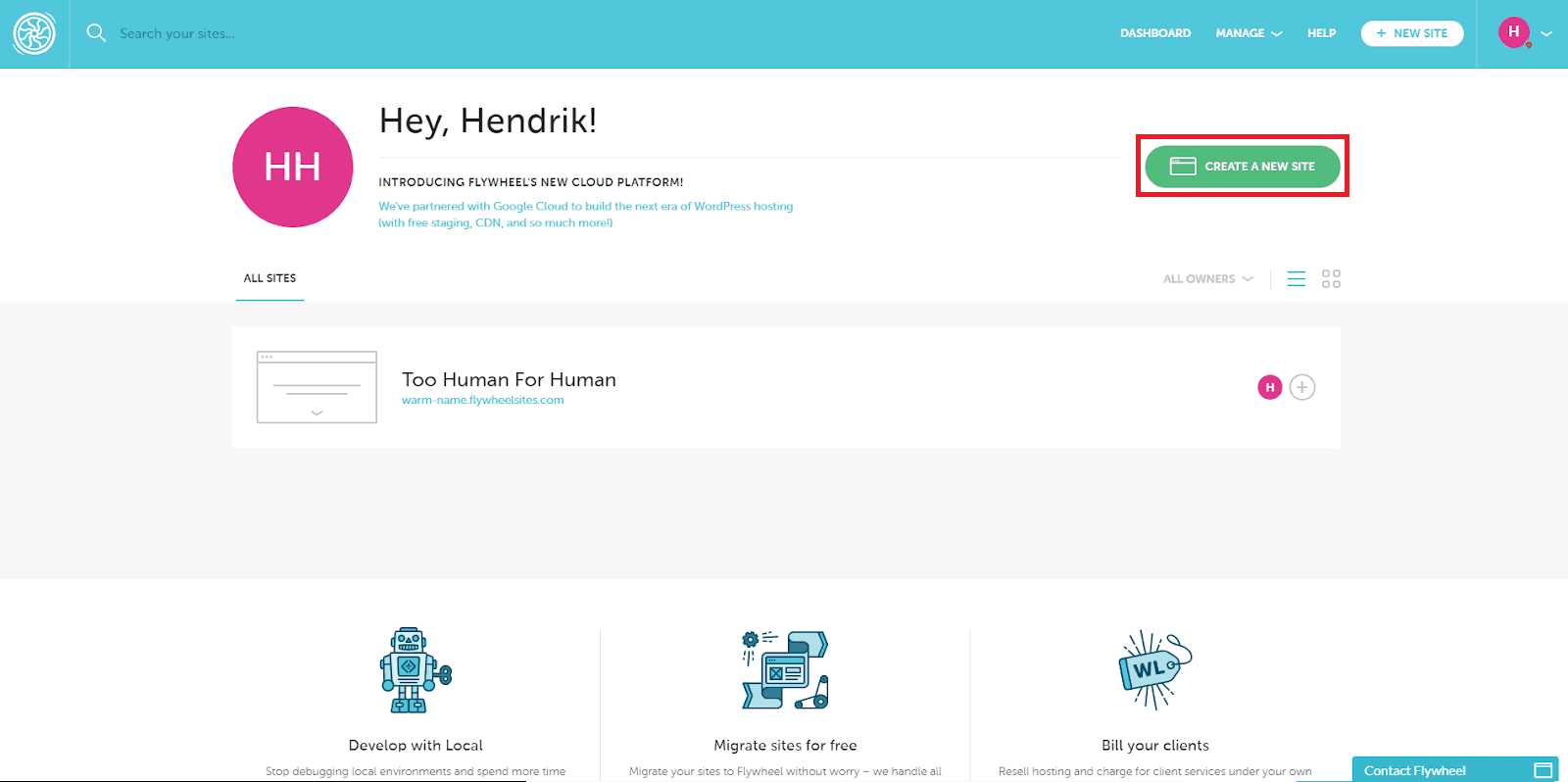 You can also create a new website by clicking on the big green button at the top of your dashboard
. Clearly, Flywheel has put a lot of thought into navigation and ease of use. This will take you through pretty much the same experience as when you created your account and set up your first website. On the first page, you'll have to enter website details such as:
The site owner, which by default will be you, unless you want to add someone else from your organization
The website name, which will also be your default site name on WordPress
The temporary domain, which you can change later on if you've purchased a domain elsewhere. This is most likely because Flywheel doesn't register domains. However, it'd have been nice if you could input your permanent domain name here
Details for a new WordPress user, which you'll use to log into your WordPress backend and build your website. The admin will also be the primary user with all the permissions on the WordPress website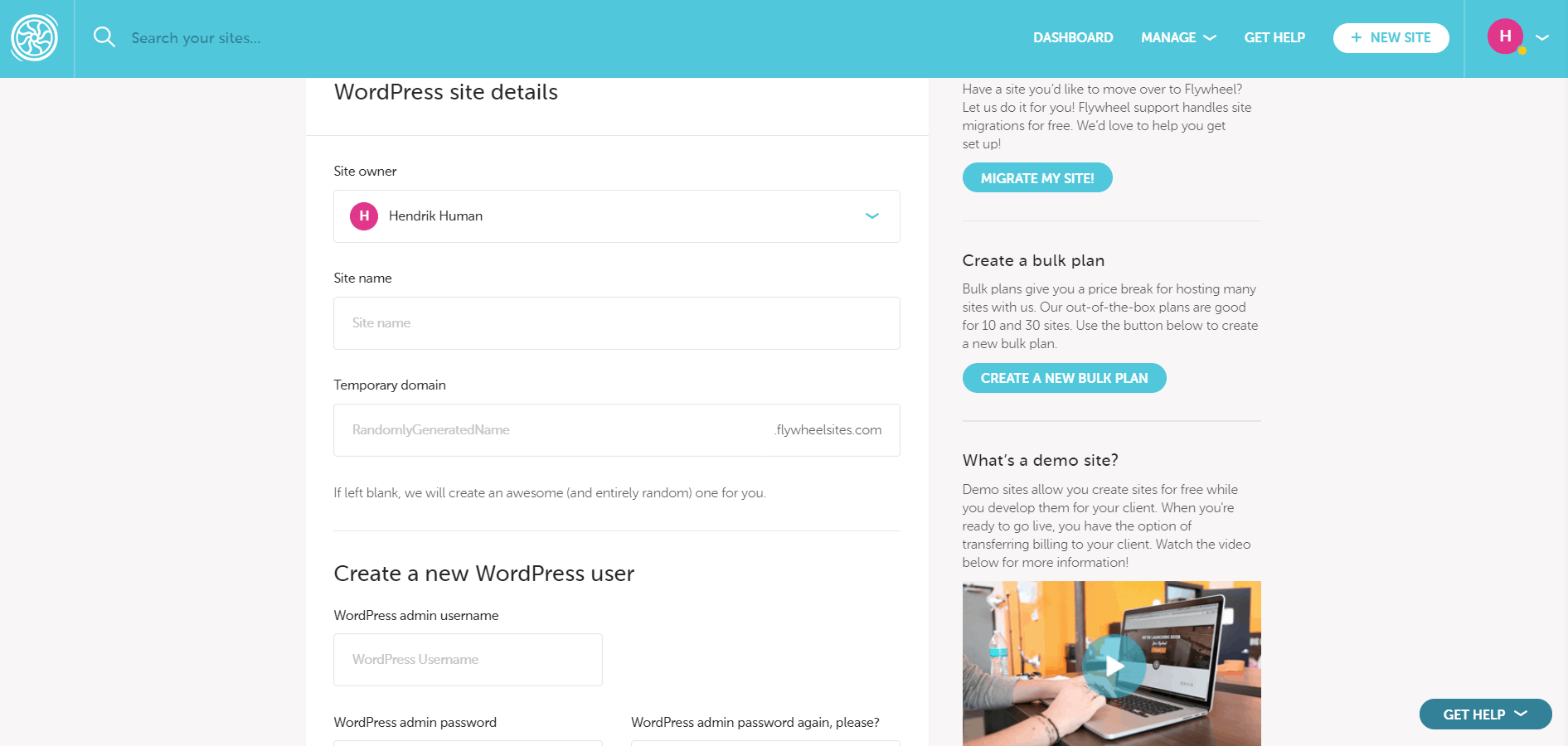 Next, you'll need to choose how you'll pay for your plan. I covered this in depth in the
How to Create a Flywheel Account
article. There are three options:
I'll pay now, in which case you'll purchase a new plan for your website
My client will pay later, in which case you won't pay straight away but instead create a 14-day demo website
Add it to a bulk plan, in which case you also won't pay now and instead add it to an existing bulk plan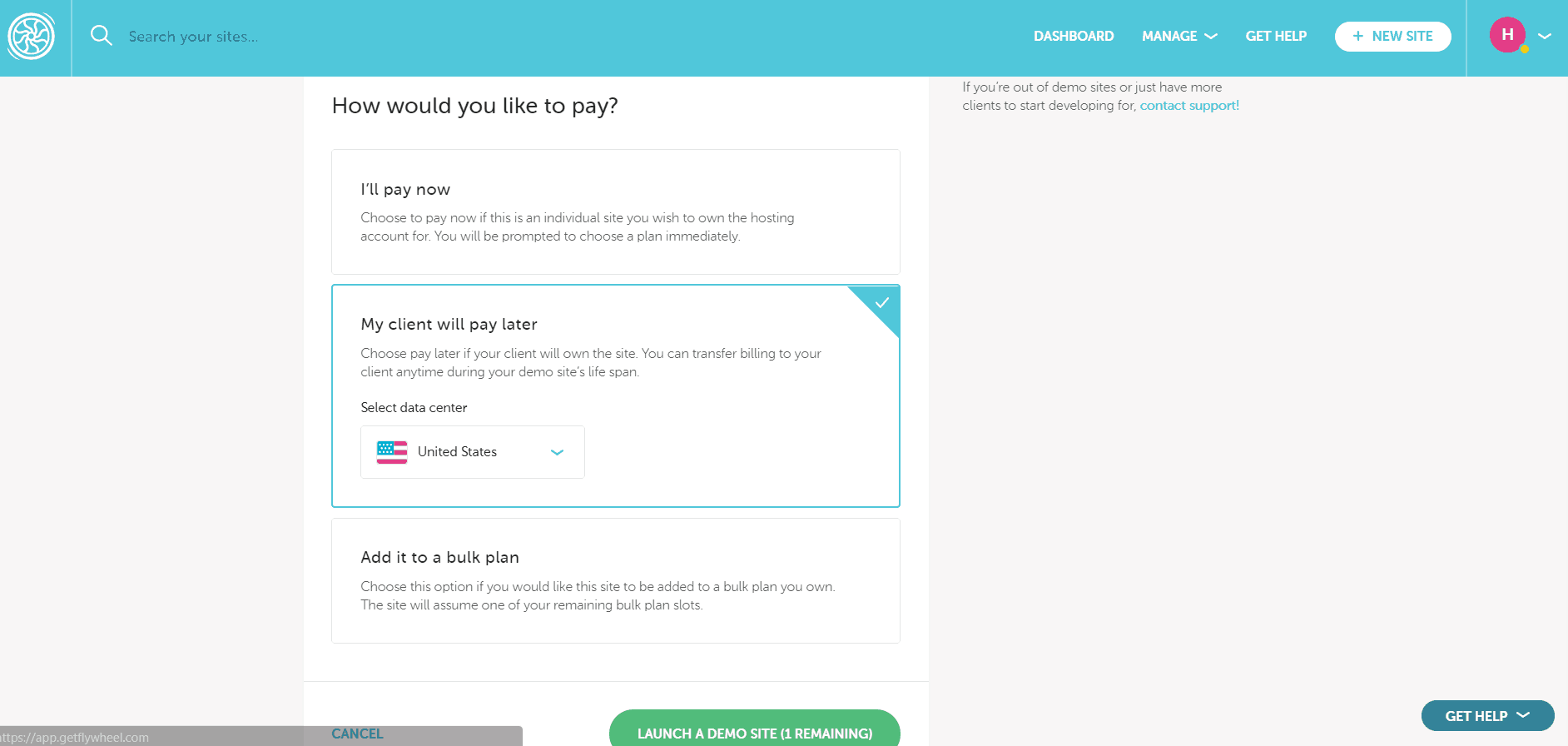 In my
Creating an Account
guide, I chose
I'll pay now
. For now, let's assume that you either selected
My client will pay later or Add it to a bulk plan
. For the latter, you'll obviously need to first purchase a bulk plan or choose one of your existing plans with a remaining website slot. In both cases, you can immediately create your new WordPress website by clicking the green
Launch a Demo Site
button. This will start the installation process: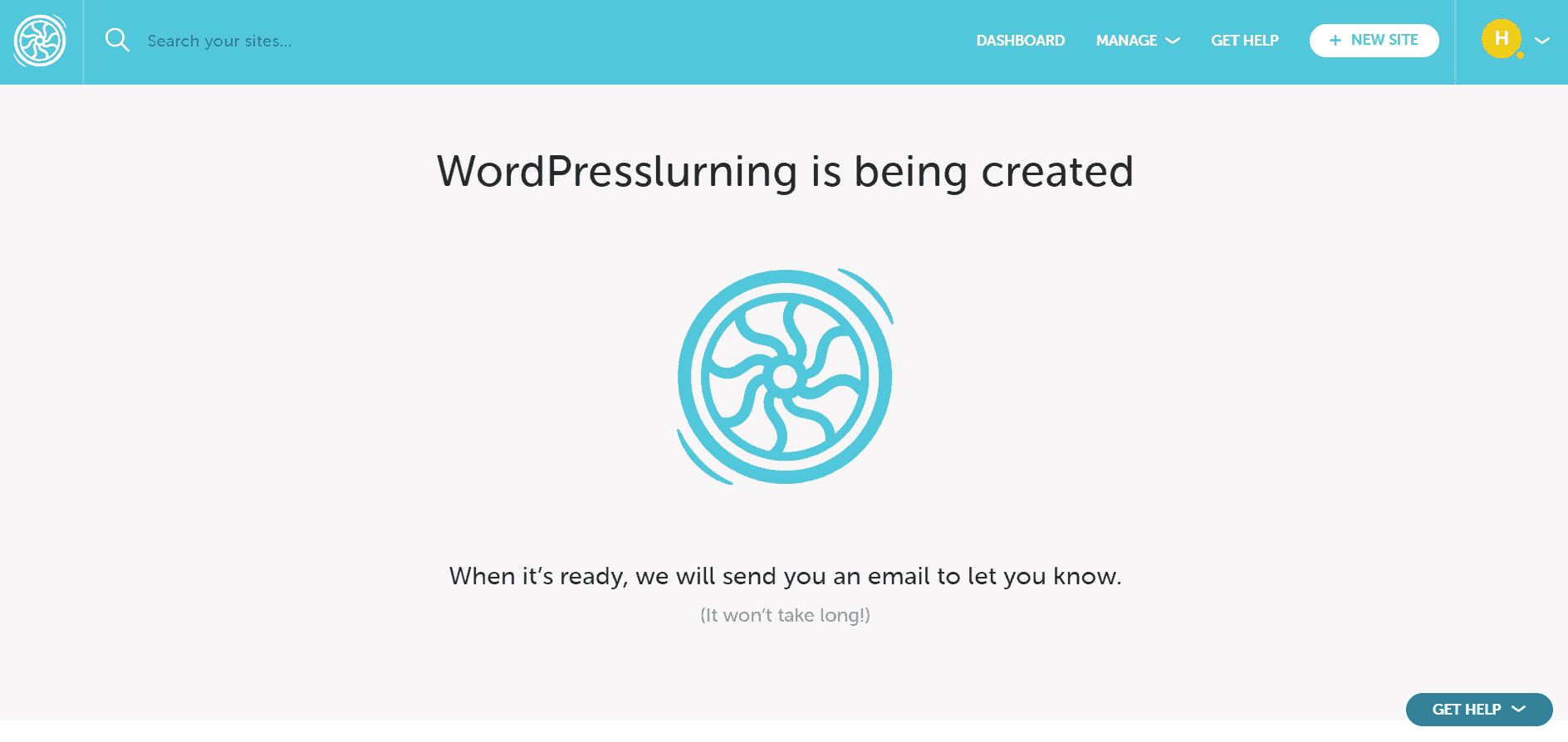 Once it's done, your website will be listed on your dashboard: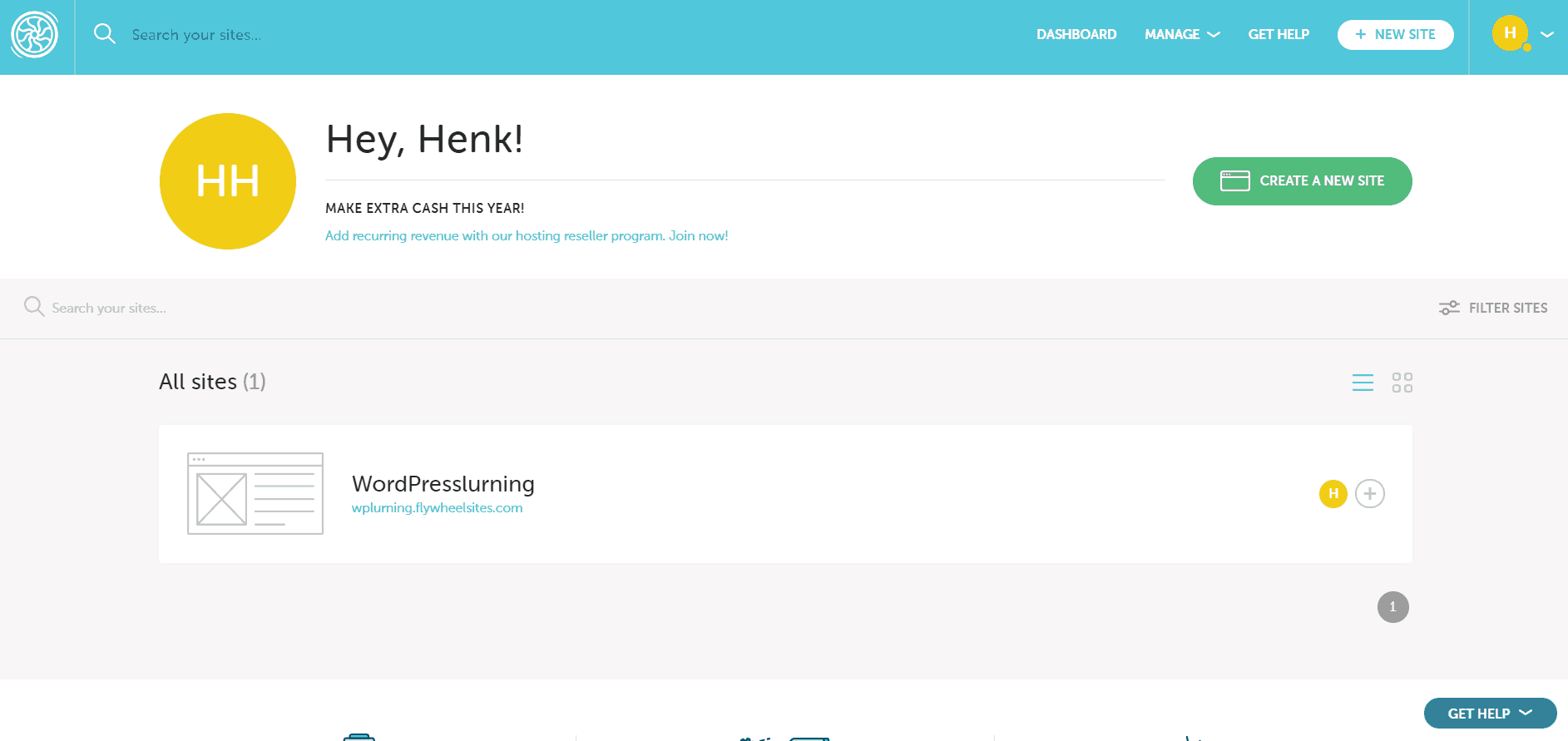 Clicking on the website will open up the management panel specific to that website: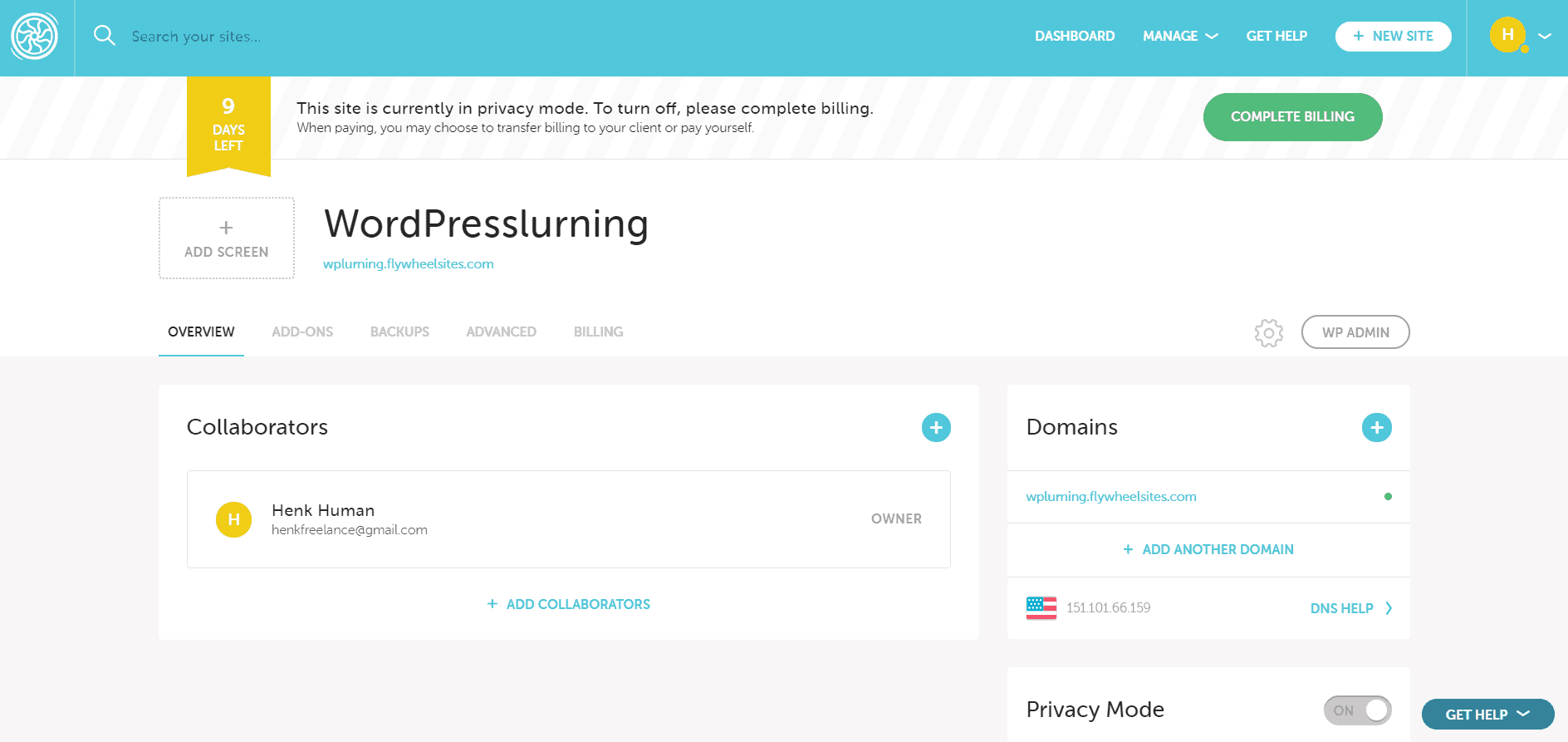 So far, so good. Unless you're buying a new plan, it's a very quick process that only takes about six to eight minutes in total.
Connecting a Domain Step by Step
This is a very simple process: just click the plus icon under the
Domains
box and enter your domain in the popup box below. As you can see, this crucial aspect of your hosting is once again displayed so that you can't miss it. The IP address you need to change your domain's A record is also placed right there. Next to it, there is a
DNS Help
link to Flywheel's documentation too.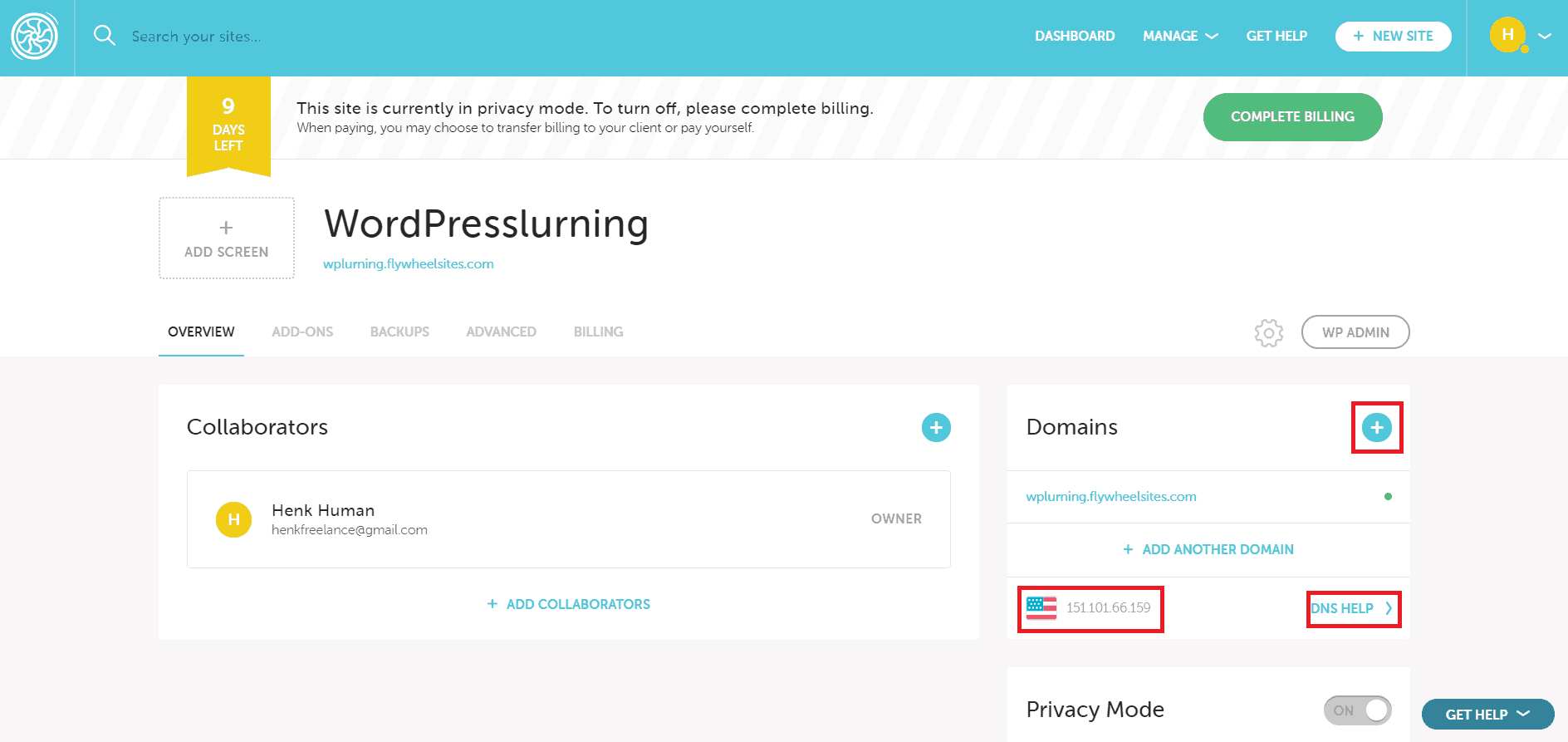 There is a
Primary
checkbox if you want this to be your website's main domain. Only tick this if you're ready to point your domain to Flywheel, as you won't be able to access your website otherwise. I didn't change my nameservers at GoDaddy first, which led to me not being able to access my website.
The steps to change your DNS to point to Flywheel will be different based on your registrar
. The
DNS Help
link in the screenshot above contains instructions on how to connect your domain at your registrar. The
Privacy Mode
feature by Flywheel allows you to block visitors from accessing your website before it's ready.
If you have this mode turned on, Flywheel will give you an extra username and password to reach your website
. These will be randomly generated for you, but you can change them if you want.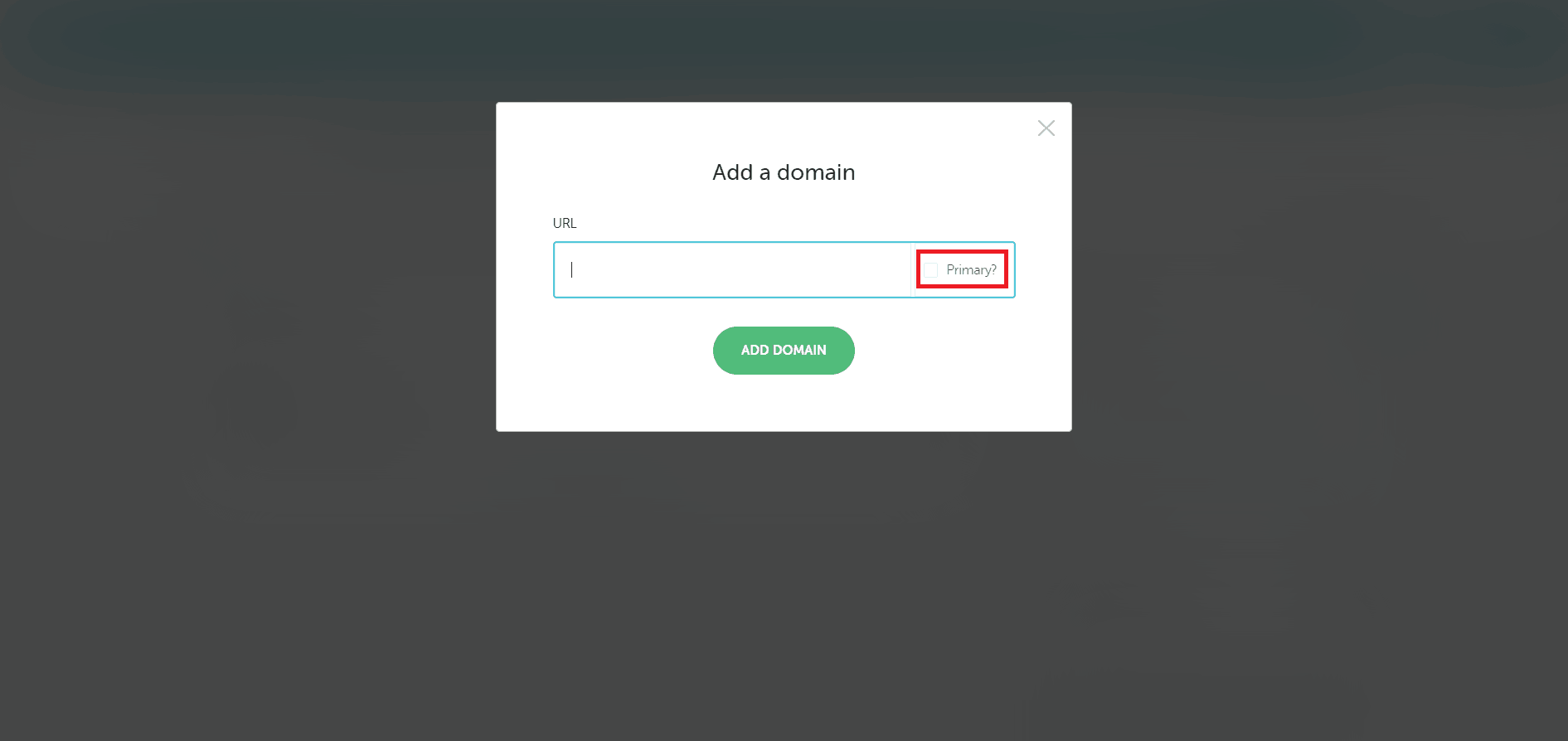 To access WordPress, just click the
WP Admin
button. If
Privacy Mode
is enabled, you'll need to log in with your username and password. Otherwise, you can go straight to the WordPress admin dashboard. And here is the WordPress dashboard: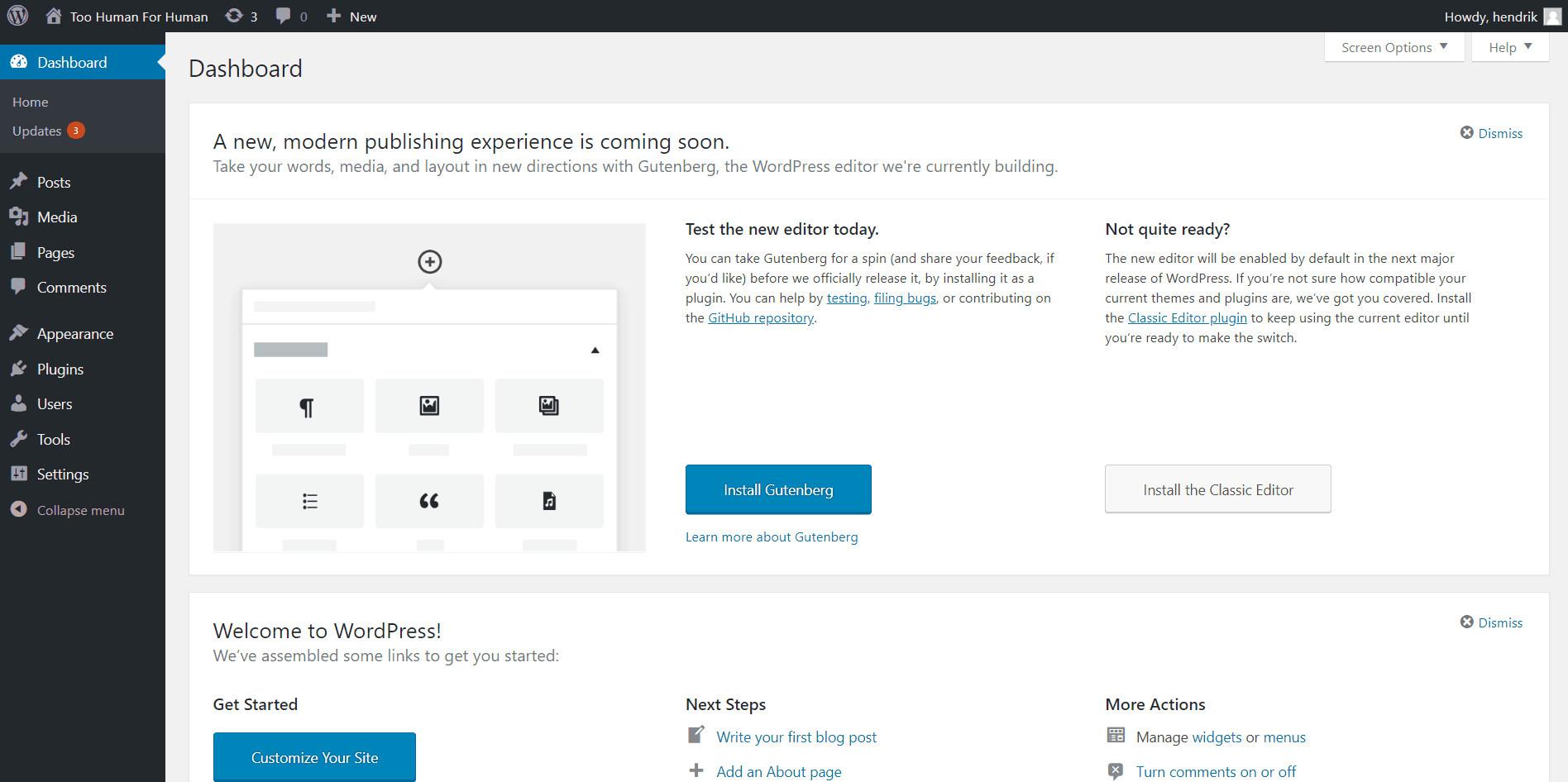 Once again, Flywheel outdoes itself in how easy it is to set up and access your WordPress website. The only minor hiccup I had was that I didn't see the
Privacy Mod
e box at the bottom and didn't know what to do when I was presented with the extra login pop-up. However, it was easy to spot when I returned to the website dashboard.
Setting Up a CDN
If you want to speed up your website, you'll probably want to set up a CDN (Content Delivery Network). Flywheel does provide this service, but it's a paid add-on with the Tiny, Personal, Freelance, and Agency (discounted) plans. The CDN is located under the
ADD-ONS
tab in the dashboard.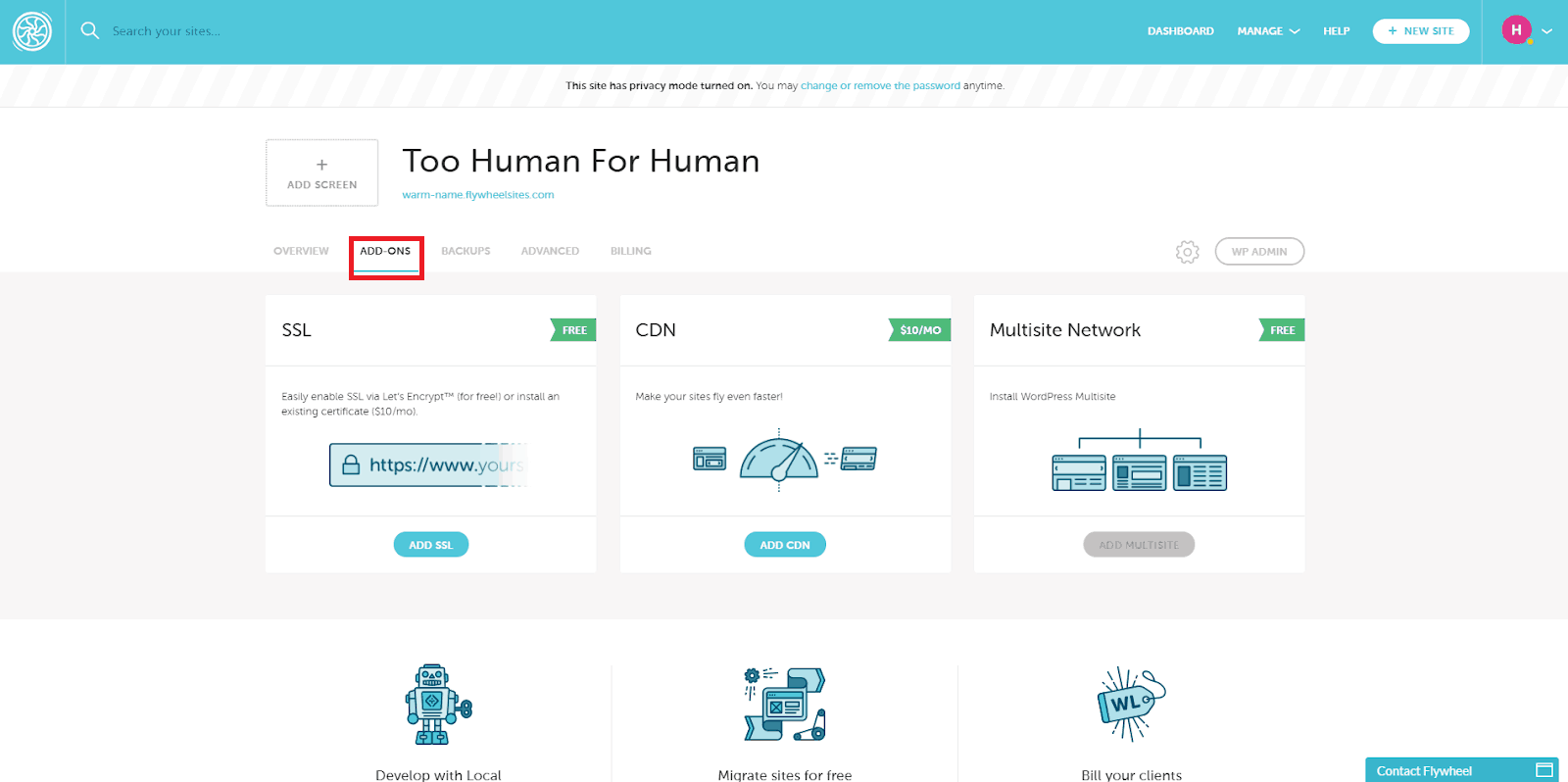 Clicking on
ADD CDN
under CDN will take you through to a quick billing summary. Note that with a CDN, if you use over 100 GB of bandwidth, you'll be charged per extra GB used. You'll need to indicate whether you're okay with this. If you click
Complete Payment
, you will immediately be charged using your default billing method.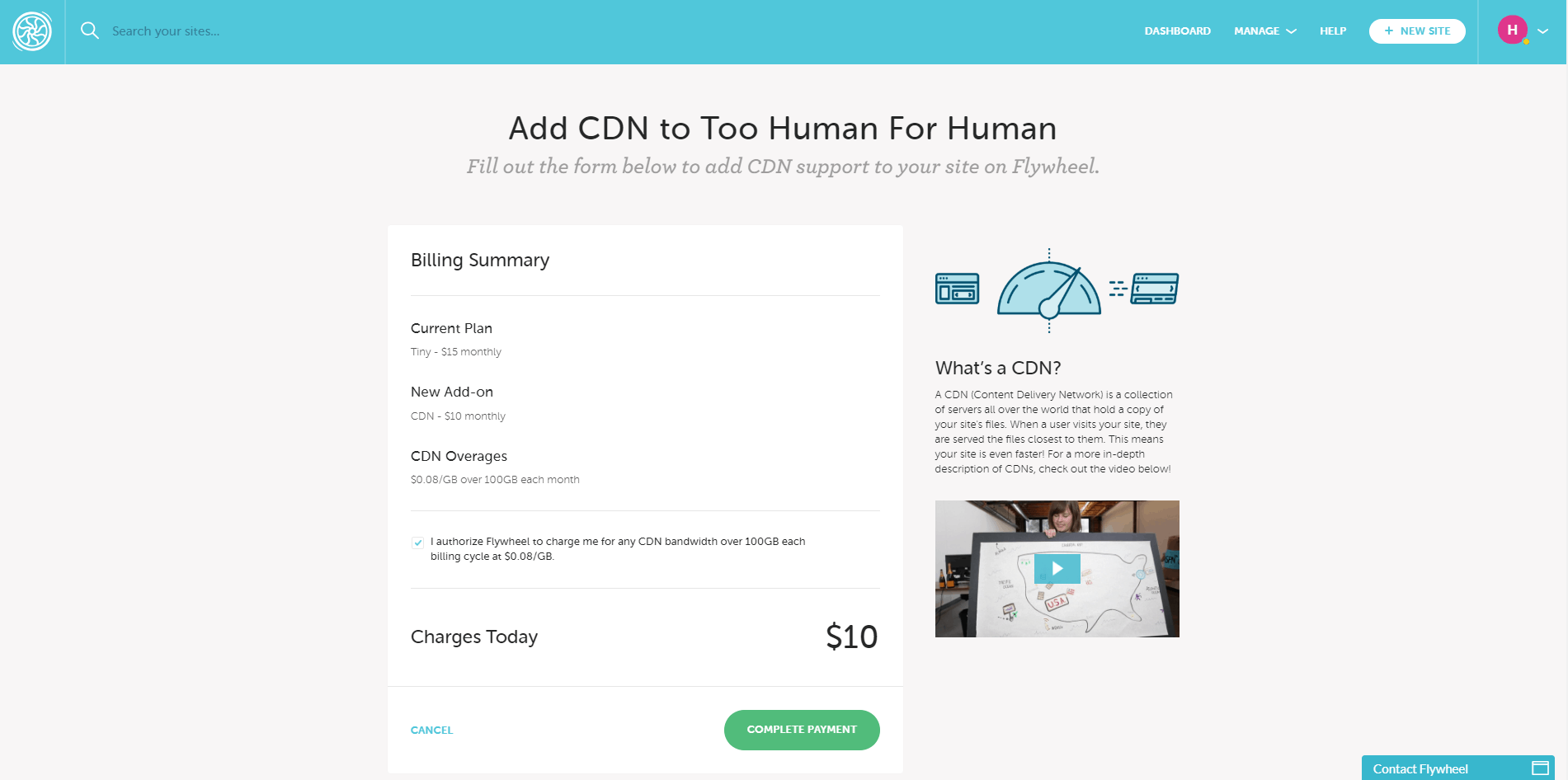 The CDN will be inactive by default to conserve your CDN bandwidth. It's  easy to figure out how to enable it via the gear icon, which is clearly displayed: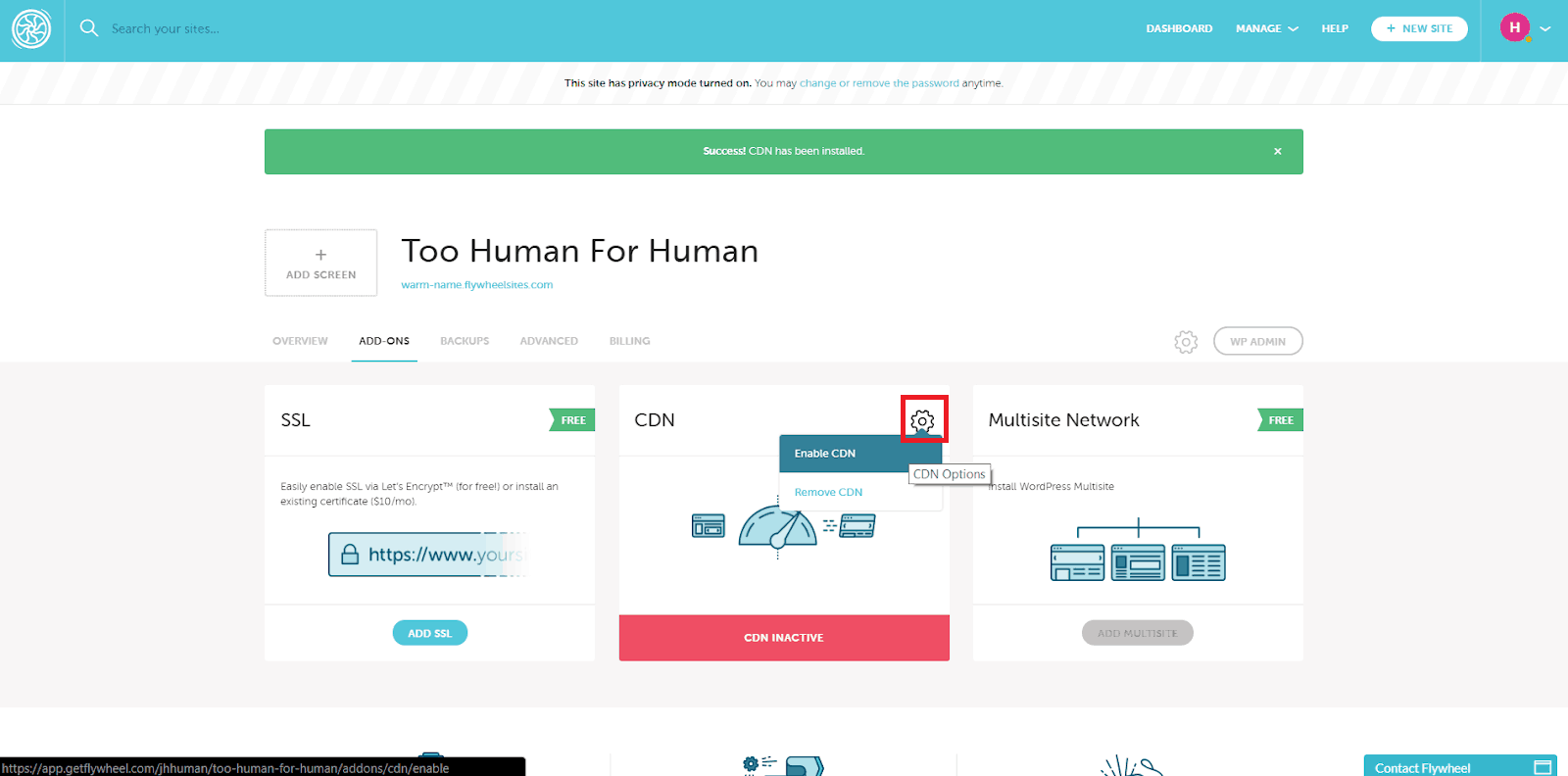 Setting Up Your WordPress Website on Flywheel is a Breeze
Because Flywheel caters to developers and agencies, the team needed to maintain their platform's simplicity. As you can observe, they have achieved this feat remarkably. Sure, some of the features might be distracting or confusing for users who are looking for a simple solution.
However, Flywheel does an excellent job of giving you enough information so you can easily figure out what you can dismiss and what's important
. Particularly when it comes to connecting your domain, you can see how
the Flywheel interface puts important things in logical locations where you'll easily see them
. Even if you've been through this process many times, it can still be challenging to figure out how to do these things with specific hosts. However, I never felt lost or intimidated using the Flywheel dashboard. Flywheel also manages to make the process quick, with a WordPress installation taking less than 10 minutes. On top of that, you can connect a domain and set up a CDN within 25-30 minutes. That said, there are occasions when even the best custom managed WordPress interface might not be suitable for those who want the familiar feel of cPanel. If you want to use cPanel but don't want to sacrifice too much ease of use,
InMotion Hosting
is a superb option. If you'd like to know more about Flywheel and whether the ease of use and quality is as consistent throughout the rest of the platform, be sure to check out my
Flywheel review
.