We noticed that ever since InterServer reduced its prices, many users are closing their accounts with SmarterASP.NET.
SmarterASP.NET is a budget brand with some bold promises about its pricing and payment terms. It's easy to cancel, but you might want to go through the money-back guarantee with a fine-tooth comb first. If you're looking for a new host who can offer better value for your money, check out
InterServer
 or one of our other
recommended alternatives
.
To Cancel Your SmarterASP.NET Account, Follow These Easy Steps:
Log into your control panel
Click on the Help Desk link and then select Create a Support Ticket
Enter a brief subject for the ticket, e.g., Cancel account and refund
Fill out the online form with the reasons for canceling
Submit the form
Wait for an email confirmation of the cancellation and the refund
My Cancellation Experience
If you've read my review about creating an account with SmarterASP.NET, you'll know that I wasn't able to take advantage of the 60-day free trial (that's just for Windows customers). Instead, I signed up with the guarantee of a 60-day money-back period. As I couldn't find a link inside the dashboard to cancel the account, I jumped on live chat to ask for assistance. I was advised to create a support ticket to request the cancellation. I was also a little pressed as to my reason for canceling, but nothing too outrageous. As per the advice, I logged into the admin and created a support ticket. The form I completed was not too long, but it did ask for a reason and feedback. I simply asked for my refund and submitted.

As soon as I submitted the ticket, within minutes, I received an email, yet again trying to persuade me to stay. I was getting a bit tired of it now and replied asking for them to go ahead and refund my money.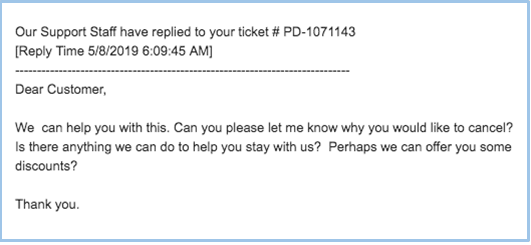 I received a reply within two hours advising that I would be refunded five out the six months I had paid for because the "60 days money back guarantee is based on the annual payment term."

I'm not sure I fully understand the reasoning behind it, and it is something to bear in mind—
you will not be refunded in full when you cancel within the 60-day money-back period
. Nevertheless, I did receive the money back on my card within two days of requesting it, which isn't too bad at all.
Best SmarterASP.NET Alternatives
If you've canceled an account with SmarterASP.NET but still need a web host, read on for our top alternatives:
Are you looking for a cheaper host? InterServer offers excellent introductory prices, and you get good value for your money.
Are you just getting started and need a variety of easy-to-use tools? Consider heading over to SiteGround.
Is WordPress your main priority? Does a fully managed option sound good? If so, read about Liquid Web.
Do you need a far more powerful option designed specifically for developers? DigitalOcean offers a range of premium cloud services for a fair price.
A Little Sales-Orientated
The process went smoothly. While the live chat agent did make me feel a bit pressured to stay, it's understandable. Apart from that, I experienced the entire process through support tickets, and I didn't actually have to reach out to customer support at any point.