We put RoseHosting's refund policy to the test. We're happy to report we received our refund in full, even though we signed up for the cheapest plan.
You've given RoseHosting a try, but it's not quite right. Maybe you're looking for a bigger or more well-known host like
SiteGround
. That's okay, there's a
seven-day money back guarantee
, and the cancellation process is easy. Read on to find out the exact steps, or click here to see some other
recommended alternatives
.
To Cancel Your RoseHosting Account, Just Follow These Easy Steps:
Log into your RoseHosting dashboard.
Select the applicable service from the Services tab on the left-hand menu.
Click on the cog button on the right-hand side of the service and select Request cancellation from the drop-down.
Enter your reason for canceling and request a refund.
Check your payment method in a few business days to make sure the full amount is refunded.
My cancellation experience
It was easy to cancel my account with RoseHosting. After logging into the account, all I needed to do was select
Request cancellation
next to the product I wanted to cancel.

After that point, I needed to fill out a short online form asking for the cancellation to be processed and requesting a refund (as I was within the seven-day money back period).

Within about six hours, I received a series of emails confirming that my account had been canceled, I would not be billed again, and my refund had been processed.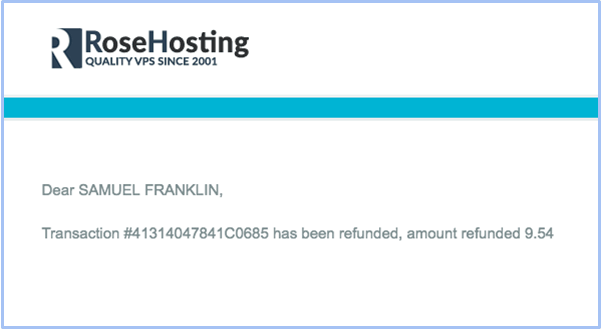 Best RoseHosting Alternatives
Are you looking for a new web host? Here are our top RoseHosting alternatives:
Do you want a cheaper host or even a host with free plans? Hostinger is a great option for budget-conscious customers.
Is the user-experience important to you? DreamHost has an excellent interface that's easy to navigate and quick to learn.
Are you a developer? If you're ready to take your website to the next level with a more advanced hosting solution, Vultr offers both cloud hosting and dedicated servers.
100% Online
RoseHosting makes it easy to cancel your account. It can be done with just a few clicks, entirely via the admin. Granted, it's not the longest money-back guarantee, but the company honors it, no questions asked, and is easy to deal with throughout the process.