We put MochaHost's refund policy to the test. We're happy to report we received our refund in full, even though we signed up for the cheapest plan.
Are you considering canceling your MochaHost account? Perhaps you signed up and didn't like that you'd needed to upgrade to get a WordPress one-click installer. Whatever the reason, if you've decided to cancel, this guide will take you through the entire process and offer some decent alternatives. If you're in the market for a new host, consider
Hostinger
 or one of our other
recommended alternatives.
To cancel your account with MochaHost, just follow these easy steps:
Log into your MochaHost dashboard.
Select Cancellation Form from the right-hand side.
Enter your personal information and the reason for canceling, and submit the cancellation form.
Your refund should be processed within seven business days. Check your payment method to ensure the full amount is refunded.
My Cancellation Experience
It was easy to cancel my account and get a refund from MochaHost. Everything could be done entirely online, and since there's a massive
180-day money-back guarantee
, it all felt very risk-free. My first step was to log into the dashboard. On the first screen you visit, there's a large button to cancel your account. Simply click on that to be directed to the online cancellation form.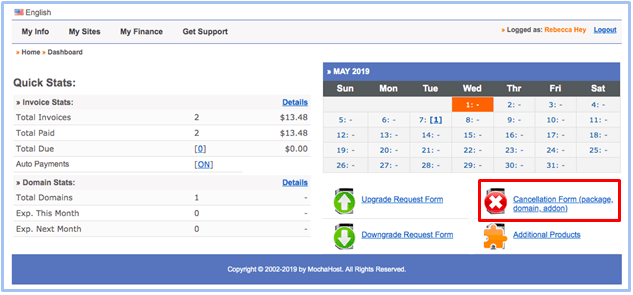 The next page involves filling out a form with your personal information and confirming your reason for canceling. It took me less than one minute to do.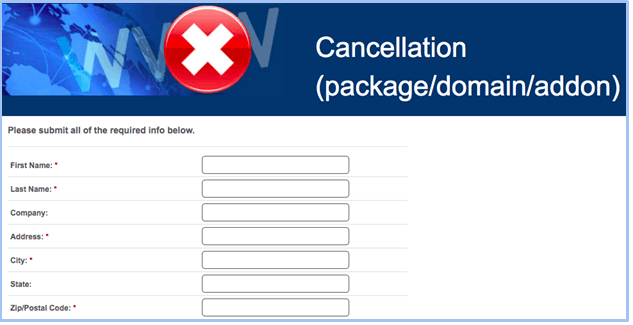 Then you will be directed to a page confirming the cancellation. However, it doesn't confirm the refund has been or will be processed.

To confirm, I jumped on live chat and asked. The agent picked up instantly and helped me. They confirmed that my refund would be processed within seven business days and that the money would be returned to my credit card in full.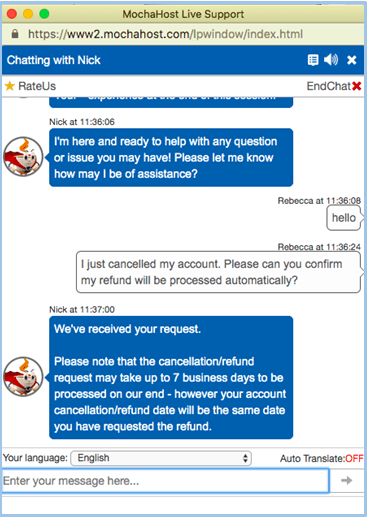 Best MochaHost Alternatives:
If you've canceled MochaHost but still need a website host, read on to find out our top MochaHost alternatives:
Are you looking for a WordPress installer but don't want to upgrade to a pricey plan for the privilege? Consider reading about Hostinger.
Perhaps you want a totally free hosting provider. GoogieHost offers free hosting as well as plans with excellent introductory prices.
If you're a developer and you're ready to get into the command line, I'd recommend learning about Heficed.
100% Online
The cancellation process is refreshingly straightforward, making it easily manageable for new website owners. While I did engage in live chat, contacting support wasn't actually necessary. MochaHost stands out not only for its impressive money-back guarantee but also for its remarkably simple cancellation procedures.