We noticed that ever since Hostinger reduced their prices, many users are closing their accounts with InterServer.
Did you sign up for InterServer and change your mind? There could be plenty of reasons you've decided to cancel your InterServer plan, but you can cancel with confidence knowing there's a money back guarantee. If you're looking for a host that can offer you excellent performance for an excellent price, check out
Hostinger
 or one of our other
recommended alternatives
. Read this guide to find out the exact steps to cancel your InterServer account and get a refund.
A Quick Guide to Canceling Your Account
To cancel your account with InterServer, just follow these easy steps:
Log into your InterServer dashboard.
Click on the product you would like to cancel (e.g., Web Hosting).
Scroll down and select Cancel Website.
On the next screen, select Yes from the drop-down next to Are you sure you want to cancel?
You have the option to leave feedback, but you don't have to.
Once that's complete, hit Continue.
If you're inside the money back period, your refund should be processed within a few days. Be sure to check your payment method to ensure the amount is refunded in full.
My Cancellation Experience Was Smooth and Simple
The shared hosting plans with InterServer come with a 30-day money back guarantee. It means you can get started with the host relatively risk-free and test whether it's a good fit for your needs. If you do sign up and later decide it's not the right fit for you, it is very easy to cancel. It can be done through the dashboard without any help from customer service. I followed the process above, and within two minutes, my account was canceled.

The only slight glitch was that I wasn't notified that I would be refunded. That wasn't a big deal as I was able to hop on live chat and ask for help. The agent responded quickly and advised me they had created a ticket to process the refund. It was easy.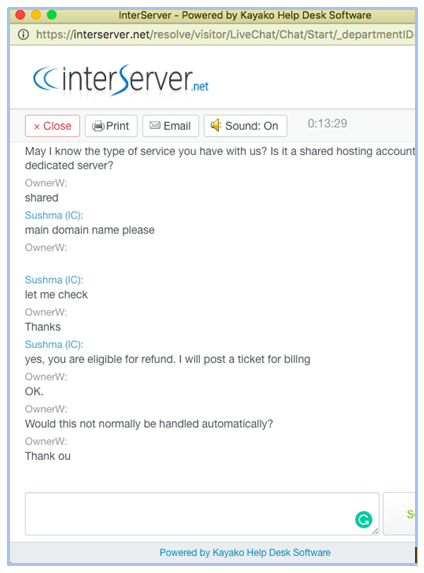 I applied for a refund on Monday and by Wednesday the money had been refunded in full on my credit card. At no point in the process did I need assistance; it was really straightforward.
Best InterServer Alternatives
If you've canceled your account with InterServer and you're looking for a new website host, here are our top InterServer alternatives:
If you need a more affordable host, Hostinger offers excellent introductory prices and even free plans to get you started.
If you're looking for a beginner-friendly alternative, you'll find many easy-to-use tools to get you started with FastComet.
If you want to focus on building your WordPress site without having to mess around with server settings and system updates, check out Liquid Web's managed WordPress hosting plans.
Summing Up
Overall, canceling your InterServer account is a straightforward process. You can complete the cancellation entirely through the admin, which sets it apart as one of the few platforms enabling this convenience. Remember to verify the processing of your refund, a step easily accomplished via live chat.