We put HostWinds' refund policy to the test. We're happy to report we received our refund in full, even though we signed up for the cheapest plan.
Perhaps you found the customer service agents not very well-informed or maybe you're ready to upgrade to a more premium host. If you plan to cancel, this article will take you step-by-step through the easy process to cancel and get a refund. If you're in the market for a new host, check out
DreamHost
or one of our other
recommended alternatives
. Let's dive in.
To Cancel Your Hostwinds Account, Just Follow These Easy Steps:
Log into your Hostwinds dashboard.
Find the service you wish to cancel on the main page and click the Manage button on the right-hand side.
On the next page, find the Actions options on the left. Click on Request Cancellation.
Enter your reason for canceling and hit Submit.
Contact customer service to request the refund.
By completing the form, this will have created a ticket with the subject "Hostwinds Account Cancellation." Open the ticket and copy and paste the pre-prepared bold statement. Note, if you do not do this step, your cancellation will not be processed.
Create a support ticket requesting a refund if you are within the money-back period.
My Cancellation Experience
The first step to cancel your account is quite simple. It involves logging into your dashboard and selecting
Request Cancellation
.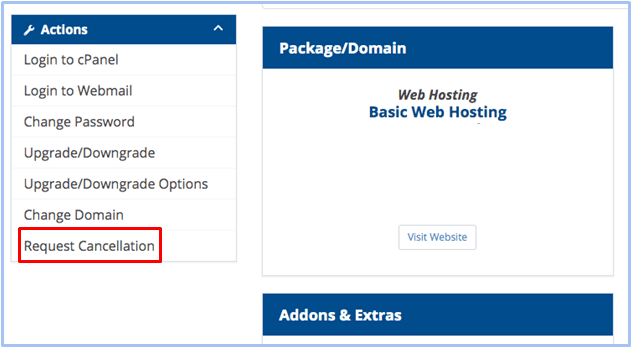 Once that's complete, you need to send a couple of support tickets. The first one involves copying and pasting a statement Hostwinds has prepared. Apparently, it's to prevent accounts from being canceled by accident.
If you miss this step, your account will not be canceled
.

Then you need to create a separate ticket requesting a refund—if you are still within the money-back period. I tried to do this via live chat but was advised to do it with a ticket instead.

After a few minutes, I received a reply to my ticket, confirming that my account would be canceled immediately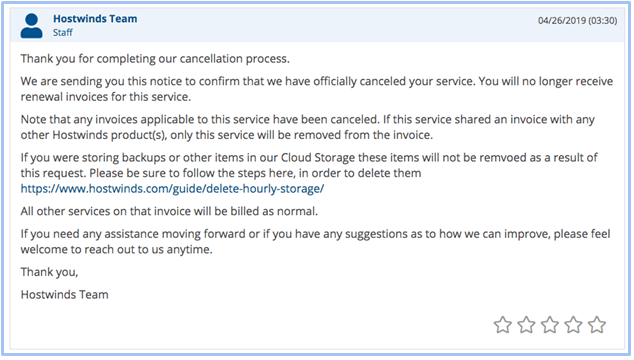 I sent a prompt follow-up ticket to verify that my refund would undergo complete processing. It took Hostwinds a couple of days to validate that I fell within the money-back timeframe, and they promptly refunded my payment in full within five business days.
Best Hostwinds Alternatives:
You've successfully canceled your account with Hostwinds, but now you're looking for a new web host? Here are our top Hostwinds alternatives:
Is price the most important factor for you? Hostinger offers affordable plans with a decent range of features.
Are you a new website owner looking for a simple setup process? You'll find easy-to-use tools and a smooth account creation process with DreamHost.
If you're a developer and you need powerful and scalable resources, with lots of advanced features, consider Vultr. It's a simpler option than other developer-friendly hosts like Heficed or DigitalOcean.
A Few Too Many Steps
It's easy to cancel an account with Hostwinds. It can be done via the dashboard, but it's unusual to have to submit two extra support tickets to confirm the cancellation and request a refund. Nevertheless, it was pretty painless, and my money was refunded in full.